This is my recipe for a "Cleaned UP" version of chicken parmesan. It will save you time in the kitchen as well as calories! A 30-minute recipe that comes in at least 1,000 calories less than anything you can get in a restaurant.
I developed this recipe when I owned a meal prep company. It was part of my cleaned up comfort foods. I geared it toward those looking for healthy options while keeping calorie counts under control. That said, it has become a family favorite in my house and it makes a lot less of a mess than traditional chicken parmesan.
What do you mean "Cleaned UP"?
Traditional chicken parmesan is breaded and deep-fried, giving it a calorie count of more than 1,000 for the chicken alone. Then add in the mound of pasta they put under it and you are meeting your daily needs in one meal. I have created a version that is equally as tasty as the traditional but for around 300 calories.
It starts with these gluten-free bread crumbs. You don't have to use these but I like them because they seem to have some extra crunch that holds up well when they cook. You can use regular panko if you'd like, I just crust the top so it won't end up being any different.
Ingredients needed:
Chicken Breasts
Panko Bread Crumbs
Shredded Parmesan Cheese
Mrs. Dash Garlic & Herb Seasoning
Mrs. Dash Onion & Herb Seasoning
Spaghetti – Gluten Free or Regular
The Sauce – from my Manicotti recipe
Broccoli Florets
Salt and Pepper
Olive Oil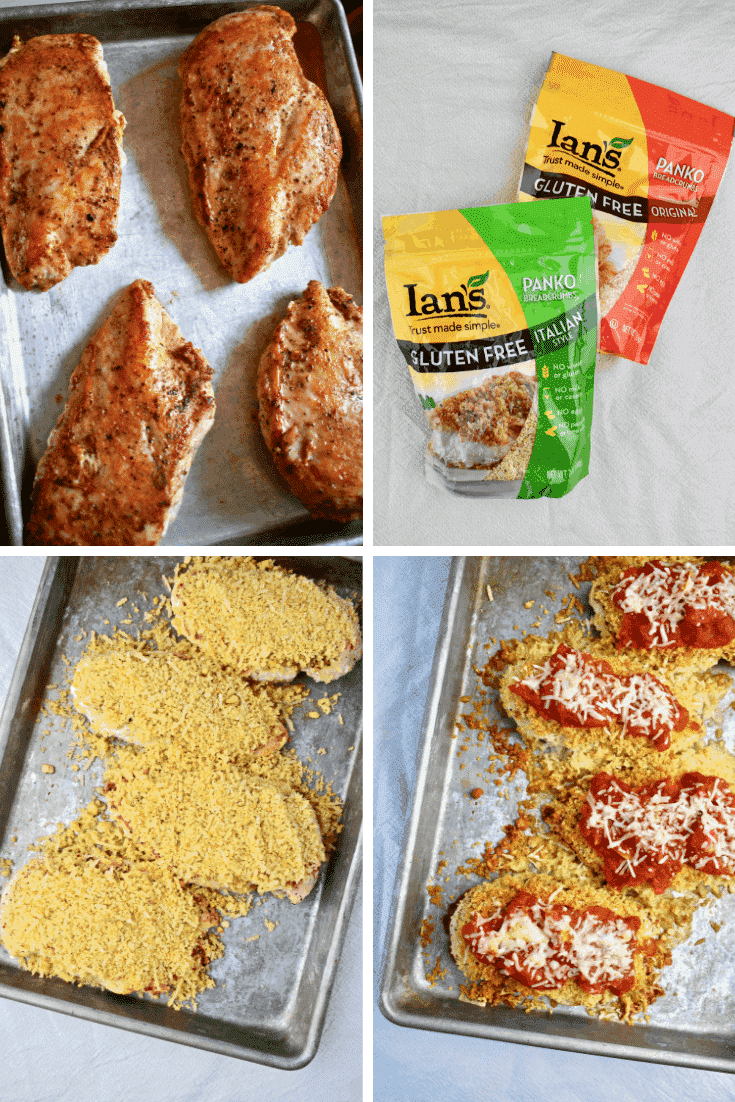 Chicken Parmesan Assembly
You will start by searing your salted and peppers chicken breast on one side. You want to give it a nice brown crust, this will add an extra layer of flavor. Color equals flavor which is ALWAYS a good thing!
Next mix your bread crumbs, parmesan, some olive oil, and the Mrs. Dash seasonings together and crust the top of each chicken breast generously. Use it all up, it will crisp beautifully.
Next bake until the crust begins to brown and you can see that the cheese is melting. Top with a few tablespoons of tomato sauce and a sprinkle of parm and continue to bake just until the cheese has melted. The chicken is done.
Cook up some pasta, keep it gluten-free if that fits your needs or you can use my fresh pasta recipe found with the sauce I recommended below. Fresh pasta is my new obsession, but let's face it, even I use a box most of the time.
Toss that pasta in some sauce and you are ready to go. I serve with some oven roasted broccoli that I throw in with the chicken while it is cooking. Just toss with some olive oil, salt, and pepper and roast at 450F for about 20 minutes.
In the end, this recipe comes together quickly and is better than anything you could get in a restaurant. Cooking at home can be a joy any night of the week, you just need simple ingredient recipes to help make it great!
For more Gluten-Free recipes, take a look at my friend Chandice's blog, ThisVivaciousLife.com, she is 100% Gluten-Free and shares lots of fantasic recipes. Abbey's Authentic Spanish Gazpacho from The Butter Half is also a great option.
My Crack Slaw is also perfect if you are gluten-free. Just leave the wonton strips off and add more almonds to keep it crunchy.
Chicken Parmesan
My "Cleaned UP" Chicken Parmesan has at least 1,000 less calories than anything you'd find in a resturant and tastes 1,000 times better made at home!
Ingredients
Chicken Parmesan
4, 6

oz

Chicken Breasts

Olive Oil

as needed

Salt and Pepper

to taste

1

C

Panko Bread Crumbs

Ian's Gluten Free Italian

3/4

C

Shredded Parmesan Cheese

1

t

Mrs. Dash Garlic & Herb Seasoning

1

t

Mrs. Dash Onion & Herb Seasoning

1

lb

Spaghetti – Gluten-Free

Regular or Fresh

3

C

The Sauce – recipe below

4

C

Broccoli Florets
The Sauce
1/4

C

Olive Oil

1

Yellow Onion

diced

3

Garlic cloves

peeled and sliced

3

T

Basil

chopped

2

(28-ounccans Diced Tomatoes

Salt and Pepper
Instructions
Chicken Parmesan
Begin by seasoning your chicken breasts with salt pepper and a drizzle of olive oil. Set aside to allow flavors to develop.

Heat oven to 425F.

In a bowl mix the panko, parmesan, Mrs. Dash Seasonings, and 2 teaspoons of olive oil. Mix with your hands to make sure every bread crumb gets coated in olive oil. This is the crust for our chicken, we want to be sure that it will get crisp in the oven.

Make sauce, recipe below, you can also use your favorite canned or bottled sauce here. You just want a smooth sauce for topping your chicken with.

Toss broccoli with about 1 Tablespoon of olive oil, season with salt and pepper and lay out on a sheet pan. Cook in preheated oven for 20-25 minutes. This can cook while you sear your chicken.

Heat a large skillet over medium-high heat. Add about 2 teaspoons of olive oil and sear chicken breasts until they are well browned on one side. Flip and cook for maybe 30 seconds. Transfer to a baking sheet and top with panko mixture.

Bake in the preheated oven until the crust begins to brown and a thermometer reads about 150Remove from oven, top with 2-3 Tablespoons of tomato sauce and a sprinkle of parmesan cheese. Continue to cook until the cheese melts and a thermometer reads 160F.

While your chicken is cooking, place a large pot of water on the stove and bring to a boil. Salt the water and cook your pasta. When pasta is ready toss with tomato sauce, be sure to save about 1/2 cup for topping chicken.

Serve chicken on top of the pasta, alongside the roasted broccoli. Enjoy!
The Sauce
In a heavy bottom pot, heat olive oil over medium heat, and cook onion and garlic until golden.

Add the basil, and tomatoes to the pot and bring to a simmer. Cook until the sauce slightly thickens, 10-15 min. Using an immersion blender give the sauce a light blend. You can also pulse in a blender or use a potato masher to break down the tomatoes a bit. Don't blend to smooth, just break down the tomatoes until they reach a saucy consistency.

Season with salt and pepper. Taste and adjust as needed.
LOOKING FOR SOME OTHER GOODIES?
Take a look at a few of my more decedent recipes or reviews below.
JoJo's Biscuits – Magnolia Table Recipe Review – Free Recipe
Get my NEW e-Cookbook here!! ⬇️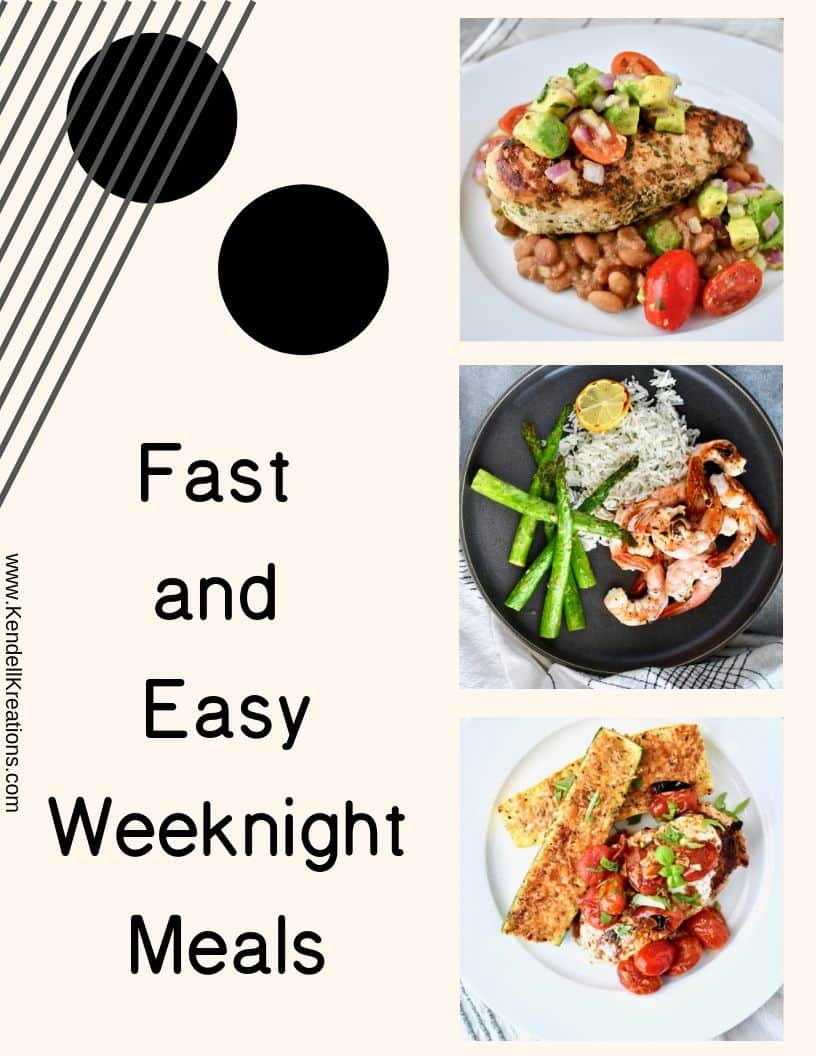 _
MY FAVORITE KITCHEN TOOLS!
Here are a few links to some of my favorite kitchen tools! You get a car, YOu get a car, YOU ALL GET A CAR…in my best Oprah voice
These Rösle Silicone Tongs are a little pricey but they will last you the rest of your life and are the softest in your hand. This is important for someone like m that cooks so much. It reduces strain, I have 4 sets in my kitchen!
These are my FAV Nordic Ware Sheet Pans, every kitchen should have at least 2 sets of these! I think I have at least 4 of each of these.
This is my favorite pressure cooker, the Fagor is the same concept as the "Instant Pot" but easier to use in my opinion, if you don't have one you NEED one, it will be your best friend in the kitchen!
A sharp knife is the most important tool in the kitchen, these Japanese steel "Shun" knives are my favorite! And this is a great starter set to build on. Once you try them you will be in love so use this as a foundation you can build on for years to come.
This Scanpan 11″ skillet is just the right size for almost anything you will need to cook and my best friend and a real workhorse in my kitchen, it's also a great deal at $99. Scanpan is the best in the world for healthy cooking. It is coated with a proprietary ceramic titanium coating that is durable while allowing you to use fewer fats and oils when cooking. It is a coating only they use. I could talk all day about my love for these pans, message me if you want more info. Here are some other sizes that are available if you are looking to outfit your kitchen with some new goodies. 8″ & 10″ Skillet setor 8″ Skillet, I still need this one for my kitchen Also, I don't really know how to cook small so the 12.5″ is my other fave!
This giant vat of olive oil is my favorite, I decant it into a smaller bottle for my counter. Or put this spigot on top of a wine bottle!
This Tovolo jar scraper has to be my single favorite kitchen tool, it is definitely the most used tool in my kitchen. If you are NOT a gadget person, this is the only necessity I say is a MUST beyond the wooden spoon.
A great wood spoon is essential, this Olive Wood one is my favorite, I have more than I can count. But can you really ever have too many?
A food scale can be a very important tool in your kitchen, this one is the one I use every day!
If you love Joanna Gaines as much as I do then the 'Magnolia Table Cookbook' is a must in your kitchen, get a copy HERE!
Check out this great product for your mason jar, the Ergo Spout lets you turn any jar into a pourable pitcher. Get yours here! I love making my homemade salad dressing and keeping them this way in the refrigerator.