I love this dish for the tradition it brings and that I can get everyone at the table to enjoy it! While visiting Ireland I was informed that Corned Beef and Cabbage was something from the Americas and not traditionally Irish. It is something the Irish relied on when they immigrated during the potato famine, and the traditional Boiling Bacon that IS Irish can't readily be found in the U.S.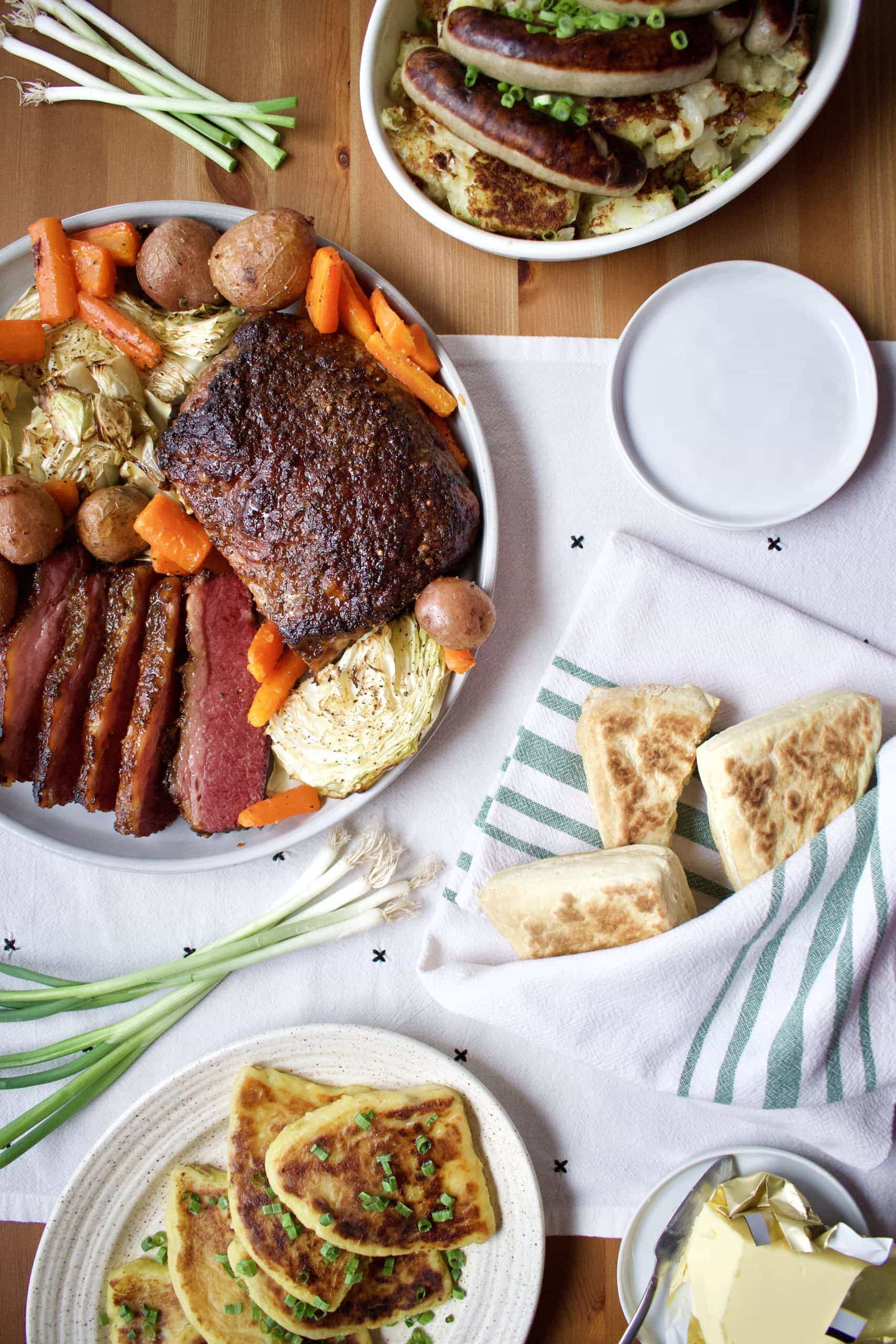 So that said, Corned Beef and Cabbage it is! We rely on it for tradition in the United States because it is something that the Irish immigrants would have eaten once they arrived. When you think about it, many of the deli owners back in the day were Jewish and pork was not cared for well in the U.S. at that time, so they found a new way to celebrate with food.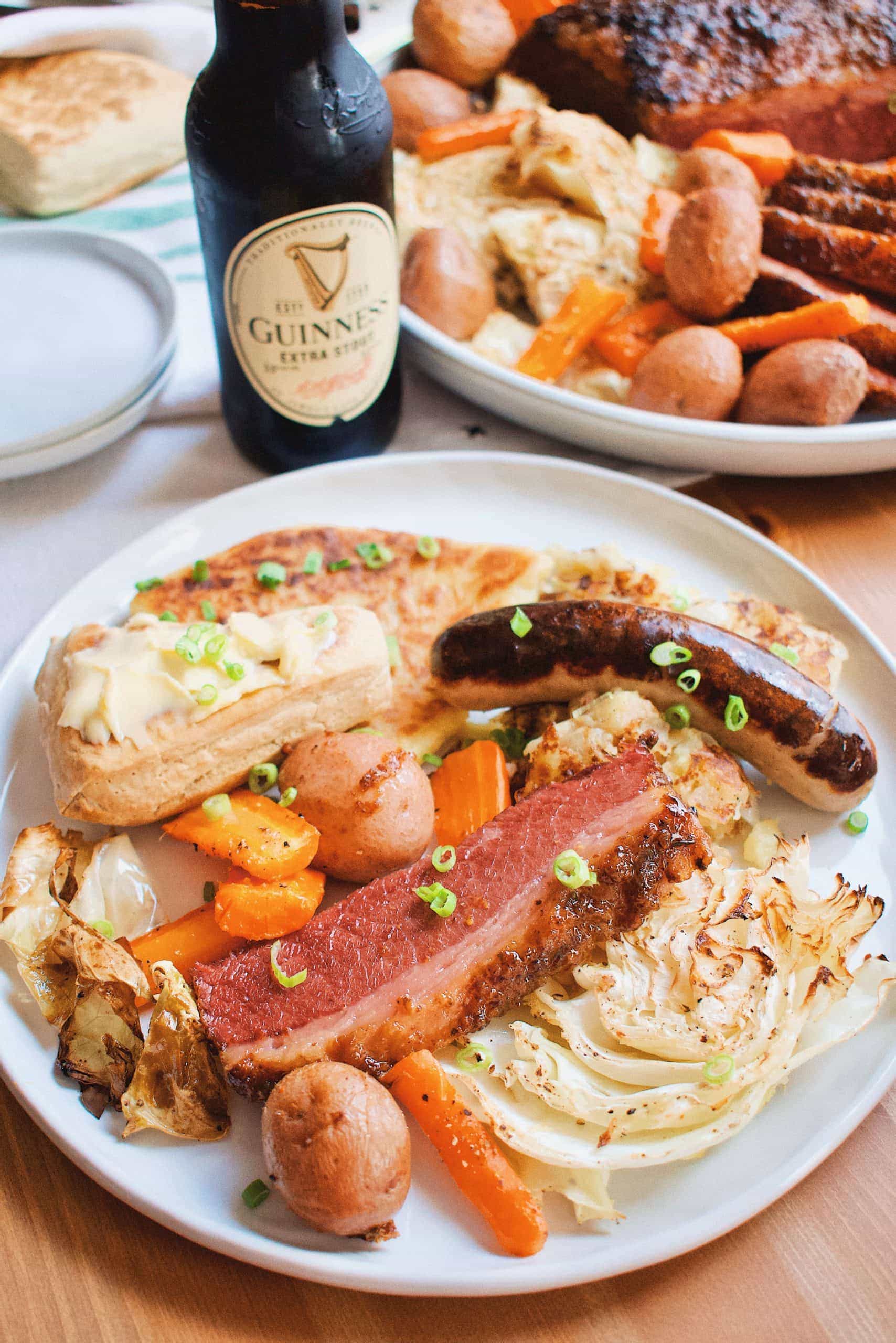 Corned Beef and Cabbage Preparation.
I stray a little bit from the way it has been cooked in recent years. Before I knew any better I used to make my corned beef in a crockpot and let it sit till it was nearly dead! For the second time!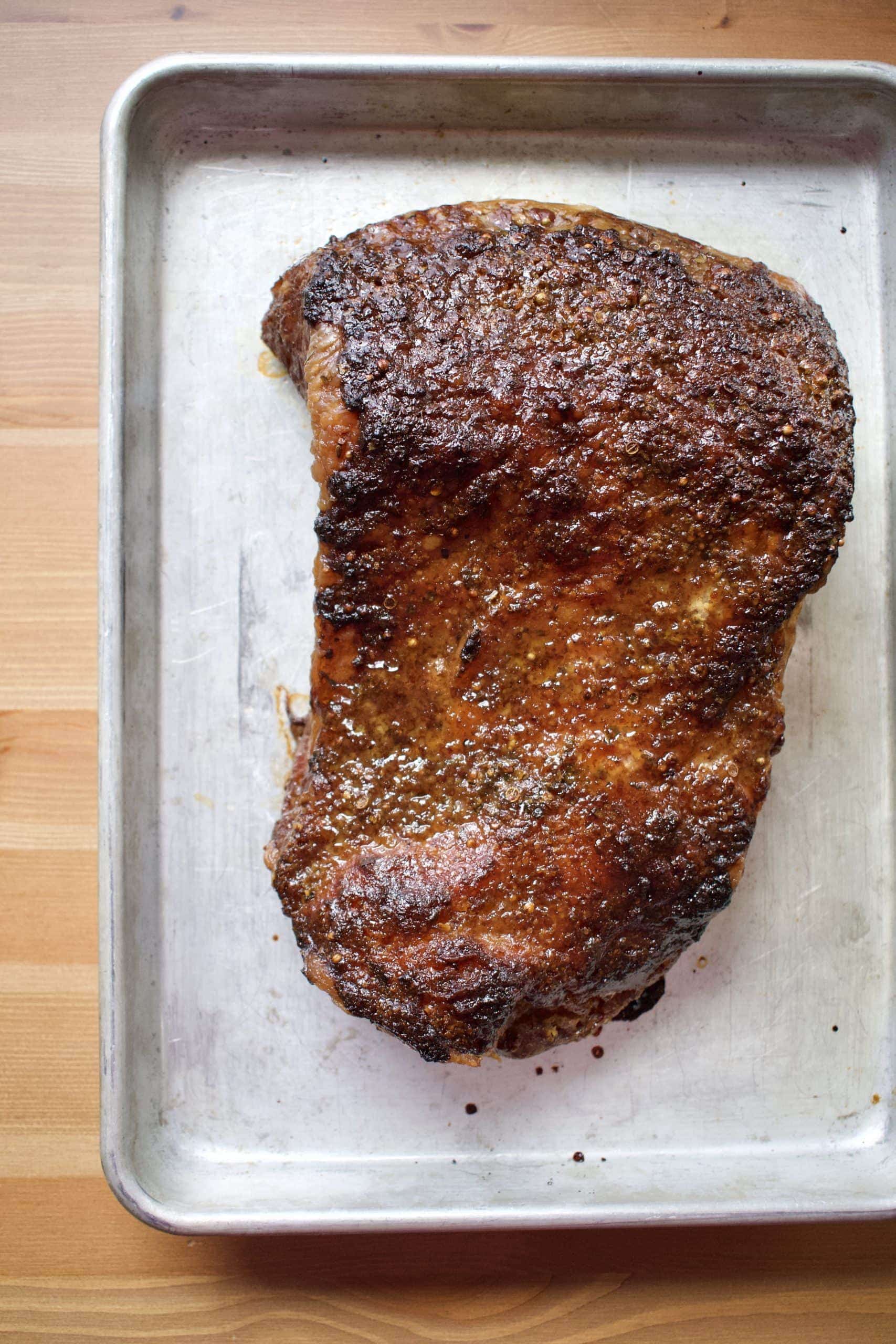 But now I have learned to just slow cook it enough to tenderize it, then I finish it in the oven with a simple glaze, and you have pure perfection in your mouth! I also roast my cabbage in steaks, this results in some perfection too, it gives a nice balanced flavor, while allowing it to be left slightly crisp at the same time.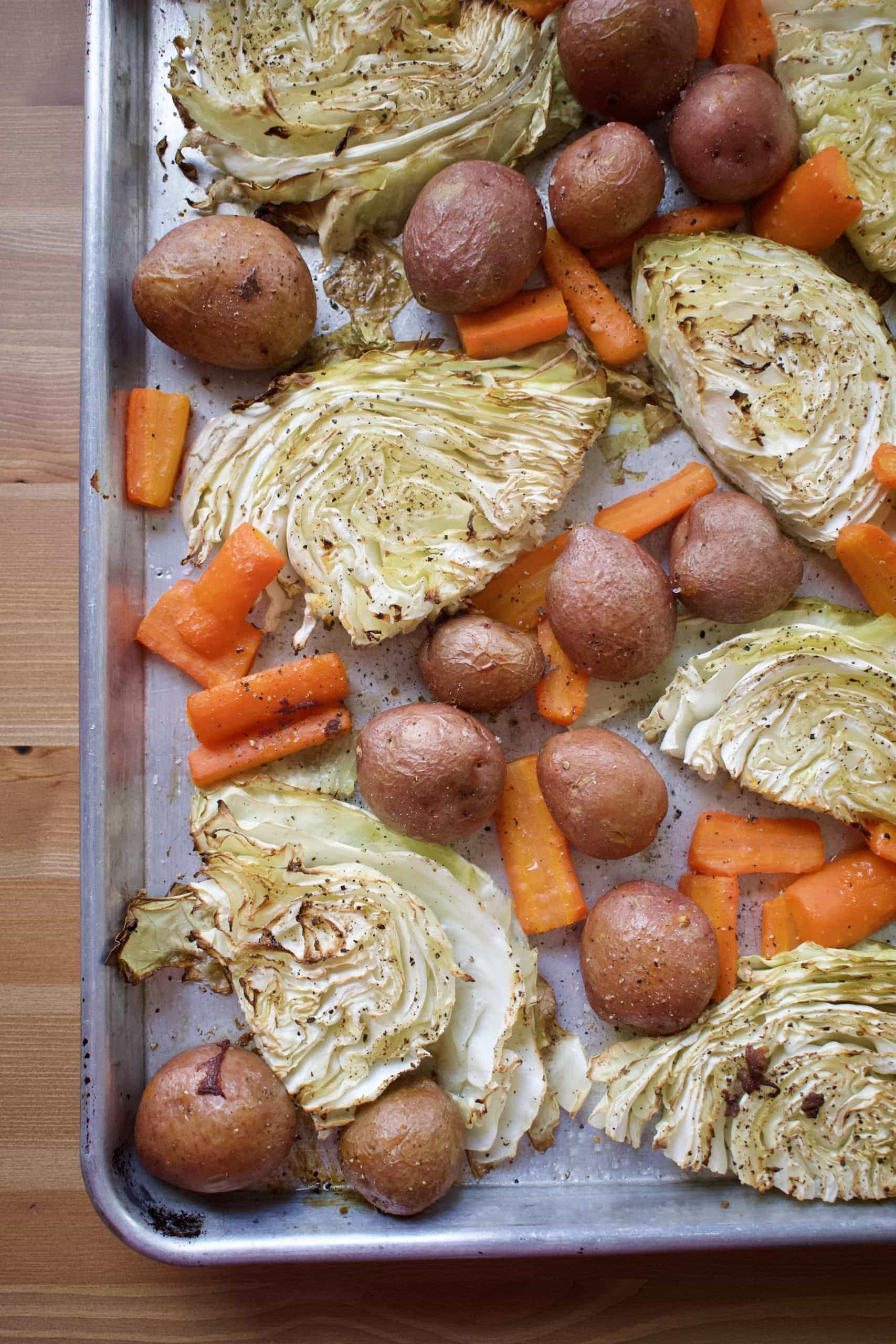 With the evolution of the InstantPot, I now pressure cook my corned beef for a few minutes then allow it to slow cook in there for about 2 hours. It speeds up the process, get's the meat tender, and still keep it somewhat traditional. I also like this process because then I quickly steam the potatoes and carrots in the leftover juices, giving them a punch of flavor from the salty water.
Then throw them on the pan with the cabbage and let them finish roasting. This lets them caramelize a bit and finishes the cooking process at the same time. Instructions for this will be in the recipe card.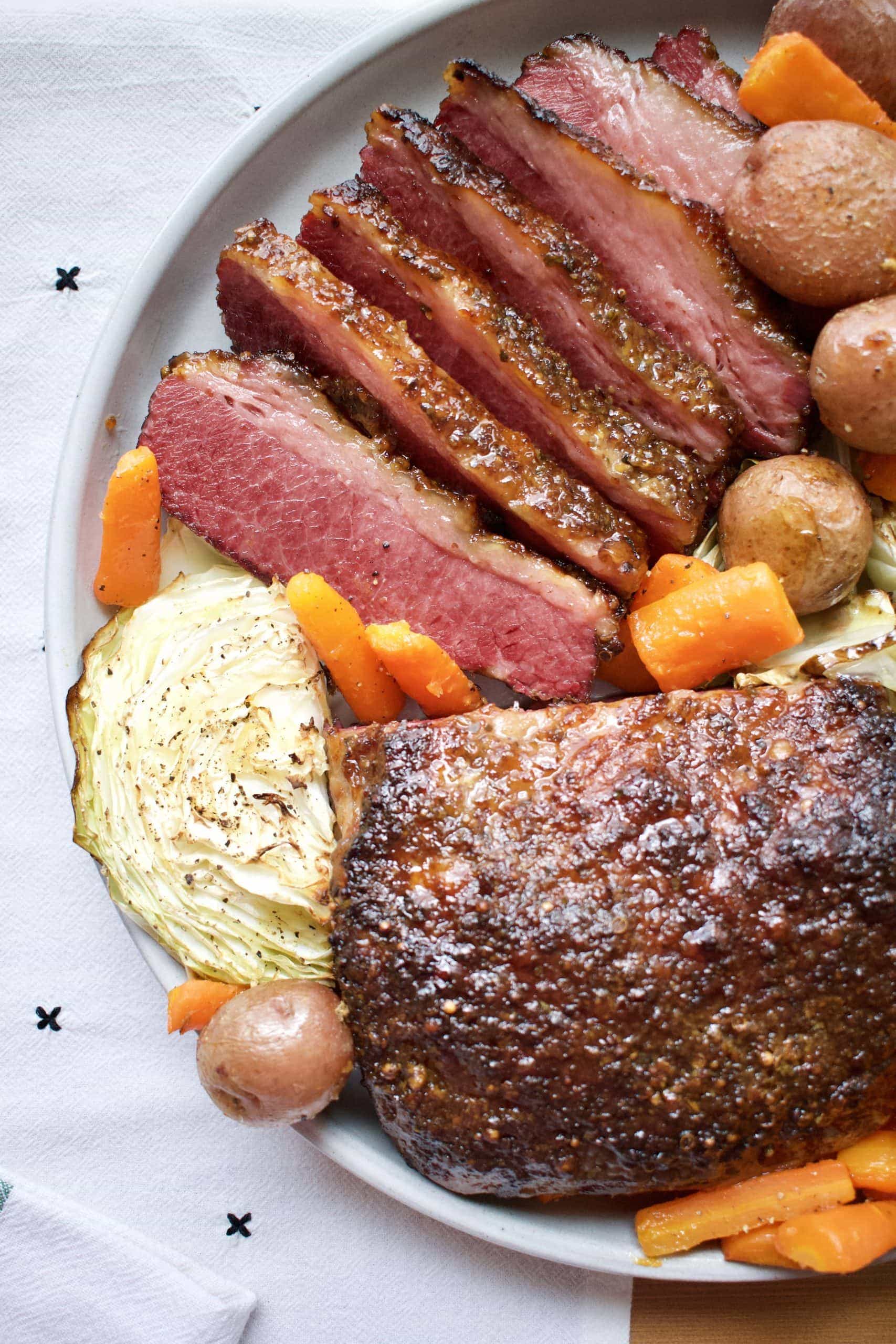 I know this process gives a couple more steps to getting dinner on the table, but in my opinion, it is so worth it. Instead of a one-note, same textured meal hitting the table, you get a distinguishable layer of ingredients that all have their own flavors and textures. A few more steps, but an overall better meal in the end!
More Irish Goodness from KK!
Grab these beautiful recipes for traditional Irish Potato Bread and Soda Bread to pair with your Corned Beef. I have also shared this Irish Shortbread recipe that is perfect at tea time and is also the best companion for this Irish Coffee. This recipe for Colcannon is always welcome on my St. Paddy's Day table and pairs well with some Irish Bangers. And I always buy a way too big corned beef so I can make this Reuben Casserole with the leftovers!
Did you make this recipe? Let me know by leaving a review or comment! And be sure to sign up for my newsletter, and follow along on Instagram, Pinterest, and Facebook.