I love this dish for the tradition it brings and that I can get everyone at the table to enjoy it! While visiting Ireland I was informed that Corned Beef and Cabbage was something from the Americas and not traditionally Irish. It is something the Irish relied on when they immigrated during the potato famine, and the traditional Boiling Bacon that IS Irish can't readily be found in the U.S.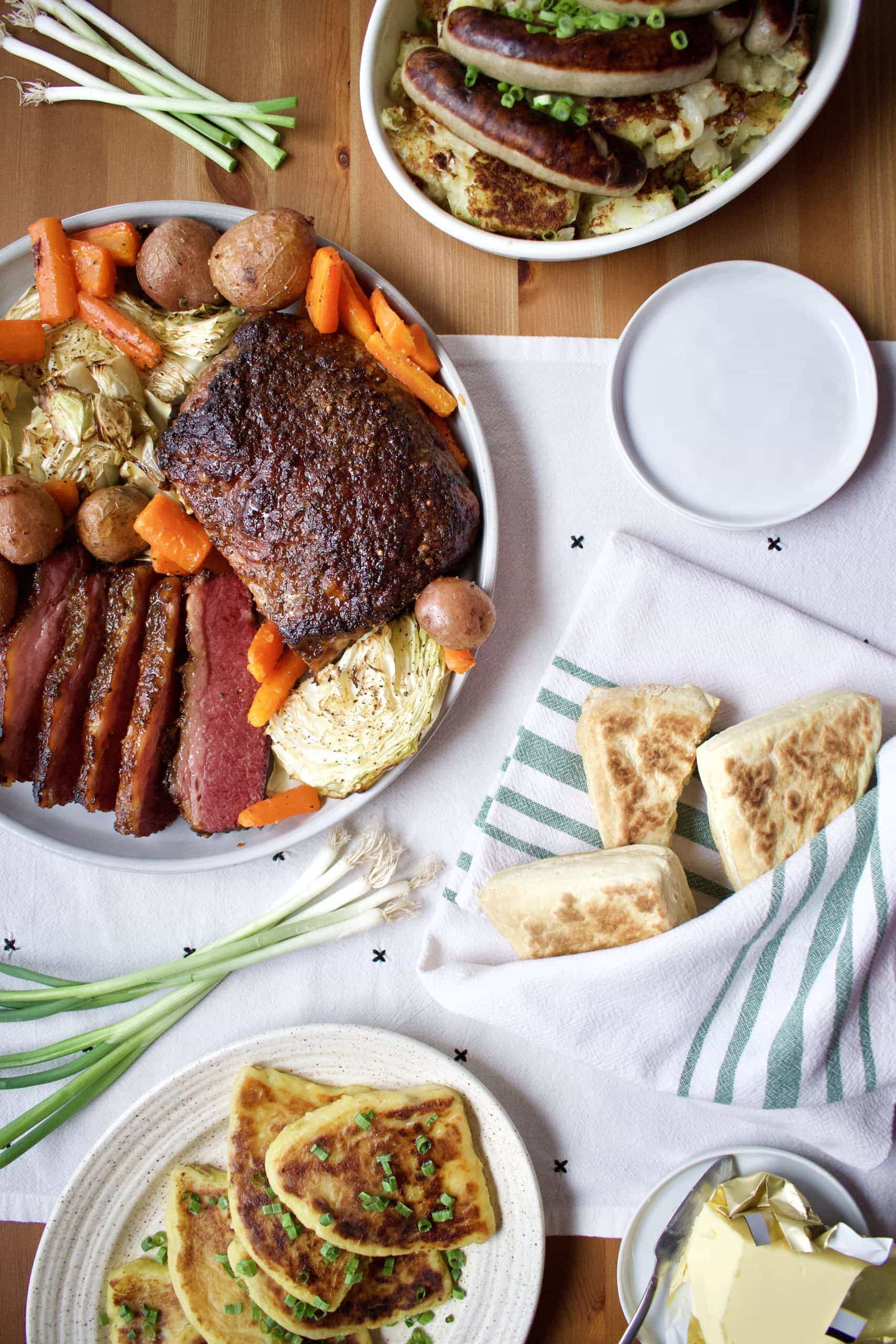 So that said, Corned Beef and Cabbage it is! We rely on it for tradition in the United States because it is something that the Irish immigrants would have eaten once they arrived. When you think about it, many of the deli owners back in the day were Jewish and pork was not cared for well in the U.S. at that time, so they found a new way to celebrate with food.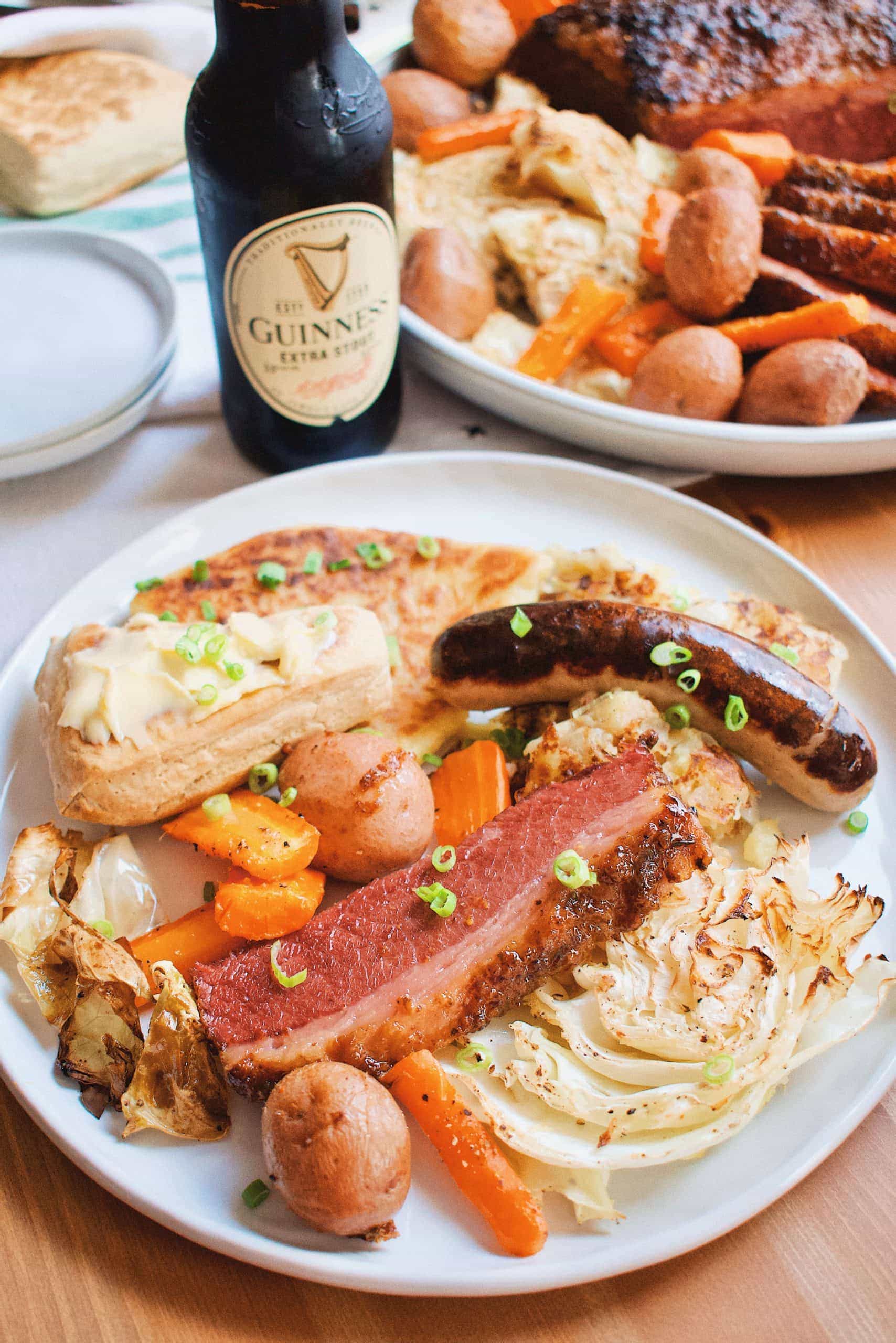 Corned Beef and Cabbage Preparation.
I stray a little bit from the way it has been cooked in recent years. Before I knew any better I used to make my corned beef in a crockpot and let it sit till it was nearly dead! For the second time!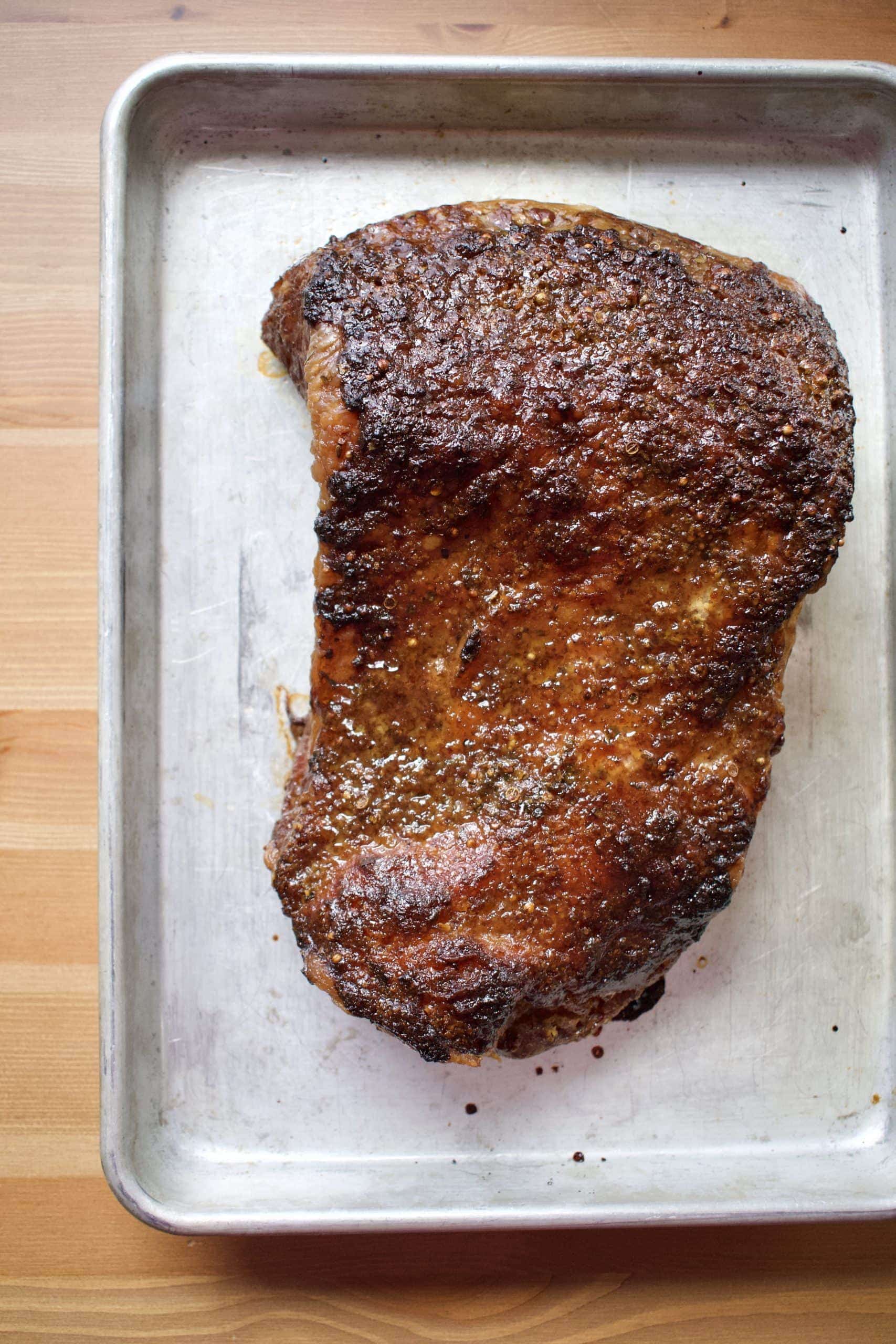 But now I have learned to just slow cook it enough to tenderize it, then I finish it in the oven with a simple glaze, and you have pure perfection in your mouth! I also roast my cabbage in steaks, this results in some perfection too, it gives a nice balanced flavor, while allowing it to be left slightly crisp at the same time.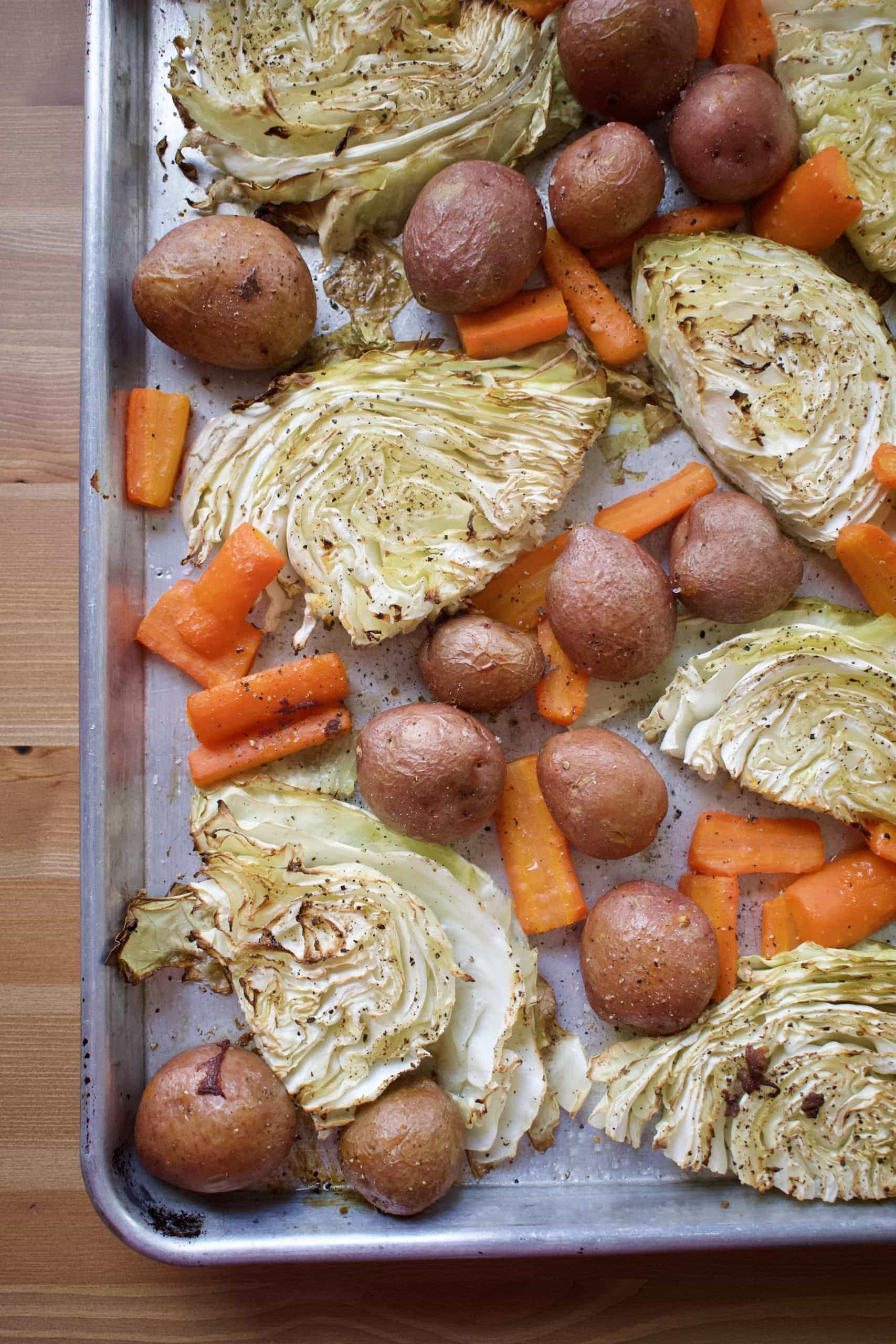 With the evolution of the InstantPot, I now pressure cook my corned beef for a few minutes then allow it to slow cook in there for about 2 hours. It speeds up the process, get's the meat tender, and still keep it somewhat traditional. I also like this process because then I quickly steam the potatoes and carrots in the leftover juices, giving them a punch of flavor from the salty water.
Then throw them on the pan with the cabbage and let them finish roasting. This lets them caramelize a bit and finishes the cooking process at the same time. Instructions for this will be in the recipe card.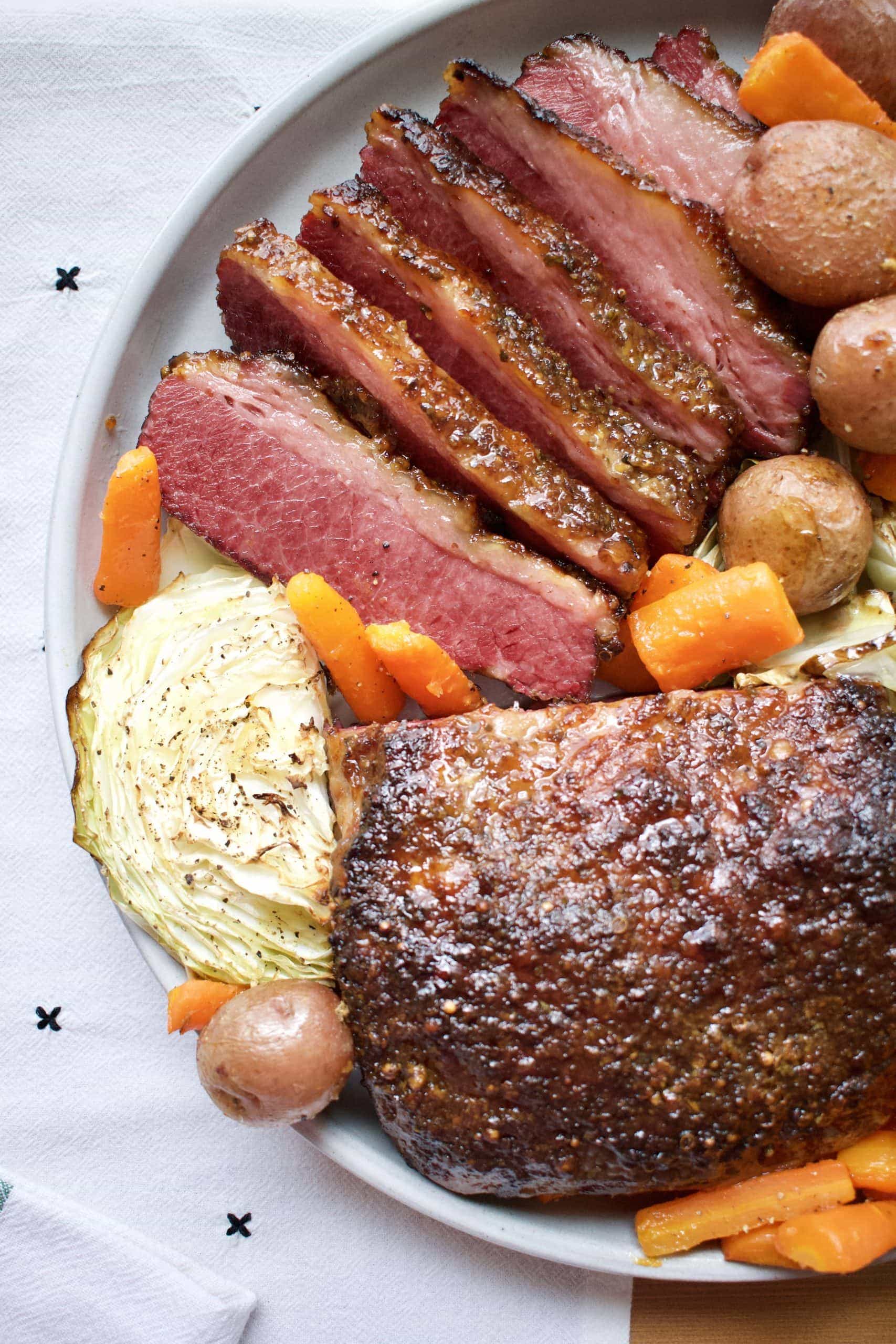 I know this process gives a couple more steps to getting dinner on the table, but in my opinion, it is so worth it. Instead of a one-note, same textured meal hitting the table, you get a distinguishable layer of ingredients that all have their own flavors and textures. A few more steps, but an overall better meal in the end!
More Irish Goodness from KK!
Grab these beautiful recipes for traditional Irish Potato Bread and Soda Bread to pair with your Corned Beef. I have also shared this Irish Shortbread recipe that is perfect at tea time and is also the best companion for this Irish Coffee. This recipe for Colcannon is always welcome on my St. Paddy's Day table and pairs well with some Irish Bangers. And I always buy a way too big corned beef so I can make this Reuben Casserole with the leftovers!
If you make this recipe, please let me know by leaving a review at the bottom of this page!
And make sure to sign up for my newsletter and follow along on Instagram, Pinterest, and Facebook for more KendellKreations!
MY LATEST RECIPES!
Get my NEW e-Cookbook here!! ⬇️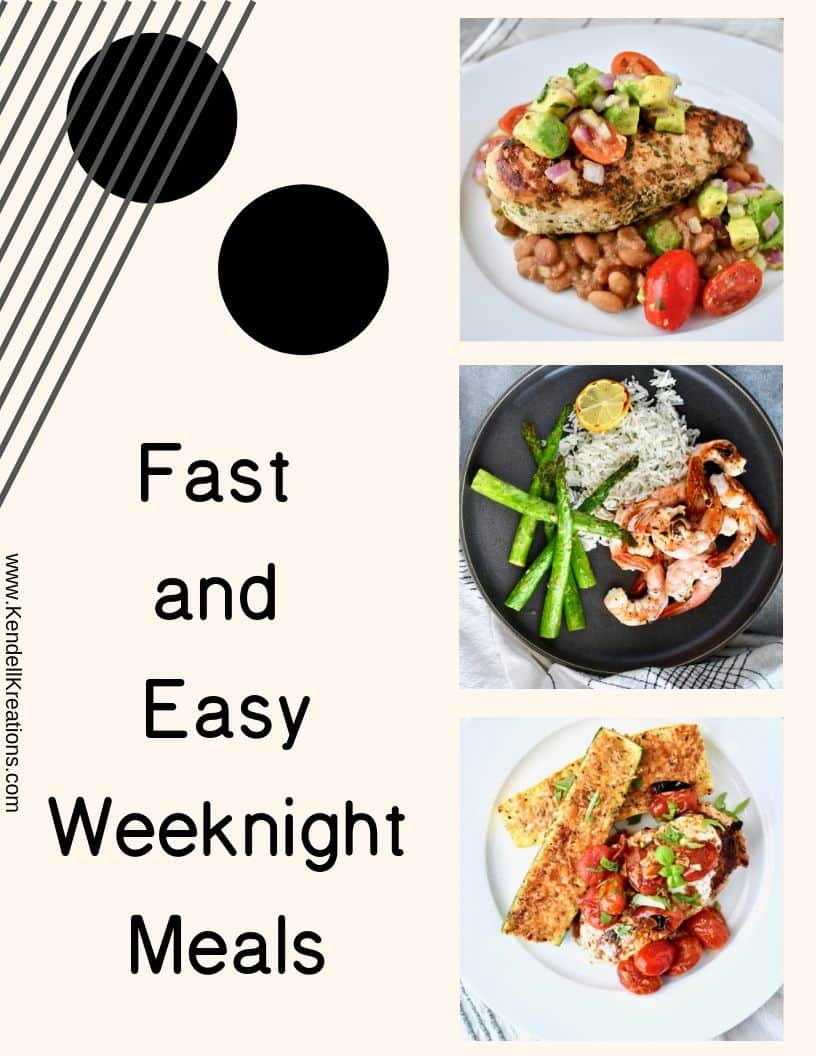 MY FAVORITE KITCHEN TOOLS!
Here are a few links to some of my favorite kitchen tools! You get a car, YOu get a car, YOU ALL GET A CAR…in my best Oprah voice
These Rösle Silicone Tongs are a little pricey but they will last you the rest of your life and are the softest in your hand. This is important for someone like m that cooks so much. It reduces strain, I have 4 sets in my kitchen!
These are my FAVE Nordic Ware Sheet Pans, every kitchen should have at least 2 sets of these! I think I have at least 4 of each of these.
This is my favorite pressure cooker, the Fagor is the same concept as the "Instant Pot" but easier to use in my opinion, if you don't have one you NEED one, it will be your best friend in the kitchen!
A sharp knife is the most important tool in the kitchen, these Japanese steel "Shun" knives are my favorite! And this is a great starter set to build on. Once you try them you will be in love so use this as a foundation you can build on for years to come.
This Scanpan 11″ skillet is just the right size for almost anything you will need to cook and my best friend and a real workhorse in my kitchen, it's also a great deal at $99. Scanpan is the best in the world for healthy cooking. It is coated with a proprietary ceramic-titanium coating that is durable while allowing you to use fewer fats and oils when cooking. It is a coating only they use. I could talk all day about my love for these pans, message me if you want more info. Here are some other sizes that are available if you are looking to outfit your kitchen with some new goodies. 8″ & 10″ Skillet set or 8″ Skillet, I still need this one for my kitchen  Also, I don't really know how to cook small so the 12.5″ is my other fave!
This giant vat of olive oil is my favorite, I decant it into a smaller bottle for my counter. Or put this spigot on top of a wine bottle!
My favorite baking dish that is so easy to clean even burnt on cheese slides right off!
This Tovolo jar scraper has to be my single favorite kitchen tool, it is definitely the most used tool in my kitchen. If you are NOT a gadget person, this is the only necessity I say is a MUST beyond the wooden spoon.
A great wood spoon is essential, this Olive Wood one is my favorite, I have more than I can count. But can you really ever have too many?
A food scale can be a very important tool in your kitchen, this one is the one I use every day!
If you love Joanna Gaines as much as I do then the 'Magnolia Table Cookbook' is a must in your kitchen, get a copy HERE!