This recipe for Reuben Egg Rolls just screams FUN! And why shouldn't food be fun? It is a great way to use leftovers or make them intentionally for a party.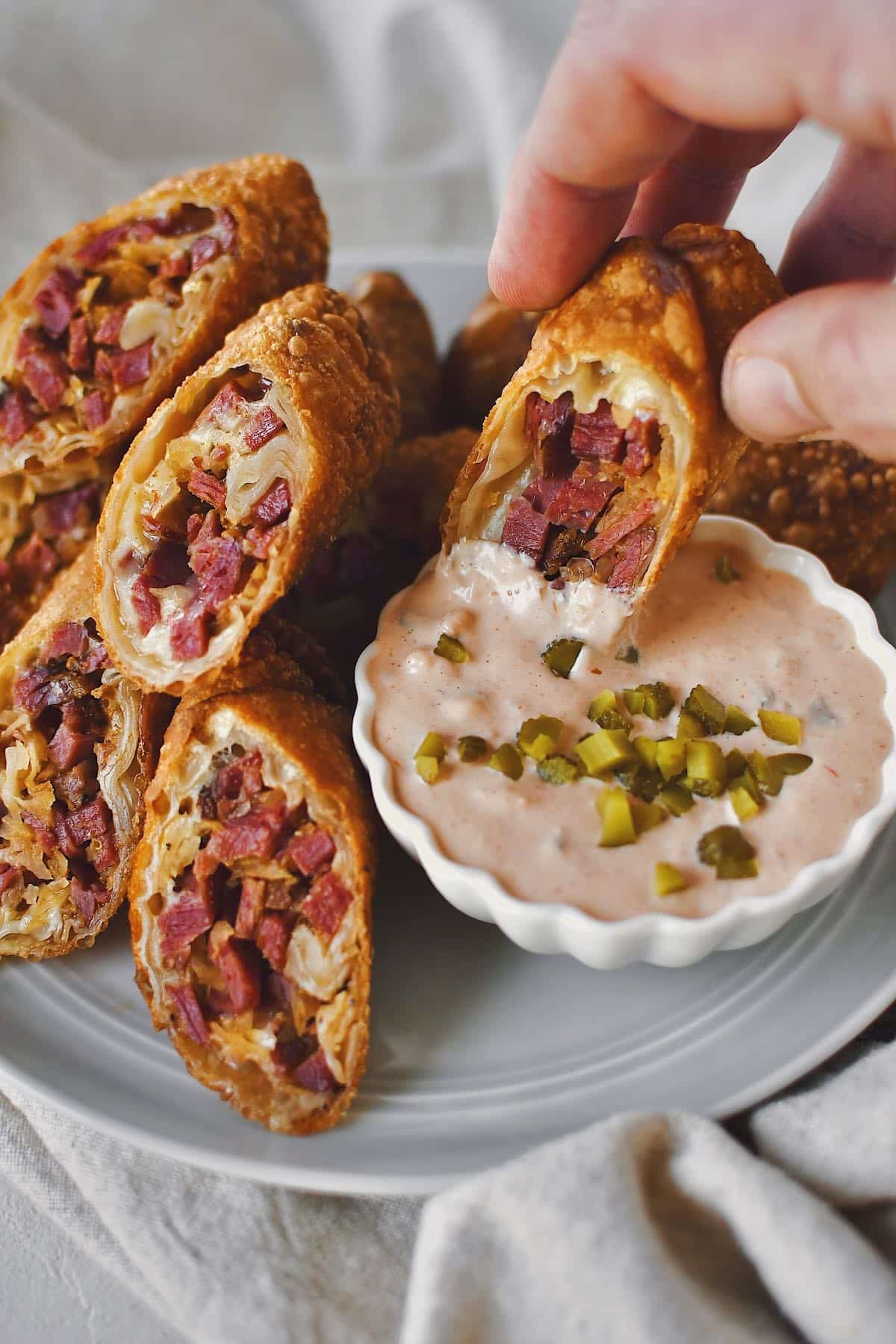 Now you can either use pastrami or corned beef in this recipe, either do the job. And as I said, it's a great way to use up some leftovers from St. Patrick's Day, but they are also great for a party or Super Bowl Snack.
Jump to:
Ingredients
I used some of the homemade pastrami that I make from store-bought corned beef. It is packed with flavor and great to use here. You can also buy pastrami or corned beef from the deli counter to use in this recipe too.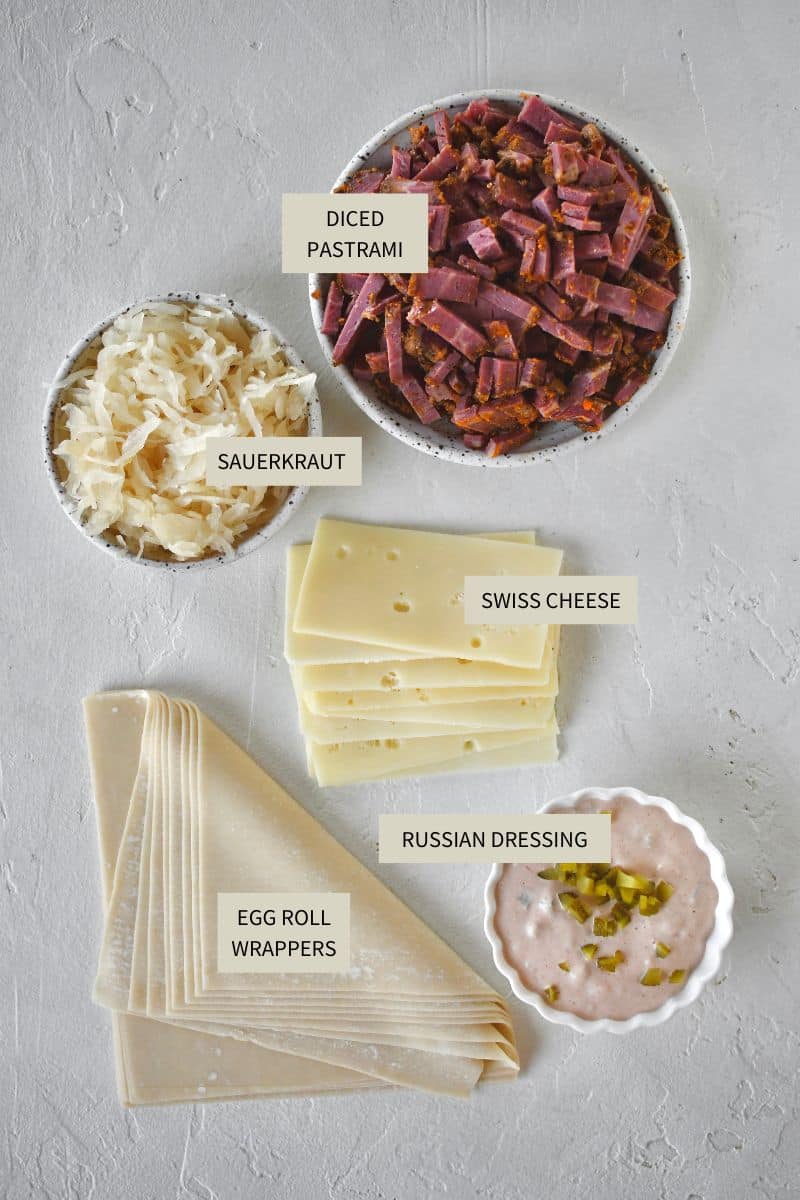 From there you need some egg roll wrappers, swiss cheese, and a little sauerkraut. I do also make my own Russian Dressing. It just takes everything to the next level.
Use the JUMP TO RECIPE button at the top of the post, or scroll to the bottom of the post to see the full recipe card with ingredient measurements and instructions.
Method
First, mix together the pastrami and some sauerkraut to form a cohesive mixture. Then lay out the egg roll wrappers, cheese, pastrami mixture, and a bowl of water and get ready to roll.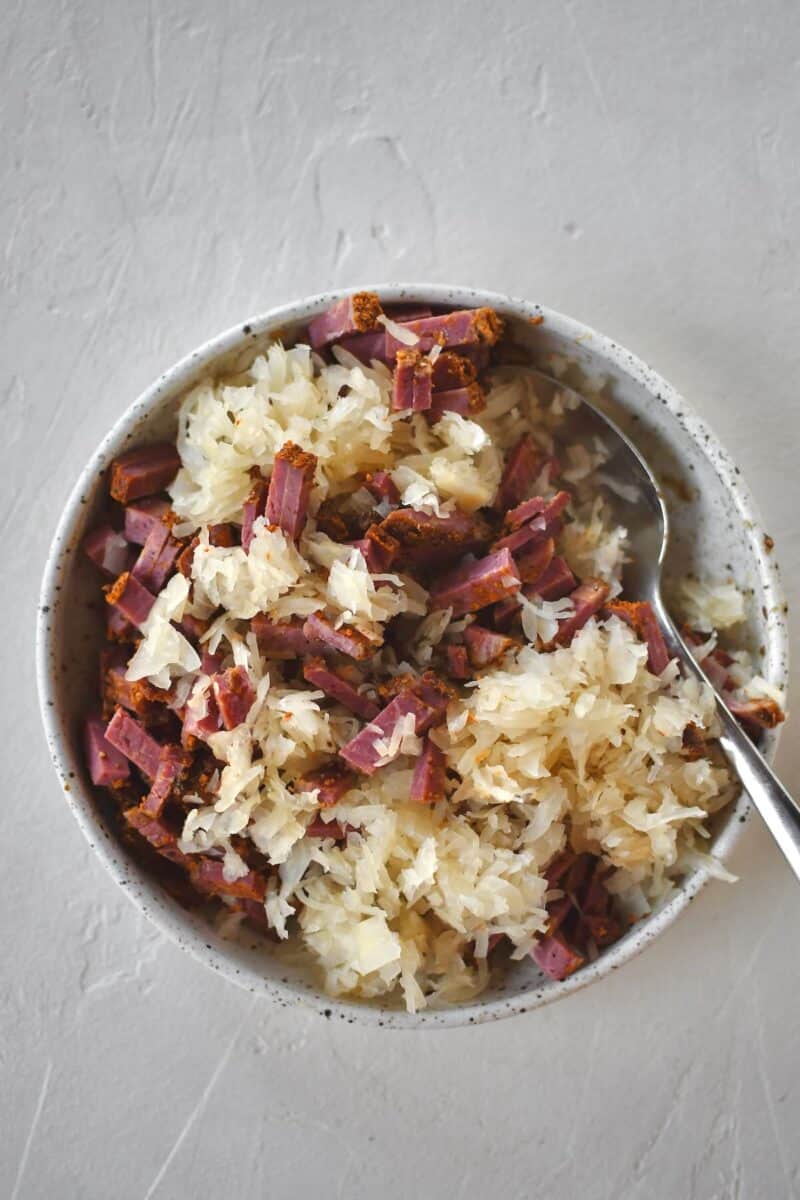 Place half a piece of cheese and a couple of tablespoons of the pastrami mixture onto the egg roll wrapper. Dip your finger in the water and wet all the edges of the egg roll wrapper. Then fold up the bottom corner and the sides, much like folding a burrito. Roll it up, as tight as you can without tearing the wrapper using water to seal the edges.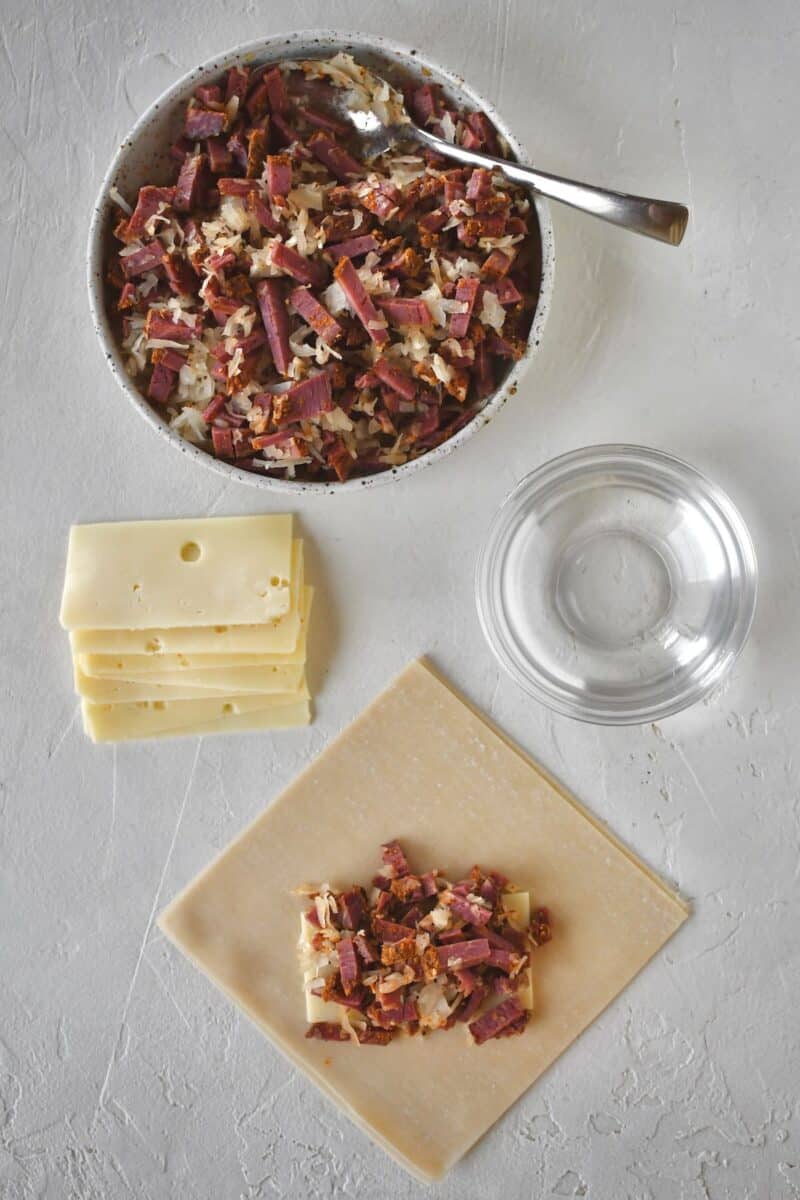 Continue until you have used all of the pastrami mixture. It should make you about 12 egg rolls if you aren't too heavy-handed with the filling. Fry them up in a deep fryer or in a pan with some oil on the stove until golden and crispy, 3-4 minutes. You could also brush them with just a tiny bit of oil and cook them in an air-fryer for about 5 minutes too.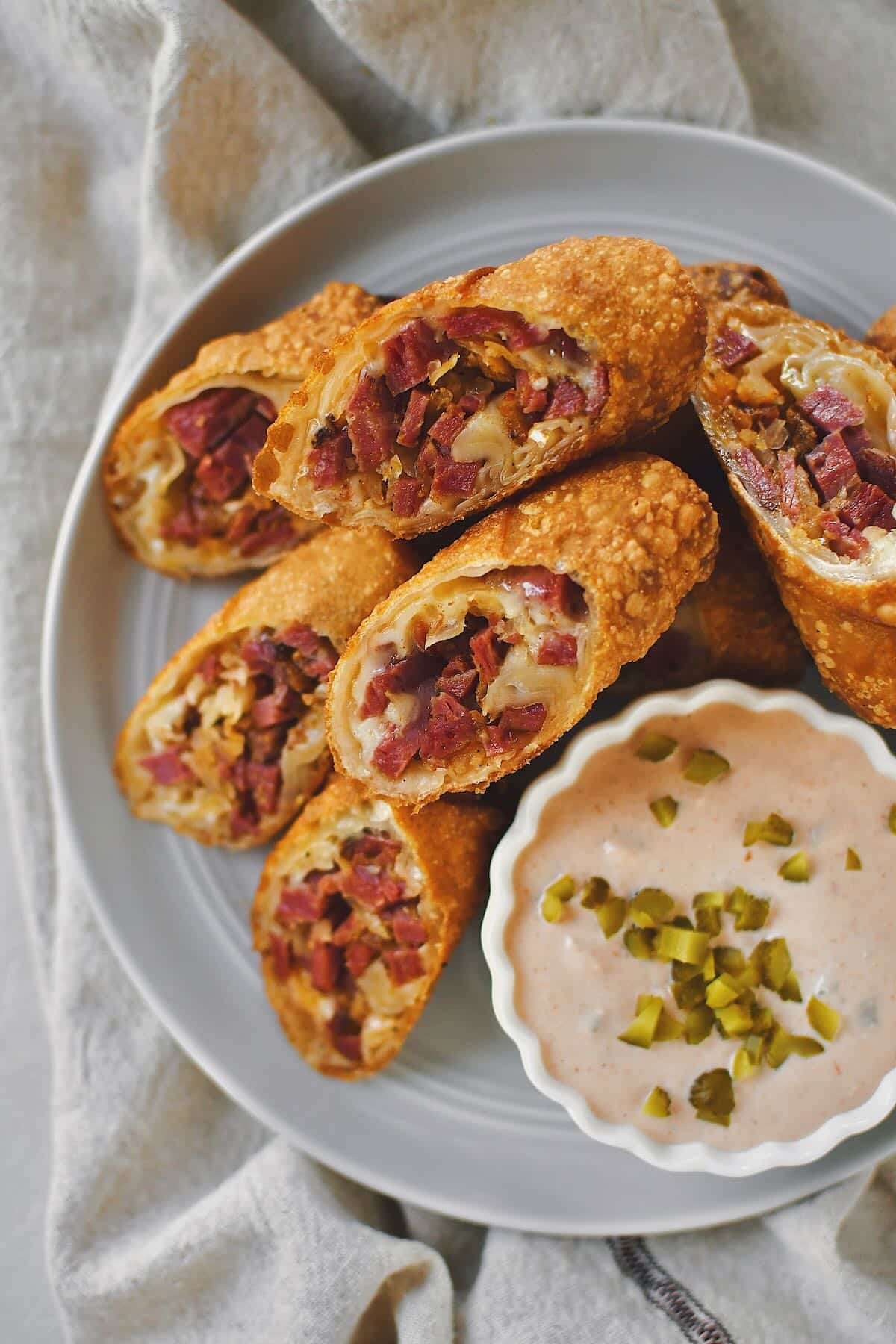 Notes & Tips
To give the full effect of a Reuben, serve the egg rolls with Russian Dressing. It compliments all the flavors perfectly, you won't know you aren't eating a Reuben sandwich.
Be sure to really squeeze out the sauerkraut to remove as much liquid as possible. This helps with frying and ensures your egg rolls won't burst when cooking. Too much liquid and your oil will pop a lot and you run the chance they can unroll.
Be sure to not overfill the wrappers. The final rolled egg roll will probably be smaller than you think it will be. But that is right. A finished egg roll will be about 1 ½ inches by 3 ½ inches or so.
Substitutions
You can deep fry the egg rolls in a deep fryer or in a cast iron skillet with oil on the stove. Alternatively, they also do great in an air-fryer, 350˚F for about 5 minutes.
I usually have some of my homemade pastrami around, so I used that for this recipe. You could also use corned beef. Corned beef and pastrami can be found at the deli counter year-round.
Sometimes I use my cooked cabbage from corned beef and cabbage in place of the sauerkraut if I am using St. Patrick's Day leftovers.
Swiss cheese is classic to Reuben Sandwich, but you could also use an extra sharp provolone in its place if you like.
I haven't tested it, but I imagine if you'd like to make these a little more slender, you could use spring roll wrappers that can be fried. They would be great in place of the egg roll wrappers.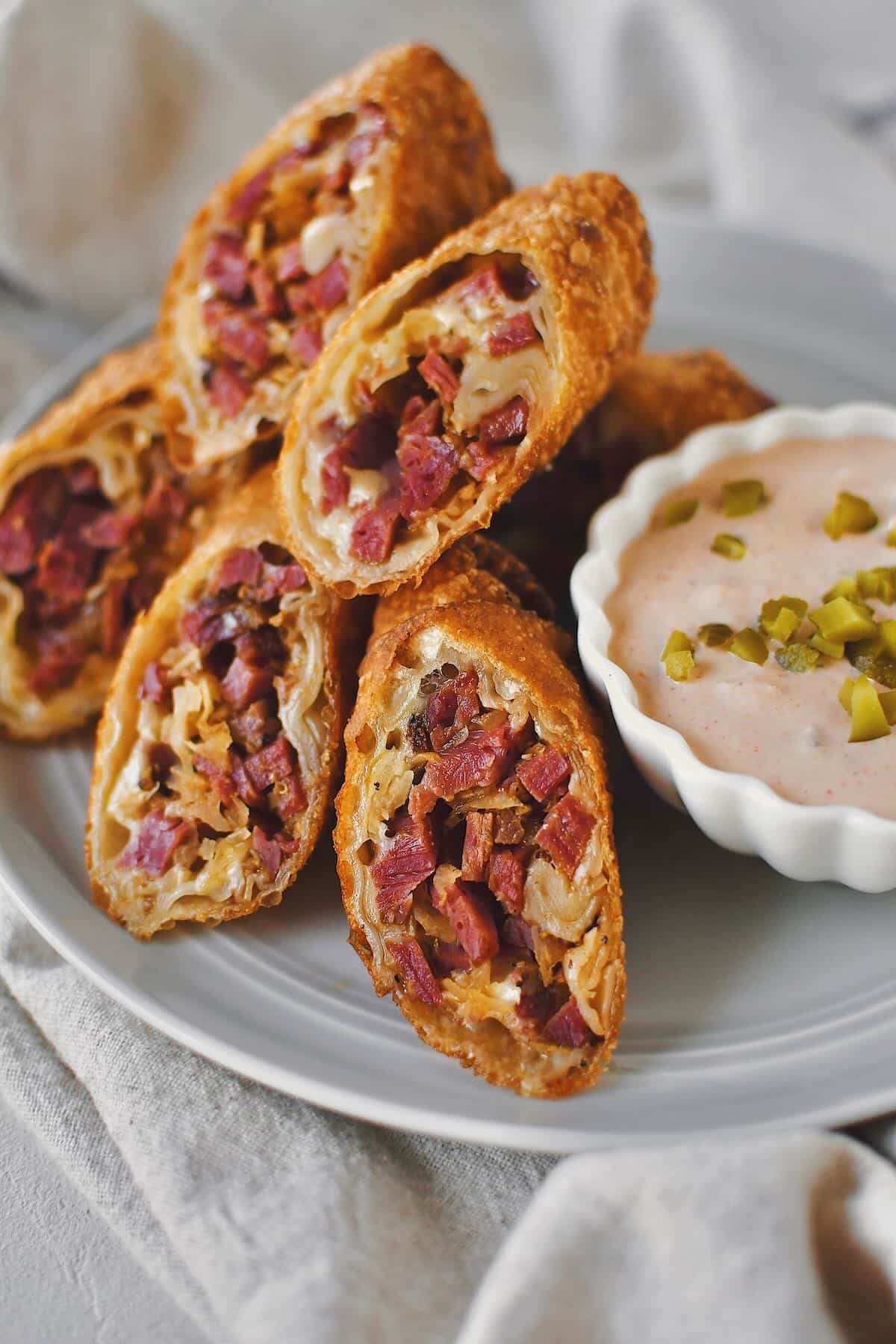 Did you make this recipe? Let me know by leaving a review or comment! And be sure to sign up for my newsletter, and follow along on Instagram, Pinterest, and Facebook!