This absolutely stunning Reuben Sandwich Recipe is made even more amazing with my Homemade Pastrami and Russian Dressing. I use a corned beef brisket to make it at home, and it makes this sandwich FANTASTIC!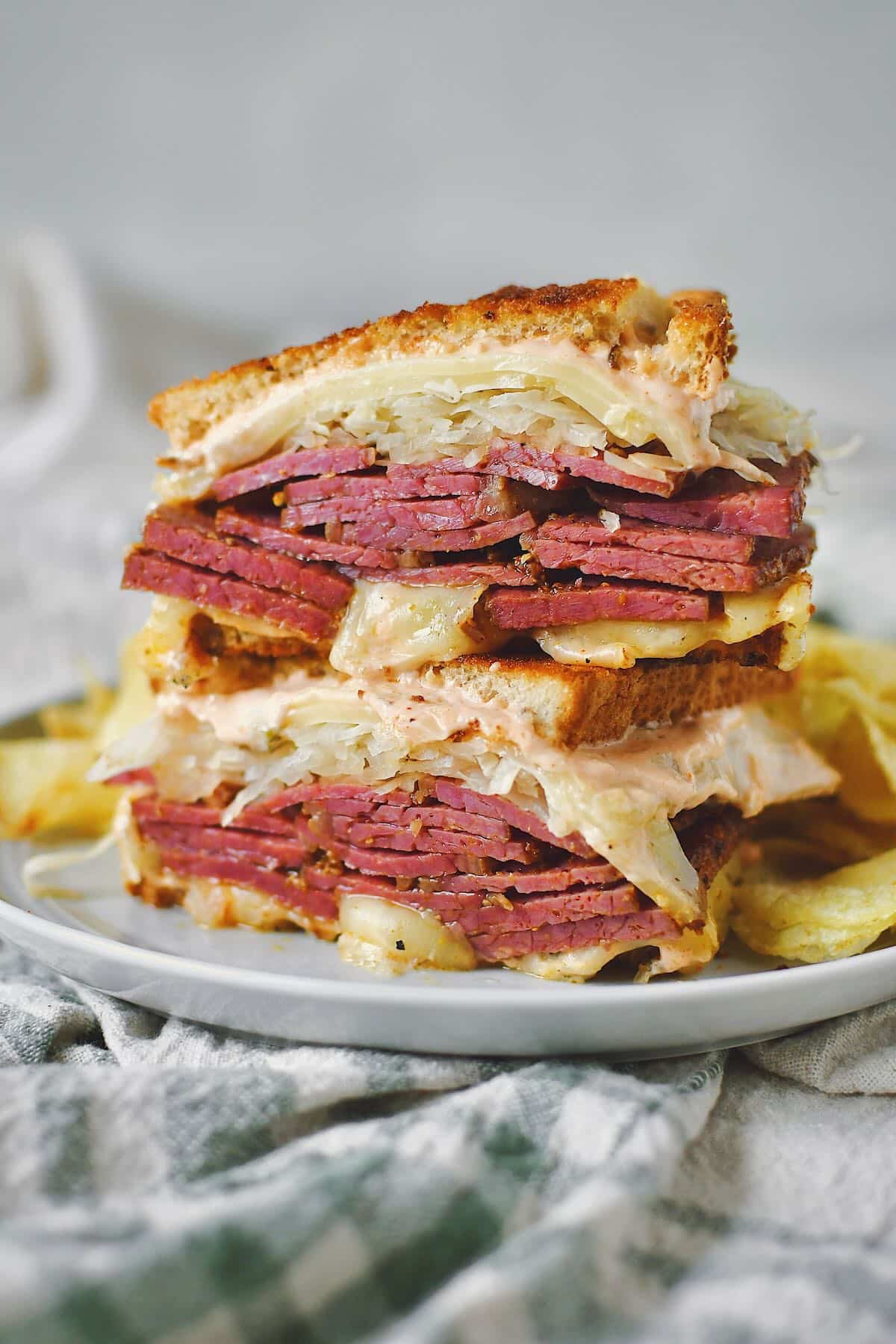 This is a sandwich that has been in my life from the beginning. This is my mom's favorite sandwich and now that I have gone through making everything from scratch, she never wants to eat any other. She said this was the best one she ever had, and she's had her fair share!
Jump to:
Ingredients
My homemade pastrami makes this sandwich extra special. And while I know there is some discussion on whether it is a Reuben made with pastrami, that is how I prefer mine. But if you are not making your own, you can purchase either pastrami or corned beef from the deli counter to make you sandwiches with.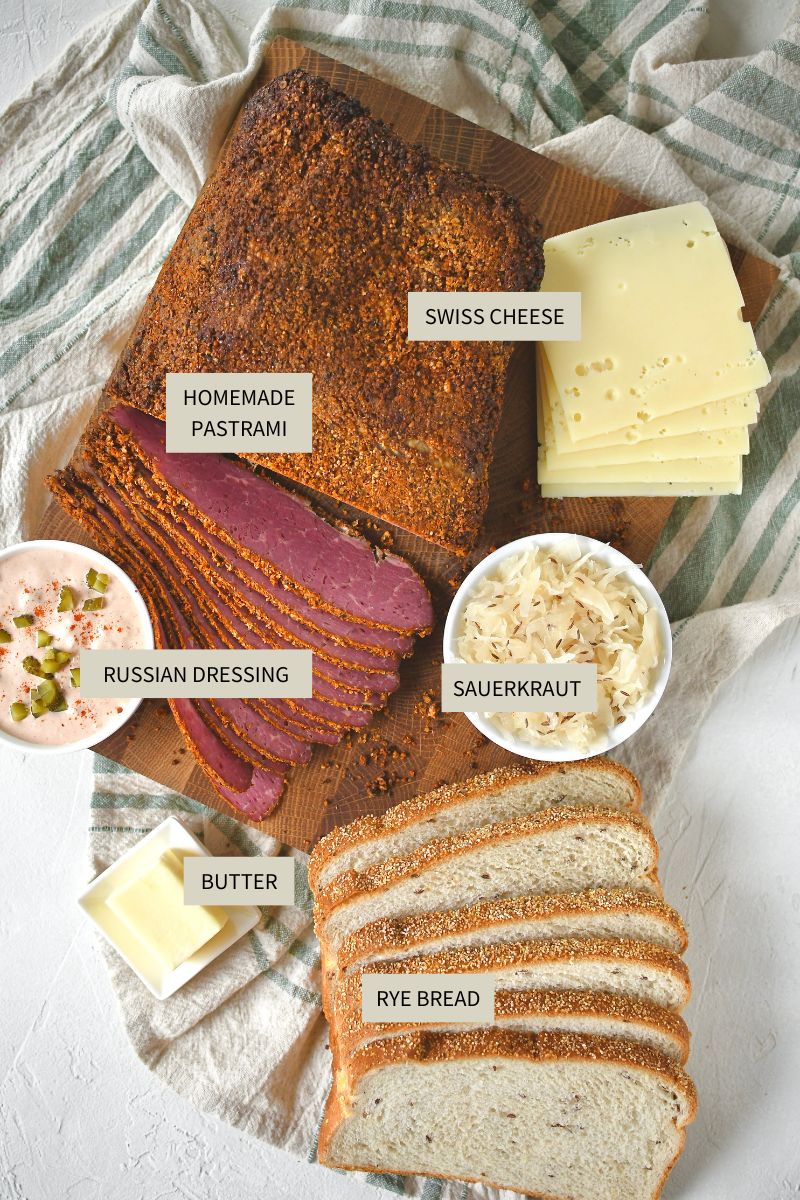 I also make my own Russian Dressing, and sometimes my own sauerkraut. But the real must-have is the Jewish rye bread. From there, you can change up the cheese if you wish, but swiss is absolutely classic. Dare I say, this sandwich turned out just as good, if not better, as the Reuben I had at Katz's Delicatessen in New York City.
Use the JUMP TO RECIPE button at the top of the post, or scroll to the bottom of the post to see the full recipe card with ingredient measurements and instructions.
Method
I start by warming some of my homemade pastrami in some of its own juices in a skillet with a lid on to steam gently till warm.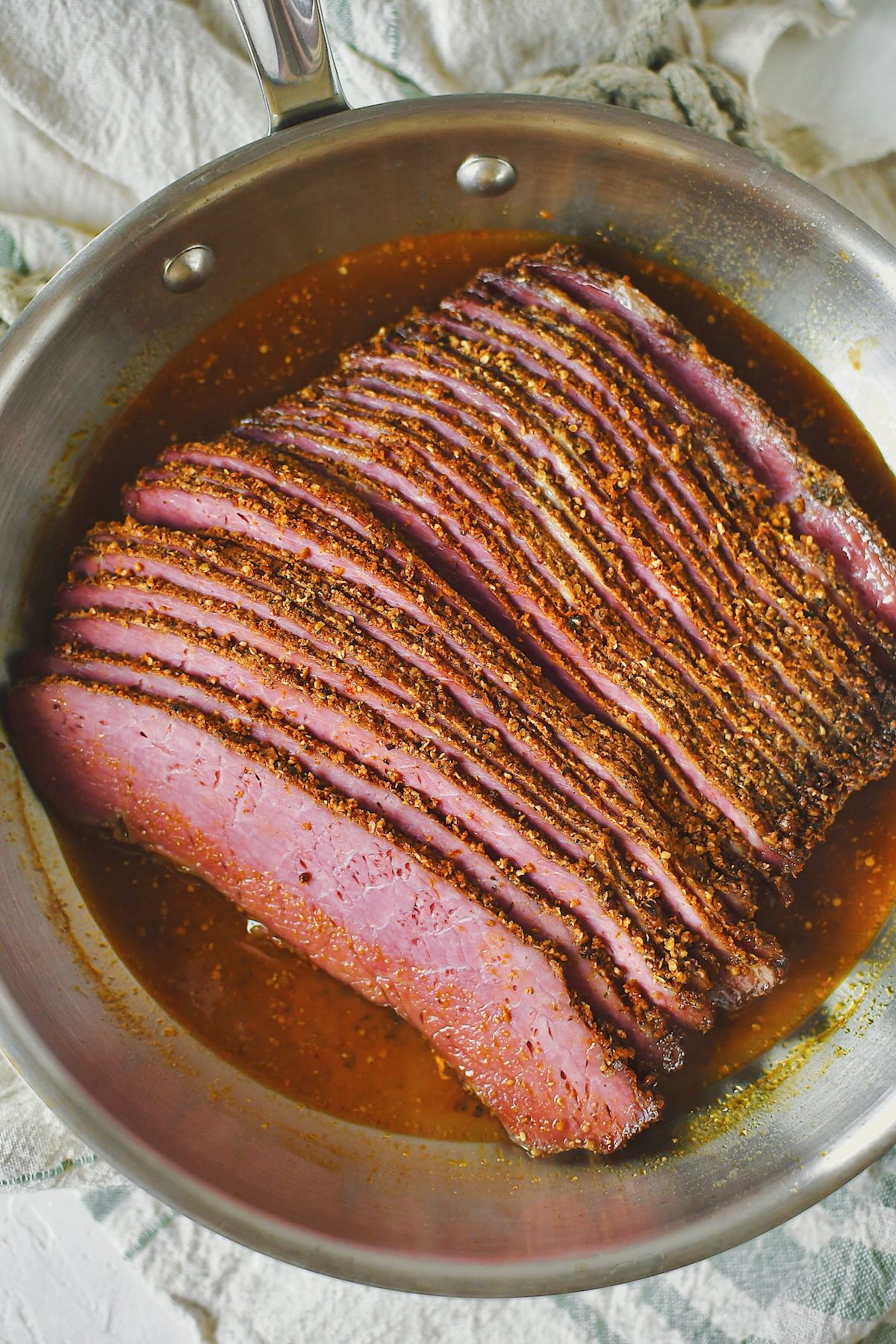 To make a sandwich, butter one side of two pieces of bread and place them in a hot skillet. While they toast, spread some Russian dressing on each side, and top with two slices of swiss on each piece of bread.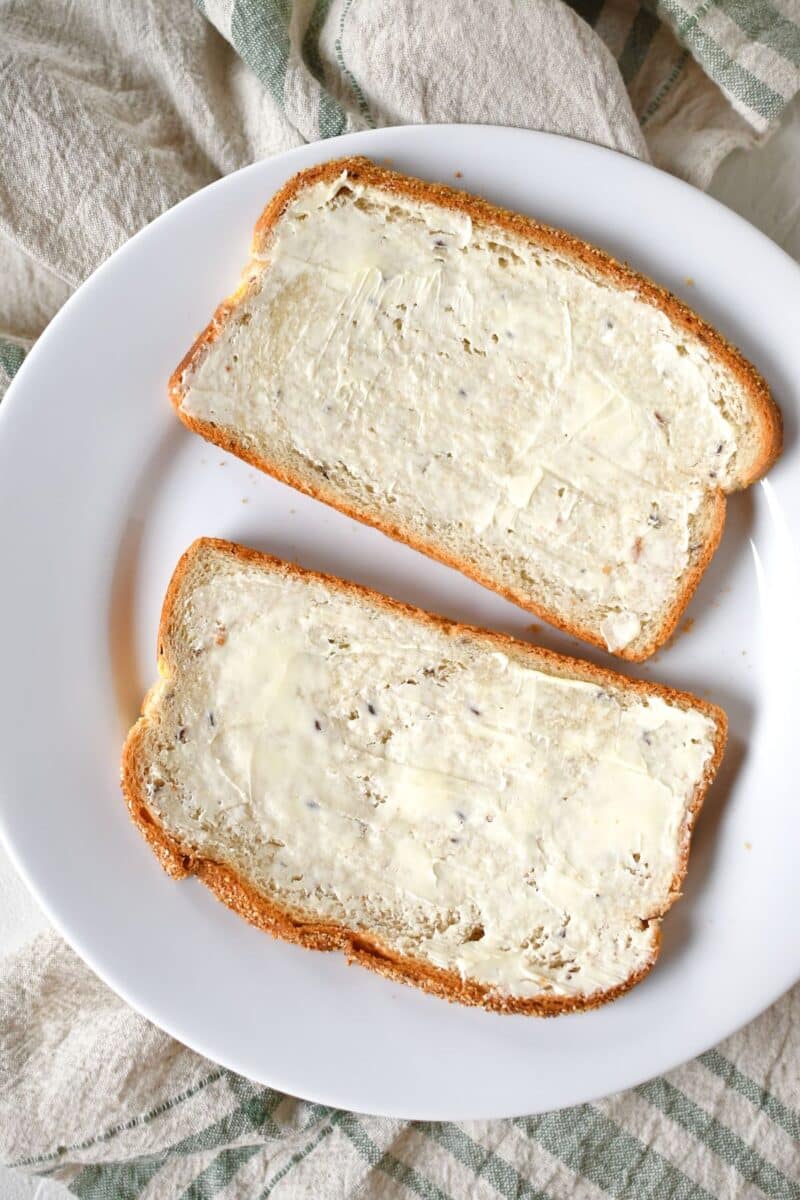 Then on one side, add some sauerkraut, and on the other, some warmed pastrami. Sandwich the two sides together and toast, flipping once or twice till the bread is golden and the cheese is beginning to ooze out.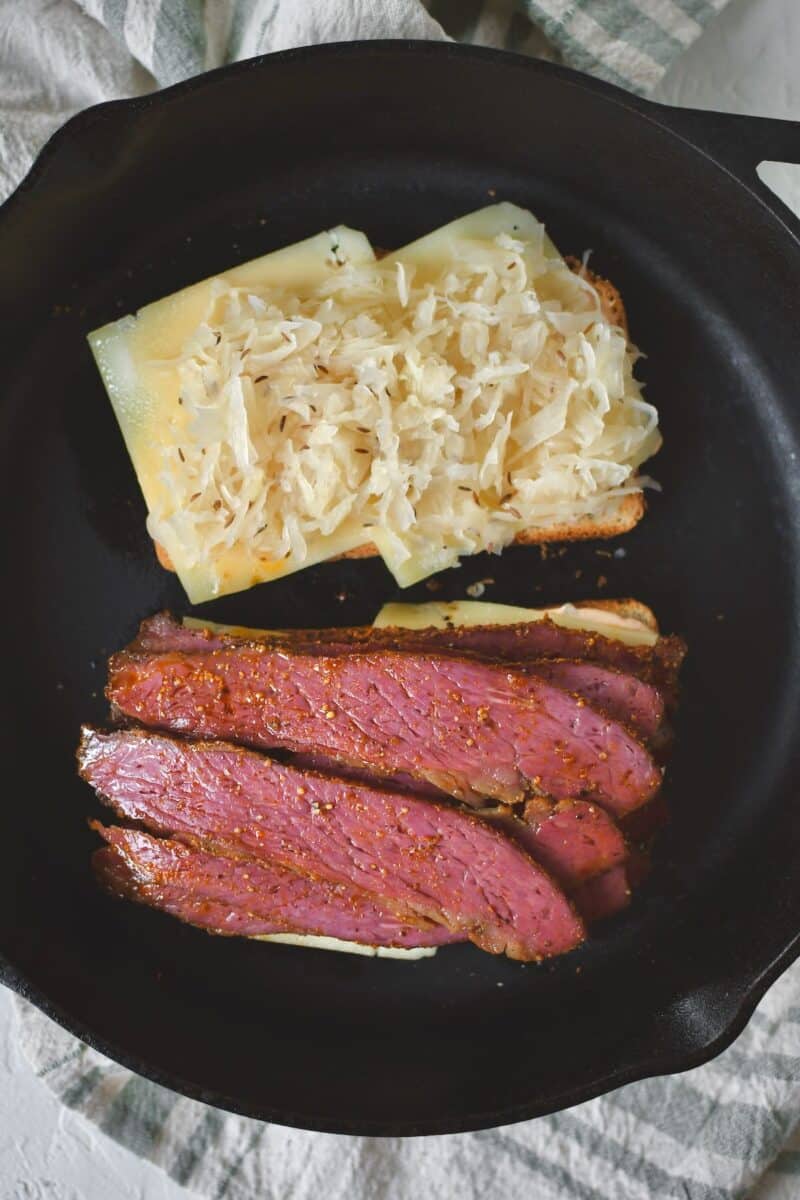 I then let the sandwich rest for a minute or two out of the pan, then slice it in half, and serve it with chips or fries. And what makes this Reuben Sandwich Recipe rival all those NYC delis is that pile of meat in the center, they charge $20+ a sandwich because they really pack in on. But you can create 8-10 $20 sandwiches at home for about $50.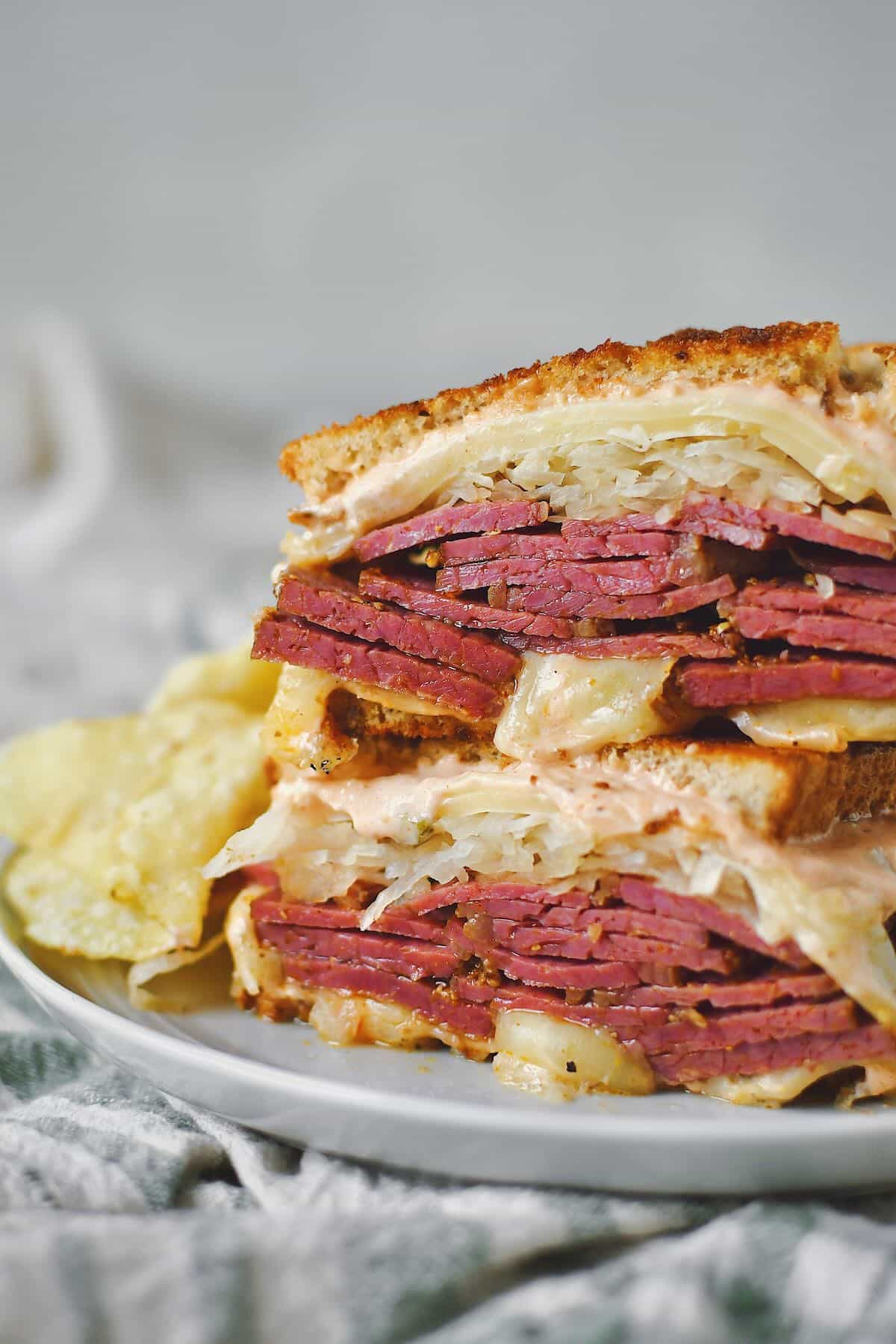 Notes & Tips
Even if using homemade or store-bought pastrami, warming it gently enhances the eating experience. While you don't have to warm the store-bought, you can follow the instruction for steaming the pastrami in my recipe.
It is easiest to build the sandwich right in the skillet but don't let the heat get too high, you don't want to burn the bread before the cheese melts. Start on medium-low heat and bump it up if needed to melt the cheese.
And to settle the debates, because I know some will read this and say it is not a true Reuben, they may even try to call it a Rachel, here is what the internet has to say. And I know, a true Reuben uses corned beef, but I feel my corned beef pastrami lets me slide by, lol!
The Reuben is a grilled sandwich made on rye bread with a filling of corned beef, Swiss cheese, sauerkraut, and Russian dressing. Instead of classic corned beef and sauerkraut, the Rachel is usually made with turkey or pastrami and coleslaw. Both sandwiches are made with Swiss cheese and rye bread.
So all that to say, we are still on track, even if some tasty liberties have been taken!
Substitutions
Jewish rye bread is my personal favorite for a Reuben. You can also use marble rye or pumpernickel too. Any time I come across a beautiful pumpernickel I buy it for these sandwiches.
Swiss is traditional and authentic cheese for a Reuben sandwich. You could leave it off if you prefer. I also sometimes use good sharp provolone too.
While you can use a store-bought Russian dressing, I prefer this homemade version. Also, ONLY if you can not find it in a store, you can swap premade Russian for Thousand Island. But only do this if you have to, they are distinctly different.
My recipe calls for homemade pastrami, I LOVE making this from store-bought corned beef. It takes a little time, but even less effort. You can purchase corned beef or pastrami from the deli counter if you are not interested in making your own. This sandwich is also great made with leftover Corned Beef and Cabbage around St. Patrick's Day.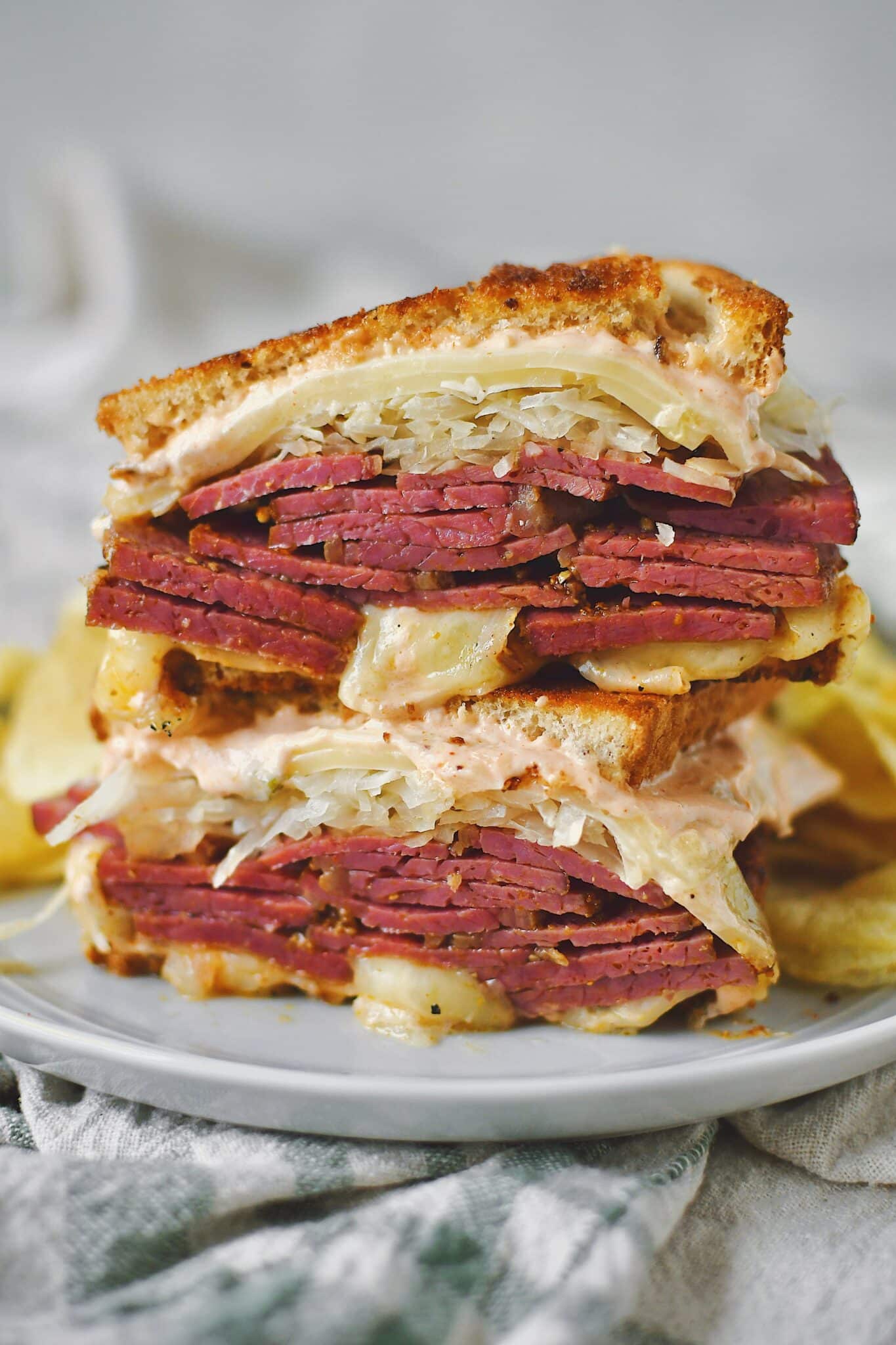 Did you make this recipe? Let me know by leaving a review or comment! And be sure to sign up for my newsletter, and follow along on Instagram, Pinterest, and Facebook!