If you are anything like my family, Crispy Chicken Wings are #1 on the list of favorite things to eat. But we usually end up going out for them, and due to their rising popularity, this once budget-friendly treat now costs an arm and a leg. We often leave slightly disappointed in the service or temperature of the food, so it's time for my foolproof homemade version.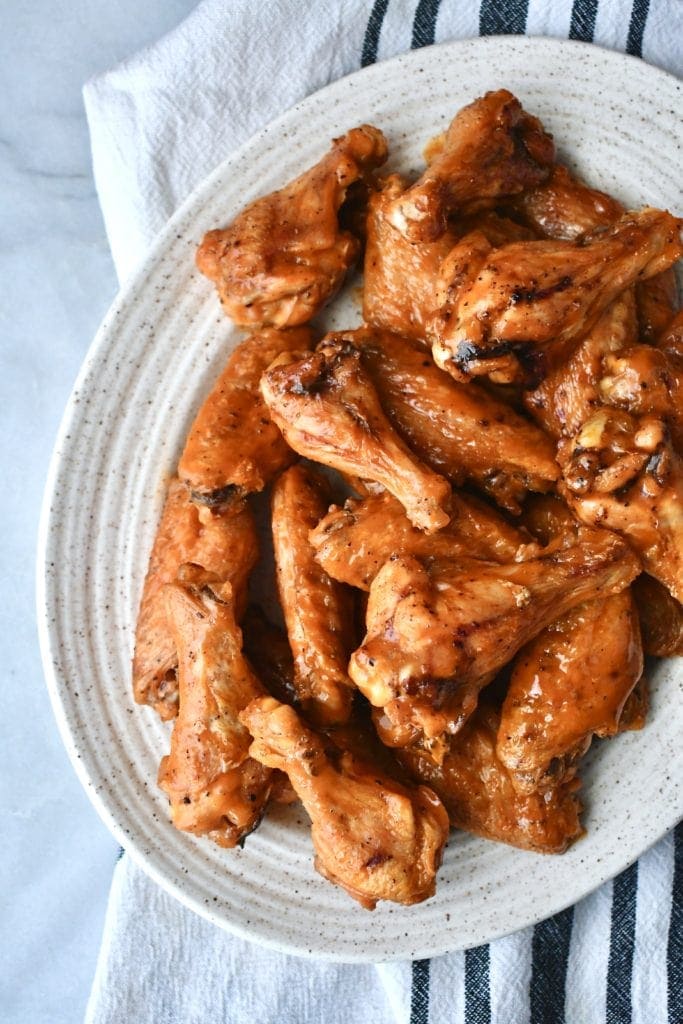 Jump to:
Preparging the wings
They are actually a lot easier to make than they might sound, and the mega bonus is that this recipe doesn't require a deep fat fryer or even a mess to clean up.
Be sure your chicken wings are fully thawed and as dry as possible before seasoning and tossing them in the oven. It helps you guarantee crispy and delicious oven-fried chicken wings.
Use the JUMP TO RECIPE button at the top of the post, or scroll to the bottom of the post to see the full recipe card with ingredient measurements and instructions.
When your wings are fully dried, even if you take a quick paper towel to them and dab them dry, season them with salt, pepper, and olive oil. I know that you will most likely be tossing these in a sauce when they are done cooking, but seasoning them is an interictal part of making AMAZING wings and not sub-par wings.
I will share a little more on the importance of using salt below. Seasoning the wings and tossing them in a little bit of oil will help remove excess moisture. It will also crisp the wings to perfection in the oven.
Seasoning and cooking the wings
Toss your dried wings in a little olive oil, salt, and pepper and they are ready for the oven. Place them on a foil-lined baking sheet and bake at 450 degrees for 18 minutes. They will bake for about a total of 35-40 minutes. After 18 min I drain any liquid off that has accumulated on the pan.
Doing this is integral to getting perfectly crisp wings. I just drain the juices into the sink and toss the pan back into the oven. The last 20 minutes in the oven is when they will crisp the most.
Saucing the wings
Now because we seasoned them well, they can be eaten as is, or you can enhance them with a sauce. I love to toss them in a classic buffalo sauce but use your favorite. Teriyaki Is great to toss them in from time to time too!
I am quickly becoming more and more of a fan of cooking at home. Creating meals at a much more cost-effective price. I don't have to leave a tip even when I get poor service, and I always get HOT food.
This bag of chicken wings and a bottle of sauce can feed a family of 4-5 people for about $25. When my family goes out to eat at our favorite wing restaurant the bill is usually around $75+ for 4 people!!! WHAT!?
So we can eat our heart out on wings at home 3 times for what it costs to go out. That makes me, my wallet, and my tummy happy. Eat up y'all!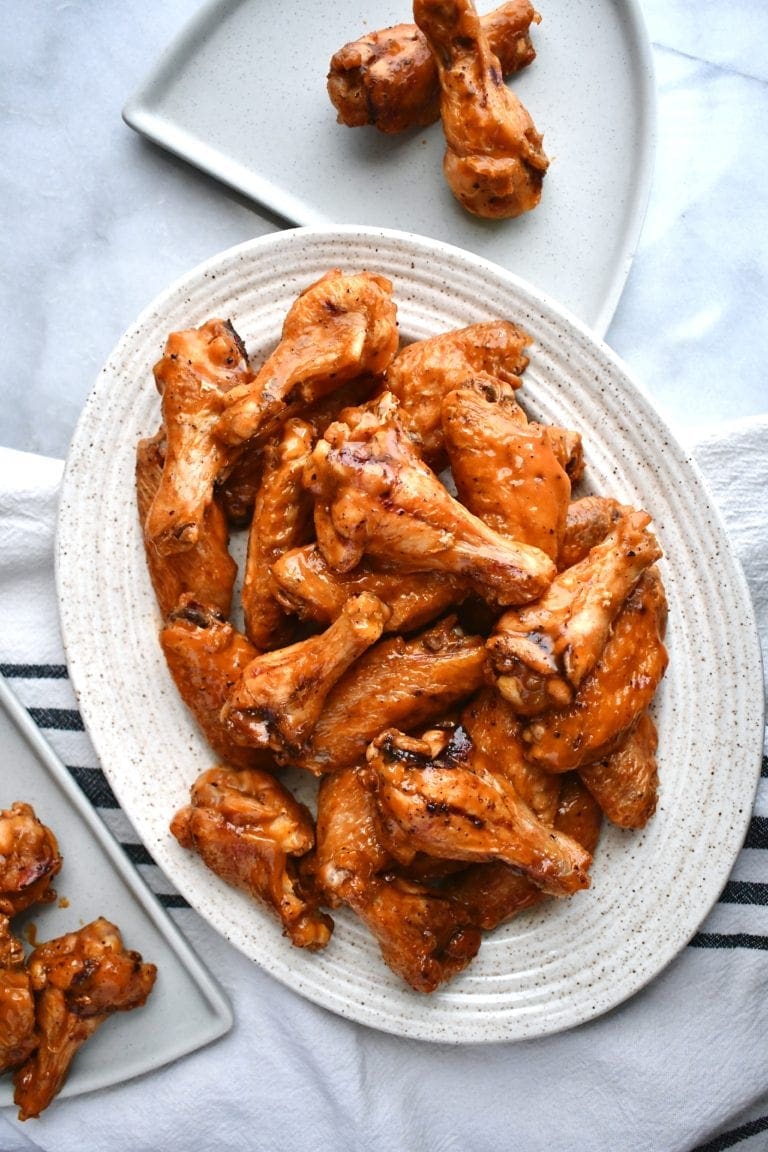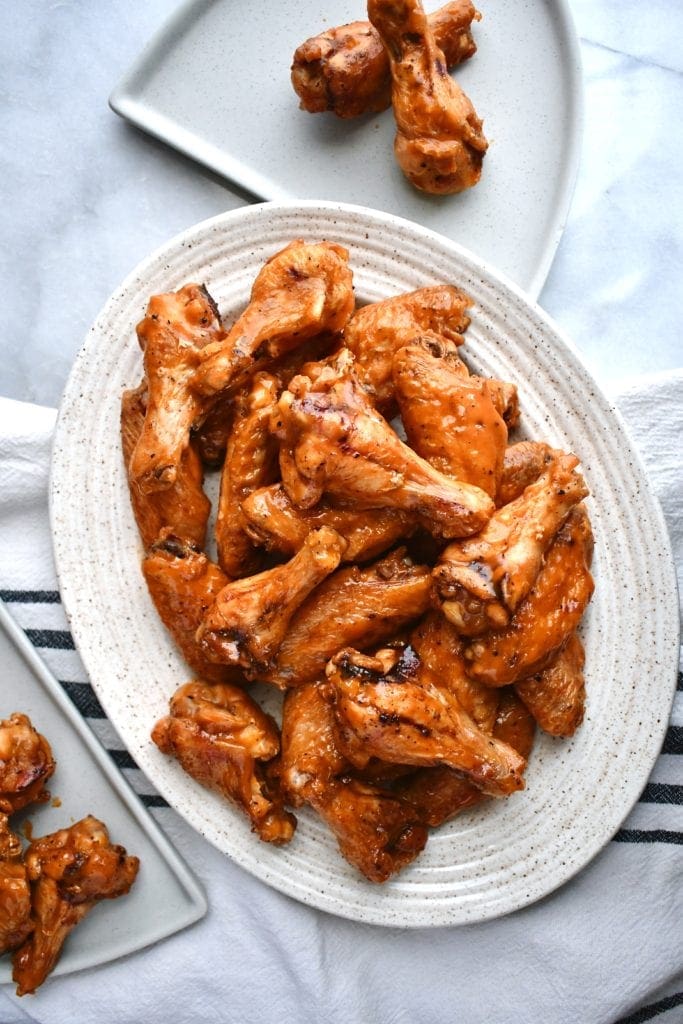 Great side dishes for these wings
Did you make this recipe? Let me know by leaving a review or comment! And be sure to sign up for my newsletter, and follow along on Instagram, Pinterest, and Facebook!
The importance of salting your food!
The greatest and most important thing that I can share with you for this and any recipe you cook is SALT YOUR FOOD! Salt got a bad wrap for many years, but just completely leaving it out is NOT the route you want to take. Selecting a quality salt that is not heavily processed, bleached, or loaded with additives is the move you want to make.
I am often asked, "what did you season this with, it's fantastic". And most times the answer is "salt and pepper". It's just all about learning how much to use, tasting and adjusting, and reaching the right threshold.
With everything you cook, there is a just-right amount of salt that will make everything shine! Hitting that proper seasoning peak can sometimes be hard, but taste it and adjust as needed so your food is never bland again.
Salt is good for you, and is a much-needed part of a healthy diet! But like I said, it comes down to choosing a quality salt that will benefit your body and not just rob it of essentials. I can't say it loud enough...GET RID OF THE IODIZED SALT and never let it back in your kitchen again!