I am here to tell you that you too can enjoy REAL luxurious truffles at home. I am on a mission to share how accessible they can be, as well as show how many recipes I can make from one can of $12 truffles. Because a little goes a long way. I am starting with my Truffle French Fries, because WHY NOT!? They are so stinking good, you will want to use the whole can of truffles making fries!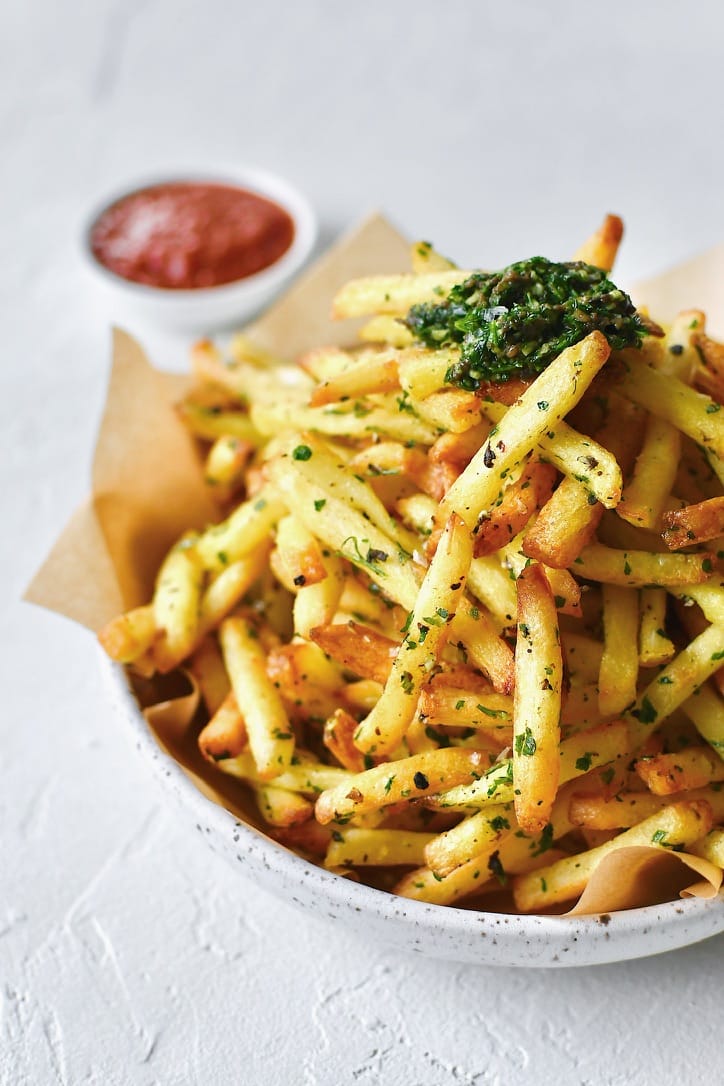 I learned to make a version of these fries when I worked in a high end steakhouse restaurant. This was the one side that didn't get ordered all that often, but when it did you made a few extra fries to snack on when you worked that station. They are completely drool worthy, and I still dream of them.
Jump to:
Ingredients
The ingredients needed to bring this recipe to life are simple and humble...until you get to the truffle of course! Potatoes, garlic, parsley, truffle mushrooms, and a touch of white truffle oil to bring everything alive! That's it, yes for real.
You can choose to bake or deep fry your french fries. And if you choose to make them from scratch, follow this method. For the sake of ease, I am going to turn frozen french fries baked in the oven into the scrumptious images you see in front of you.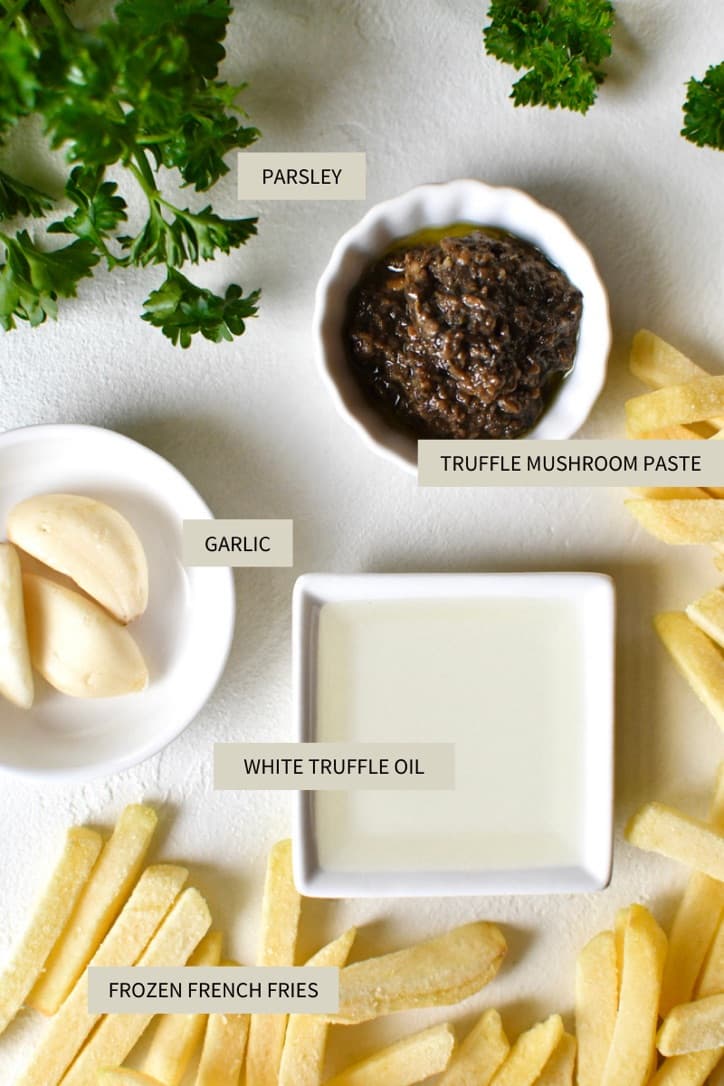 Use the JUMP TO RECIPE button at the top of the post, or scroll to the bottom of the post to see the full recipe card with ingredient measurements and instructions.
Method
There is just a little bit of a process you want to follow to keep this recipe from becoming muddy. A little finesse to keep everything looking clean and fresh.
Start by adding the parsley, garlic, and white truffle oil to a food processor. I like this small handheld version the most. It is probably one of THE MOST used gadgets in my kitchen.
Blend the ingredient scraping down the sides until you have a nice, bright green paste and the garlic is finely chopped. I then fold in the truffle mushrooms. Keeping the truffles out and stirring them in by hand keeps the mixture from turning black and becoming unappetizing looking.
This mixture can be made up to 3 days ahead of time and kept in the refrigerator. I typically only make enough for one batch at a time, but you could easily multiply the recipe if you like.
Now it is time to take these fries from frozen to perfection. A HOT oven is key, and I have always had to double the cooking time according to the package for crisp fries. One other secret that I will share, give the fries a couple of bursts of pan spray or a drizzle of vegetable oil to help them get even crisper.
Notes & Tips
Preheat your oven early to the package directions, and do NOT open the oven while the fries cook. This will keep all the heat in and allow them to get crispy. A crispy fry is the best fry for this recipe since we will be introducing some moisture to them after they cook.
Be sure to have everything ready to go when the fries come out of the oven. You will give them a quick toss in a bowl with the truffle/garlic mixture you make and you want to get the hot fries in the bowl and coated quickly. Because no one enjoys a cold french fry.
Substitutions
The only real substitution you can make, without taking away what this recipe is, is to swap the truffles. If you would like to make them with White Truffles you can. Other than that I don't have any real news for you here.
Beyond the swap of the kind of truffle, if you want to make your own homemade french fries instead of using storebought that might be the only other thing I suggest. But when I want to make this recipe on the fly, even I use frozen!
Great pairings for Truffle French Fries
Did you make this recipe? Let me know by leaving a review or comment! And be sure to sign up for my newsletter, and follow along on Instagram, Pinterest, and Facebook!