This year I want to bring more recipes inspired by the people I have met in my life and the places I have seen. This recipe for Curry Chicken is a story of those I have met in my life. An old friend came and taught the recipe to me, I made it my own, and I am happy I get to share it with you today.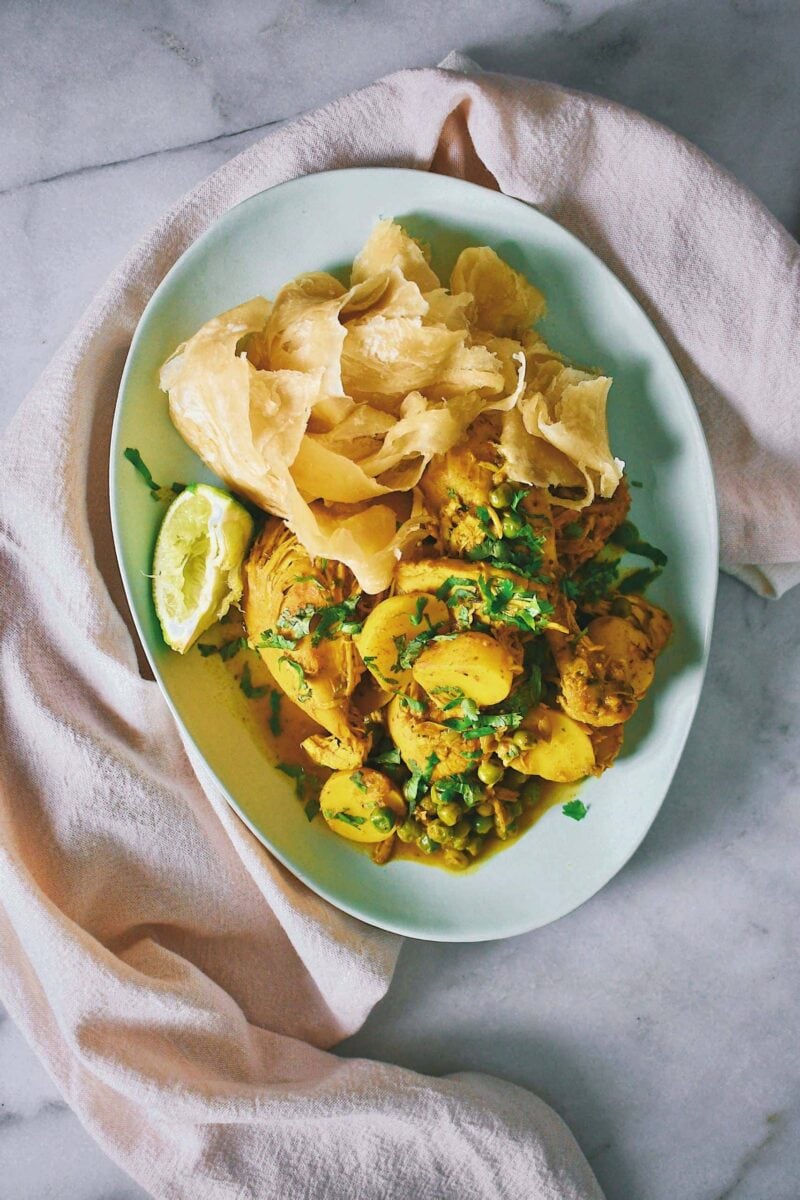 A little while back my friend Alicia, who is from the island of Trinidad and Tobago, came to share this recipe with me. We blended our own curry powder, I learned how they clean a chicken, and we built this recipe right in front of your eyes. Check my instagram story highlights to see us cook together.
This island in the west indies holds a major influence in its food culture from around the world, but much of the street food as it was described to me has South Asian influences. That is where this Curry Chicken comes in. It is served alongside Buss-up-shut (meaning torn shirt) Roti and eaten with your hands as street food.
Making Curry Chicken at Home
This is a dish that literally had a million different versions, because every cook has their own. I am sharing my adaptation with you today, and we will talk about the essentials that make it curry.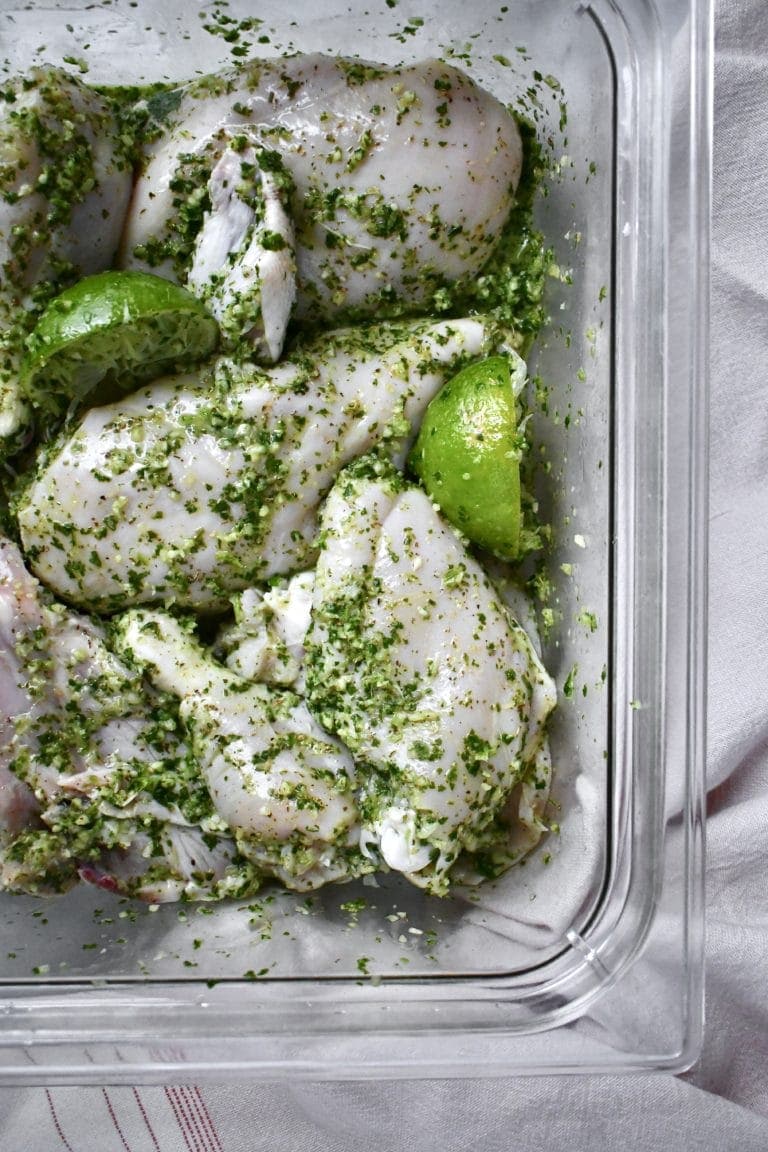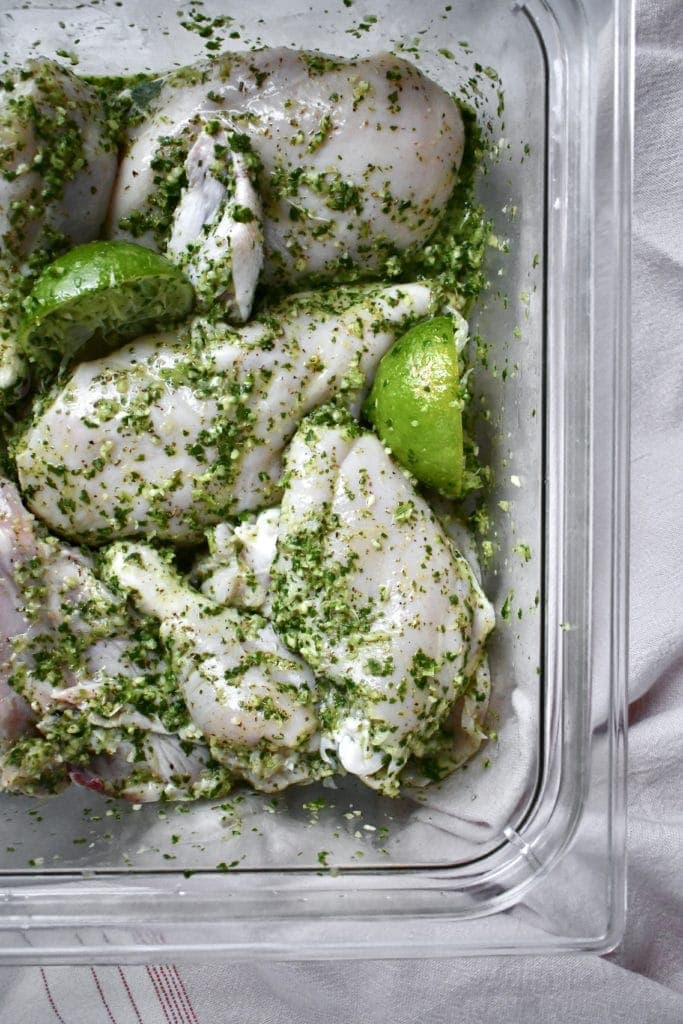 The dish starts with a whole chicken, piecing it out, and soak it in water with the juice of a lime. Then seasoned in a sofrito style rub, and stewed down in curry spices.
You can fill your curry with any of your favorite vegetables and meats, or all veggies and no meats. Make it spicy or sweet, brothy or creamy, the possibilities are endless. Start with a jalapeno to make it hot, or finish it with coconut milk to make it like tikka masala and be sure to serve it with Roti!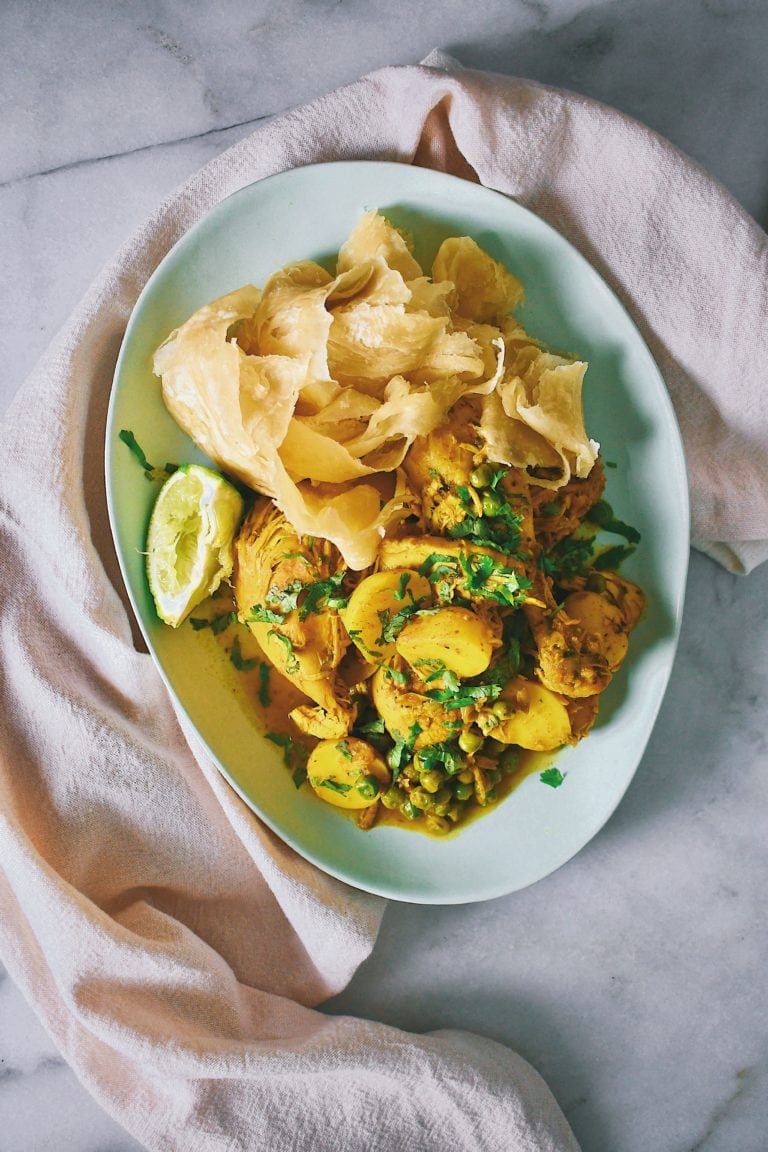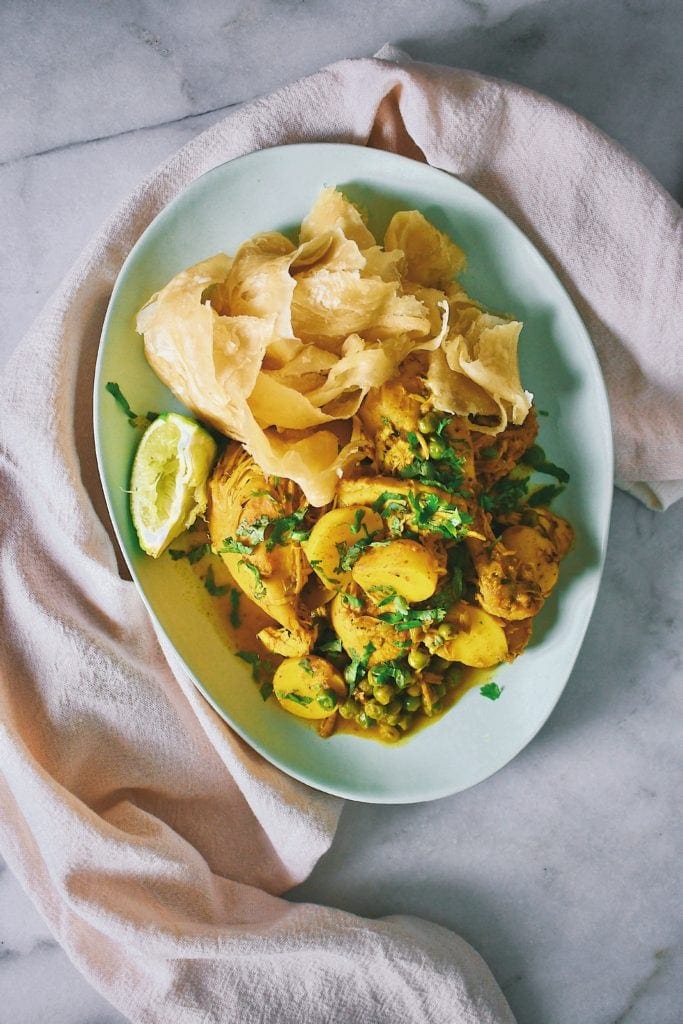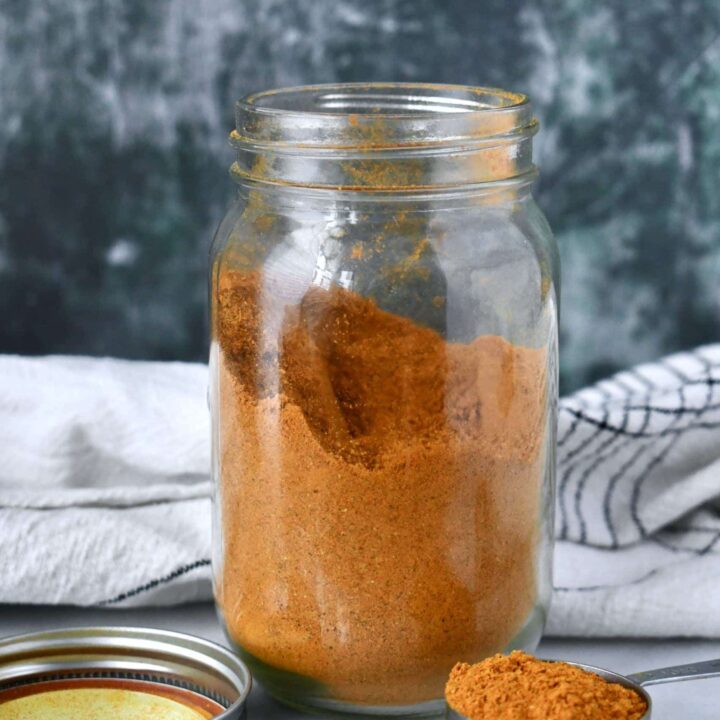 Homemade Curry Powder
I make a double batch of this when I make it so it lasts me a while. Keep it in an airtight jar and it will keep for about a year.
Ingredients
¼ cup Turmeric, ground
¼ cup Corriander, ground
2 tablespoons Cumin, ground
2 teaspoons Cardamom, ground
2 teaspoons Fenugreek, ground
2 teaspoons Paprika, ground
1 teaspoon Garam Masala, ground
¼ teaspoon Cinnamon, ground
Instructions
Combine all of the ingredients in a bowl, mix to combine.
Place the spice mixture in an airtight container and store in a cool, dry place.
It will hold up to 1 year.
Notes
You can use cayenne if you like it HOT, or half and half it with the paprika.
Nutrition Information:
Serving Size:

1 grams
Amount Per Serving:
Unsaturated Fat:

0g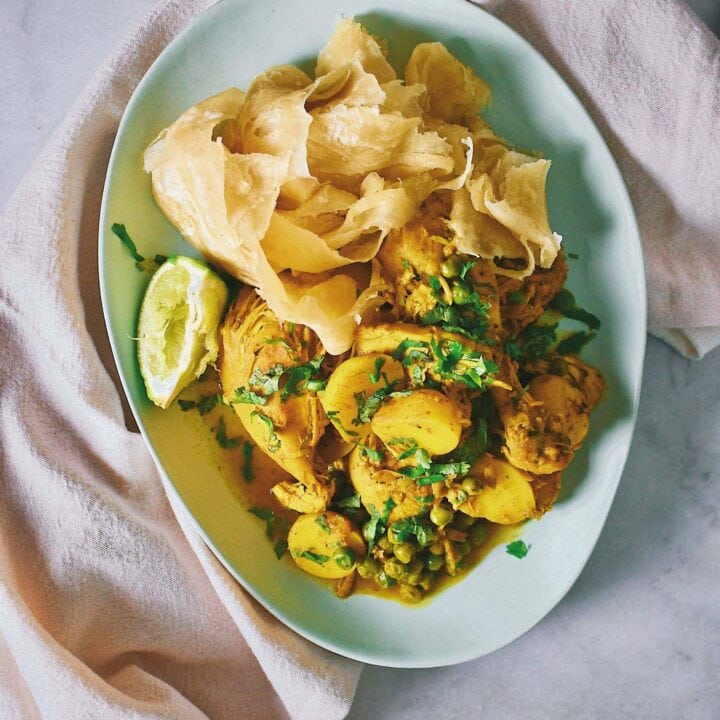 Curry Chicken
This is the version of curry chicken I cook. Every cook has their own and this one was taught to me by my Trinidadian frined. Give it a whirl the first time you make it, then make your edits next time. That's what makes cooking fun, you can make it just the way you like it.
Ingredients
1 Whole Chicken cut into individual pieces
3 Limes 1 for the chicken, 2 juiced for finishing
4-6 Garlic Cloves minced
4 tablespoons Cilantro plus more for garnish
2 tablespoons Chives chopped
1 teaspoon Oregano dry
1 teaspoon Olive Oil + more for the pot
1 med Onion chopped
¼ cup Homemade Curry Powder
¼ cup Water
3 cups Baby Potatoes diced or halved
2 cups Peas, frozen
Kosher Salt and Fresh Cracked Black Pepper
Instructions
Place your chicken pieces into a bowl and cover with water. Squeeze one into the water and drop the halves in. Let the chicken rest in the lime water for 30 minutes, then drain the liquid.
While your chicken is resting in the lime water, blend the garlic, cilantro, chives, oregano, and 1 t Olive Oil in a blender or chop finely and combine in a bowl.
When your chicken is done resting in the lime water, toss it with the garlic and herb mixture to coat.
In a heavy-bottomed dutch oven or stockpot, heat 1-2 t of olive oil and sweat the onion for 2-3 minutes. Mix the curry powder and water to form a slurry and carefully add the liquid to the pot, using caution as it will pop a little bit. Toast the curry paste for about 2 minutes and add the chicken to the pot. Toss the chicken to coat in the curry and reduce the heat to medium-low. Let the chicken stew, covered, for 10-15 minutes.
Add the potatoes to the pot and stir. Cover with a lid and stew until the potatoes become tender, about 10 more minutes, but are not falling apart.
Season the pot with salt and pepper, taste and adjust as needed. Add the peas, the juice of 2 limes, and a generous handful of chopped cilantro.
Stir to combine and continue cooking until the peas are heated through.
Serve with Roti flatbread and eat with your hands.
Notes
If you like a spicy curry, add a diced jalapeno in when cooking the onion. If you like a creamy curry, finish the pot with a can or two of coconut milk. You could leave out the potatoes and serve this over rice as well. You can also follow all of these directions using only vegetables to keep it vegetarian or vegan. Add some chickpeas or other beans along with carrots, and your favorite root vegetables to bulk it up.
If you make this recipe, please let me know by leaving a review at the bottom of this page!
And make sure to sign up for my newsletter and follow along on Instagram, Pinterest, and Facebook for more KendellKreations!
MY LATEST RECIPES!
Get my NEW e-Cookbook here!! ⬇️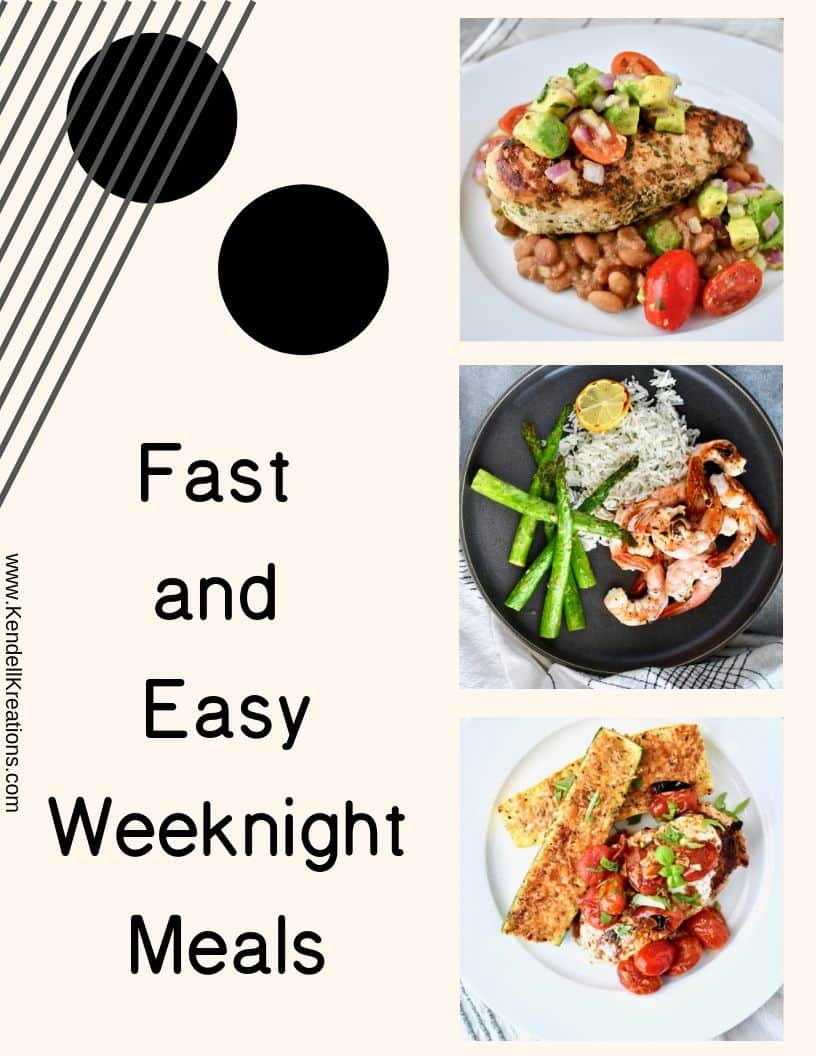 MY FAVORITE KITCHEN TOOLS!
Here are a few links to some of my favorite kitchen tools! You get a car, YOu get a car, YOU ALL GET A CAR…in my best Oprah voice
These Rösle Silicone Tongs are a little pricey but they will last you the rest of your life and are the softest in your hand. This is important for someone like m that cooks so much. It reduces strain, I have 4 sets in my kitchen!
These are my FAVE Nordic Ware Sheet Pans, every kitchen should have at least 2 sets of these! I think I have at least 4 of each of these.
This is my favorite pressure cooker, the Fagor is the same concept as the "Instant Pot" but easier to use in my opinion, if you don't have one you NEED one, it will be your best friend in the kitchen!
A sharp knife is the most important tool in the kitchen, these Japanese steel "Shun" knives are my favorite! And this is a great starter set to build on. Once you try them you will be in love so use this as a foundation you can build on for years to come.
This Scanpan 11″ skillet is just the right size for almost anything you will need to cook and my best friend and a real workhorse in my kitchen, it's also a great deal at $99. Scanpan is the best in the world for healthy cooking. It is coated with a proprietary ceramic-titanium coating that is durable while allowing you to use fewer fats and oils when cooking. It is a coating only they use. I could talk all day about my love for these pans, message me if you want more info. Here are some other sizes that are available if you are looking to outfit your kitchen with some new goodies. 8″ & 10″ Skillet set or 8″ Skillet, I still need this one for my kitchen Also, I don't really know how to cook small so the 12.5″ is my other fave!
This giant vat of olive oil is my favorite, I decant it into a smaller bottle for my counter. Or put this spigot on top of a wine bottle!
My favorite baking dish that is so easy to clean even burnt on cheese slides right off!
This Tovolo jar scraper has to be my single favorite kitchen tool, it is definitely the most used tool in my kitchen. If you are NOT a gadget person, this is the only necessity I say is a MUST beyond the wooden spoon.
A great wood spoon is essential, this Olive Wood one is my favorite, I have more than I can count. But can you really ever have too many?
A food scale can be a very important tool in your kitchen, this one is the one I use every day!
If you love Joanna Gaines as much as I do then the 'Magnolia Table Cookbook' is a must in your kitchen, get a copy HERE!