This delicious flatbread that my friend from Trinidad taught me to make is well known as street food in the country, and something that is served with every meal in most homes. It allows you to eat the stewed meal with your hands. Buss-up-shut translates to "torn shirt", you can see how its made in my story highlights on instagram, just look for the "Roti + Chicken Curry" highlight.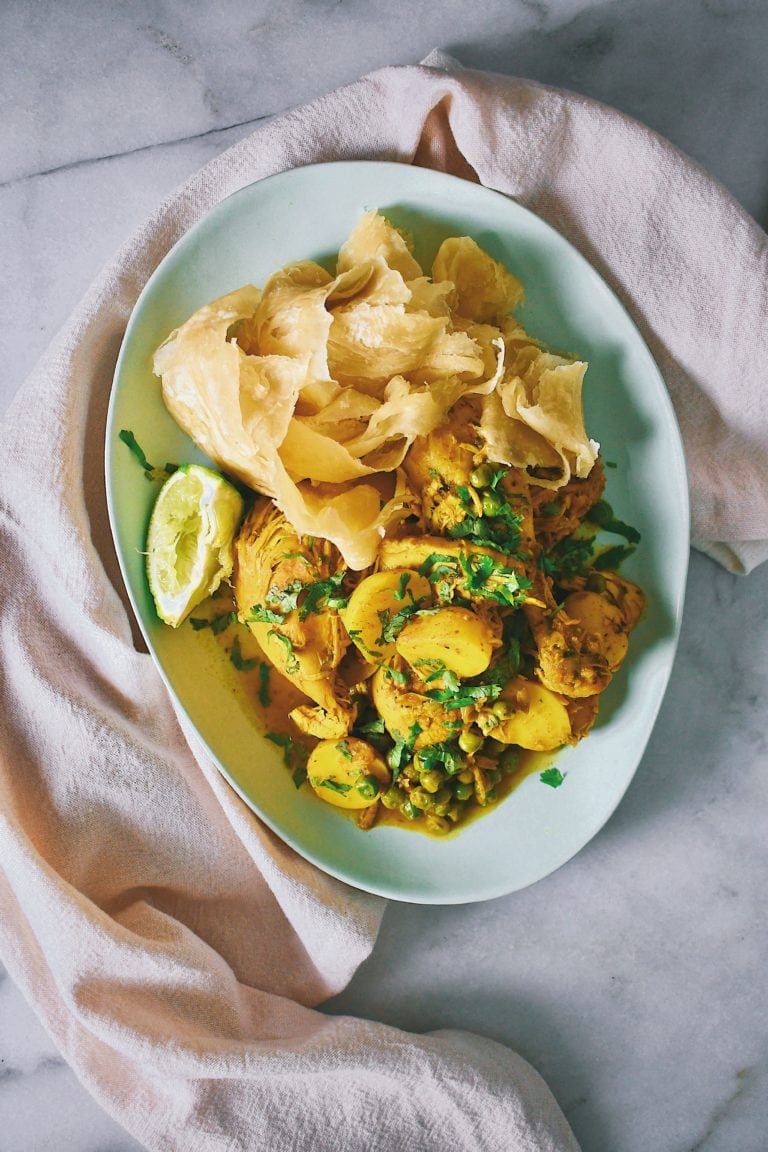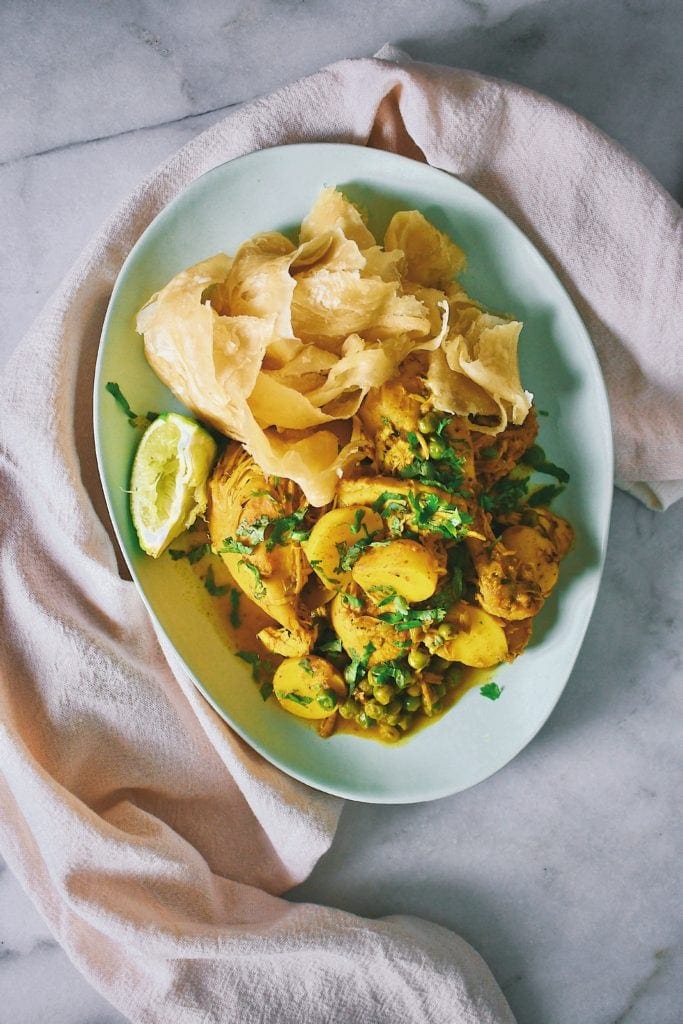 How to make Roti at home.
The dough is formed by gently wetting flour and lifting it from the bottom until it forms a stringy and shaggy dough. It is worked into a ball and rested until it is ready to roll out. The dough is formed into smaller rounds and rolled out into paper-thin circles, buttered and rolled again, and again, before cooking.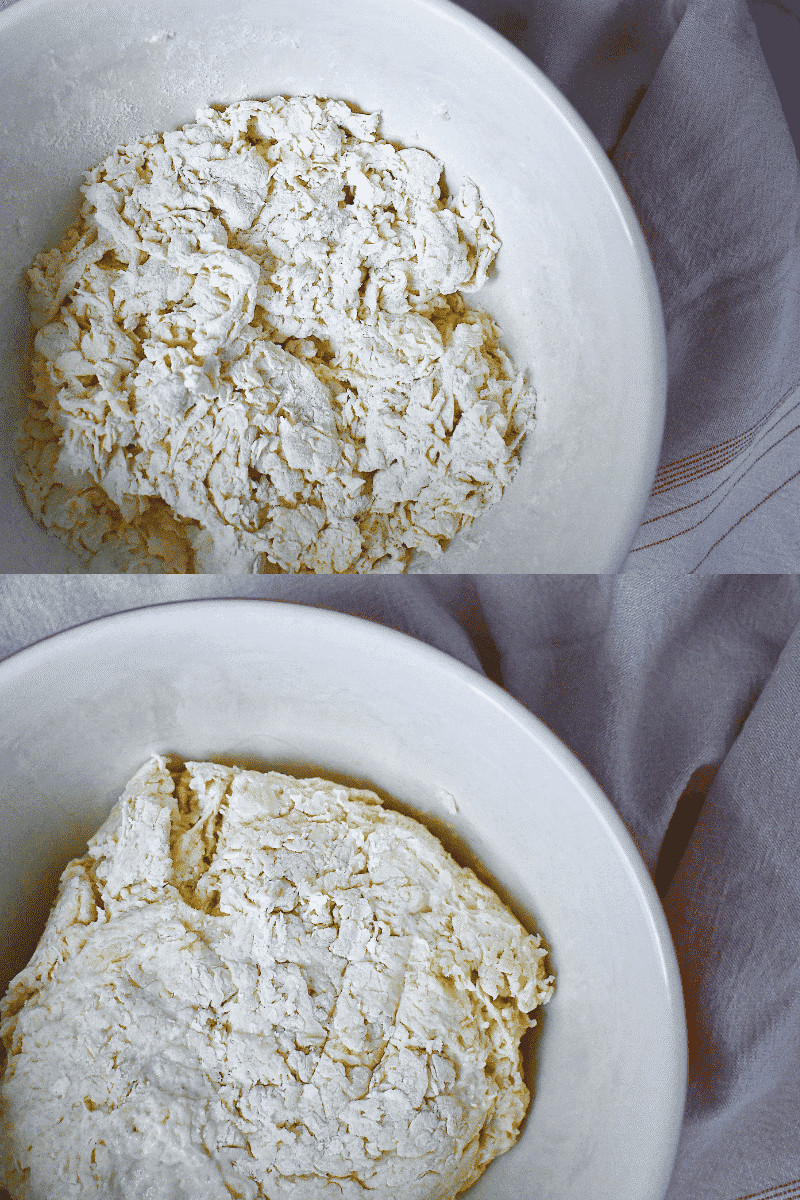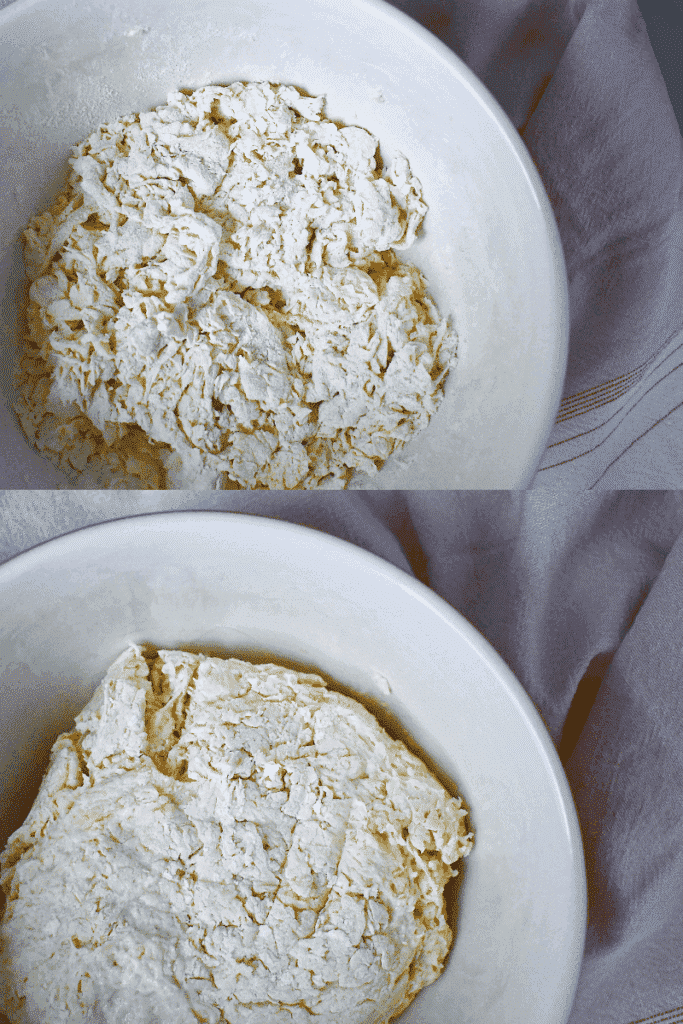 By continuing to roll and rest the dough, you begin to form a sort of tortilla-like flatbread, but with the flakey layers of a croissant. You want those layers when it cooks, so it is easy to tear and dip in your Curry Chicken.
Below you can see step by step how to roll the rested dough, brush a layer of butter over it, roll it like a Christmas tree, lift the tail and press it into the center and let it rest again before rolling it out like a tortilla.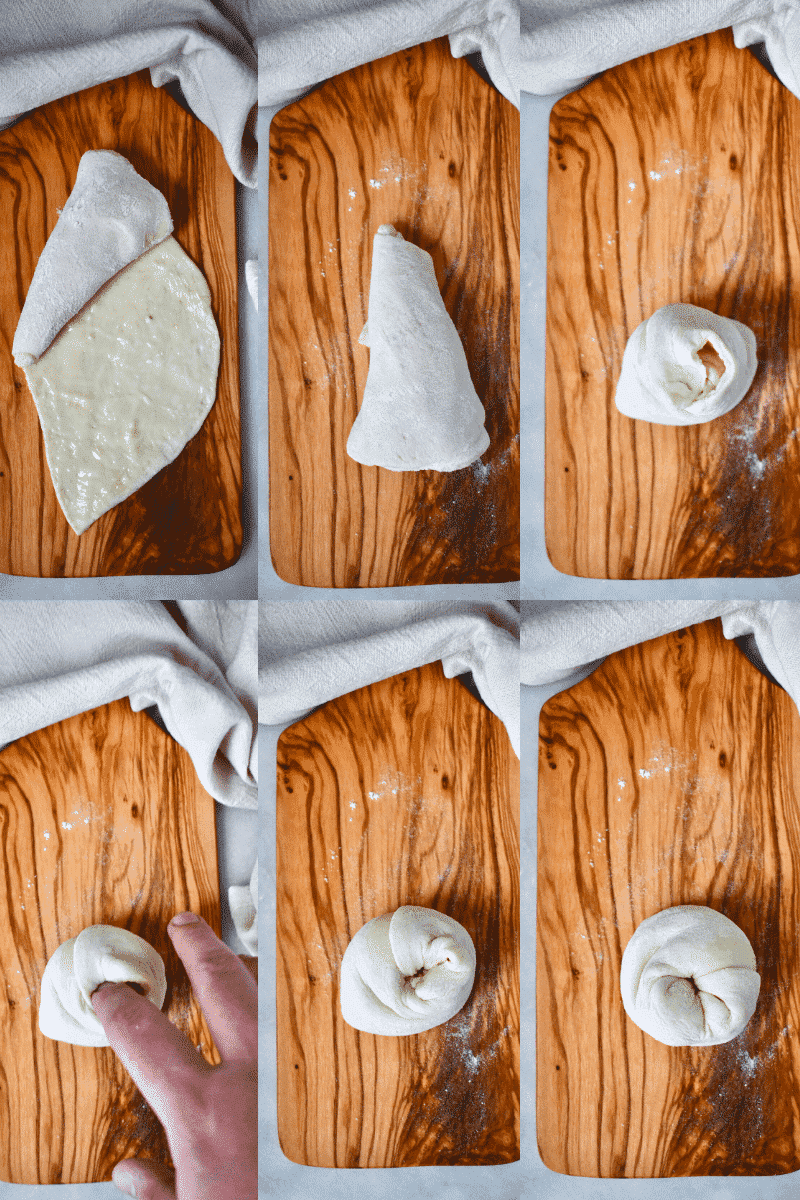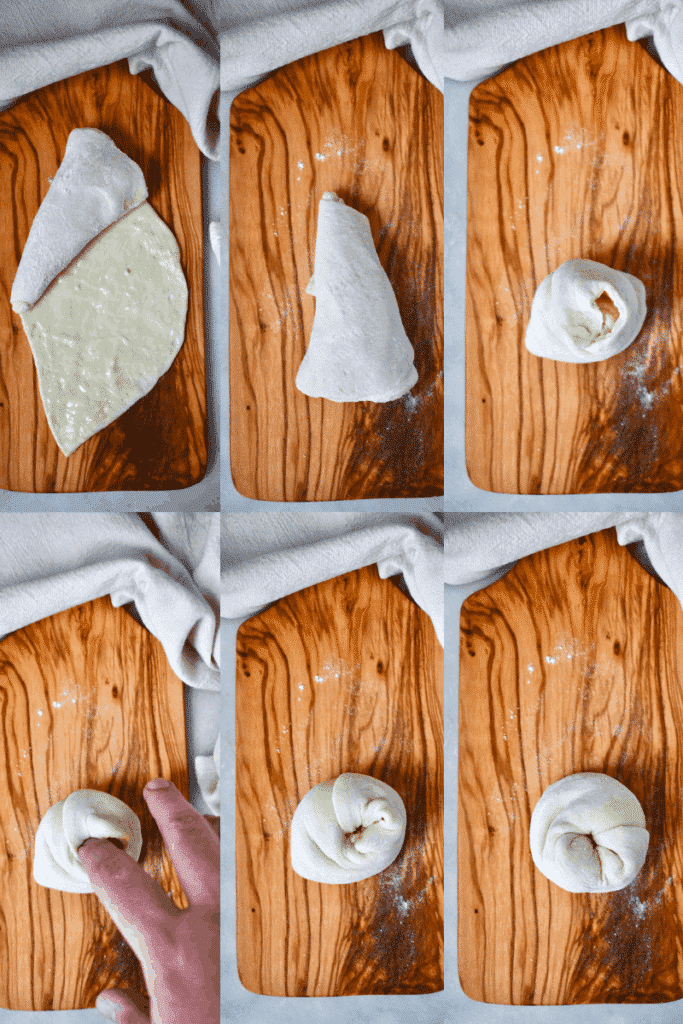 From this step, let the dough rest again and then roll out paper-thin on a lightly oiled surface. The dough will stick to the surface but will remain pliable enough to remove slowly without tearing. Cook the flatbread on a cast-iron plancha or skillet. Watch my "Roti & Curry Chicken" story highlights on instagram for a more in-depth understanding.
Serve this alongside my Curry Chicken, or your favorite dips or spreads. The instruction list is long, but don't let that stop you from making this amazing homemade flatbread. It will become an instant favorite.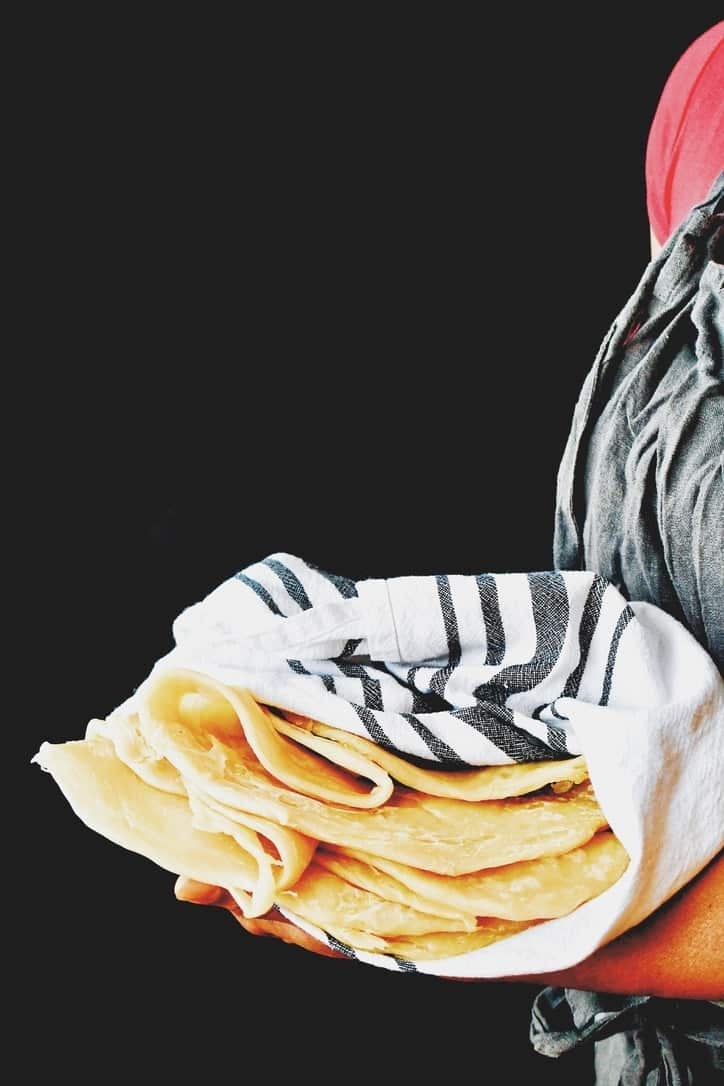 Did you make this recipe? Let me know by leaving a review or comment! Also, be sure to sign up for my newsletter, and follow along on Instagram, Pinterest, and Facebook!
For MORE of my most POPULAR Magnolia Table Reviews!
If this recipe review was valuable to you, take a look a some of my other reviews that have been super popular!
See all of my reviews of recipes Joanna cooked in Season 1, HERE!
Jo's recipe for 1919 Pimento Cheese is by far my most read review. I have adjusted to the recipe to replace the Velveeta, which I just can't bring myself to bring into my kitchen.
Her Zucchini Bread is my next most popular review, and it is one of my very favorites to pick up when visiting Waco.
And to ready my full ranking of every recipe in the first cookbook check out this post...Magnolia Table Cookbook…my overview!