This delicious flatbread that my friend from Trinidad taught me to make is well known as street food in the country, and something that is served with every meal in most homes. It allows you to eat the stewed meal with your hands. Buss-up-shut translates to "torn shirt", you can see how its made in my story highlights on instagram, just look for the "Roti + Chicken Curry" highlight.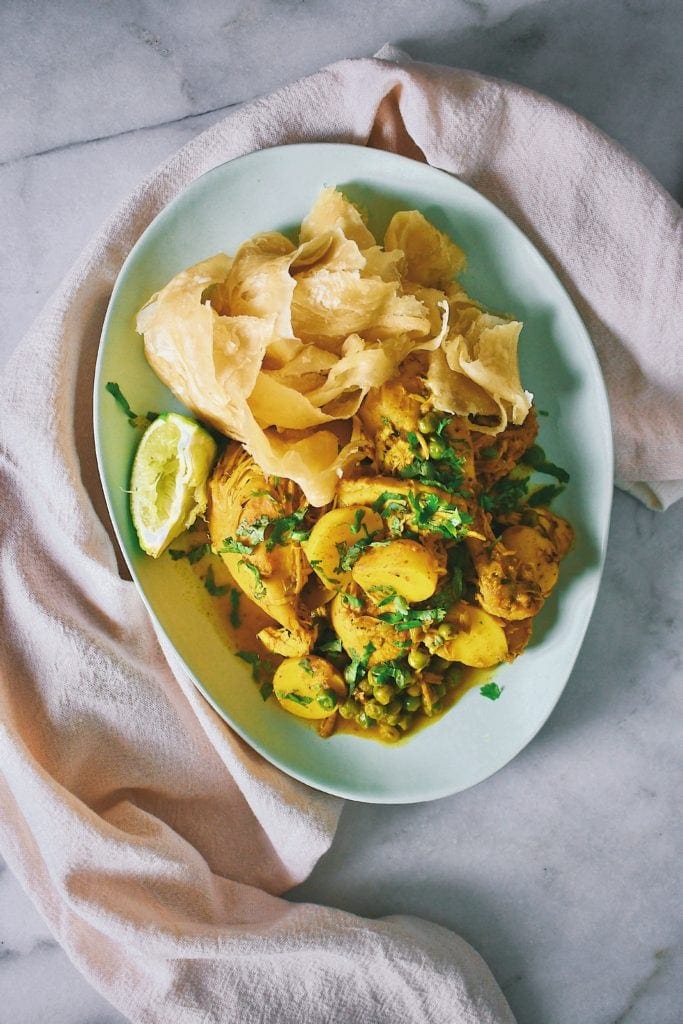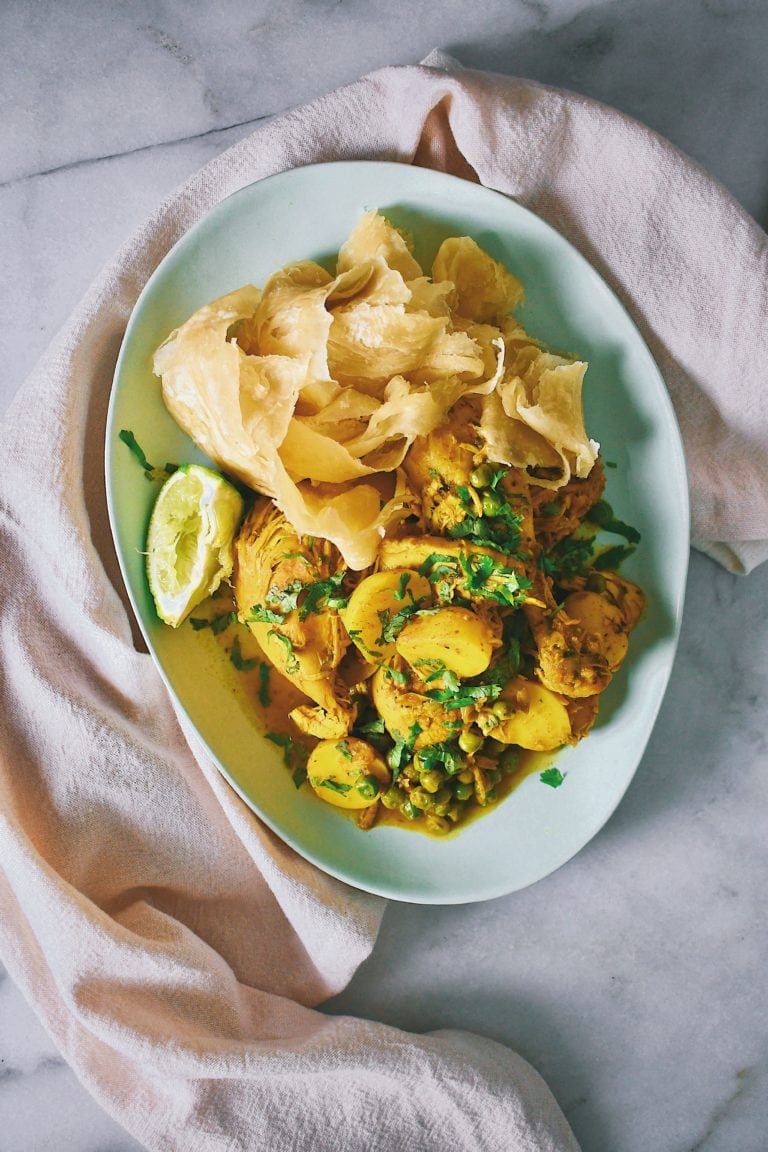 How to make Roti at home.
The dough is formed by gently wetting flour and lifting it from the bottom until it forms a stringy and shaggy dough. It is worked into a ball and rested until it is ready to roll out. The dough is formed into smaller rounds and rolled out into paper-thin circles, buttered and rolled again, and again, before cooking.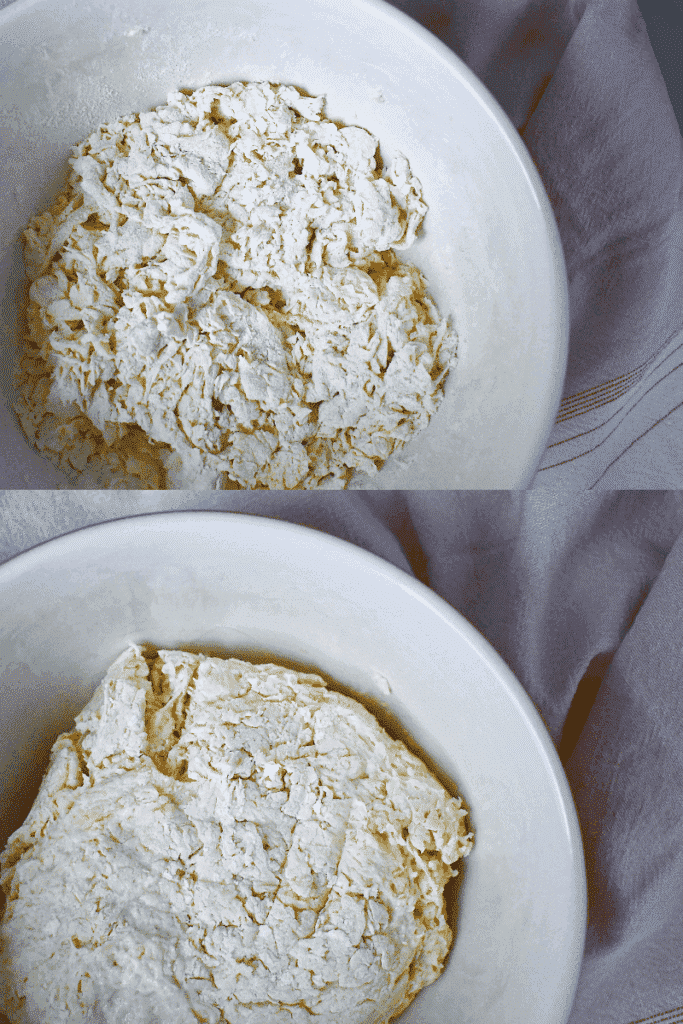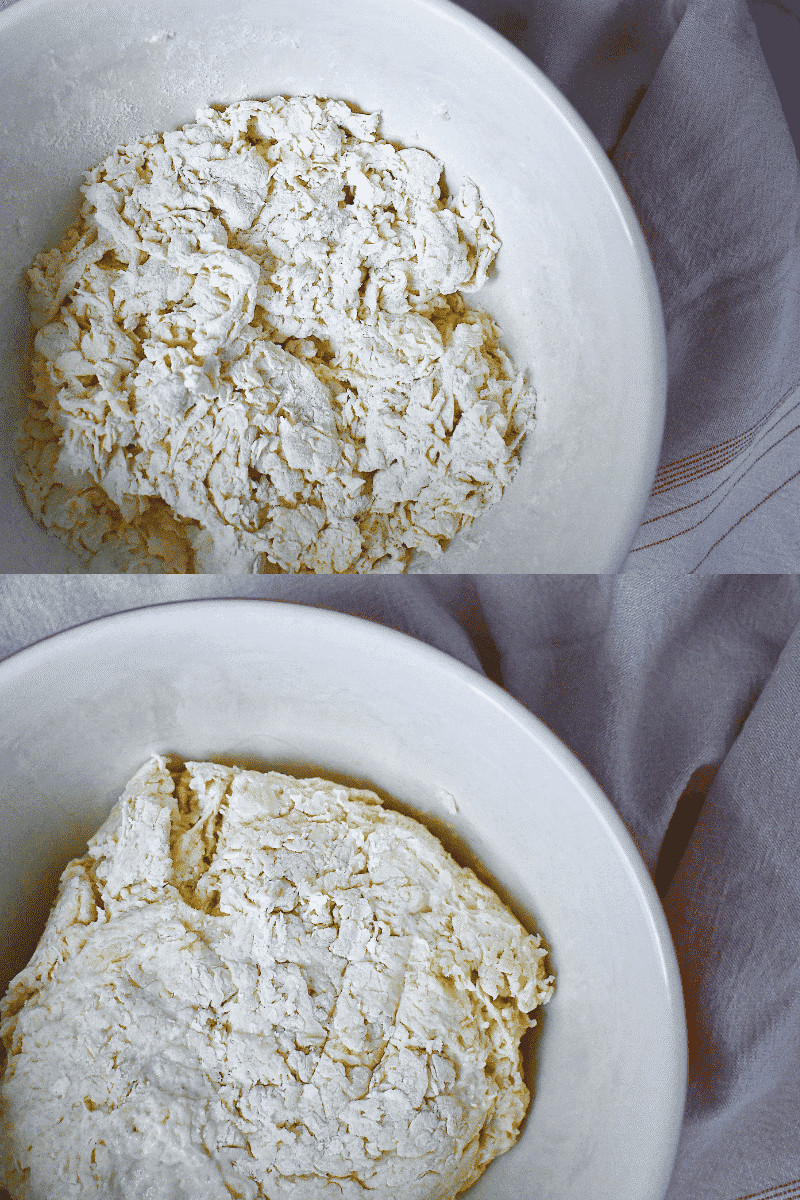 By continuing to roll and rest the dough, you begin to form a sort of tortilla-like flatbread, but with the flakey layers of a croissant. You want those layers when it cooks, so it is easy to tear and dip in your Curry Chicken.
Below you can see step by step how to roll the rested dough, brush a layer of butter over it, roll it like a Christmas tree, lift the tail and press it into the center and let it rest again before rolling it out like a tortilla.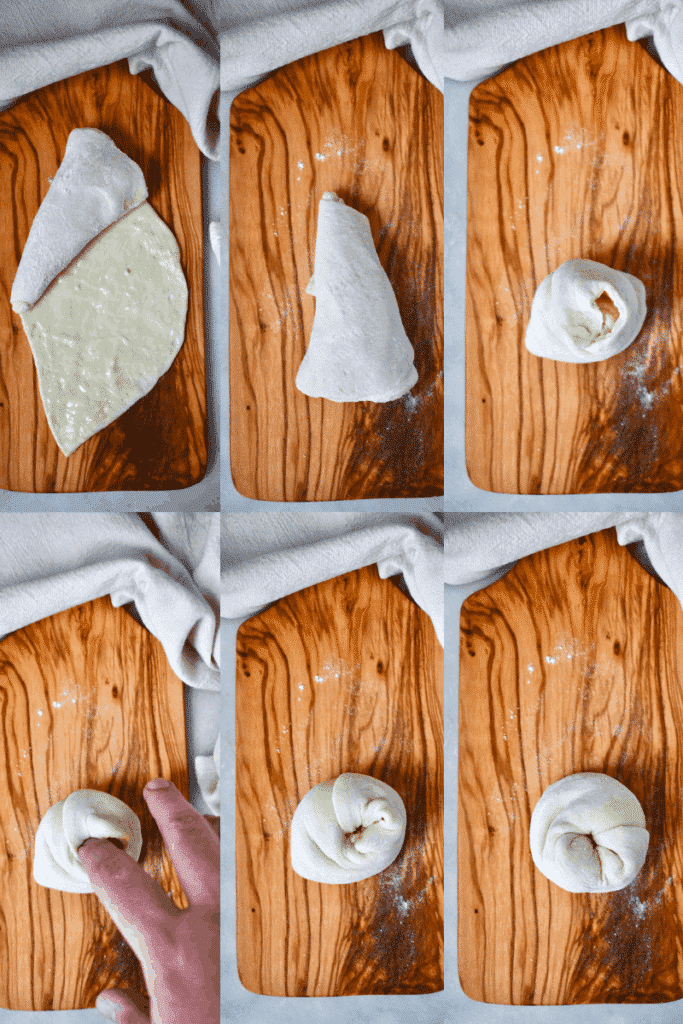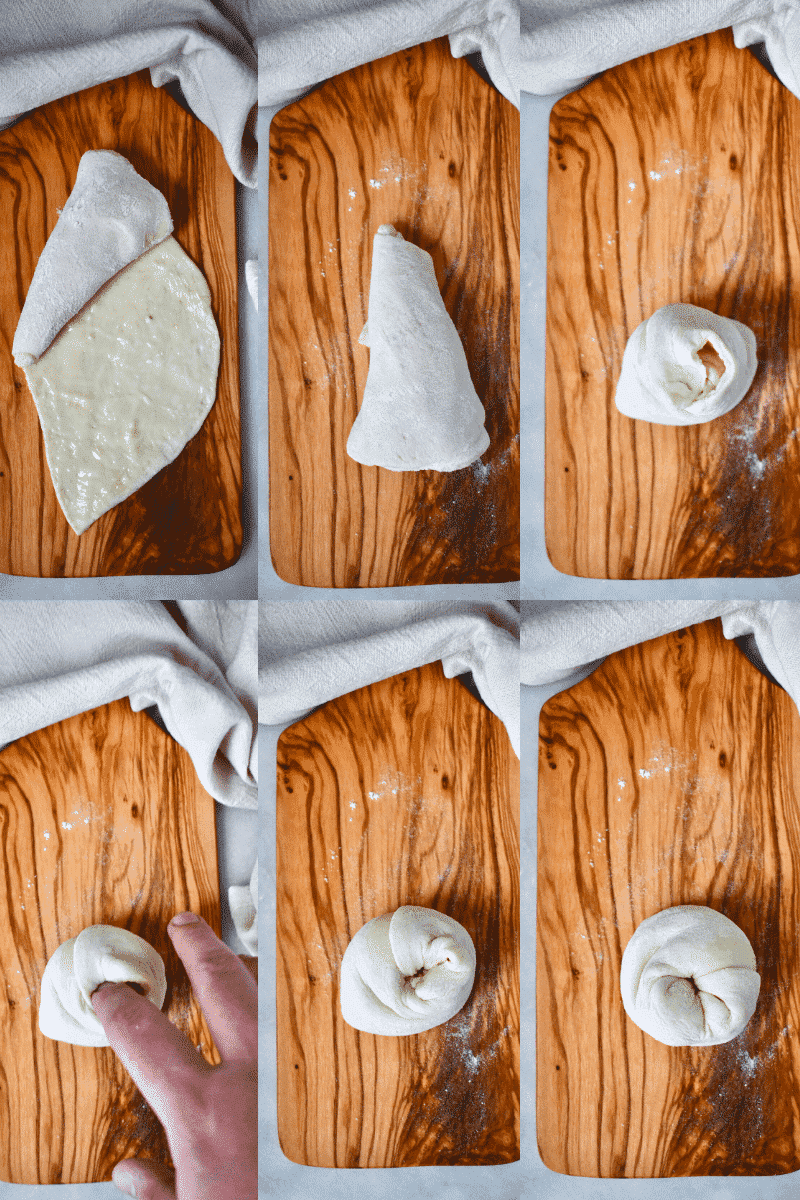 From this step, let the dough rest again and then roll out paper-thin on a lightly oiled surface. The dough will stick to the surface but will remain pliable enough to remove slowly without tearing. Cook the flatbread on a cast-iron plancha or skillet. Watch my "Roti & Curry Chicken" story highlights on instagram for a more in-depth understanding.
Serve this alongside my Curry Chicken, or your favorite dips or spreads. The instruction list is long, but don't let that stop you from making this amazing homemade flatbread. It will become an instant favorite.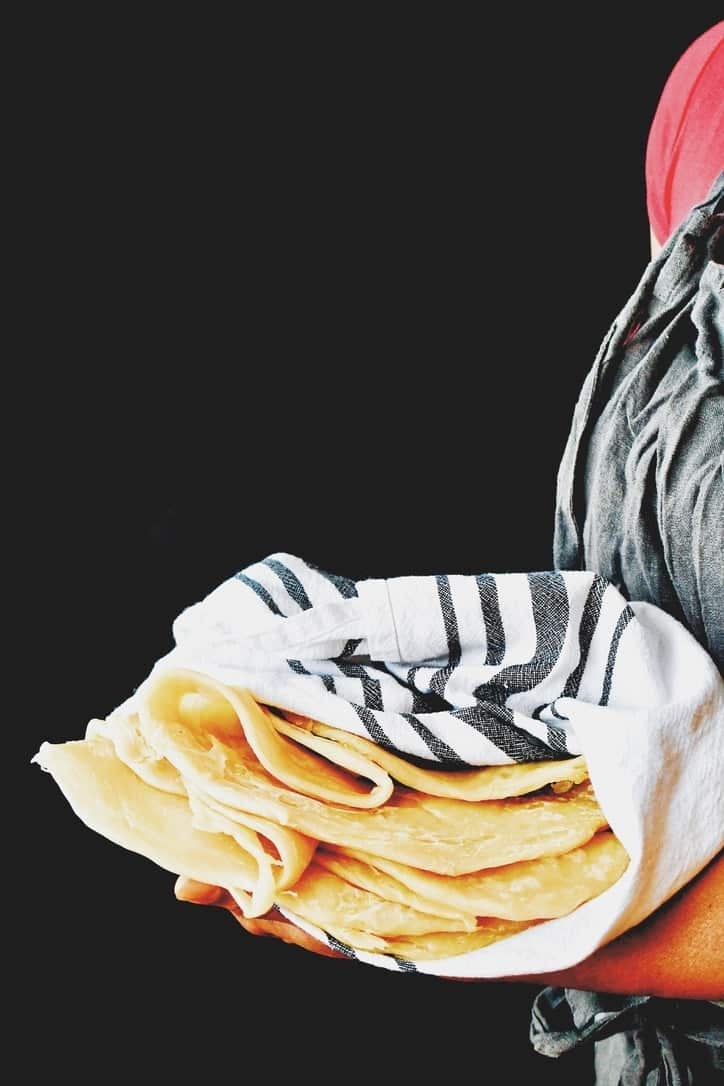 Roti Buss-up-shut
This Roti recipe is simple but requires just a little patience and time. That said, it is well worth the effort, and just remember, most households make a version of this every day in the island nation of Trinidad.
Ingredients
4

C

Flour

+ more for dusting

1

t

Baking Powder

1

t

Kosher Salt

2

t

Sugar

2

t

Oil + more for the bowl

1 1/2

C

Water

4

T

Butter

softened

4

T

Oil

a neutral oil like canola or corn
Instructions
Coat a medium bowl with oil, set aside.

In a large bowl, combine the flour, baking powder, salt, and sugar and whisk to combine.

Make a well in the middle of the bowl and add the oil. Slowly add the water 1/2-1/4 C at a time and gently lift the flour from the bottom just to wet the flour. Do not work the flour at this time, we are simply wetting the flour, we do not want to develop the glutin at this time.

Transfer the wet flour to your oiled bowl and continue wetting the flour until you have an empty bowl.

Gently work the shaggy dough into a ball, kneading it as gently as possible. We are not trying to develop structure at this point, just bring the dough together.

Let the dough rest in the bowl, covered with a damp cloth, for about 30 minutes.

After the dough has rested, divide it out into 10 evenly sized balls. Roll them into perfect shapes and rest under a damp cloth 15 minutes longer.

Mix the softened butter and oil in a small bowl and mix together gently, leaving chunks of butter to be seen.

On a lightly floured surface, roll the balls out into circles about the thickness of a tortilla. Using a brush, brush the top of the circle with the butter and oil mixture. Dust lightly with flour, cut a slit from the middle to the outside, and roll the circle up to form a cone. Stand the cone up and bring the tail of the dough to the top and press it into the center, form a ball again. Doing this creates all of the flakey layers we want in the end. Continue until all the balls have been rolled and coned.

Let the dough rest another 15 minutes or so, or by the time you are done with the last one, the first one will be ready to roll again.

Heat a cast-iron plancha or skillet over medium-low heat.

Next, roll the balls out to a paper-thin circle on a lightly oiled surface using a rolling pin. You may need to very light oil your pin, and be sure it is rolling and not just pressing the dough, this second rolling creates all the thin layers in your flatbread.

Cook the flatbread over a gentle heat for about 1-minute per side. You will see it begin to change colors and go from translucent to white. When this begins to happen, flip. You do not want to crisp the flatbread or brown it in any way. If this is happening, lower your heat.

Flip every minute until the bread is fully cooked and you no longer see any translucent spots.

Now the fun part. Using two spatulas or wooden spoons slap the flatbread to open up all the layers. From the two outer edges press the flatbread together quickly back and forth spinning it as you go and hitting it from all sides.

Place in a bowl lined with a towel and continue adding the flatbread on top of each other until they are all done.

Alternatively, place the cooked flatbread in a towel and beat it on the counter to separate and open the layer, then keep in a towel-lined bowl to keep warm as you go.

Serve with Curry Chicken or your favorite dips and enjoy with your hands.
If you make this recipe, please let me know by leaving a review at the bottom of this page!
And make sure to sign up for my newsletter and follow along on Instagram, Pinterest, and Facebook for more KendellKreations!
MY LATEST RECIPES!
Get my NEW e-Cookbook here!! ⬇️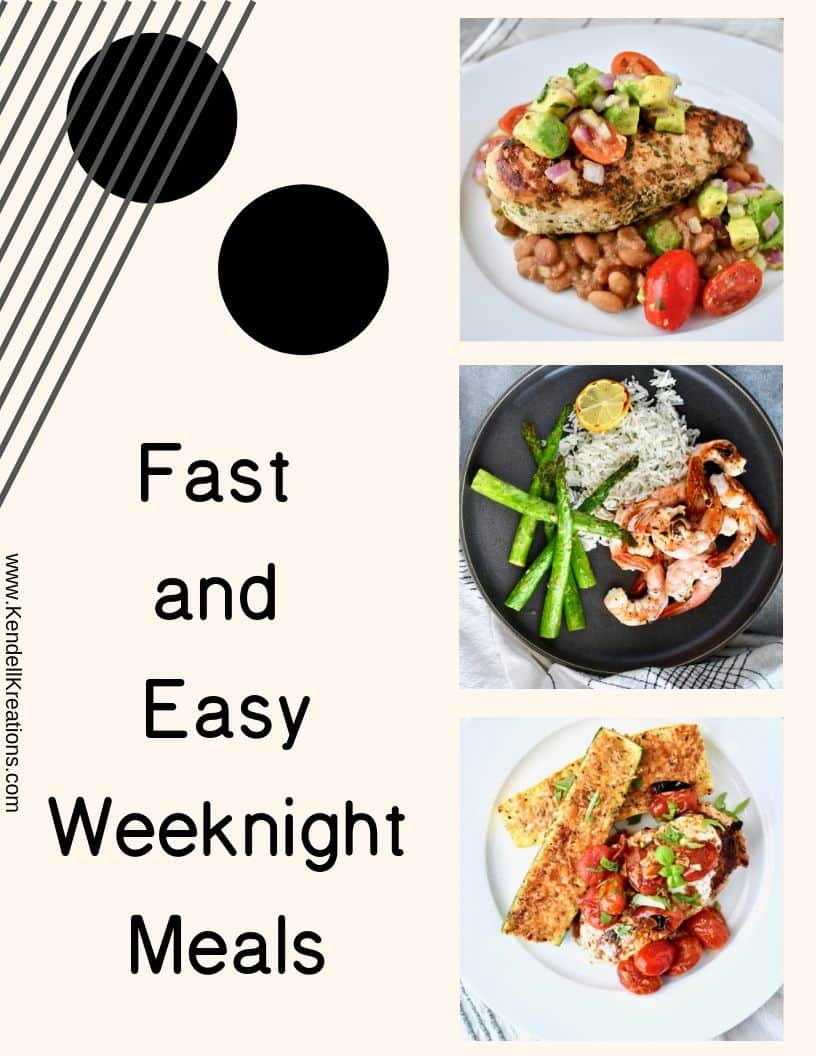 MY FAVORITE KITCHEN TOOLS!
Here are a few links to some of my favorite kitchen tools! You get a car, YOu get a car, YOU ALL GET A CAR…in my best Oprah voice
These Rösle Silicone Tongs are a little pricey but they will last you the rest of your life and are the softest in your hand. This is important for someone like m that cooks so much. It reduces strain, I have 4 sets in my kitchen!
These are my FAVE Nordic Ware Sheet Pans, every kitchen should have at least 2 sets of these! I think I have at least 4 of each of these.
This is my favorite pressure cooker, the Fagor is the same concept as the "Instant Pot" but easier to use in my opinion, if you don't have one you NEED one, it will be your best friend in the kitchen!
A sharp knife is the most important tool in the kitchen, these Japanese steel "Shun" knives are my favorite! And this is a great starter set to build on. Once you try them you will be in love so use this as a foundation you can build on for years to come.
This Scanpan 11″ skillet is just the right size for almost anything you will need to cook and my best friend and a real workhorse in my kitchen, it's also a great deal at $99. Scanpan is the best in the world for healthy cooking. It is coated with a proprietary ceramic-titanium coating that is durable while allowing you to use fewer fats and oils when cooking. It is a coating only they use. I could talk all day about my love for these pans, message me if you want more info. Here are some other sizes that are available if you are looking to outfit your kitchen with some new goodies. 8″ & 10″ Skillet set or 8″ Skillet, I still need this one for my kitchen Also, I don't really know how to cook small so the 12.5″ is my other fave!
This giant vat of olive oil is my favorite, I decant it into a smaller bottle for my counter. Or put this spigot on top of a wine bottle!
My favorite baking dish that is so easy to clean even burnt on cheese slides right off!
This Tovolo jar scraper has to be my single favorite kitchen tool, it is definitely the most used tool in my kitchen. If you are NOT a gadget person, this is the only necessity I say is a MUST beyond the wooden spoon.
A great wood spoon is essential, this Olive Wood one is my favorite, I have more than I can count. But can you really ever have too many?
A food scale can be a very important tool in your kitchen, this one is the one I use every day!
If you love Joanna Gaines as much as I do then the 'Magnolia Table Cookbook' is a must in your kitchen, get a copy HERE!