I have been on the hunt, and test, for THE BEST french toast ever. And I have to say this Custard French Toast with caramelized cinnamon sugar is the best I have ever made. And maybe the best I have ever eaten!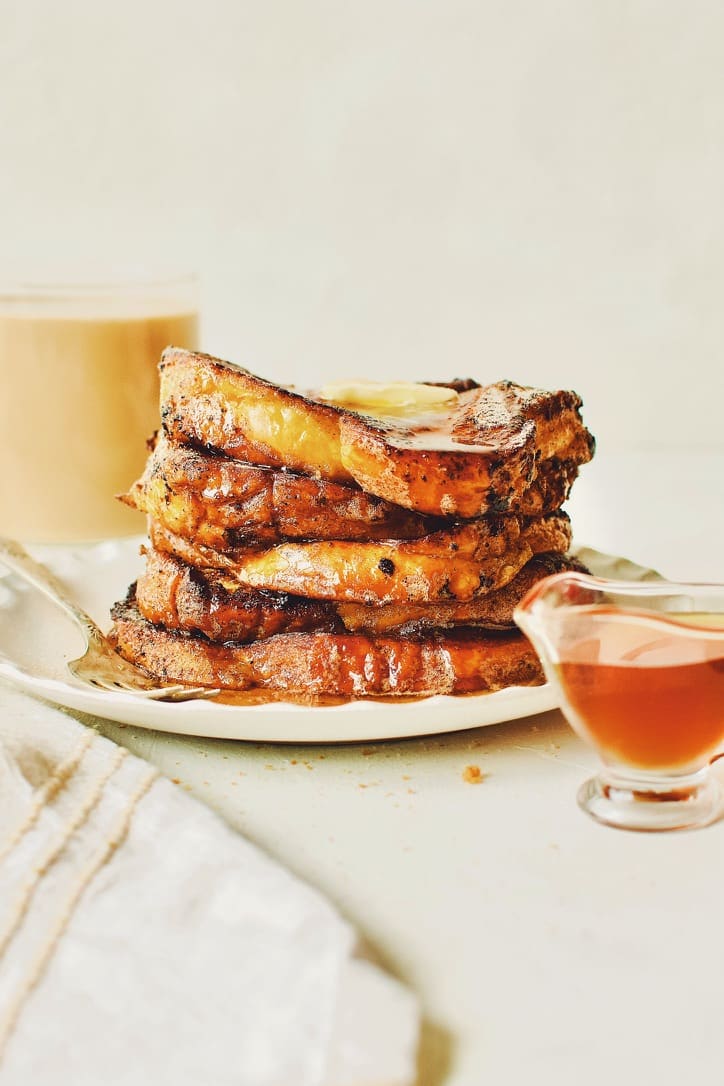 Jump to:
What makes this THE BEST French Toast?
To me what makes French toast amazing is a crisp slightly crunchy outer edge, and a soft set custard-like center. It should be like eating creme brulee for breakfast. And caramelizing the toast with some cinnamon sugar, *chefs kiss*, seals the deal!!
To achieve these goals, there are a few MUSTS. You MUST use only egg yolks, this keeps the custard dip for the bread from being eggy and eliminates the flavor of gloopy egg whites on the outside of your cooked piece of French toast. It also makes the inside of the cooked toast thick and flavorful.
You have to cook the toast in oil and butter. The butter keeps each slice rich, but the oil ensures nothing burns.
And to make it crisp, you have to dust each side with cinnamon sugar and flip a couple of times to crisp the sugar. Cooking on medium-low heat to set the custard, then turn the heat up to medium to caramelize the sugar.
Follow these directions and you will end up with the most delicious, best you have ever made Custard French Toast you have ever made.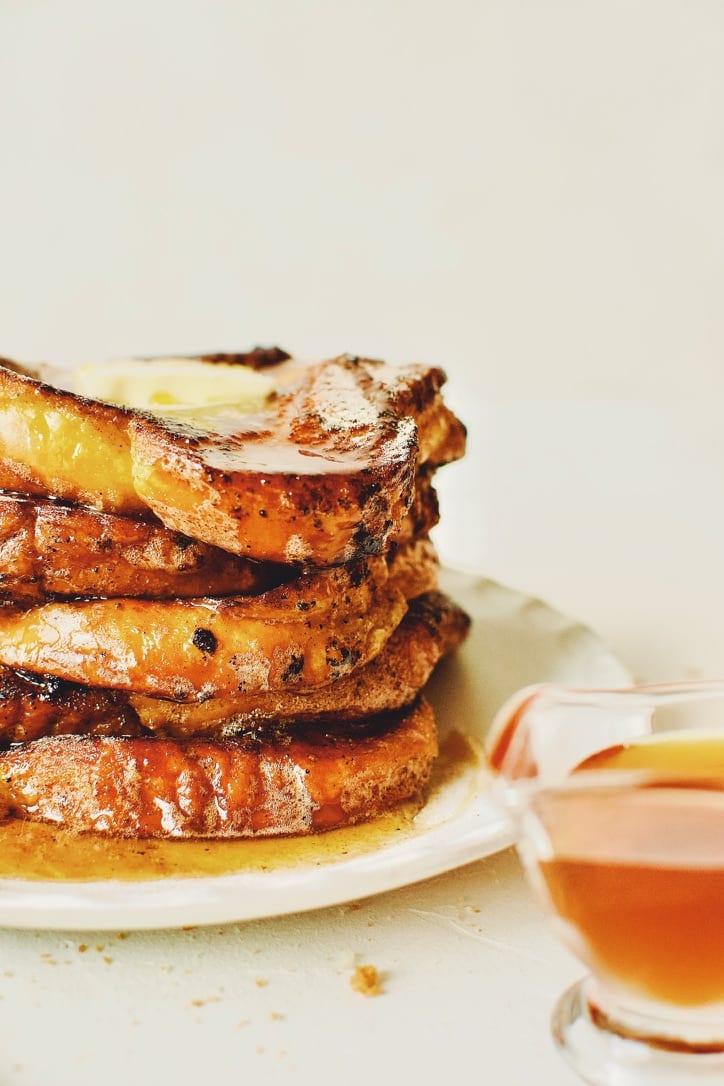 Use the JUMP TO RECIPE button at the top of the post, or scroll to the bottom of the post to see the full recipe card with ingredient measurements and instructions.
Ingredients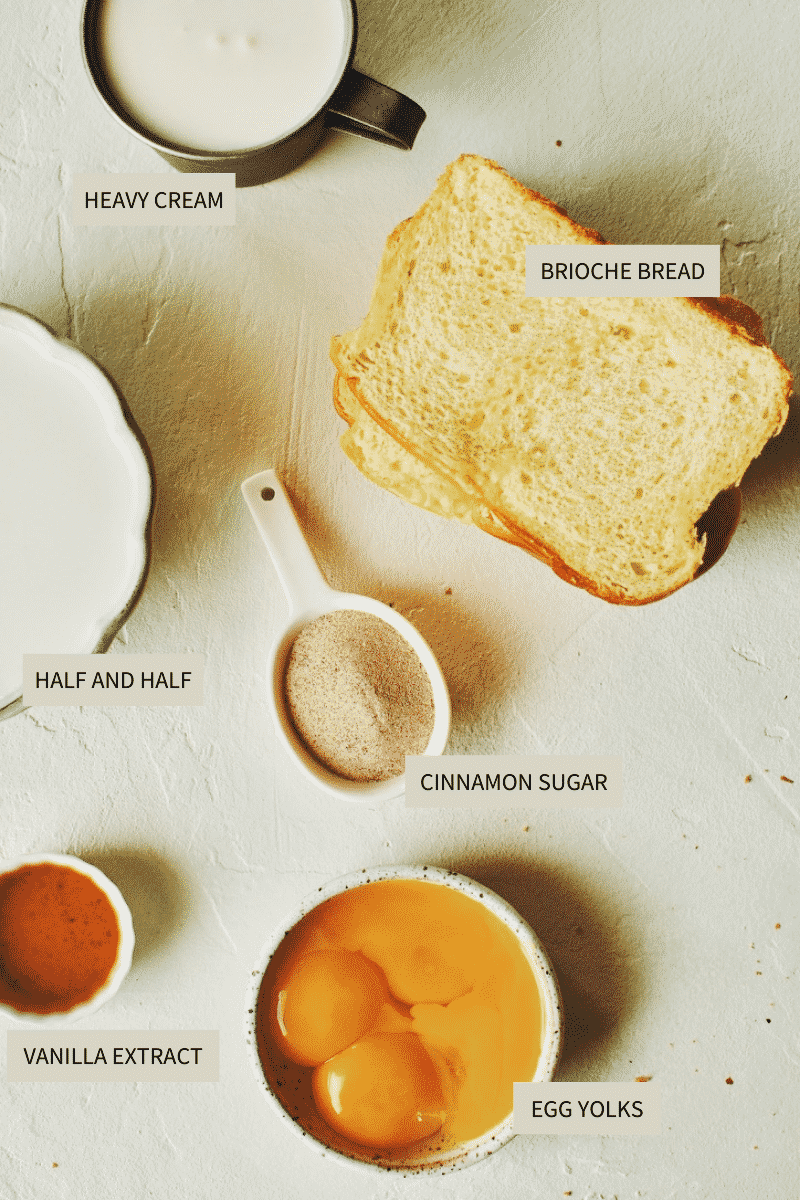 This recipe requires just a handful of simple ingredients and one extra special one that takes it from good to GREAT! The BRIOCHE bread. It is just THE superior ingredient that makes this a breakfast you will crave.
I am also a stickler for using heavy cream, and half and half. They help create a thick custard when the bread is cooked. This is highly desirable and part of what makes this Custard French Toast...THE BEST!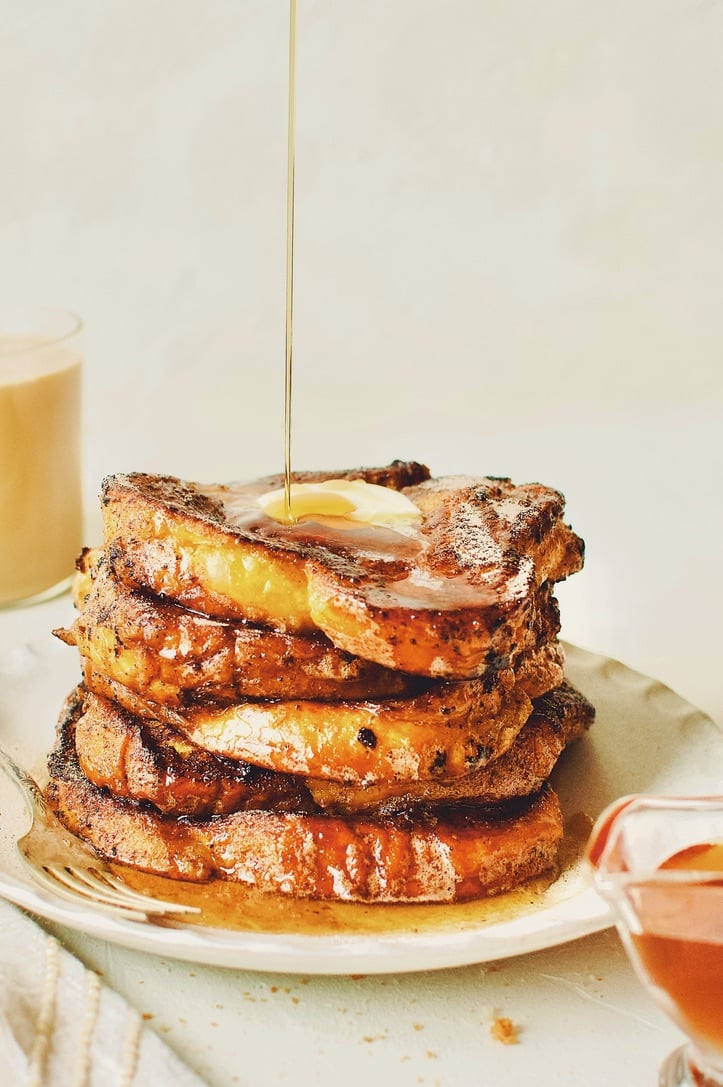 Method
First, make some cinnamon sugar by combining 1 cup of sugar and 1 tablespoon of cinnamon in a bowl. Place it in a sugar shaker or empty spice jar for easy dusting during cooking. I keep this on hand all the time in a shaker bottle, so many things are made better with a dusting of Cinna-dust as we call it!
In a large bowl or shallow dish, combine the egg yolks, vanilla, half and half, heavy cream, and cinnamon sugar. Whisk the mixture together until it becomes frothy and a custard forms.
Heat a 10-12 inch skillet over medium-low heat and add 1 teaspoon of vegetable oil and ½ tablespoon butter to the pan. Dip each slice of brioche in the custard mixture for 20-30 seconds, turning it over 3-4 times until the bread is saturated in the custard.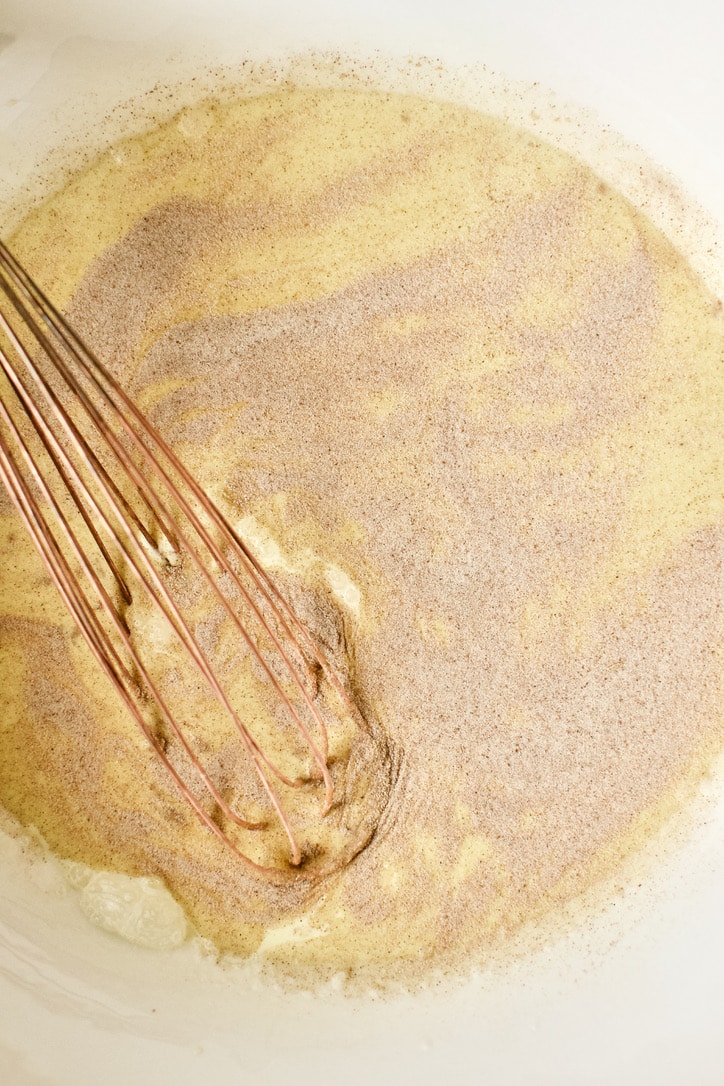 Gently place two slices in the pan at a time and dust the top of each slice with some cinnamon sugar. Cook the toast until golden brown, then turn it over, sugar side down. Dust the cooked side with more cinnamon sugar, and when side two has become golden and caramelized, flip the toast again and cook until the cinnamon sugar has caramelized. Turn the heat up a bit to medium after the first flip if needed to get the sugar caramelized.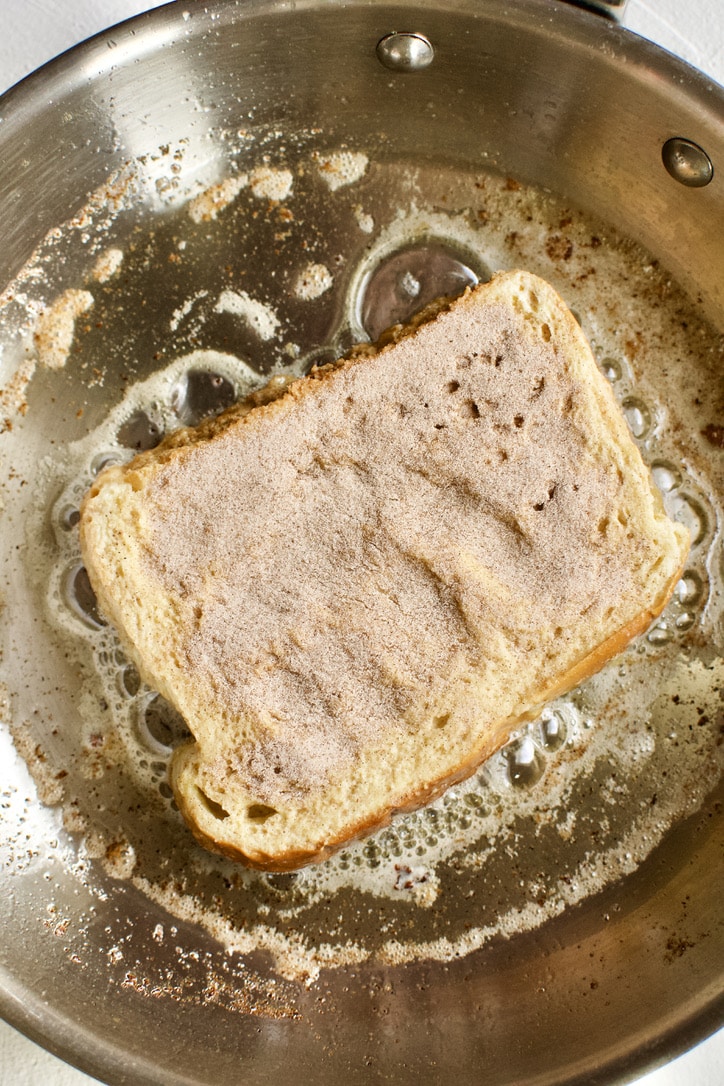 When both sides have been sugared and caramelized, remove the toast from the pan and continue the process until all the bread has been used. You should end up with slices of French toast that are crisp and sweet, with a super soft and custardy middle.
Top with an additional dusting of cinnamon sugar, a pat of butter, and pure maple syrup.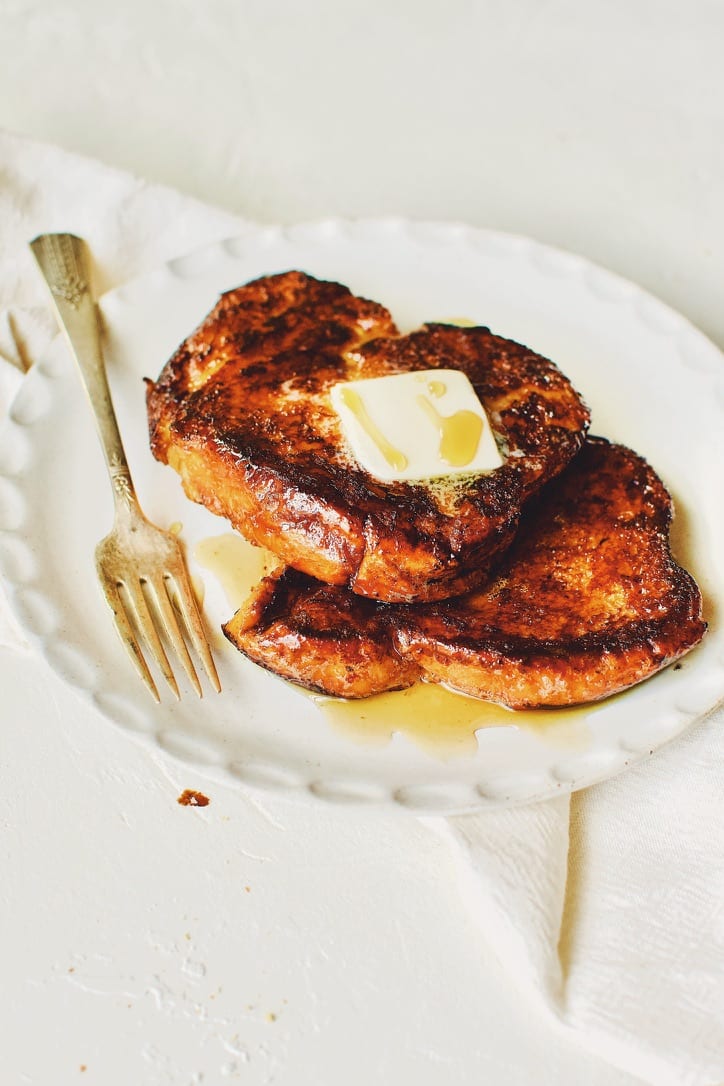 Notes & Tips
I make this recipe with a loaf of brioche that I purchase at Trader Joe's. It comes pre-sliced into thick-cut slices. You could use any brioche you can get your hands on, just be sure to slice it 1-1.5 inches thick. French, Sourdough, or Challa are also great breads for making French Toast.
There is a fine line between soaking the bread in the custard just enough and too much. If the bread feels like it is going to crumble in your hand, you soaked it too much and your cooked toast may never stop being soggy. 20-30 seconds and about 4 flips are all the bread needs to become perfectly custardy in the middle when cooked.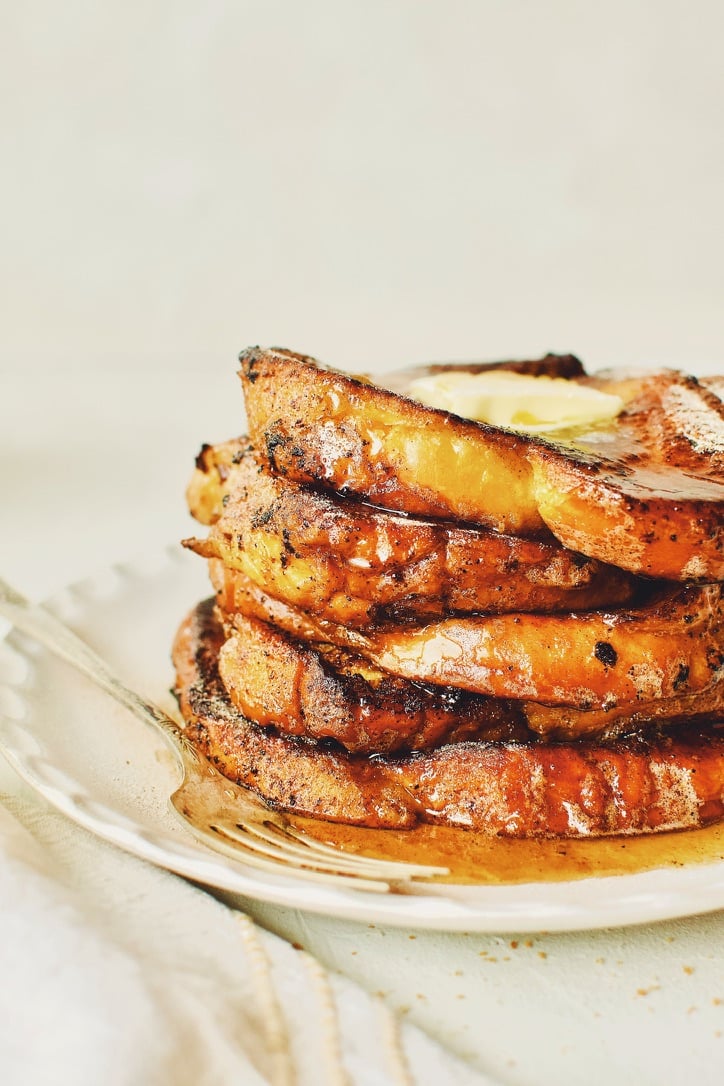 Substitutions
This recipe really relies on the egg yolks and the cream to make an amazing custard. But if you wanted to make it dairy-free and alternative milk like almond or cashew can be used. Additionally, fry the French toast in coconut oil or only vegetable oil to replace the butter.
To replace the brioche that has butter in it, you can substitute sourdough or french bread. Just be sure to purchase a whole loaf and slice it yourself so you can have extra thick slices.
Replace vanilla extract with one of a couple of things if you are out. Vanilla flavored milk, almond or soy, or Maple Syrup. Bourbon, Rum, or Brandy can also be used, many vanillas are alcohol-based, and these carry enough flavor to imitate the vanilla. Plus, a little Bourbon or Brandy would be amazing in French toast.
If you don't have maple syrup, it could easily be replaced by a berry or fruit compote, or a generous dollop of whipped cream.
Did you make this recipe? Let me know by leaving a review or comment! And be sure to sign up for my newsletter, and follow along on Instagram, Pinterest, and Facebook!