This quick-to-make, baked Easy Chicken Parmesan is the thing that dinner dreams are made of. It comes together in just a few minutes and there is very little active work to be done. And the flavor is comfort food at its finest.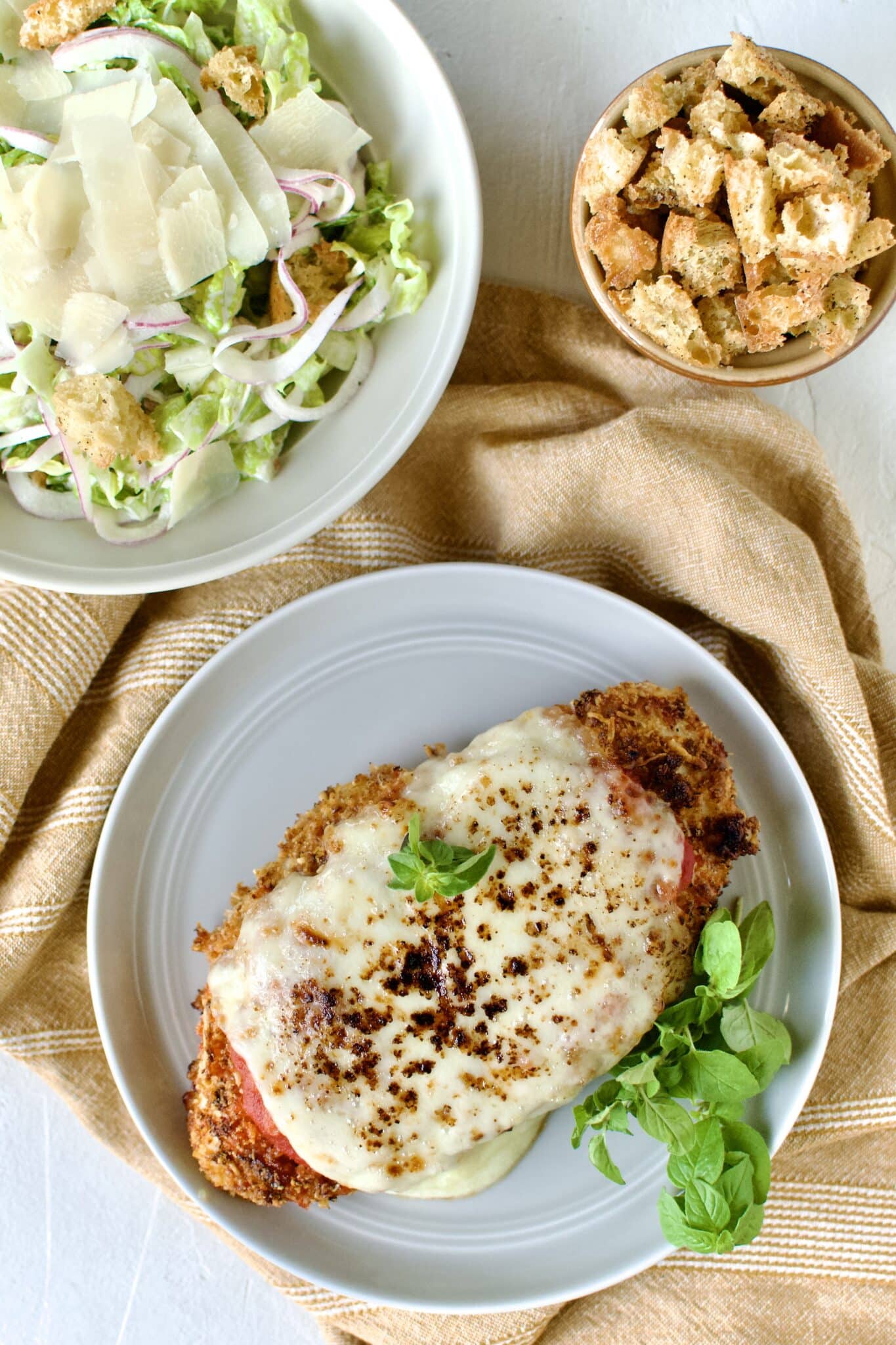 Jump to:
Ingredients
Just a handful of ingredients and a few pantry staples and you are on your way to a super tasty meal. The panko gives it a crispy crunch and mixed with the chewy gooey fresh mozzarella, they are a perfect pair.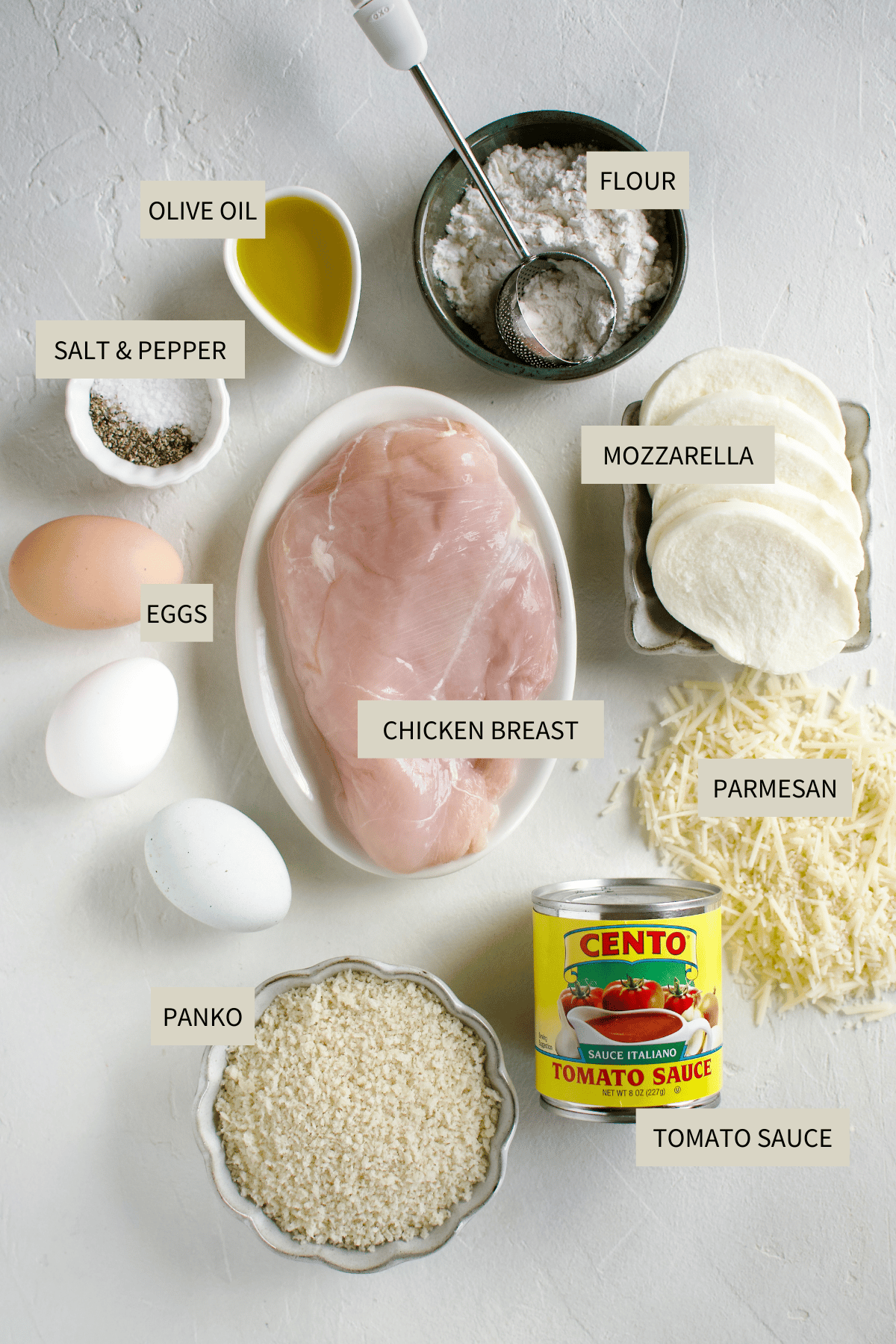 Use the JUMP TO RECIPE button at the top of the post, or scroll to the bottom of the post to see the full recipe card with ingredient measurements and instructions.
Method
I start by tenderizing the chicken with a meat mallet between two pieces of plastic wrap. Then dust the chicken with some flour and dredge through beaten eggs and press into the bread crumbs.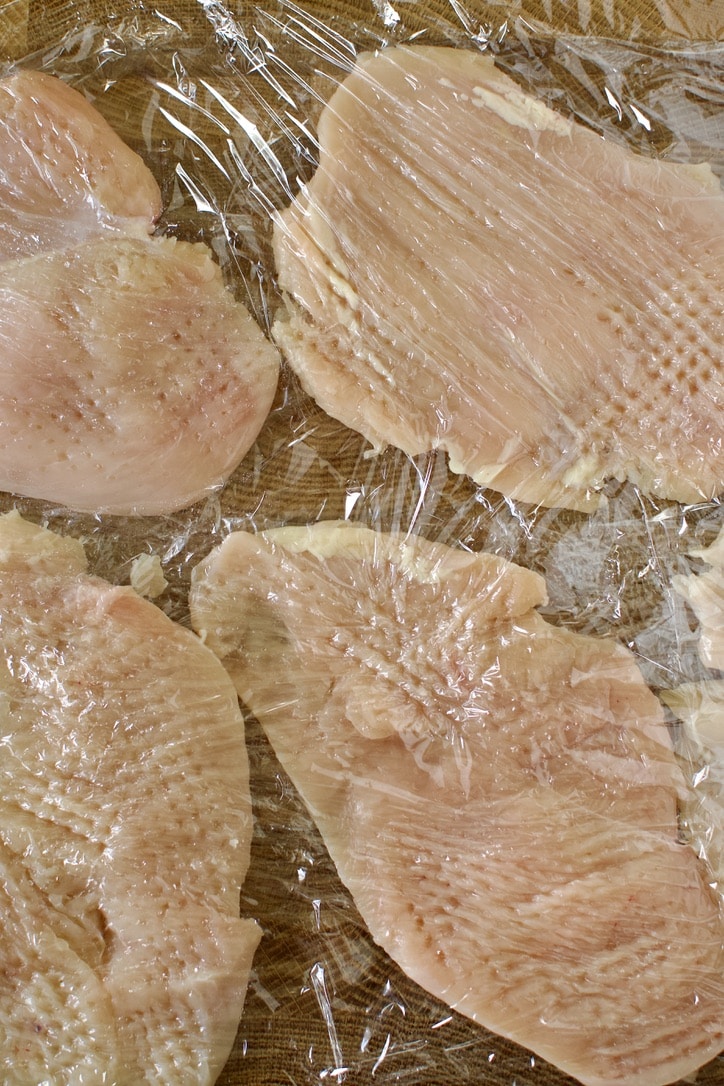 Lay out the chicken on a parchment-lined baking sheet and cook in a hot oven till crisp. When the chicken reaches an internal temperature of 165˚F, remove it from the oven and top it with the tomato sauce and mozzarella, and broil till the cheese is melted.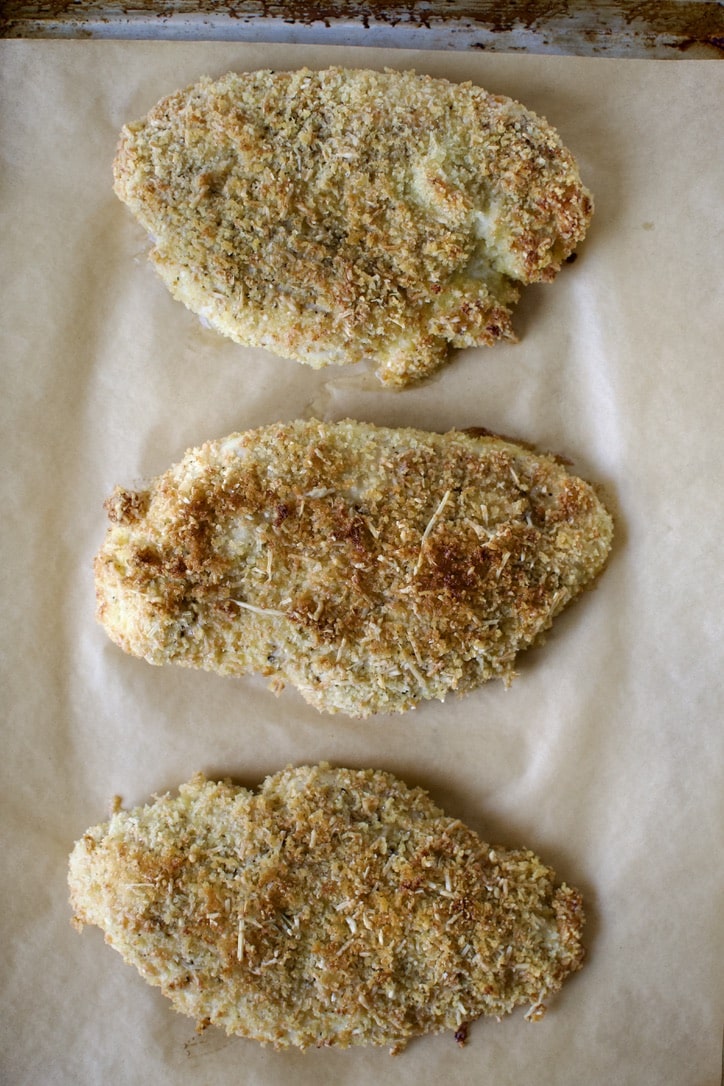 I like to serve mine with my Classic Caesar Salad to make it a complete meal. I love a team night and it just rounds out Italian night!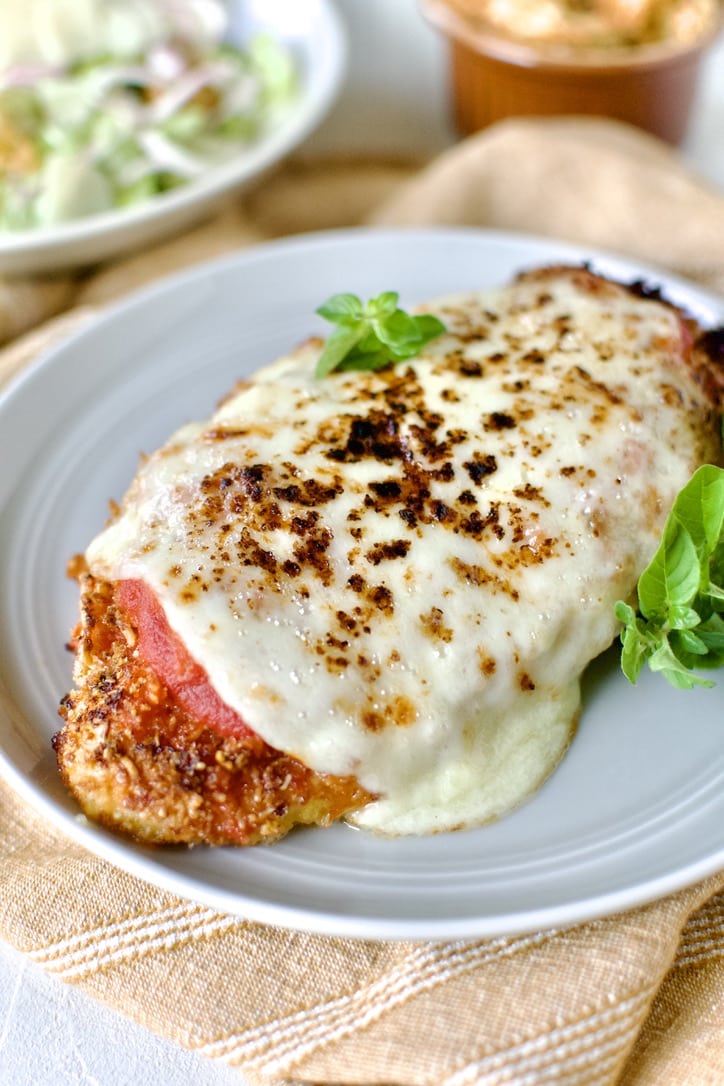 Notes & Tips
Keep an eye out when broiling the cheese so that your parchment doesn't catch on fire. It can happen fast. You want to brown the cheese, but fires are scary and will ruin your tasty chicken.
If you use a presliced fresh mozzarella, lay out the slices on a paper towel, and using a second, press them to remove the excess liquid. This will help the cheese melt and brown quicker.
If you would like to save some of the chicken for leftovers, don't put the sauce and cheese on it until you want to reheat it. Reheat in a 425˚F oven for 10 minutes till hot, then top with sauce and cheese and broil till cheese is melted.
Substitutions
If you would like to keep this recipe gluten-free, use a little cornstarch in place of the flour, and use THESE GREAT BREADCRUMBS that are gluten-free.
I like to use panko bread crumbs because they add an extra layer of crunch. But you could also use Italian-style bread crumbs if you have them on hand or prefer them.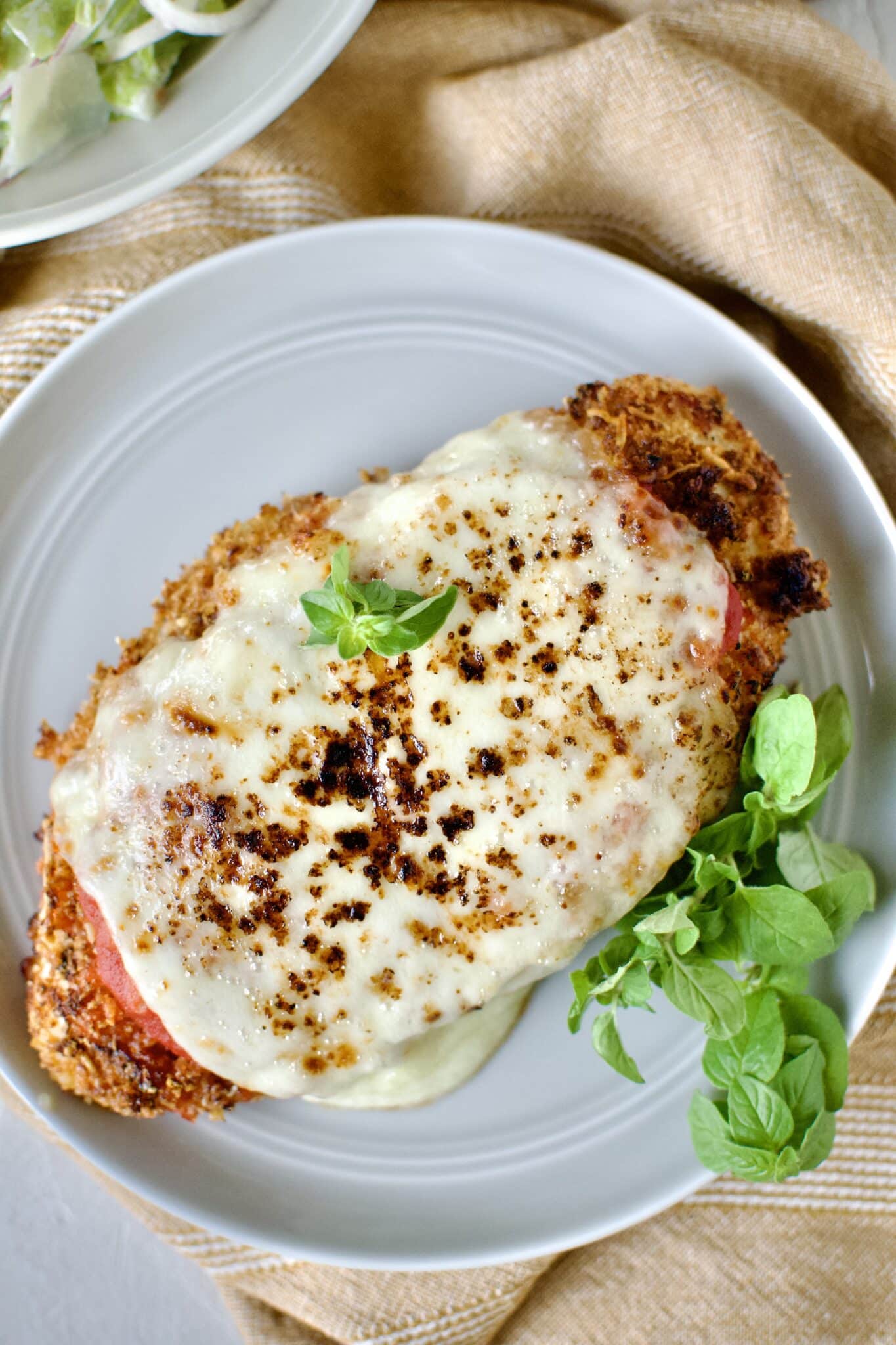 Did you make this recipe? Let me know by leaving a review or comment! And be sure to sign up for my newsletter, and follow along on Instagram, Pinterest, and Facebook!