I dreamed this Shrimp Balls recipe up in my head for years, and I have yet to find anything like it around. I have seen some versions with Asian flavors in them, but I give mine a more classical Italian twist. They are just like making traditional Italian meatballs, just with shrimp instead of beef, veal, or pork.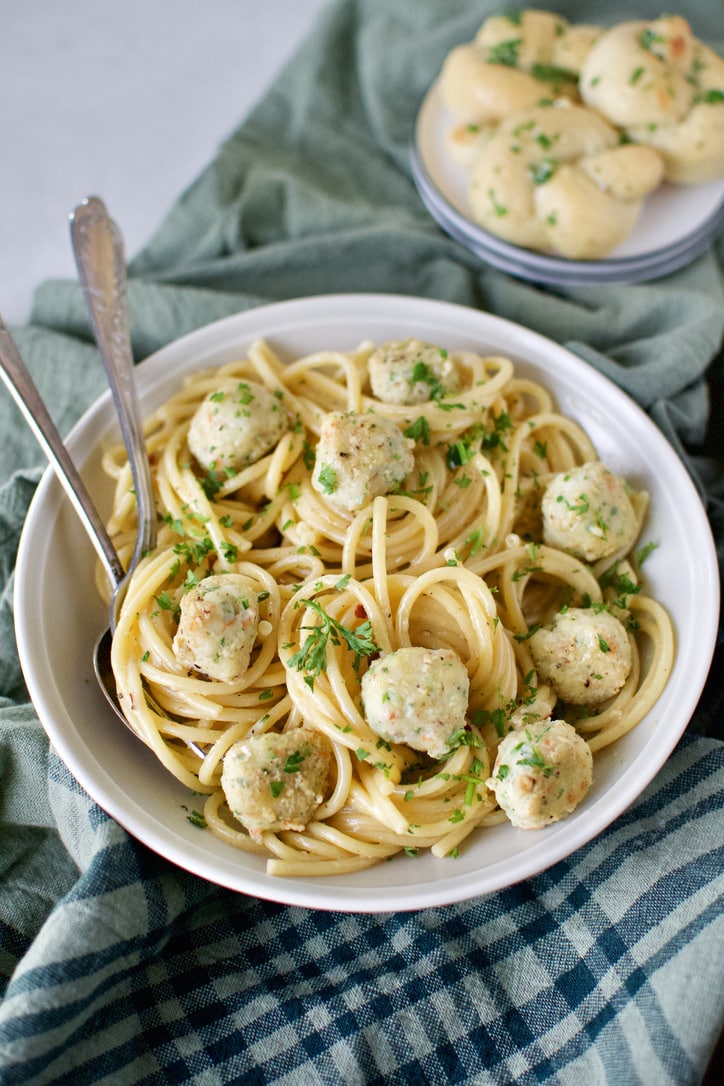 The great thing about these Shrimp Balls is that you can serve them with any type of pasta you like. Whatever you have laying around in the pantry. In my photos, you see it served with Bucatini pasta, but really any pasta will work.
Jump to:
Ingredients
Quite possibly THE BEST part about this recipe is the EXTREMELY short ingredient list. It's also a great way to use up a leftover half an onion or finish off that parsley left in the fridge. And although I like the flavor of red onion for these Shrimp Balls, you could really use any type of onion or even a couple of shallots.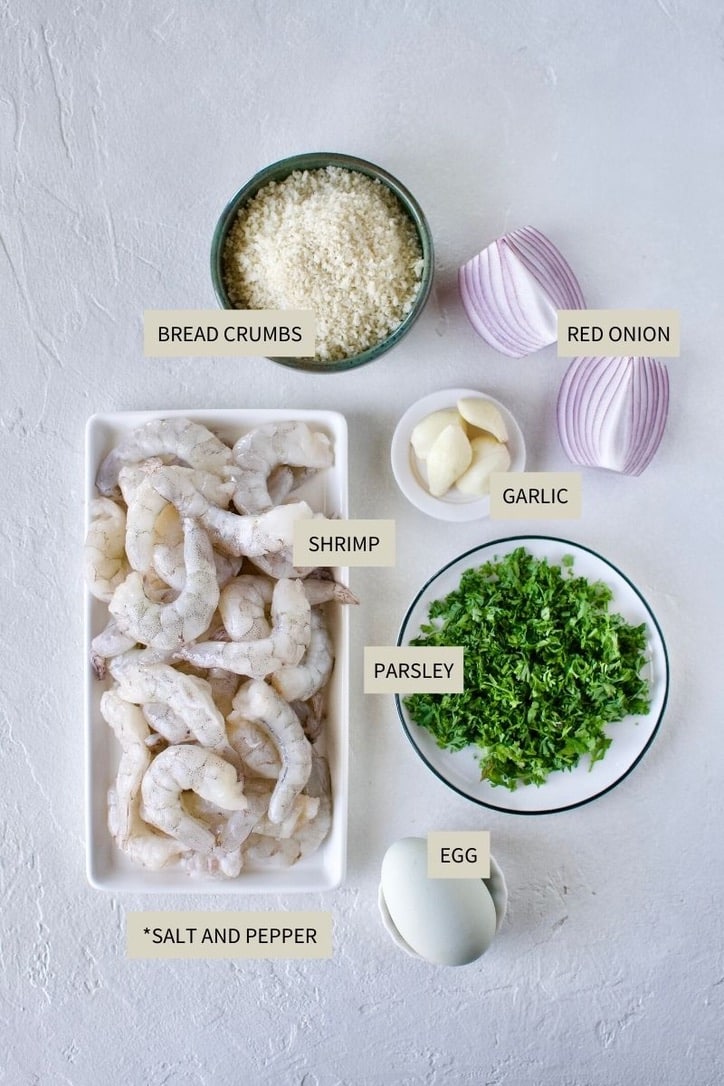 Method
On top of a super short ingredient list, they couldn't be easier to make. Plus they use minimal dishes. The food processor, a sheet pan, and a skillet.
I start by pulsing together the onion, garlic, and parsley in the bottom of the food processor until the onion and garlic are finely chopped.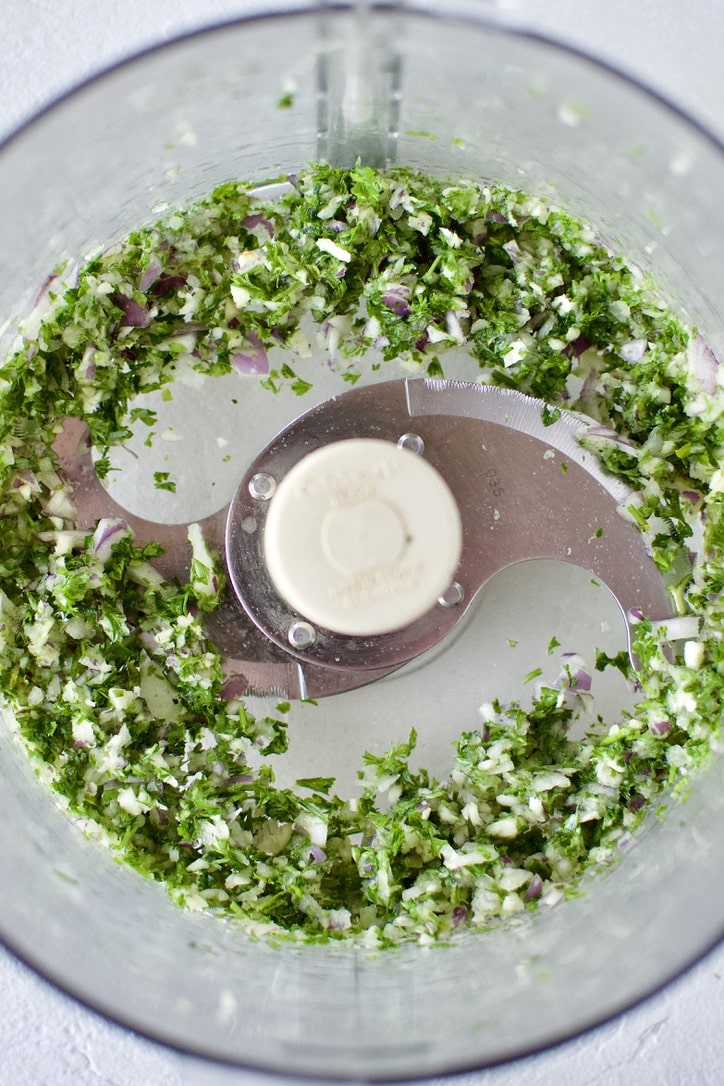 Then add in the shrimp, bread crumbs, and egg and blend until well combined. I like to get it well mixed while leaving some decent chunks of shrimp if possible.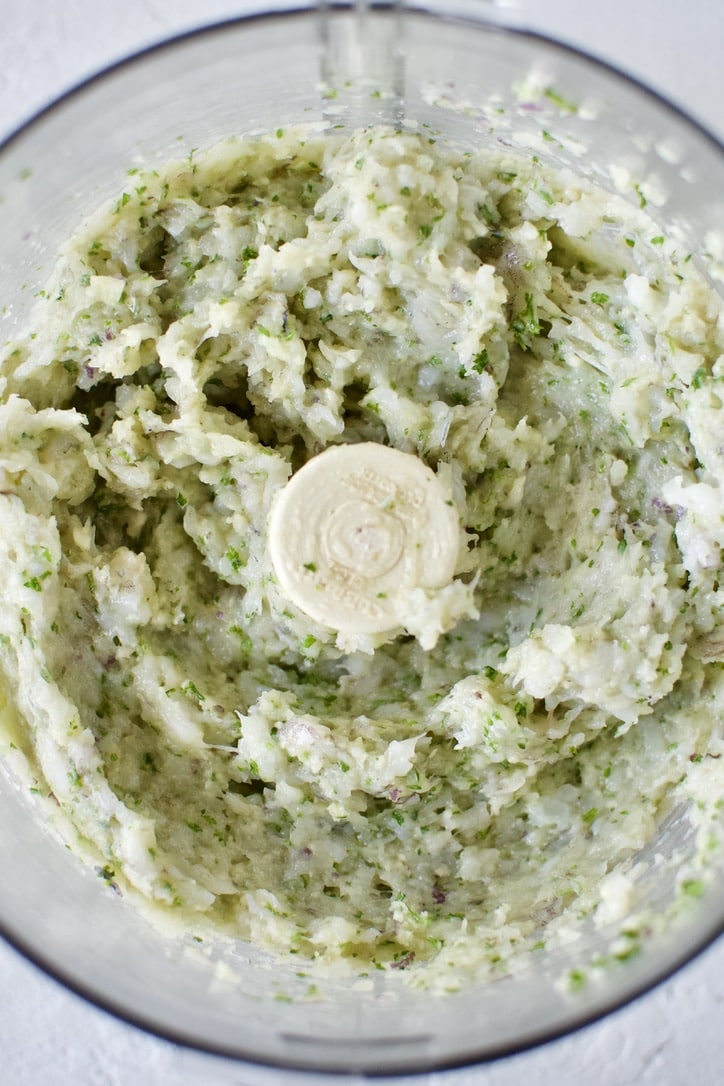 Then using a small scoop, or a couple of teaspoons to scoop out the mixture onto a sheet pan. This just makes for quick and easy portioning of the shrimp balls and makes them all evenly sized. After scooping I wet my hands and give them a quick roll between them to give them a smooth finish.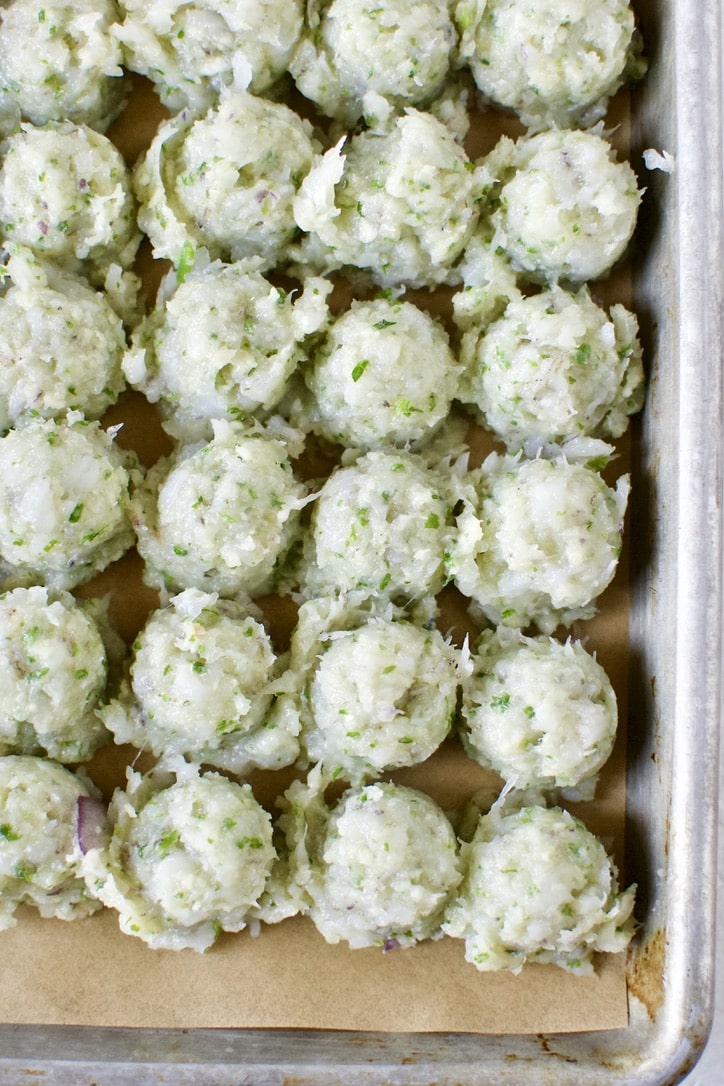 To cook the meatballs, melt some butter in a large skillet and cook some butter in it for about 30 seconds. Then add the balls and cook in batches if needed. They cook quickly and I just give the pan some gentle swirls to roll them around and cook them evenly until they pink up and lightly brown on two or three sides.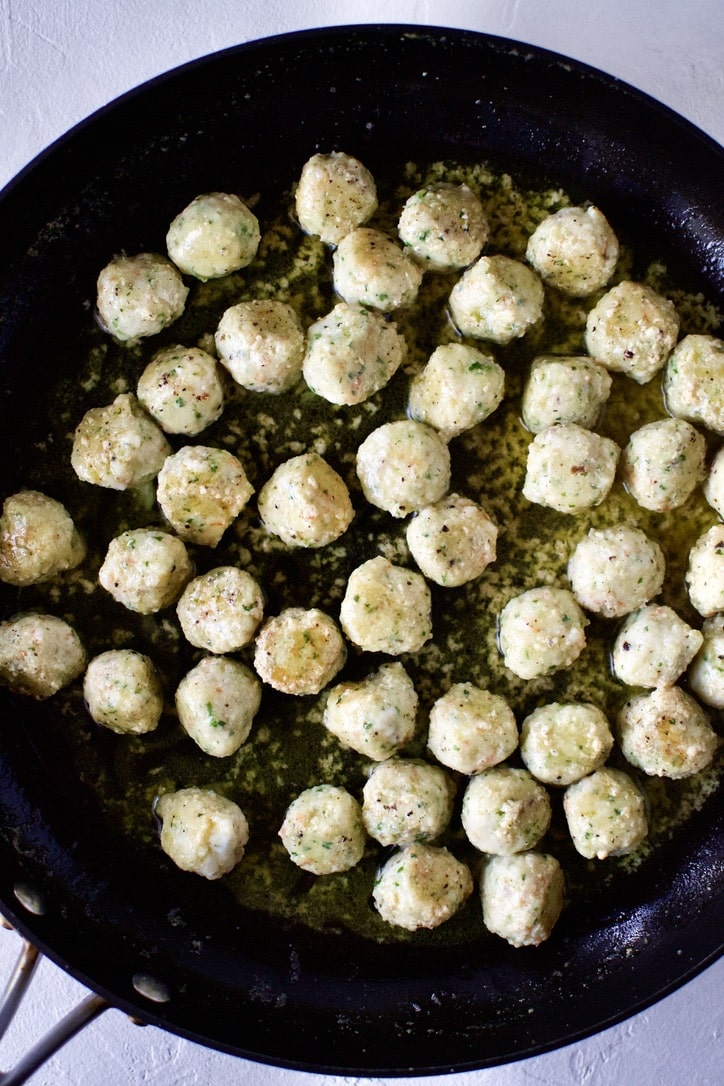 I then boil my favorite pasta, after cooking and removing all the shrimp balls, toss the pasta in the butter and garlic and a little seasoning, then add the shrimp balls back in just to warm them before serving.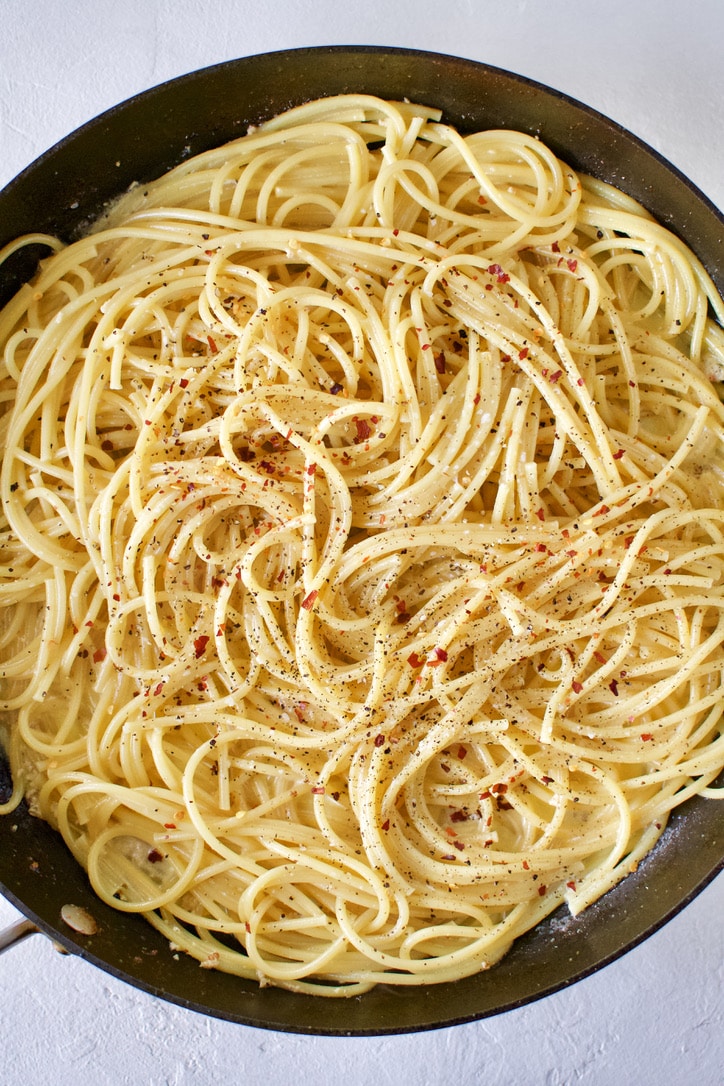 Notes & Tips
If you do not have a food processor, you can still make this recipe. Start by chopping the onion and garlic as fine as you can, then chop the parsley into it. Add the shrimp to a pile on your cutting board and chop it on top of the onion/garlic mixture.
Chop everything together, running your knife back and forth on your board til everything is as small as you can get it. Then add it to a bowl and mix in the bread crumbs and egg. Then follow the remaining directions as written for portioning and cooking.
I LOVE this little scoop for making these. I know it's an investment that takes up space in your kitchen, but there are great instances where I love to use it, so I make space for it in the drawer.
After you scoop the meatballs, roll them in your hands, keep them wet when doing it for quick easy work of this. I do it right next to the sink and rinse my hands every 5-6 meatballs or so.
Substitutions
This recipe is so stripped back and basic, so I don't have many subs for you. The only thing I have is that if you need to keep the recipe dairy-free, skip the butter and use olive oil. And you can use any pasta you like, my photos showcase bucatini pasta.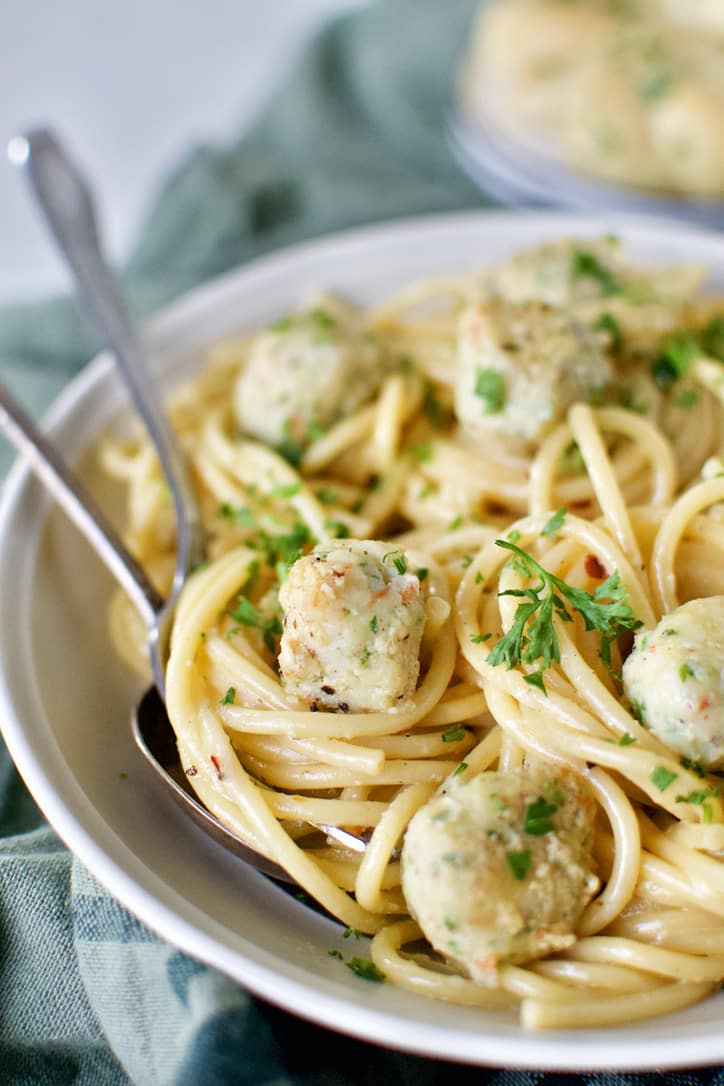 More tasty seafood recipes
Did you make this recipe? Let me know by leaving a review or comment! And be sure to sign up for my newsletter, and follow along on Instagram, Pinterest, and Facebook!