Known by many names, and just about as many variations. Call them Keftedes, Kofte, Kofta, or Greek Meatballs, just call them dinner tonight! Served in a piece of pita bread, topped with traditional Greek salad and garlic tzatziki and you pretty much have my favorite dinner.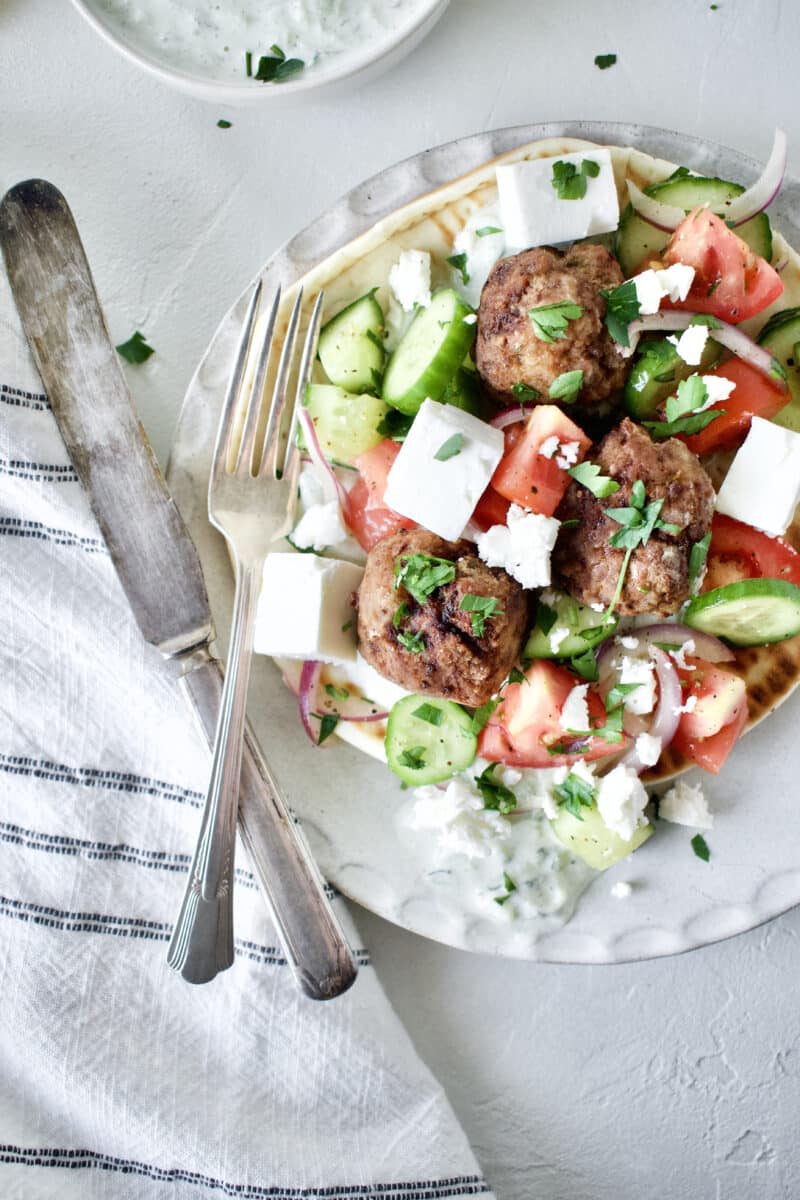 I am a HUGE fan of Greek Food and you will find many recipes for it here. This recipe fits right in and will have you dreaming of the Mediterranean as you eat. Ok, that might be a little stretch, but it has me dreaming of those blue waters!
Jump to:
Ingredients
This is a recipe that I love making any time of year, but it is especially satisfying in the midst of the summer. Produce is at its flavor peak and it just feels so fresh on a hot summer day.
There are a few options for the meat you use here. Lamb would be most traditional for Greek Meatballs, but I use an easier-to-find mix of ground beef and pork that I find in my local grocery store. It offers great fat content for meatballs and carries flavor perfectly. If you can't find the mixture, use a mix of 1 pound ground beef and 1 pound ground pork. They can also be made with lamb if you are a big fan of it.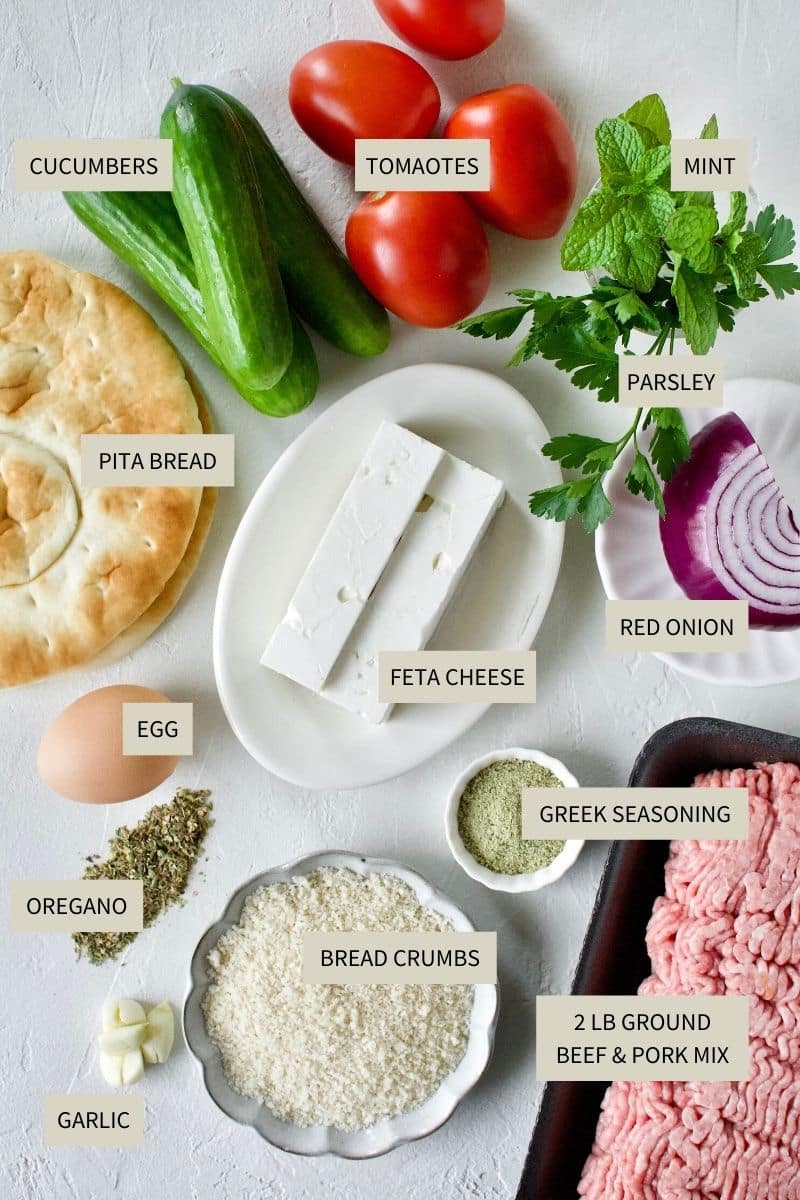 When it comes to the cucumbers. My favorite to use for this specific dish are Persian cucumbers. They are smaller and just seem to have a little more flavor. They have become more popular in grocery stores these days, but an English cucumber will work if you can't find them.
For the tomatoes, I like to use Roma or Campari tomatoes. Their compact size offers a little more flavor and they are easy to chop up for this recipe.
Use the freshest produce you can get your hands on to make the Greek salad you top your meatballs with.
Use the JUMP TO RECIPE button at the top of the post, or scroll to the bottom of the post to see the full recipe card with ingredient measurements and instructions.
Method
Making meatballs is a pretty straightforward yet delicate job. You pretty much toss everything in a bowl in a mix. The delicate job comes in the mixing. You want to be cautious not to overmix the meatballs or they can become tough.
Fold everything together with you best tool...your hands! The warmth of you hands melds everything together and you can feel just when it is mixed enough. Fold only till everything is evenly dispersed, then stop.
The mixture will continue to be work as you form it, so that is why it is important to mix gently. I use a portion scoop to help ensure that every meatball is the same size. You can easily do this by hand as well.
Portion out the meatballs onto a sheet pan. I put them close if I am going to freeze these for later, space them about an inch apart for cooking. I find it easiest to bake the meatballs, you could also sear them in a pan lightly coated in olive oil.
Notes & Tips
When making the meatballs, be sure to gently fold the meat mixture together. Overworking the meat will make it tough.
Grate the onion for this on a cheese grater. It makes it very fine so it kind of disappears into the meatballs when cooked.
Bake the meatballs off in a hot oven and a quick cook. The meatballs will form a perfect crust and lift off the pan easily when finished cooking. If they don't want to release from the pan cook them a few minutes longer.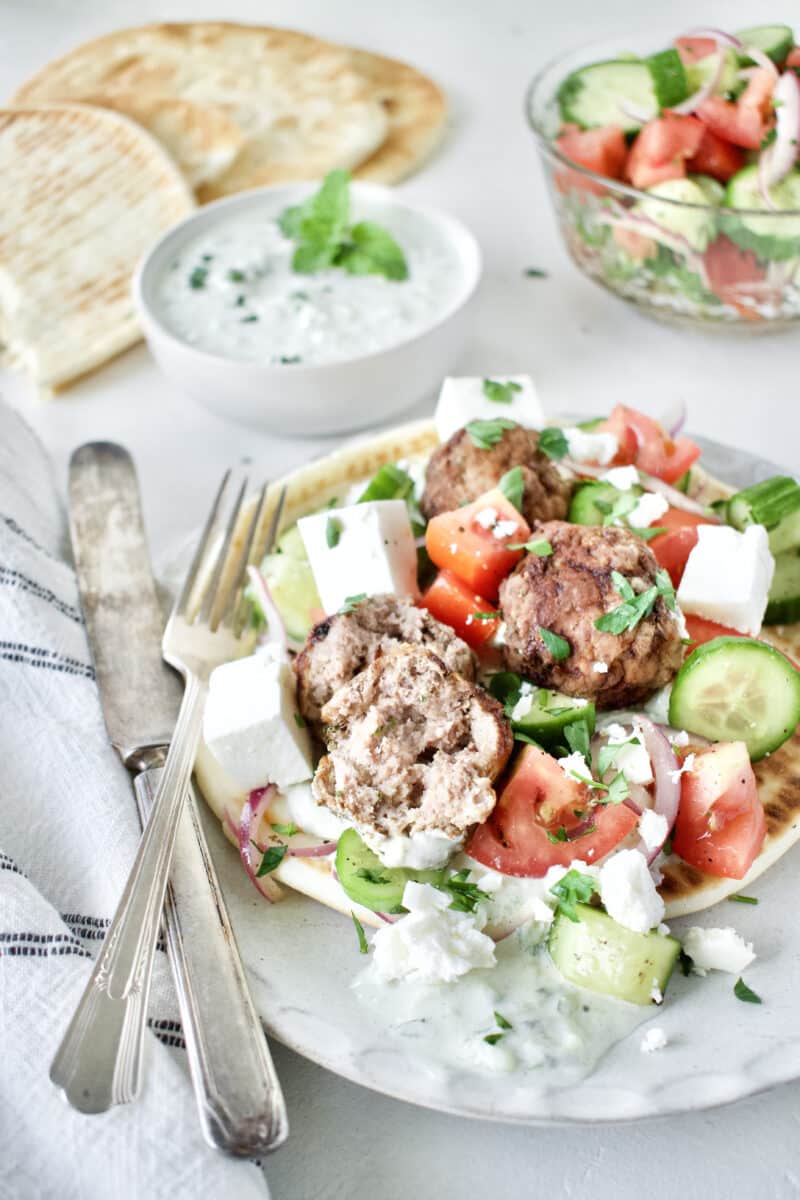 Substitutions
I like to use a premixed beef and pork mince that I find at my local grocery store, use 1 pound of each if you can't find this. If you like lamb, they could also be made with it.
I like to use panko breadcrumbs mostly because they are what I keep in my pantry. You could also use a traditional breadcrumb or even a couple of slices of dry bread.
Fresh is best when it comes to the herbs, but using dried is equally great as well.
This is my favorite Greek Seasoning, and I do buy the salt-free version so I can control the salt in the meatballs.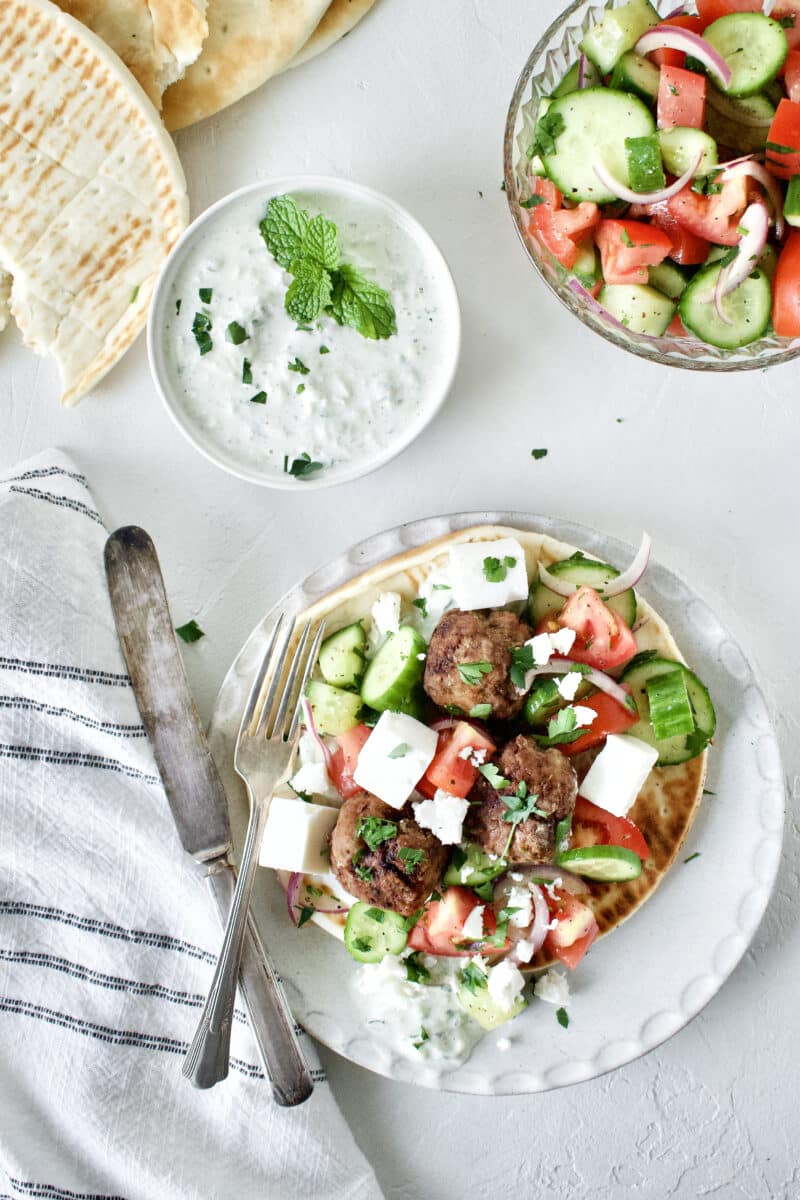 More Greek and Mediterannian-Style recipes
Did you make this recipe? Let me know by leaving a review or comment! And be sure to sign up for my newsletter, and follow along on Instagram, Pinterest, and Facebook!