When you want a simple and extremely flavorful weeknight dinner, reach for this Parmesan Chicken Meatballs recipe! The beauty is that this can truly be a weeknight dinner or a weekend show-out meal. And it comes together in about 30-45 minutes, but looks like you spent all day working on it.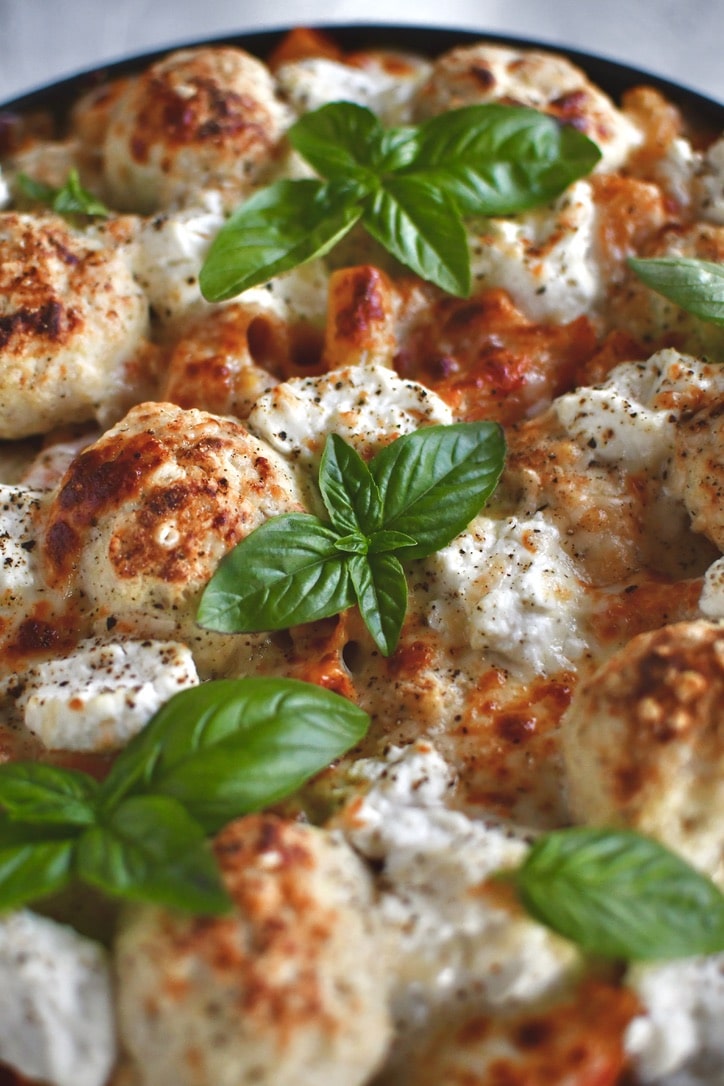 This recipe really is a one-pot dinner-time stunner. It is probably one of my very favorite recipes on my site. I could eat these DELICIOUS meatballs every day!
Jump to:
Ingredients
I feel like just looking at this list of ingredients gives you the sense it will be a quintessentially Italian feast. All the cheeses, garlic, pasta, and tomato sauce. I already know this is gonna be good!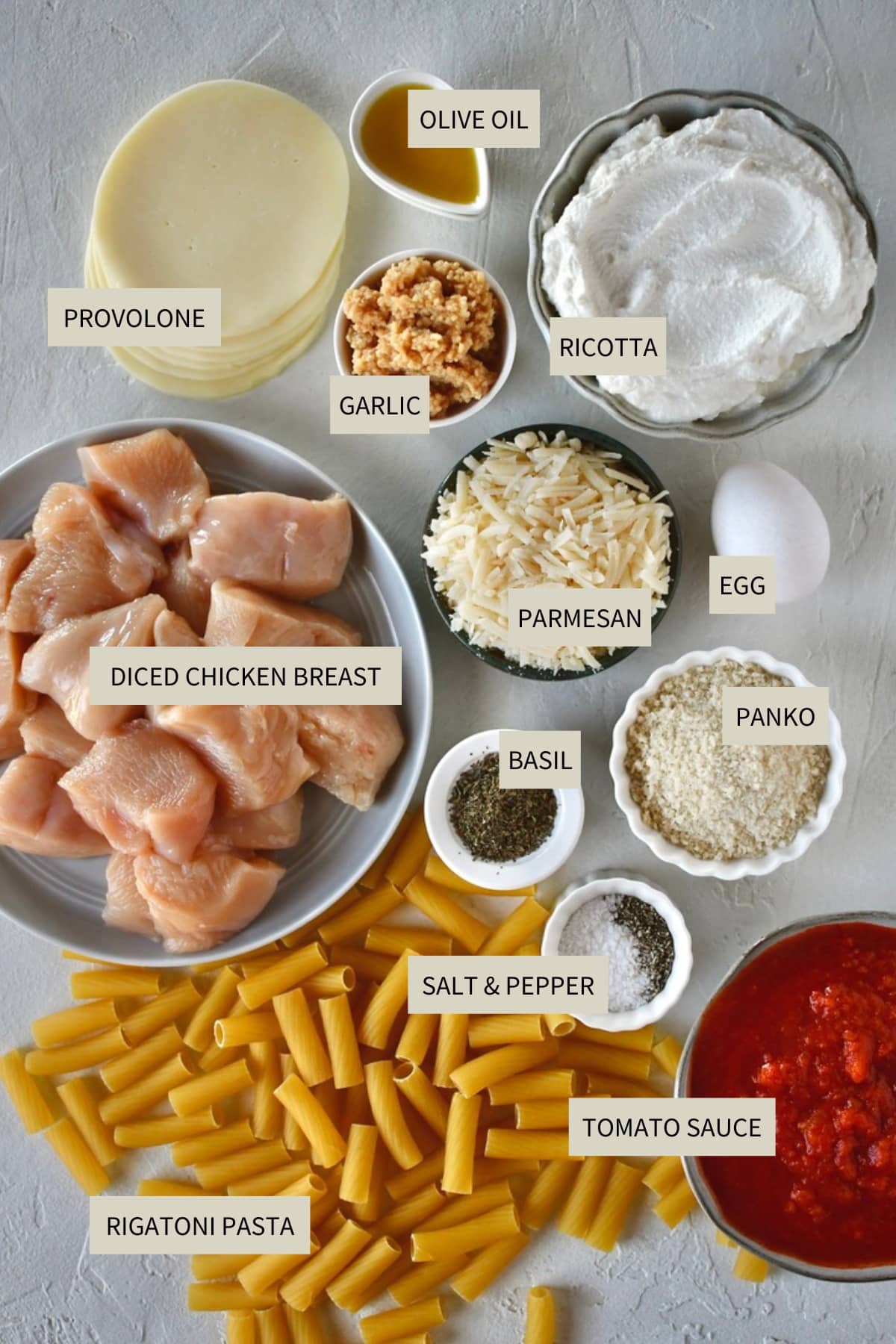 The one ingredient that I like to splurge on for this recipe is the ricotta cheese. Buy THE BEST one you can afford, I personally love the BelGioioso whole milk ricotta for this recipe.
Use the JUMP TO RECIPE button at the top of the post, or scroll to the bottom of the post to see the full recipe card with ingredient measurements and instructions.
Method
First, form the meatballs by placing all of their ingredients into a food processor. I like to start with whole chicken breasts for these. Cut them into chunks so they blend better in the processor and you don't have to overwork the meat breaking up whole breasts. Then just pulse until a uniform mixture forms, scoop and portion them out, then roll in oiled hands to form perfect meatballs.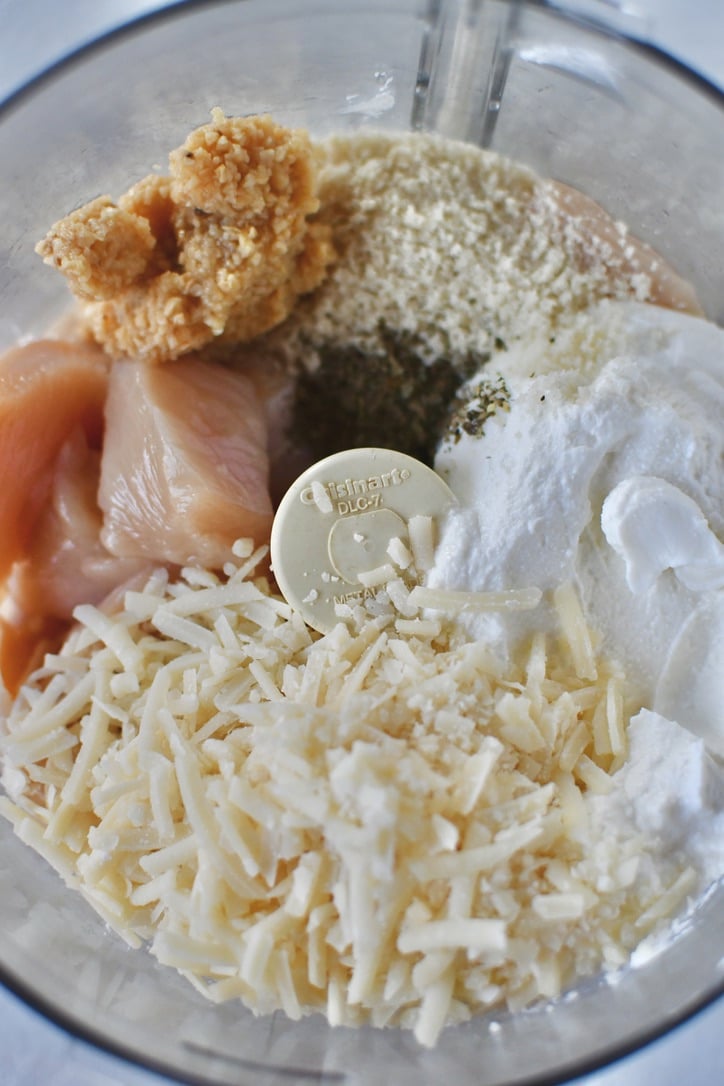 Then place the formed meatballs in the oven to cook just till set, and boil some pasta while they cook and toss it with some tomato sauce. You can make your own or use storebought. Place the cooked meatballs in an oven-proof pan with the pasta once cooked.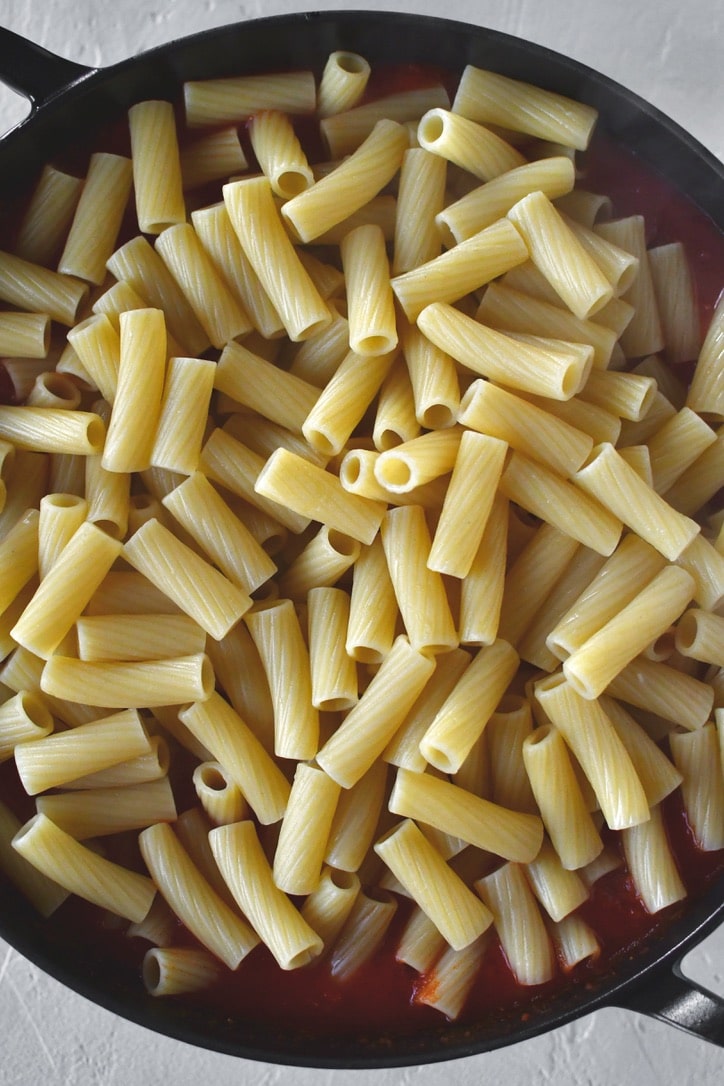 Then top the meatballs with some provolone, parmesan, and some extra dollops of ricotta. Finish everything off with some salt and pepper on top, then place the whole thing in the oven till the cheese is melted.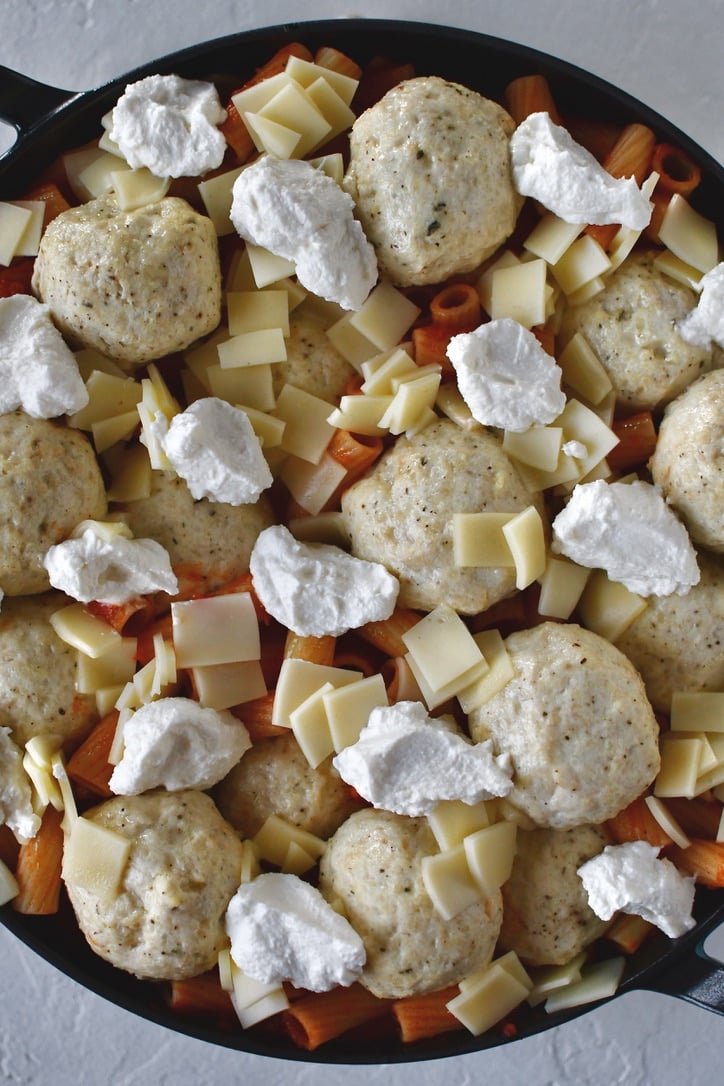 When the cheese has melted and become bubbly, remove the pan from the oven and garnish it with some basil leaves. Enjoy as is, or with a nice side salad and some crusty bread to make it a full meal!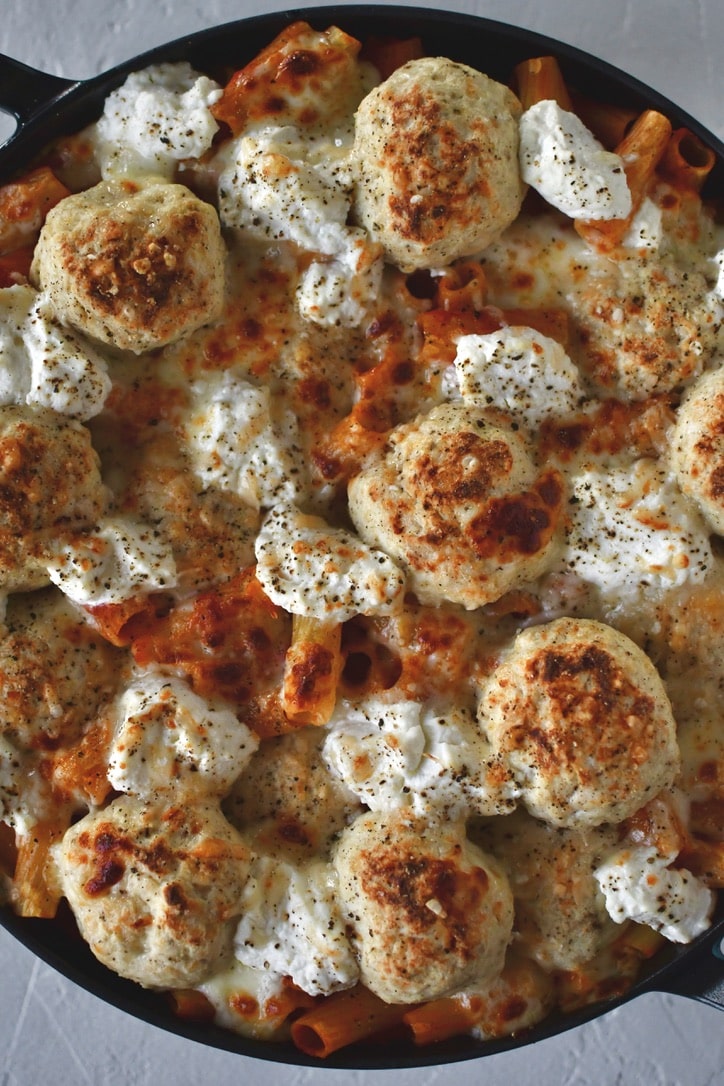 Notes & Tips
I prefer to use whole chicken breasts and rough chop them before adding them to the food processor. You could mix this recipe up with ground chicken. But I never buy preground because it's always so much more expensive. But if you prefer it or don't have a food processor, you can use the ground.
When using whole chicken breasts, do be sure to chop them up into smaller chunks. They don't have to be super precise or anything. I just found that throwing a couple of whole breasts into the food processor meant it had to be pulsed longer and resulted in a tougher finished meatball.
Buy a really good ricotta for this recipe. Not all are created equally, and use full-fat whole milk ricotta! This is no time to think of low-fat or reduced calories.
After you pulse together the meatballs, roll them between oiled hands to round them out nicely. Add more oil as needed when rolling, this also helps them to brown and crisp on the outside while cooking.
If the cheese doesn't get as brown as you like when melting the cheese, turn the oven broiler on and cook till the top gets golden. Just keep an eye on it so it doesn't burn, every broiler is different and it can go from brown to black SUPER FAST!
Substitutions
If you prefer to make homemade red pasta, DO IT! I do make my own sometimes, but if I am throwing this together I just reach for the jar I keep in my pantry.
If you find a block of/or shredded provolone, you can use that. I just typically buy slices, so I grab a few and dice them up to top the meatballs.
I typically use some dried basil in the actual meatballs for consistency's sake, so they are the same flavor every time I make them, but you could totally use fresh if you'd prefer it. You could also toss in some oregano and/or thyme if you like it really herby.
Rigatoni is my preferred pasta for this recipe, it holds up really nicely. But you could use any pasta you prefer, a tube shape just seems to really hold up well to being topped with meatballs.
Did you make this recipe? Let me know by leaving a review or comment! And be sure to sign up for my newsletter, and follow along on Instagram, Pinterest, and Facebook!