Joanna Gaines's recipe for Baklava from her Magnolia Table Cookbook Vol. 2 is one for the books! In my professional career as a chef I have only tried my hand at Baklava once before, and I have to say, it was easier than I thought to make. When I read this recipe for the first time I thought it sounded a little daunting, but you can do it and it is awesome!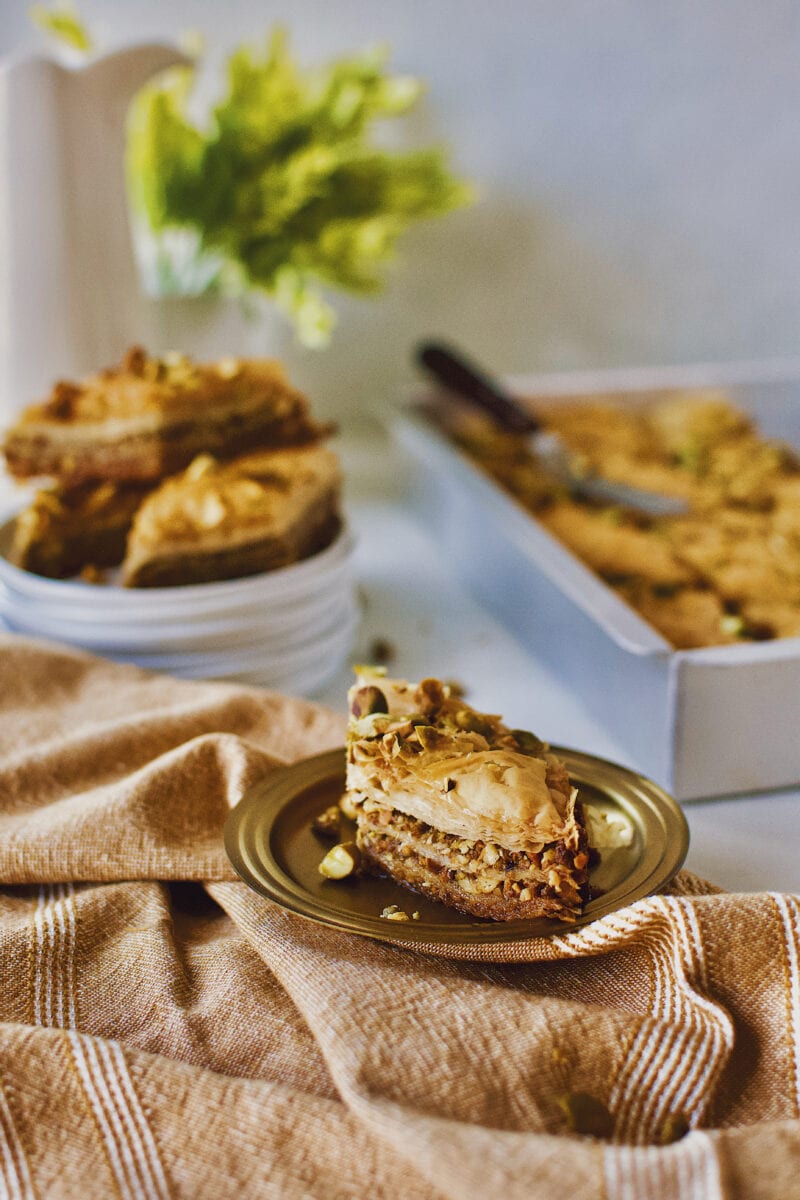 The review...
Ok, while this is a great, straightforward, and easy to accomplish recipe the first piece of beef I have with it is that if you use regular ol' phyllo dough that anyone at any supermarket can get, the layer counts just don't match up. I was left with like 5 sheets of phyllo dough at the end, and I mean, what and I going to do with that? So not wanting to waste, or wrap it back up, I just keep right on layering.
My suggestion would be to add 2 extra layers of phyllo on each step so you don't have any leftovers. It is a big pet peeve of mine to have recipes that do that to you. So add a few more flakes of layer and just enjoy it!
In the end, this was a straightforward recipe that did not leave me feeling rushed in the kitchen. Preparing the ingredients takes a few minutes, and the layering goes QUICK so the phyllo doesn't dry out, but you build a rhythm in the layers, and it is a fun and relaxing process.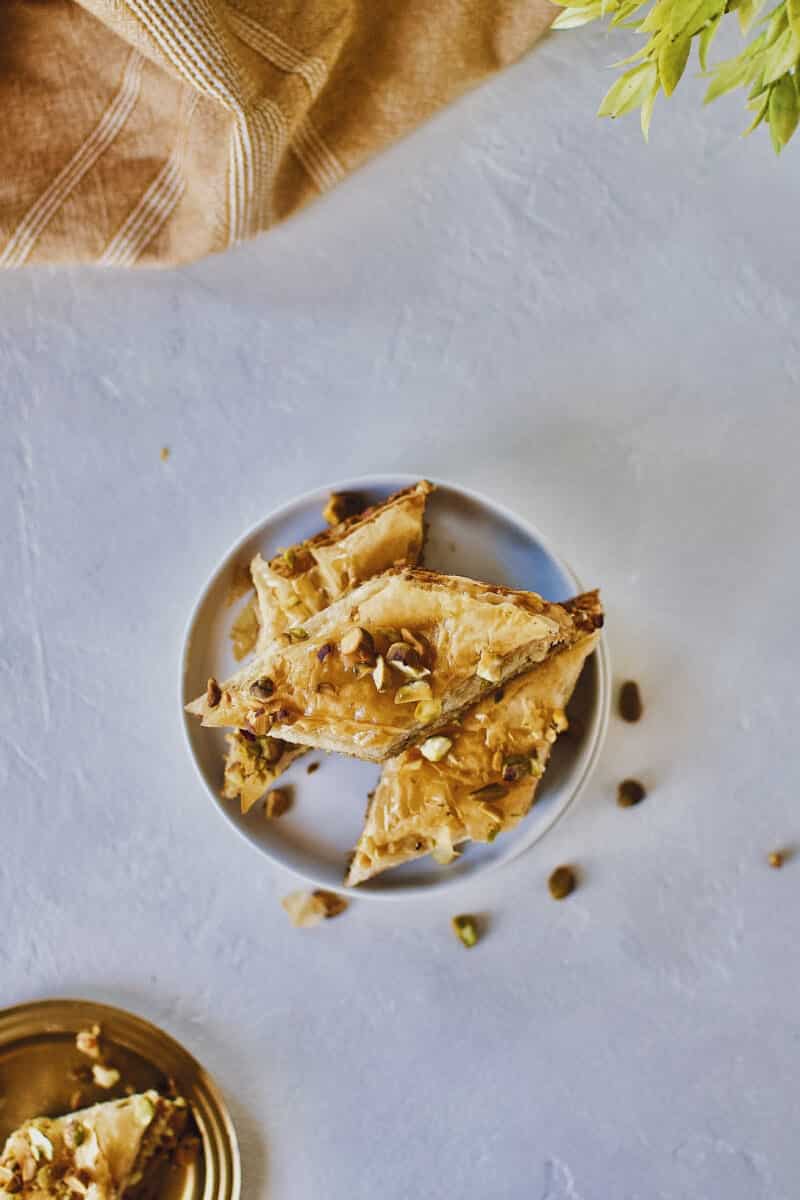 The reaction...
I mean, there just aren't enough words. This recipe passed the family test with flying colors. There was so much anticipation while I was making it that it was so hyped up by first bite. Thankfully it lived up to the hype!
I think it was love at first crunch. At first bite, I start to wonder if I have ever even eaten fresh Baklava before. The fresh crisp and intense flavor that perfumes your lips, it is heavenly!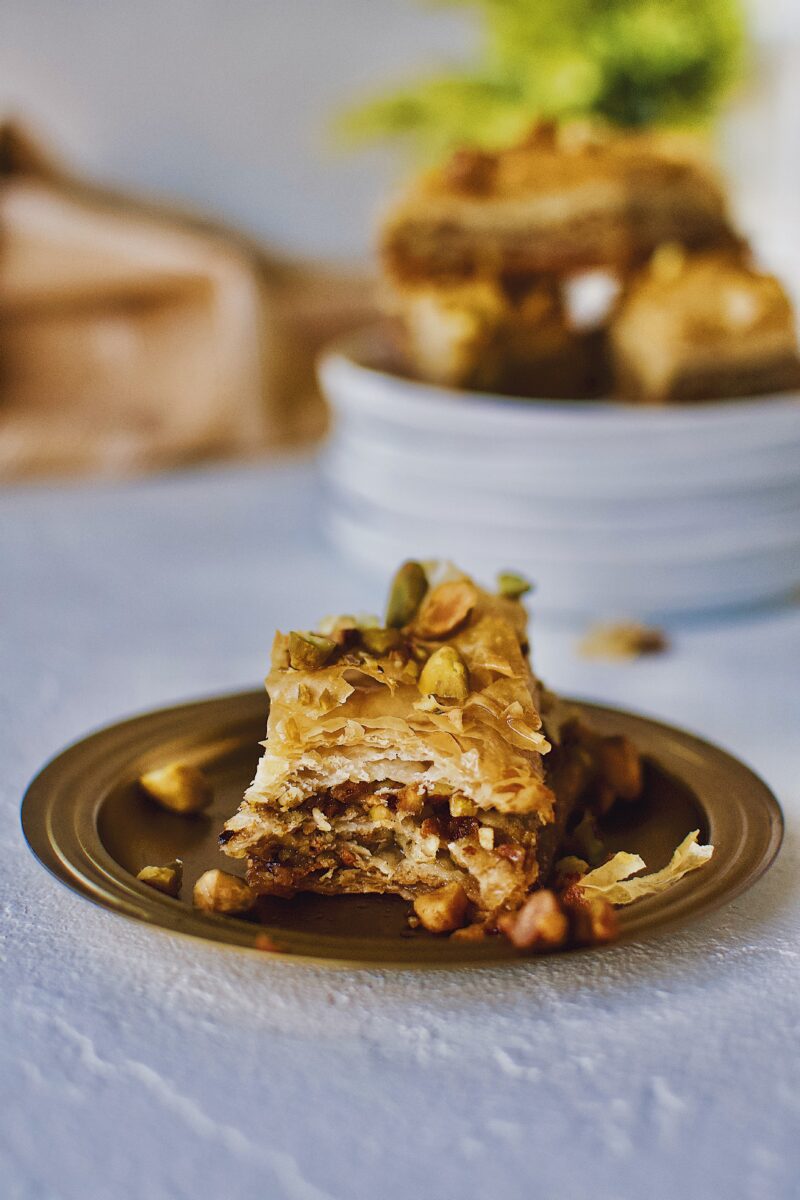 The TIPS...
Ok, like I mentioned above, be sure to use all the dough, add 2 extra sheets to each layer and have some EXTRA FLAKY Baklava! It won't hurt anyone and it will make my heart happy knowing there won't be tons of extra phyllo going to waste out there.
I read a few extra recipes before attempting this, and her cutting method seems a little too involved for me. I cut my layered Baklava in 4 long slices and then sliced on the diagonal starting at the corners. This resulted in a nice, restaurant style slice, and I enjoyed that.
The recipe makes quite a big batch considering how rich and sweet it is. For storage, it will keep on the counter for up to 2 weeks in an air-tight container. This will also keep it crisp, but if you don't think you will eat it that fast you can store it in the fridge for a softer, chewier Baklava.
If you want to freeze your Baklava, wrap the container tightly in a double layer of plastic wrap and a double layer of foil. Freeze for up to 3 months and thaw at room temperature for 4-5 hours or overnight in the fridge.
One last note, if you watched the episode where Joanna made this you wll remember she made up a chant to remember how to layer without having to look at the book ever second. She says, just remember...6, nut, 6, nut, 6, nut, 10. But like I mentioned above, if you use the phyllo you get in your supermarket, up that to 8, nut, 8 nut, 8, nut, ALL THE REST!
Also, something I never knew and think I did wrong at my first ever attempt at Baklava...Cut before you bake so it doesn't crumble.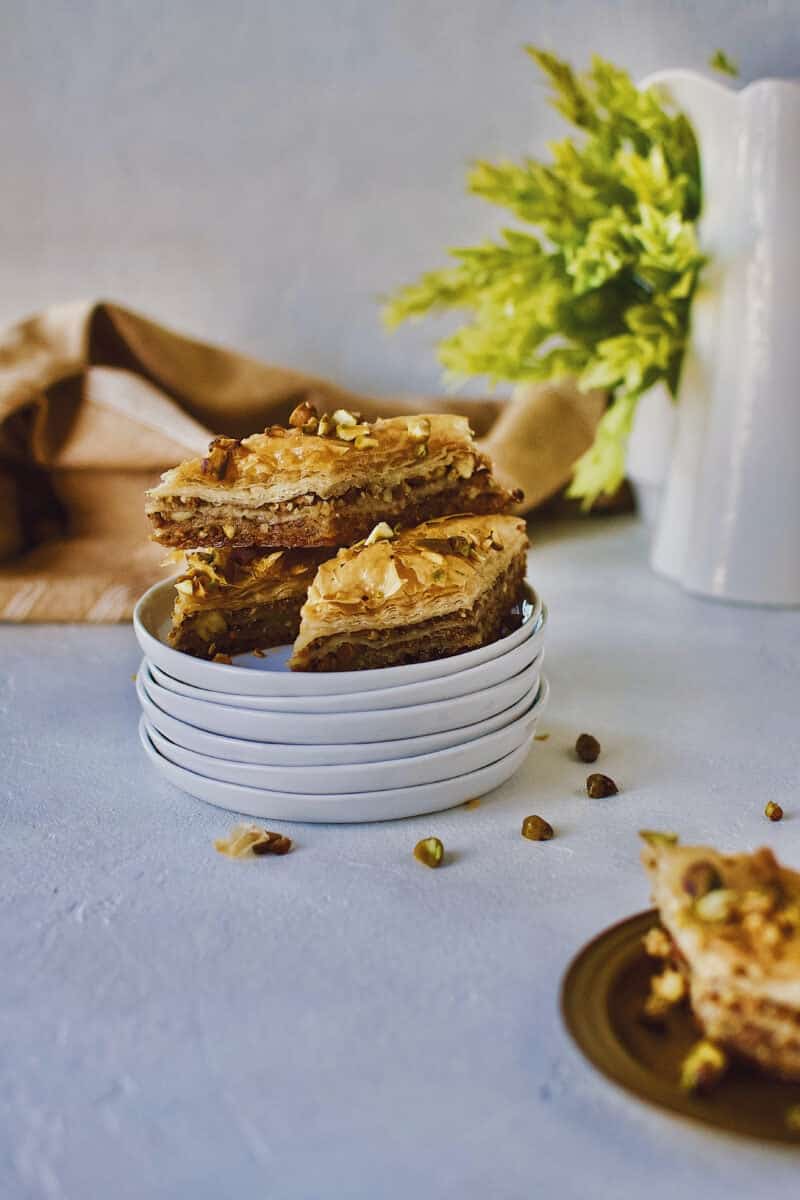 Overall, this one is a keeper. Simple enough to make when you want to show out, but not have a mountain of dishes to do after. It does need a couple of pots, but it's worth it in the end.
Until next time, Happy Cooking!
Kendell
If you watched Joanna makes this recipe on the first episode of her new cooking show Magnolia Table with Joanna Gaines you can get the recipes by CLICKING HERE, she shared them so you can make them at home!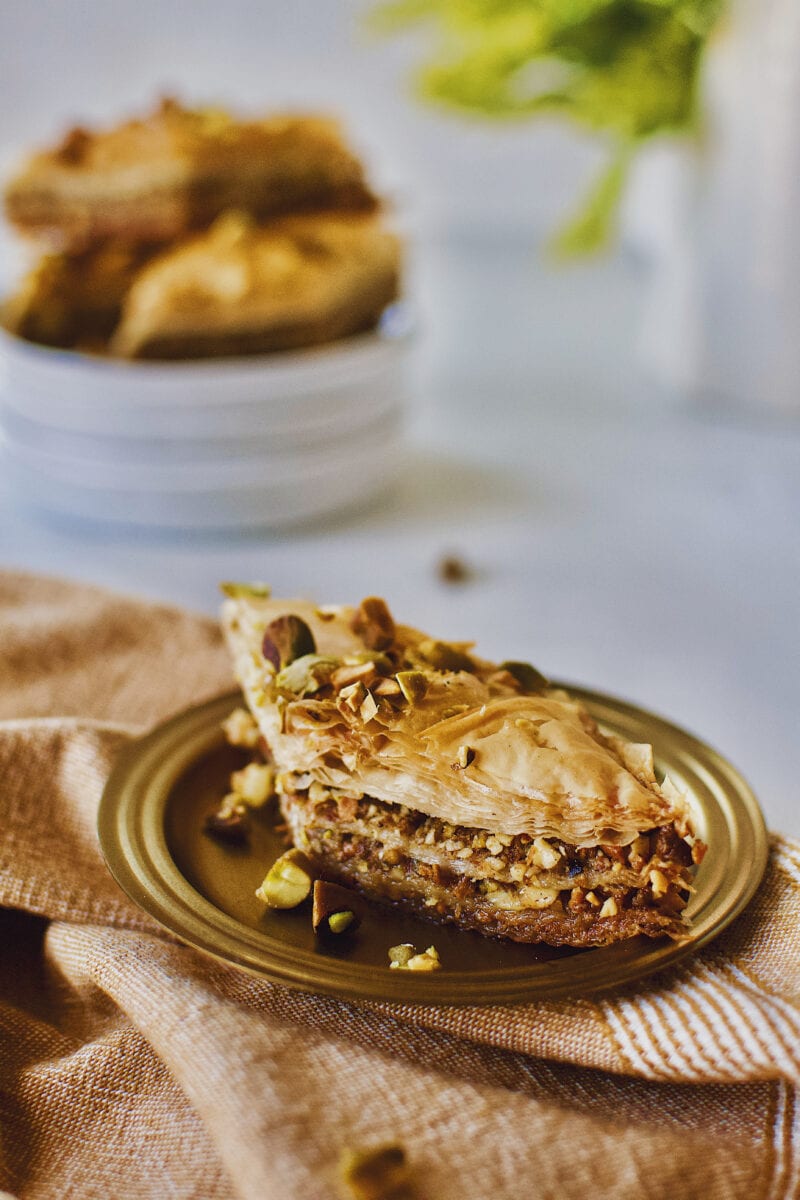 -
READ MY OTHER REVIEWS OF EPISODE 1 HERE…
Jo's Fatayar and Lebanese Salad
Get the shallow 9x13-inch pan you see in my photos here!
For MORE of my most POPULAR Magnolia Table Reviews!
If this recipe review was valuable to you, take a look a some of my other reviews that have been super popular!
Jo's recipe for 1919 Pimento Cheese is by far my most read review. I have adjusted to the recipe to replace the Velveeta, which I just can't bring myself to bring into my kitchen.
Her Zucchini Bread is my next most popular review, and it is one of my very favorites to pick up when visiting Waco.
And to ready my full ranking of every recipe in the first cookbook check out this post...Magnolia Table Cookbook…my overview!
MY LATEST RECIPES!
Get my NEW e-Cookbook here!! ⬇️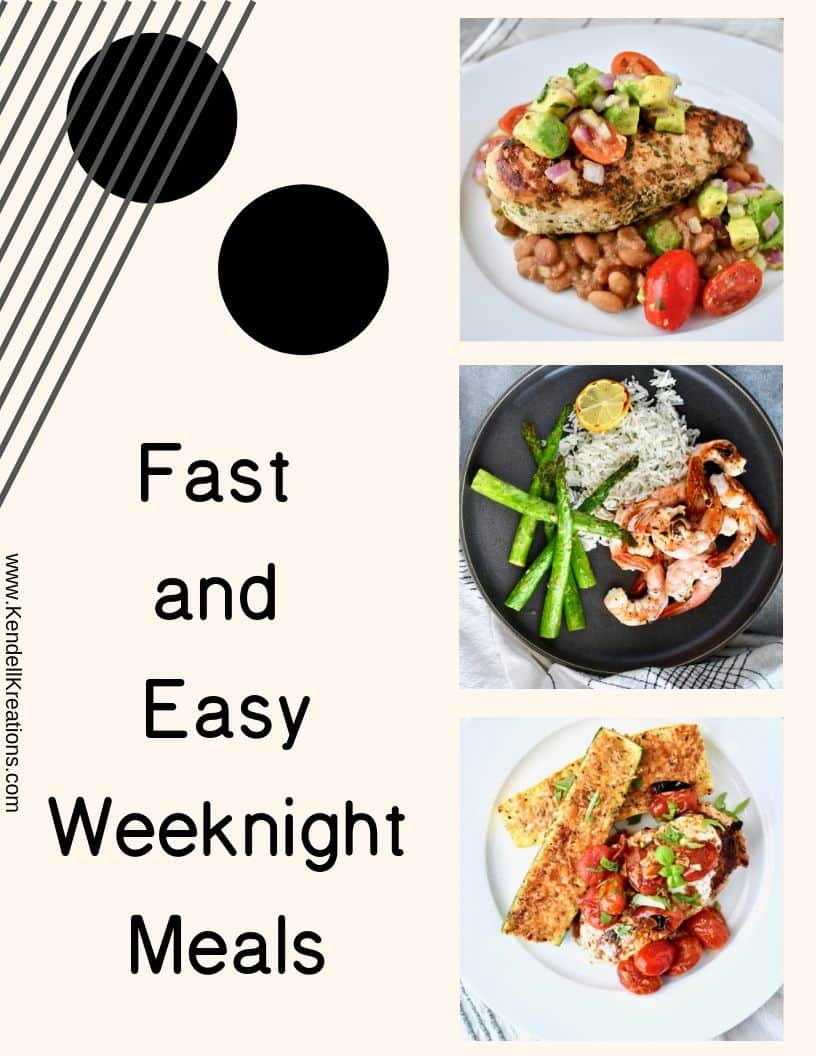 MY FAVORITE KITCHEN TOOLS!
Here are a few links to some of my favorite kitchen tools! You get a car, YOu get a car, YOU ALL GET A CAR…in my best Oprah voice
These Rösle Silicone Tongs are a little pricey but they will last you the rest of your life and are the softest in your hand. This is important for someone like m that cooks so much. It reduces strain, I have 4 sets in my kitchen!
These are my FAVE Nordic Ware Sheet Pans, every kitchen should have at least 2 sets of these! I think I have at least 4 of each of these.
This is my favorite pressure cooker, the Fagor is the same concept as the "Instant Pot" but easier to use in my opinion, if you don't have one you NEED one, it will be your best friend in the kitchen!
A sharp knife is the most important tool in the kitchen, these Japanese steel "Shun" knives are my favorite! And this is a great starter set to build on. Once you try them you will be in love so use this as a foundation you can build on for years to come.
This Scanpan 11″ skillet is just the right size for almost anything you will need to cook and my best friend and a real workhorse in my kitchen, it's also a great deal at $99. Scanpan is the best in the world for healthy cooking. It is coated with a proprietary ceramic-titanium coating that is durable while allowing you to use fewer fats and oils when cooking. It is a coating only they use. I could talk all day about my love for these pans, message me if you want more info. Here are some other sizes that are available if you are looking to outfit your kitchen with some new goodies. 8″ & 10″ Skillet set or 8″ Skillet, I still need this one for my kitchen  Also, I don't really know how to cook small so the 12.5″ is my other fave!
This giant vat of olive oil is my favorite, I decant it into a smaller bottle for my counter. Or put this spigot on top of a wine bottle!
My favorite baking dish that is so easy to clean even burnt on cheese slides right off!
This Tovolo jar scraper has to be my single favorite kitchen tool, it is definitely the most used tool in my kitchen. If you are NOT a gadget person, this is the only necessity I say is a MUST beyond the wooden spoon.
A great wood spoon is essential, this Olive Wood one is my favorite, I have more than I can count. But can you really ever have too many?
A food scale can be a very important tool in your kitchen, this one is the one I use every day!
If you love Joanna Gaines as much as I do then the 'Magnolia Table Cookbook' is a must in your kitchen, get a copy HERE!