Like many of the recipes in Joanna Gaines, Magnolia Table Cookbook, this White Bean Hummus has a short ingredient list but still packs in just the right flavor. I am starting to run out of words for the greatness of the recipes in this book, but all I have to say about this one is that it will be my new go-to!
The review...
Basically, you toast some pine nuts and throw a bunch of ingredients into the food processor, and pulse until it reaches your desired consistency. I chose to add just a little extra oil and the higher amount of lemon juice after tasting the recipe at the exact measurements.
I like my hummus to be just a bit smoother than it had turned out. In Fort Worth we have a local Mediterranean restaurant called "Terra" and their hummus is unmatched. It is my bar for all other hummus' and I have yet to find one as good.
Now, this did not come out anywhere near as good as theirs but I wanted a smoother texture so I added the extra liquid and ran the food processor a little longer. That said it is still the best I have yet to make!
The TIPS...
I was making the 'Roasted Elephant Garlic Bread' the same day as this White Bean Hummus so I just stole one of the large garlic cloves from that in this recipe. I know she says it's not exactly the same in that recipe but I was already doing it for that so I killed two birds with one stone.
The flavor was absolutely fantastic and it received rave reviews from everyone that tasted it. I made it for a Christmas Party I was hosting and just like the 'Shepherd's Pie' (that I reviewed just before this) you can make it a day or even two ahead of time to lessen the stress of what you have to make on party day!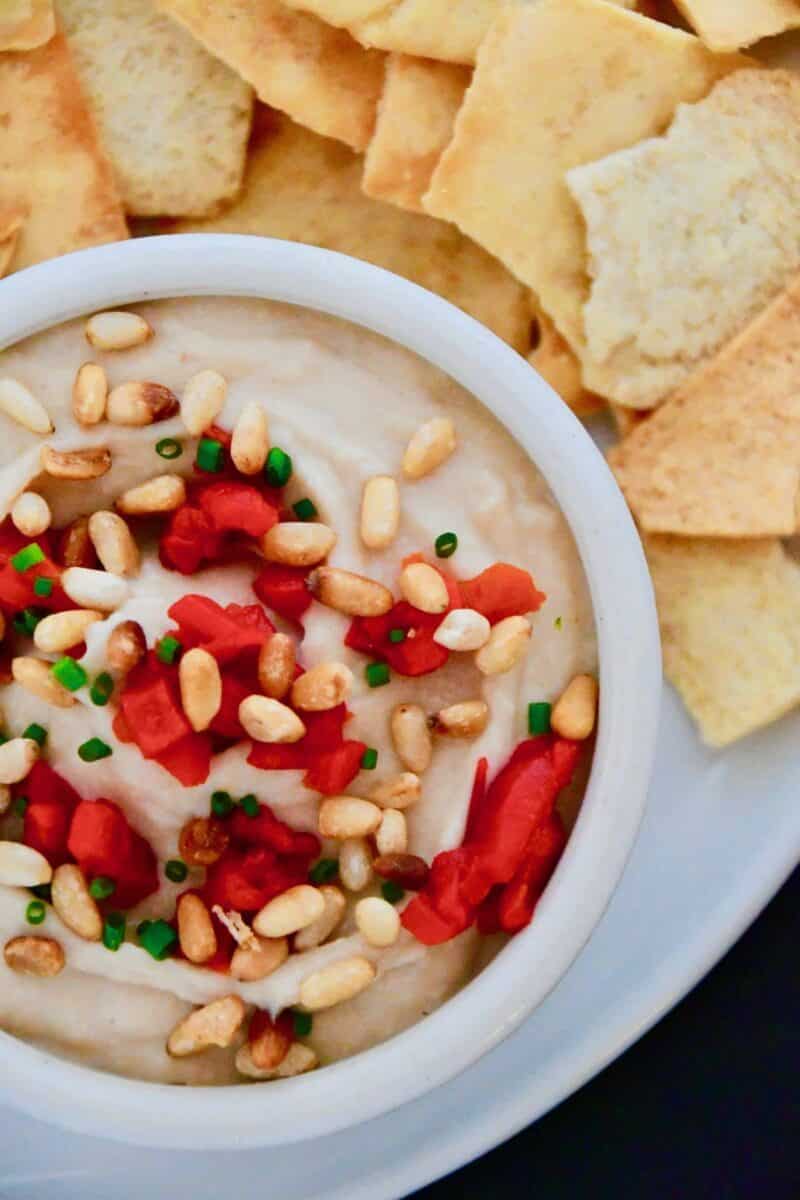 The reaction...
I set half of this aside to take to a photography class I was attending around Christmas time, we were having a final class potluck and I wanted something easy and from this 'Magnolia Table Journey' to bring, and funny story, everyone must have really had the same mindset in the class because we ended up with a hummus tasting party!
I think we had 6 different hummus' to choose from. And I think they were just being nice but everyone said they really enjoyed this one the best, but I did leave with an empty bowl while others had leftovers.
I would love to know what you thought of this one, if you have made it please leave me a comment below and tell me all about your experience with it. I have made great progress in completing the book this week, I have just 16 recipes left and I will have cooked every recipe in the Magnolia Table Cookbook. Woohoo!
I am excited and sad all at the same time. It has been so much fun falling in love with food all over again, but cooking 6-7 days a week and doing all the dishes is wearing me out! I will be looking forward to some new things and cooking just a little less. I love it and will never stop, just slow down a little. Even though I probably won't.
Until next time, happy cooking!
Kendell
If you watched Joanna makes this recipe on Season 1, Episode 1 of her new cooking show 'Magnolia Table with Joanna Gaines' you can get the recipe by CLICKING HERE, she shared it on her blog so you can make it at home!
-
READ MY OTHER REVIEWS OF EPISODE 1 HERE…
Jo's Fatayar and Lebanese Salad
Did you make this recipe? Let me know by leaving a review or comment! And be sure to sign up for my newsletter, and follow along on Instagram, Pinterest, and Facebook!