Ok y'all, Joanna Gaines got it just right with this recipe for Pretzels and Cheese Dip. These two recipes work out just like something that you would get from the movie theater. The finish on the pretzels couldn't be more professional, and the texture is perfect!
If you still need your own copy of her new cookbook, grab your copy of Magnolia Table Cookbook Volume 2 HERE!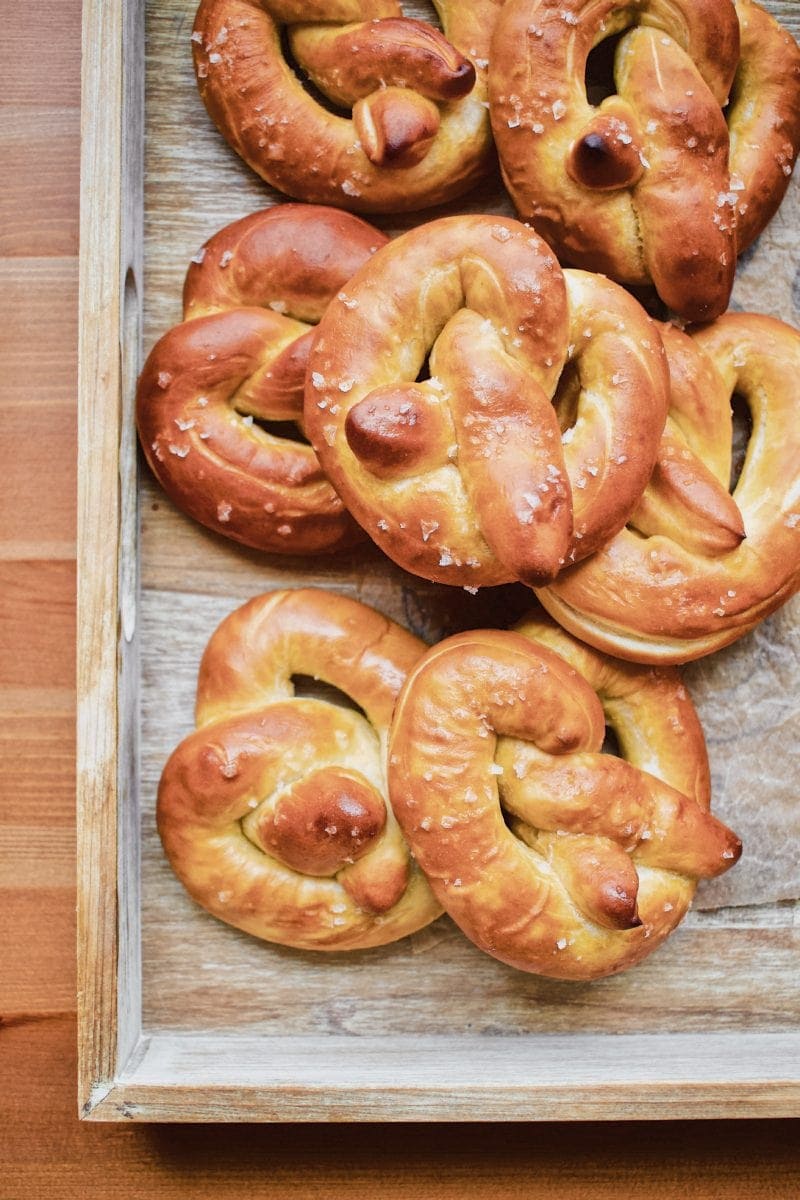 I remember working in a snack stand in high school and though these are far better than the pretzels and cheese sauce we served there, they take me right back to those days.
The review...
For a yeasted dough, this recipe is straightforward and easy. The dough rose quickly and the texture was just right. Rolling the dough was easy, and a quick note on that is to roll it on a very lightly floured surface, as you will need a little tack to keep the dough from springing back too much.
Dipping the shaped dough in the baking soda glaze gives the pretzels their perfectly browned exterior. And I have to say that the method drawn out in this recipe works like a charm. Boil a little water in a kettle and mix it in the bowl and dip the pretzels in.
You then have the option of salting them and baking or leaving them plain and dipping them in cinnamon sugar after they come out of the oven. Jo even shared on her insta story one day that she was making them into pretzel bites and seasoning with everything seasoning. I want to make them again just to give this a shot!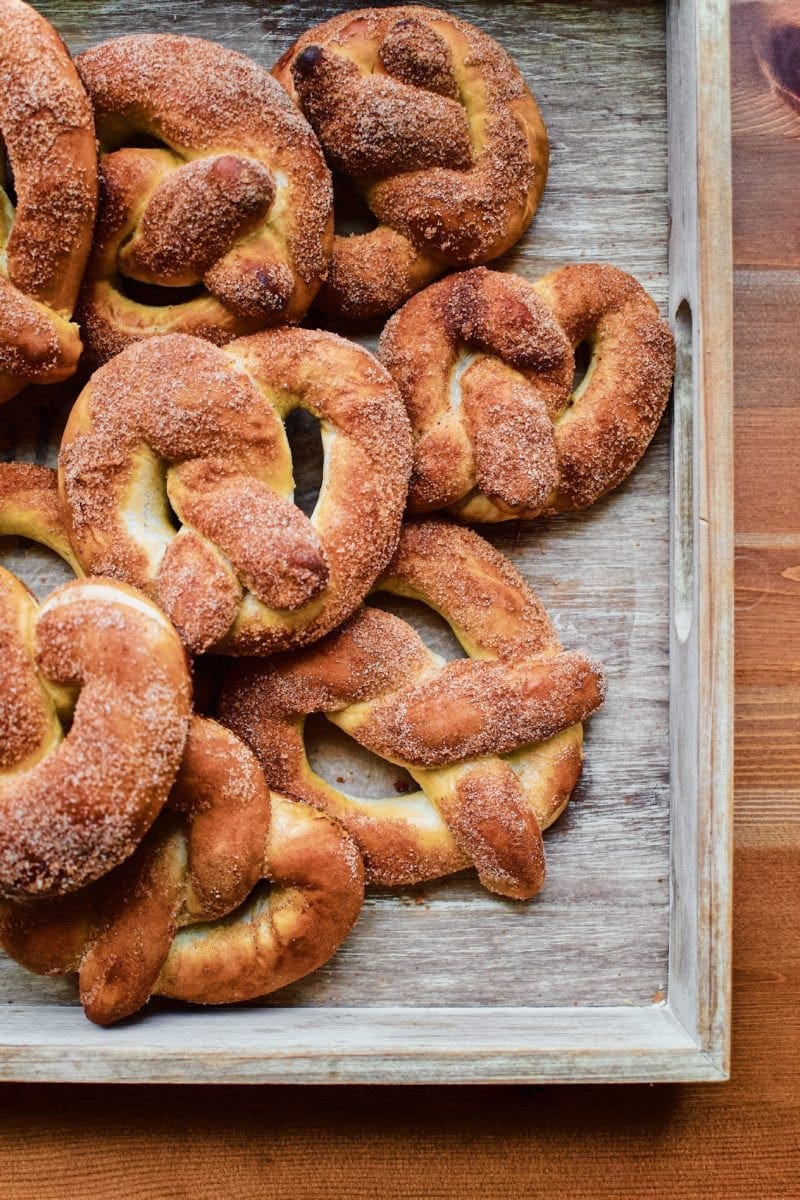 The reaction...
While the cinnamon sugar version was good, I have to say that I am a bit of a purist and I loved the salted dipped in the cheese sauce. Fresh out of the oven the pretzels had a beautiful crisp outside and the tenderest interior. I could just eat the pretzel and sip the cheese sauce if you'd let me!
The sauce is also very simple and mixes all the flavors you would enjoy pairing with a pretzel. Cheese and mustard all wrapped up in a delicious cream sauce. I really would have drunk it, I couldn't get enough.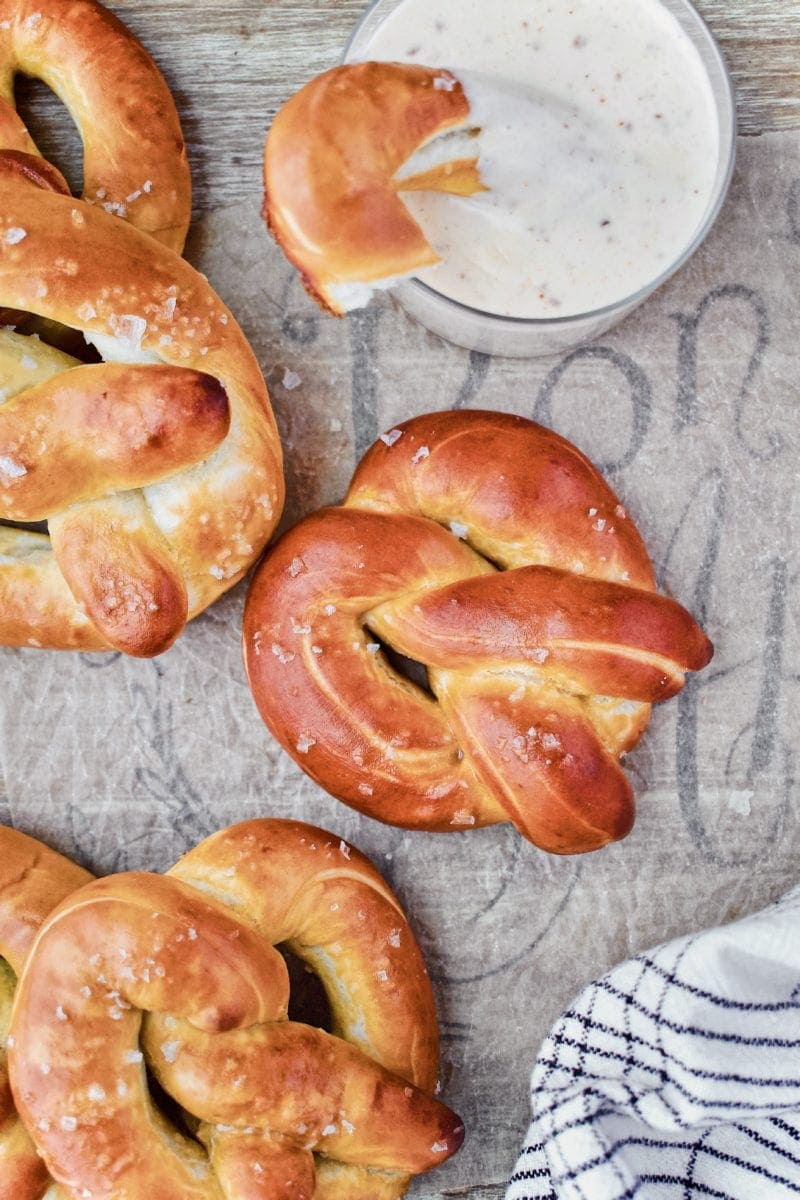 The TIPS...
Work in batches and when you fill a sheet pan with 6 pretzels, bake them off while you roll and shape your next batch.
Make more salty ones, they went fastest, at least at my house.
The cheese sauce makes a BIG batch, if you won't be making all of them salty, cut the recipe in half. It doesn't reheat all the well and is a delicate sauce.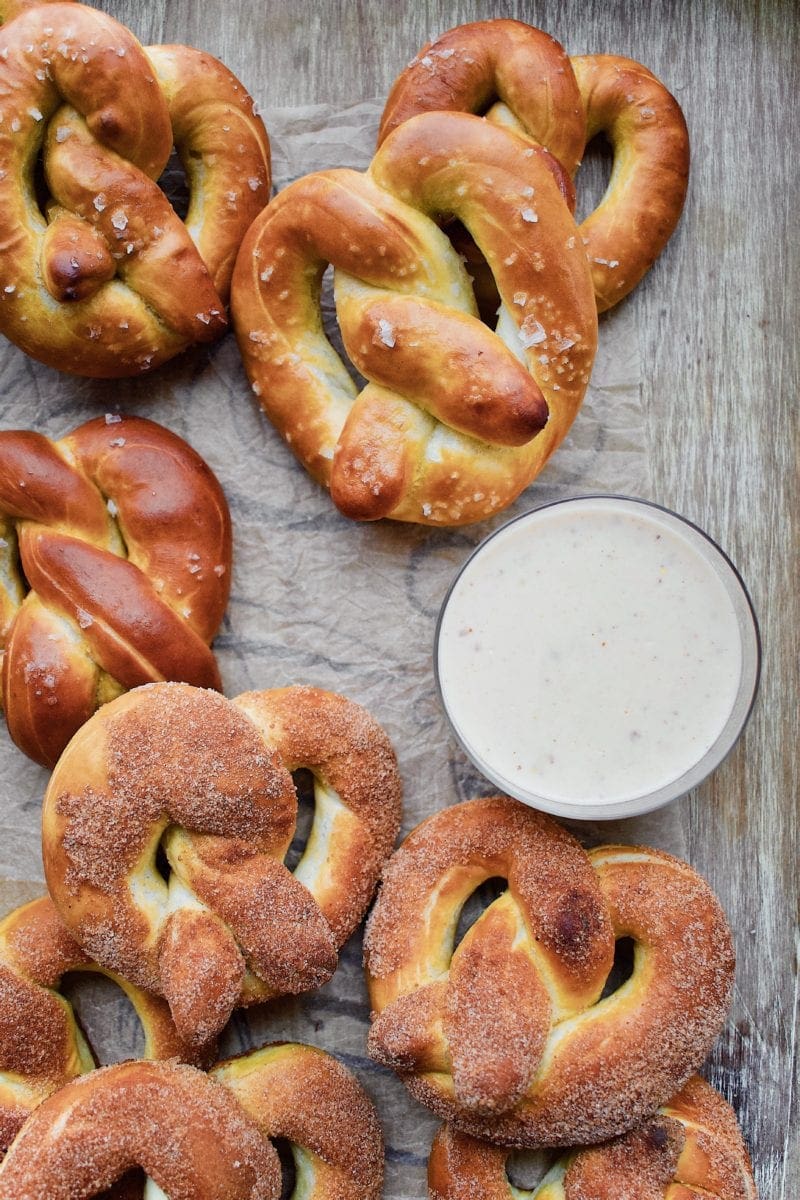 Overall, I think you could sell these, they turn out that good! Go make them and enjoy their goodness.
Until next time, Happy Cooking!
Kendell
If you watched Joanna makes this recipe on Season 1, Episode 5 of her new cooking show 'Magnolia Table with Joanna Gaines' you can get the recipe by CLICKING HERE, she shared it on her blog so you can make it at home!
-
READ MY OTHER REVIEWS OF EPISODE 5 HERE…
Baked Spinach and Artichoke Dip
Cheese Balls, Four Ways (coming soon)
Did you make this recipe? Let me know by leaving a review or comment! And be sure to sign up for my newsletter, and follow along on Instagram, Pinterest, and Facebook!