How do I hold a knife? What is the proper way? Below I share a guide that will teach you how to hold a knife correctly, speeding up your prep time in the kitchen while keeping you safe.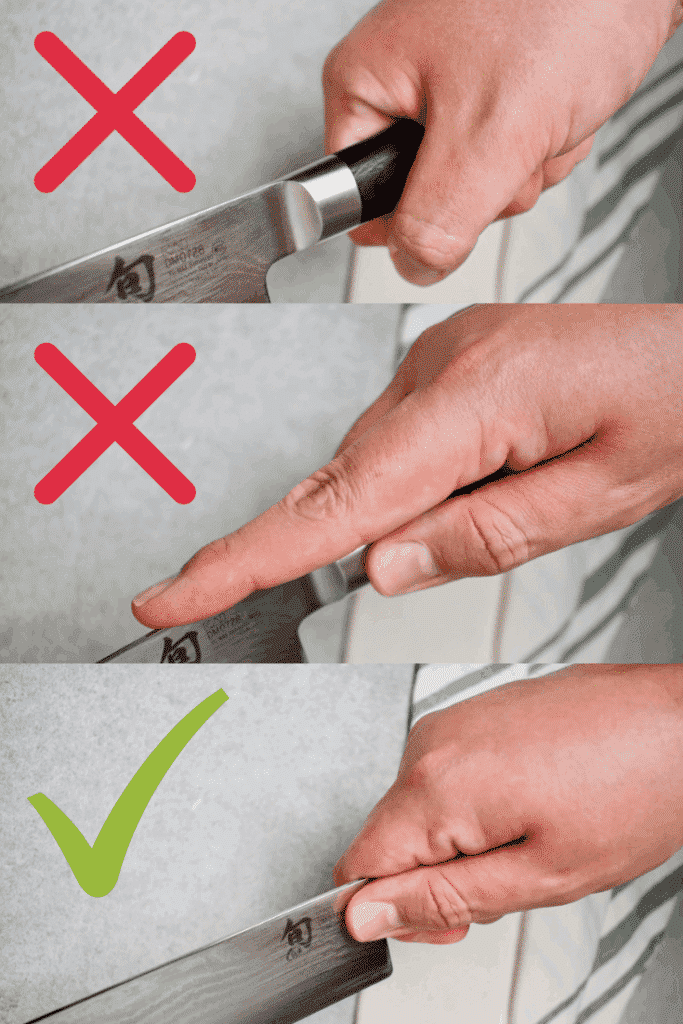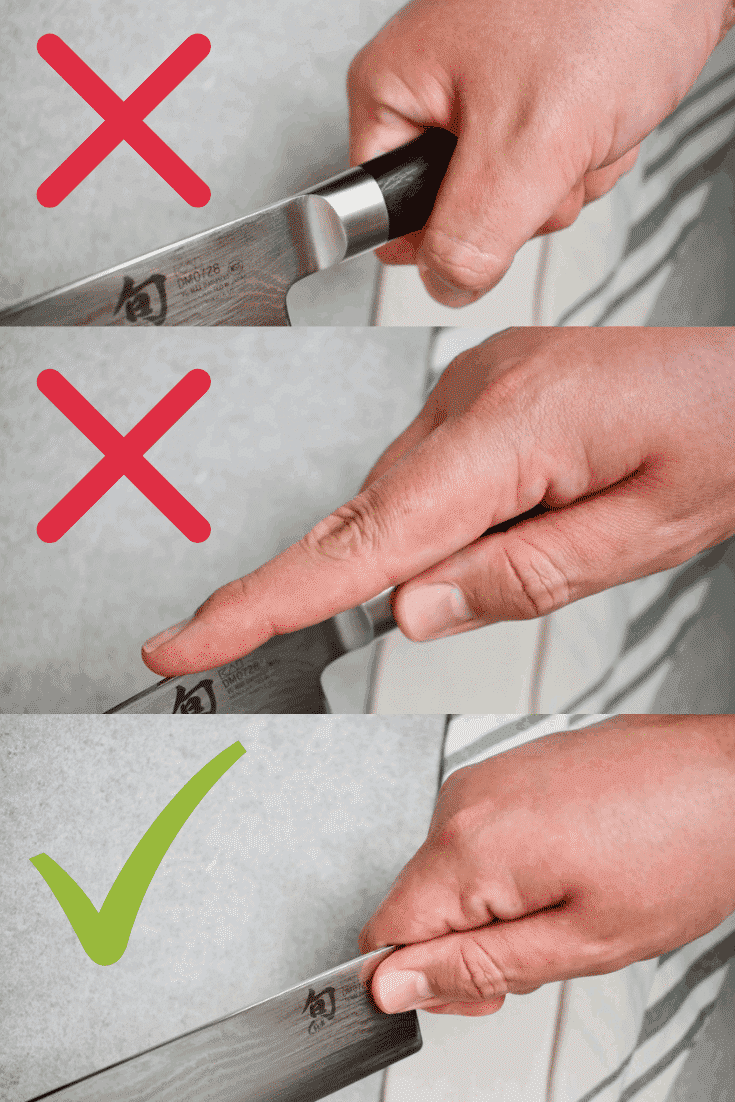 Safely handling a Knife
Holding your knife properly is the key to working efficiently and safely in the kitchen. I see so many of the "pro's" on TV today still holding their knife in an unsafe way, teaching or confirming to all those inexperienced that are watching that it is ok to hold their knife in that way.
The best way that I have found to describe how to hold it properly is to pretend like you are holding the key to your car and you are starting it. Grasp the bolster, clamping your forefinger and thumb around it and letting your last three fingers wrap around the handle. See image above.
I see so many people holding their forefinger over the spine or with all of their fingers wrapped around the handle. This leads to an unstable knife, which can cause it to wobble and cause misdirection. This can send the knife slicing into your opposing hand, cutting you or tweaking your wrist.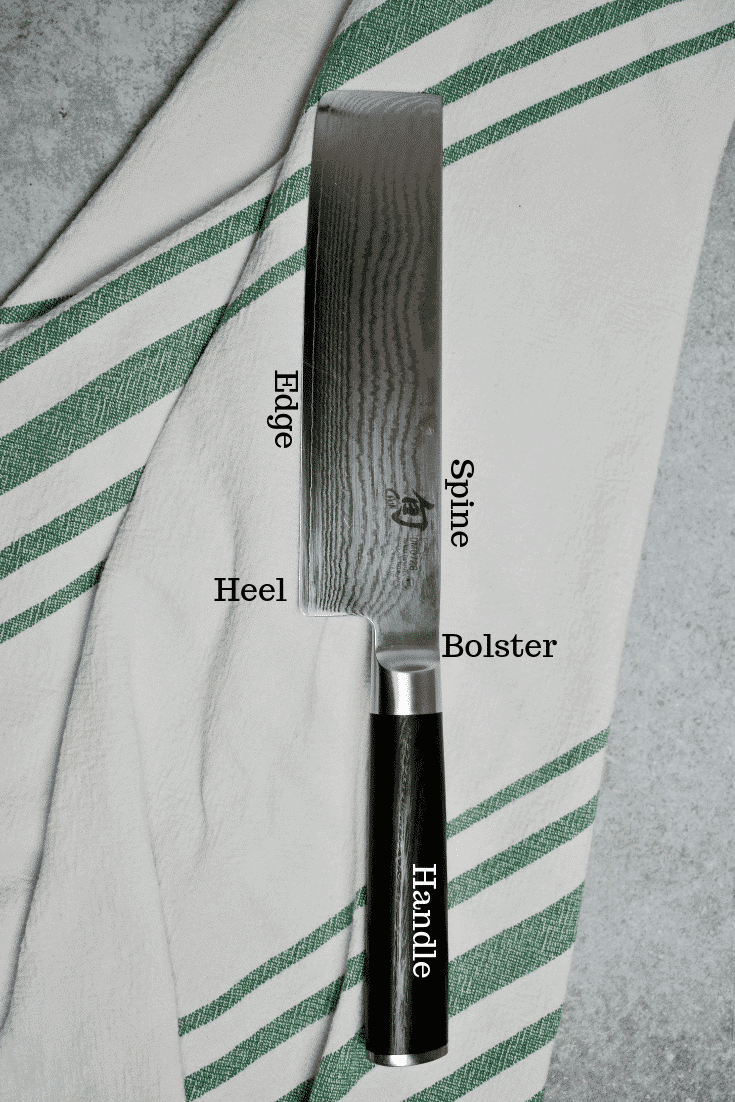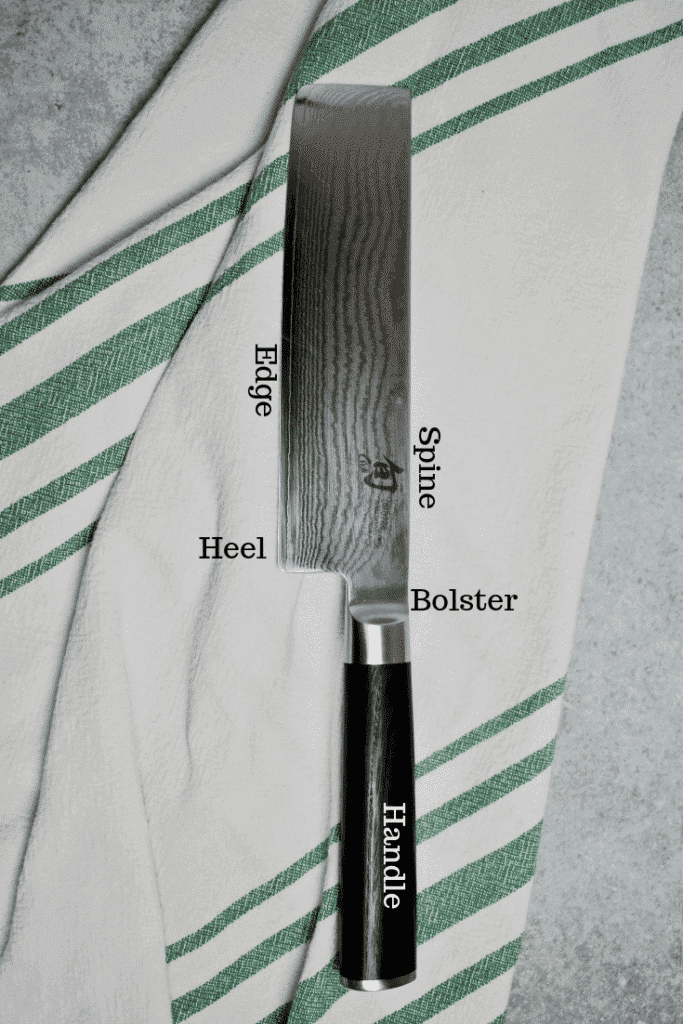 Knife Grip
A firm grip on the knife gives you complete control. Control sends the knife only in the direction you send it. It also gives you even cuts, leaving you a more visually appealing final product.
After all, we all eat with our eyes first, so making your veggies look good is half the battle. Plus, don't you want your time in the kitchen to get noticed for how great it looks!?
How many Knives do I need?
4-5 knives are all you really need to get the job done. You will see knife sets out there that have 12+ knives in them, and unless the majority are steak knives you will never use most of them. Quality knives are what you want.
When shopping ask if they are stamped or forged steel. Stamped means, exactly like it sounds. They stamp the shape out of a sheet of steel and then sharpen it.
Those knives don't last. They don't hold a sharp blade for long and tend to rust very easily.
Forged is what you want! Forged knives have been stretched and fired, beaten and ice cooled to harden. These types of knives should last a couple of lifetimes, can be repeatedly sharpened and will hold a sharp edge longer.
Personally, I prefer Japanese style knives. They are sharpened at a finer angle than German knives and are better for more precision cutting. Just think of the intricate details you see at your favorite sushi restaurant, you can get on that level one day with Japanese knives!
If you are on the fence or at a total loss for what type of knife you want to invest in, take a trip to your local home kitchen store. They will let you hold and try out knives. Just ask for a potato, they are expected to keep vegetables on hand at all times to let guests try out and experience knives first hand.
I could talk about this all day, feel free to email me if you have more questions!
My Knife Suggestions
As I said, Japanese style knives are my personal favorite. Below I will share a few links to my top 5. I also love the kitchen sheers that Shun make.
Shun Classic 10-inch Chef Knife
You want this one in your kitchen if you plan to cut large pieces of meat or for big cakes. It isn't the first knife I reach for most days, but it is a workhorse and has its place.
Shun Classic 6-inch Chefs Knife
This is my every day quick job knife. It doesn't have a large blade so it's not good for scooping but makes easy work of fast jobs. It is also great for someone with smaller hands
Shun Classic 7-inch Santoku Knife
Shun Classic 6.5-inch Nakiri Knife
I love both of these, but if you have to choose one go with the Santoku. It is hollow ground, which means that veggies won't stick to it when you slice through them. These are both the main workhorses in my kitchen.
Shun Classic 8-inch Offset Bread Knife
I love this offset (sometimes called a deli knife) because it has many uses. From bread to cakes, so slicing your peanut butter sandwich. It is also perfect for shaving melons or pineapple with minimal loss.
Read my "How to Cut a Watermelon like a Pro" tutorial here!
Shun Classic 4-inch Paring Knife
This an absolute must have. It does quick little jobs and makes them easy. Slice berries or trim the fat from a steak, it will be your best friend.
Shun Multi-Purpose Sheers
These are my #1, I even want a pair for my office. They are razor sharp!
Diamond & Ceramic Knife Sharpener
This is the best for quick sharpening once a month or so based on how much you use your knives. It is simple to use, add some water to the base and gently glide your knife back and forth to restore the edge.
Knife Skills Guide
I have created a FREE printable for you!
I hope this gives you a better understanding of proper knife handling and more awareness that will help hone your skills in the kitchen.
Until next time, Happy Cooking!
Kendell
LOOKING FOR SOME OTHER GOODIES?
Take a look at a few of my more decedent recipes or reviews below.
JoJo's Biscuits– Magnolia Table Recipe Review – Free Recipe
MY FAVORITE KITCHEN TOOLS!
Here are a few links to some of my favorite kitchen tools! You get a car, YOu get a car, YOU ALL GET A CAR…in my best Oprah voice
These Rösle Silicone Tongs are a little pricey but they will last you the rest of your life and are the softest in your hand. This is important for someone like m that cooks so much. It reduces strain, I have 4 sets in my kitchen!
These are my FAV Nordic Ware Sheet Pans, every kitchen should have at least 2 sets of these! I think I have at least 4 of each of these.
This is my favorite pressure cooker, the Fagor is the same concept as the "Instant Pot" but easier to use in my opinion, if you don't have one you NEED one, it will be your best friend in the kitchen!
A sharp knife is the most important tool in the kitchen, these Japanese steel "Shun" knives are my favorite! And this is a great starter set to build on. Once you try them you will be in love so use this as a foundation you can build on for years to come.
This Scanpan 11″ skillet is just the right size for almost anything you will need to cook and my best friend and a real workhorse in my kitchen, it's also a great deal at $99. Scanpan is the best in the world for healthy cooking. It is coated with a proprietary ceramic titanium coating that is durable while allowing you to use fewer fats and oils when cooking. It is a coating only they use. I could talk all day about my love for these pans, message me if you want more info. Here are some other sizes that are available if you are looking to outfit your kitchen with some new goodies. 8″ & 10″ Skillet setor 8″ Skillet, I still need this one for my kitchen Also, I don't really know how to cook small so the 12.5″ is my other fave!
This giant vat of olive oil is my favorite, I decant it into a smaller bottle for my counter. Or put this spigot on top of a wine bottle!
This Tovolo jar scraper has to be my single favorite kitchen tool, it is definitely the most used tool in my kitchen. If you are NOT a gadget person, this is the only necessity I say is a MUST beyond the wooden spoon.
A great wood spoon is essential, this Olive Wood one is my favorite, I have more than I can count. But can you really ever have too many?
A food scale can be a very important tool in your kitchen, this one is the one I use every day!
If you love Joanna Gaines as much as I do then the 'Magnolia Table Cookbook' is a must in your kitchen, get a copy HERE!
Check out this great product for your mason jar, the Ergo Spout lets you turn any jar into a pourable pitcher. Get yours here! I love making my homemade salad dressing and keeping them this way in the refrigerator.