I recently had some amazing sausage manicotti while out at a restaurant with my family, and it was so good I kept dreaming about it.
Having never made manicotti before, I decided it was time to learn. So here is my Sausage Manicotti Recipe.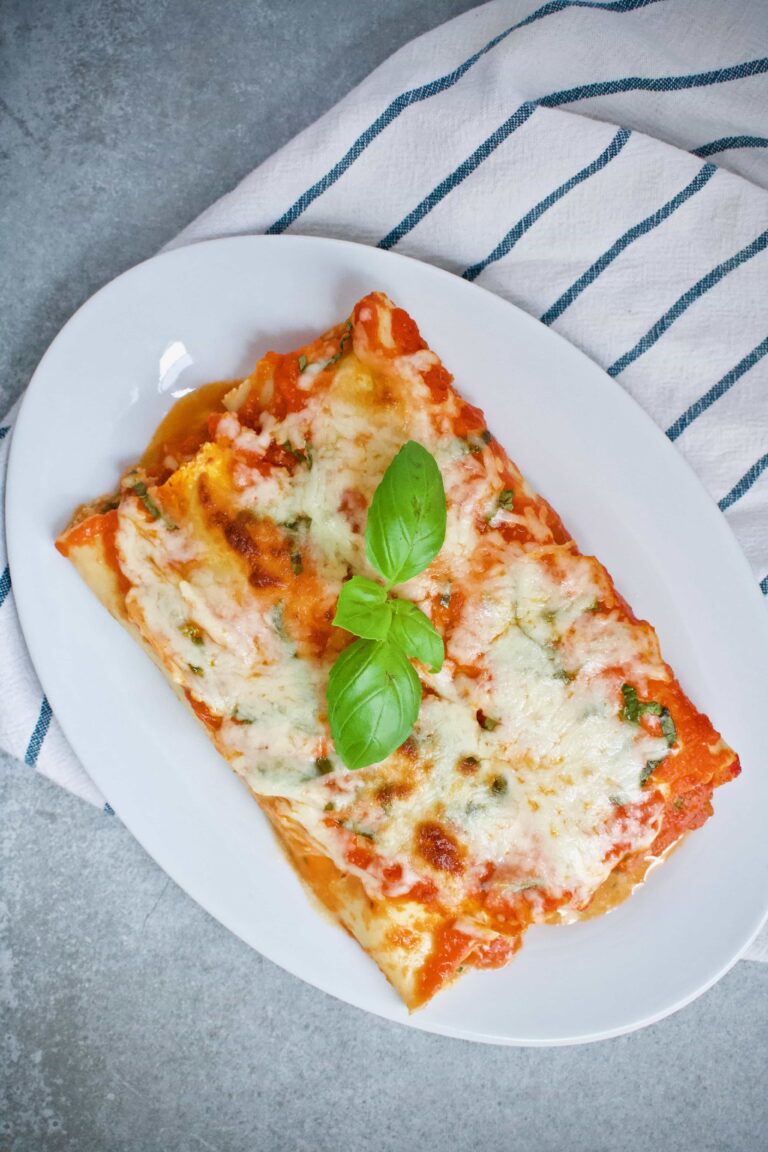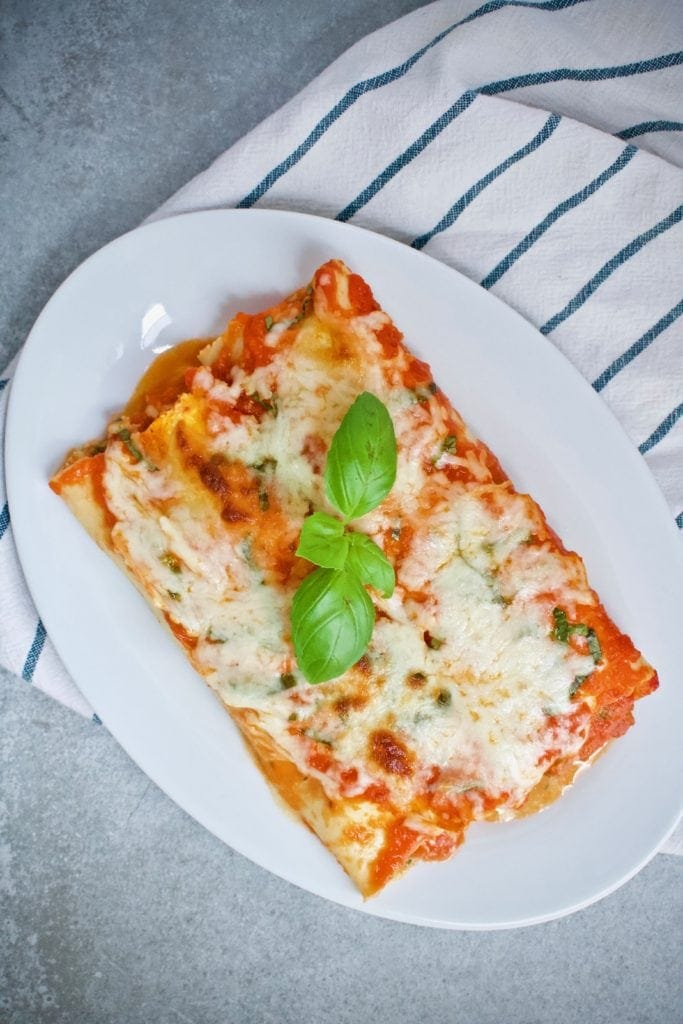 The Pasta Maker!
When I found the pasta maker of my dreams on sale for a price I couldn't resist, I scooped it up and quickly became a pasta making machine.
It's the 3 piece set that attaches to a KitchenAid Mixer and it makes rolling fresh pasta so easy you could do it every day.

I tested a few recipes and the one that turned out the best was the one I found from Bon Appetite. If you want at a step by step guide check out the recipe in my Instagram highlights.
How I created this Sausage Manicotti Recipe!
My sausage manicotti recipe is a compilation of many different recipes that I researched and then put my own creative twist on. I usually cook like that. I read a collection of recipes for inspiration and then end up creating something from ingredients I already have in my kitchen.

You can make this Sausage Manicotti Recipe with any type of ground meat that you have on hand. Just season it up with some Italian seasoning and red pepper flakes to give it the flavor and kick you would get from using real Italian sausage. You can also leave the meat out altogether and have stuffed cheese manicotti.
The Pasta
This basic recipe, as I mentioned, is from BA. But use this as a guide. Make it once and then tweak and adjust as needed.

Sometimes eggs are bigger or smaller than normal and you may need to add a splash of water or a tablespoon or more of flour.

Get to know your ingredients and just feel it out. It doesn't have to be so scientific it's all about the feel and putting love into your food.
3 Eggs, beaten to blend
2 C All-Purpose Flour
1 T Olive Oil
1 t Kosher Salt
1. Mix eggs, flour, oil, and salt in the bowl of a stand mixer with your hands until a shaggy dough forms.
2. Knead with the dough hook until the dough is smooth and elastic, about 10 minutes.
3. Cover the dough with plastic wrap and let rest at least 30 minutes. Can be made 1 day ahead.
4. Cut dough into 4 pieces and begin working it through a pasta roller.
5. Continue rolling until you reach setting 2 on the pasta maker.
6. Cut strips into 8 - 6x7 inch rectangles. Lightly dust with semolina and cover with plastic wrap.
7. Fill a large pot with water and bring it to a boil over high heat.
8. Boil rectangles for 1 minute in salted boiling water.
9. Set aside on a lightly oiled sheet pan.
Note: You want to take your pasta as thin as you can because when you boil the sheets before you roll them, they will thicken. Keeping them thin means if the seam overlaps it won't be thick and chewy after you bake them. Also, you will only use ¼ of the dough this makes. Roll the remainder and dry for later use or make spaghetti with it!
The Sauce
As any Italian grandma will tell you, "It's all about the gravy!", and this sauce is the quintessential "gravy" that you need in your life. It is basic and pure, yet perfect. Use it for all your pasta needs.
¼ C Olive Oil
1 Yellow Onion, diced
3 Garlic cloves, peeled and sliced
3 T Basil, chopped
2 (28-ounce) cans Diced Tomatoes
Salt and Pepper
1. In a heavy bottom pot, heat olive oil over medium heat, and cook onion and garlic until golden.
2. Add the basil, and tomatoes to the pot and bring to a simmer. Cook until the sauce slightly thickens, 10-15 min. Using an immersion blender give the sauce a light blend. You can also pulse in a blender or use a potato masher to break down the tomatoes a bit. Don't blend to smooth, just break down the tomatoes until they reach a saucy consistency.
3. Season with salt and pepper. Taste and adjust as needed.

This recipe would also be great with my friend Lori's béchamel.
The Filling
I have pretty much perfected this filling for this Sausage Manicotti Recipe and I don't think I will be straying anytime soon. It is packed with flavor and hits ya right in the feels. It will have you coming back again and again.
1 T Olive Oil
1 Yellow Onion, diced
½ lb Sweet Italian Sausage, casings removed or bulk sausage meat
½ lb Spicy Italian Sausage, casings removed or bulk sausage meat
1 (10-ounce) box frozen chopped spinach, thawed and squeezed dry
15 oz Ricotta Cheese
1 ½ C Parmesan Cheese
3 Eggs
Salt and Pepper
1 C Mozzarella Cheese
½ C Basil Leaves, sliced or torn
1. Heat a large skillet over medium-high heat. Add oil and when it starts to shimmer add onion and cook until translucent. Add sausage to the pan and cook until browned, use a wooden spoon to break into small pieces. When no longer pink, drain off the fat and set aside to cool.
2. In a bowl, combine the dried spinach, ricotta, parmesan, eggs, salt, pepper, and the cooled sausage mixture.
3. Preheat oven to 400 degrees.
4. In an oiled 9x13 baking dish, like this one, fill the base with 2 cups of sauce.
5. Fill each of your pasta rectangles on the long side with 6 tablespoons of the sausage-cheese filling. Roll each into a tube until the ends meet. Place the manicotti seam side down into the prepared baking dish. Repeat until each pasta sheet is rolled.
6. Top with remaining sauce, chopped basil, and finish with mozzarella cheese.
7. Bake for 20 minutes, remove from oven and let stand for 10 minutes before serving. This allows the filling to solidify and keeps it from shooting out when you cut into it.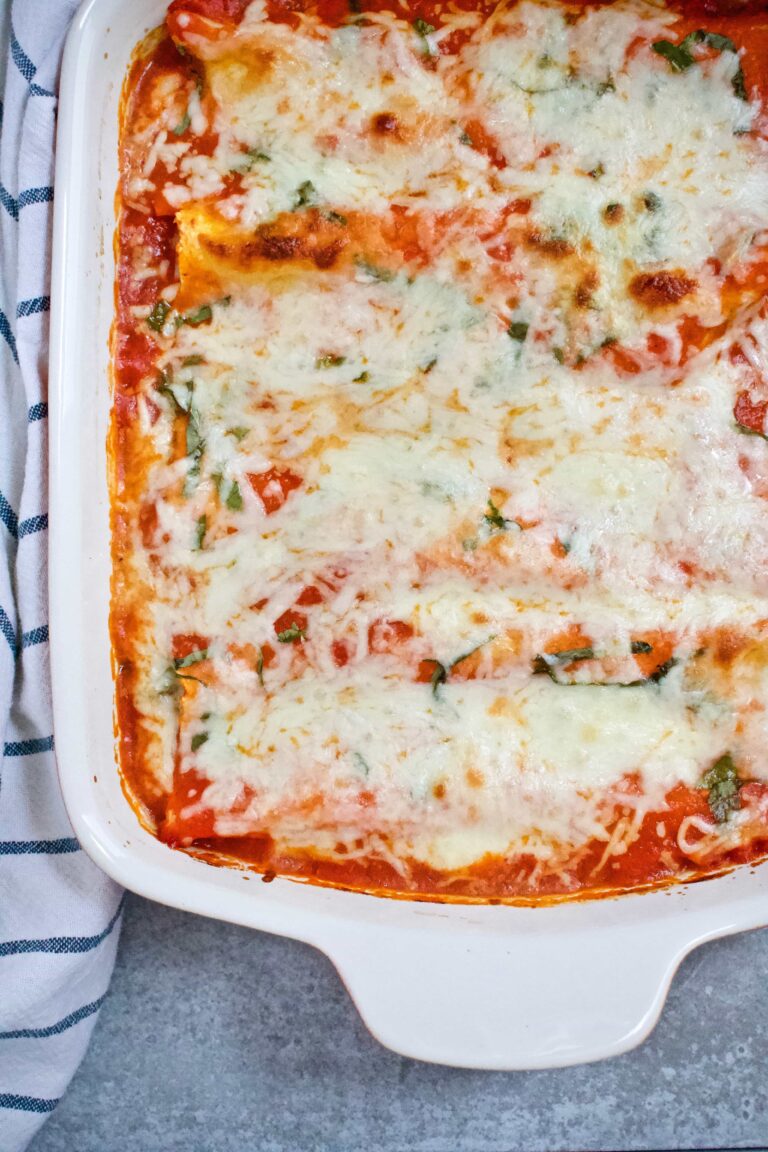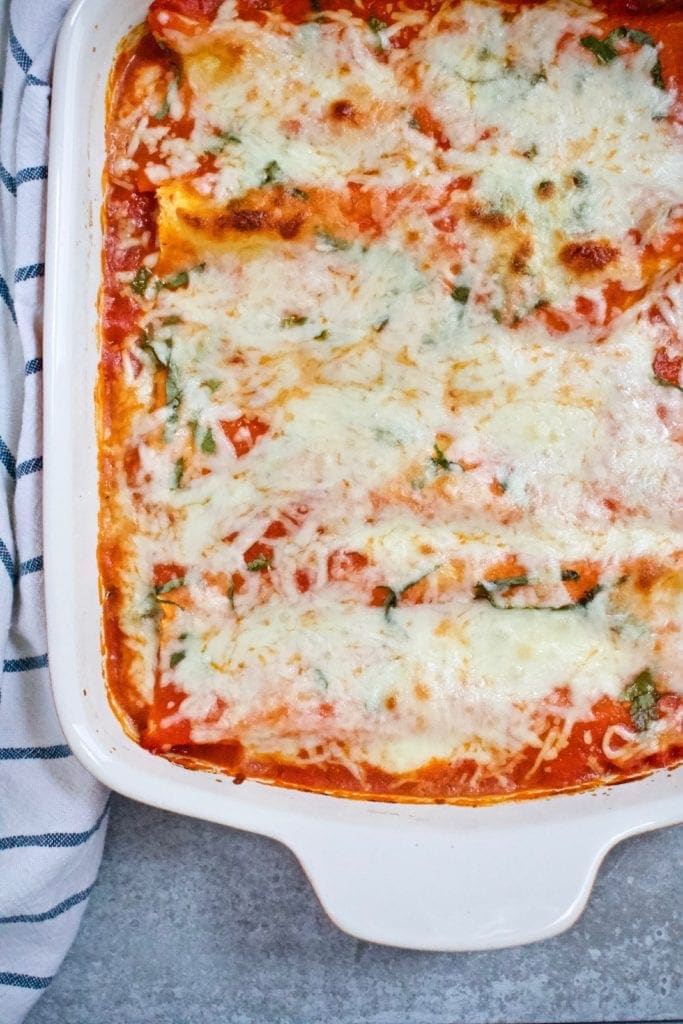 Why I wanted to make Sausage Maniccotti?
This is something that I was inspired to make and tried out for the first time. That said, it came out so GREAT that it is being added to the list of things I will make over and over again.

I hope I become known in my family for making this and that they remember it for years to come and I hope that you make it for your family and it does the same for you!
It goes well with my Peach Iced Tea, get the recipe here!
Or try my Crunchy Peanut Butter Cookies for dessert!
Until next time, happy cooking!
Kendell
Looking for some other goodies?
Take a look at a few of my more decedent recipes or reviews below.
JoJo's Biscuits - Magnolia Table Recipe Review - Free Recipe
Get my NEW e-Cookbook here!! ⬇️
-
My Favorite Kitchen Tools!
Here are a few links to some of my favorite kitchen tools! You get a car, YOu get a car, YOU ALL GET A CAR...in my best Oprah voice ?
These Rösle Silicone Tongs are a little pricey but they will last you the rest of your life and are the most soft in your hand. This is important for someone like m that cooks so much. It reduces strain, I have 4 sets in my kitchen! ?
These are my FAV Nordic Ware Sheet Pans, every kitchen should have at least 2 sets of these! I think I have at least 4 of each of these. ?
This is my favorite pressure cooker, the Fagor is the same concept as the "Instant Pot" but easier to use in my opinion, if you don't have one you NEED one, it will be your best friend in the kitchen!
A sharp knife is the most important tool in the kitchen, these Japanese steel "Shun" knives are my favorite! And this is a great starter set to build on. Once you try them you will be in love so use this as a foundation you can build on for years to come.
This Scanpan 11" skillet is just the right size for almost anything you will need to cook and my best friend and a real workhorse in my kitchen, it's also a great deal at $99. Scanpan is the best in the world for healthy cooking. It is coated with a proprietary ceramic titanium coating that is durable while allowing you to use fewer fats and oils when cooking. It is a coating only they use. I could talk all day about my love for these pans, message me if you want more info. Here are some other sizes that are available if you are looking to outfit your kitchen with some new goodies. 8" & 10" Skillet setor 8" Skillet, I still need this one for my kitchen ? Also, I don't really know how to cook small so the 12.5" is my other fave!
This giant vat of olive oil is my favorite, I decant it into a smaller bottle for my counter. Or put this spigot on top of a wine bottle!
This Tovolo jar scraper has to be my single favorite kitchen tool, it is definitely the most used tool in my kitchen. If you are NOT a gadget person, this is the only necessity I say is a MUST beyond the wooden spoon.
A great wood spoon is essential, this Olive Wood one is my favorite, I have more than I can count. ? But can you really ever have too many?
A food scale can be a very important tool in your kitchen, this one is the one I use every day!
If you love Joanna Gaines as much as I do then the 'Magnolia Table Cookbook' is a must in your kitchen, get a copy HERE!
Check out this great product for your mason jar, the Ergo Spout lets you turn any jar into a pourable pitcher. Get yours here! I love making my homemade salad dressing and keeping them this way in the refrigerator.