I wait all year to make these Peach Pancakes with the ripest summer fruit. I use the peaches in the actual cakes and in a whiskey maple topping.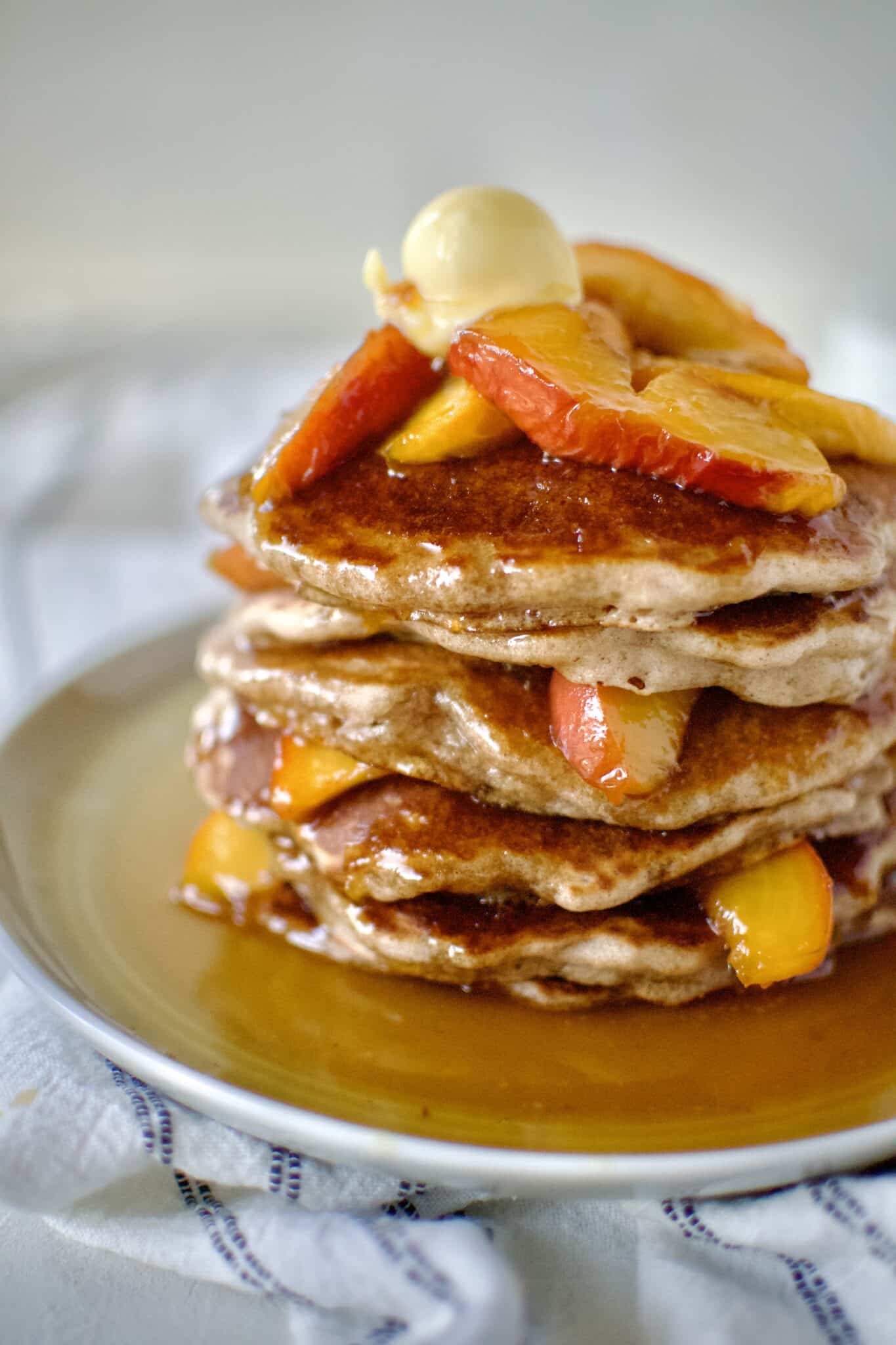 The best part is that this can be easily whipped up on a weekend morning because it comes together in minutes. Super easy and simple but with so much flavor!
Jump to:
Ingredients
There should be no surprise here with the ingredient list. All your typical pancake ingredients, plus some peaches and whiskey! Because why not?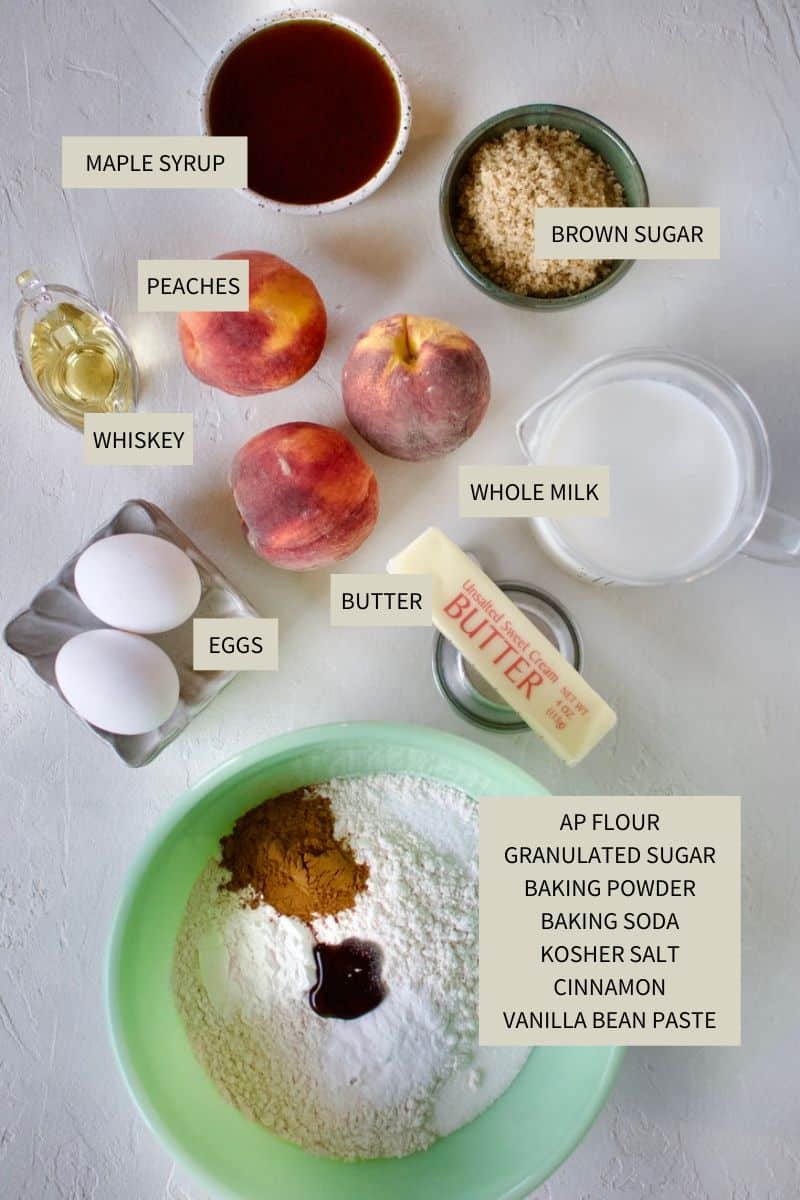 Of course, the whiskey can be optional if you want this to be family-friendly, but you do cook it off, sooo no one is getting drunk off these pancakes. The whiskey just brings some flavor that elevates a basic breakfast.
Use the JUMP TO RECIPE button at the top of the post, or scroll to the bottom of the post to see the full recipe card with ingredient measurements and instructions.
Method
Start this recipe by making the pancake batter. You want to do this because it needs to rest for a few minutes, which results in super fluffy pancakes. Start by mixing the dry ingredients together in a bowl, then add in the peaches, wet ingredients, and eggs.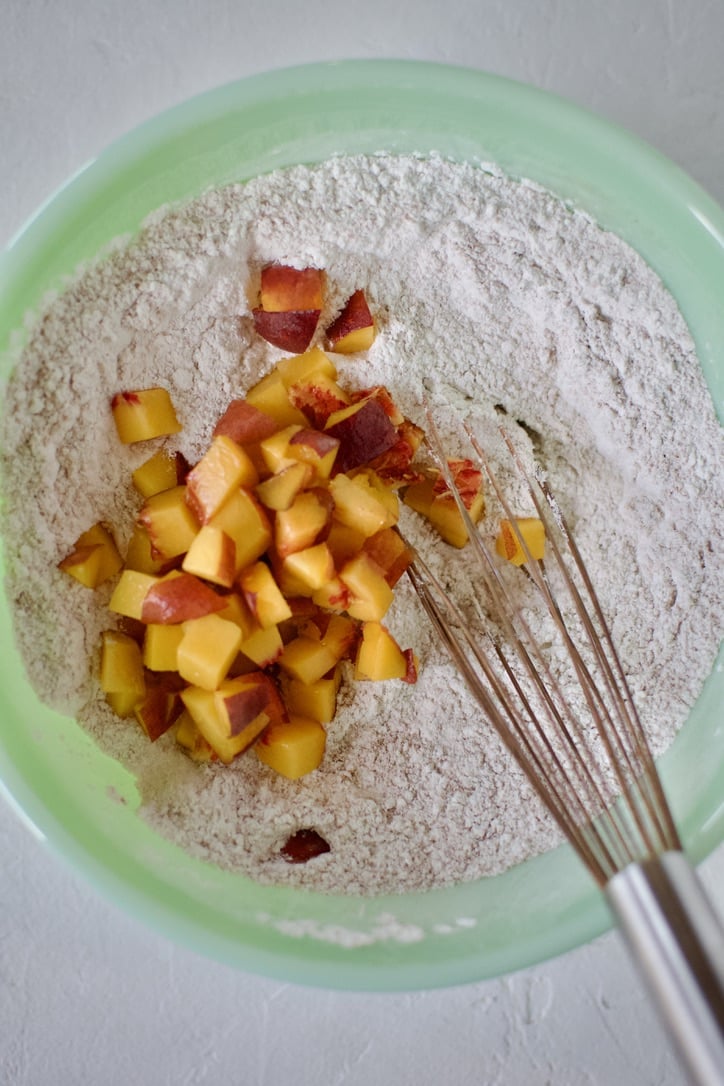 Let the pancake batter rest and make the peach topping while it does. In a hot skillet, toss the peaches in some butter and season with a pinch of salt. Then add the brown sugar and cook till it is melted. Then add the maple and whiskey and boil for 2-3 minutes.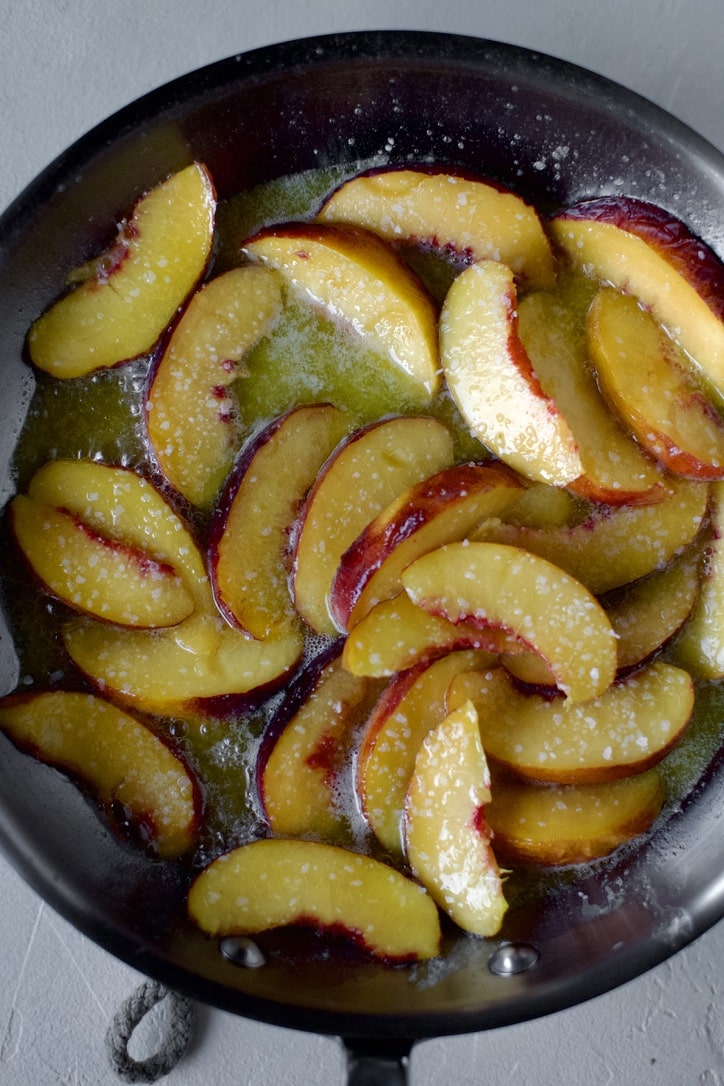 You can start cooking the pancakes on a griddle or skillet while that hangs out and then serve the pancakes with some of the peaches on top.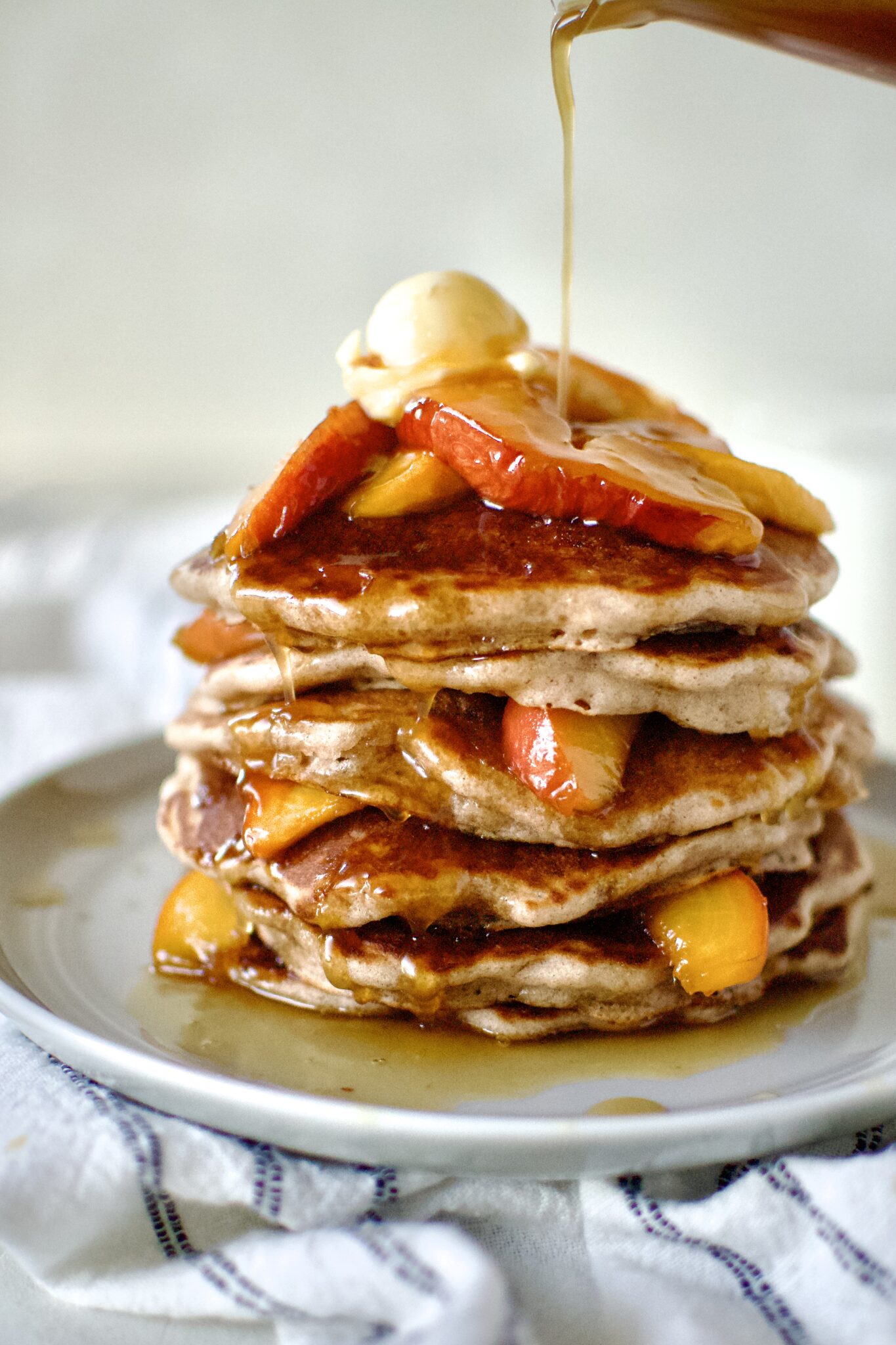 Notes & Tips
Depending on how sweet or tart your peaches are, you may like a squeeze of lemon in the topping. Early in the summer, I don't need the lemon because the peaches tend to be a little less sweet, but later in the summer, it does need it because the peaches are more sugary.
Turn the fire in the griddle or skillet when you start the topping. Having a nice hot pan ensures your pancakes cook evenly and eliminates the bad first pancake. I never lose a pancake when I do this.
The pancake batter needs to rest for 8-10 minutes before you start cooking. Giving the batter this time to rest with result in thicker, fluffier pancakes. And who doesn't love a super fluffy pancake?
Substitutions
If you would like to keep the pancake batter dairy-free, replace the butter with coconut oil, and the milk with your favorite substitute. You will need a little fat on your skillet or griddle if you make these swaps, they tend to stick a little more.
To keep the topping dairy-free, use half the fat and replace it with coconut or canola oil. You just need a little fat to keep the peaches moving around in the pan.
If you'd like, you can leave the whiskey out. It isn't a deal breaker, it just brings a little extra flavor to the topping. Bourbon would be a great choice too, or simply use 2 teaspoons of vanilla extract in its place.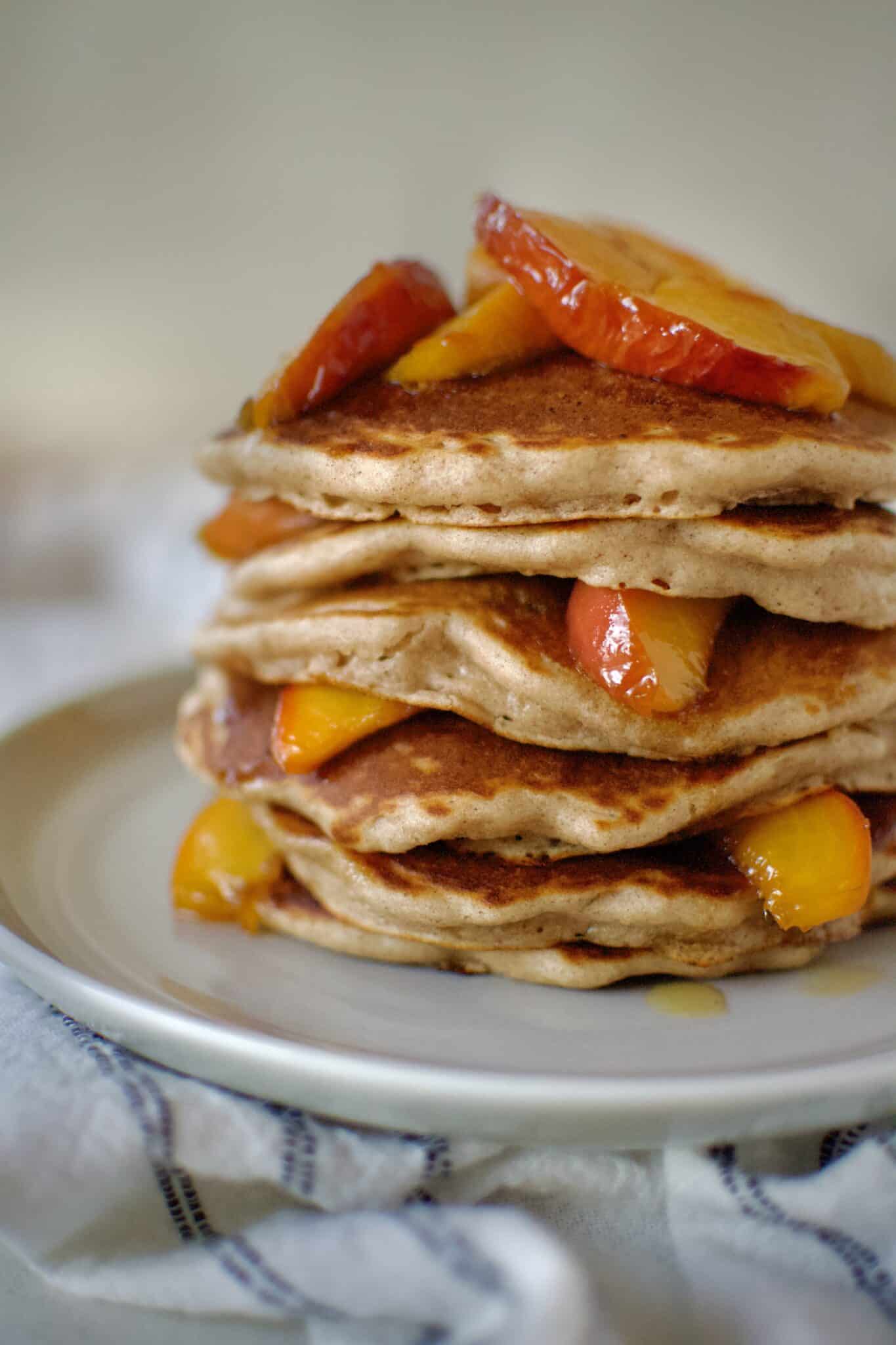 More Great Breakfast Recipes
If you are a fan of fruit and veggies added to your breakfast or brunch, check out these Rhubarb Pancakes, they are sweet and tart and all-around delicious!
Speaking of fruit, and yes, zucchini is a fruit, I also love these Zucchini Bread Pancakes. They are as good as the real thing, but you don't have to wait an hour for the bread to bake, you can enjoy them NOW!
If you have a little more time and want to really show out for breakfast or brunch, make my Breakfast Pie. It is inspired by one I had at a NYC restaurant and my mouth is watering right now just thinking of it!
Some mornings just call for a Homemade Breakfast Burrito and this is my go-to recipe for a super yummy, and protein packed breakfast on the go.
For something a little more wholesome, think Fig Newtons, these Oatmeal Fig Bars from my friend are a perfect way to enjoy sweet and good for you at the same time.
Did you make this recipe? Let me know by leaving a review or comment! And be sure to sign up for my newsletter, and follow along on Instagram, Pinterest, and Facebook!