These Peanut Butter and Jelly Cookies evoke many childhood flavor memories but all wrapped up in cookie form. Does it get much better!? Being a big peanut butter fan myself, I LOVE these cookies, even for breakfast, lol.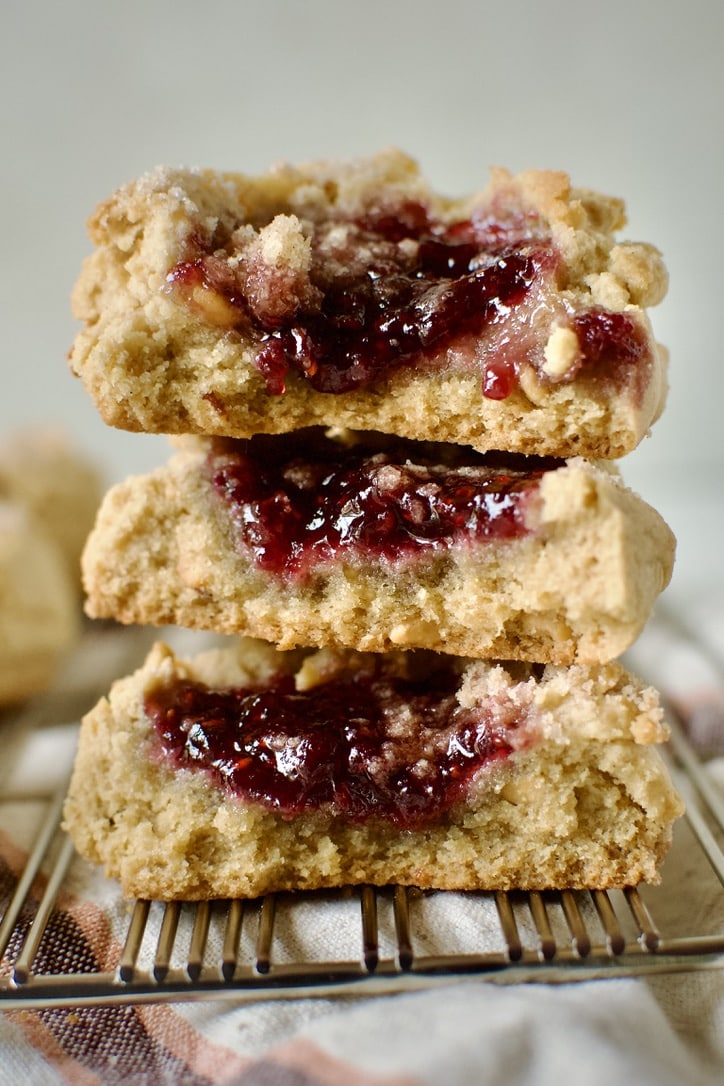 I love everything about these cookies. From the crisp bottoms to the tangy jam or jelly and the crumble topping that makes it feel like you are eating a PB&J sandwich.
Jump to:
Ingredients
This ingredient list is just like your basic peanut butter cookie with just a little tweak to it firm it up a little. And for the jam or jelly, you can choose to use both or either. Use your very favorite, whatever you would use to make a PB&J sandwich. Any flavor will work!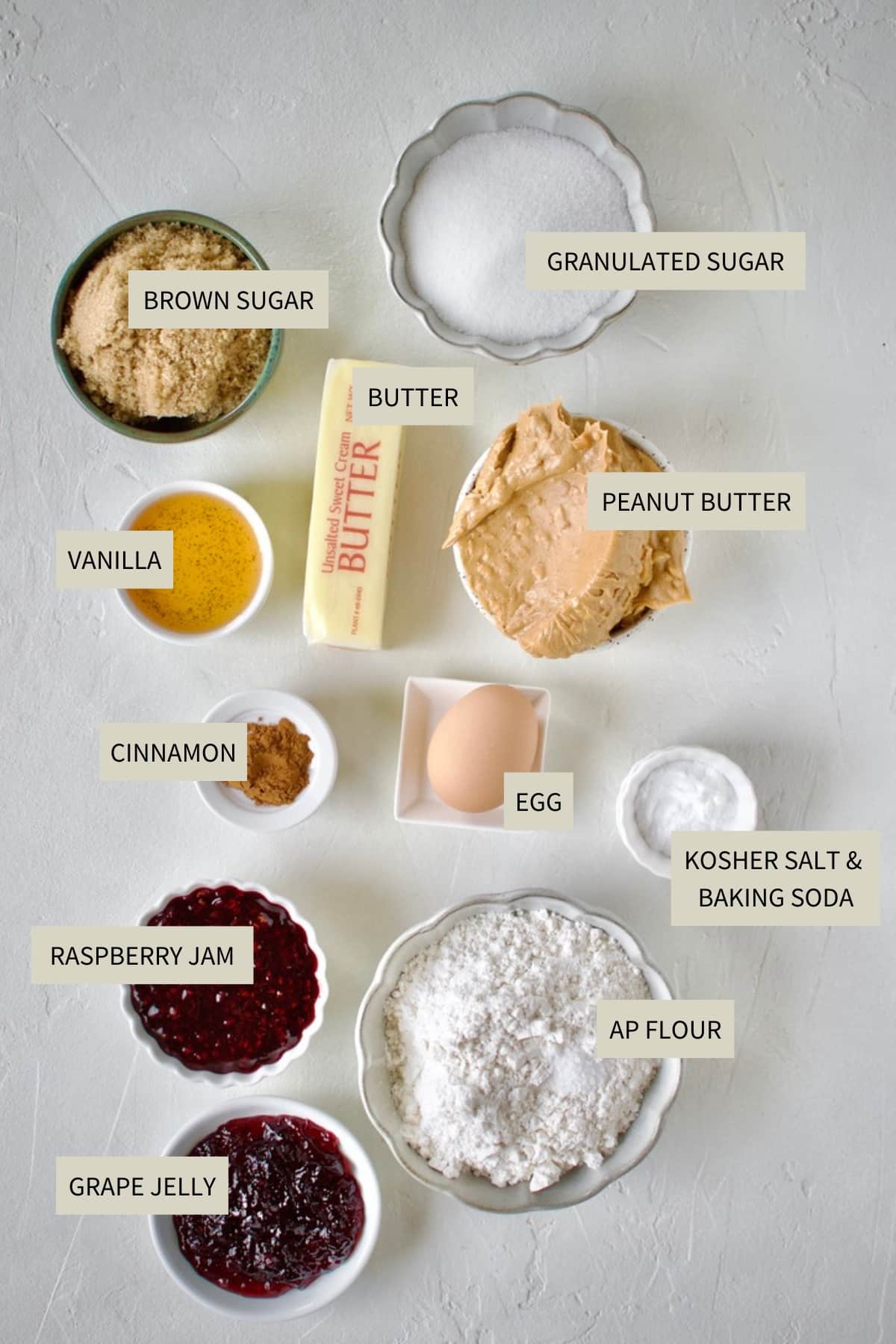 I personally like raspberry jam. It isn't super sweet and adds a nice tang to the cookie. If you are on the fence about what to use, that would be my suggestion.
Use the JUMP TO RECIPE button at the top of the post, or scroll to the bottom of the post to see the full recipe card with ingredient measurements and instructions.
Method
To start, I make the crumble topping for the cookies. This really is an optional step, but I like to make my cookies EXTRA!!! Do this first and let it chill in the freeze till just before you bake the cookies.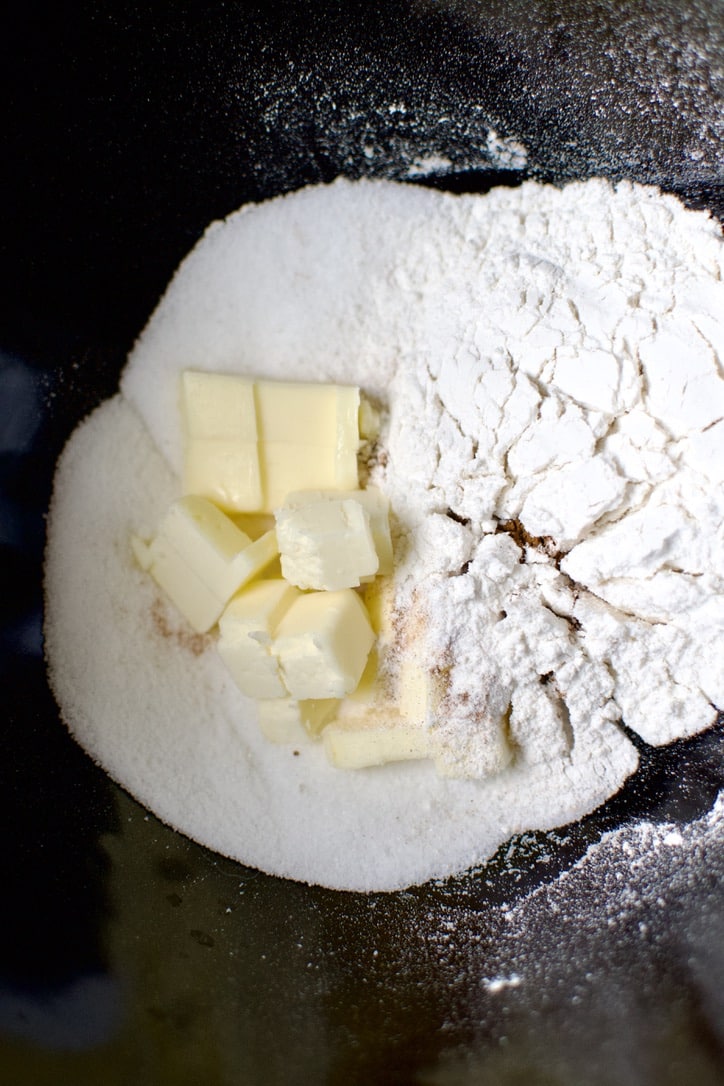 Then mix up the cookie batter and portion it out onto a baking sheet. I like to use a portion scoop so I get evenly sized cookies that are all uniform.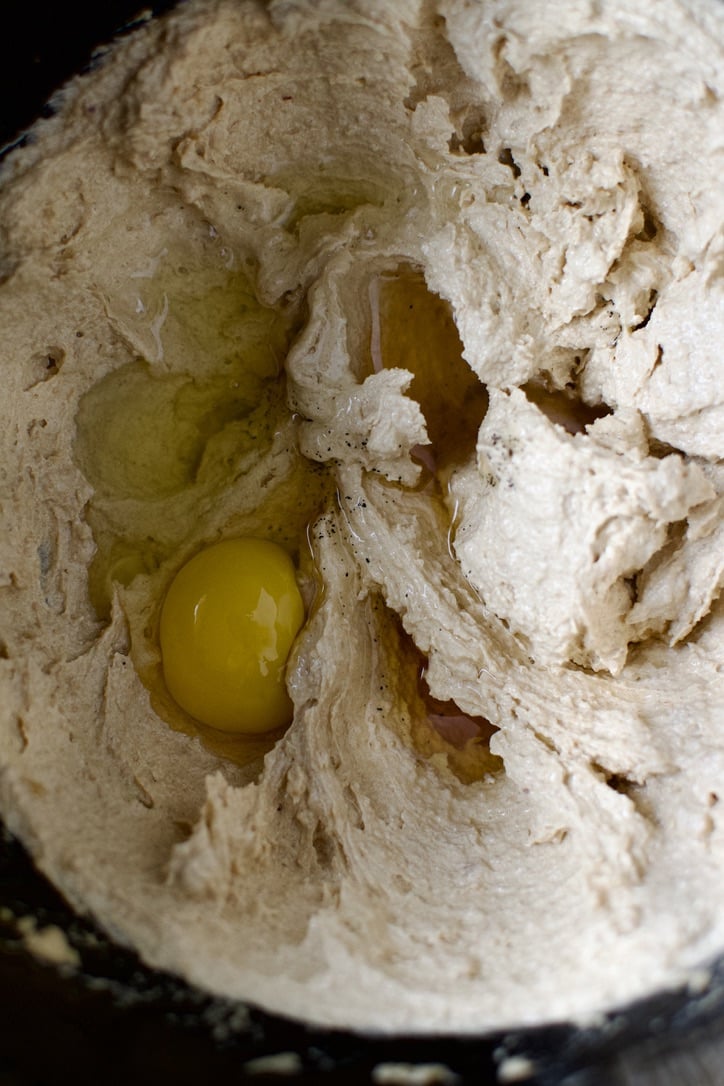 Then create an indent in the cookies with your thumb, and spread them open a bit. I like to make a nice big space for about a tablespoon of jam in each cookie. Then top the cookies with the chilled crumble cookie mixture and bake till golden.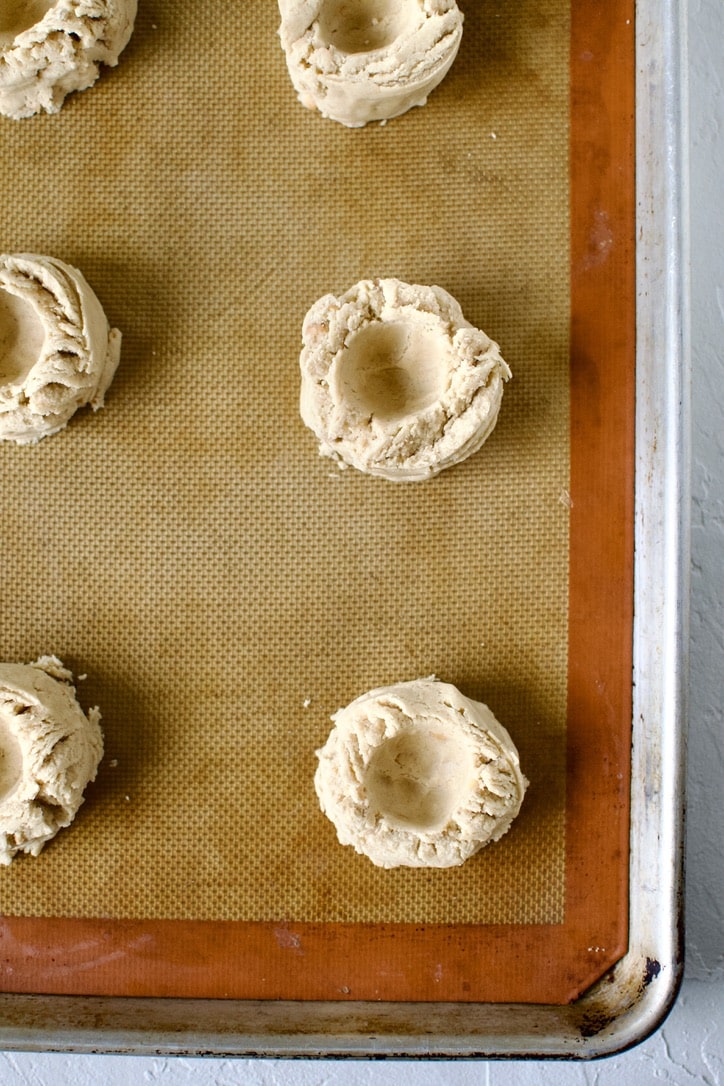 Let them cool on a wire rack till fully set and so the jam can fully cool. You want to let the jam cool or it can burn your mouth, let them have their time to cool.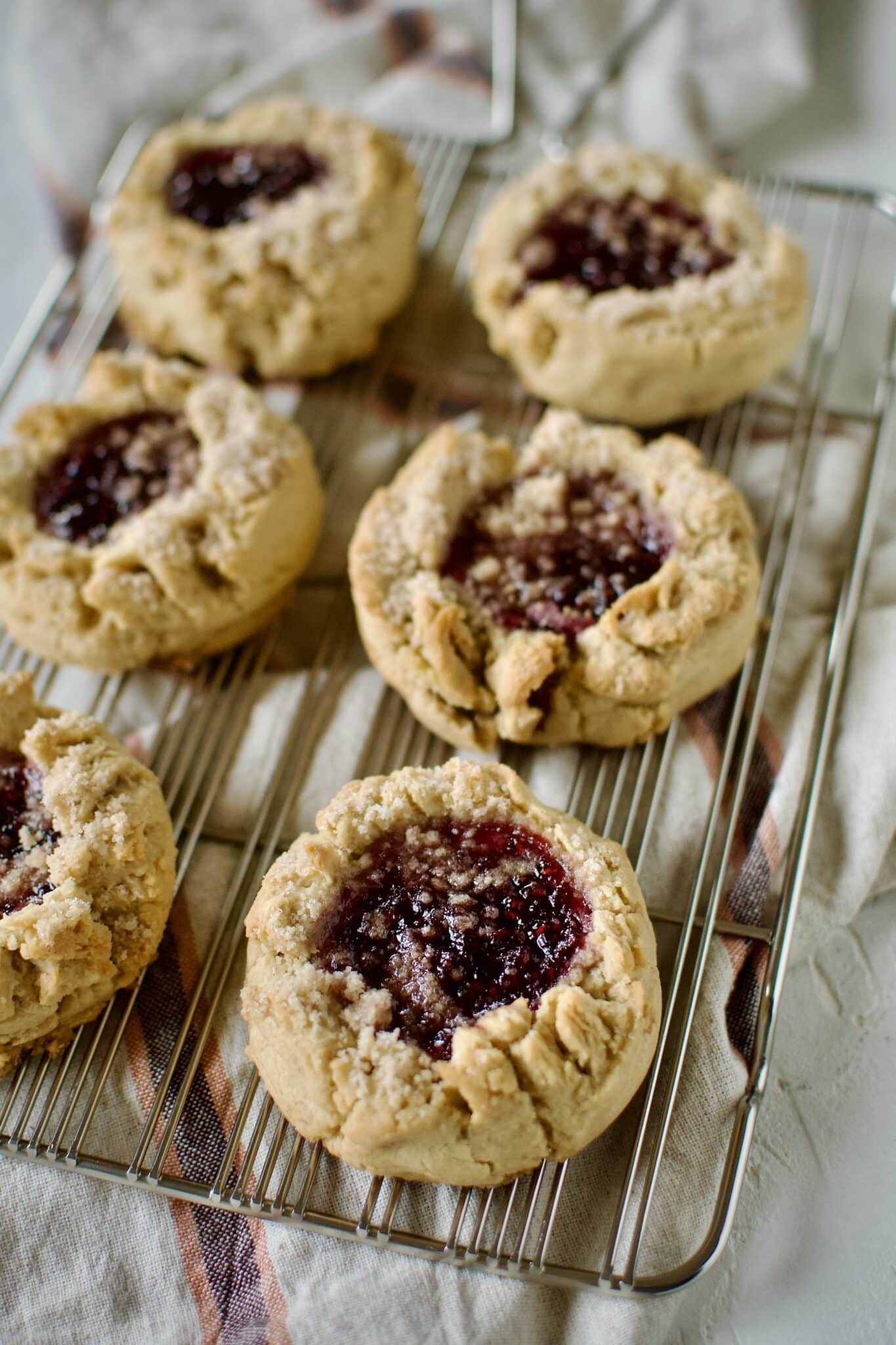 Notes & Tips
Be sure to make the crumble first and let it get nice and cold while you make the cookies. This ensures that it doesn't just melt into the cookie and stays crumbly when baked.
I like a nice big cookie, so I use a 2-ounce scoop, or you can weigh them out on a kitchen scale if you like.
Make a nice big well in the cookie for lots of jam. They are better when there is a nearly even ratio of cookie to jam.
Substitutions
I like to make my peanut butter cookies with crunchy peanut butter. That is my personal preference. But you can ABSOLUTELY make them with creamy. Just don't use a natural peanut butter that separates, I can not guarantee how they will turn out with a product of that nature.
When it comes to a jelly or jam, use your very favorite. Use what you would if you were making a sandwich with jelly and peanut butter. Anything will work here, so the sky is the limit. Raspberry is my personal favorite.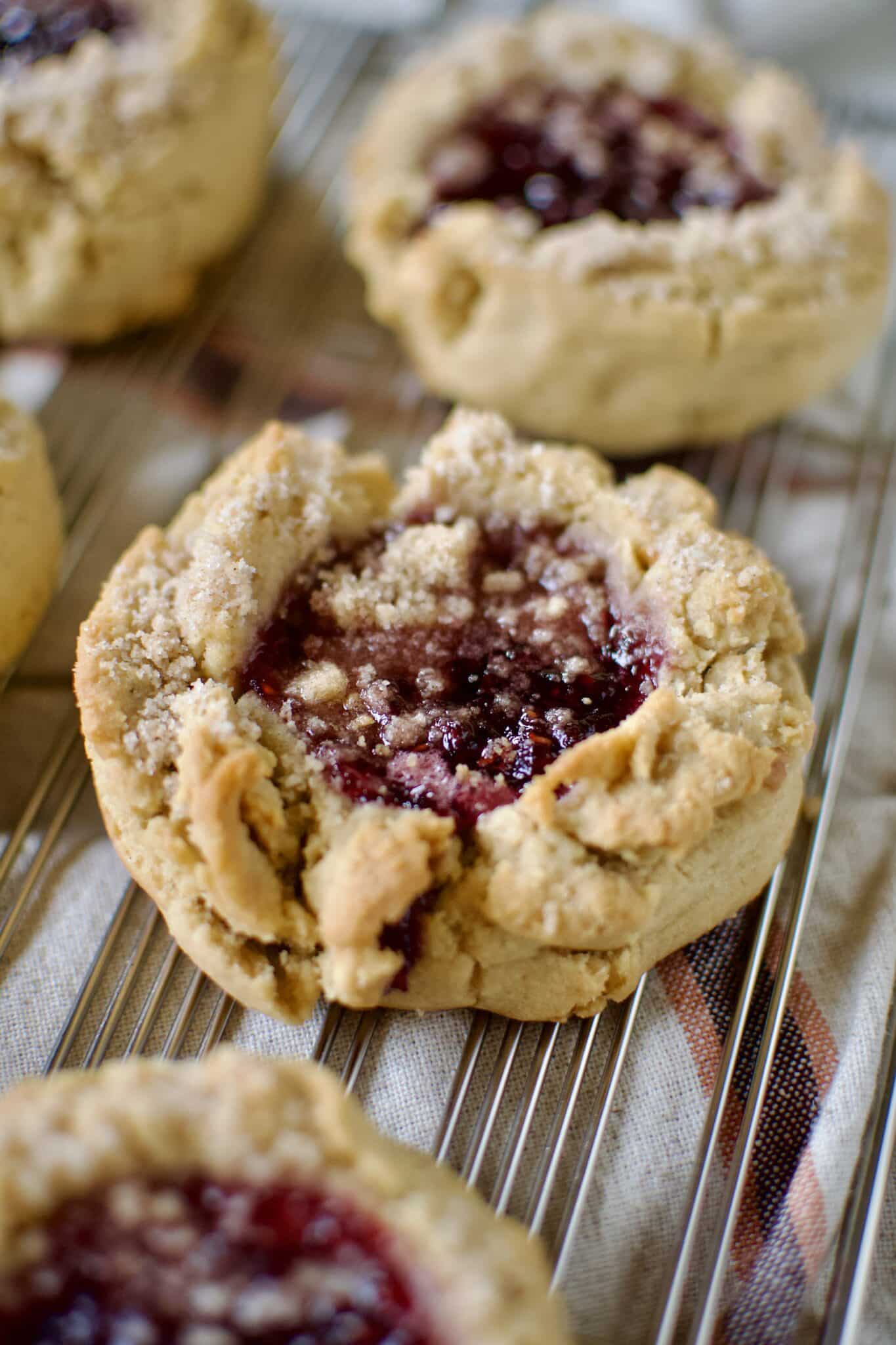 Did you make this recipe? Let me know by leaving a review or comment! And be sure to sign up for my newsletter, and follow along on Instagram, Pinterest, and Facebook!