This recipe for Pistachio Amaretti Cookies is everything you want in a cookie. Crispy, crunchy, and soft in the center, they are SO GOOD!!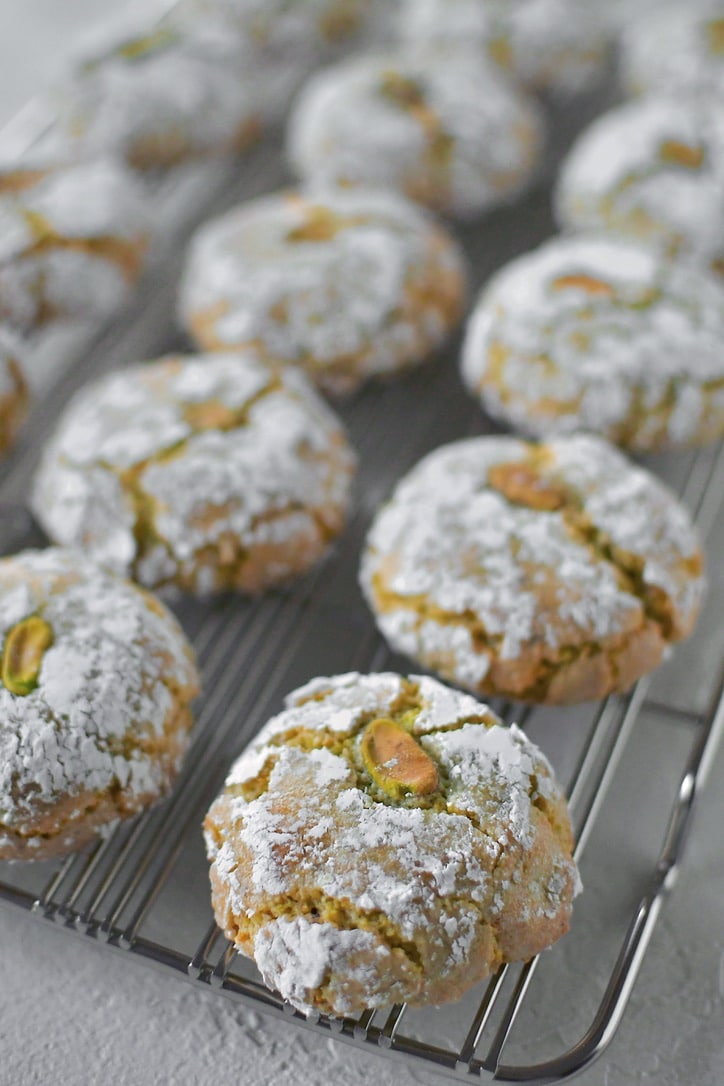 I fell in love with these cookies after tasting one in a bakery but made with almonds, I immediately ran home and began testing recipes. After trying a few, I had to give it a KendellKreations spin and tried my hand at making them with pistachios and they are EVEN BETTER than I could have imagined! Plus, what's more Italian than pistachios?
Jump to:
Ingredients
I love that these Pistachio Amaretti Cookies have such a simple ingredient list. It is one of those recipes that is simply amazing at the end, and that is because it simply highlights an amazing ingredient!
The biggest note I want to share with you is to seek out raw pistachios. You don't want to use roasted and salted because they will throw off the flavor and you will be cooking them, so you don't want pistachios that have already been cooked.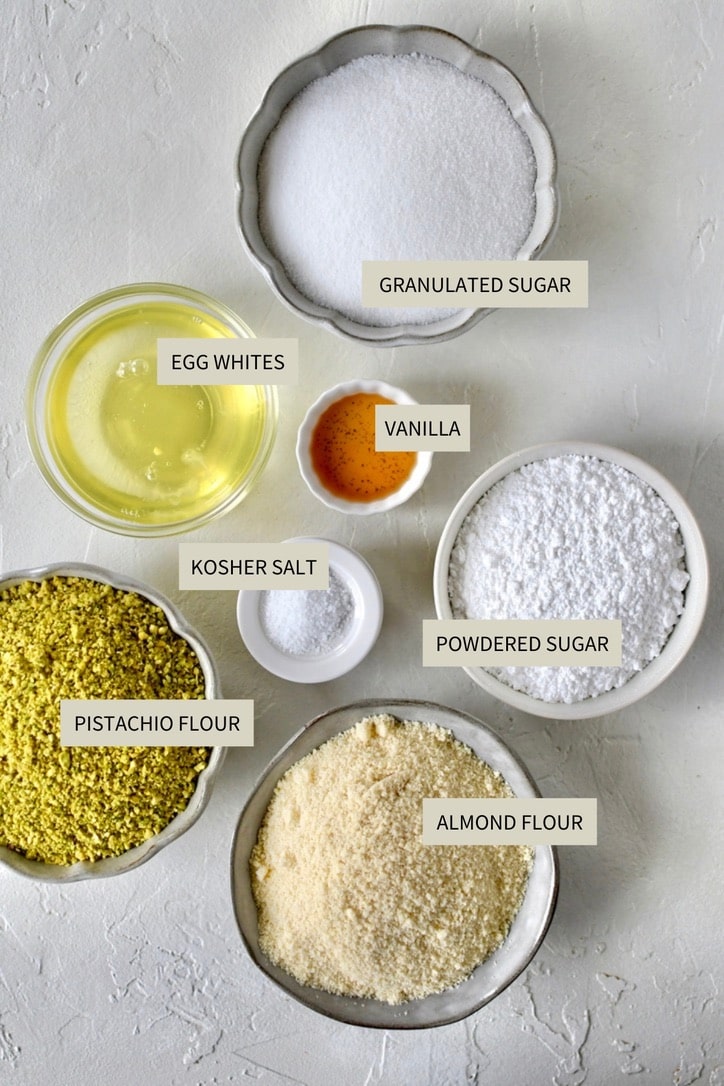 I know pistachios are not cheap, but 1 pound really goes a long way in cooking and baking. I found a great quality and good price on them HERE. Also, don't spend the money on pistachio flour, grinding your own is so easy, more on that below!
Use the JUMP TO RECIPE button at the top of the post, or scroll to the bottom of the post to see the full recipe card with ingredient measurements and instructions.
Method
The first thing I do to make this recipe is making my own pistachio flour. It is super easy to do and only takes a minute. It is another reason to whip out my favorite kitchen tool, it makes quick work of the job.
So, to make pistachio flour, place the nuts in a food processor or blender and pulse them until they form a fine powder. But take care not to go too far, you don't want to make pistachio butter. And don't worry if some large chunks remain it would be better to leave some pieces too large than go too far.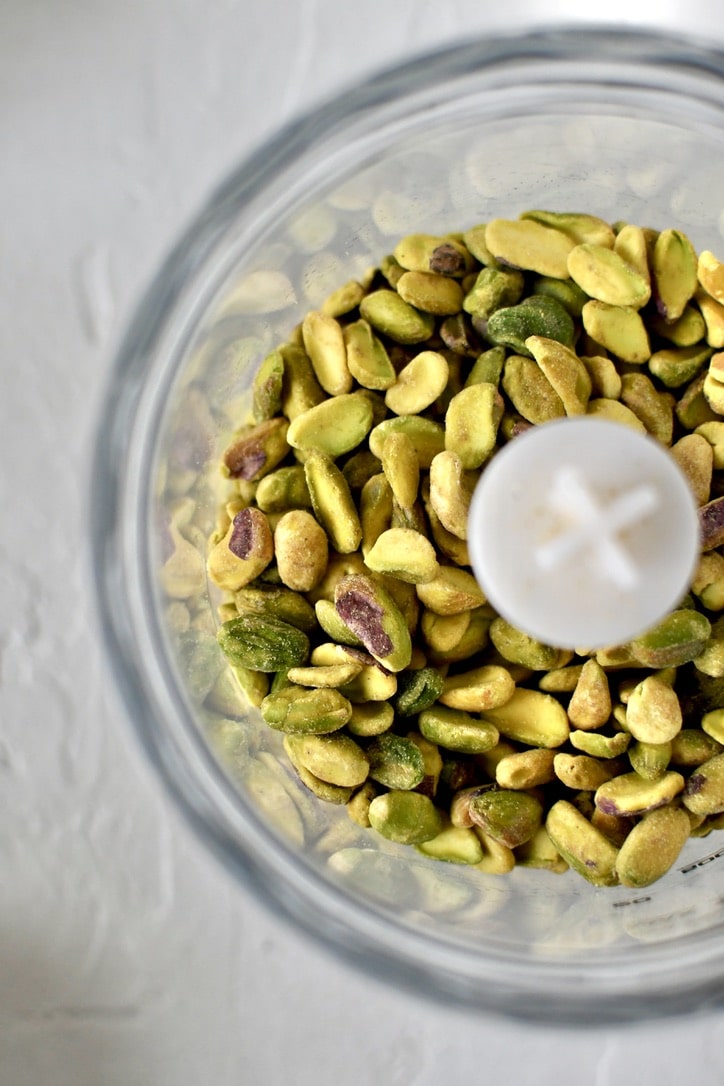 Next, in a large bowl, combine the pistachio flour, almond flour, and sugar so they are ready to use when you need them. Whisk them together to evenly combine everything.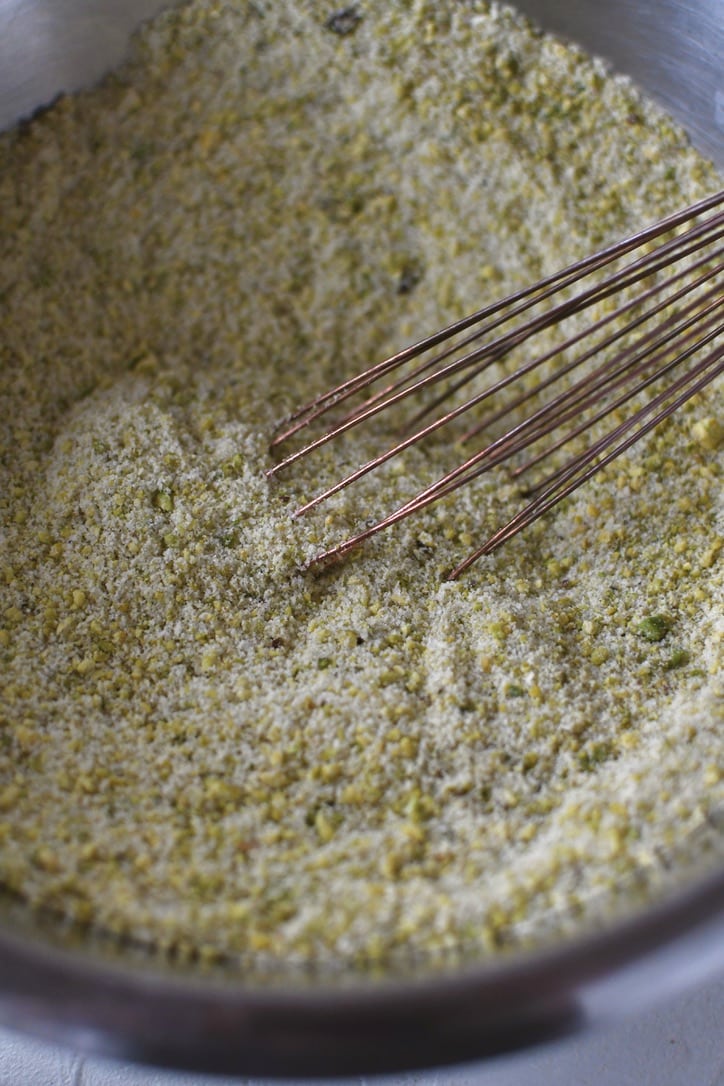 Now it is time to whip up the egg whites. They are whipped with a little salt for stability. You want to whip them till they just start to hold a peak, then add in the extracts and beat until they hold up a stiff peak.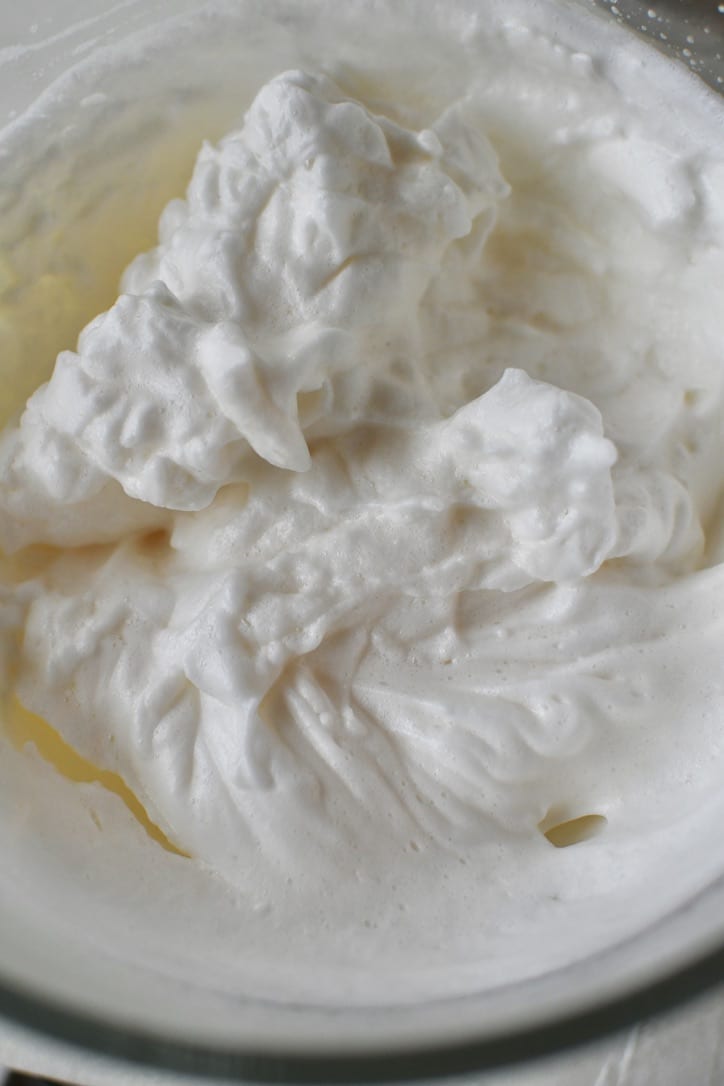 Then add the flours and sugars that were mixed together to the whipped egg whites. Fold them in gently until a slightly sticky and uniform cookie dough forms. The dough should be tacky, but not too sticky.
If it is VERY sticky, fold in a few more tablespoons of almond flour until it is no longer super sticky. You know it is right when it clings to your hands when rolled, but doesn't stick to them in chunks.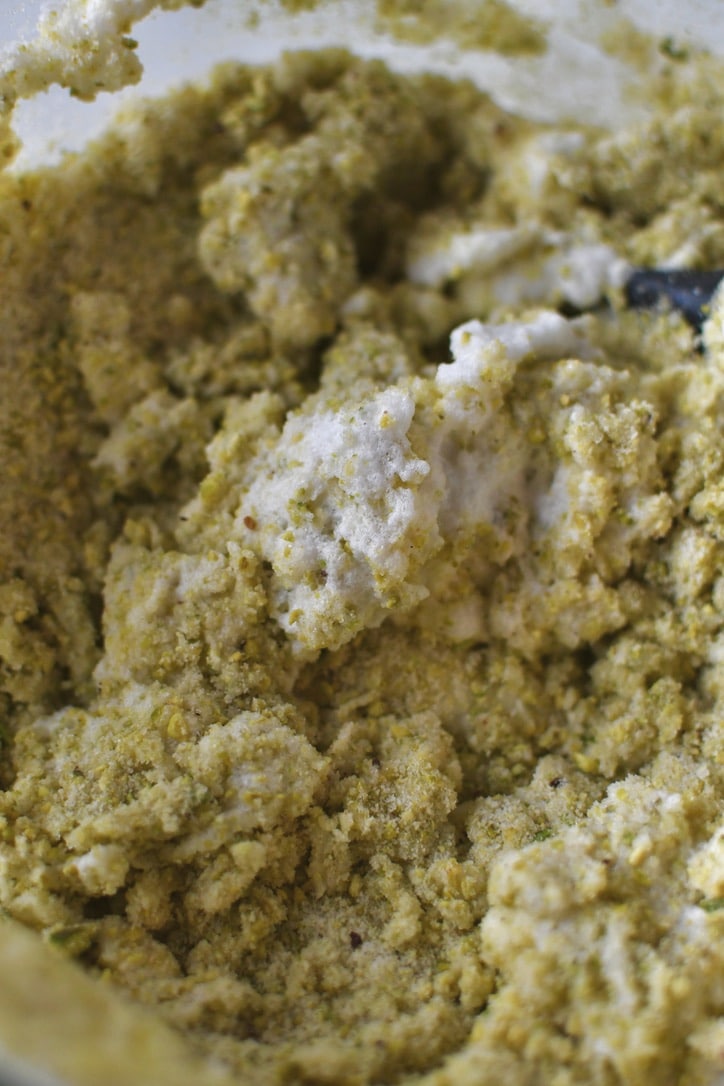 When the dough has been fully worked together, portion it out into uniformly sized-balls. I like to use this scoop so they are all the same size. Then roll them in powdered sugar, top with a pistachio halve, then press them down just a little to flatten slightly. I use the bottom of a measuring cup. They are now ready to bake.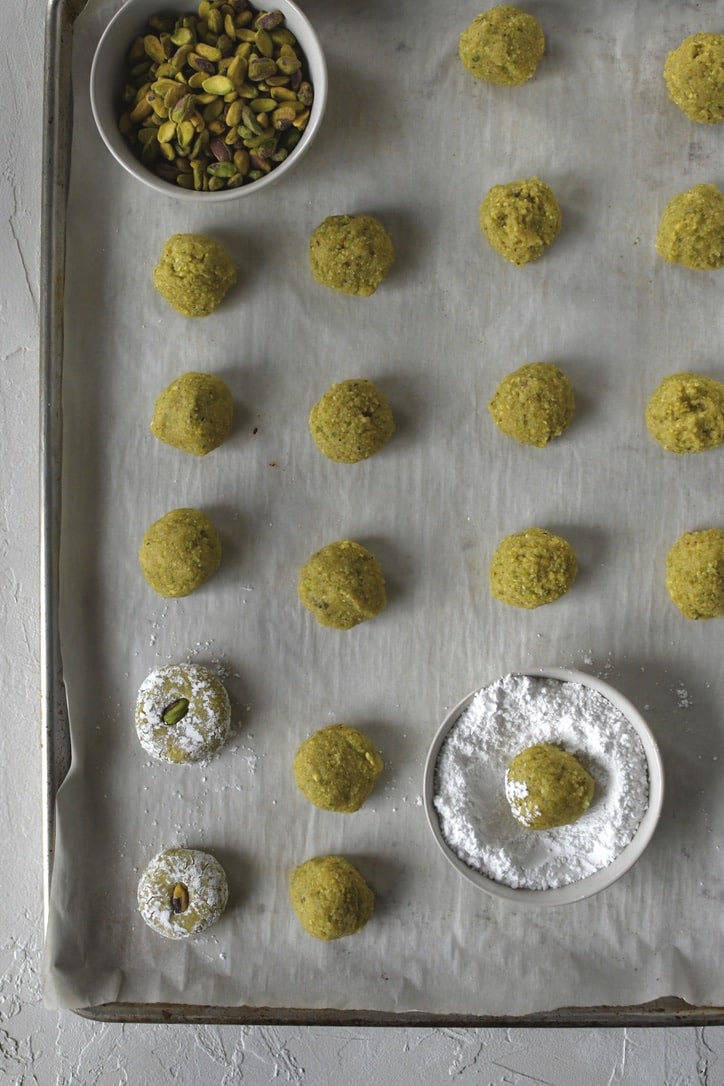 Bake the cookies till they puff slightly, crackle, and become lightly golden brown on the bottom and around the edges. Then let them cool completely on the tray. You do this because the cookies are very sticky, and the bottoms need to be set or they will tear off when you try to remove them.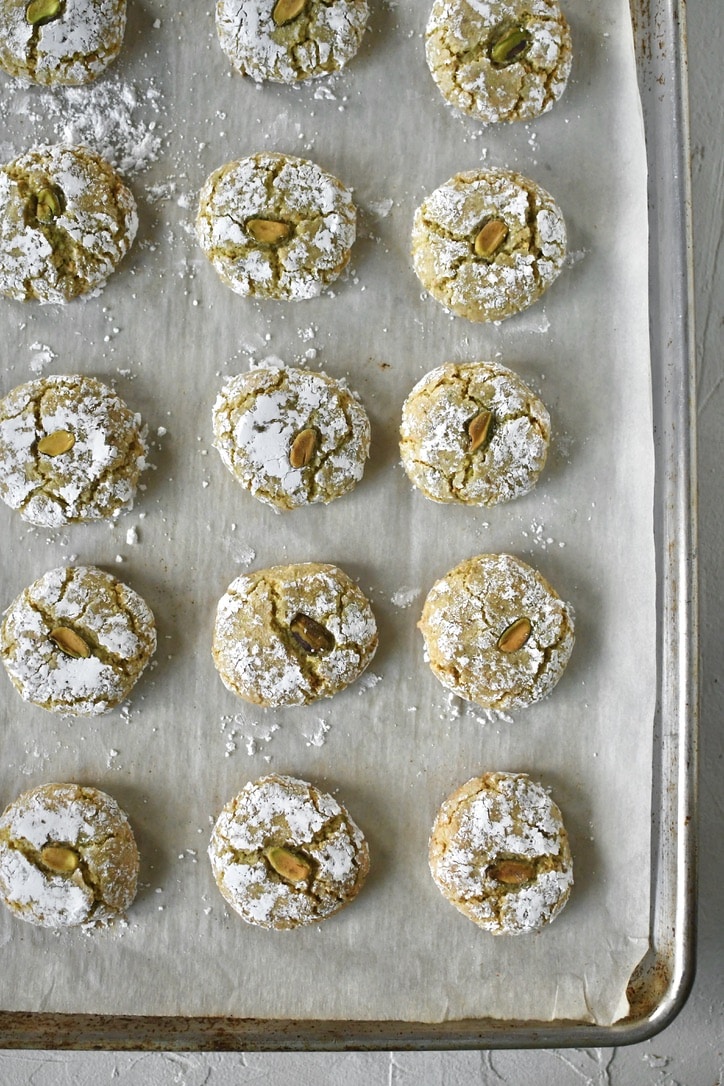 When they are cool you can remove them to an air-tight container and store them at room temperature for up to 2 weeks.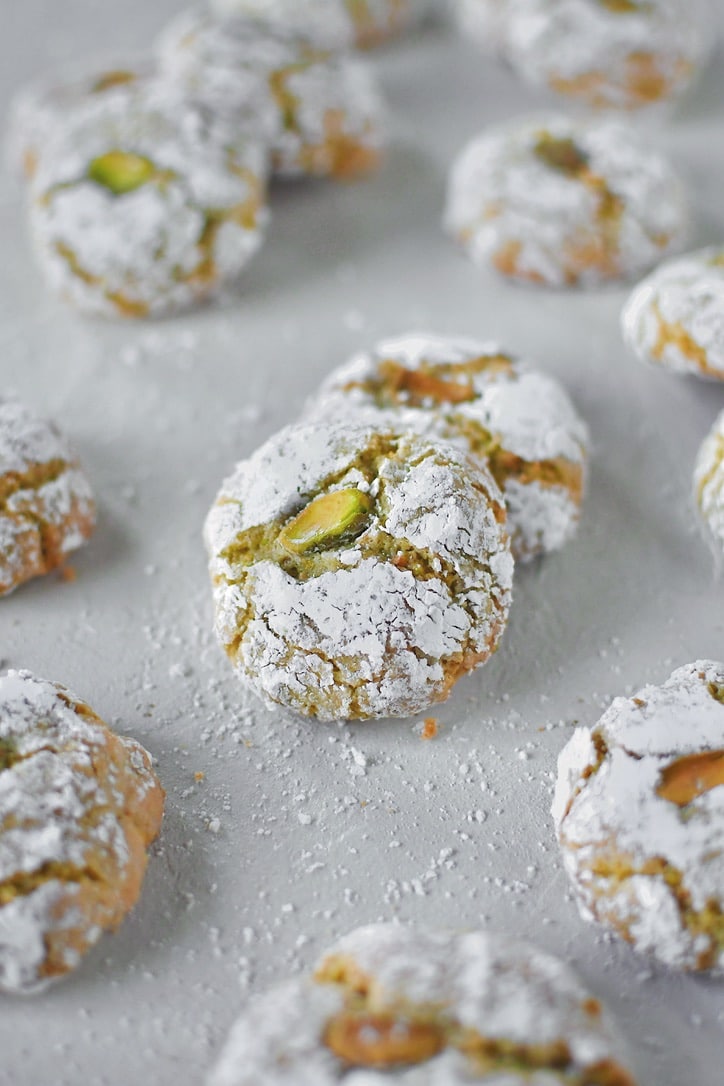 Notes & Tips
Pistachios are expensive enough, don't bother purchasing flour. It is so easy to make, plus you can ensure it is preservative free. All you have to do is grind (the same amount measured whole as you need ground) the nuts in a food processor or blender until they are in fine pieces.
The finished dough should be tacky when fully mixed. If it is too sticky and really clings to your hands, add a few extra tablespoons of almond flour until it doesn't. Depending on the day you may need to do this or not.
I like to top my amaretti cookie with the nut it is made with. This is a traditional tactic in a bakery so you can distinguish what flavor each cookie is. Amaretti can be made with basically any nut, plus I think it looks really pretty too.
Substitutions
This recipe calls for almond and vanilla extract. If you make these with a different type of nut, use an extract that is the same, or rely on vanilla solely.
When using an expensive nut like pistachio, cutting it with almond flour is a great option for bulking the recipe less expensively.
Amaretti Cookies can be made with virtually any nut. Classically they are made with all almonds, but can also be made with hazelnut, and of course, as seen here, pistachio.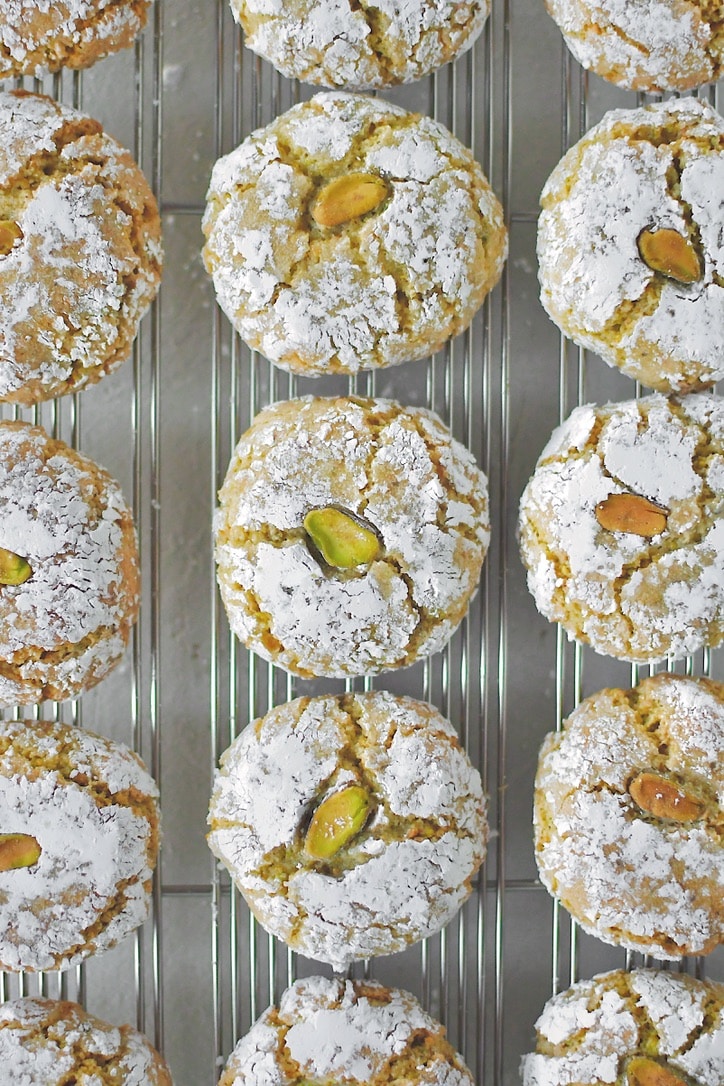 Did you make this recipe? Let me know by leaving a review or comment! And be sure to sign up for my newsletter, and follow along on Instagram, Pinterest, and Facebook!