I serve rice a lot, and while I really enjoy my favorite basmati simple and plain, sometimes I like to give it some life. My recipe for Pineapple Coconut Rice just adds a little extra flair to dinner. I especially enjoy making it in summer and pairing it with my Pineapple Peanut Chicken Skewers.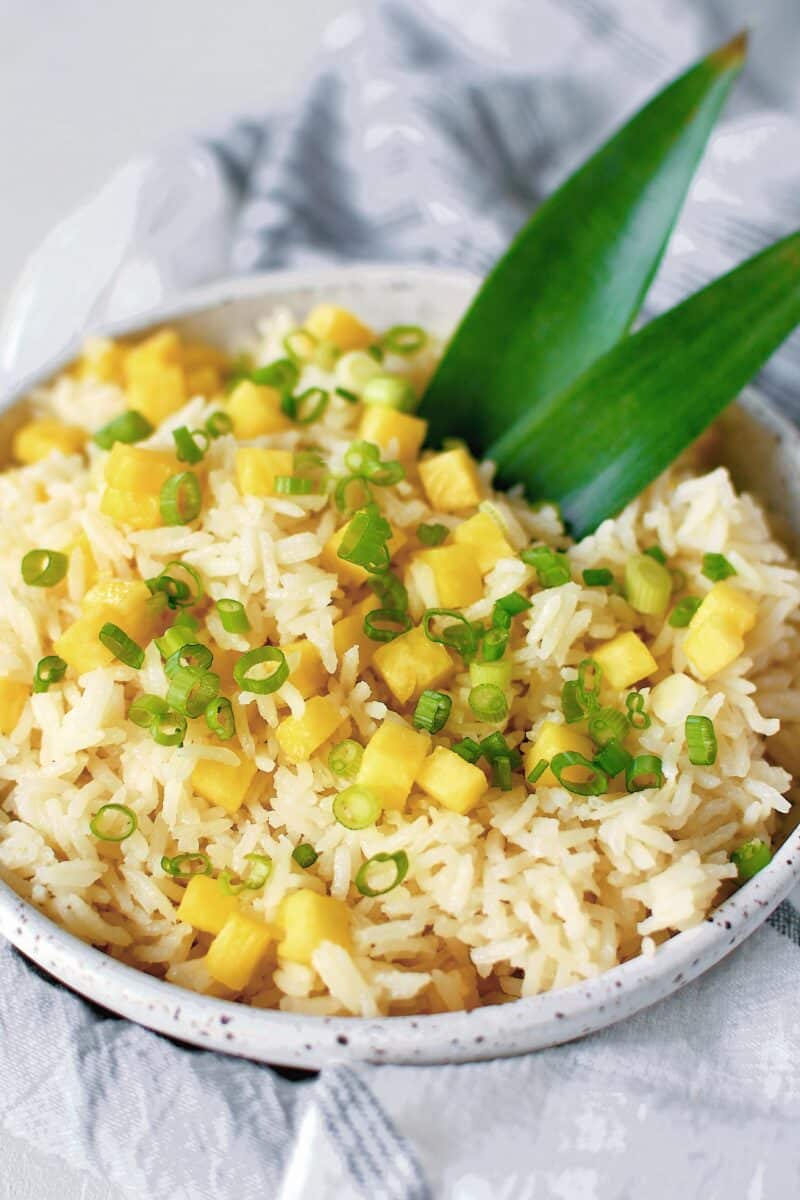 Jump to:
Ingredients
Simple and to the point is what this ingredient list is. My favorite! Sometimes the simplest things are the best. One ingredient I simply won't budge on is the basmati rice.
It is my favorite rice to cook, and pretty much the only rice I cook unless I am making risotto or sushi. I did a little research on basmati a few years ago and learned that all rice has a certain amount of arsenic in it. But I learned that basmati has the lowest level of it. So it became the only rice I keep in my pantry.
Besides the fact that I love it, that information had me sold on it. Basmati is long-grain white rice, and it has a light fragrance when cooked. Each grain elongates when cooked, making it one of the longest grain kinds of rice.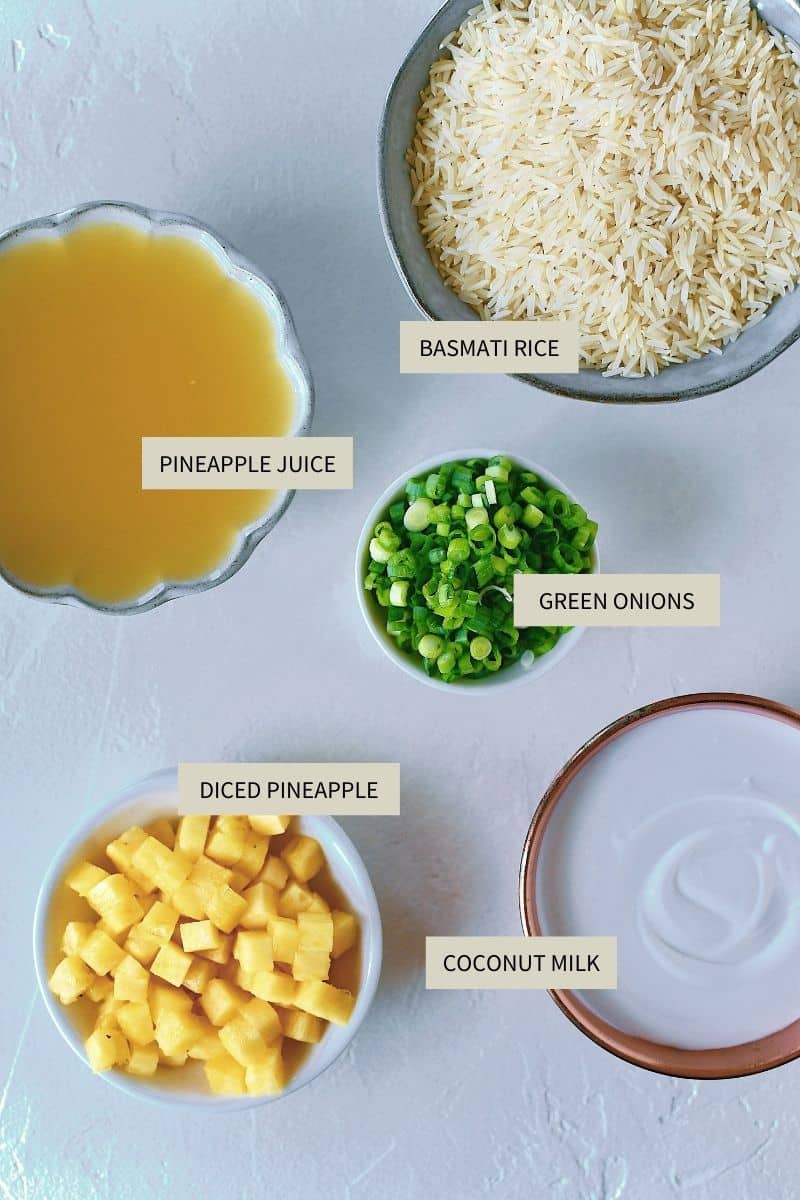 As far as the remaining ingredients go, I like to small dice some fresh pineapple to mix into the rice after it cooks, as well as use canned pineapple juice to cook the rice in with some coconut milk. I usually keep a jug of pineapple juice around to make cocktails with and you will only use half a can of coconut milk to make this rice, so use the rest of it to mix with some pineapple juice for a pina colada or a coconut margarita!
I then toss some green onions in just before serving for some added crunch and a nice flavor. They really finish everything off nicely and add just a hint of delicious flavor.
Use the JUMP TO RECIPE button at the top of the post, or scroll to the bottom of the post to see the full recipe card with ingredient measurements and instructions.
Method
When it comes to making the rice I have a very exact way of making it so it will come out PERFECT every time. Follow these simple steps and you will never have sticky overcooked rice on your table ever again!
Begin by placing the rice, cooking liquid (water if you are making plain rice), and a little salt in a heavy-bottomed pan or dutch oven that has a lid. This little rice pot is my ABSOLUTE favorite! Bring the mixture to a boil, then reduce the heat to low, stirring often for 5 minutes. Give the rice a final stir, put the lid on the pot, and turn of the heat.
Set a timer for 10 minutes and let the rice rest on the stove. The rice will plump during this rest time and cook perfectly. Give the rice a stir to fluff after your timer goes off. The rice will stay warm on the stove with the lid on for about 30 minutes. This makes this rice perfect for any dinner because it gives you time to get the rest of dinner together without worrying about the rice.
Notes & Tips
You will notice I do not call for the rice to be rinsed. I never rinse my rice, basmati especially. I have never had an issue with my rice not being rinsed, but if you would like to rinse your rice, go for it!
The cook on this rice is quick and easy. If you do not use basmati, follow the directions for that type of rice as far as the amount of liquid needed and cooking time.
Substitutions
The one thing I stand behind and would never change is the use of the basmati rice. That said, you can use any rice you like, just know the end result may not be the same.
I use pineapple juice from a jug, but if you wanted to substitute the pineapple juice and diced pineapple for a can of pineapple chunks you can. Simply drain the juice out of the can and add a little water if needed to get to 1 cup of pineapple juice.
I like to use this coconut cream as my coconut milk, for a deeper richer flavor. But you can use any type of canned coconut milk or even cold coconut milk from the refrigerator section.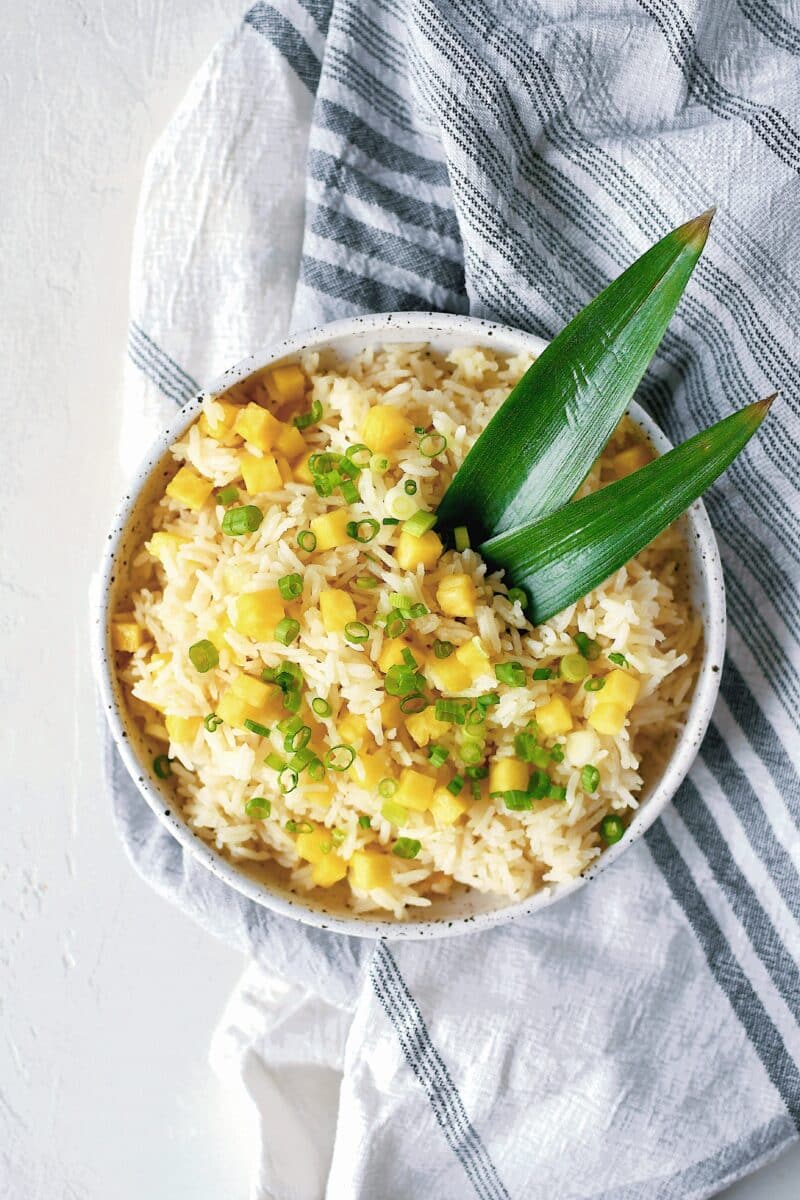 related
Did you make this recipe? Let me know by leaving a review or comment! And be sure to sign up for my newsletter, and follow along on Instagram, Pinterest, and Facebook!