Traditional Greek Salad is not what most Americans think of salad. It's not a salad of leafy greens topped with a dressing. It is a showcase of summer's freshest vegetables tossed in a little lemon juice, red wine vinegar, and the best olive oil you can get your hands on. It is ultra-refreshing, and it is one of my very favorite foods to eat on a hot summer day.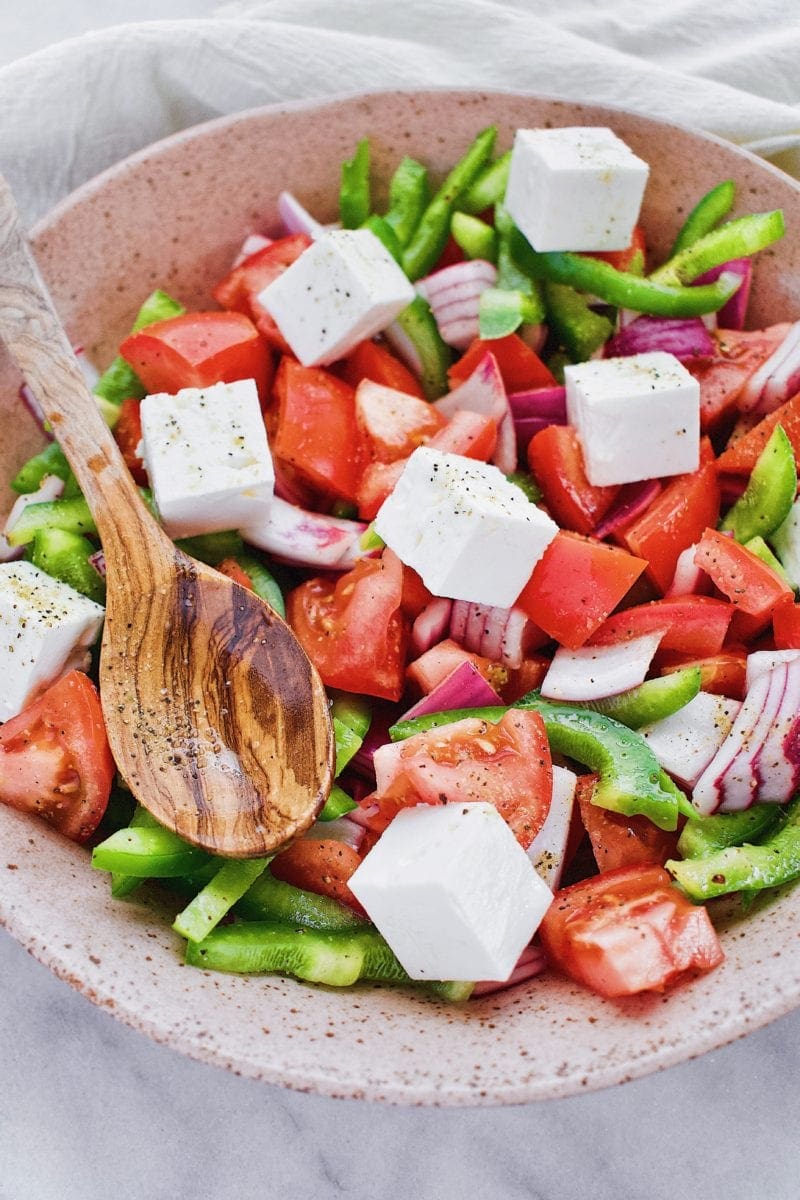 Jump to:
Ingredients
The freshest of the fresh is key when making this salad. Something as simple as this requires it. Thanks to modern growing I get to make this salad pretty much all year, I just make sure to get all my ingredients only a day or two before I am going to use them. That said, there is just something different about enjoying this salad on a warm summer day!!
Peep the photo below for what you need to make this Traditional Greek Salad. The feta isn't always added, traditionally, but I always add it because I love it so much! My favorite is the sheep's milk feta you can buy at Costco, it is super creamy and delicious!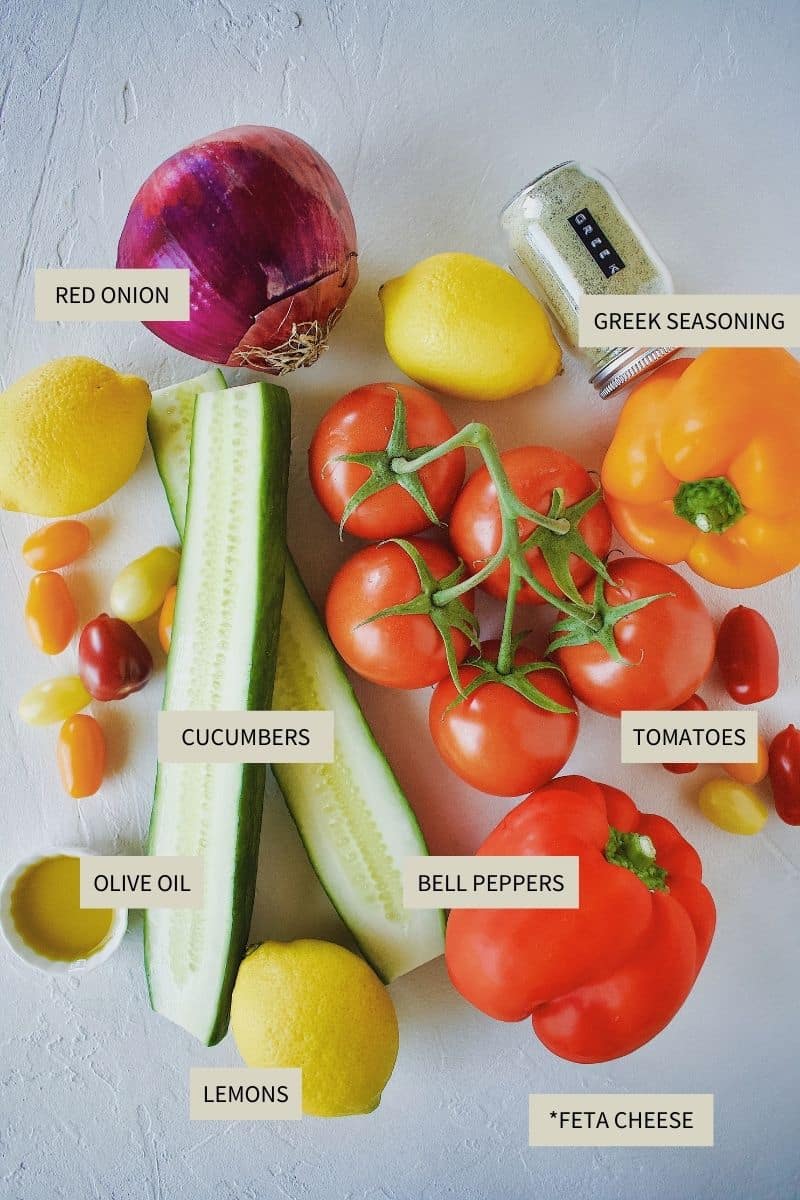 Use the JUMP TO RECIPE button at the top of the post, or scroll to the bottom of the post to see the full recipe card with ingredient measurements and instructions.
Method
To me the process in which you layer the ingredients together in your bowl is important. I start by adding my red onion to the bottom of the bowl with my "dressing". This takes the rawness off of them and gives them a slight pickle while I cut the remaining ingredients.
The dressing consists of lemon juice, red wine vinegar, and olive oil. I add in some oregano, thyme, salt, and pepper to season it and add some aromatics throughout. Along with a few dashes of my favorite Greek seasoning, that is all this salad need to be great.
I then add my bell peppers, tomato, and cucumber and toss. You can stop here if you want a super classic greek salad. In Greece, if you order a greek salad this is what you can expect to get, no lettuce or extras, just fresh pure veggies in acid.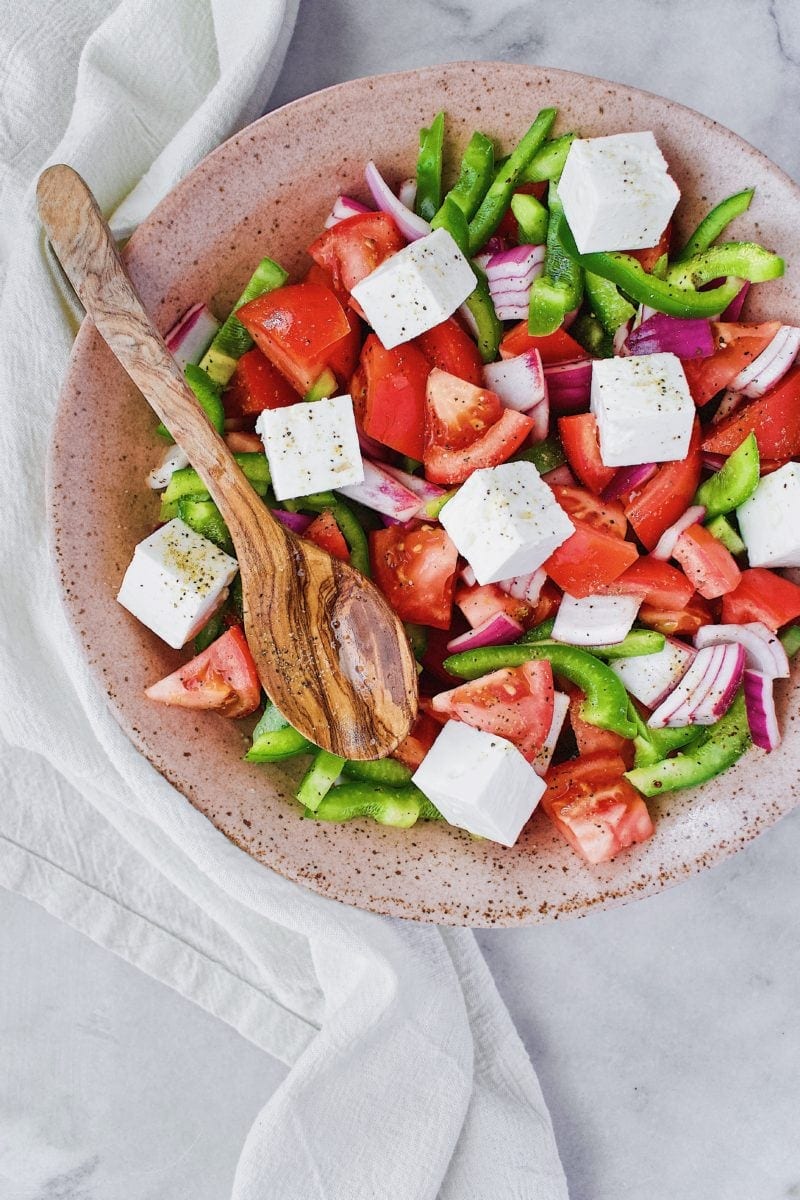 Notes & Tips
To make this salad a bit more of a meal or a nice lunch I enjoy the addition of feta cheese, Kalamata olives, and pepperoncini peppers on a bed of lettuce. Top it with some Greek chicken and you have a protein-packed lunch or dinner salad that I would be happy with any day of the week!
The dressing forms naturally in the bottom of the veggie bowl, just be sure to get a nice big scoop from the bottom when you serve it. I usually end up saving what's left in a jar and keep it in the fridge. It makes the best vinaigrette for any salad with all the melded flavors of cucumber and tomato that have runoff.
Substitutions
The red onion I call for in this recipe could easily be swapped for a white or yellow onion. Red is simply my preference. The sweeter the onion the better in my opinion.
Any cucumber will work. I often swap the English cucumber for Persian cucumbers.
Any tomato will do, just be sure they are RIPE. They have even more flavor the riper they are, I like ones that have just a little squeeze to them.
Don't fret when it comes to the bell peppers, any color or variety will do.
When it comes to the lemon juice, fresh is always best. Bottled will work in a pinch, you could also use all lemon juice or all red wine vinegar if you like.
For the seasonings, oregano is super traditional and used all around Greece in their cooking. You can omit it if you like, but any oregano you can find will work. You can also omit it if you are using the Greek Seasoning, it has some in it already, just give an extra dash of it if you don't have oregano.
More great Greek and Mediterranean recipes
Mediterranean​ ​Saffron Chicken and Mushrooms
Quick Pickled Onions and Cukes
Greek Lemon Rice Soup - Avgolemono
Did you make this recipe? Let me know by leaving a review or comment! And be sure to sign up for my newsletter, and follow along on Instagram, Pinterest, and Facebook!