A great tuna tower is one of those things I love going out to eat for. With the quarantine of 2020, I found myself hunkering down and cooking at home EVERY SINGLE DAY! I didn't mind it, but every once in awhile I wanted to enjoy a restaurant favorite like this Ahi Tuna Tower.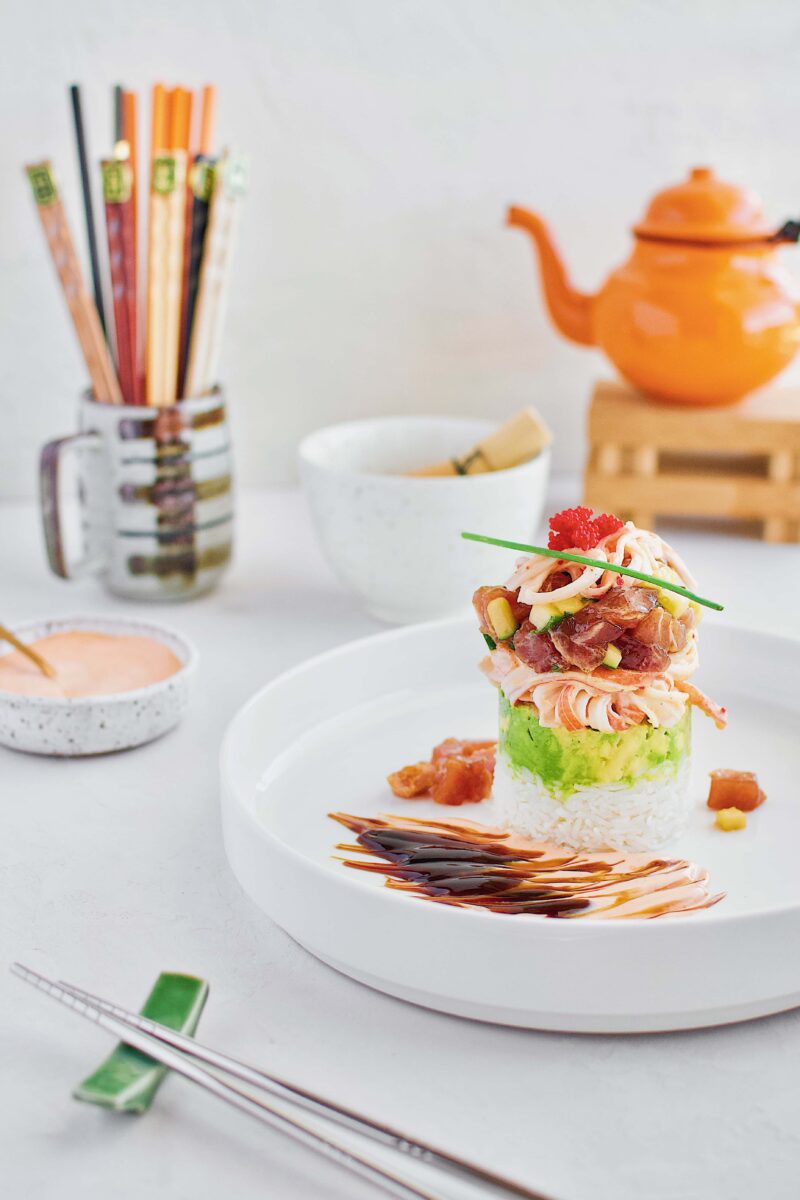 Assembling your components
The first thing I make is the spicy mayo. It only requires two ingredients and if you can find the good Asian mayo, GET IT! It is just a little thinner and more creamy version of mayo, and it keeps this as authentic as possible.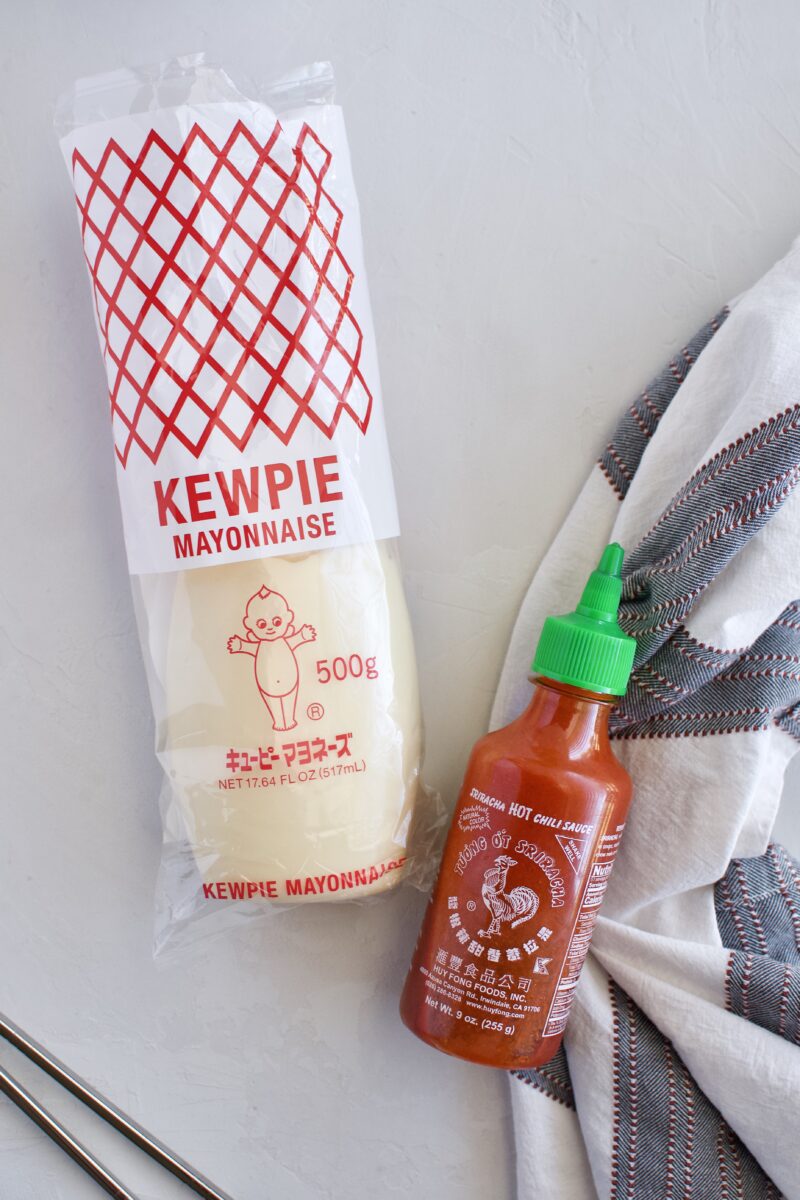 A quick blend of the mayo and sriracha and you have a perfect sushi condiment and the flavor base for the crab salad. The best part about this recipe is if you like it extra spicy, add more sriracha till it reaches your desired heat.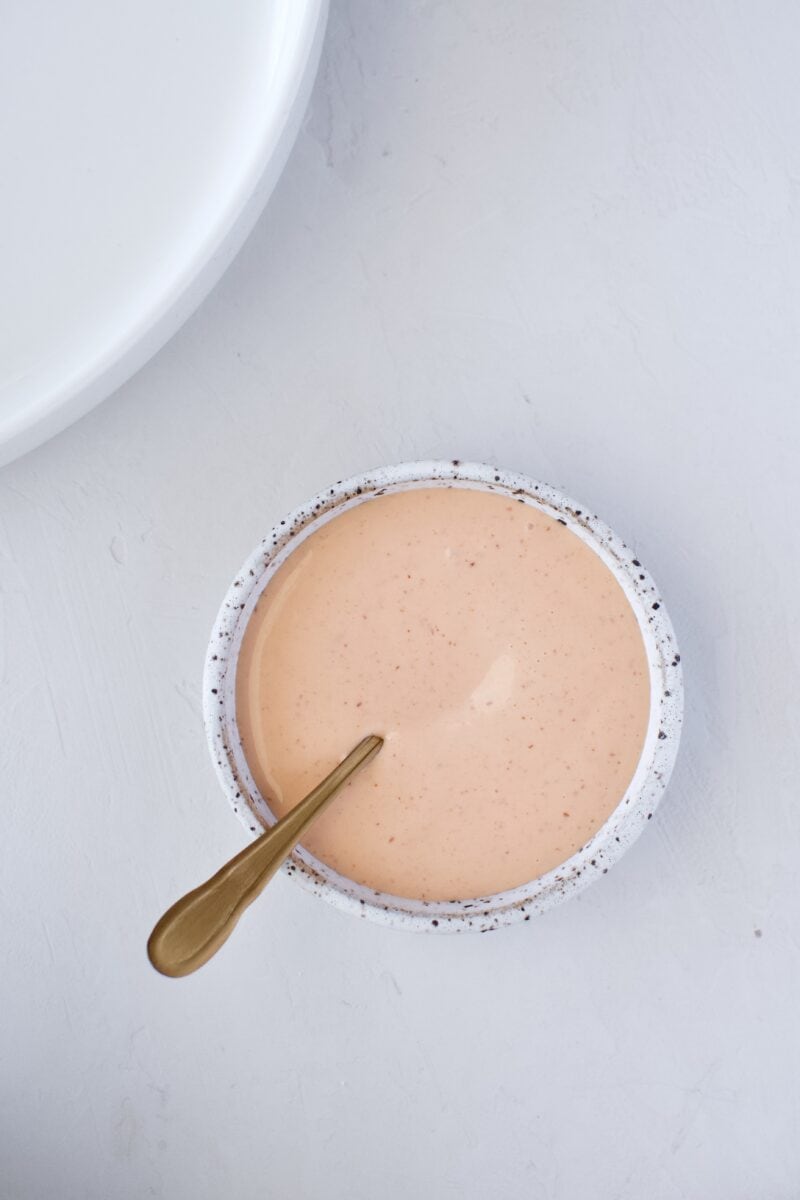 Next shred the crab sticks like you would a cheese stick.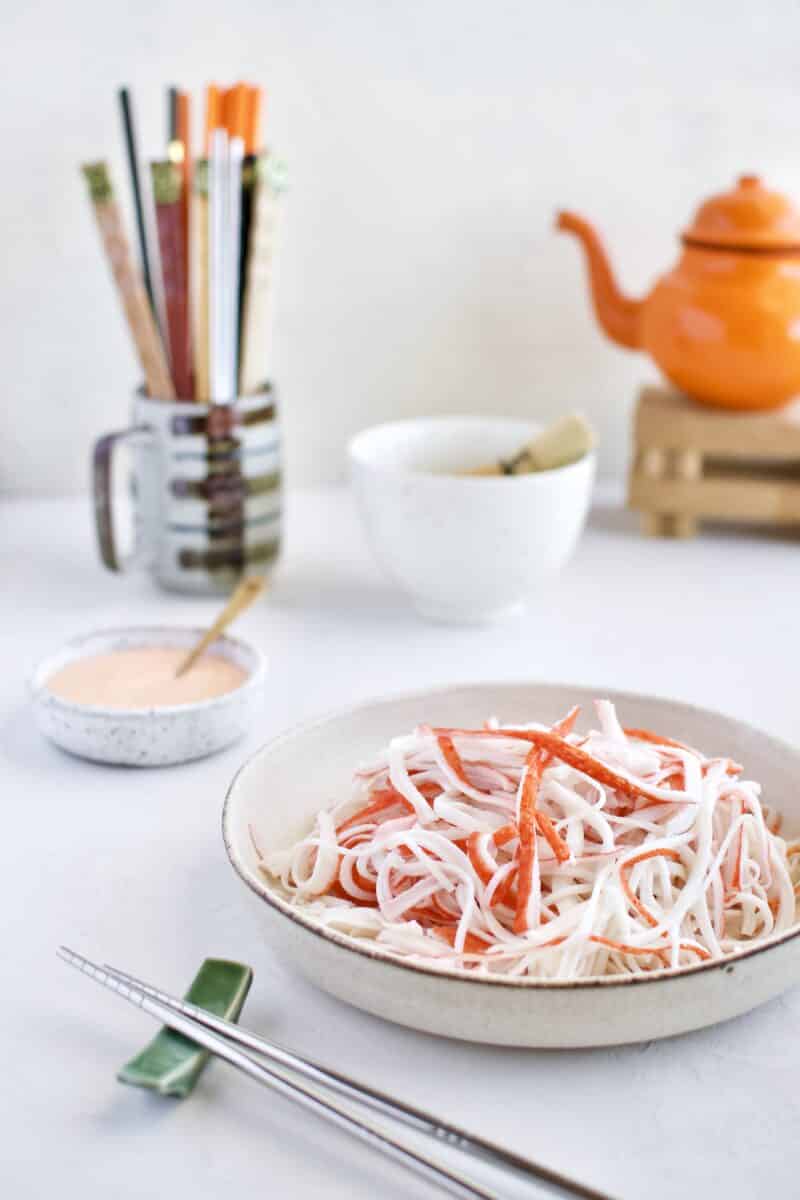 Reserve some of the spicy mayo for the base of your plate and mix the rest into the shredded crab.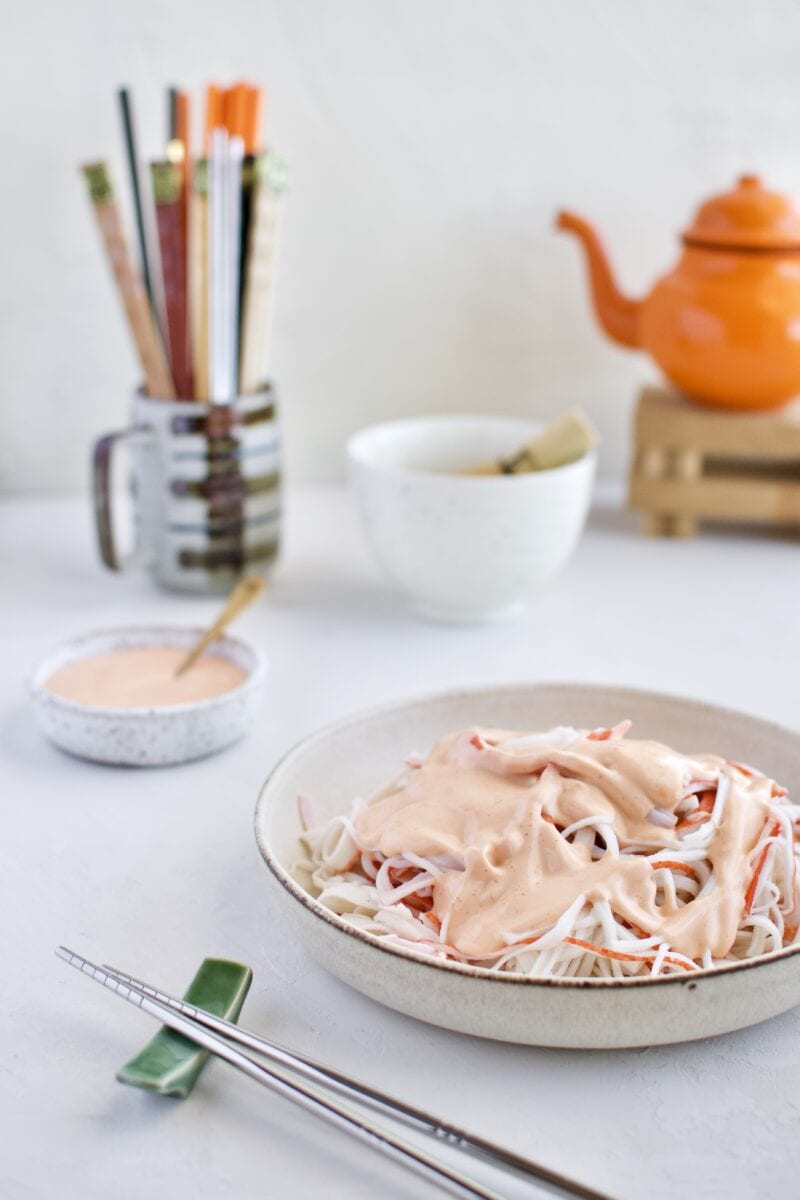 Mix it all together and top with a couple of dollops of caviar if you are using it. Cover and refrigerate until needed. This can be made up to a day ahead of time.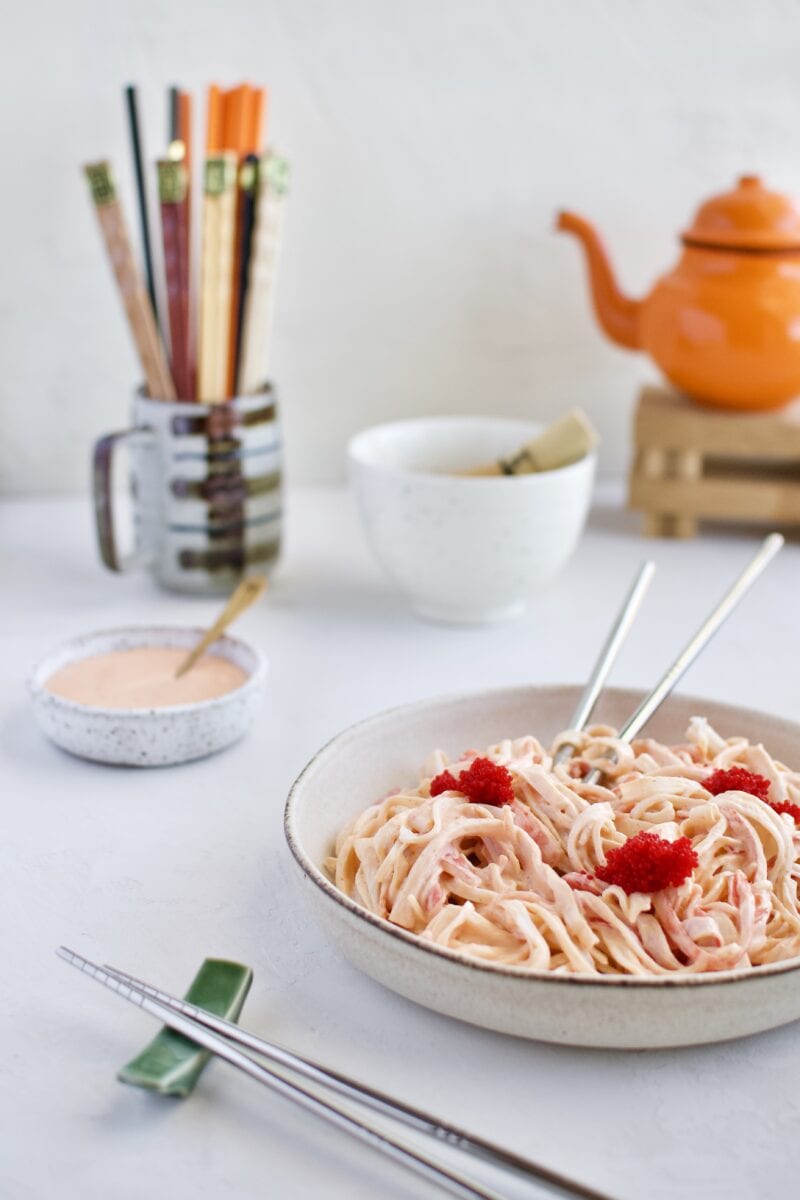 You then want to marinate your fish. I made a version with tuna and one with salmon. The tuna is a little more on the pricey side, bust the salmon is about ⅓ the cost, and once marinated they are both great!
In a bowl, mix the marinade and add in the fish and some diced cucumber.
Mix everything together, cover, and refrigerate until needed. This can be done up to 2 hours early and will hold in the fridge for 24 hours.
The last thing that needs to be prepared ahead of time is the rice. Cook the rice to the package directions then season with a rice wine vinegar, sugar, and salt mixture. This adds flavor to the rice and makes it a little sticky. Flatten the rice out and let it cool completely before building the towers.
Time to build a tower!
Now that all of our ingredients are prepared we are ready to make an Ahi Tuna Tower or Spicy Salmon Tower. The way you layer your towers is very important to get them to stand. You have to pack everything down and it needs to go, rice, avocado, crab salad, tuna, or salmon on top.
I didn't pay attention the first time and I did rice, then tuna, and my tower crumbled because the marinade from the tuna dripped into the rice and my tower crumbled. So you have to build a strong foundation with the most stable elements first.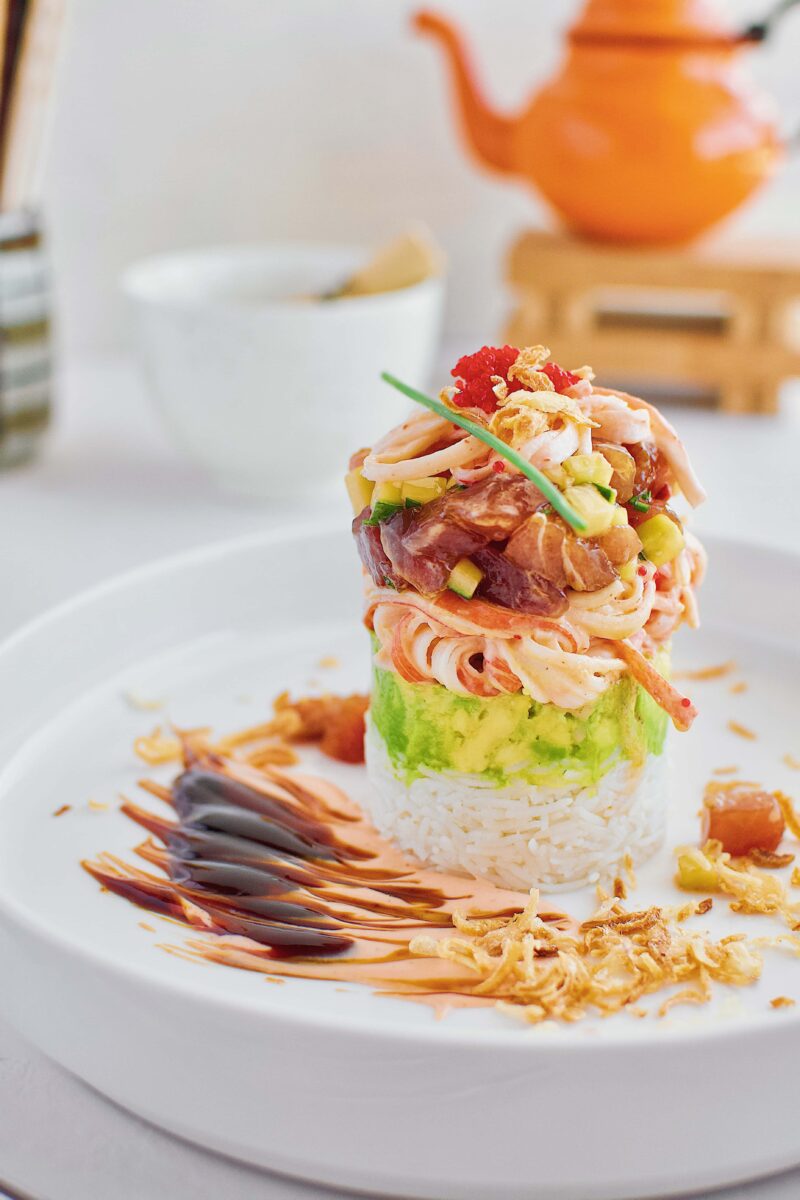 You can then garnish with a little extra crab salad and some caviar just to make it pretty. Food IS half about the way it looks, right? I then top with a generous sprinkle of the crispy onions, I like using them because they help make this a cross between my favorite crispy California sushi roll and a classic tuna tower.
Build in the same order if you choose to use the salmon. It is equally great and can be made for about $5 per serving, vs $7 per serving for the tuna.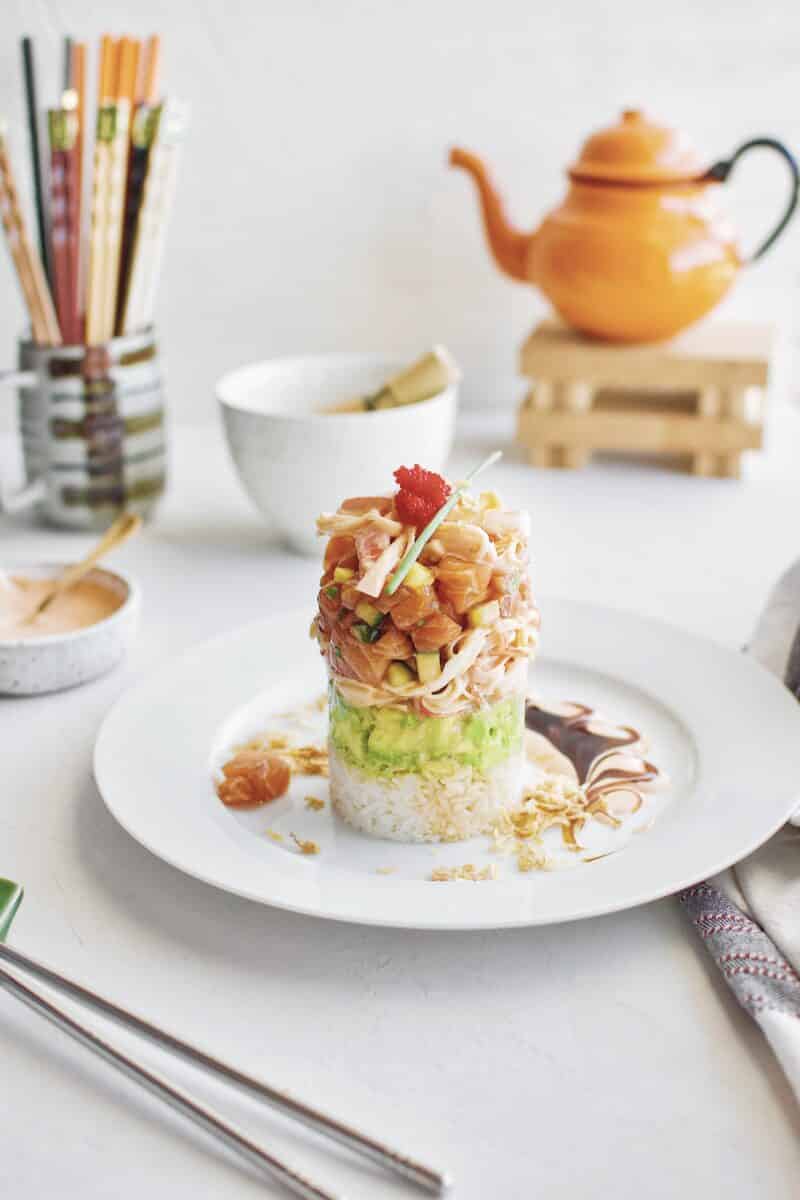 The $$$ breakdown!
I am sharing the recipe as part of a series explaining how I only grocery shop 20-24 times a year. I push myself to plan for about 14 meals at a time and then grocery shop for each of them all at once! It takes an entire day to shop, organize, separate and freeze proteins, and unwrap and wash all fruits and vegetables, but it is 100% worth it to only shop 1-2 times a month.
If you visit my Instagram and take a look at the "Grocery Haul" highlight, you can see a first-hand account of my shopping day! When I did this I shared the meals I planned to cook with the groceries I purchased and the price breakdown for each. SO here it is, the nitty-gritty of how much this costs to make.
This makes so much sense to me to make at home, again, I know it is a little work, but I have seen "Tuna Towers" on menus anywhere from $15 to $25 and up. SO if I can make 4-6 servings for that price or less, I'm all in! Plus if I buy a little tiny bit extra, I can stretch this into lunch the next day or a couple of sushi rolls later in the week.
Now the "pantry ingredients" were already in my pantry, but I have broken down the amounts I have used and included them in the price of the final product. (Yes I dug out my old grocery receipts to give you these numbers.) While I know the grocery tab is a little higher if you have to purchase these things, you still have them in the pantry the next time the craving strikes and that is money you don't have to spend again later.
Cost Breakdown:
$15.24 8oz Big Eye Tuna Steak
$5.98 8oz Salmon Fillet
$1.29 Cucumber, used half
$2.99 Crab Sticks
$1.75 Eel Sauce 1 ea - buy from the sushi section at the grocery store
$3.00 Avocados 3 ea
Pantry ingredients:
$5.99 Kewpie Mayonnaise - 1/10 of bottle $0.59
$1.99 Sriracha - 1/12 of bottle $0.16
$5.99 Fried Onions - 1/12 of can $0.49
$3.49 Soy Sauce - ⅙ of bottle $0.58
$5.64 Sushi Rice - ⅓ of bag $1.88
Optional Extra:
$5.99 Caviar 1 ea - used half
Tuna Only Breakdown
$33.96 - 4 servings
$8.49 per person, with caviar - $6.99 per person, without caviar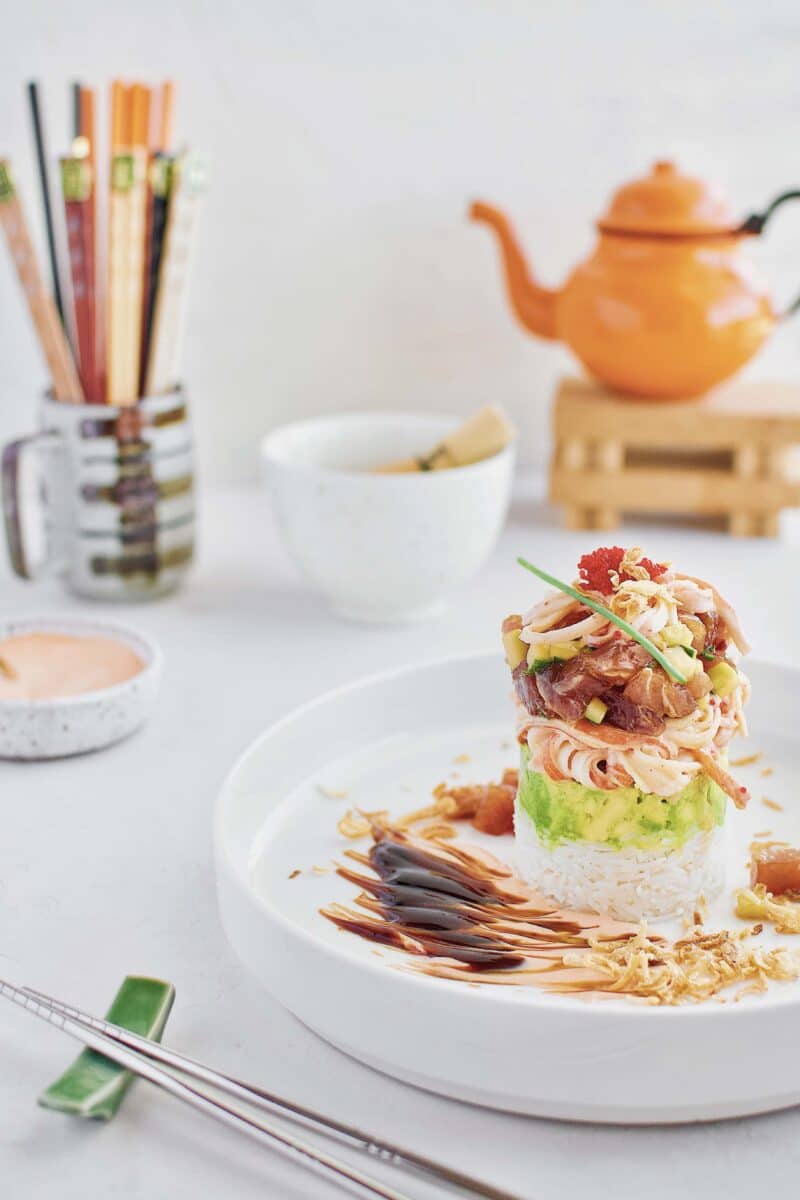 Salmon Only Breakdown
$24.70 - 4 servings
$6.18 per person, with caviar - $4.68 per person, without caviar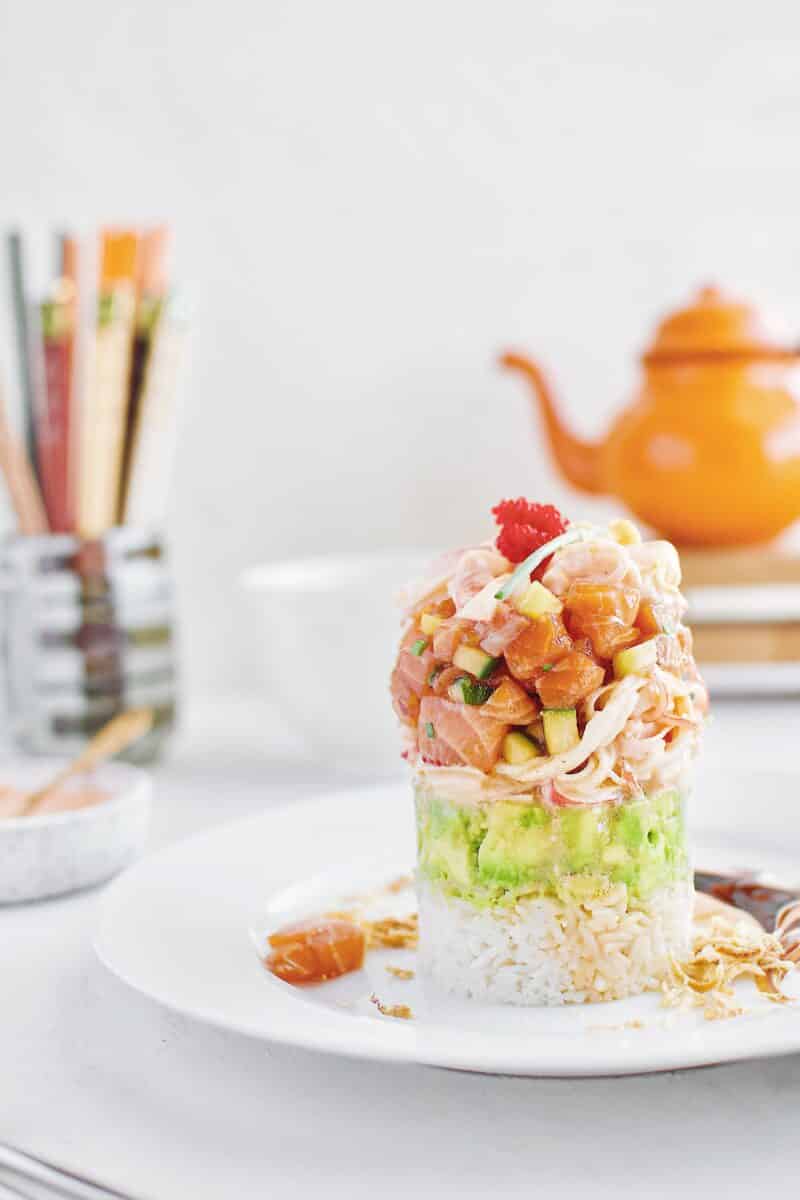 I love eating at home because I can customize the flavor, be sure it is served HOT, and save TONS of money. It takes my time to cook, but it is always more tasty and I am never disappointed, and if I am I learn and tweak that recipe for next time!
That said, this one came out just the way I imagined it, and I loved it! It hit the spot and satisfied my craving. It takes a little time, but it is a special treat that I reserve for "once in a while".
In the end, towers are built to be toppled, knock it down and enjoy!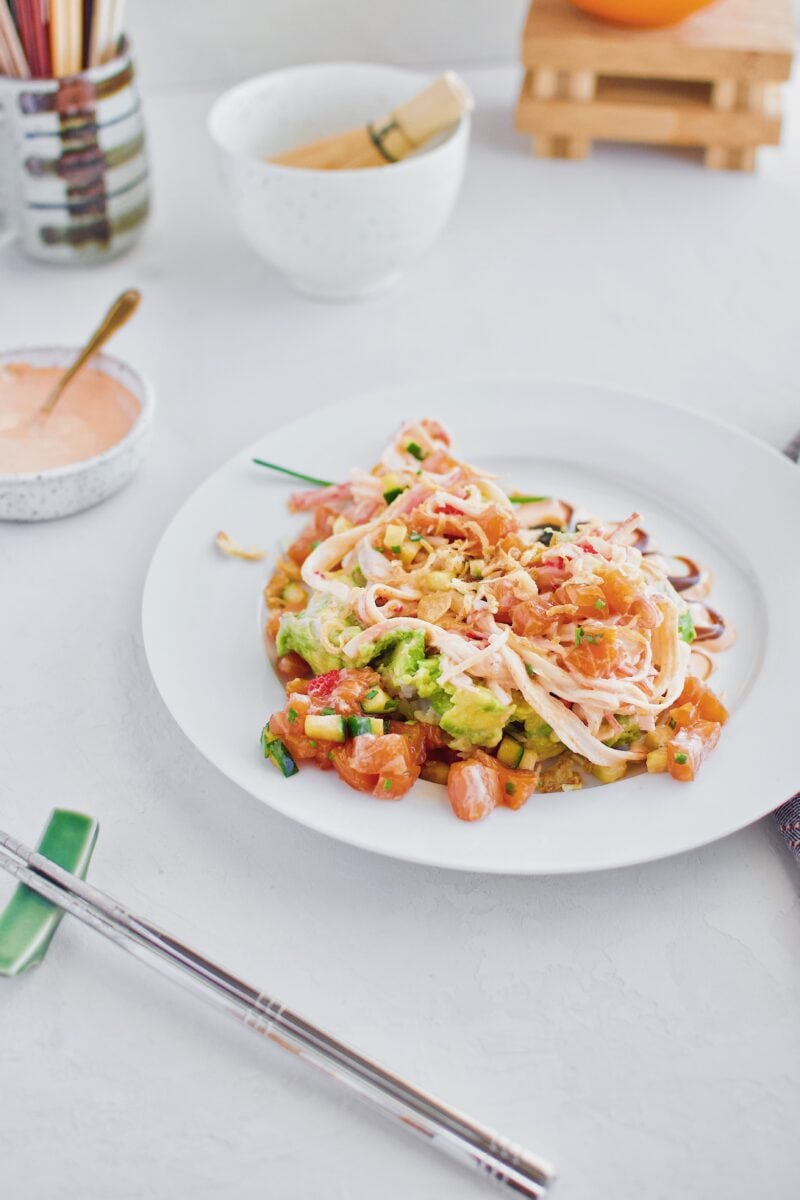 P.S. I love an Ahi Tuna Tower, but you could totally make this a poke bowl and build it in a circle around a bowl if you want.
Get the cup to build your tower in HERE!
Did you make this recipe? Let me know by leaving a review or comment! Also, be sure to sign up for my newsletter, and follow along on Instagram, Pinterest, and Facebook!
For MORE of my most POPULAR Magnolia Table Reviews!
If this recipe review was valuable to you, take a look a some of my other reviews that have been super popular!
See all of my reviews of recipes Joanna cooked in Season 1, HERE!
Jo's recipe for 1919 Pimento Cheese is by far my most read review. I have adjusted to the recipe to replace the Velveeta, which I just can't bring myself to bring into my kitchen.
Her Zucchini Bread is my next most popular review, and it is one of my very favorites to pick up when visiting Waco.
And to ready my full ranking of every recipe in the first cookbook check out this post...Magnolia Table Cookbook…my overview!