I really made this Pumpkin Ice Cream as an experiment the first time and kind of just for me and to play. But it came out so stinking delicious that I had to make it again to share with you. And it is even MORE amazing if you use it to smash between two of my Pumpkin Oatmeal Cookies and make ice cream sandwiches out of it.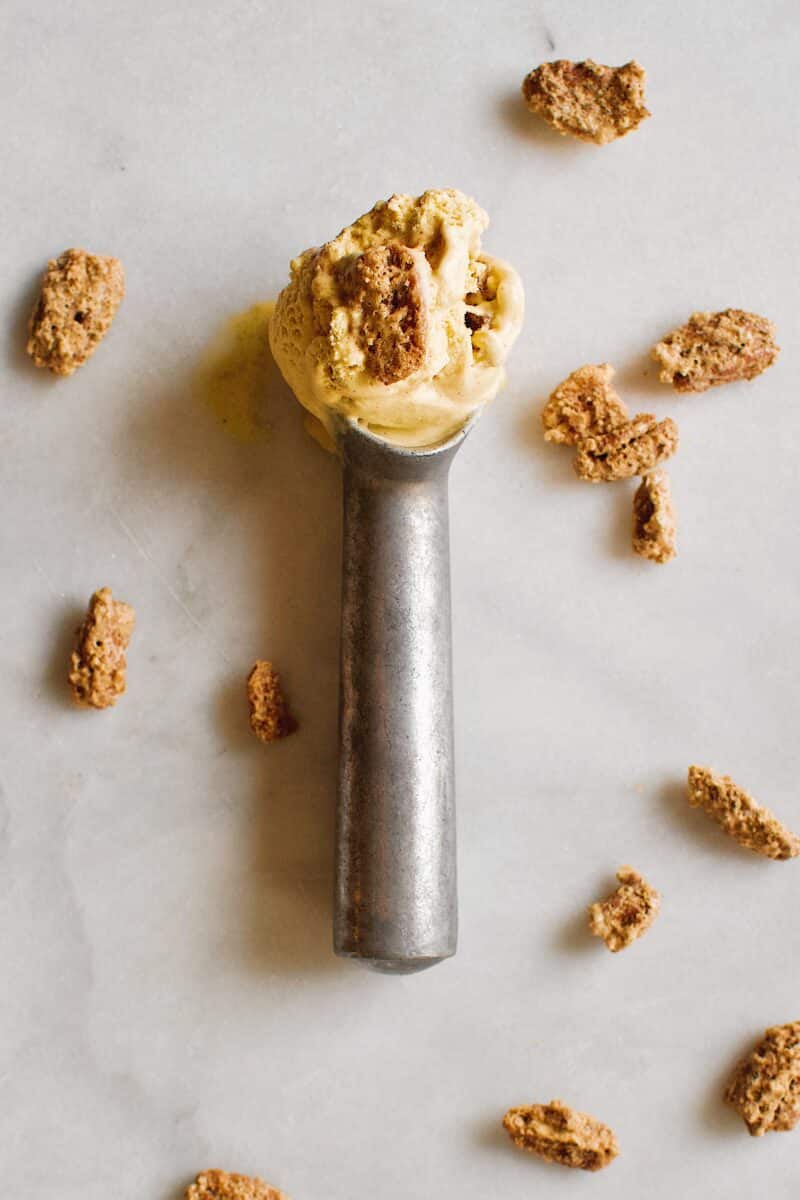 What you need:
When prepping your ingredients, start by making a cornstarch slurry by combining a couple of tablespoons of milk with the cornstarch. Set it aside until needed.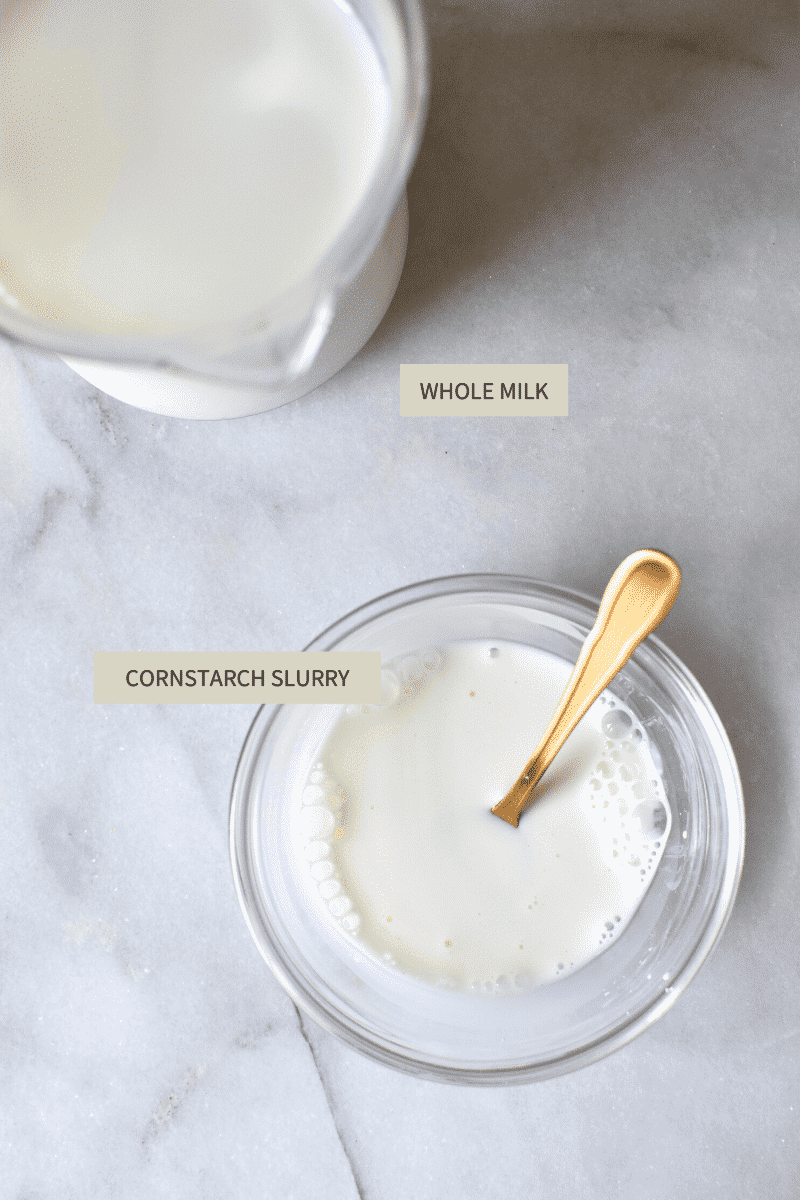 Prepare your other ingredients. Once you start cooking this recipe moves quickly. Here are the ingredients needed to create the ice cream base.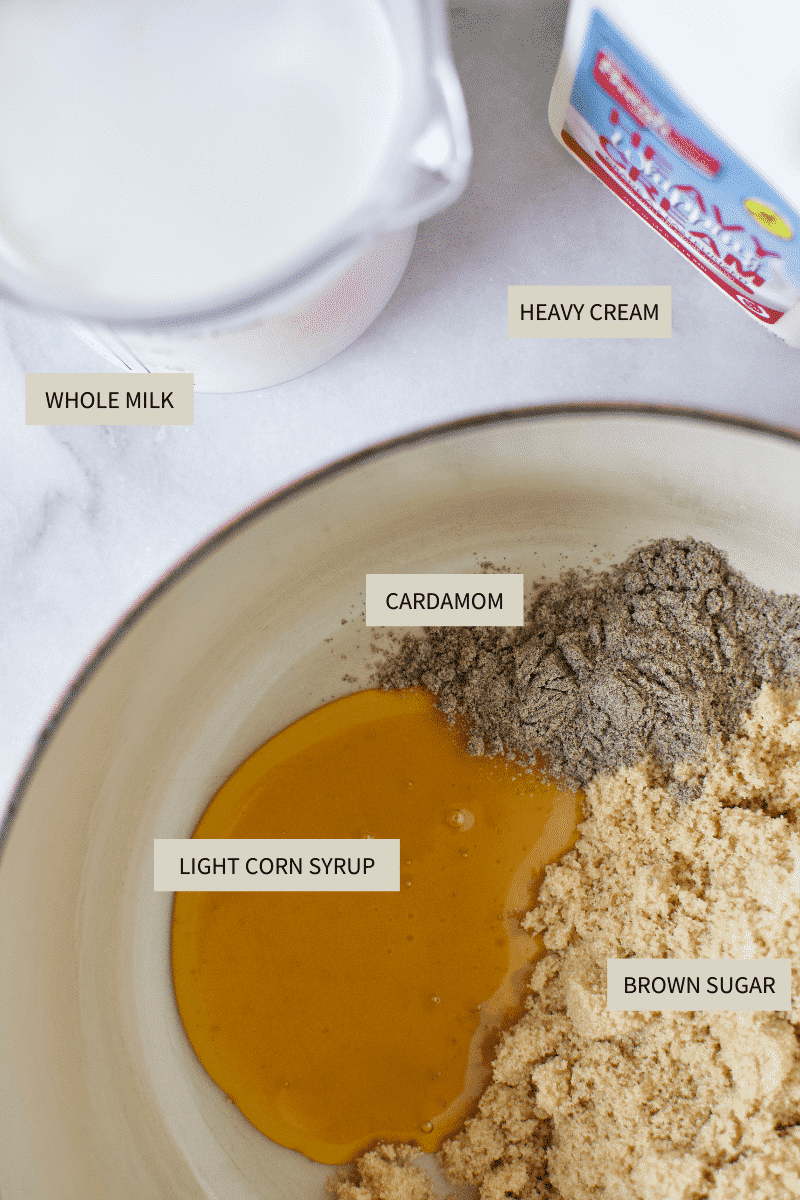 And here are the ingredients you will need to flavor the the ice cream.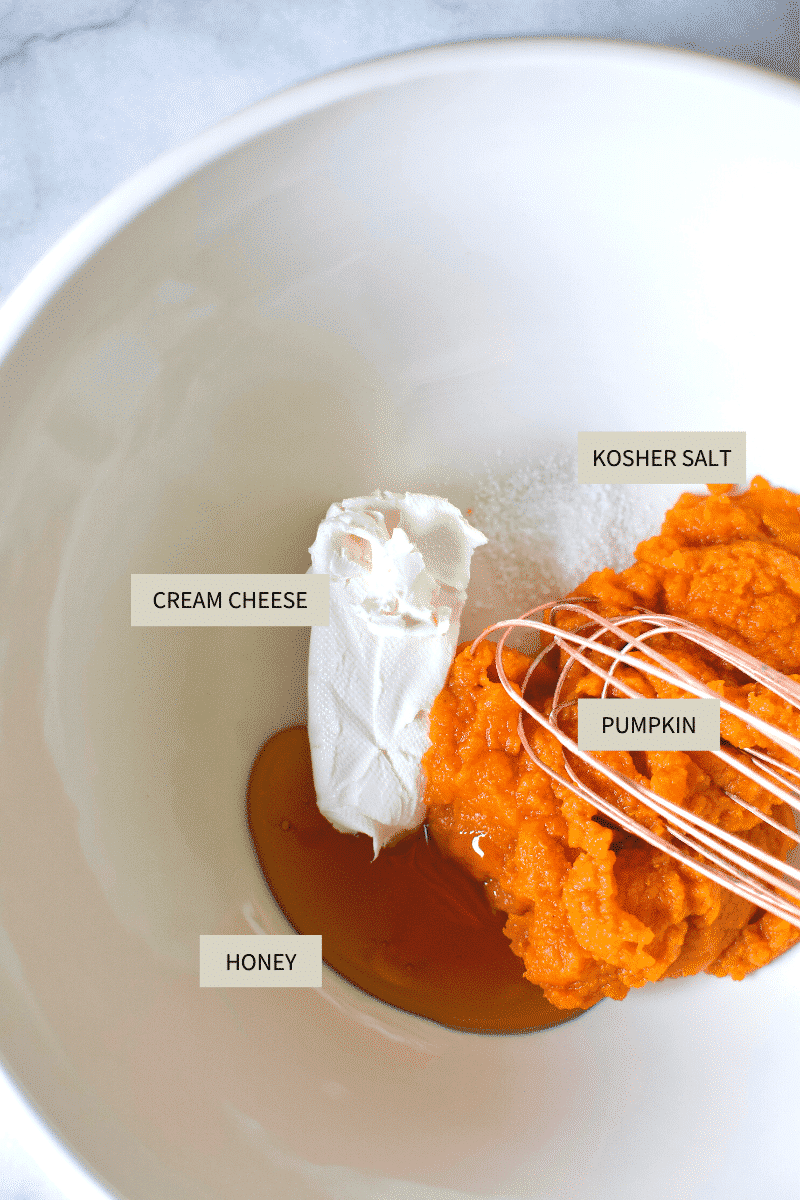 What Is Cardamom?
Cardamom is a spice in the ginger family (Zingiberaceae) recognizable by its trigonal pod husks containing small black seeds. While native to subtropical Asia and a prominent ingredient in Indian cuisine, modern-day cardamom is also produced in Guatemala, Malaysia, and Tanzania. It is sold in whole pods, shelled whole seeds, or in powdered form.
For a more in-depth article on Cardamom, take a look at this highly educational link from Masterclass.
How to make homemade ice cream
First, combine the pumpkin, and cream cheese, and other flavor ingredients in a bowl and whisk to combine.
Then warm the milk and the base ingredients together. Warm just until it comes to a simmer, stirring often so the sugar doesn't burn.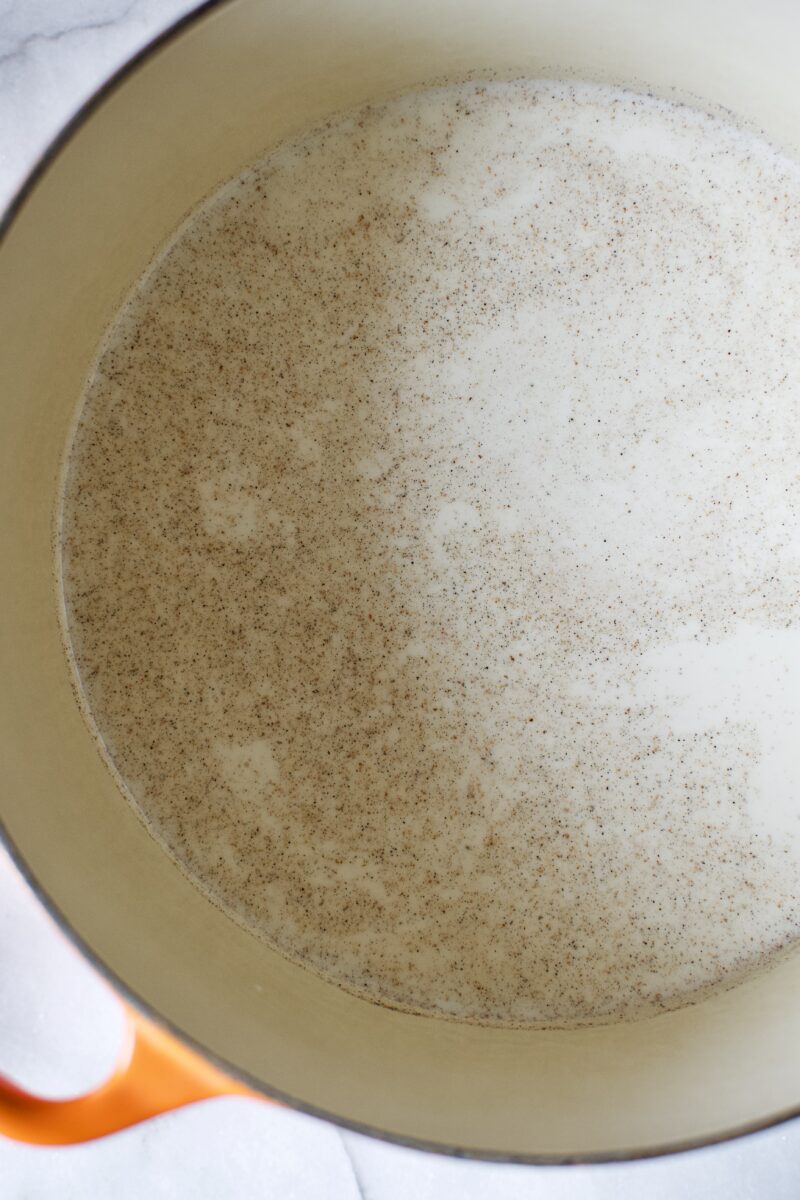 Add the cornstarch slurry to the mixture and simmer until thickened and it sticks the back of a spoon. When it holds a line, it is ready.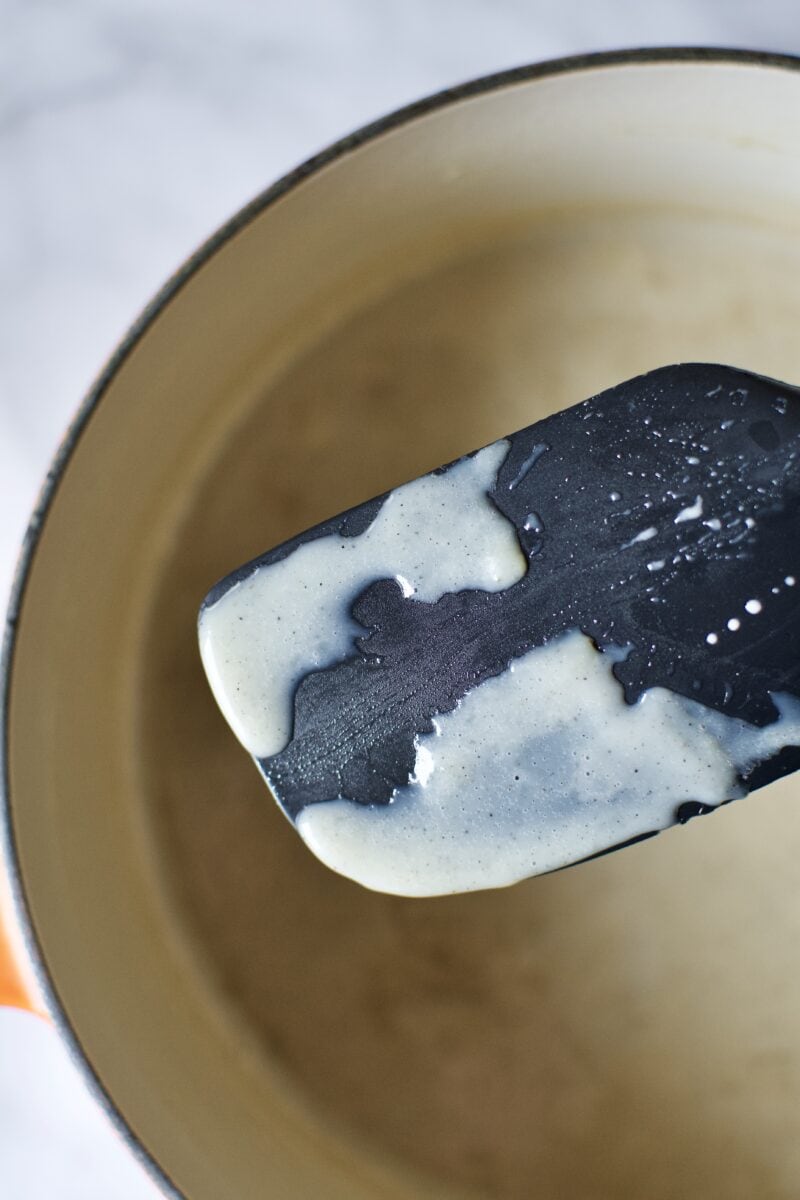 Place the pumpkin mixture and the warm ice cream base in a blender. Blend on low, so you don't impart too much air, until a consistent texture and you no longer see cream cheese pieces.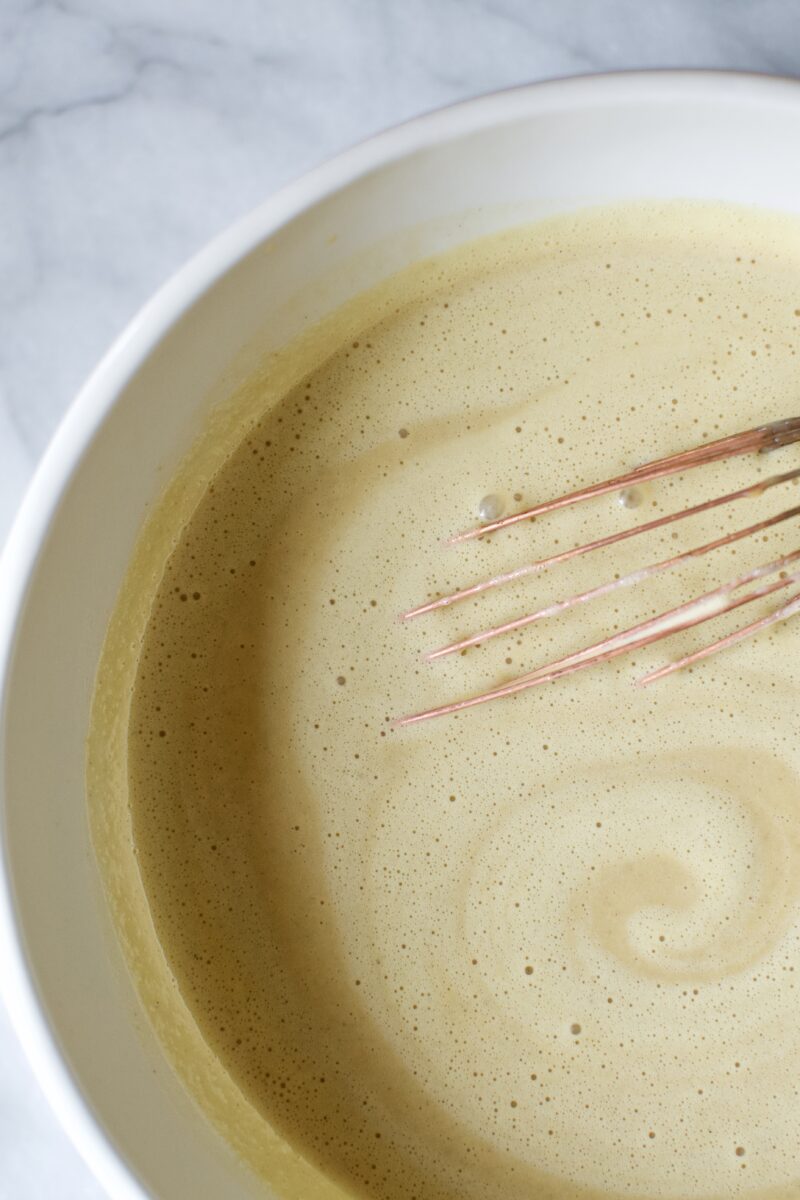 Let the mixture cool completely, overnight is best, and it will allow all the flavors to bloom giving more depth to your ice cream.
Churn in an ice cream maker until firm. When you scoop the ice cream out into your storage container, drop some praline pecans throughout it. Then freeze a minimum of 4 hours in the coldest spot in the freezer.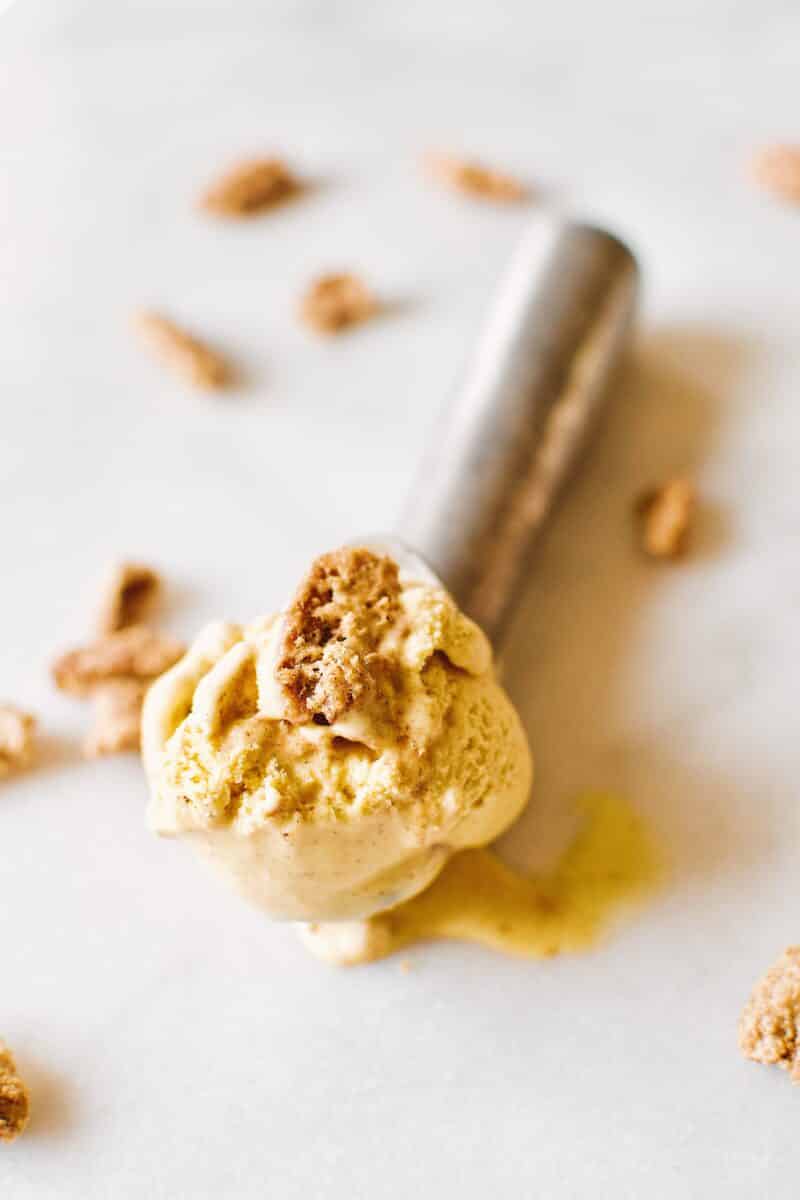 More uses for this Pumpkin Ice Cream:
If you want to use this pumpkin ice cream to make ice cream sandwiches, use my Pumpkin Chocolate Chunk Oatmeal Cookies recipe and sandwich some of this ice cream in between after the ice cream has been churned and in the freezer for 6-8 hours. Then allow the sandwiches to remain frozen for another 6-8 hours before eating so the ice cream can firm up in between the cookies.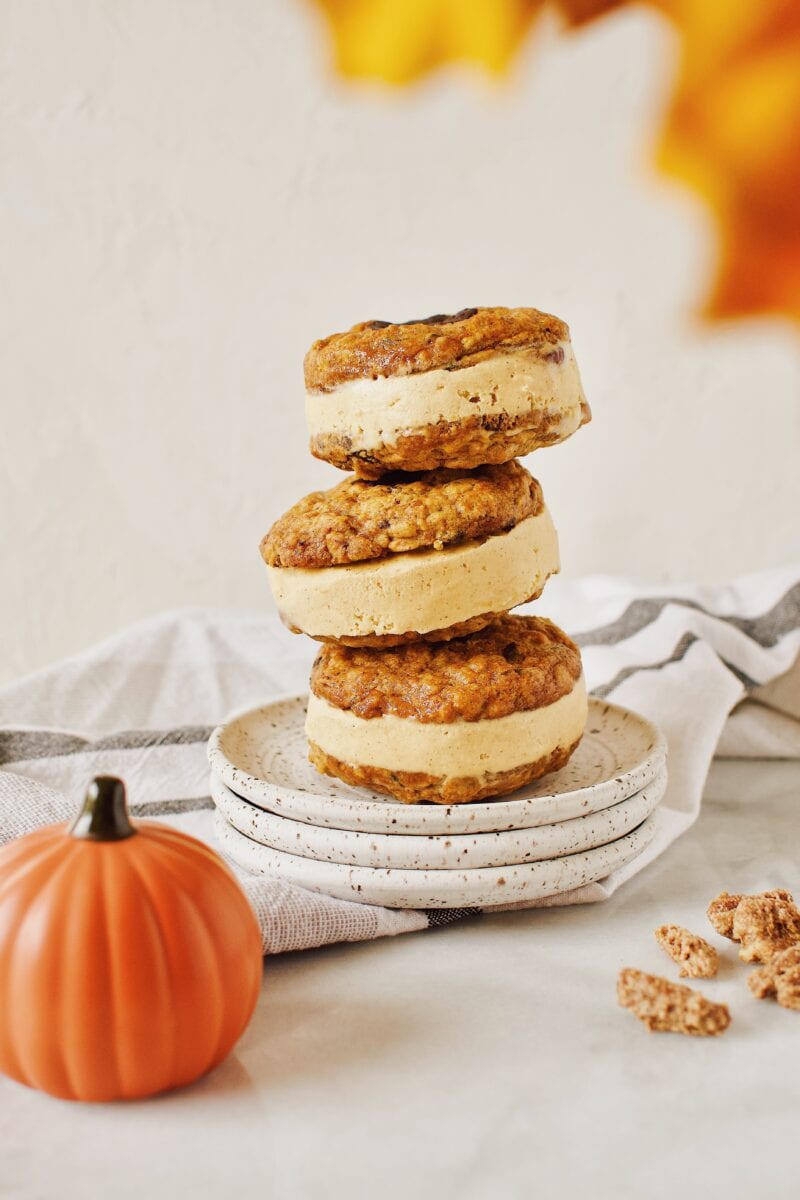 If you like to make your own pumpkin puree, take a look at my How to Roast a Pumpkin tutorial HERE!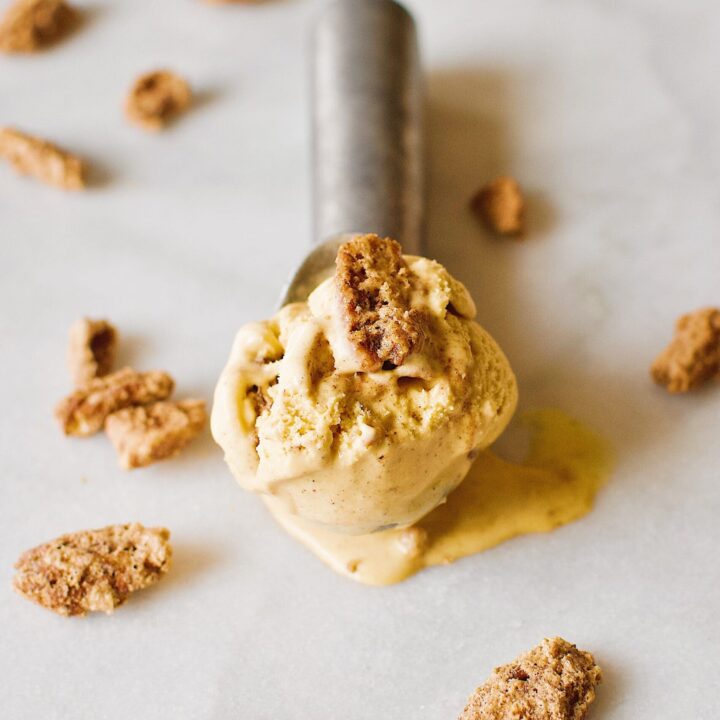 Pumpkin Cardamom Ice Cream
This ice cream holds up perfectly well on its own, but it is the perfect compliment to my Pumpkin Chocolate Chunk Oatmeal Cookies and being sandwiched between them to make ice cream sandwiches.
Ingredients
1 tablespoon + 1 teaspoon Corn Starch
2 cup Whole Milk
1 ½oz Cream Cheese, softened
½ teaspoon Kosher Salt
¼ cup Honey
1 ¼ cup Heavy Cream
⅔ cup Light Brown Sugar, packed
2 tablespoons Light Corn Syrup
2 teaspoon Cardamom
Instructions
First, make a slurry by combining 2 Tablespoons of the milk and the cornstarch together in a small bowl. Stir until a smooth paste forms.
In another bowl, whisk the cream cheese and salt together until smooth. Add the pumpkin puree and honey to the bowl and whisk until well combined.
In a 4 qt saucepan, combine the remaining milk, cream, sugar, corn syrup, and cardamom and bring the mixture to a boil over medium heat. Boil for about 4 minutes, stirring often to prevent a boilover. Remove the mixture from the heat whisk in the cornstarch slurry. Bring the mixture back to a boil over medium heat until thickened, about 1 minute. Remove from the heat.
Whisk the hot mixture into the pumpkin/cream cheese mixture until well combined. Place the mixture in a heatproof pitcher and cover. Chill in the fridge overnight.
Pour the chilled ice cream base into a frozen ice cream canister and spin until thick and creamy. Pack the frozen ice cream in an airtight container while scattering in the praline pecans and place in the coldest part of your freeze for at least 4 hours, or until firm.
Nutrition Information:
Serving Size:

1 grams
Amount Per Serving:
Unsaturated Fat:

0g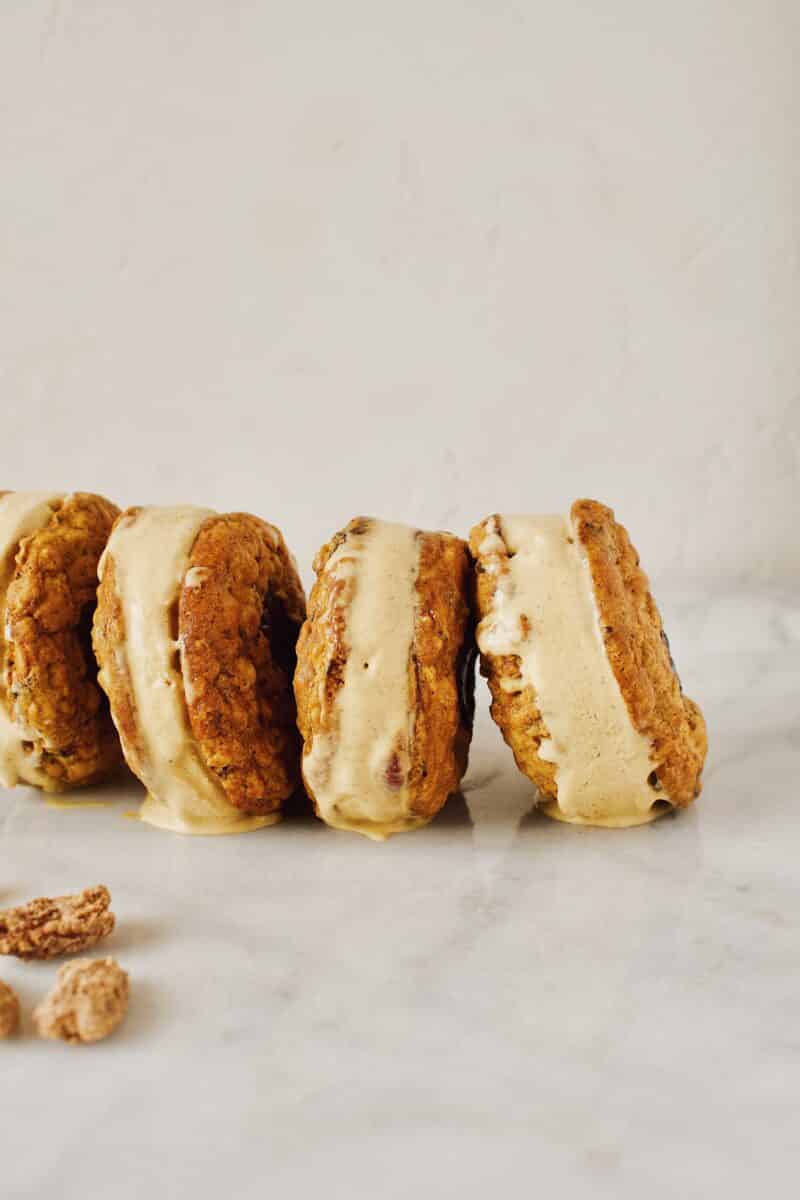 If you make this recipe, please let me know by leaving a review at the bottom of this page!
And make sure to sign up for my newsletter and follow along on Instagram, Pinterest, and Facebook for more KendellKreations!
MY LATEST RECIPES!
Get my NEW e-Cookbook here!! ⬇️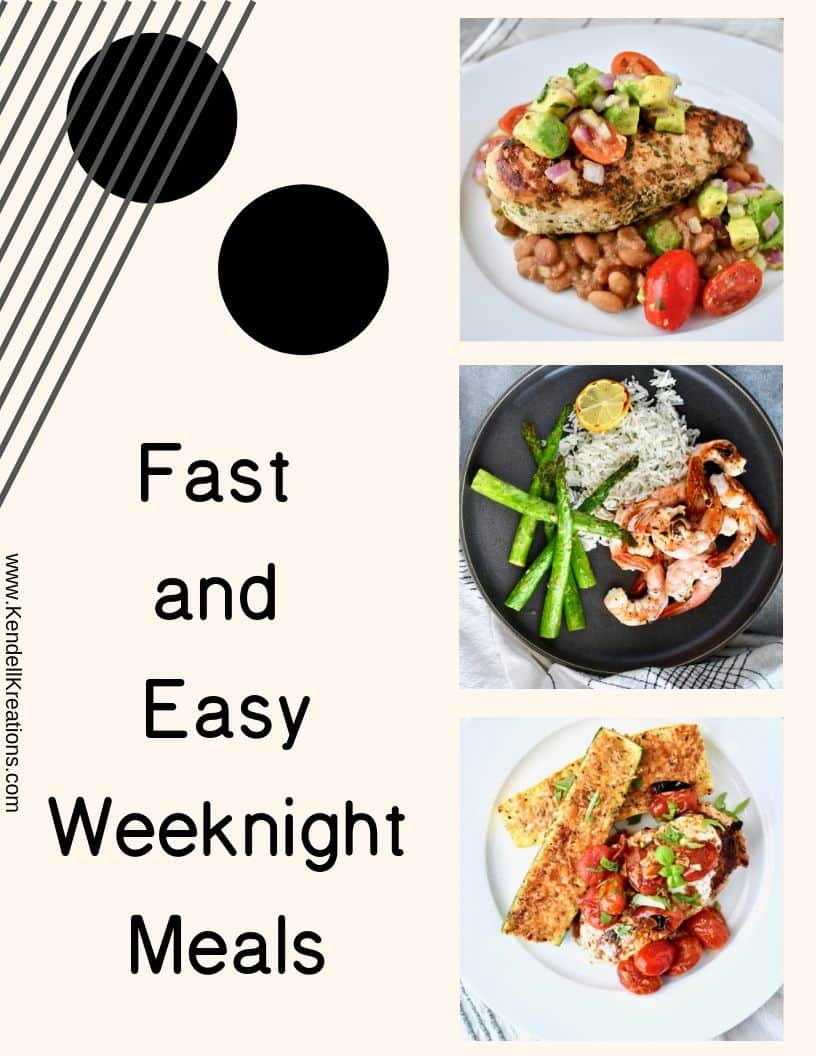 MY FAVORITE KITCHEN TOOLS!
Here are a few links to some of my favorite kitchen tools! You get a car, YOu get a car, YOU ALL GET A CAR…in my best Oprah voice
These Rösle Silicone Tongs are a little pricey but they will last you the rest of your life and are the softest in your hand. This is important for someone like m that cooks so much. It reduces strain, I have 4 sets in my kitchen!
These are my FAVE Nordic Ware Sheet Pans, every kitchen should have at least 2 sets of these! I think I have at least 4 of each of these.
This is my favorite pressure cooker, the Fagor is the same concept as the "Instant Pot" but easier to use in my opinion, if you don't have one you NEED one, it will be your best friend in the kitchen!
A sharp knife is the most important tool in the kitchen, these Japanese steel "Shun" knives are my favorite! And this is a great starter set to build on. Once you try them you will be in love so use this as a foundation you can build on for years to come.
This Scanpan 11″ skillet is just the right size for almost anything you will need to cook and my best friend and a real workhorse in my kitchen, it's also a great deal at $99. Scanpan is the best in the world for healthy cooking. It is coated with a proprietary ceramic-titanium coating that is durable while allowing you to use fewer fats and oils when cooking. It is a coating only they use. I could talk all day about my love for these pans, message me if you want more info. Here are some other sizes that are available if you are looking to outfit your kitchen with some new goodies. 8″ & 10″ Skillet set or 8″ Skillet, I still need this one for my kitchen Also, I don't really know how to cook small so the 12.5″ is my other fave!
This giant vat of olive oil is my favorite, I decant it into a smaller bottle for my counter. Or put this spigot on top of a wine bottle!
My favorite baking dish that is so easy to clean even burnt on cheese slides right off!
This Tovolo jar scraper has to be my single favorite kitchen tool, it is definitely the most used tool in my kitchen. If you are NOT a gadget person, this is the only necessity I say is a MUST beyond the wooden spoon.
A great wood spoon is essential, this Olive Wood one is my favorite, I have more than I can count. But can you really ever have too many?
A food scale can be a very important tool in your kitchen, this one is the one I use every day!
If you love Joanna Gaines as much as I do then the 'Magnolia Table Cookbook' is a must in your kitchen, get a copy HERE!