You just might have to find a good hiding place for these Pumpkin Spice Praline Pecans when you make them, just so you can enjoy them a little longer.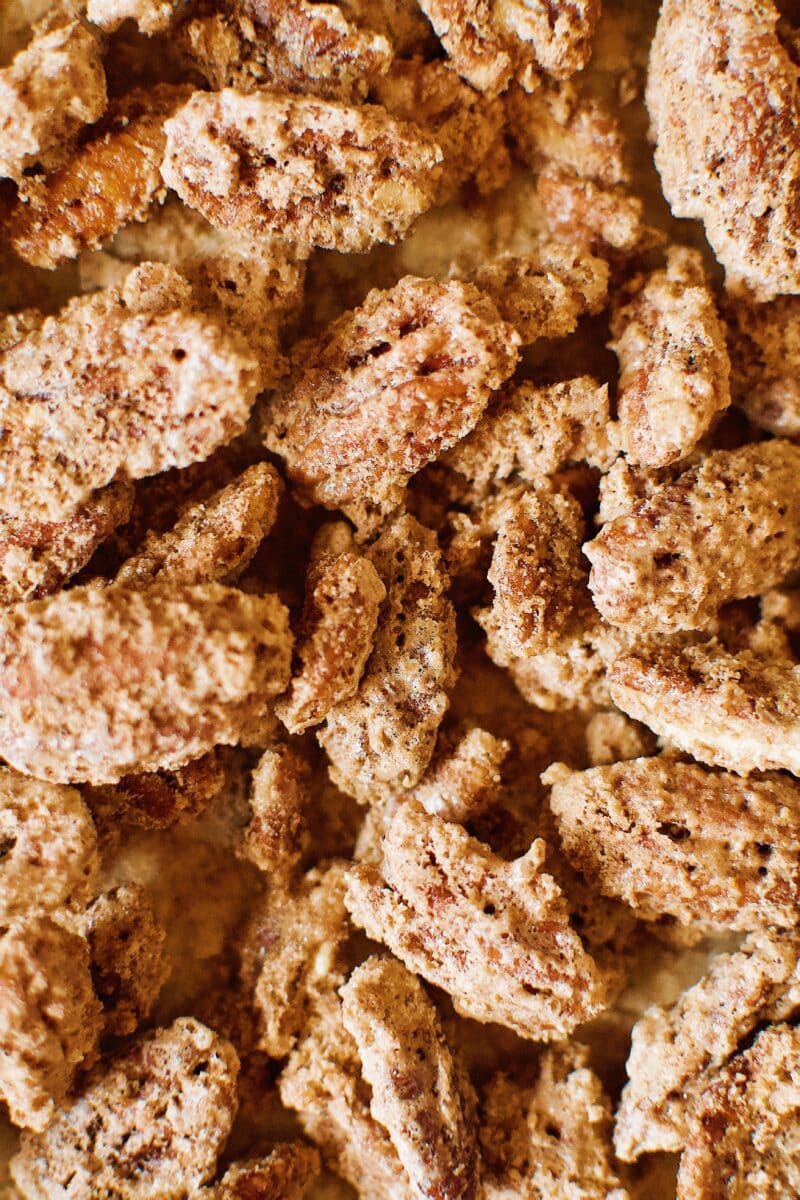 What you need:
If you bake or cook a lot, chances are you have most if not all of these ingredients in you house already, but I am going to start keeping a bulk of pecans on hand so I can whip these up for a healthy-ish snack. I mean, they are covered in sugar, but why not enjoy the benefits of the nuts with some extra flavor on them?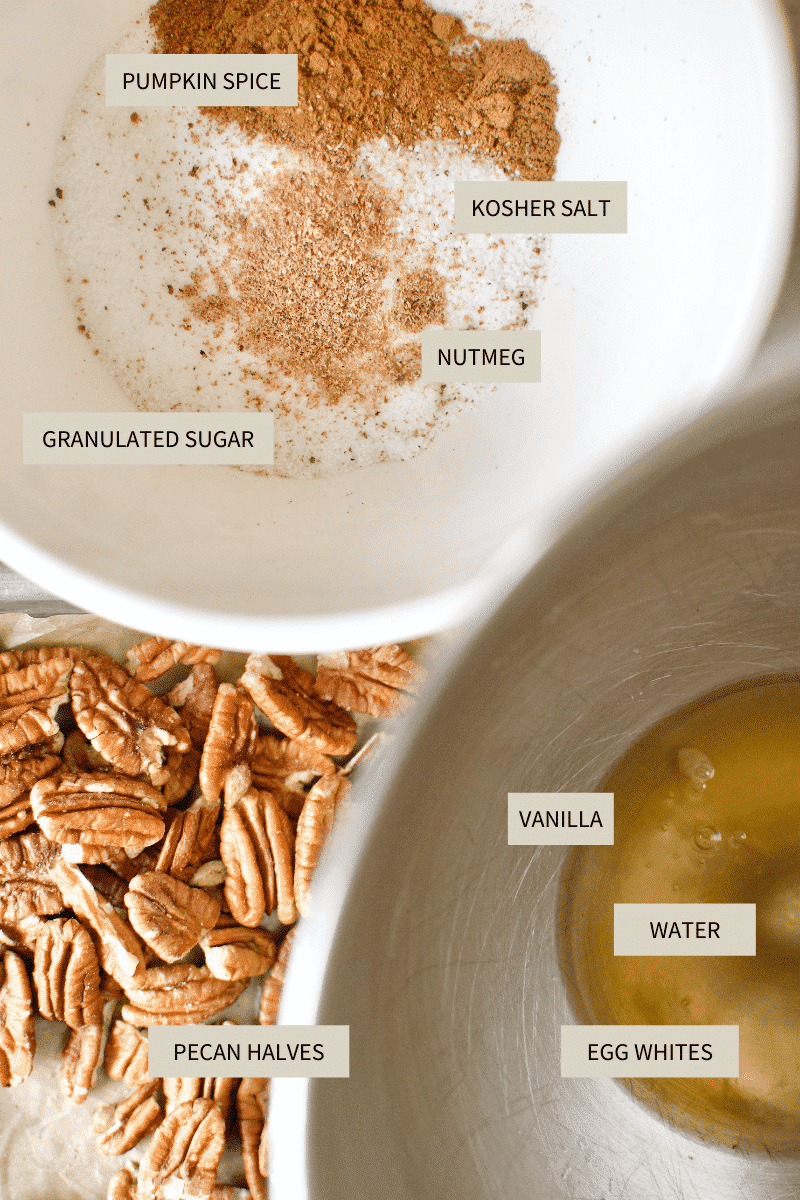 What is also great about this recipe is that you could really flavor them any way you like. I am thinking a gingerbread pecan is going to be needed very soon too!
How to:
As I mentioned above, this recipe really couldn't be easier. You don't even really have to use the stand mixer, it just makes it happen in about 30 seconds, opposed to 2 minutes, not really a game changer. But since my mixer is usually on my counter anyway, I used it!
First, whip your egg whites, water, and vanilla until the eggs become foamy. This can totally be done by hand, but they mixer does in in like 30 seconds.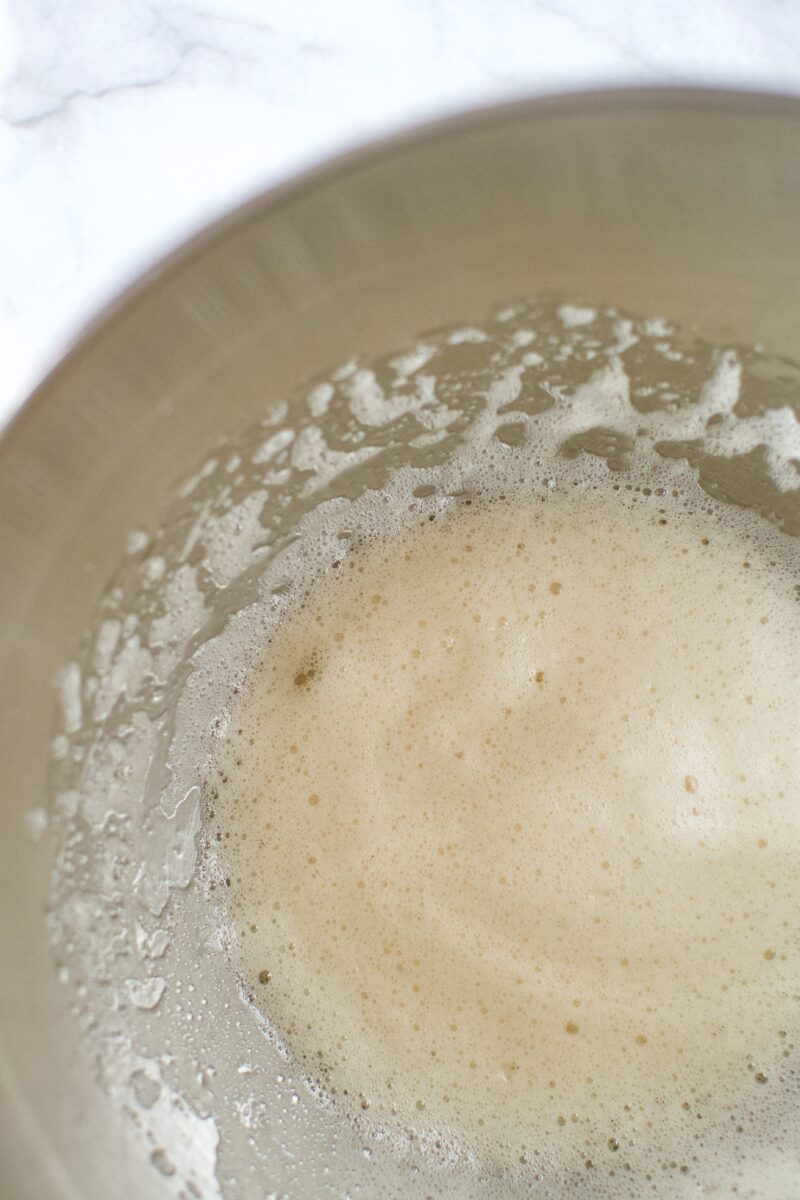 Then toss in your pecan halves and coat them with the egg white mixture.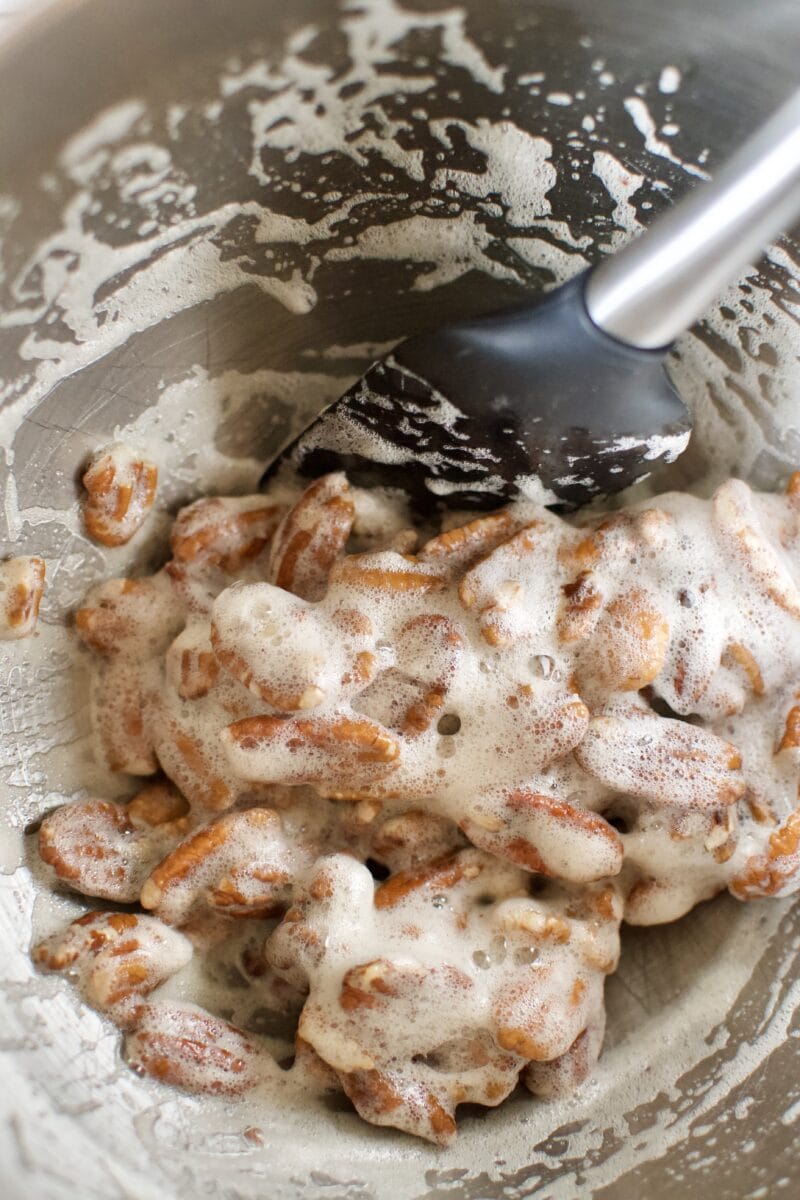 Then add in the sugar, salt, and spices.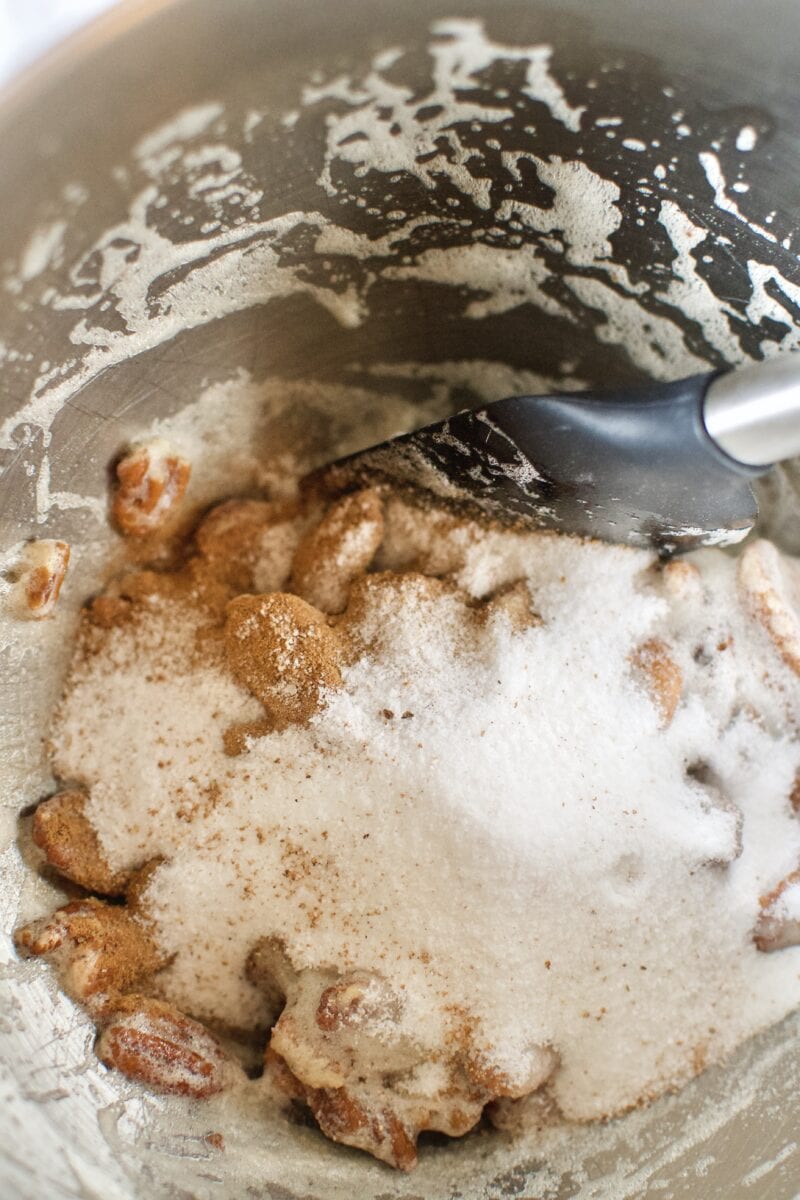 Toss everything together and spread it out on a parchment lined sheet pan.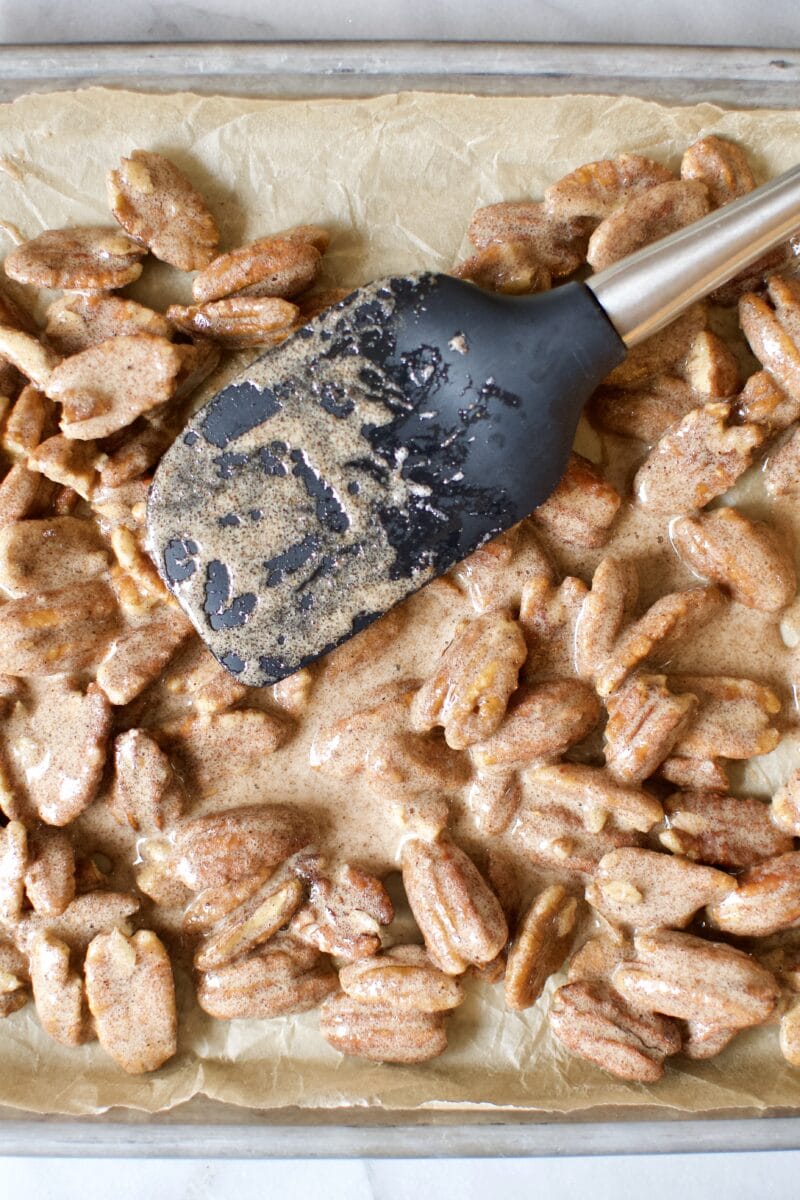 Bake the pecans at 250˚F for 1 hour, stirring every 15 minutes until the coating has crusted to the outside of the pecans. And voila, you have the most beautiful Pumpkin Spice Praline Pecans you could ever want!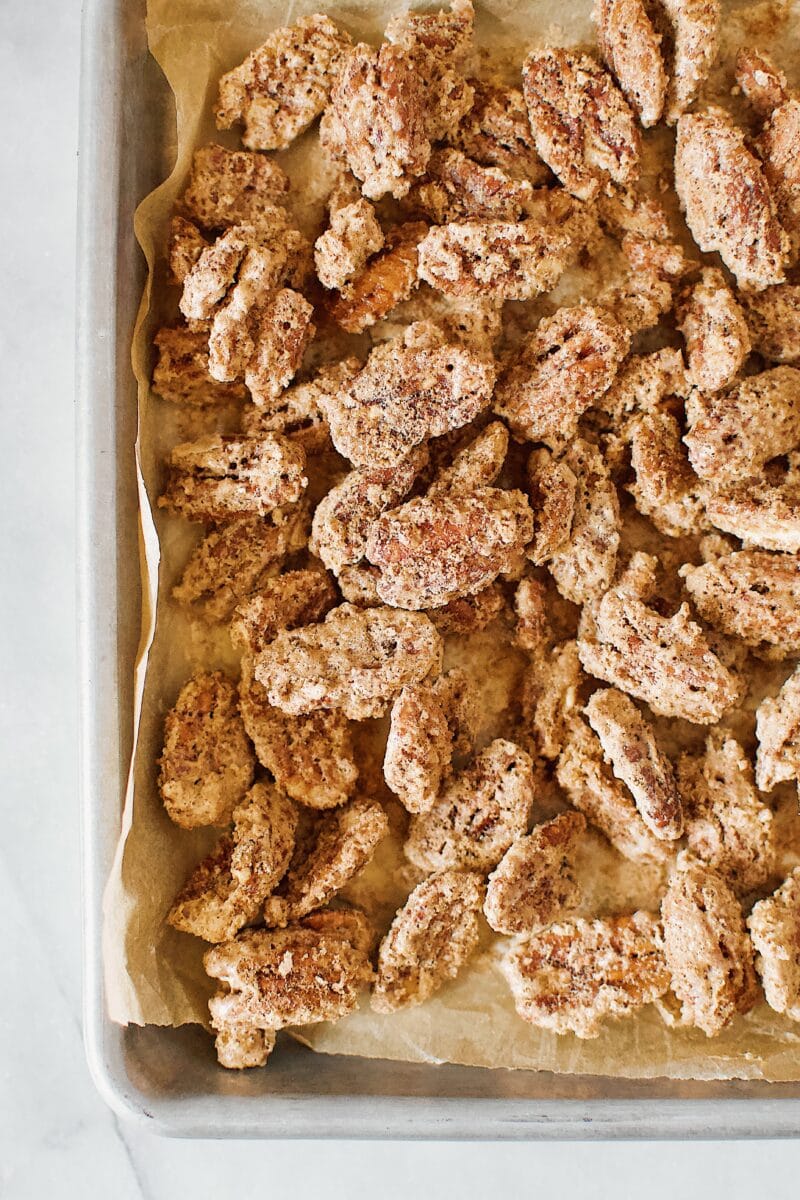 This recipe is so simple, and works absolutely perfectly. Nothing stick to the pan (this was my greatest fear) and the crust sticks to the pecans and adds the most delicious flavor. I love the nutmeg and the KICK it brings.
But again, feel free to spice them anyway you like. Simply using cinnamon would even be great, just give a generous extra pinch of salt to boost the flavor up a notch.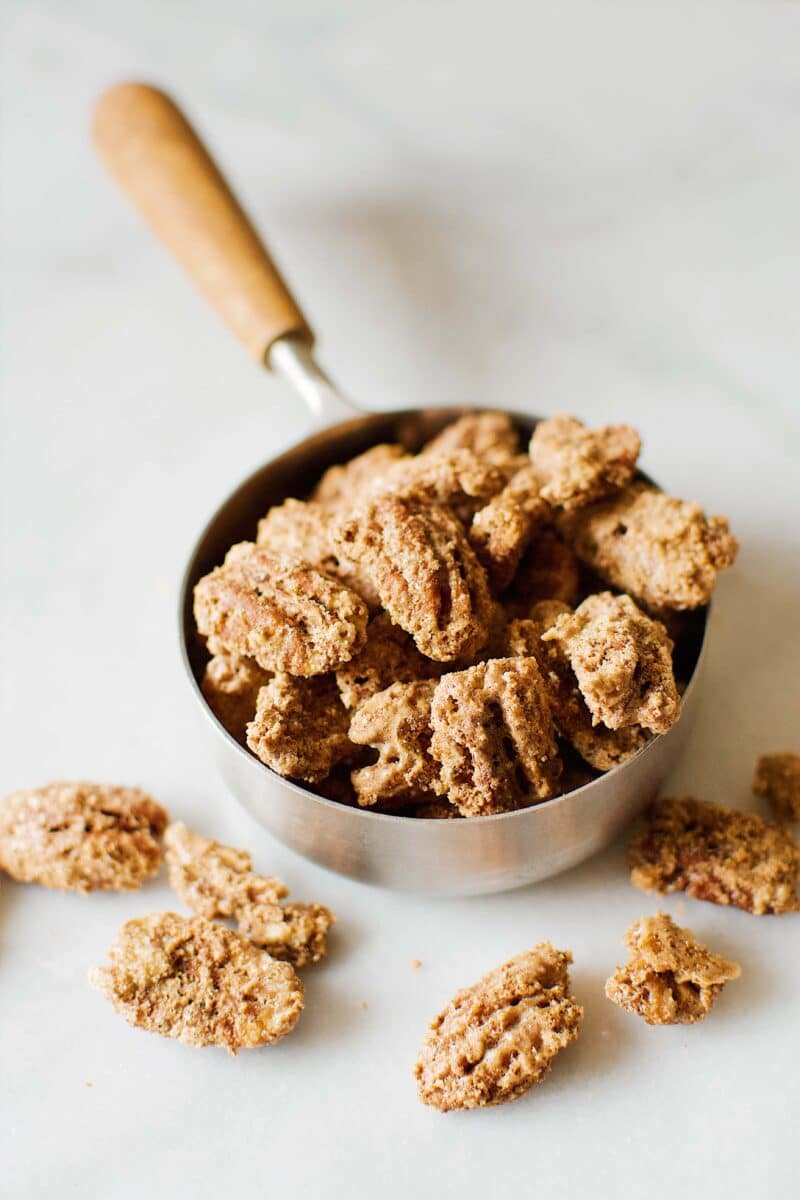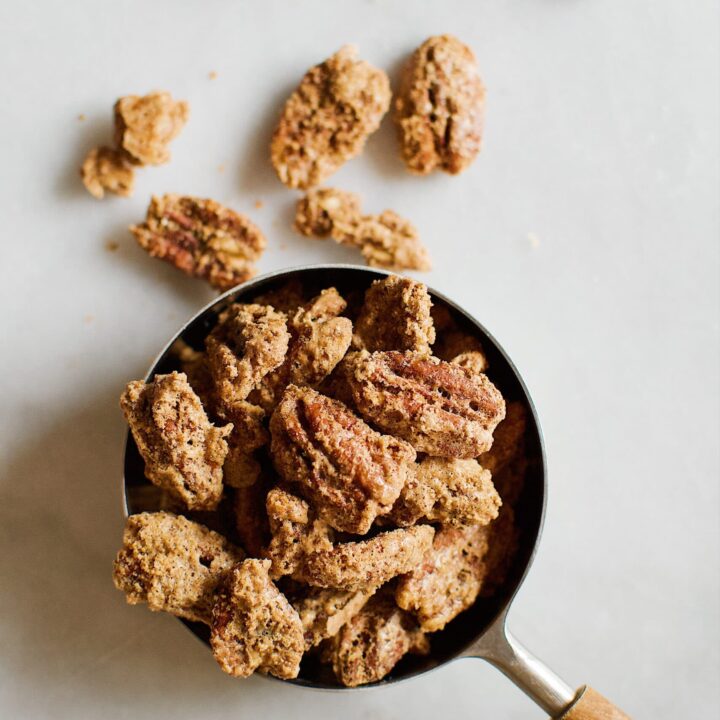 Pumpkin Spice Praline Pecans
This recipe couldn't be easier to make and it will have your house smelling like the mall when you walk past the nuthouse! Can't complain much about that!
Ingredients
¼ teaspoon Nutmeg, ground
¾ teaspoon Kosher Salt
1 cup Granulated Sugar
1 lg Egg White
2 teaspoons Vanilla Extract
1 teaspoons Water
8oz Raw Pecans Halves
Instructions
Line a baking sheet with parchment paper and preheat the oven to 250˚F.
In a bowl, combine the cinnamon, nutmeg, salt, and sugar and stir together. In the bowl of a stand mixer fitted with the whisk attachment, combine the egg white, vanilla, and water. Whip until frothy, about 60 seconds. Add the pecans to the bowl and stir to coat. Add in the sugar and spice mixture and fold together until the spices are well distributed. Spread the coated pecans onto the prepared baking sheet and place in the preheated oven. Bake the pecans for 1 hour, stirring every 15 minutes.
Notes
Store in an airtight container and store at room temperature for up to 2 weeks.
Nutrition Information:
Serving Size:

1 grams
Amount Per Serving:
Unsaturated Fat:

0g
For more Pumpkin Goodness:
Take a ride with this wonderful fall salad and give my Pepita Crusted Salmon Salad with Roasted Pumpkin a try!
And my Pumpkin Walnut Cake with Cream Cheese Frosting would make a great dessert after it!
If you like to make your own Pumpkin Puree from scratch, check out my tutorial on How to Roast a Pumpkin.
If you make this recipe, please let me know by leaving a review at the bottom of this page!
And make sure to sign up for my newsletter and follow along on Instagram, Pinterest, and Facebook for more KendellKreations!
MY LATEST RECIPES!
Get my NEW e-Cookbook here!! ⬇️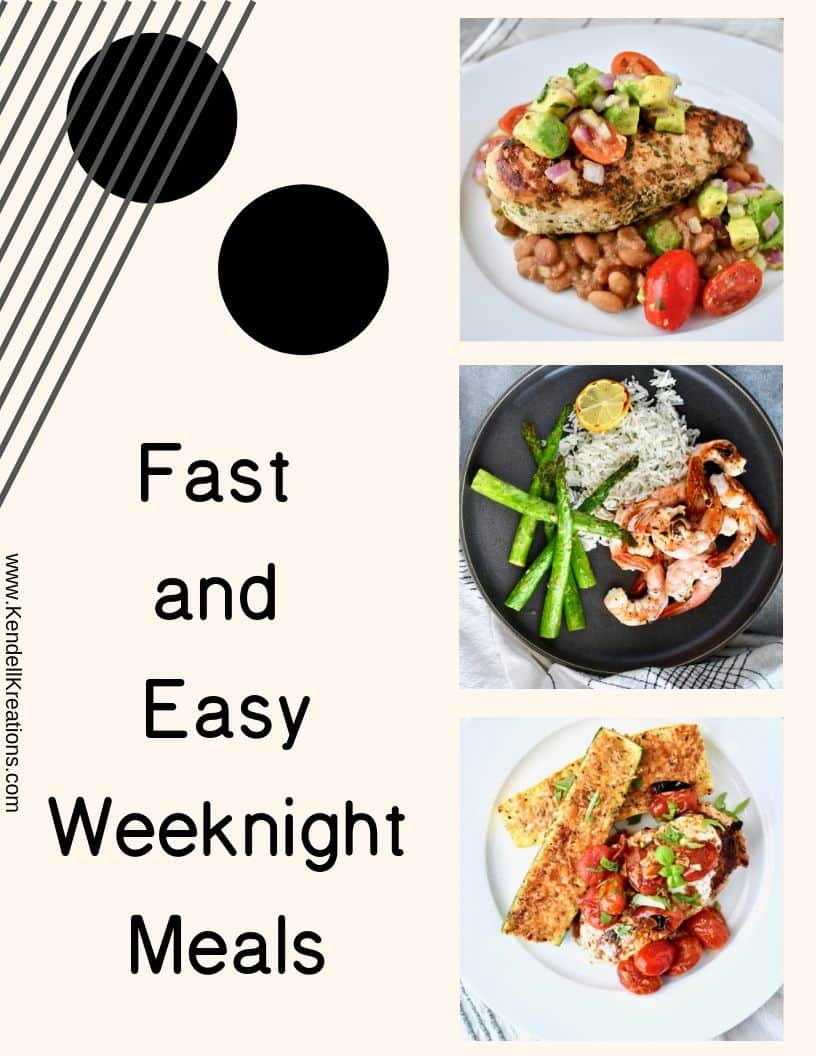 MY FAVORITE KITCHEN TOOLS!
Here are a few links to some of my favorite kitchen tools! You get a car, YOu get a car, YOU ALL GET A CAR…in my best Oprah voice
These Rösle Silicone Tongs are a little pricey but they will last you the rest of your life and are the softest in your hand. This is important for someone like m that cooks so much. It reduces strain, I have 4 sets in my kitchen!
These are my FAVE Nordic Ware Sheet Pans, every kitchen should have at least 2 sets of these! I think I have at least 4 of each of these.
This is my favorite pressure cooker, the Fagor is the same concept as the "Instant Pot" but easier to use in my opinion, if you don't have one you NEED one, it will be your best friend in the kitchen!
A sharp knife is the most important tool in the kitchen, these Japanese steel "Shun" knives are my favorite! And this is a great starter set to build on. Once you try them you will be in love so use this as a foundation you can build on for years to come.
This Scanpan 11″ skillet is just the right size for almost anything you will need to cook and my best friend and a real workhorse in my kitchen, it's also a great deal at $99. Scanpan is the best in the world for healthy cooking. It is coated with a proprietary ceramic-titanium coating that is durable while allowing you to use fewer fats and oils when cooking. It is a coating only they use. I could talk all day about my love for these pans, message me if you want more info. Here are some other sizes that are available if you are looking to outfit your kitchen with some new goodies. 8″ & 10″ Skillet set or 8″ Skillet, I still need this one for my kitchen Also, I don't really know how to cook small so the 12.5″ is my other fave!
This giant vat of olive oil is my favorite, I decant it into a smaller bottle for my counter. Or put this spigot on top of a wine bottle!
My favorite baking dish that is so easy to clean even burnt on cheese slides right off!
This Tovolo jar scraper has to be my single favorite kitchen tool, it is definitely the most used tool in my kitchen. If you are NOT a gadget person, this is the only necessity I say is a MUST beyond the wooden spoon.
A great wood spoon is essential, this Olive Wood one is my favorite, I have more than I can count. But can you really ever have too many?
A food scale can be a very important tool in your kitchen, this one is the one I use every day!
If you love Joanna Gaines as much as I do then the 'Magnolia Table Cookbook' is a must in your kitchen, get a copy HERE!