Put the fleeting spring vegetable of rhubarb to perfect work with this Raspberry Rhubarb Buckle. When it pops into stores near me I jump at the chance to work with it. There are so many fun ways to use this ingredient that pairs perfectly with sweet and tart fruits, and it brings back floods of fond childhood memories!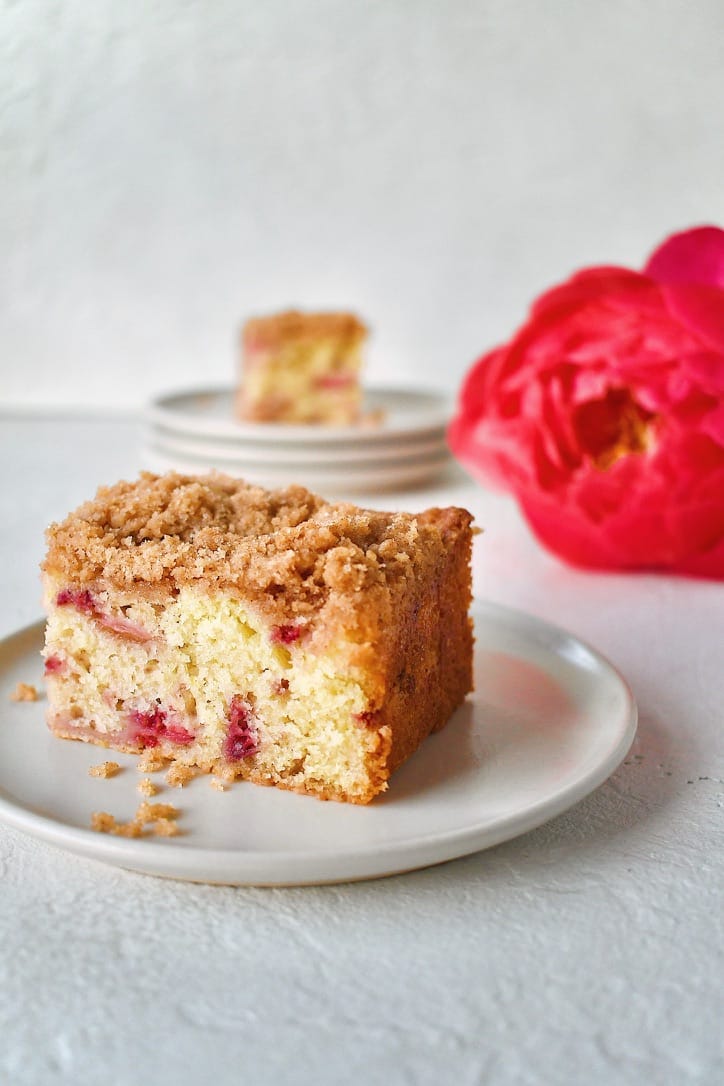 Jump to:
Ingredients
Aside from the rhubarb, this is a recipe that my pantry is always ready to make. I ALWAYS have all these ingredients on hand. So when gorgeous rhubarb like this pops into my local grocery store, I just have to snap it up and head home to get baking!
I am happy to report to you that this recipe also works really well when made with frozen rhubarb if that is all you can get your hands on. Some years that is all I can get too!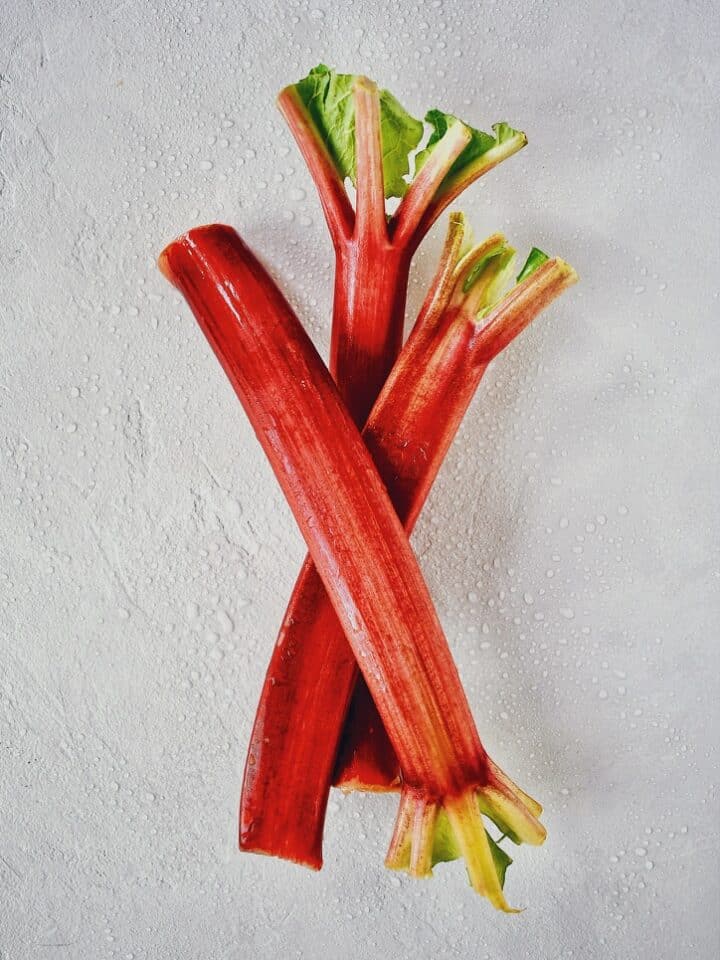 This wonderful buckle is a perfect basic cake recipe that you can fold just about any fruit into and you will have a fantastic result. A buckle is a moist fruit cake that has a streusel topping, and it gets its name from its buckled appearance on top after baking.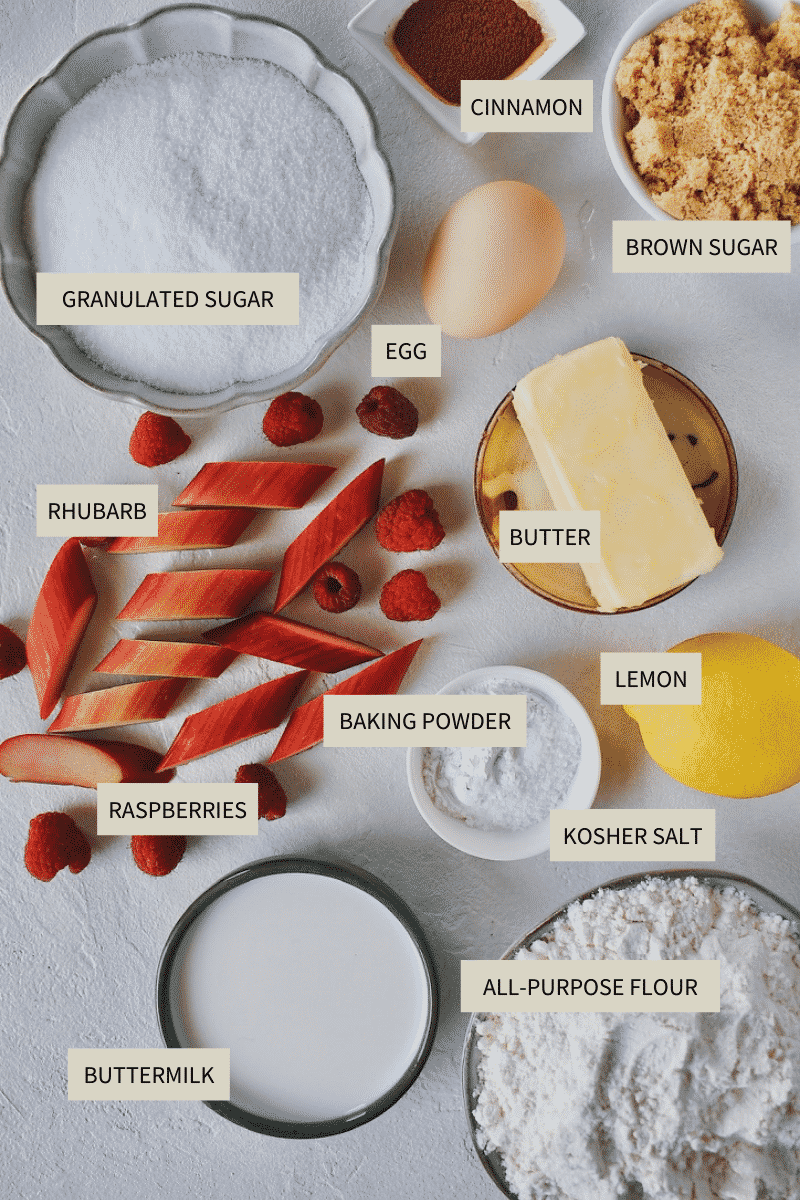 Use the JUMP TO RECIPE button at the top of the post, or scroll to the bottom of the post to see the full recipe card with ingredient measurements and instructions.
Method
I start the recipe off by making the crumbly topping and chilling it in the fridge until it is time for the buckle to go in the oven. This helps the butter hold its structure longer in the oven and giving you a crisper top in the end.
Next, I toss the rhubarb and raspberries with a little bit of the sugar, allowing them to macerate while I prepare the cake batter. Then, after you make the batter, gently fold the rhubarb and berries in and place it in your prepared tin.
Top with the topping that was made and refrigerated and the buckle is ready to go in the oven.
When the Raspberry Rhubarb Buckle comes out of the oven, you will let it rest in the tin for just a few minutes until it has cooled just slightly. This will also finish the cooking process. You then want to lift the buckle out of the tin and allow it to cool completely on a cooling rack.
It is ready to eat when it is room temperature. It is important to let a buckle cool completely because it is a very moist cake due to the use of fresh fruit. If you cut the buckle while still warm you will have wet, underbaked portions of the cake. So put your patient pants on and WAIT!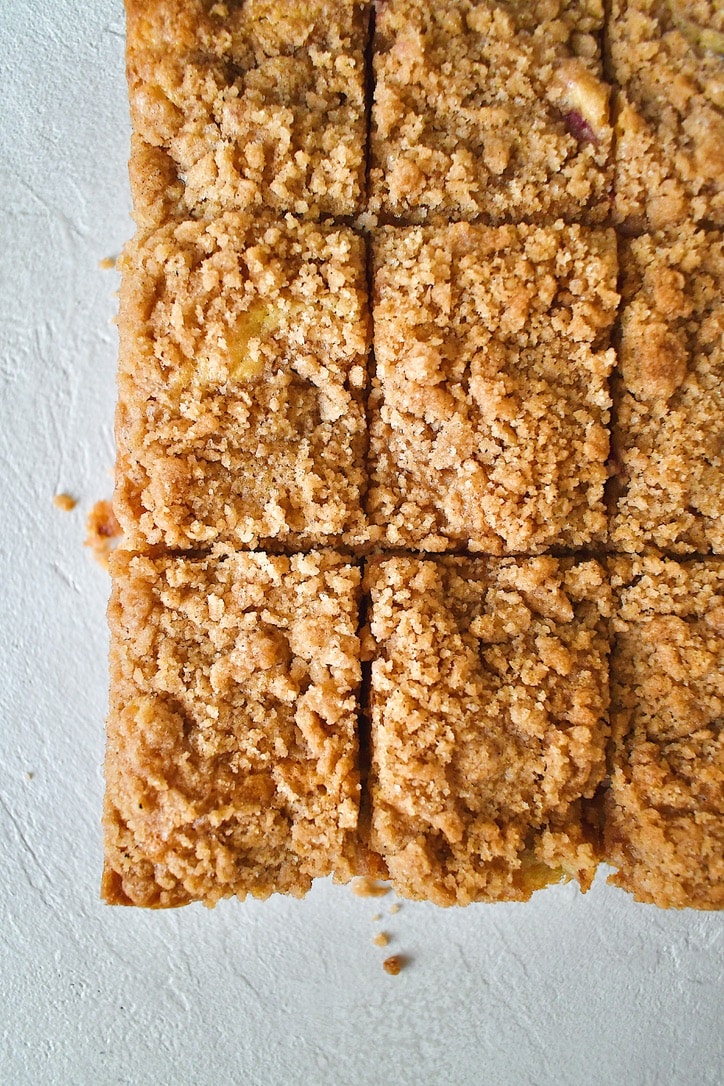 Notes & Tips
When you line the baking tin with parchment, be sure it is lined with some parchment sticking out of the top. This is important because you want to lift the buckle out of the tin after an initial cooling so it doesn't become soggy.
Macerating the fruit is an important step. It allows some of the liquid to be released from the fruit and absorbed by the sugar prior to adding it to the cake. This can be made with just about any fruit, I would do this with any fruit I use.
This cake will have areas that are VERY moist. The batter will not be raw, but the fruit will release some liquid that will make it seem that way. This is also why it is important to remove the cake from the tin after a few minutes of cooling so it doesn't stay too wet.
Substitutions
Use the base butter cake recipe here as a jumping off point. If rhubarb isn't in season, or you can't get your hands on it, you can still make a buckle. It is a fresh fruit dessert. Feel free to mix in just about any fruit you fancy!
If you wanted to make this a dairy-free buckle, you can swap the butter for shortening, and the buttermilk for any nut milk you prefer. Not oat milk.
More Warm Weather Desserts
Chocolate Peanut Butter Oreo Dirt Pudding
Mint Chocolate Chip Ice Cream Cake
Did you make this recipe? Let me know by leaving a review or comment! And be sure to sign up for my newsletter, and follow along on Instagram, Pinterest, and Facebook!