This Simple Chicken Salad Recipe makes a great lunch or brunch dish. It is also a great way to use extra or leftover chicken. You could intentionally purchase a rotisserie chicken, but I usually just cook some extra chicken breasts or use leftovers to make it.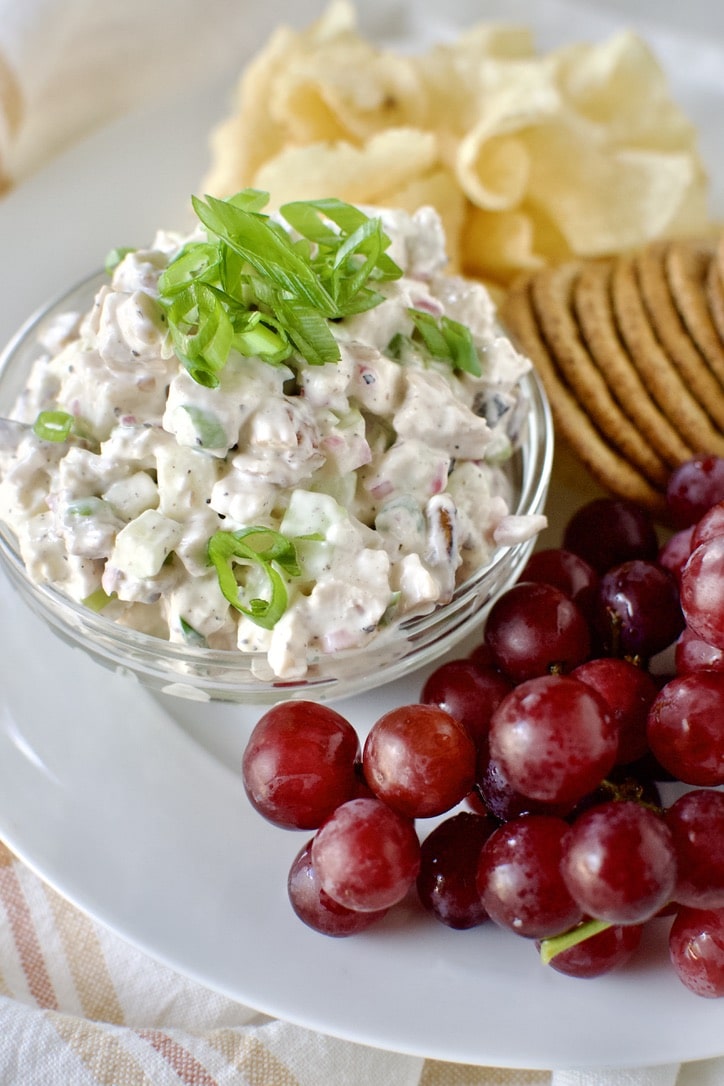 Jump to:
Ingredients
While chicken salad has many iterations and you can vary it in any way you like, this is mine. I like a good crunch from a nut and apples and the tart sweetness of some lemon and vinegar. And you get a little spice from the red onion, and flavor from the green onions.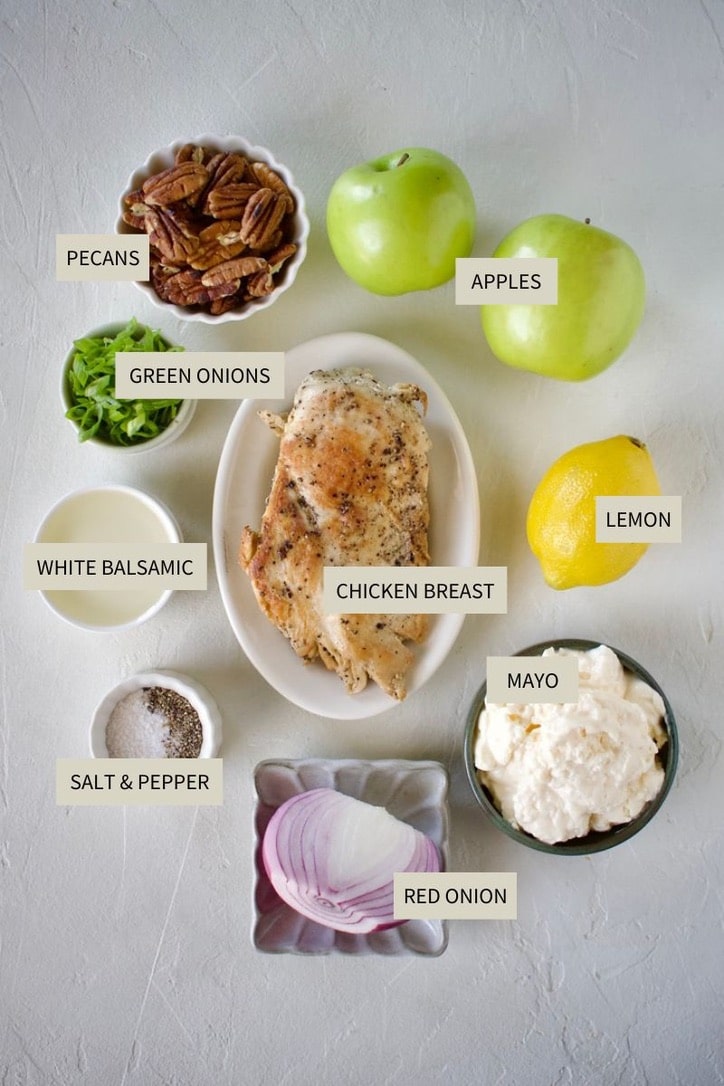 Use the JUMP TO RECIPE button at the top of the post, or scroll to the bottom of the post to see the full recipe card with ingredient measurements and instructions.
Method
I start by dicing my onions nice and finely. Then mix them in the bottom of the bowl with the acids. This helps take the sharpness off them and almost pickles them. Then add the seasonings and mix everything up.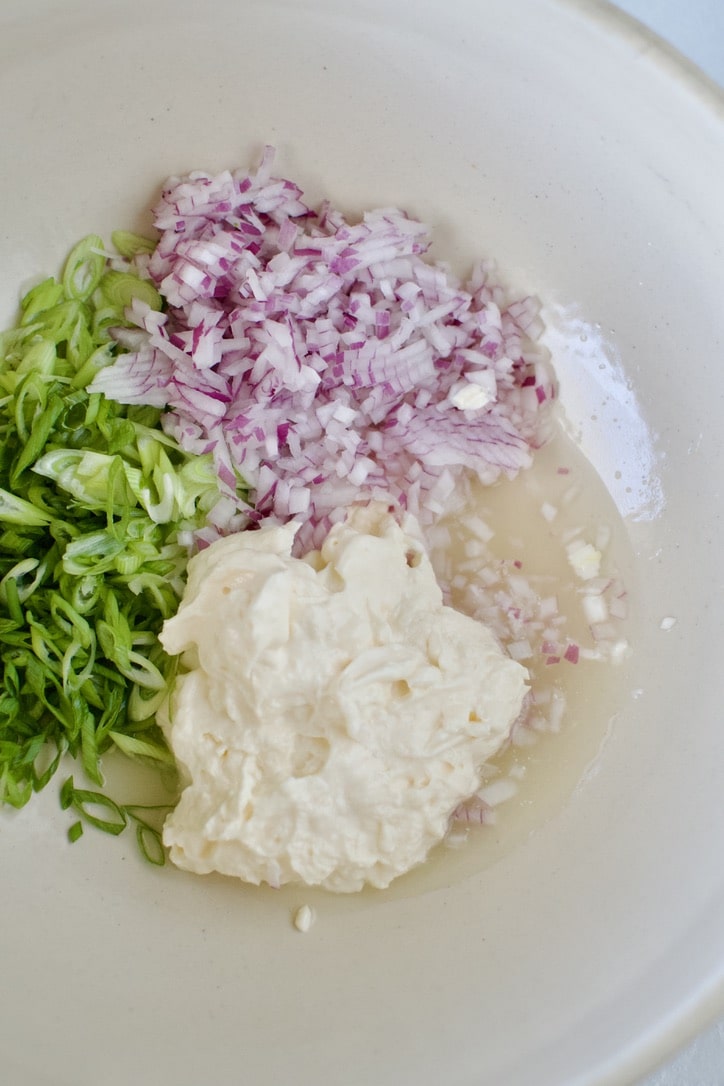 I then dice the chicken, apple, and pecans so they are all the same size. I like to make everything pretty small so it fits easily on crackers or chips. Mix it into the dressing and onions and it is ready to eat.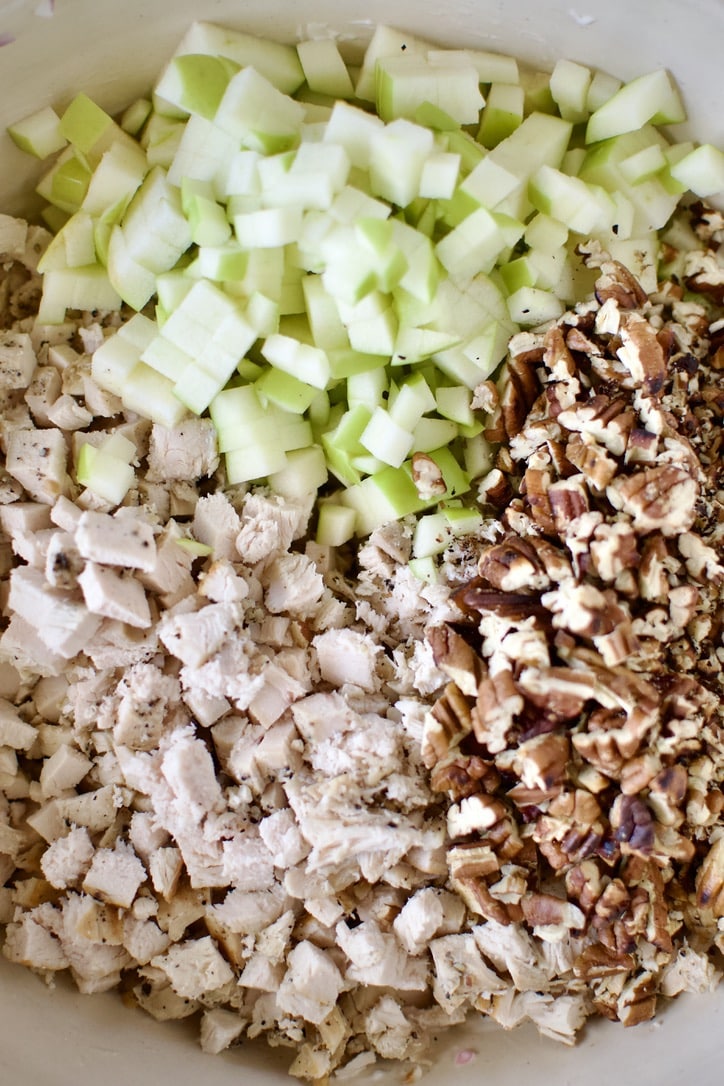 Serve with chips, crackers, or as a sandwich. It also makes great meal prep. I like to put some chicken salad, grapes, and veggies of choice in a container for quick and easy lunches.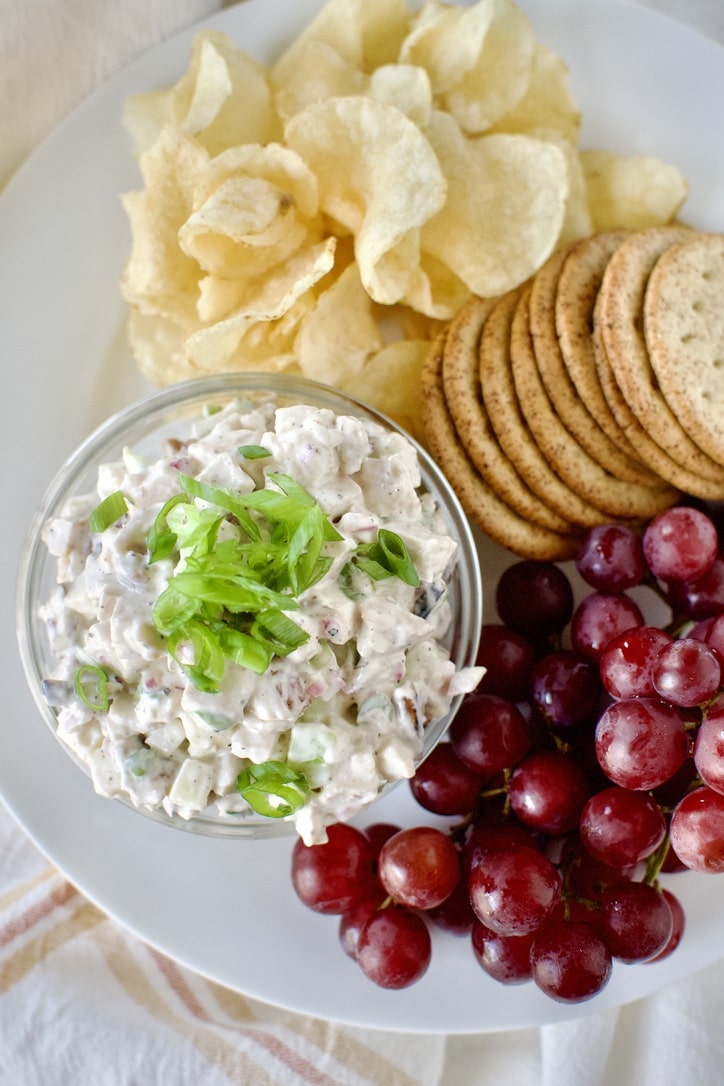 Notes & Tips
This is a great way to use chicken leftovers. I typically make it with 3-4 chicken breasts, but you can use 1-2 also. It is also great with any cut of chicken, not just breast.
When I am planning to cook chicken, I will often times cook a few extra pieces so I can make this for quick lunches. You could also purchase a whole rotisserie chicken with the intention of making this Simple Chicken Salad Recipe and use all of it for this.
Substitutions
You could lighten this up a little by swapping the mayo for some full-fat greek yogurt. Just be sure to use a plan, an unsweetened one.
I LOVE red onions, but you could swap them for a sweet yellow onion or even white onion for an extra bite.
I would suggest keeping the green onions for the subtle flavor and some color, you could leave them out if needed.
White Balsamic or Champagne Vinegar are my favorites, and they bring a little sweetness to this recipe. You could swap it for apple cider or rice wine if needed.
I typically use a grilled or baked chicken breast, but rotisserie chicken also works great for this recipe, plus you can use the whole chicken.
Green Apple or Honeycrisp is what I usually have on hand. But you can absolutely use your favorite apple to make this recipe. Grapes or other fruits are also great in it.
What is great about chicken salad is you can make it your own and use your favorites or even use it as an excuse to clean out the fridge and pantry. While I call for pecans...walnuts, pistachios, almonds, or my personal favorite, sunflower seeds would also be great choices.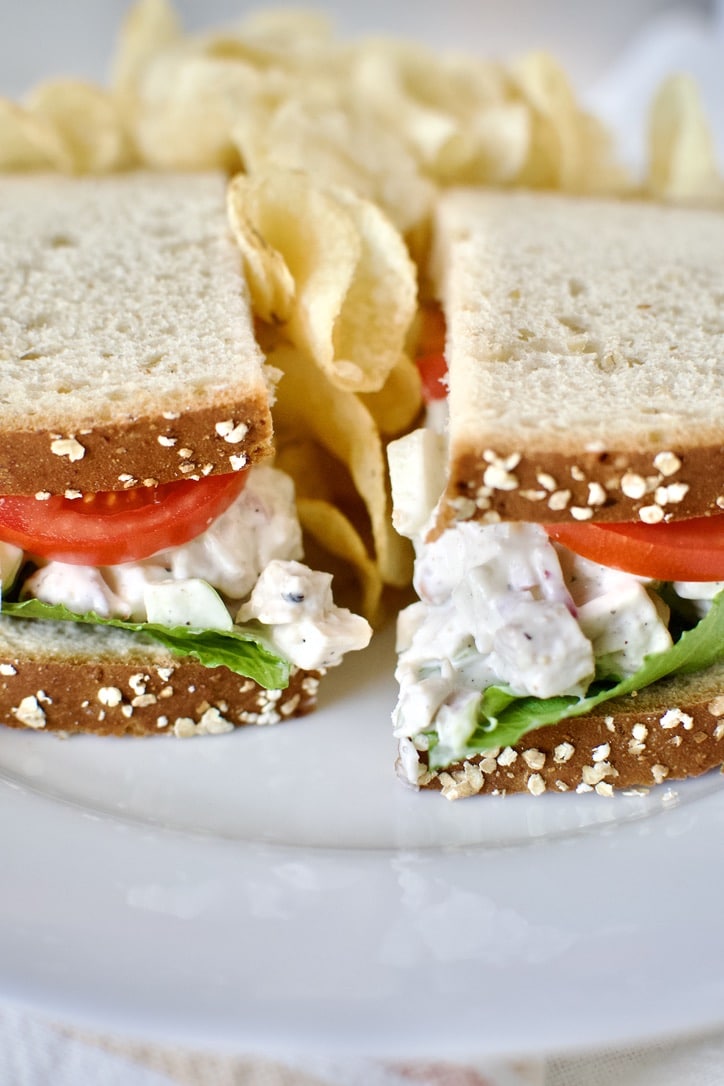 Did you make this recipe? Let me know by leaving a review or comment! And be sure to sign up for my newsletter, and follow along on Instagram, Pinterest, and Facebook!