I can't encourage y'all enough to put on some classical music and jump into the kitchen to get inspired. That is how this Spatchcock Chicken recipe came to be. Cooking can be peaceful if you take a moment to slow it down and enjoy it!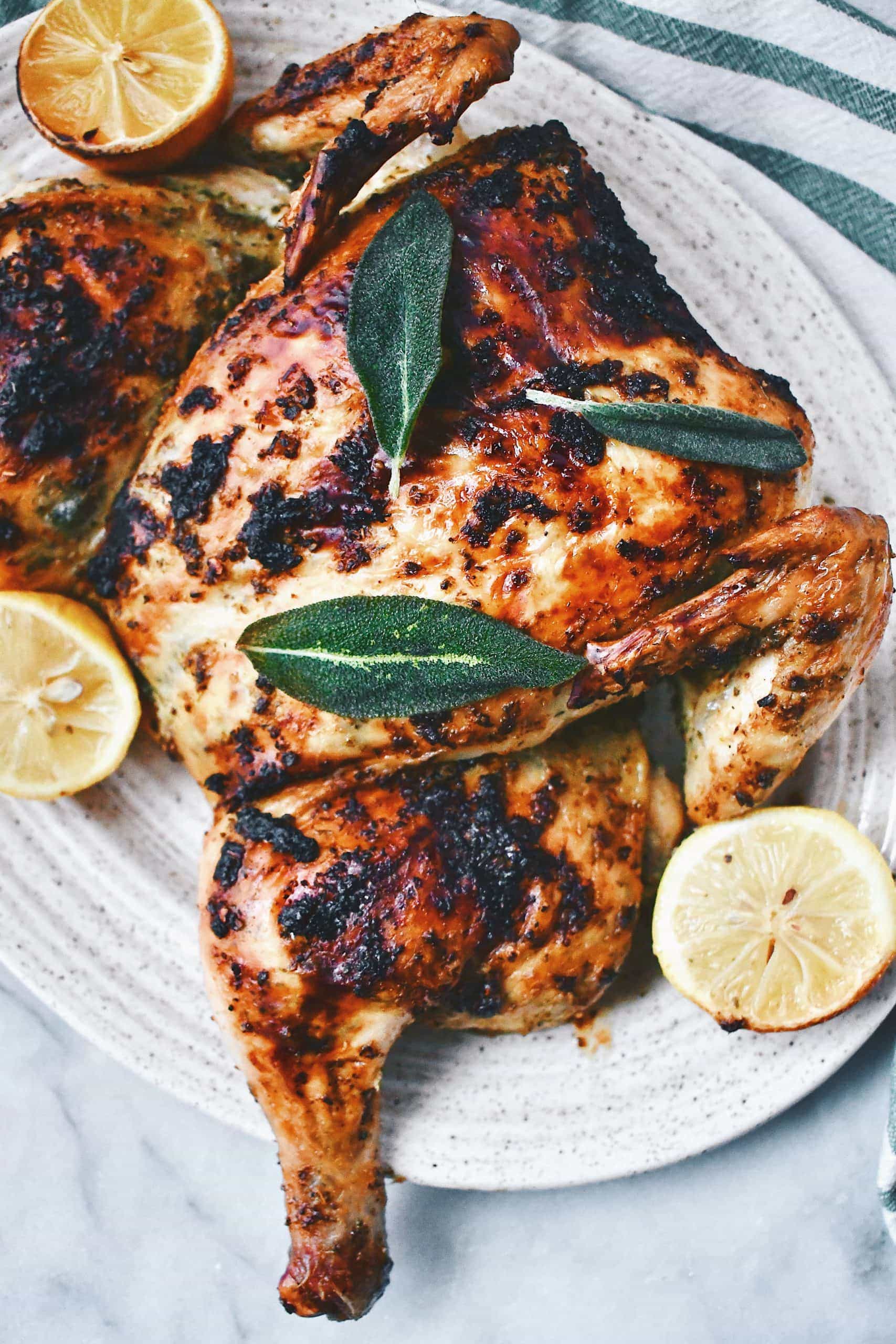 Why Spatchcock a Chicken?
Spatchcocking or butterflying a chicken is the process of removing the backbone from tail to neck and opening the bird up. Pressing down on the breast bone and laying the chicken flat will speed cooking.
This benefits you by creating an end result of evenly cooked meat that will remain more tender and juicy. That's because it won't dry out one portion of meat before the other finishes cooking.
Spatchcock is a specific kind of butterflying technique, for birds.
The real term is to "spatchcock." Alan Davidson explains in The Oxford Companion to Food: "The theory is that the word is an abbreviation of 'dispatch the cock,' a phrase used to indicate a summary way of grilling a bird after splitting it open down the back and spreading the two halves out flat."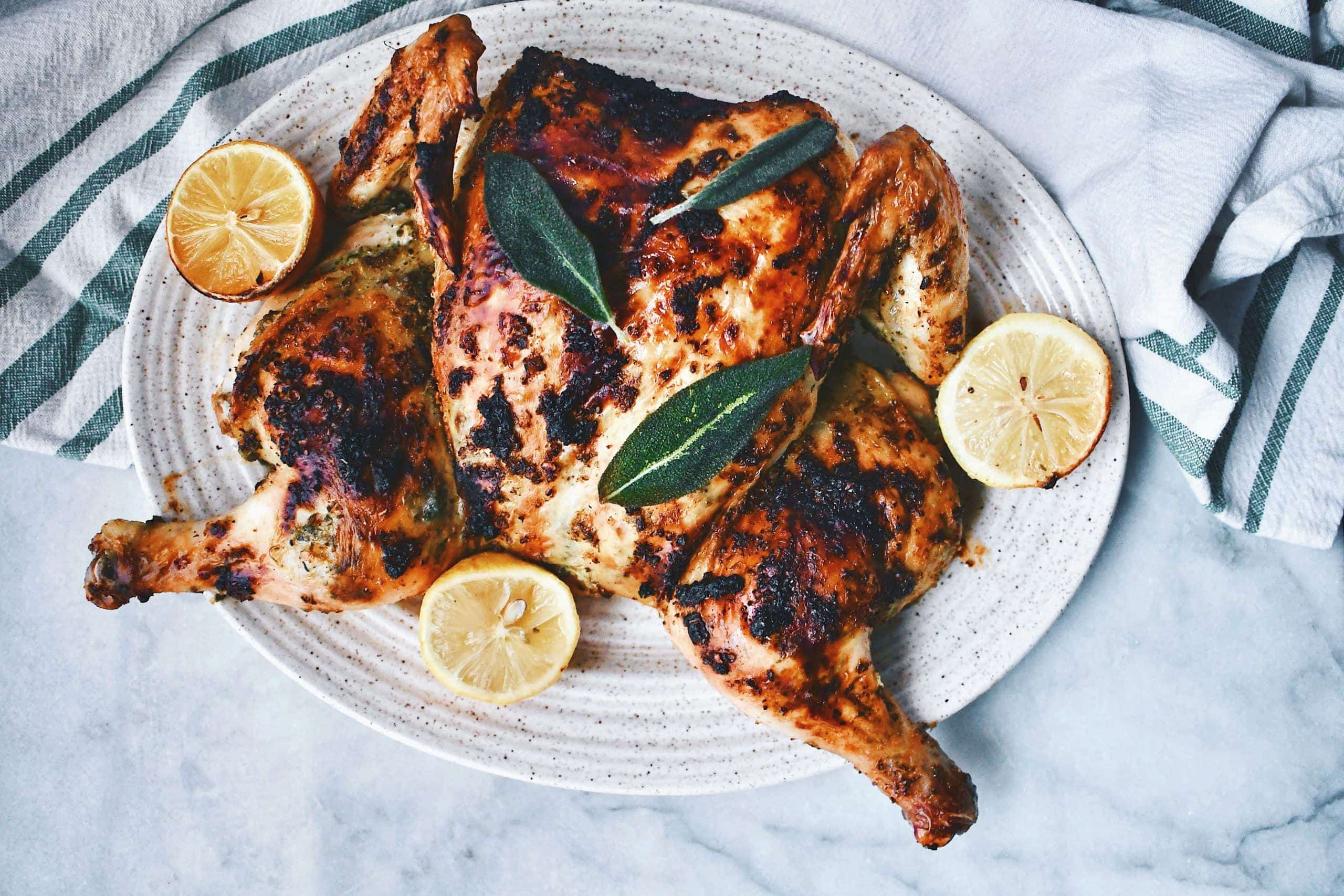 Preparing the Chicken
After you have spatchcocked your chicken, gently lift the skin around the breast and thigh and sperate it from the meat. Season both sides with salt and pepper as well as under the skin. This is something you can do 1 hour before cooking, up to overnight.
Then rub the chicken down with the herb butter. Like giving your chicken a massage. You want to get a nice coat of butter on every inch so that it will brown evenly and crisp.
Then lay the chicken out on the pan and press down to split the breast bone. Getting it as flat as possible it what you are going for. I then lay some lemon halves under the breasts to give off more flavor and release steam to keep the breast meat tender and moist.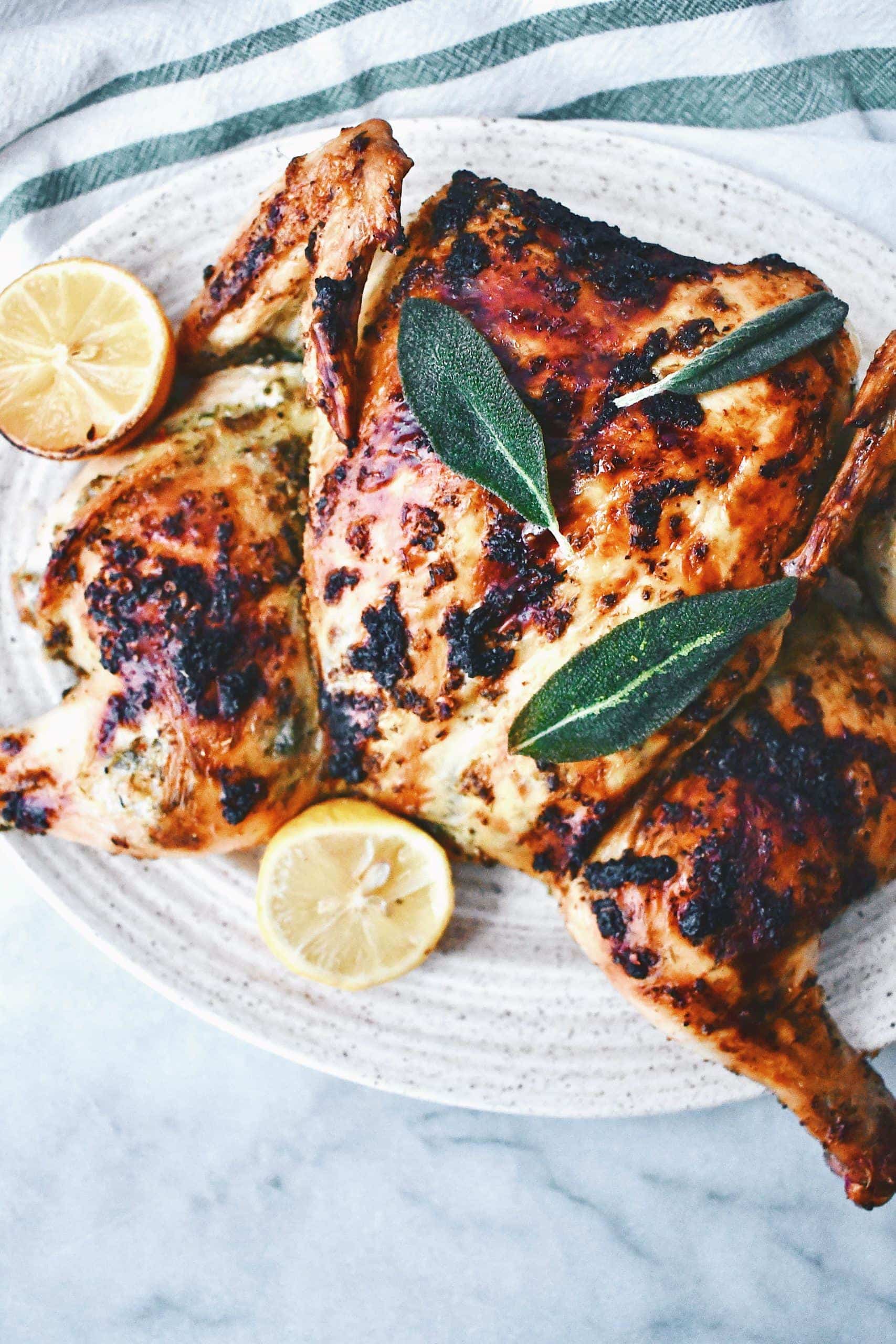 Spatchcock Chicken
Ingredients
1 3-4

lb

Whole Chicken

backbone removed (spatchcocked)
Kosher Salt, and Black Pepper

4

T

Butter

soft, slightly melted

2

T

Chives

fresh

6

Sage Leaves

fresh

1

Lemon

juiced

1/2

t

Oregano

dry

1/4

t

Tarragon

dry

1/4

t

Red Pepper Flakes

1

t

Kosher Salt

1/2

t

Black Pepper

2

Lemons

halved
Instructions
After you have removed the backbone of your chicken season it with salt and pepper and set aside on a sheet pan.

In a small food processor, combine the butter, chives, sage, lemon juice, oregano, tarragon, red pepper flakes, salt and pepper, and pulse to combine. Alternatively, finely chop the chives and sage and add to the butter with remaining herbs and mix with a spoon or spatula.

Rub the herbed butter mixture all over the chicken and under the skin of the breasts and thighs.

Place the two halved lemons under the center of the chicken in a line, forming a natural roasting rack under the breast bone.

Roast at 425 for 30 minutes. Reduce the temperature to 350 and cook for 15 minutes longer or until an instant-read thermometer reads 165 degrees when inserted into the thigh. For the juiciest bird, roast to about 155+ degrees and then tent foil over after removing it from the oven and rest 10-15 minutes to finish cooking. This is called carryover cooking and happens with all meats. Resting will allow all pieces of the bird to finish cooking and the juices to redistribute evenly.
I served this recipe alongside my Pumpkin Sage Risotto. They make a perfect pair and turn it into a meal!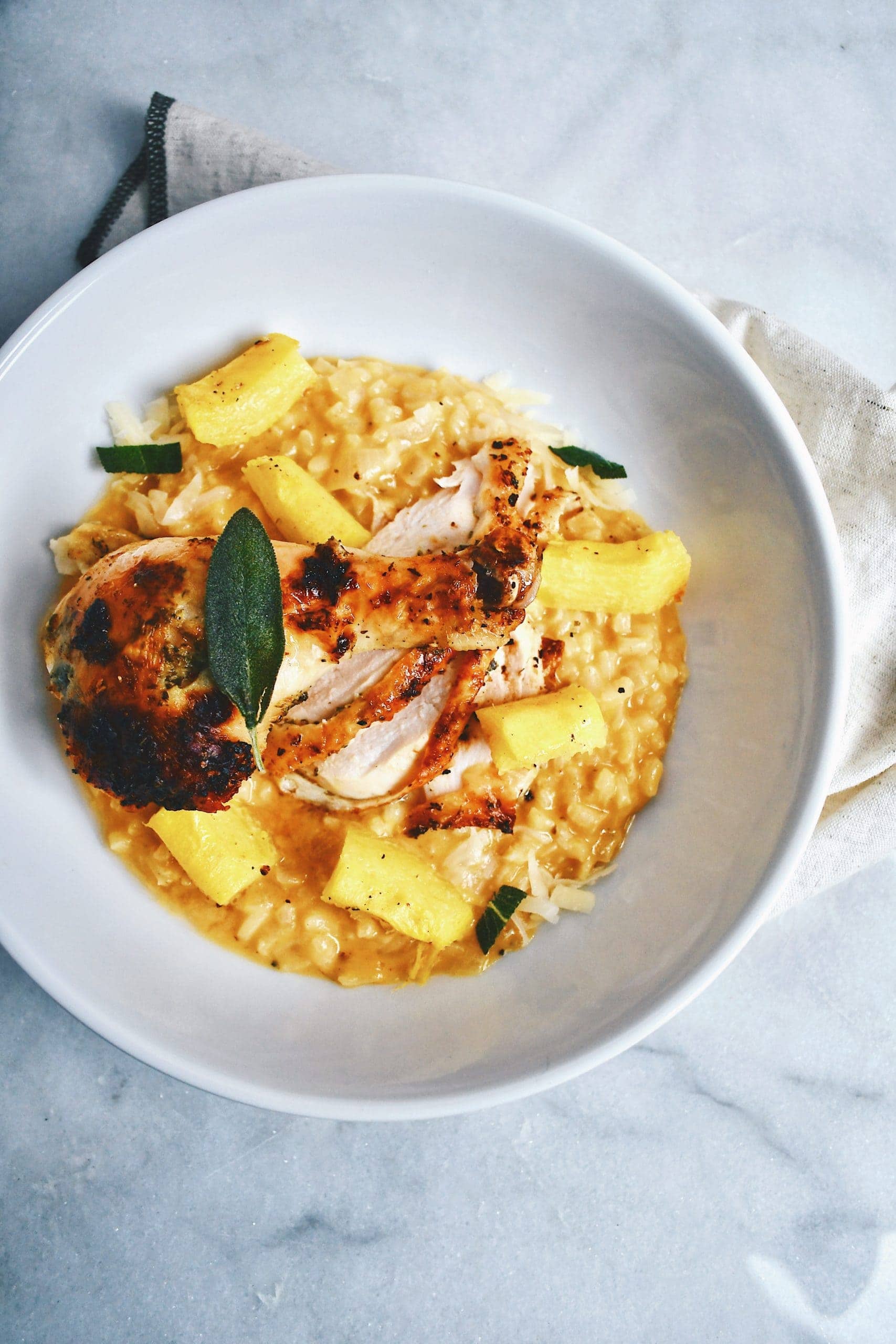 Great sides from my friends!
Round it out with my friend Sarah's Crispy Broccoli or Kathryn's Crispy Parsnip Fries.
MY LATEST RECIPES!
Get my NEW e-Cookbook here!! ⬇️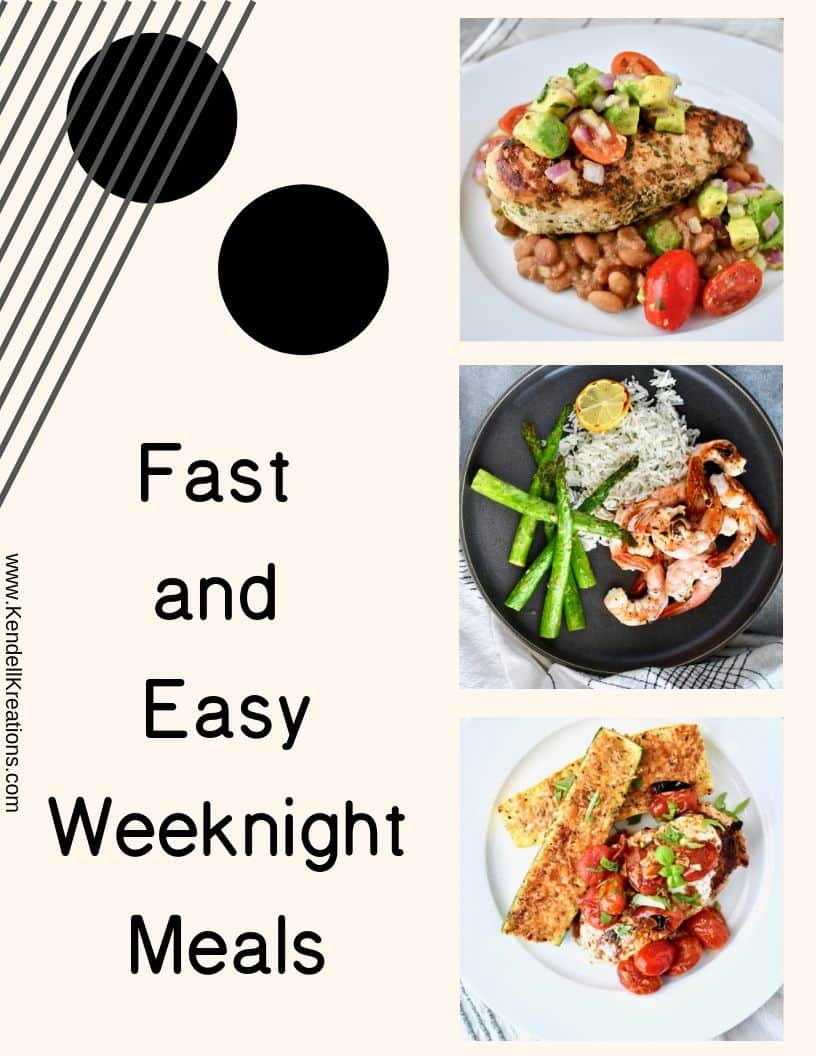 MY FAVORITE KITCHEN TOOLS!
Here are a few links to some of my favorite kitchen tools! You get a car, YOu get a car, YOU ALL GET A CAR…in my best Oprah voice
These Rösle Silicone Tongs are a little pricey but they will last you the rest of your life and are the softest in your hand. This is important for someone like m that cooks so much. It reduces strain, I have 4 sets in my kitchen!
These are my FAVE Nordic Ware Sheet Pans, every kitchen should have at least 2 sets of these! I think I have at least 4 of each of these.
This is my favorite pressure cooker, the Fagor is the same concept as the "Instant Pot" but easier to use in my opinion, if you don't have one you NEED one, it will be your best friend in the kitchen!
A sharp knife is the most important tool in the kitchen, these Japanese steel "Shun" knives are my favorite! And this is a great starter set to build on. Once you try them you will be in love so use this as a foundation you can build on for years to come.
This Scanpan 11″ skillet is just the right size for almost anything you will need to cook and my best friend and a real workhorse in my kitchen, it's also a great deal at $99. Scanpan is the best in the world for healthy cooking. It is coated with a proprietary ceramic-titanium coating that is durable while allowing you to use fewer fats and oils when cooking. It is a coating only they use. I could talk all day about my love for these pans, message me if you want more info. Here are some other sizes that are available if you are looking to outfit your kitchen with some new goodies. 8″ & 10″ Skillet set or 8″ Skillet, I still need this one for my kitchen Also, I don't really know how to cook small so the 12.5″ is my other fave!
This giant vat of olive oil is my favorite, I decant it into a smaller bottle for my counter. Or put this spigot on top of a wine bottle!
My favorite baking dish that is so easy to clean even burnt on cheese slides right off!
This Tovolo jar scraper has to be my single favorite kitchen tool, it is definitely the most used tool in my kitchen. If you are NOT a gadget person, this is the only necessity I say is a MUST beyond the wooden spoon.
A great wood spoon is essential, this Olive Wood one is my favorite, I have more than I can count. But can you really ever have too many?
A food scale can be a very important tool in your kitchen, this one is the one I use every day!
If you love Joanna Gaines as much as I do then the 'Magnolia Table Cookbook' is a must in your kitchen, get a copy HERE!