Fully loaded or topped with any variety of things you can imagine, these Crispy Skin Baked Potatoes are the potatoes of your dreams. I enjoy making these potatoes on a night I am grilling a great steak. They are a match made in heaven, just ask me how I know!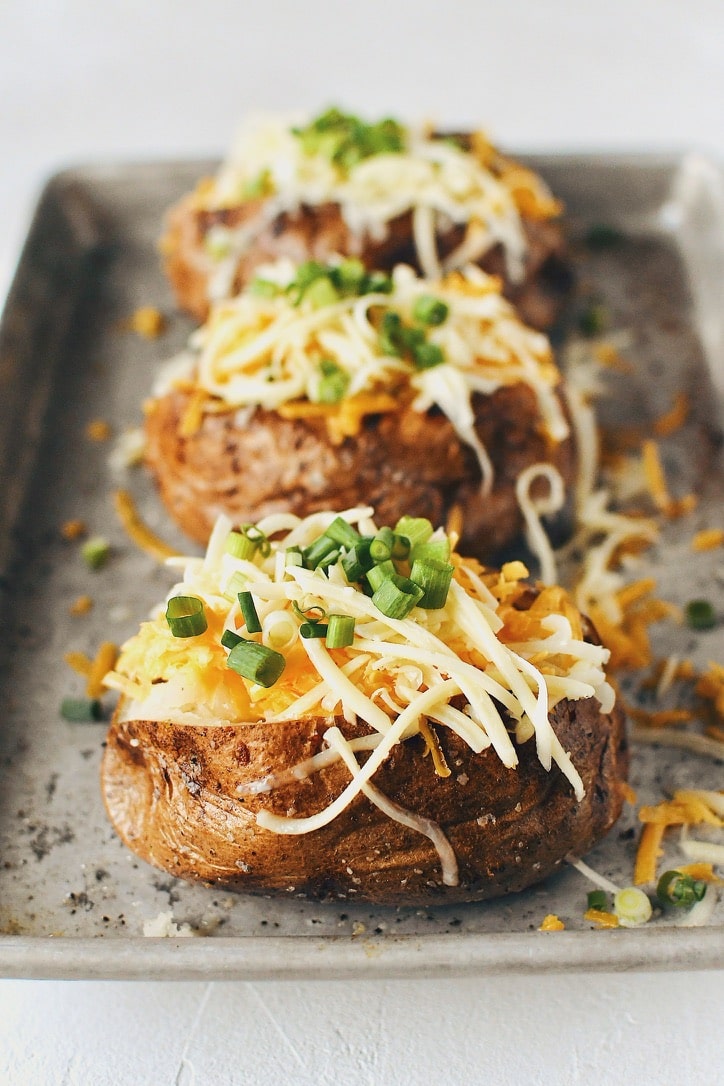 Jump to:
Ingredients
The ingredient list for these out-of-this-world Crispy Skin Baked Potatoes is the tiniest of tiny! Along with the obvious potato, all you need is some olive oil, kosher salt, and fresh cracked black pepper.
Each ingredient, few as they may be, plays an extremely important role. Let's talk about the salt first. It is super important to use a grainy flaky salt, it helps to absorb or draw out the moisture of the potato while baking, which results in a dry, fluffy potato.
There is some back and forth on if you should oil your potatoes before baking, and personally, I like to use it! Use a decent quality olive oil, because it will provide flavor, as well as add crispness to the skin. The real key is making sure the potatoes don't have water on them before you oil them, so be sure to give them a good scrub early in the day so you can eat that crispy salty skin at the end.
Use the JUMP TO RECIPE button at the top of the post, or scroll to the bottom of the post to see the full recipe card with ingredient measurements and instructions.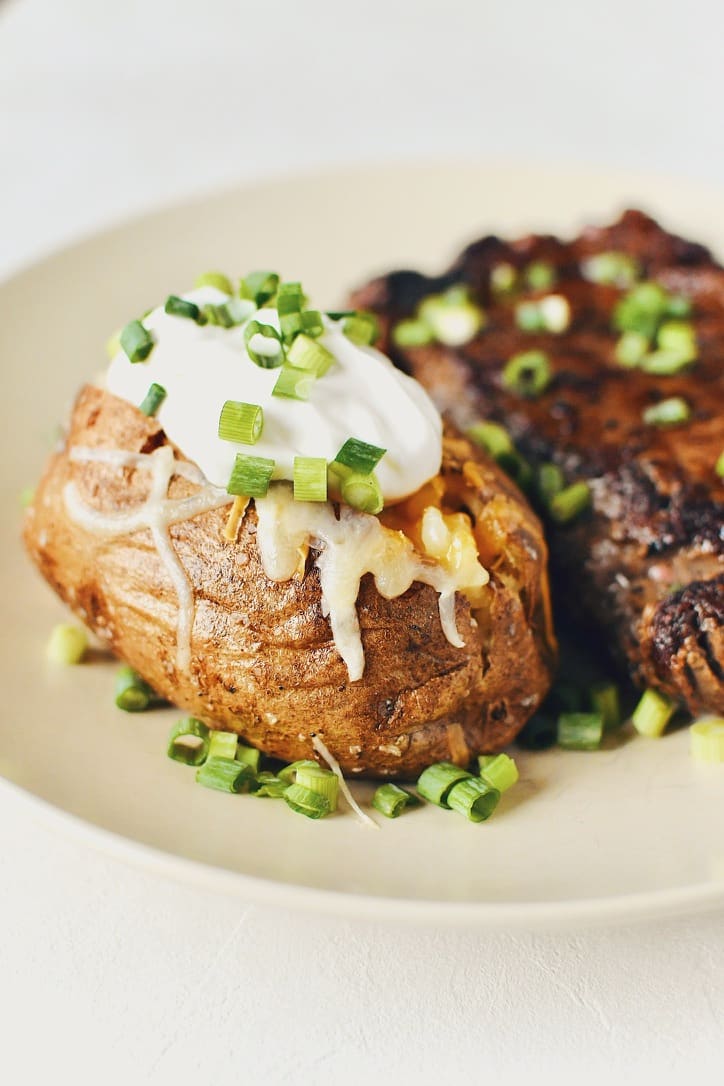 Method
Step one, before anything else, wash and scrub your potatoes. When I am buying with this recipe in mind I wash them as soon as I get them home from the store so I am ready to make them whenever I feel like it. One key to a crispy-skinned potato is no water on the skin when they go in the oven.
Next, rub them down with olive oil and really massage it in. Sprinkle on some salt and crack on some fresh pepper, and rub that in so there is salt all over the skin of the potato. Be sure to give each potato a good massage with the oil and seasonings for the best end result.
The last thing you want to do before the potatoes go in the oven is to prick them with a fork. This is a fairly important step to getting crispy skin too. This allows the potatoes to release some steam while they cook, allowing for a super fluffy inside.
It also prevents the potatoes from exploding in the hot oven. This doesn't happen often, but it can happen, so be sure to prick them, 5 or 6 times is all they need.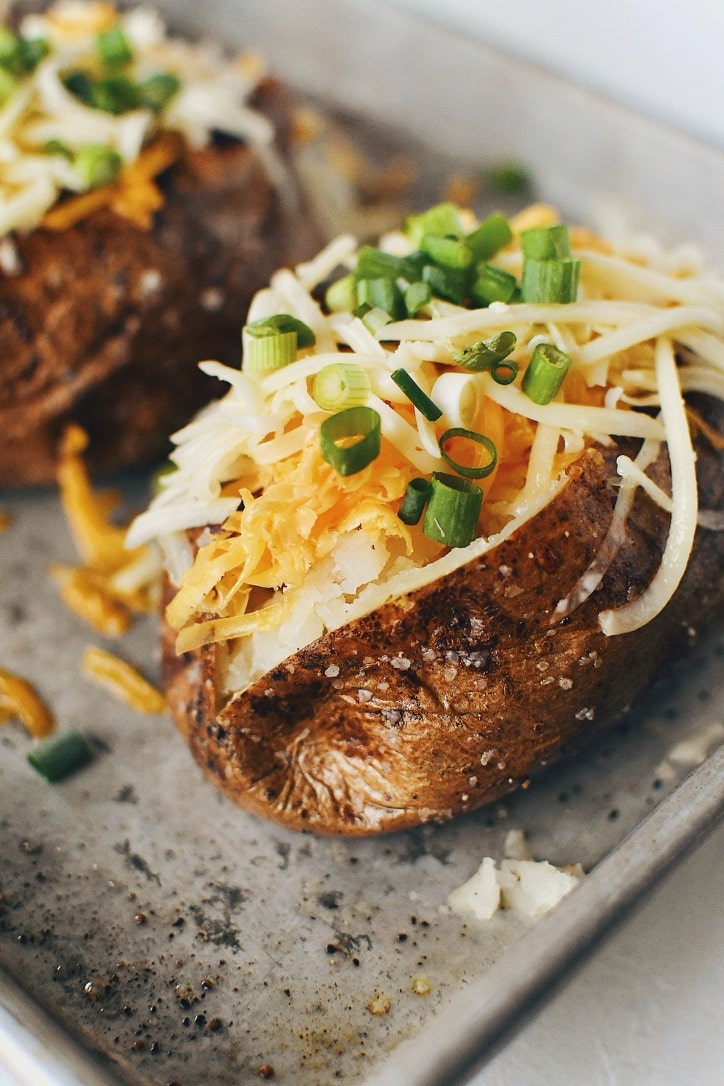 Notes & Tips
The perfect temperature for achieving super Crispy Skin Baked Potatoes is 425˚F. This allows for you to get a crunchy skin and pillowy interior.
Be sure to prick your potatoes with a fork, about 5 to 6 times, on one side is all they need so they don't explode in the hot oven.
Wash your potatoes as soon as you bring them home from the store. This ensures they are ready to cook at a moment's notice. Doing this ensures your skin will get crispy.
After the potatoes cook, I like to fluff each potato with a tablespoon of butter and a little salt and pepper so the inside is as flavorful as the inside. Then I top with cheese while the potato is still warm, from there I add sour cream, green onions, and bacon if you so choose.
For best results, flip your potatoes over halfway through baking so one side doesn't get hard or tough.