These tiny cabbages have seen quite a resurgence in popularity in recent years. Steering clear of the steamed or boiled memories of them from childhood, my take on these Crispy Brussels Sprouts complete with crispy chicken skin cracklings and some bacon to send it over the top, will quickly become your favorite way to eat your green vegetables. Dare I say, even making them CRAVEABLE!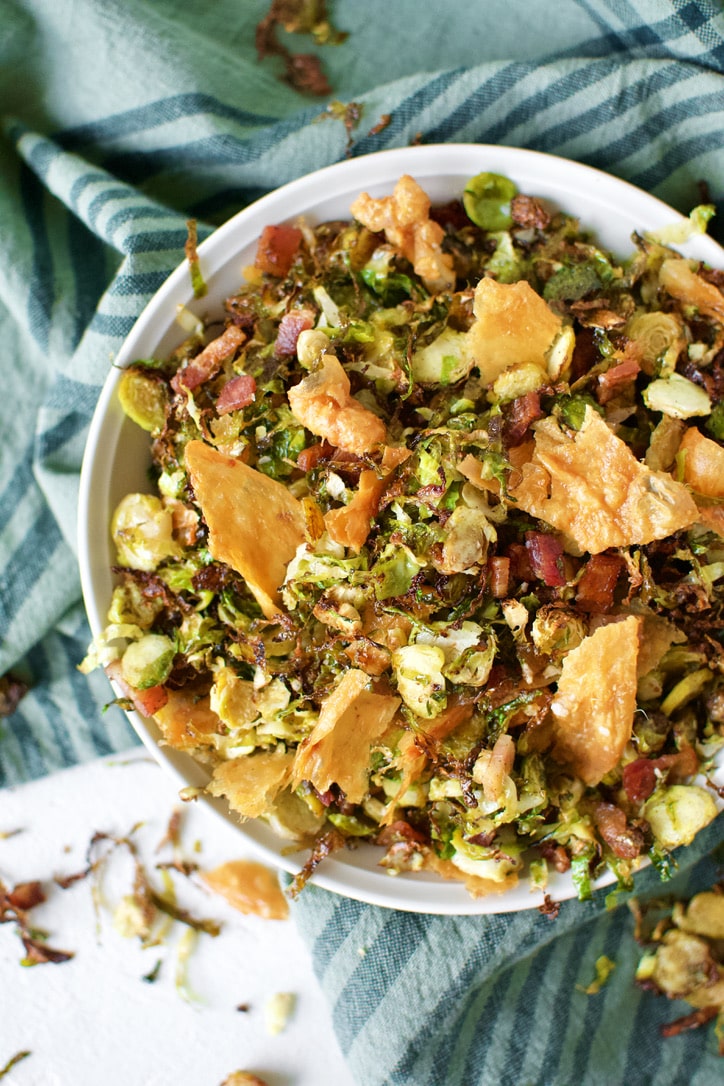 Jump to:
Ingredients
The ingredient list for this recipe is SHORT! One of the shortest I have ever produced. And while you do have to work for your chicken fat, it is worth it for the flavor and crisp this extra step brings.
Nowadays you can buy your brussels sprouts already shredded in some grocery stores. But they are not hard to do by hand. This is probably the one step that will take the most time. I do mine on a mandoline, but it can be done by hand, simply slice them as thin as you can.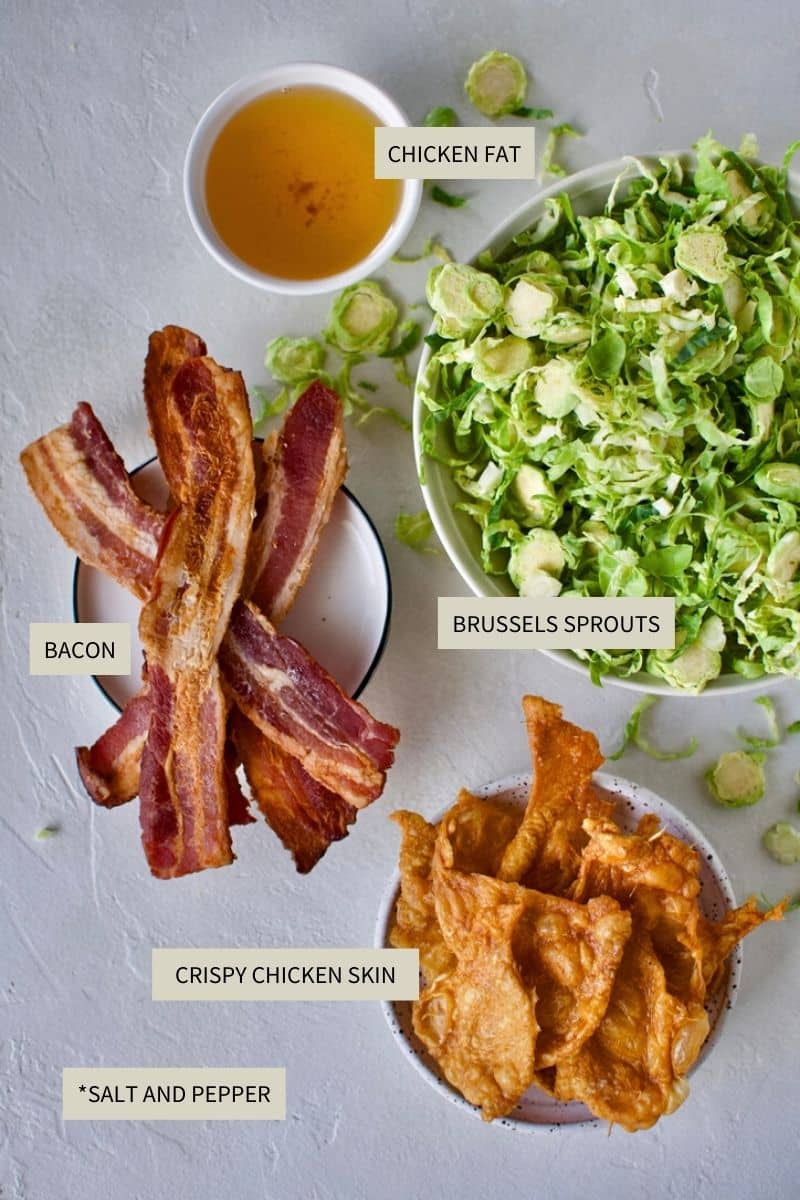 Use the JUMP TO RECIPE button at the top of the post, or scroll to the bottom of the post to see the full recipe card with ingredient measurements and instructions.
Method
The first step of this recipe is harvesting the chicken fat. To do this you will need some chicken skin, I save mine from when I buy chicken thighs and remove this skin, some butchers will also give you some at higher-end grocery stores. If you save it over time, just put it in a zip-top bag until you have enough to make this recipe. I use the skin of 6-8 chicken thighs or 4 chicken breasts.
How to create crispy chicken skins or chicken cracklings, and harvest chicken fat or schmaltz? Place chicken skins on a parchment-lined baking sheet, top with a second piece of parchment and sheet pan, and bake in a hot oven till much of the chicken fat has been rendered from the skin. When it is partially cooked, remove the second pan and parchment and allow the skin to finish crisping in the oven uncovered.
The purpose of the second pan is to keep the skin flat while cooking. This gives you the crispiest skins and helps release the most fat which you will use to season your brussels sprouts.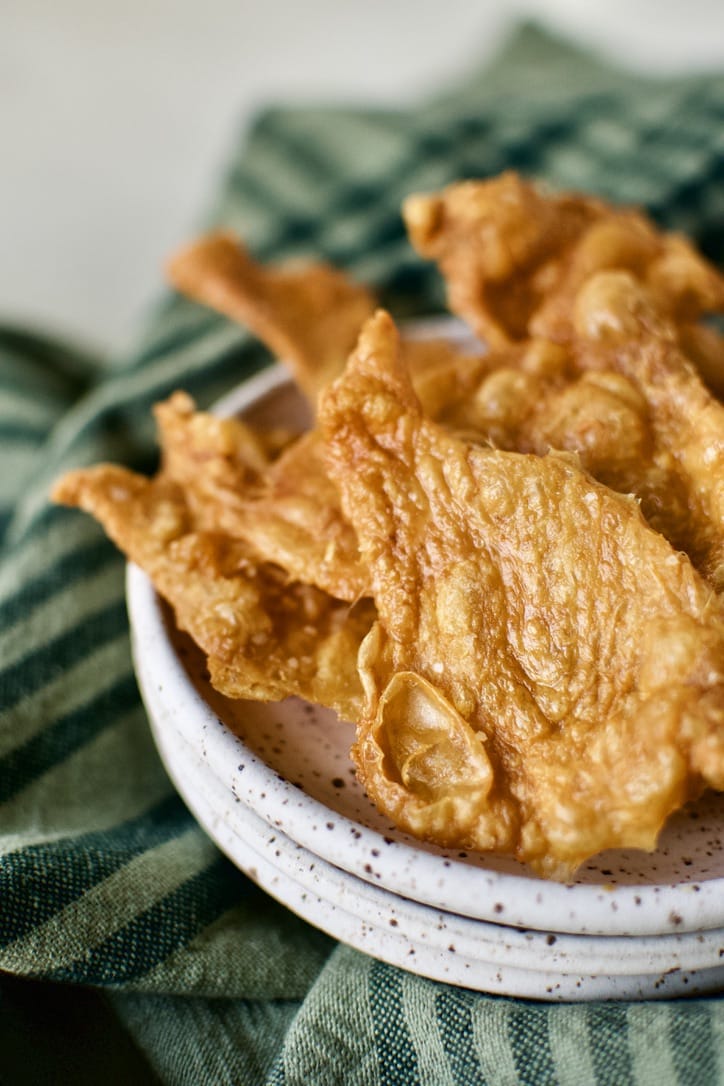 Once you have your crispy chicken skins, remove them from the pan onto a paper towel-lined plate. Pour every drip of chicken fat you can get off the pan into your shredded brussels sprouts. Add in the bacon and seasonings and toss to coat.
Lay the mixture out on a sheet pan and roast them until the brussels sprouts get crispy. Stir them every so often, pulling the outsides that are crisping to the middle. Push the less crips center to the outside until all the sprouts are crispy.
When everything has crisped up nicely, crumble your crispy chicken skins over the top and serve immediately while still warm. For a little sweet and tart flavor, you can also drizzle over a little aged balsamic vinegar or balsamic glaze too.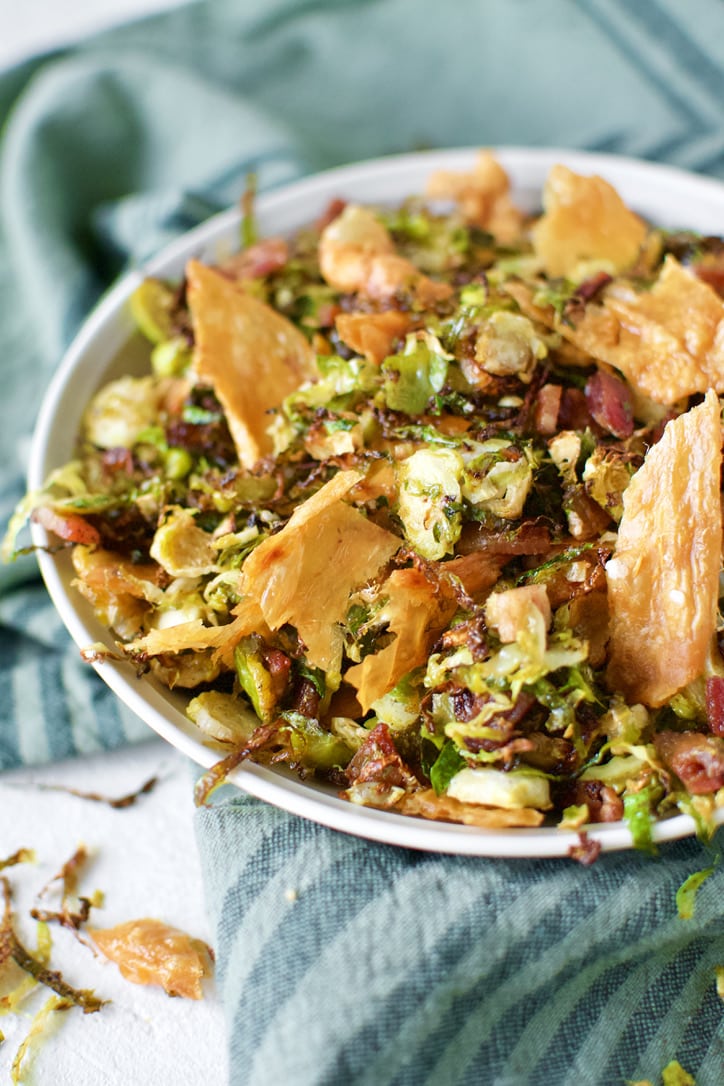 Notes & Tips
If you can, buy your brussels sprouts already shredded. If you can't find them this way, simply remove the hard bottom tip and slice them with a sharp knife. As thin as you can get them. Try to make about 4 slices per sprout if possible.
I know you might think that 2 pounds of brussels sprouts look like a lot, but when they cook they turn into nothing. They really cook down a lot, so what looks crazy at the beginning won't in the end.
Cook your bacon ahead of time, I par-cook mine. Meaning that I either remove some slices when they are half cooked. Or just stop the cooking just when they start to crisp on the outside and the center is still fairly soft. You don't want to start with super crispy bacon, because when it cooks with the sprouts it may blacken.
The best way to cook bacon is on a foil-lined sheet pan, in the oven at 425˚F. Bake 25-30 minutes until crisp, about 20 minutes if used for this recipe. This allows most of the fat to render off but leaves just enough to bring some flavor and texture to the sprouts.
When the sprouts come out of the oven, as an optional addition, they can be drizzled with some aged balsamic vinegar or balsamic glaze for an extra sweet and tart kick. It is a nice balance to the saltiness of the bacon and chicken fat, but totally optional.
More great ways to enjoy your veggies
Did you make this recipe? Let me know by leaving a review or comment! And be sure to sign up for my newsletter, and follow along on Instagram, Pinterest, and Facebook!