If you are looking for hearty and heartwarming, look no further than this Steak and Potato Soup. This one is my dad's favorite because he loves those two things! He's a real meat and potatoes kind of guy so when making soup a dinner, this is right up his alley.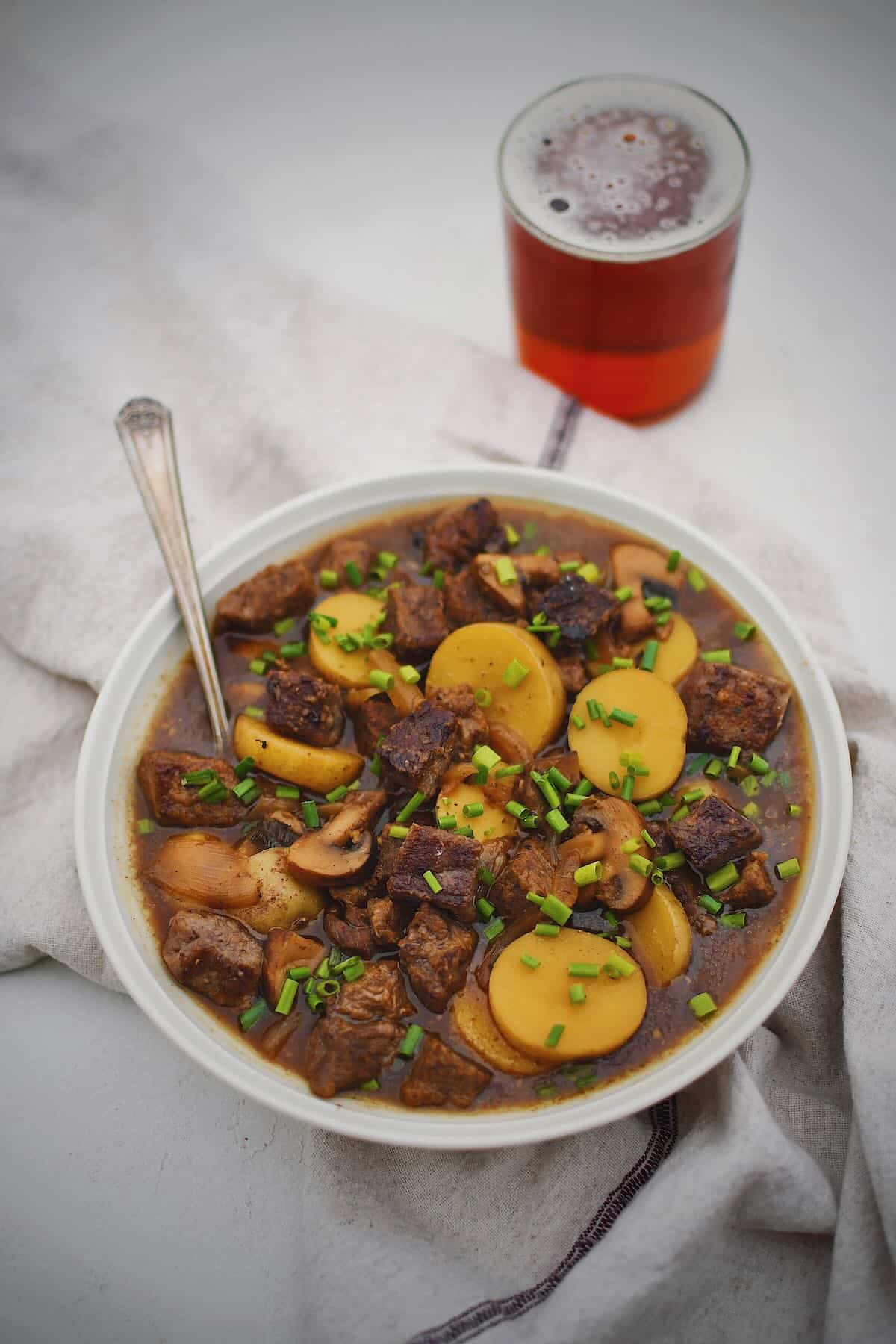 As you can see, this soup is FULL, and when I make a meal out of soup, I like to ensure everyone is satisfied. This one is SUPER meaty and is the cold-weather solution to a grilled steak and baked potato. It also makes excellent meal prep or leftovers because the flavor just gets better as it sits.
Jump to:
Ingredients
Think of this soup as a bit of a steak and ale soup with potatoes. To build up the flavor of the soup I also like to add onion and mushrooms. Then deglaze the pan with a bottle of amber beer, a good Irish red like Killian's or the American Yengling are my favorites to use for this recipe.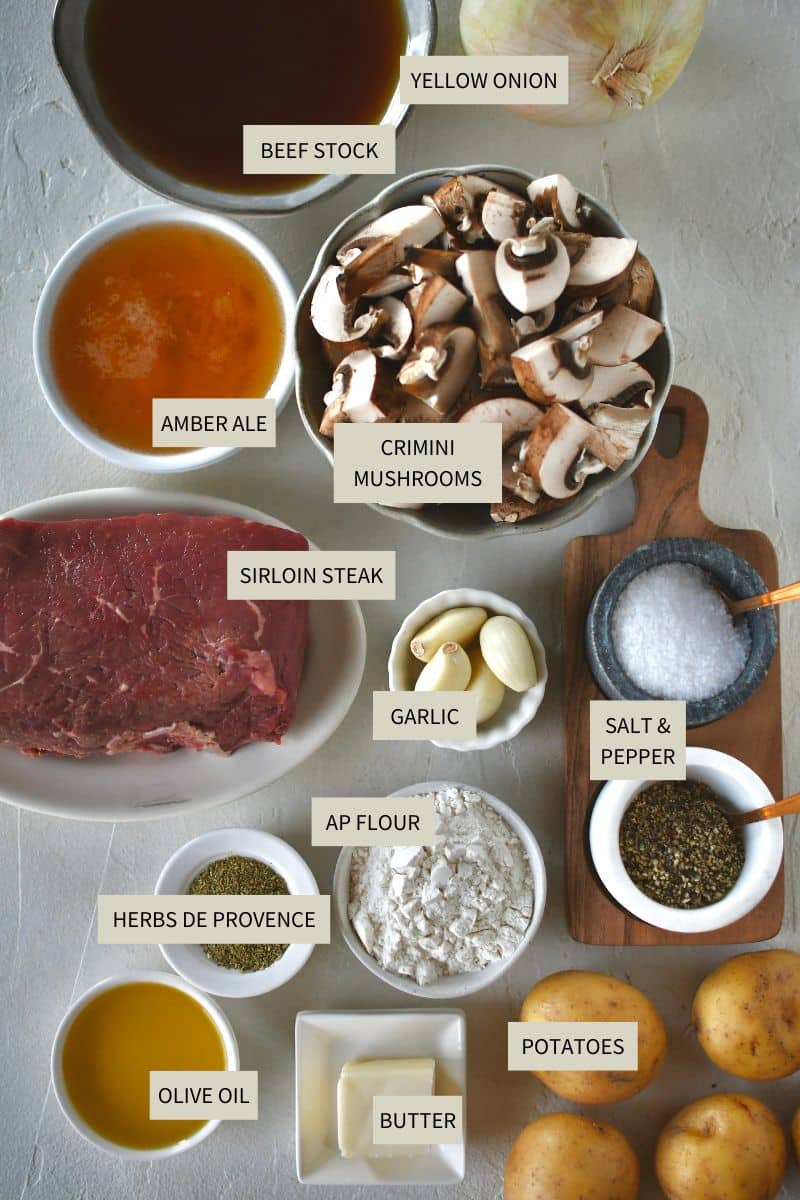 And when it comes to the steak, you can really use any cut you have on hand or prefer. I like to use sirloin because it is lean, perfectly tender for this application, and the most budget-friendly, especially for soup.
Use the JUMP TO RECIPE button at the top of the post, or scroll to the bottom of the post to see the full recipe card with ingredient measurements and instructions.
Method
To start, I dice up the sirloin and season it with salt, pepper, and herbs de Provence and also dust it with some flour. Then sear off the pieces, in batches, as needed, in the oil and butter in a large soup pot. Get them nice and crisp on at least two sides, then pull the out of the pot and set aside till the end.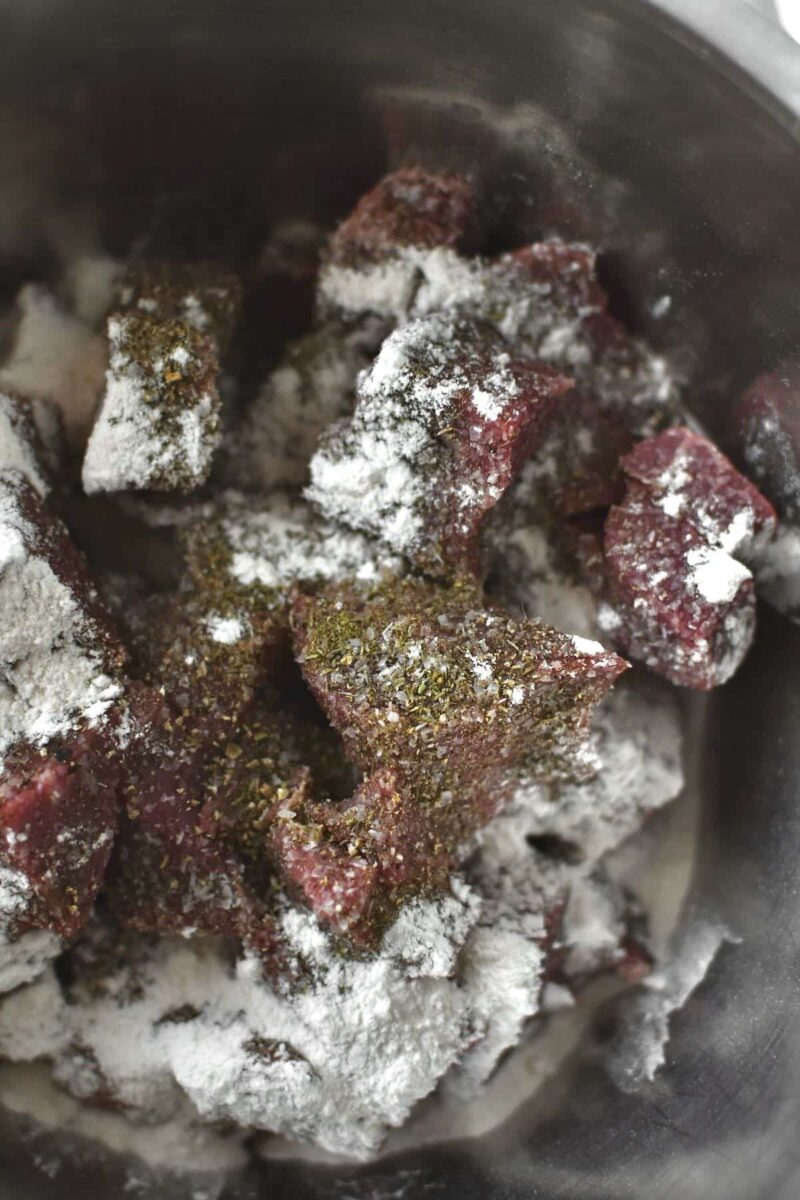 Then add the onion and mushrooms to the pot and cook them till they get deep dark brown. The onions should almost look like you are making french onion soup. Add the garlic to the pot and stir it in for a minute or so, then deglaze the pan with the beer.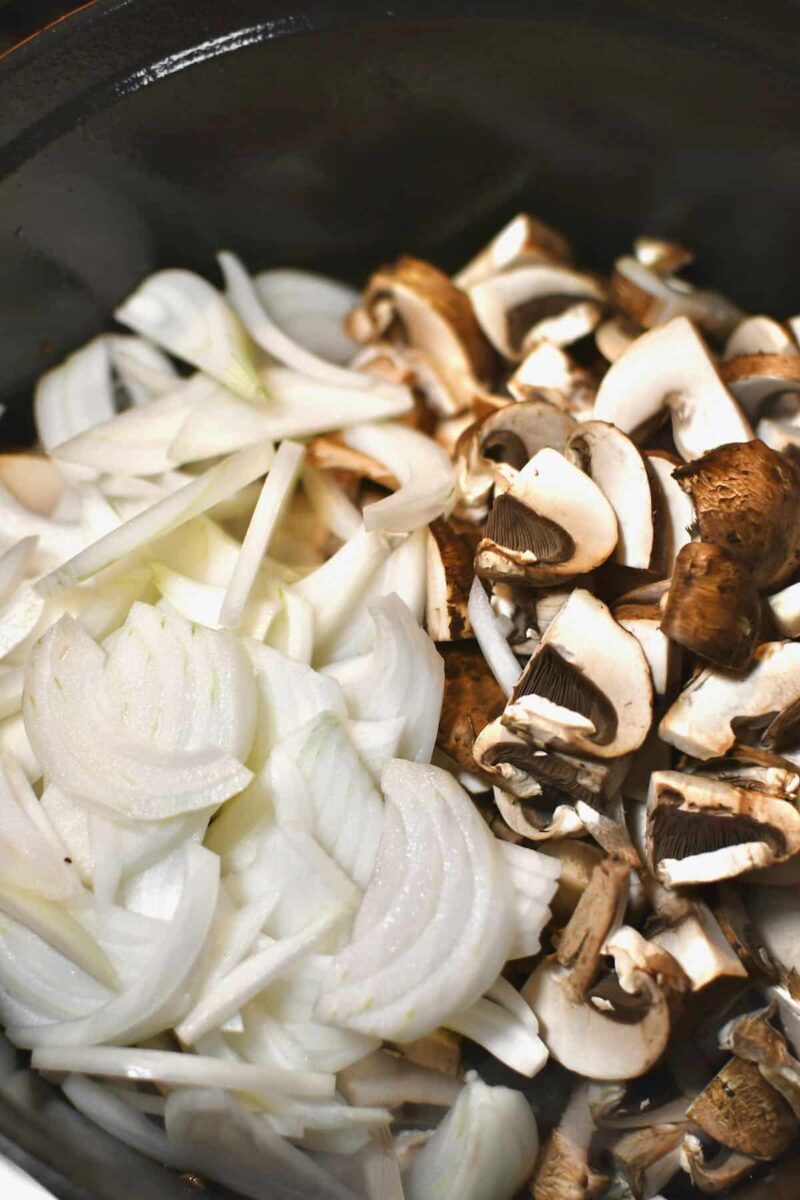 After the beer has simmered a while and you got all the crusty bits off the bottom of the pan whisk in some flour to help thicken the soup just a little. Add the beef stock and the potatoes and simmer till they are soft and then stir the beef back in for a few minutes just to warm it back up and finish everything off.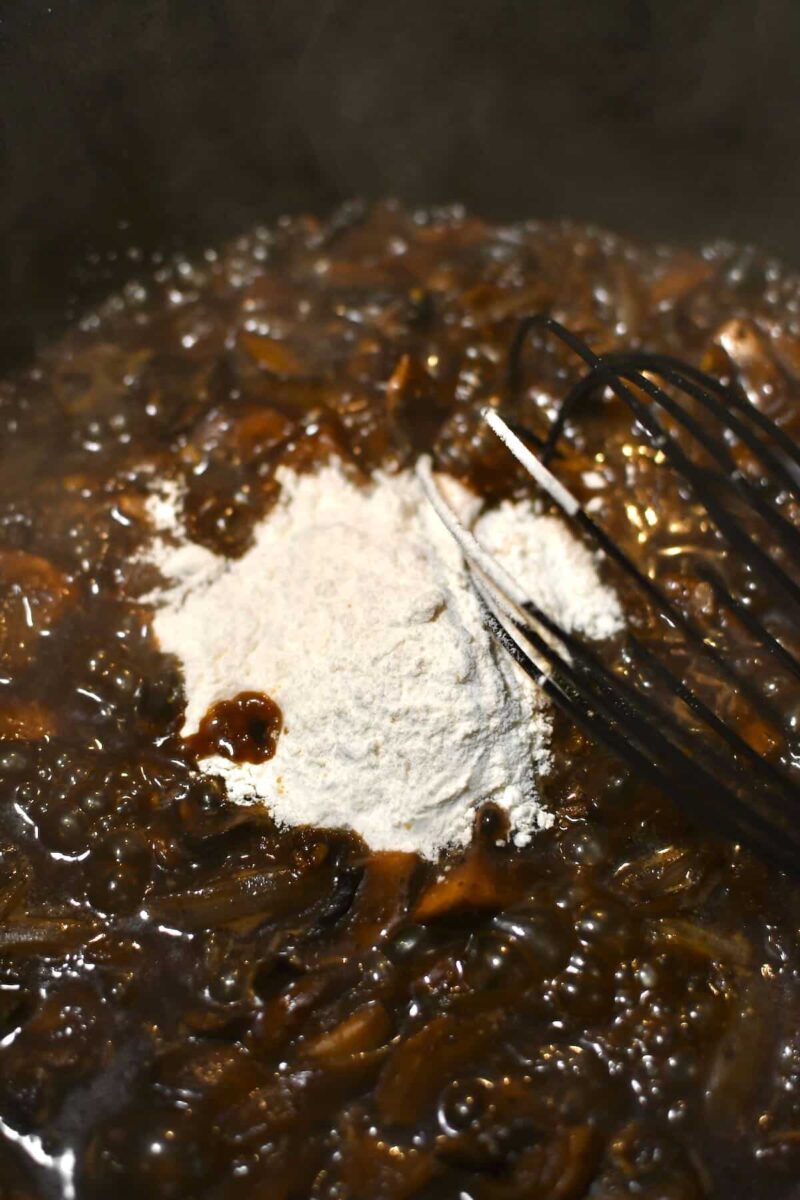 The steak bites only need a few minutes in the hot soup, so make sure the potatoes are tender and then you are ready to serve. I like to finish each bowl off with a generous pinch of fresh chives. When they hit the hot soup you can smell a faint whisper of fresh onion that rounds out the meatiness of the soup really well.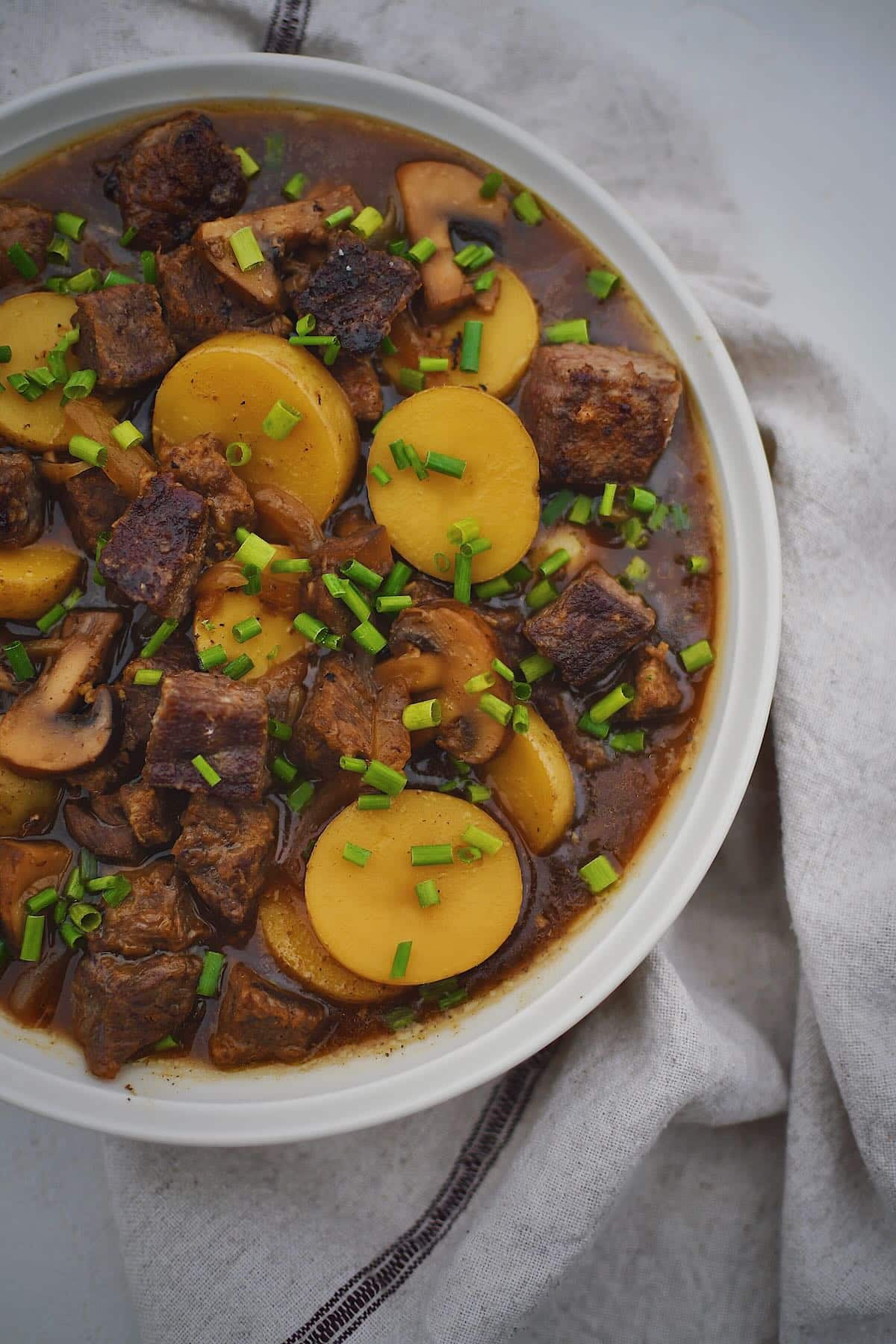 Notes & Tips
Start with a large pot, larger than you think you need. Once you start adding everything back into the pot the soup grows into more than it looks like it will be in the early stages.
I like to keep the steak chunks on the larger side, but still, bite-size. Cut them to any size you prefer.
This soup makes great meal prep or leftovers, it can also be frozen for later enjoyment. It just gets better with age.
Whisking in the flour, or making a cornstarch slurry to thicken the soup is totally optional. I like to do this because it helps absorb the excess fat in the soup and homogenize it through the soup instead of it sitting on top. You can skip this step altogether if a little fat on the top of your soup doesn't bother you and/if you need a gluten-free option.
Substitutions
I like to use sirloin because it is a cheaper cut that is still tender enough for a recipe like this. You can really use any cut of beef you prefer, and if you use something like stew beef, cook it longer and slower and add the potatoes later.
If you need to keep this recipe gluten-free, dust the beef in cornstarch instead of flour. Do the same for later use too, but mix the cornstarch with water first to make a slurry then whisk it into the boiling stock.
If you need to make this recipe dairy-free, use only olive oil in place of the butter. It works just as well.
I use yellow onions because I keep them on hand at all times, but you can use any onion you have, white or red are even great in this soup.
Crimini mushrooms are what I choose for their rich meaty flavor, but use any mushroom you like or might have on hand.
I like herbs de Provence because of the blend of flavors it has and I think those flavors meld so well with beef. You could also use Italian seasoning or a steak seasoning blend if you do not have the herbs de Provence.
I use a good amber ale for this recipe, something I keep on hand and enjoy drinking. You could also make this recipe with something like Guinness for a darker, richer Guinness beef stew-type end result too. If you would prefer a finished soup more on the stew-like side, replace the beer with red wine.
Small Yukon gold potatoes are my preference for their buttery light texture. But feel free to dice larger potatoes or use a bag of those mixed-color potatoes too.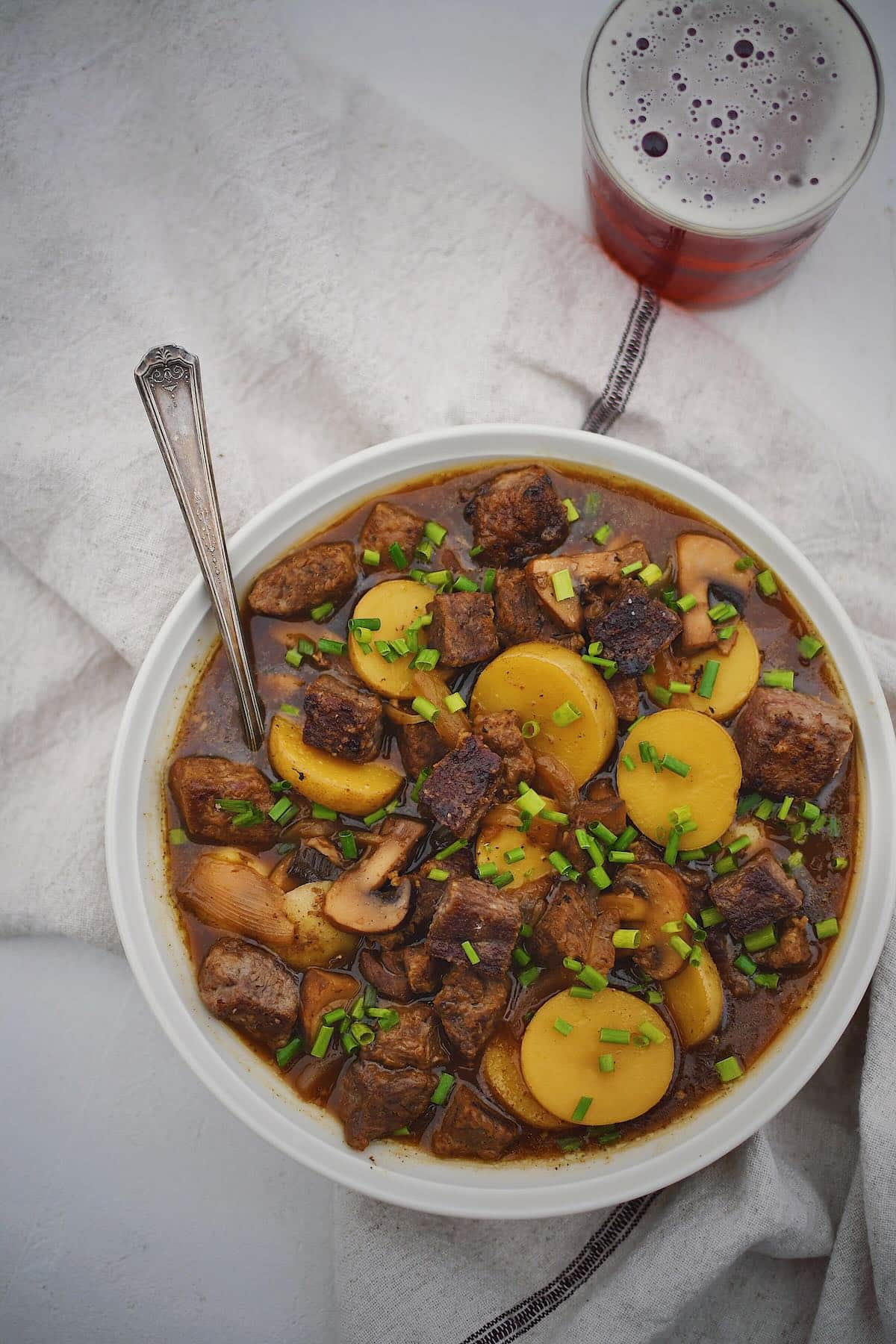 Did you make this recipe? Let me know by leaving a review or comment! And be sure to sign up for my newsletter, and follow along on Instagram, Pinterest, and Facebook!