This very simple and humble Spaghetti Soup, or as it's affectionately known in my house as Tia's Sketti Soup, is about as basic as it gets. Born out of lean times and needing to fill bellies quickly, it's a throwback favorite that I still make today. Basic as it may be, it is packed with flavor and brings back so many family memories!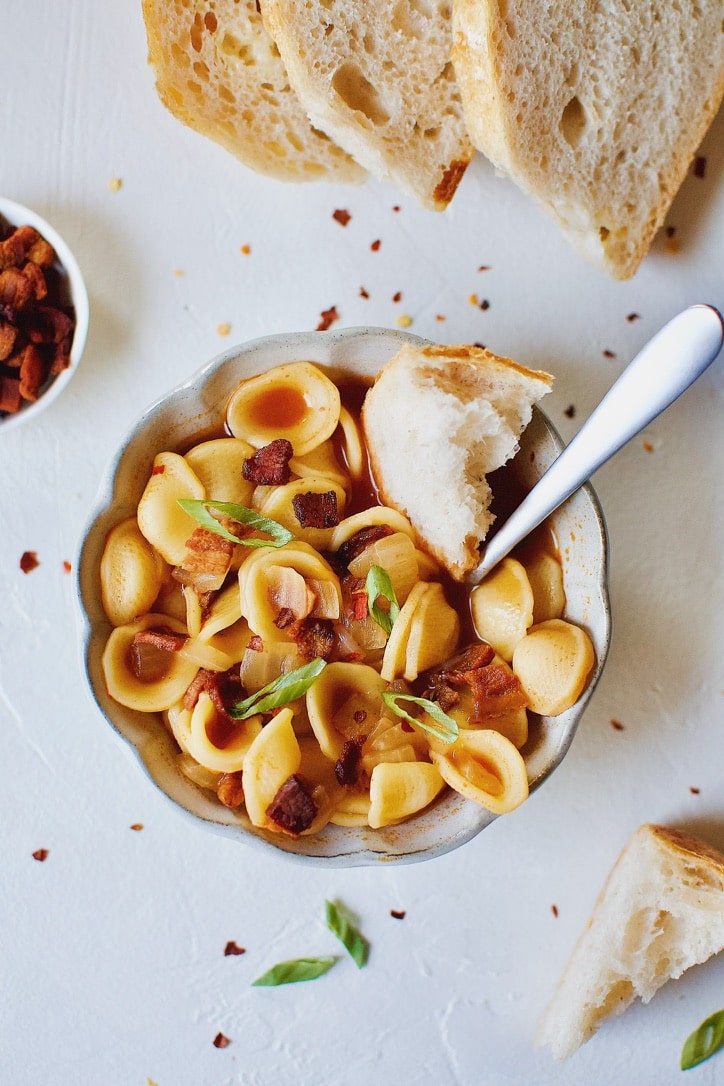 Jump to:
Ingredients
Just a handful of basic ingredients is all you need. And I usually have all of these ingredients in my pantry in some shape or form. ANY pasta can be used, and I always have some tomato paste in there, chicken stock is even optional, sometimes I just use some bullion paste or just water if it comes down to it.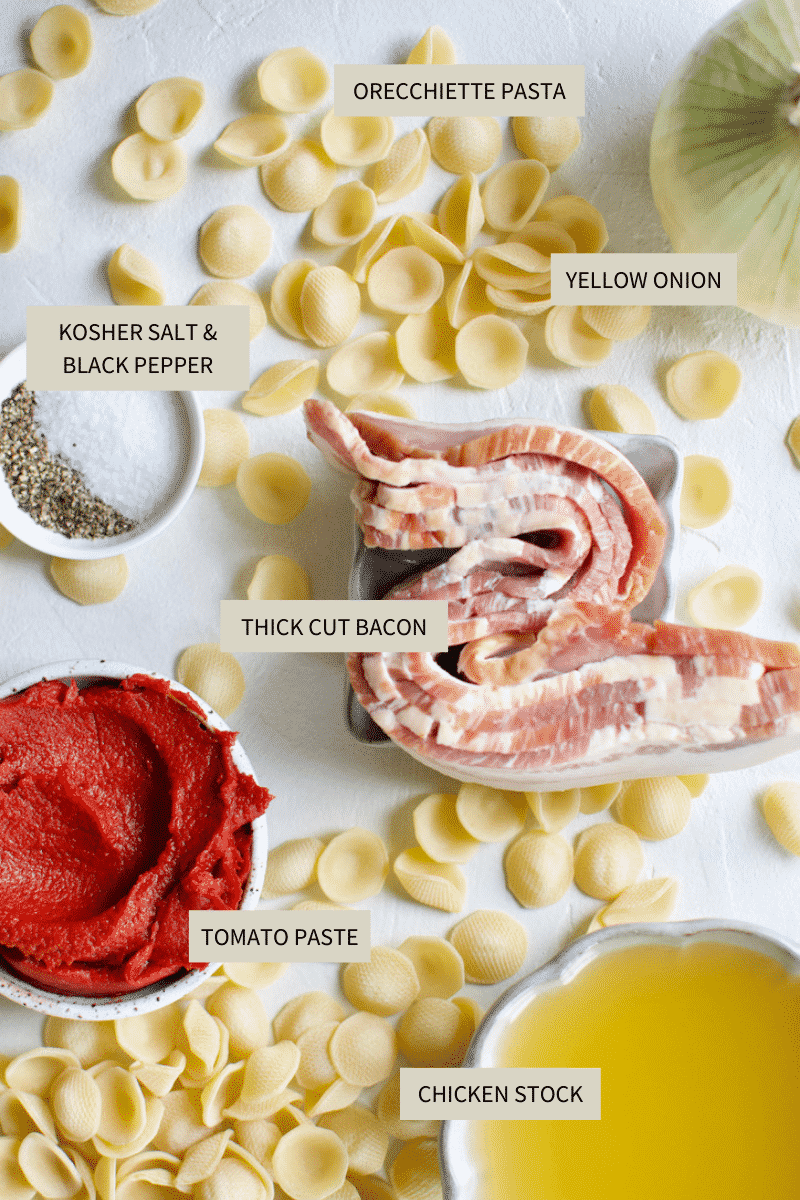 The most expensive part of this pot of soup is the bacon, and that's really not even that much. And it makes a GIANT pot of soup, that either feeds the crowd, or you can eat on it for a while. But it's so good you don't ever mind savoring it for lunch all week.
Use the JUMP TO RECIPE button at the top of the post, or scroll to the bottom of the post to see the full recipe card with ingredient measurements and instructions.
Method
After crisping the bacon and cooking the onion in the bottom of the pot. Bring the chicken stock or water to a boil. Then per Tia's very specific instructions, you work the tomato paste into the liquid by the teaspoon full. She would get some of the paste on the spoon, then wave it around in the pot until it slowly all falls off the spoon.
Tia was VERY SPECIFIC, this is the way it must be done.
Then add the pasta to the pot and the seasonings, and the soup is ready to eat when the pasta is cooked.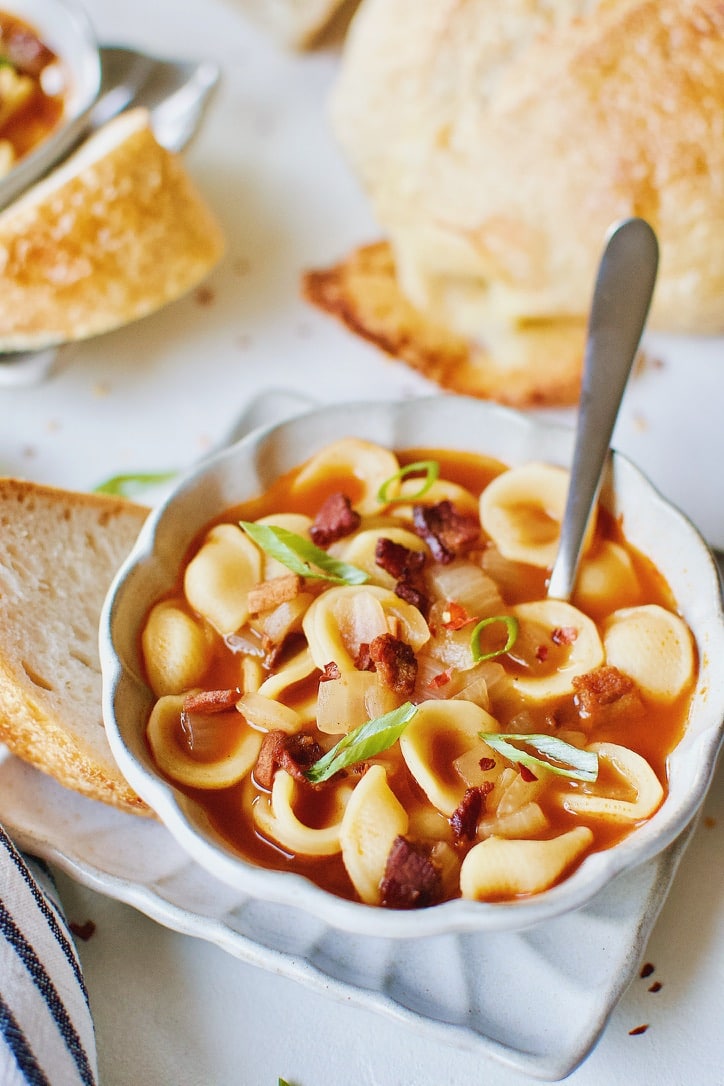 Notes & Tips
The pasta will soak up more and more of the liquid the longer the Spaghetti Soup sits around. Add some water to the pot as needed to thin it out.
I like to serve the soup with the pepper mill and some crushed red pepper in a bowl on the side. Everyone usually adds some more to their individual bowls to spice it up just the way they like it.
I know it's double carbs, but serving the soup with some crusty bread is like living in your best dream. Slap some butter on it and enjoy!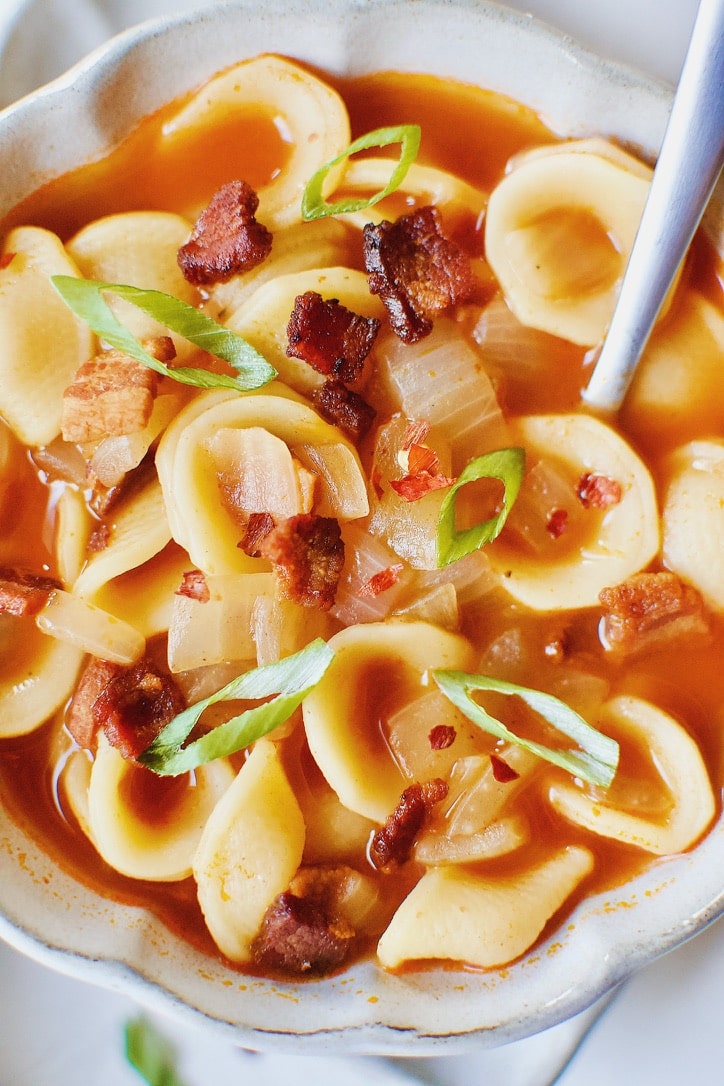 Substitutions
Chicken stock is my adaptation, but if you don't have it, use water. Just spice it up a little more with some extra salt and pepper. Remember this is the humblest of humble food!
The beauty of this recipe is you can use ANY type of pasta you like or have on hand. If you use real spaghetti, just brake it up into little pieces so you can eat it with a spoon.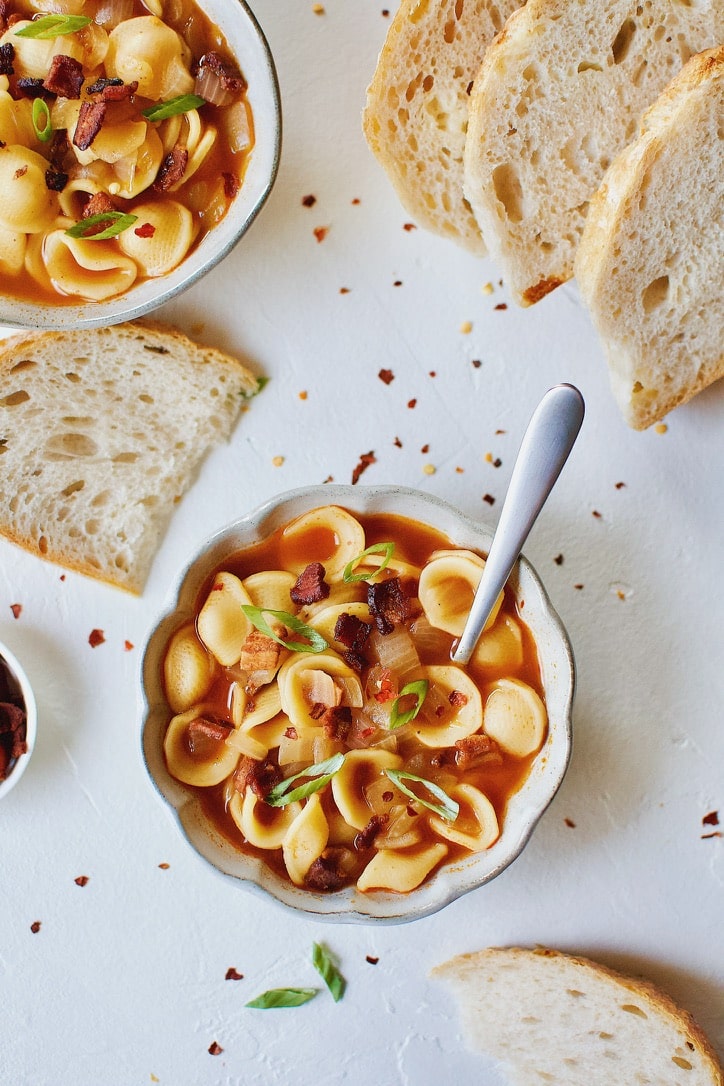 More delightful soup recipes!
Greek Lemon Chicken Soup - Avgolemono
Did you make this recipe? Let me know by leaving a review or comment! And be sure to sign up for my newsletter, and follow along on Instagram, Pinterest, and Facebook!