When you are looking for THAT side dish to make a meal just a little extra special, make this Cauliflower and Leek Gratin! Splurge on the truffle salt, it fills your house with the most intoxicating aroma as the cauliflower cooks and makes this an extra decadent side. Spice up this "regular" vegetable and make it craveable.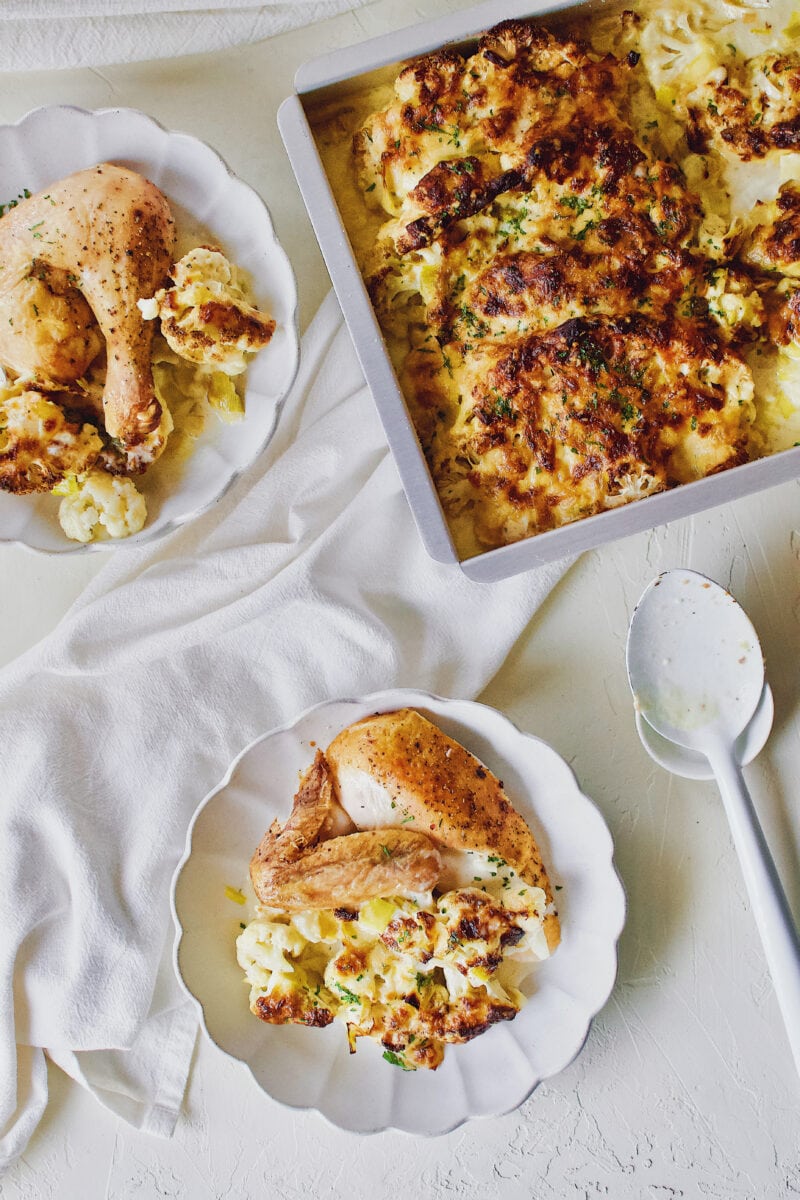 Making the Gratin
What you need: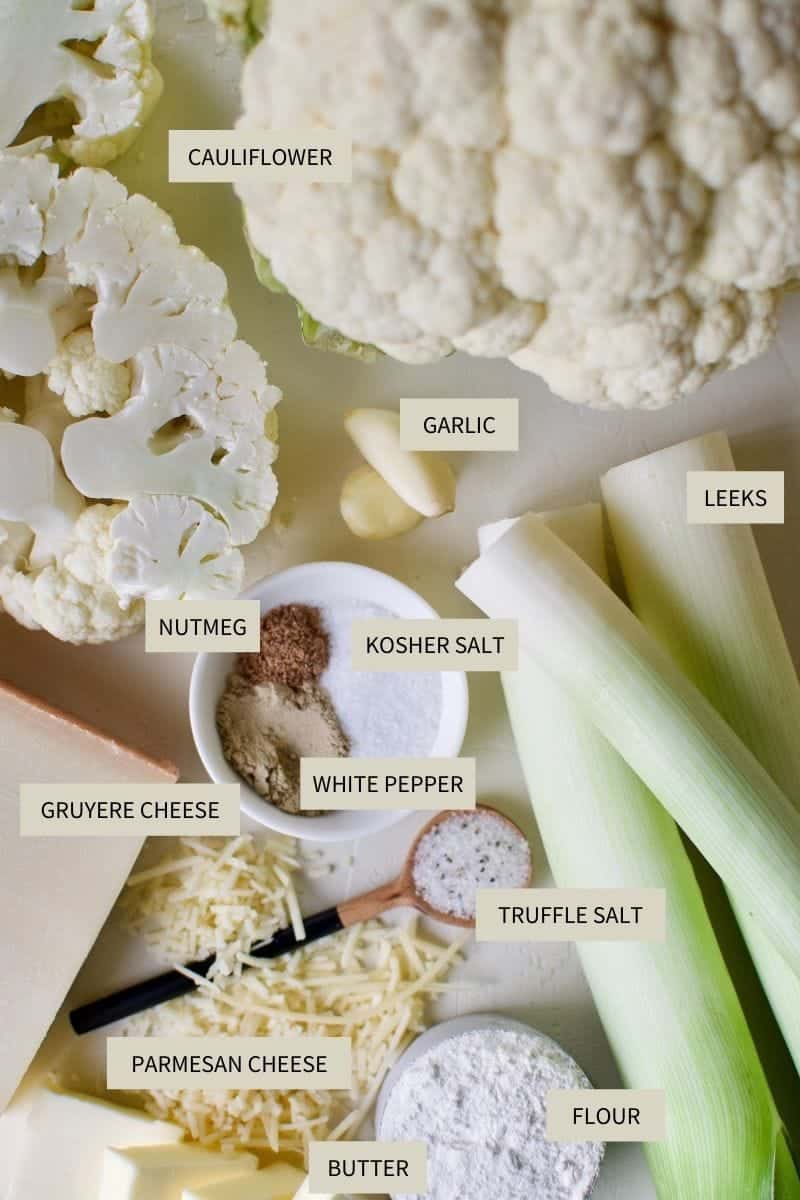 This Cauliflower and Leek Gratin recipe really couldn't be any simpler. Start by removing all the green parts from the bottom of the heads of the cauliflower. Slice off the bottom just to make it even with the bottom of the florets, then slice each head of cauliflower into steaks, about 1-1 ½ inch thick. Layer the steaks in a baking dish, season with olive oil and truffle salt (or regular salt, but truffle makes it so yummy), and roast until browned.
While the cauliflower roasts make the cheese sauce that will turn this into a gratin. Cook the leeks and garlic in butter, then add some flour to make a roux. Add some chicken stock, cream, seasoning, and the gruyere to form the sauce.
Pour the sauce over the roasted cauliflower and top with a little reserved gruyere cheese. Roast for 30-40 minutes longer, until the cauliflower is tender and the cheese has browned on top.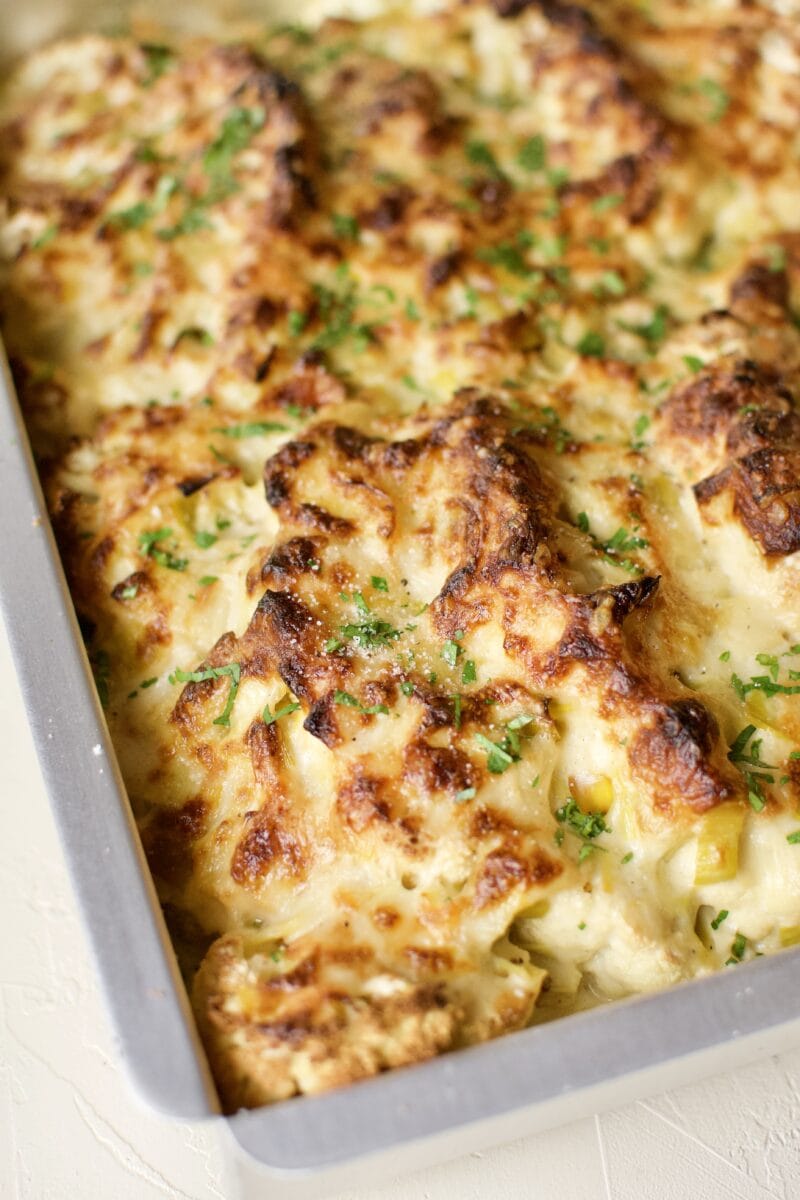 Make it a meal!
Serve this alongside a whole roast chicken like my Spatchcock Chicken, or my Perfect Grilled Chicken. And be sure to grab a loaf of crust bread to sop up all the delicious sauce from the gratin with. I even think it would make a great meatless Monday or vegetarian dinner dish by serving a cauliflower steak on top of some pasta with a generous drizzle of the sauce over it!
As I ate this I imagined that it would make a decadent vegetarian meal by simply serving a cauliflower steak and the excess sauce over a bowl of fresh pasta. The sauce has some much good flavor and a nice bowl of pasta would soak it all up beautifully! Another try for another day, but let me know if you give it a go and how it turns out.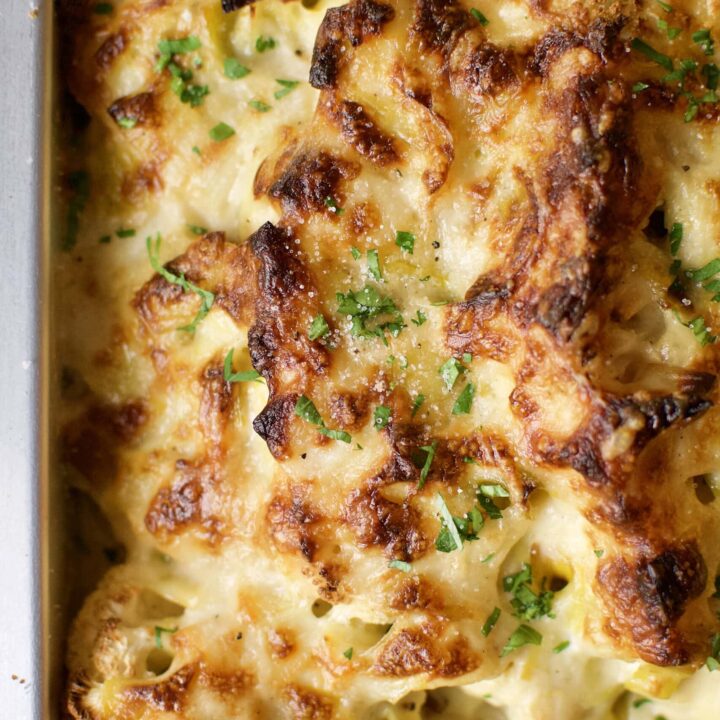 Cauliflower & Leek Gratin
As I have grown older, cauliflower is one vegetable that I have actually grown to LOVE. From simply frying it in some olive oil and seasoned with just salt, to this gratin, it is so versatile and delicious. This also makes a decadent Thanksgiving or Christmas side dish, I especially love it paired with a beef roast.
Ingredients
2 heads Cauliflower, sliced into steaks
4 tablespoons Unsalted Butter
2-3 Leeks, halved-sliced, and washed
2 cloves Garlic, sliced
4 tablespoons All-Purpose Flour
1 ½ cup Heavy Cream
1 ½ cup Chicken Stock
1 teaspoon Kosher Salt or White Truffle Salt
½ teaspoon White Pepper
¼ teaspoon Nutmeg
1 cup Gruyere Cheese, shredded
¼ cup Parmesan, shredded
Instructions
Preheat the oven to 425˚F.
Slice the cauliflower and arrange the steaks in a 9x13 baking pan. Drizzle some olive oil over the steaks and season them with some truffle salt and black pepper. Roast the steaks in the preheated oven for 20-25 minutes, or until they begin to brown slightly.
While the cauliflower is roasting, in a medium saucepan heated over medium heat, melt the butter and cook the leeks until soft, about 10 minutes. Add in the garlic and cook 30-45 seconds more. Whisk in the flour to form a roux, cook for about 1 minute. Whisk the cream, stock, salt, pepper, and nutmeg in and bring the mixture to a simmer. Simmer 2-3 minutes, stirring often, until thick. Stir in the gruyere and parm, reserving a handful of gruyere for the top.
Remove the roasted cauliflower from the oven and pour the sauce over top. Finish with the reserved gruyere and return the pan to the oven for 10-15 minus longer. When the gratin is bubbling and has browned slightly on top, it is done. Remove it from the oven and let it rest for 10 minutes before serving. Top with a sprinkle of truffle salt and enjoy.
Notes
Add a few extra splashed of chicken stock to the sauce if it seems a little thick, it should be thick yet pourable to go over the cauliflower.
Also, truffle salt makes it more decadent but is not completely necessary.
Nutrition Information:
Yield:

8
Serving Size:

1
Amount Per Serving:
Calories:

434
Total Fat:

34g
Saturated Fat:

20g
Trans Fat:

1g
Unsaturated Fat:

12g
Cholesterol:

111mg
Sodium:

616mg
Carbohydrates:

17g
Fiber:

4g
Sugar:

7g
Protein:

17g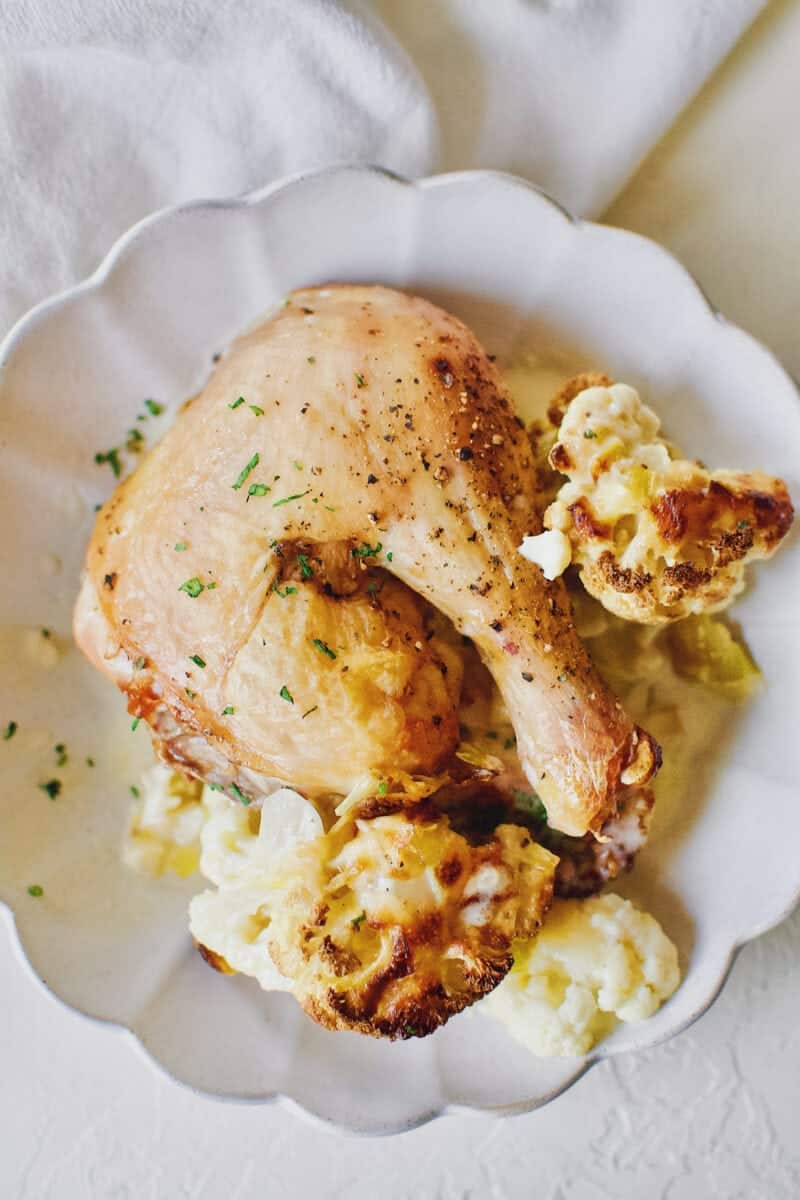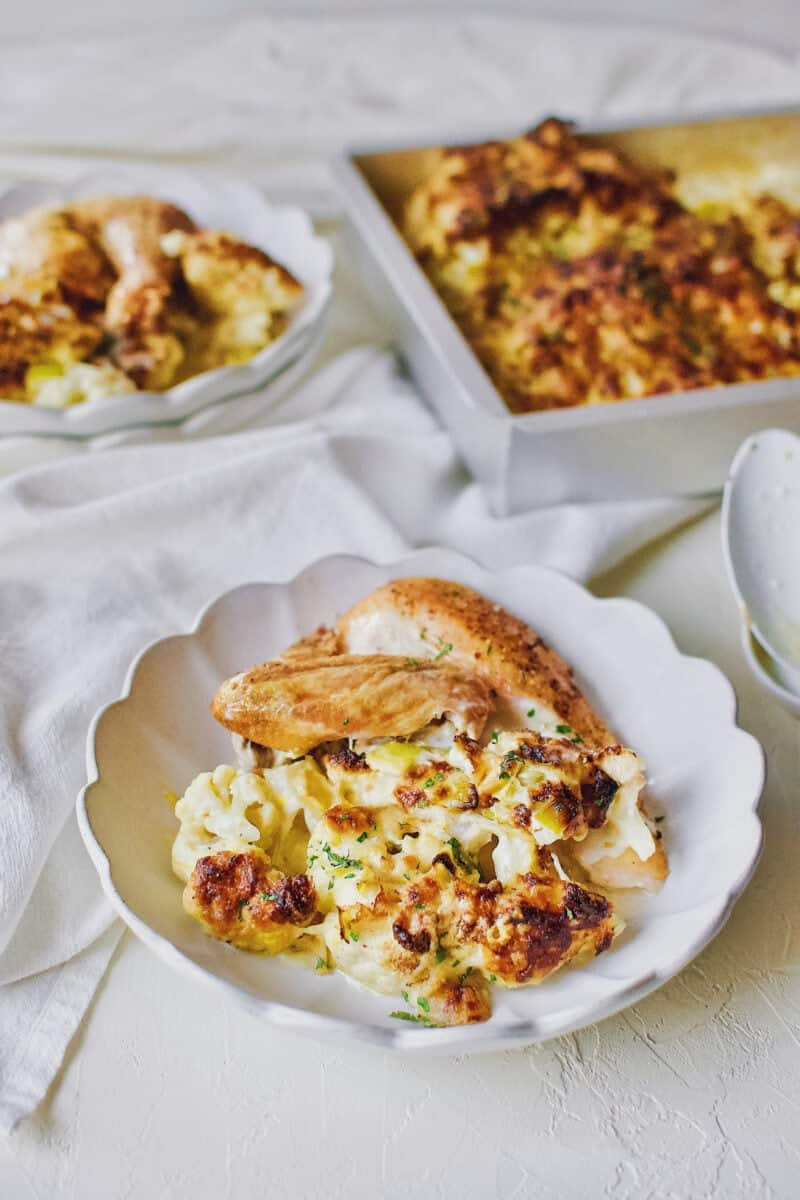 If you make this recipe, please let me know by leaving a review at the bottom of this page!
And make sure to sign up for my newsletter and follow along on Instagram, Pinterest, and Facebook for more KendellKreations!
MY LATEST RECIPES!
Get my NEW e-Cookbook here!! ⬇️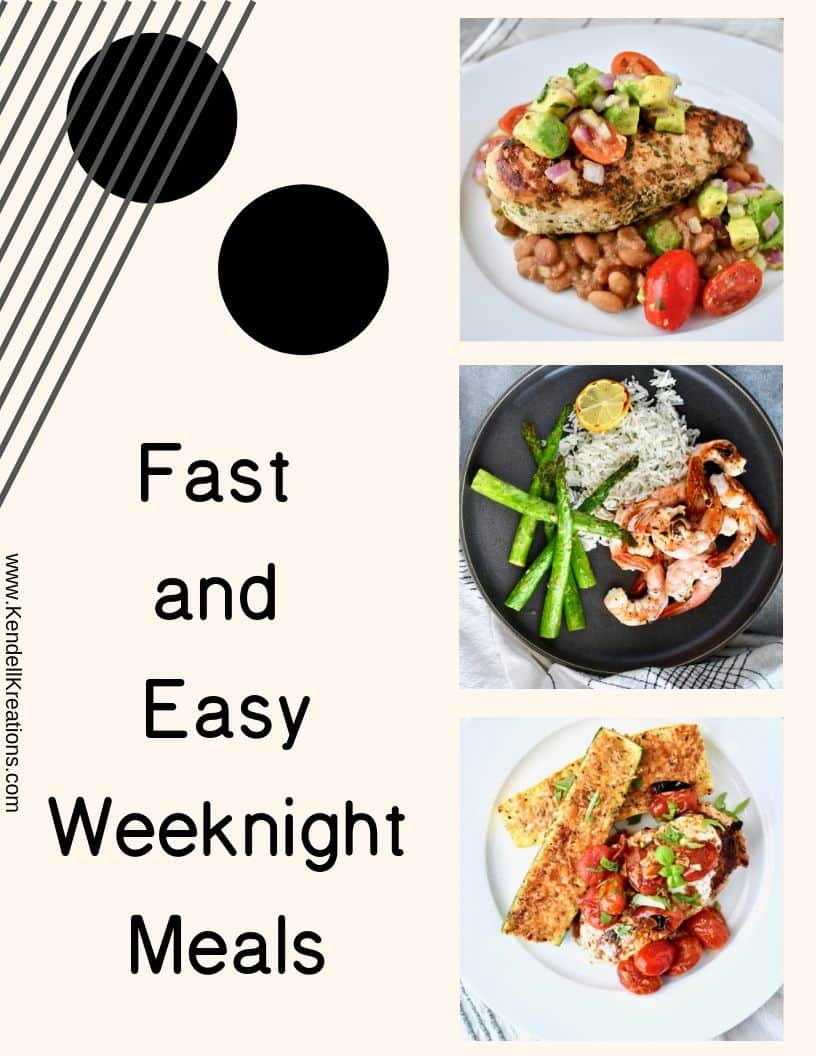 MY FAVORITE KITCHEN TOOLS!
Here are a few links to some of my favorite kitchen tools! You get a car, YOu get a car, YOU ALL GET A CAR…in my best Oprah voice
These Rösle Silicone Tongs are a little pricey but they will last you the rest of your life and are the softest in your hand. This is important for someone like m that cooks so much. It reduces strain, I have 4 sets in my kitchen!
These are my FAVE Nordic Ware Sheet Pans, every kitchen should have at least 2 sets of these! I think I have at least 4 of each of these.
This is my favorite pressure cooker, the Fagor is the same concept as the "Instant Pot" but easier to use in my opinion, if you don't have one you NEED one, it will be your best friend in the kitchen!
A sharp knife is the most important tool in the kitchen, these Japanese steel "Shun" knives are my favorite! And this is a great starter set to build on. Once you try them you will be in love so use this as a foundation you can build on for years to come.
This Scanpan 11″ skillet is just the right size for almost anything you will need to cook and my best friend and a real workhorse in my kitchen, it's also a great deal at $99. Scanpan is the best in the world for healthy cooking. It is coated with a proprietary ceramic-titanium coating that is durable while allowing you to use fewer fats and oils when cooking. It is a coating only they use. I could talk all day about my love for these pans, message me if you want more info. Here are some other sizes that are available if you are looking to outfit your kitchen with some new goodies. 8″ & 10″ Skillet set or 8″ Skillet, I still need this one for my kitchen Also, I don't really know how to cook small so the 12.5″ is my other fave!
This giant vat of olive oil is my favorite, I decant it into a smaller bottle for my counter. Or put this spigot on top of a wine bottle!
My favorite baking dish that is so easy to clean even burnt on cheese slides right off!
This Tovolo jar scraper has to be my single favorite kitchen tool, it is definitely the most used tool in my kitchen. If you are NOT a gadget person, this is the only necessity I say is a MUST beyond the wooden spoon.
A great wood spoon is essential, this Olive Wood one is my favorite, I have more than I can count. But can you really ever have too many?
A food scale can be a very important tool in your kitchen, this one is the one I use every day!
If you love Joanna Gaines as much as I do then the 'Magnolia Table Cookbook' is a must in your kitchen, get a copy HERE!