I have been trying to figure out what to say about Joanna Gaines's recipes for Chicken Pot Pie and Mashed Potatoes for a few days. It has been sitting here waiting for me to write about it and I just keep getting distracted. It's probably because it is one of the best dishes I have ever eaten!
Seriously, it is like heaven in your mouth when you get that perfectly balanced bite of biscuit, chicken, and mashed potatoes. It is the perfect homestyle dinner that brings back a flood of childhood memories. Comfort food at its finest!
The review...
Joanna really knocks it out of the park with this recipe from the Magnolia Table Cookbook. As long as you make it with Jojo's Biscuits and not the canned crescent rolls.
If you have been following along on my journey you know by now that I am completely in love with the biscuit recipe and that I will use any excuse to make them. I mean, sorry not sorry, but I really dislike those canned crescent rolls and I can't imagine making this 'Chicken Pot Pie' with them after doing it with JoJo's Biscuits.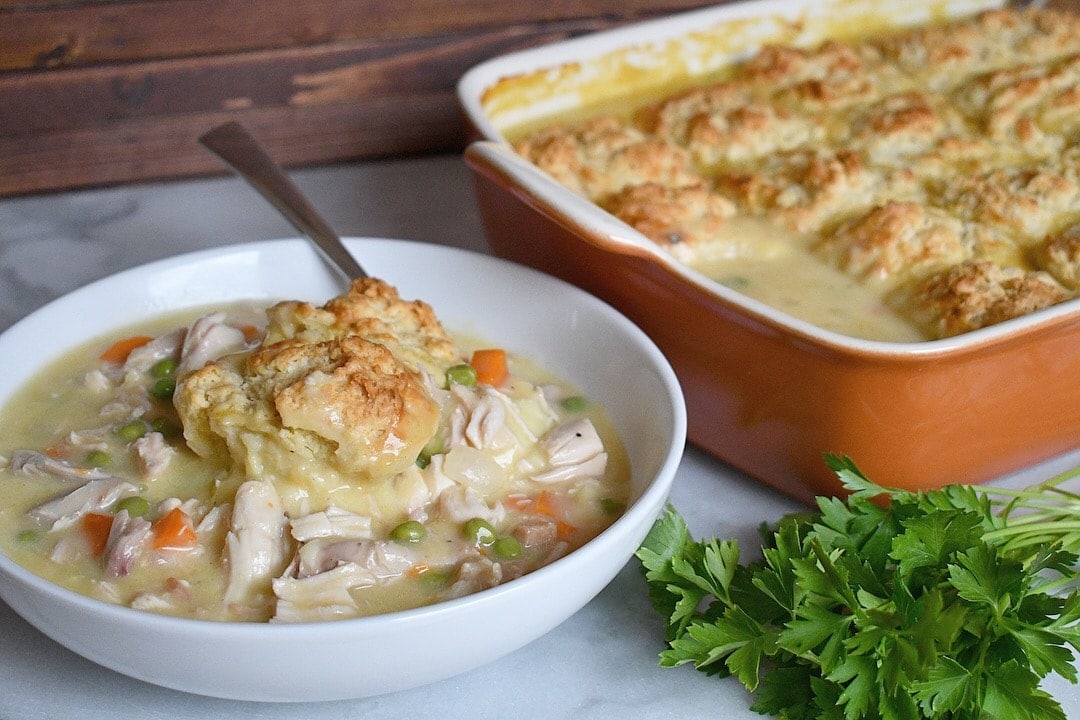 I really don't have enough words, you have to make it for yourself and taste how delicious and amazing it is! It honestly mixes all of my favorite flavors and textures into one dish. I ranted and raved about it to everyone I know for weeks.
I am contemplating running to the store for all of the ingredients as I sit here and type. I can taste it, I may or may not look like the drooling emoji right now and I am ok with that. This will most definitely stay on my shortlist for a good long while. I can't wait to eat it again soon!
The reaction...
All that said, it does remind me more of what I knew growing up as "Chicken and Dumplings" than chicken pot pie but at any rate, it is one of the most satisfying meals I have eaten in the longest time.
This dish calls for it to be served atop mashed potatoes according to a recipe that is also included in the cookbook. It's nothing crazy special and was probably just included for this recipe alone. Super simple but perfect with this pot pie.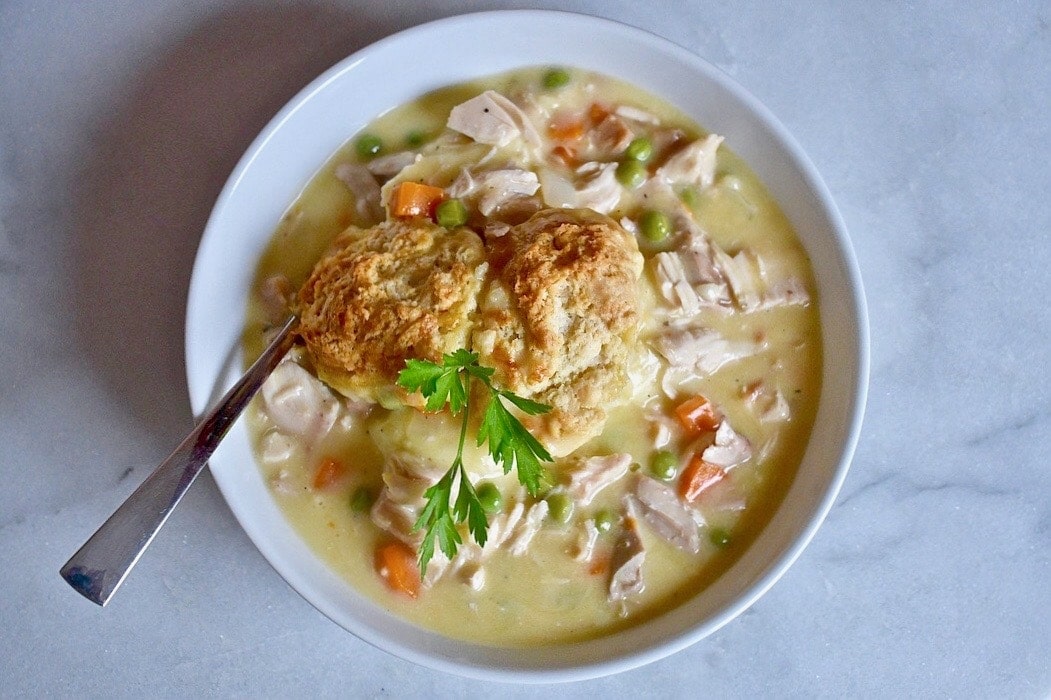 The TIPS...
The biggest note I can give you is that if you use the biscuit recipe, make sure that you use a very deep casserole dish or split it into two. I used the biggest deepest dish I own and I still had to remove some before I got all my biscuit toppers on.
I put my extra into a pie dish and that worked perfectly. This recipe makes a TON of food and even though everyone ate to their heart's content we still ate on it for days. Now I'm not complaining, I savored every bite, I just want you to know, its a lot of food! Make it for you or make it for a crowd, whatever you do, make it ASAP!!
I hope you and your family enjoy this as much as mine did, leave me a comment and let me know if you made it with the crescent rolls or the biscuits and if you would alter anything if you made it again.
Until next time, happy cooking!
Kendell
If you watched Joanna makes the Mashed Potatoes recipe on the second episode of her new cooking show Magnolia Table with Joanna Gaines you can get the recipes by CLICKING HERE, she shared them so you can make them at home!
Read my other reviews of Episode 2 here...
Friendsgiving Casserole (Coming Soon)
Cranberry Sauce (Coming Soon)
-
Did you make this recipe? Let me know by leaving a review or comment! And be sure to sign up for my newsletter, and follow along on Instagram, Pinterest, and Facebook!