This Spring Potato Salad is perfect for a night of barbecue paired with ribs or a steak. It a fantastic side salad and it offers great balance, getting in your greens while steering clear of lettuce leaves. But you won't miss them when you crunch into all the glorious crispy prosciutto.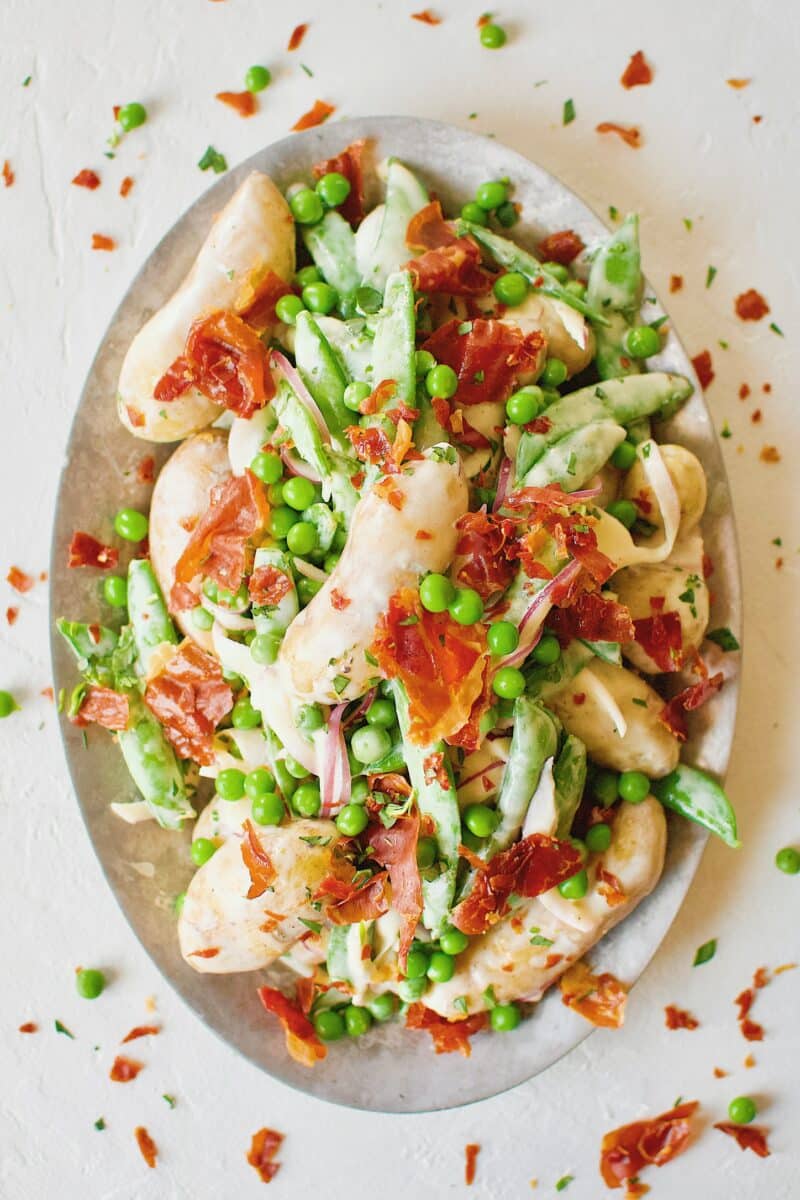 Jump to:
Ingredients
I loved taking these everyday ingredients that can be found in almost every grocery store and turning them into this amazing salad. This potato salad is about to become your new favorite.
Tarragon is my favorite herb and I think it is highly underused and valued. It provides such a unique flavor and really makes this potato salad great! All these flavors meld together really well and for me, it is just a little something different steering clear of mundane.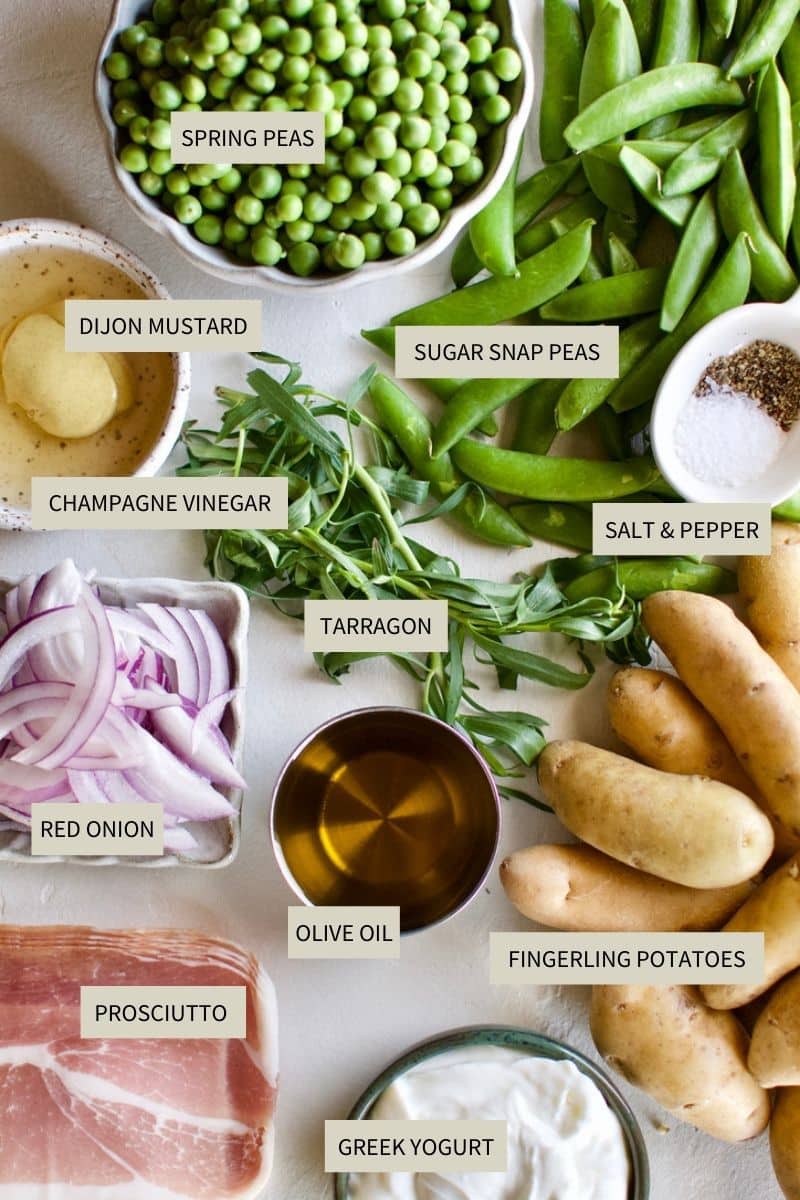 The tangy dressing, mixed with crispy prosciutto and gently cooked potatoes makes for a simple, yet AMAZING combination.
Use the JUMP TO RECIPE button at the top of the post, or scroll to the bottom of the post to see the full recipe card with ingredient measurements and instructions.
Method
There are a few steps to this recipe, so get yourself ready to do a little prep work. It isn't hard though, and you just have to bring 1 pot of water to a boil.
Let's start with that pot of boiling water. The first thing to do is to blanch and shock the snap peas and spring peas. They just need a couple of minutes for them to soften a little bit and take the rawness off of them.
Then remove them from the boiling water into a bowl of ice water to stop the cooking and help them retain their bright green color. After they cool remove them from the water and dry them off in a clean kitchen towel.
Bring the water back to a boil after removing the peas and add the potatoes to the pot. They will cook just until tender, 8-10 minutes.
While the potatoes are cooking I mix up the dressing. I like the method of tossing everything into a jar and giving it a good shake to combine.
Cooking the prosciutto is a good thing to do while the potatoes cook too. Lay it out on a parchment-lined baking sheet and bake in a hot oven until crisp. After it cools crumble it into small pieces.
To assemble and dress the salad, start by combining the onions and about half the dressing together in a large bowl. Then add the peas and season them with some salt and pepper. Give the peas a taste and adjust the seasonings until they are just right. Add the potatoes and half the prosciutto and toss to combine.
Top with the remaining prosciutto and it is ready to serve.
Notes & Tips
I like to make this recipe as easy as possible to make. To do so just place one large pot of water on the stove and fill it about half way full. This will be what you use to blanch and shock the peas, as well as cook the potatoes.
Only cook the potatoes until when you stab one with a fork or knife it goes in easy, but it doesn't quite fall right off. They shouldn't be mushy, you want them to hold their shape for the salad and they will continue to cook a little as they cool.
I take the first step to coat the red onions in a little bit of the vinaigrette. Doing this will help to take the raw bite off the onions, making them a little more pleasurable to eat raw.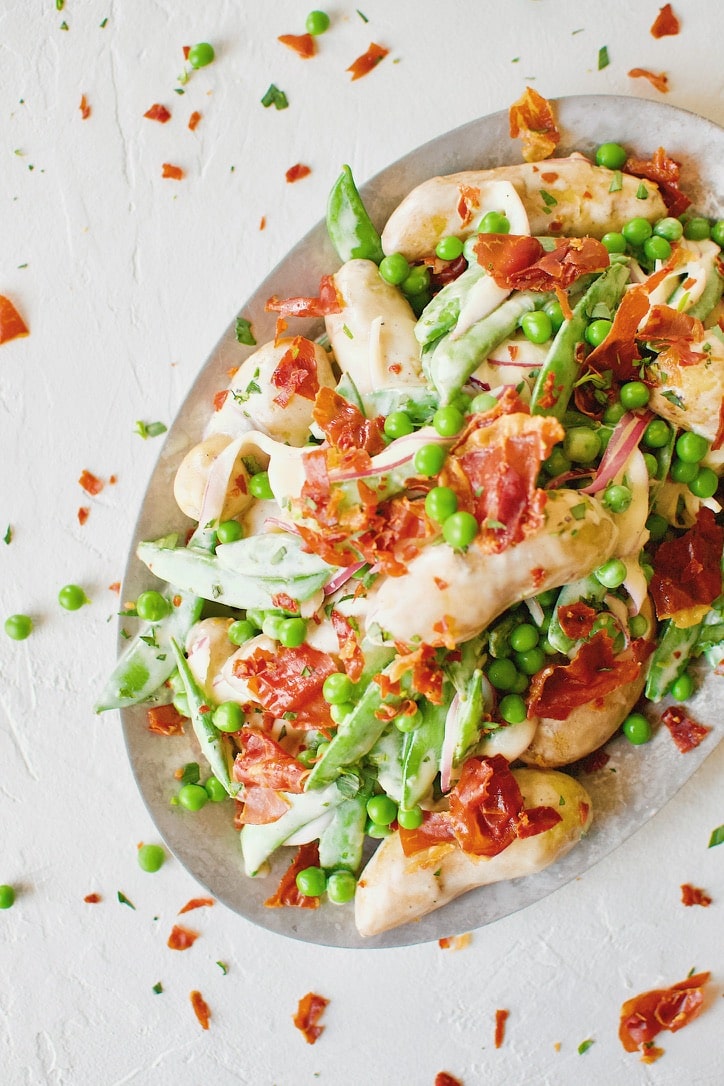 Substitutions
The tart balanced flavor of champagne vinegar is one of my favorites, but you could easily swap it for white wine vinegar, apple cider or even plain white vinegar if needed.
The blend of the two different types of peas offers some textual and visual contrast. But you could use all of just one if you so choose.
Tarragon is my favorite herb and I think it really shines here. You could swap it for fresh basil leaves if you like.
The Greek yogurt could be swapped for sour cream.
The olive oil could be swapped for avocado , vegetable, or sunflower oil.
Great pairings for this salad
Grilled Shrimp Skewers + Lemon Garlic Butter
Grilled Chicken Wings with Alabama BBQ Sauce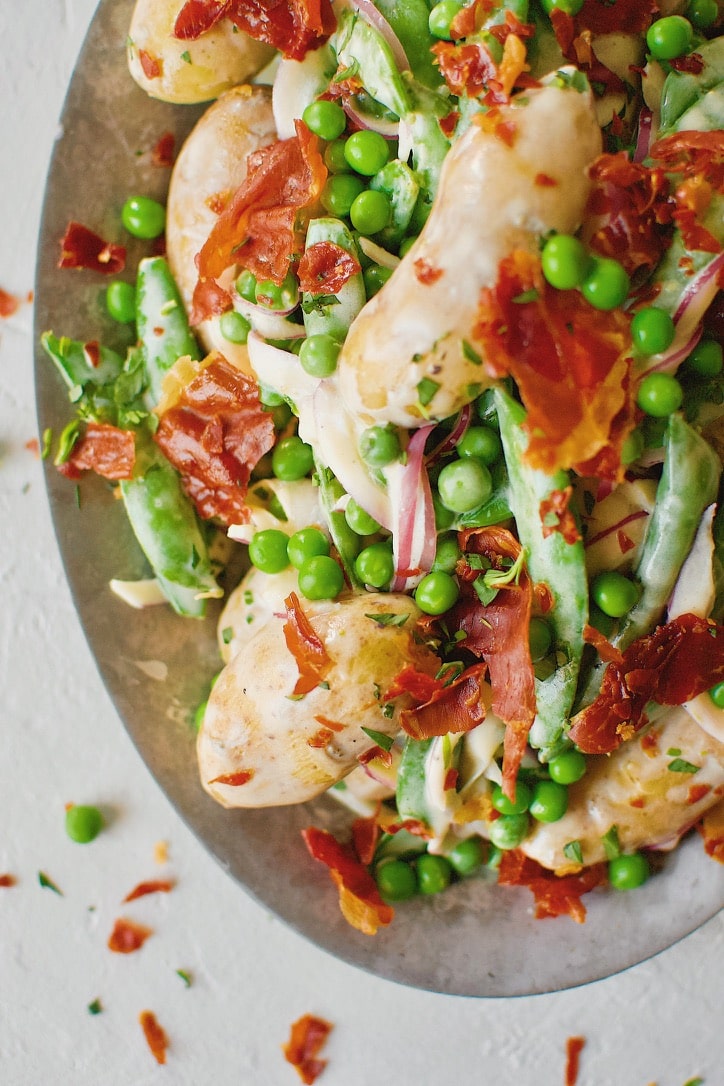 Did you make this recipe? Let me know by leaving a review or comment! And be sure to sign up for my newsletter, and follow along on Instagram, Pinterest, and Facebook!