Homemade Pasta Dough is one of the easiest and most satisfying things you can ever make. I hope that through this recipe I can show you that it is much easier and more satisfying to make than you might think. For me, making a successful recipe is all about mindset and heart. Get your mind ready to do a little work, and do it with all your heart, and fresh pasta made at home will be your new favorite thing to make.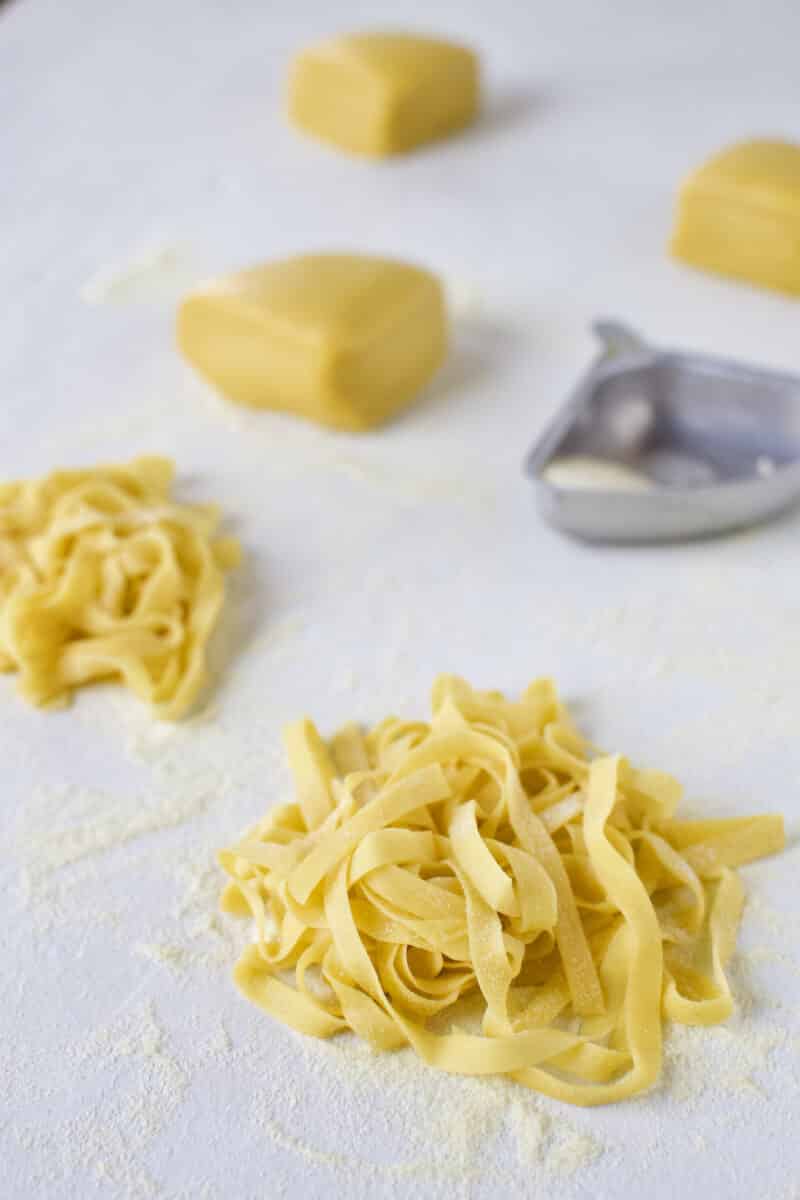 If you are also looking for a great Ravioli Dough Recipe, this is for you. Fresh Homemade Pasta Dough and Ravioli Dough are one in the same. The only difference comes in how you roll out and prepare the dough for cooking in the end.
Jump to:
Ingredients
Four simple ingredients lead to one of the MOST beloved things of all time...PASTA! I think pasta, especially HOMEMADE pasta is one of life's greatest pleasures. And it is loved, all the way, right around the world.
Since Homemade Pasta Dough uses so few ingredients I try to ensure that I am using THE BEST ingredients that I can get my hands on. I am grateful to always buy super fresh farm eggs, get some if you can, and I always buy really good olive oil for making pasta. Buy the best olive oil you can afford, it makes all the difference since it is a star ingredient!
I always use all-purpose flour to make my pasta. There is a lot of talk about using special "00" (double zero) flour to make pasta out there. But I have to think the grannies from the old country weren't using special flour to make their pasta. So regular flour it is, for me anyway. Get you some "00" flour if that floats your boat.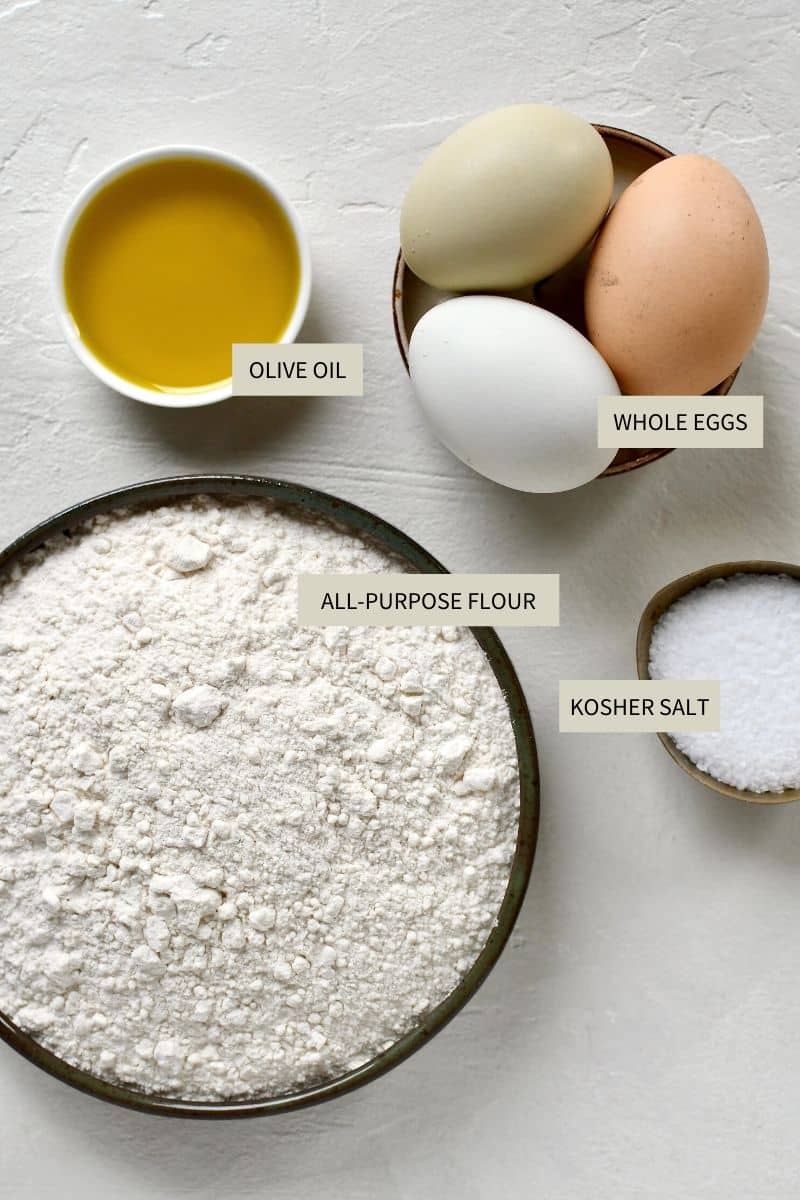 Use the JUMP TO RECIPE button at the top of the post, or scroll to the bottom of the post to see the full recipe card with ingredient measurements and instructions.
Method
Making pasta is very straightforward. I choose to make my pasta dough in a stand mixer and that is the method I will be sharing with you here. It makes it super easy to let the mixer do the hard work because there is enough work to do making homemade pasta dough.
I start by adding all the ingredients into the stand mixer bowl. I then use the dough hook to form a shaggy dough, roughly mixing everything together in the bottom. Then place the bowl on the mixer with the dough hook attached and using the second to lowest speed, let the dough form and knead in the bowl for 10 minutes.
Then take the dough out of the stand mixer and knead by hand to bring the dough together. If the dough has any bit of a rough exterior, knead by hand for another minute or two until completely smooth. The dough has been worked enough when, when pressed it leaves a slight indentation that springs back slowly.
The dough now needs to rest. I allow my dough to rest for a minimum of 30 minutes, but pasta dough can be made up to 2 days before you want to use it and rested in the refrigerator. When ready to use, divide the dough into 4 pieces, roll them into small balls, then flatten them and dust with flour. Now we are ready to roll the dough out into pasta sheets.
You can then cut the pasta into any shape you like. Make spaghetti, fettuccine, or my favorite angel hair with your Homemade Pasta Dough. You can even leave the fresh pasta in sheets to make lasagna. You can dry them out or use the fresh sheets cut to size directly in the lasagna. No boiling is needed when making lasagna. I also love making ravioli with fresh pasta too.
Notes & Tips
Use the freshest and best ingredients you are able to get your hands on. Fresh pasta only uses a few ingredients so that is so important.
Buy a really good olive oil to make pasta with. But waste no time using it, good olive oil has a short shelf life. Use it and enjoy it!
Be sure to work the dough enough. The perfect metaphor for knowing when it has been worked enough is that it will be smooth as a baby's bottom! HA!
Substitutions
This is a tough section to cover when it comes to pasta dough. I am sharing a classic pasta with you here. The only substitution I can offer you is, you can use "00" (double zero) flour instead of all-purpose flour. It is preferred by many for pasta making, but I honestly find no real difference between them.
Great ways to use fresh homemade pasta
Serve this Creamy Chicken and Mushrooms over fresh pasta.
Make spaghetti and serve my famous Meatballs over it.
Place my favorite Crispy Parmesan Chicken on top of fettuccine noodles topped with red sauce and more parmesan.
Or simply serve some angel hair pasta with my garden fresh Pesto Sauce on it.
Bonus Italianesq recipe: Marinated Olives with Tangerine, Kumquat, and Chilies
Did you make this recipe? Let me know by leaving a review or comment! And be sure to sign up for my newsletter, and follow along on Instagram, Pinterest, and Facebook!