This simple recipe for Crispy Parmesan Chicken is one of my very favorite things to make and can be used in a variety of ways. I will share those ways with you below. But consider this your new favorite way to eat chicken. At least I know it's the only way my family wants to eat it...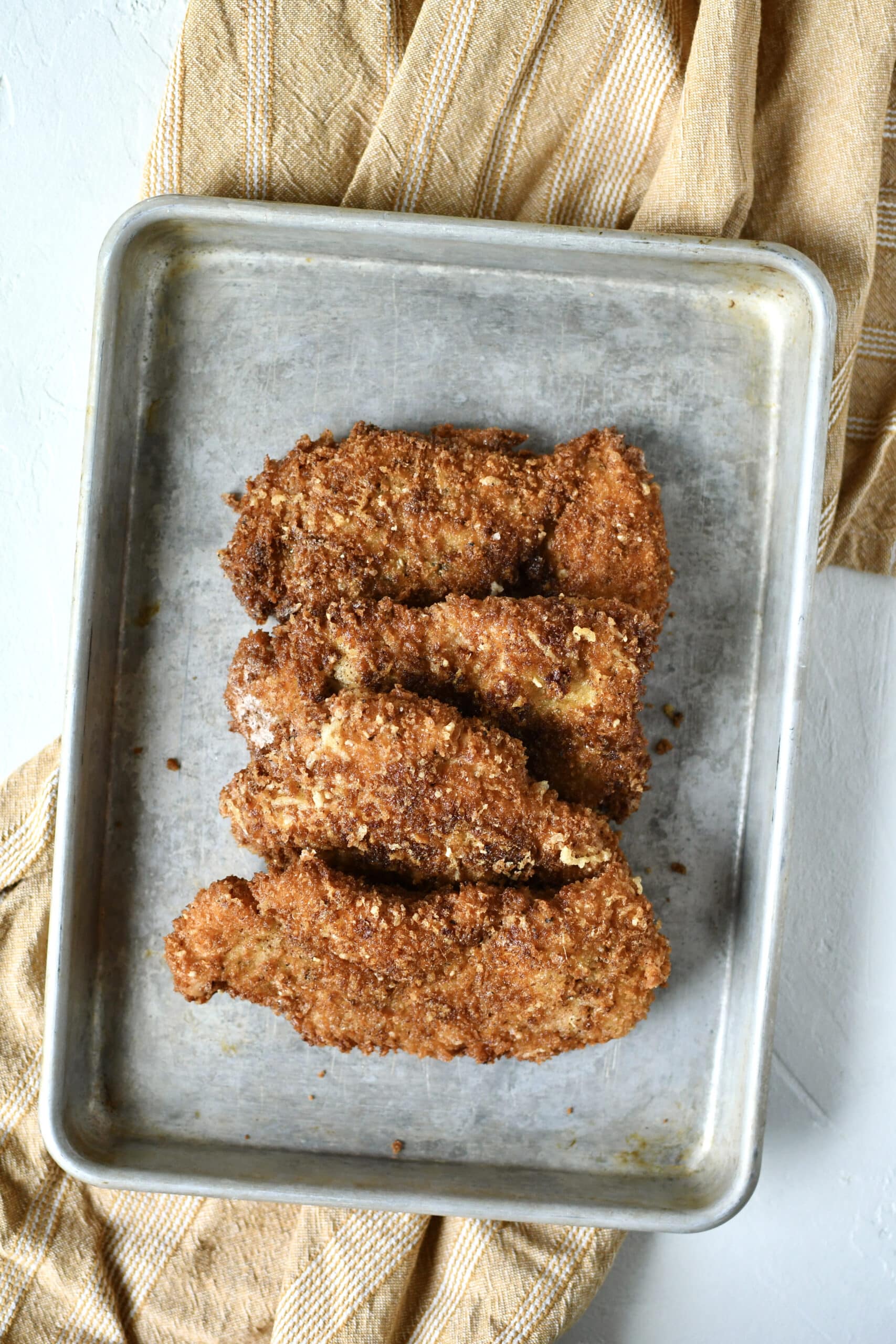 Any time I serve chicken any other way, my family asks, "Why we aren't having that crispy chicken again?" They absolutely love it. I think we would all eat it every day!
Jump to:
Ingredients
This is a recipe made of pantry staples that I always have around. It can be a super special dinner, or something I whip up on the fly. The end result is also super versatile and I use it in a few different ways. Did I mention I make this quite often yet?
Everything you see in the photo below I am never without. Chicken is always in the freezer, all the dry ingredients I buy in bulk and always have. I am constantly baking so butter and eggs are always laying around. And a Caesar Salad is my personal go-to so I always have some parmesan cheese in some form in the fridge.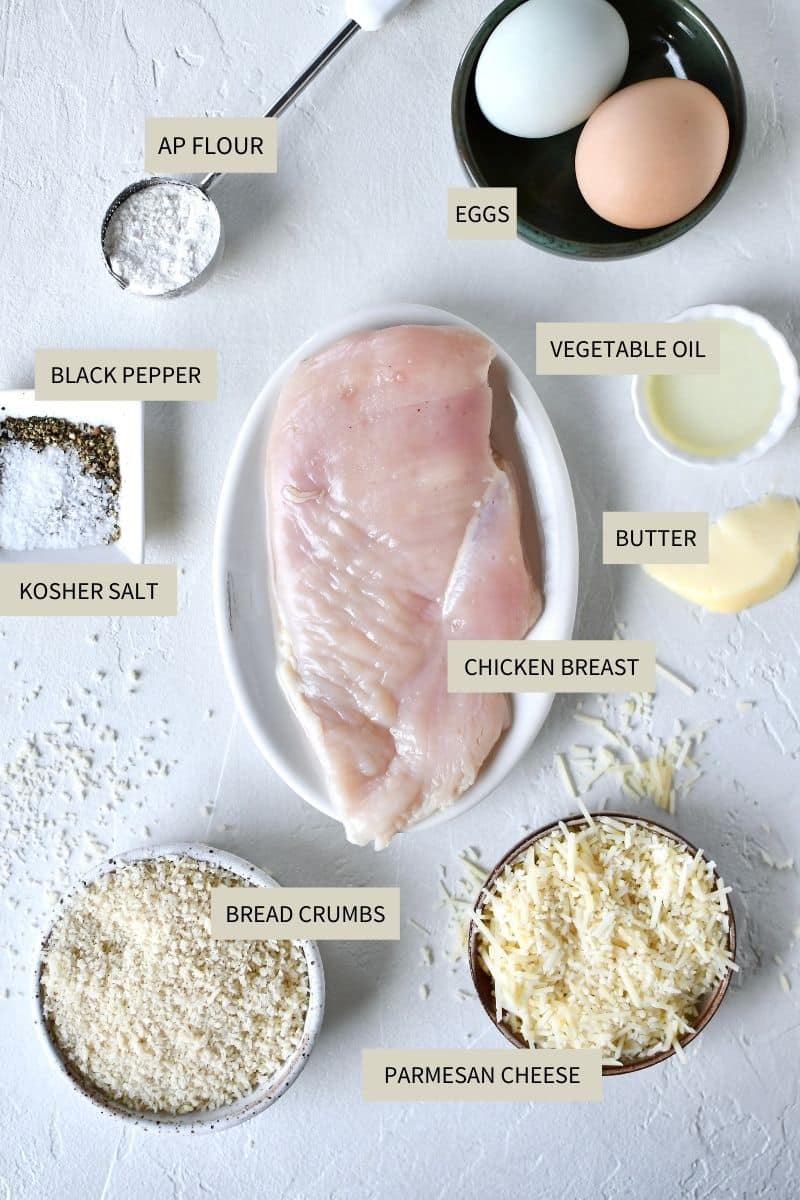 Use the JUMP TO RECIPE button at the top of the post, or scroll to the bottom of the post to see the full recipe card with ingredient measurements and instructions.
Method
I will tell you that the first time I made this recipe that it was a bit of an arduous process. It can take a long time and it does have a few steps you have to go through. So what I am really sharing with you here is a process that helps make this the quickest and easiest meal it can be.
I have gotten it down to a science that takes no time and if you follow my advice you will love this recipe forever and ever!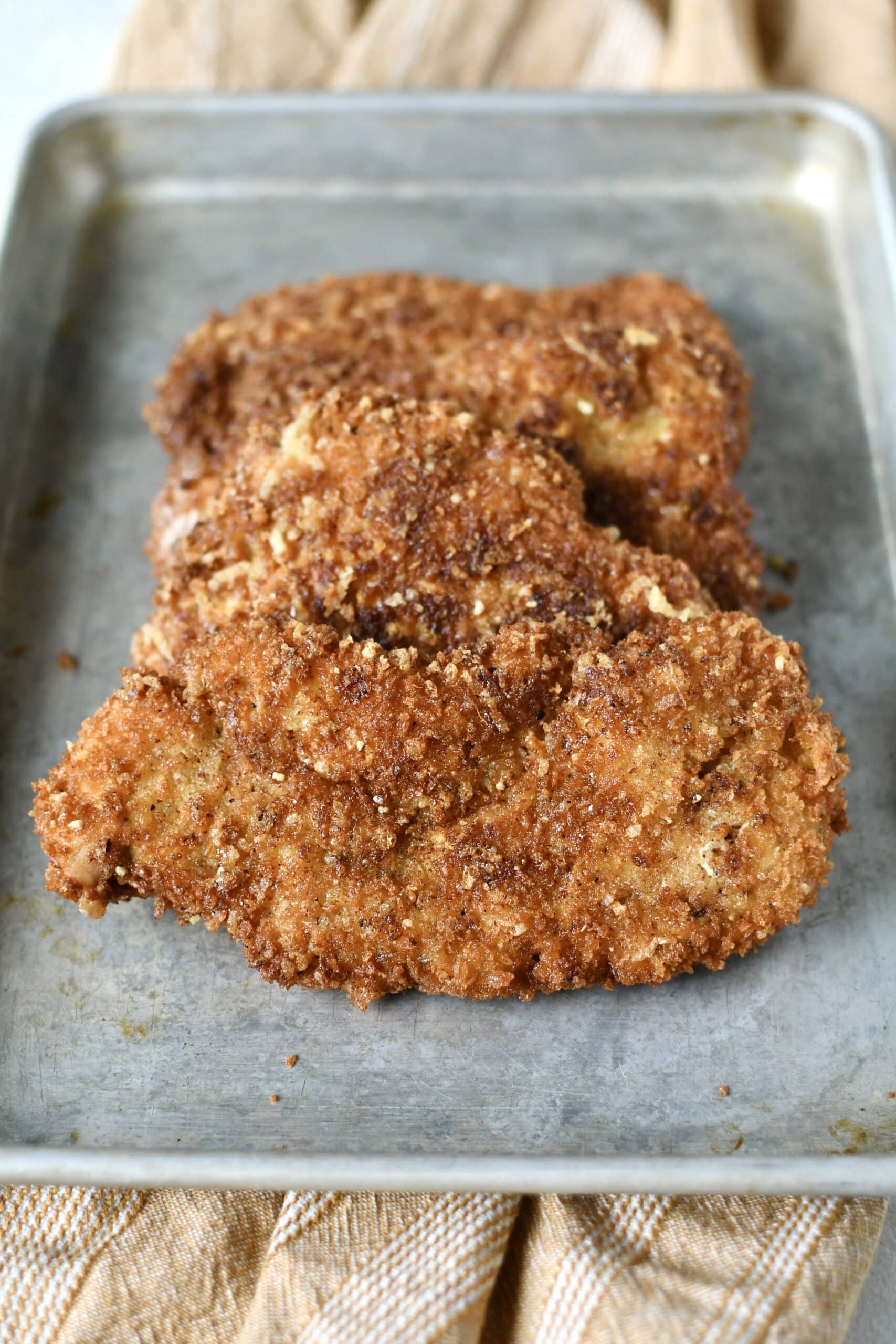 The ease comes in the mental and physical preparation. So the first step is to be mindful that this recipe requires a few dirty dishes, but I have refined it down to as few as possible.
Next set up your dredging station. I use a couple of bowls that can go in the dishwasher for this, making clean up a little easier. I prepare my eggs, and mix the bread crumbs, parmesan, salt, and pepper together and set those aside so I am ready after I prepare my chicken.
Now it is time to prepare the chicken. I begin by cutting each chicken breast in half. I then tenderize them and flatten them out so they are even and thin. After I pound them out I then season each side with salt and pepper, and dust each side with some flour using this fancy little gadget! That is one place I eliminate a dish making clean up a little easier.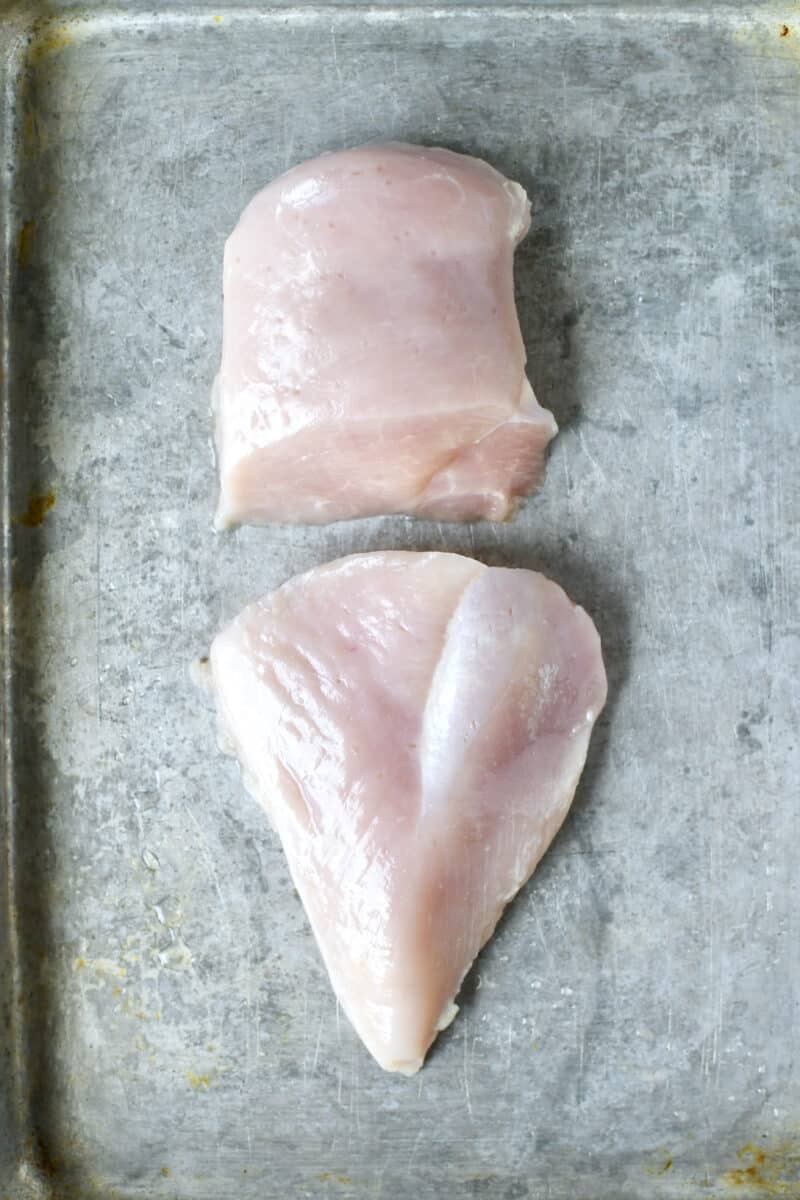 Then I go into the egg, and then in the breadcrumbs. Be sure to press the breadcrumbs onto the chicken so it is perfectly coated in the crumbs and the cheese. Then fry in just enough oil to coat the bottom of your pan, with just a touch of butter in the pan, over medium heat. The cheese will melt and the breadcrumbs will brown, and everything will crisp perfectly in about 3-4 minutes per side.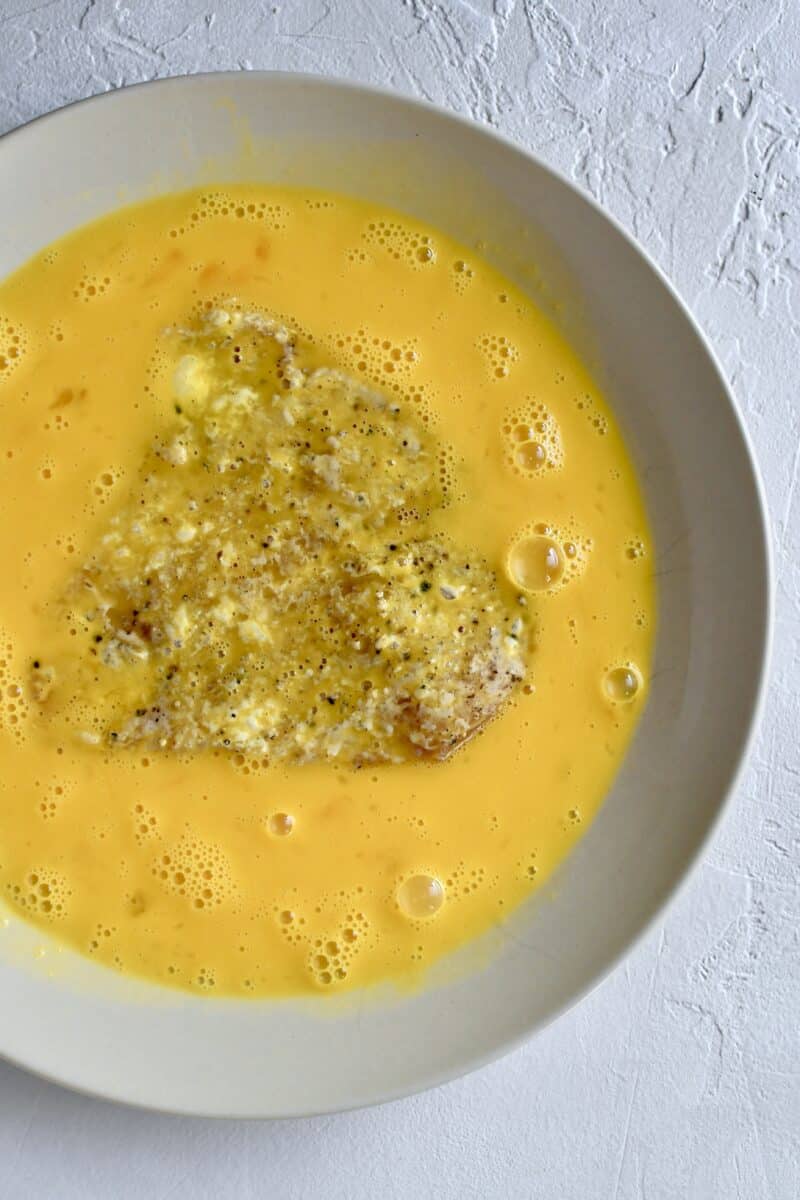 Notes & Tips
First, mentally prepare yourself that you have a few steps and a few dirty dishes that will be necessary to get through this recipe. Not hard, when you know what you are going into.
Set yourself up for the most successful and least clean-up by preparing the eggs and breadcrumb mixtures in dishwasher-safe dishes. I do this so I can simply rinse them off and get rid of them.
Tenderize your chicken between 2 sheets of plastic wrap. This eliminates a mess and makes clean-up easy. I even salt, pepper, and flour on the wrap so there is no clean-up after I get through that.
Don't skip the step of seasoning the breadcrumbs, just a little bit, so your Crispy Parmesan Chicken has some flavor on the outside when you eat it.
Substitutions
You can use any type of breadcrumbs you like. I prefer to use panko because it makes the chicken extra crispy in the end. But an Italian-style bread crumb would also work, or gluten-free breadcrumbs, like these! Crumbling crackers would also work in a pinch.
Any firm to hard cheese works. Parmesan is my default to make this Italian-inspired, but a pecorino or even a firm cheddar would also work. You also leave the cheese out if you would like to make this dairy-free.
Any good, flavorless oil works for frying, avocado, or coconut are great swaps for the vegetable oil I call for in the frying process. Feel free to leave the butter out if you would like it to be dairy-free, it simply adds a bit of richness.
More fun recipes
This chicken is integral to the success of my Parmesan Chicken Sandwich. It is a great way to use this delicious chicken, other than on pasta with some red sauce!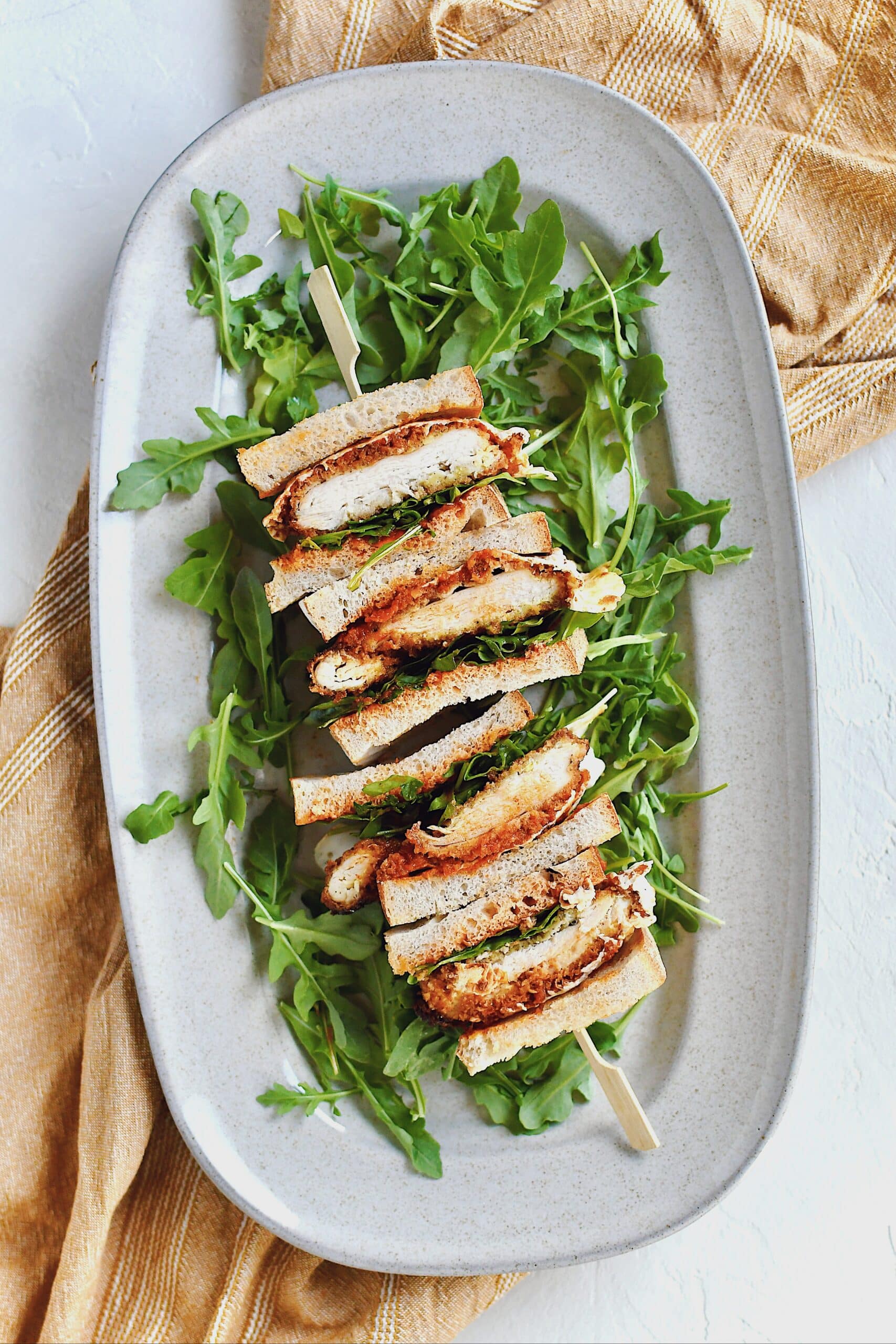 I love to pair this chicken with my Creamy Caesar Dressing and top it all on a nice bed of romaine lettuce, with some tomato, red onion, and more parmesan cheese and some croutons.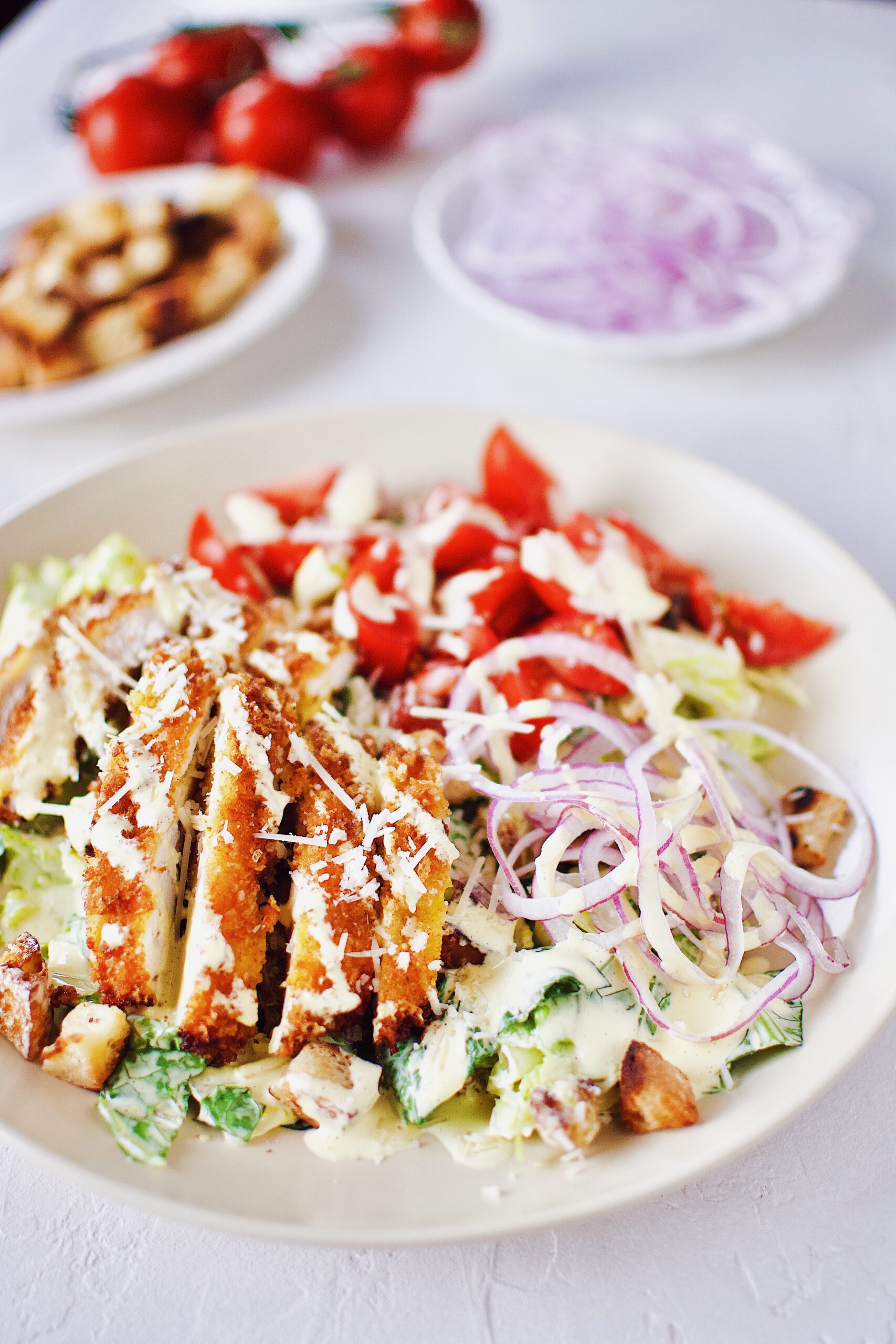 Southern Fried Chicken & Mac n' Cheese Waffles
Did you make this recipe? Let me know by leaving a review or comment! And be sure to sign up for my newsletter, and follow along on Instagram, Pinterest, and Facebook!