I discovered Marinated Olives similar to this while shopping in a specialty grocery with a friend. They were so delicious, but I wanted the flavor to be punched up just a little more. So I decided to give them a go, and I have to say, I am in LOVE! They couldn't be easier to make, they make great gifts and add a surprising pop of flavor on charcuterie boards.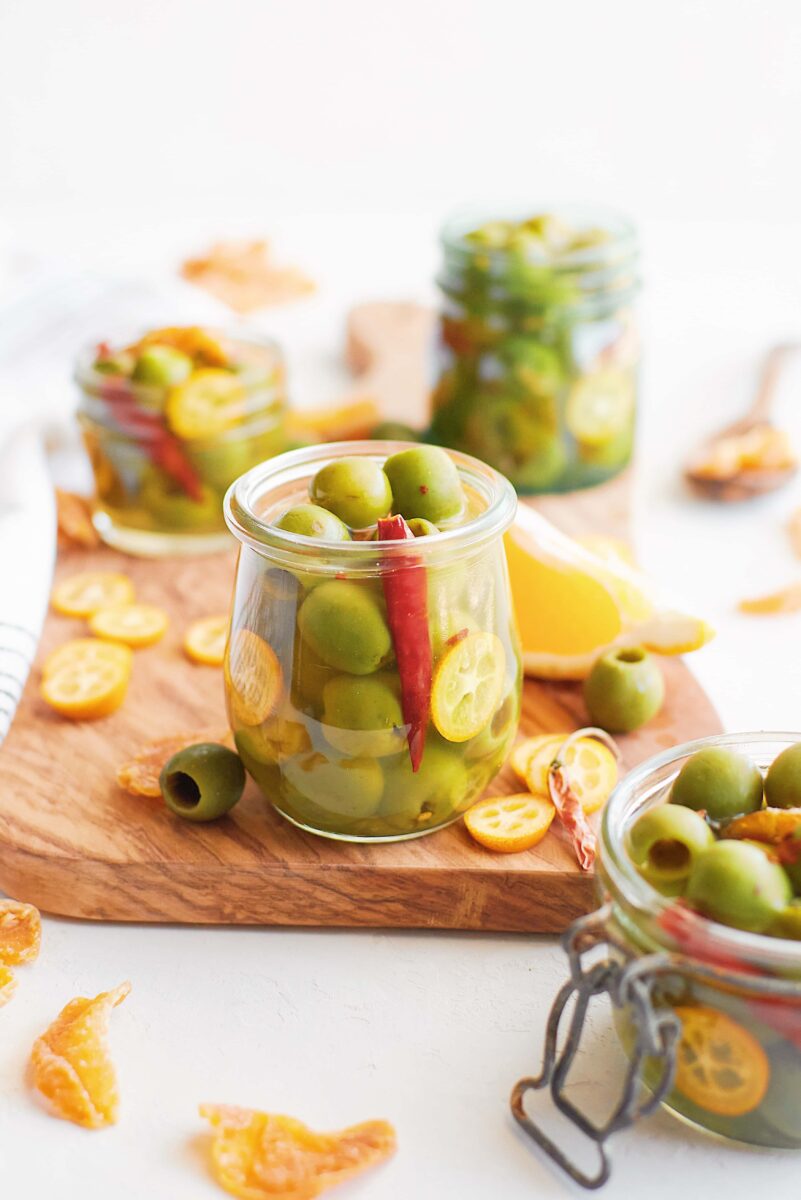 This is a simple and delicious recipe that is perfect to make for holiday charcuterie boards or to give as gifts. I make a big cheese tray for Thanksgiving and Christmas every year and I can't wait to add these. A little fruity, tangy, spicy, and salty, they pair perfectly with a glass of prosecco and some smoked almonds.
Jump to:
Ingredients
Castelvetrano Olives. They are famed for being the most delicious, and highly favored olive to come out of Italy. Buttery, briny, and with a mild flavor that absorbing flavor easily, they are fantastic for marinating. They are the perfect olive for this recipe, seek them out, they can be found in most grocery stores these days.
Tangerine Juice. Fresh is best for this recipe, that is why I usually make this around the holidays when fresh citrus is showing up in stores. If you really love them, you can make a big batch to last you all year.
Kumquats. They have a sweet tangy flavor and I love their size for sliding a few slices into each jar when marinating. It looks nice and continues to add flavor as they sit.
Chile de Árbol. These spicy little Mexican chiles add just the right amount of kick and much like the kumquats, they look nice in the jar, style, and substance!
Salt and Vinegar. I use Champagne vinegar for its delicate and tart flavor that pairs nicely with the citrus flavors. The salt is a necessary evil, though the olives are salt, they help preserve the olives and balance all the other flavors.
Sugar. This helps balance everything out and makes the heat sweet, and will keep you coming back for MORE!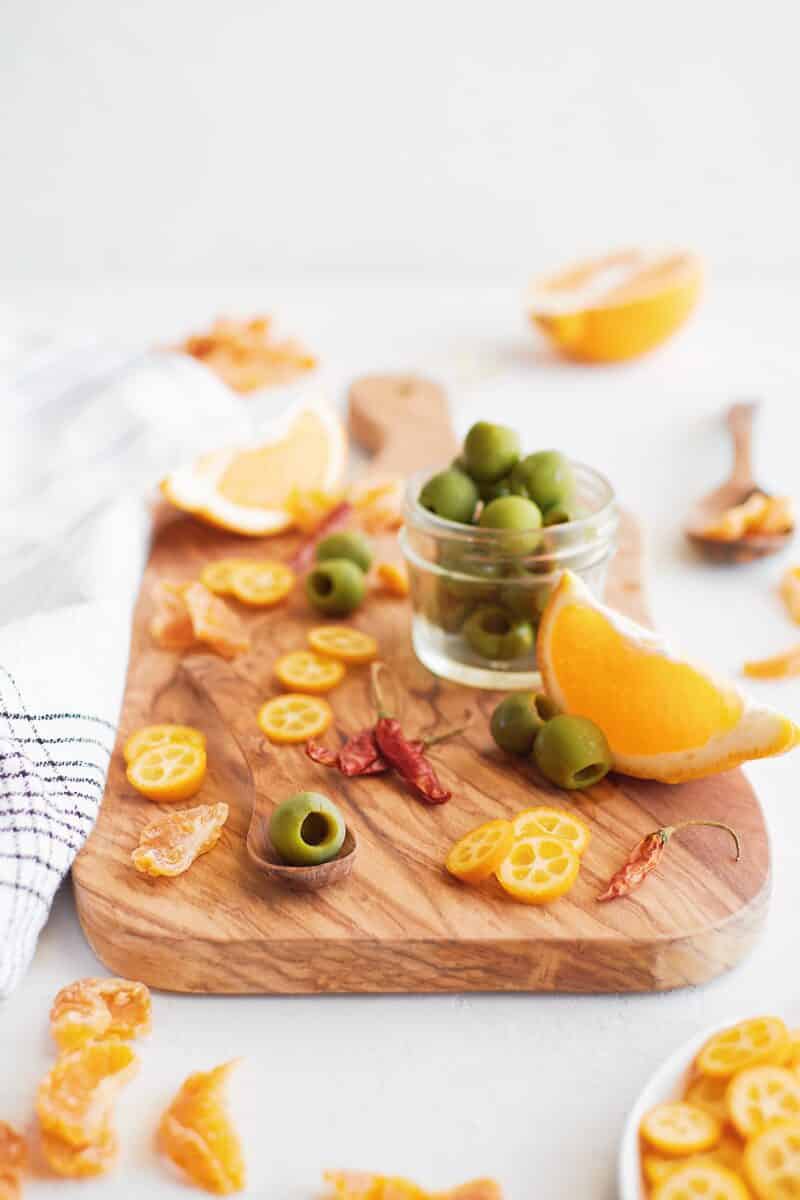 Use the JUMP TO RECIPE button at the top of the post, or scroll to the bottom of the post to see the full recipe card with ingredient measurements and instructions.
Method
The method for marinating these delicious olives is easy. It starts by creating a flavorful brine that the olives will soak in. A brine is a saltwater solution that is used for marinating. From meats to fruits and vegetables, it is used much like a pickling method for the preservation of foods and to infuse flavor.
The brine is made by adding the citrus juices, dry chilies, and fruit, along with the vinegar, salt, and sugar into a saucepan. Bring the mixture to a boil, then reduce to a simmer until the sugar and salt have dissolved. Remove the brine from the heat and allow it to cool until it is room temp. This allows the dry fruit and chilies to open up and release all their flavors into the brine.
When the brine has cooled, pour it over the olives into small jars with a few slices of fruit and chili pepper that was rehydrated in the brine. I do it this way if I know I want to give some away. If you are keeping them for personal use, this can be done in one larger jar.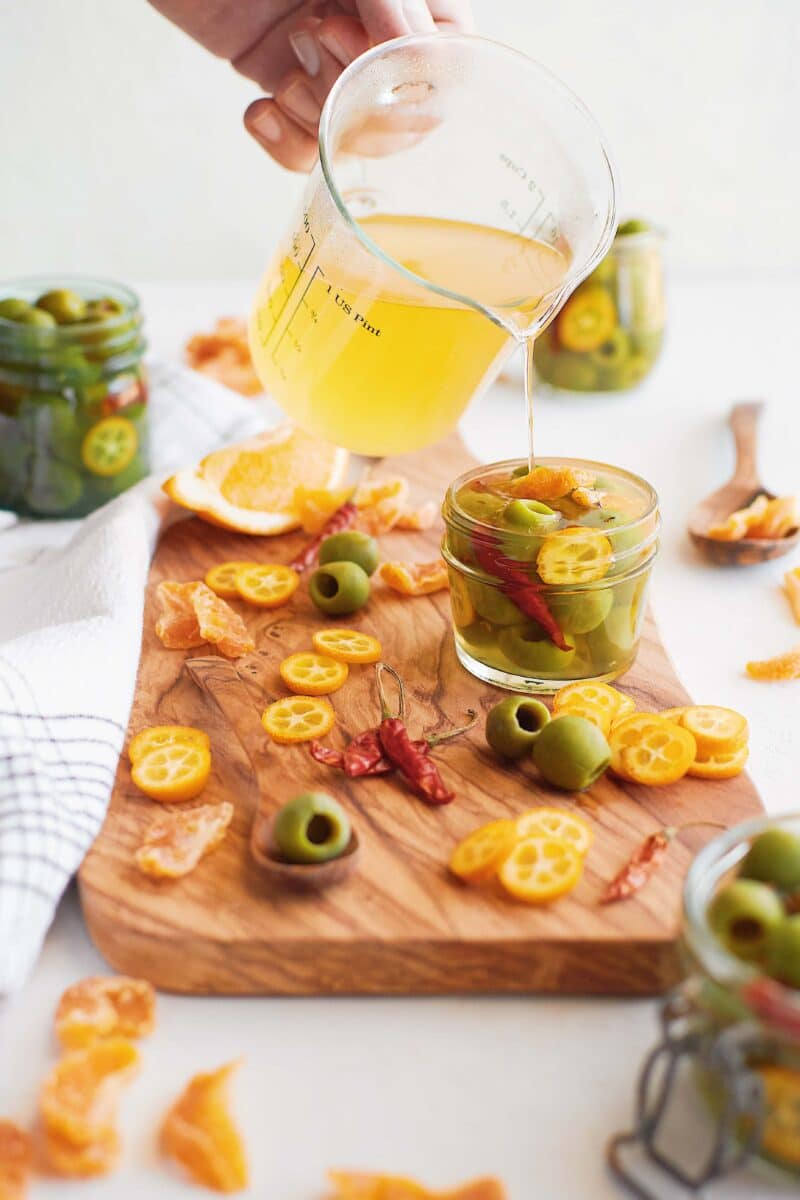 Notes & Tips
Be sure to stuff a few slices of kumquat and some chiles into the edges of the jars so they look as good as they taste. They will continue to infuse flavor the longer the olives rest in the brine.
Make your marinated olives in small jars if you would like to give them as gifts, and so the brine can be sure to cover the olives. If you are making these marinated olives for personal use, they can be marinated in one large jar. Be sure the olives are always covered by the brine.
Be sure the brine cools a bit before adding it to the jars with the olives. If the brine is too hot you will begin to cook the olives. This can cause them to turn brown and get mushy as opposed to being preserved. These marinated olives are a cold preservation process.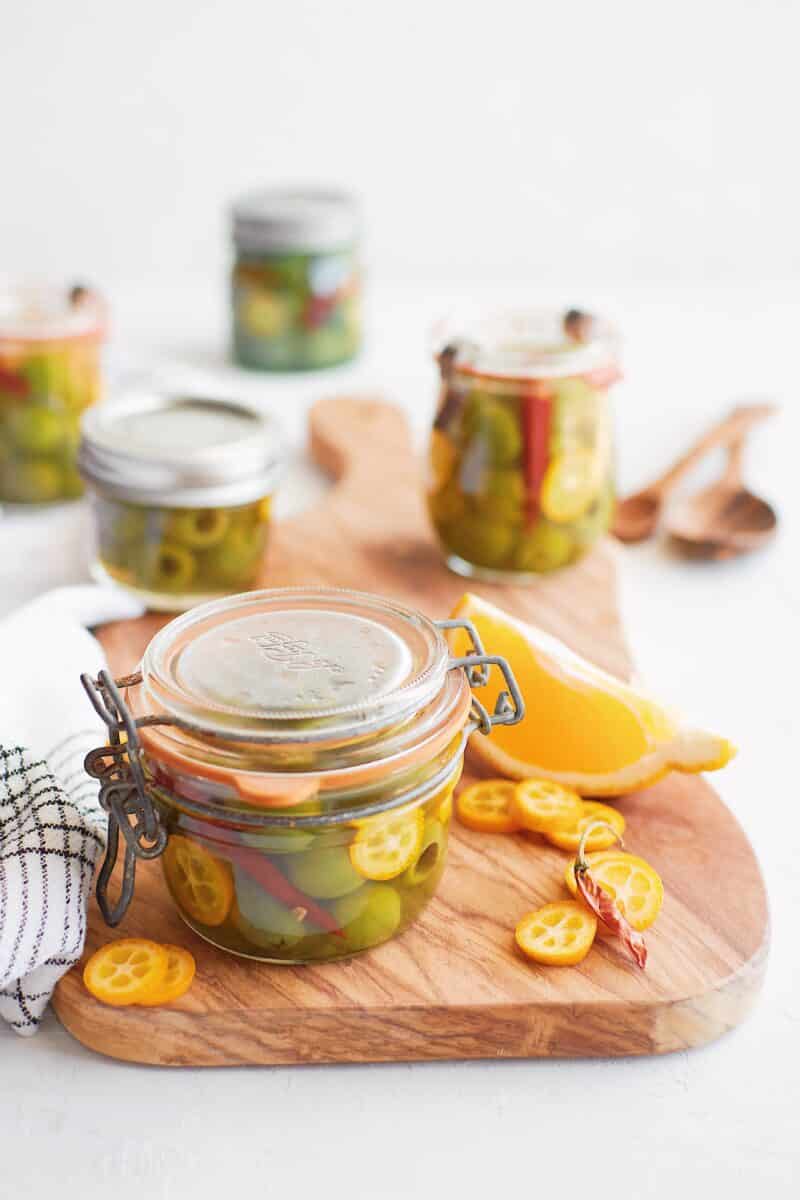 Substitutions
If you have a hard time finding the dried tangerine slices, USE THESE, or if you are near a Trader Joe's you can sub for their dried mandarines.
The fresh kumquats can be swapped for slices of fresh clementines or wedges of tangerines if kumquats are hard to find.
The dry Chili de Arbol can easily be swapped for your favorite dried chili. I use these because they are fairly easy to find and they just release a subtle heat. You can also remove them if you don't like the heat. If you can't find dry Chili de Arbol, you can just use the called-for chili flakes only.
If you don't have champagne vinegar, or you can't find it, use apple cider vinegar. A vinegar with a little sweetness is what you want for this recipe.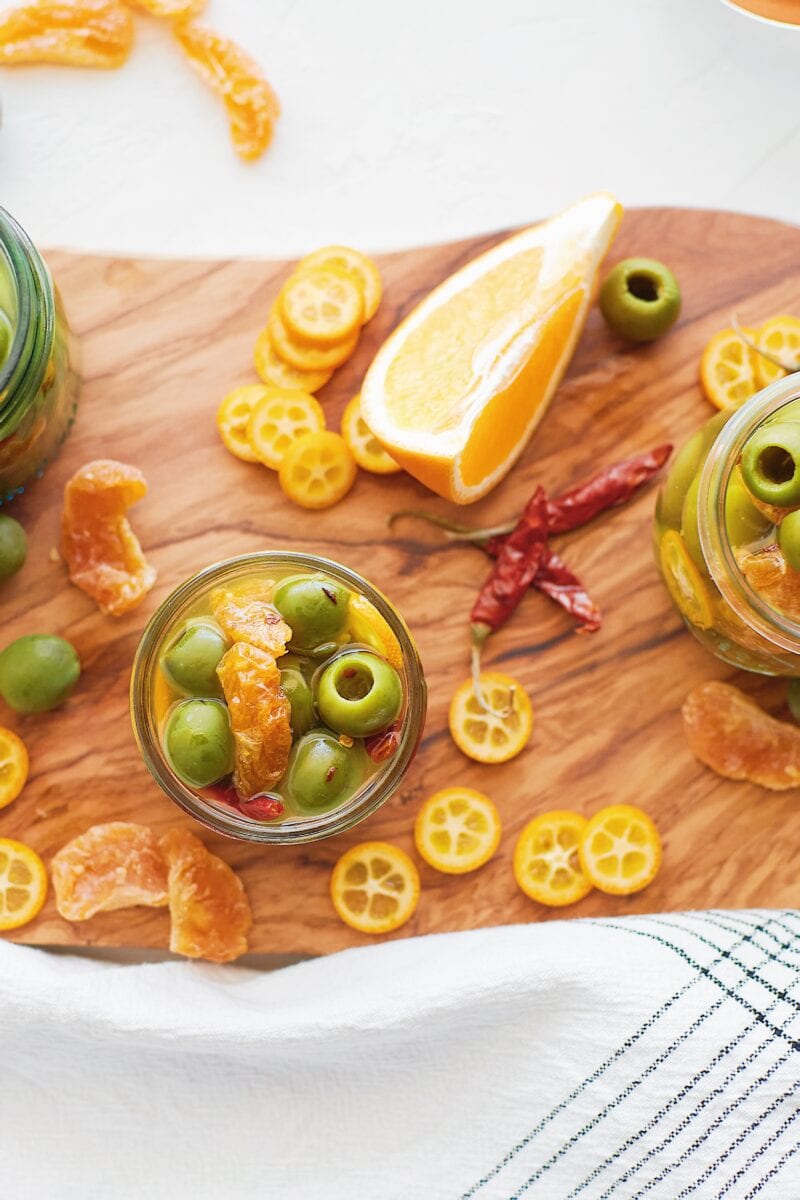 Giving as Gifts
If you want to make an extra big batch as I do, grab THIS can of olives. Amazon offers them at a great price which allows you to be as olive-obsessed as I am. And if you aren't already, you will be when you try these.
I like THESE little mason jars for gift giving. The size is just right and they can go directly from the fridge to the table to the cheese tray.
More homemade basics!
Did you make this recipe? Let me know by leaving a review or comment! And be sure to sign up for my newsletter, and follow along on Instagram, Pinterest, and Facebook!