I discovered Marinated Olives similar to this while shopping in a specialty grocery with a friend. They were so delicious, but I wanted the flavor to be punched up just a little more. So I decided to give them a go, and I have to say, I am in LOVE!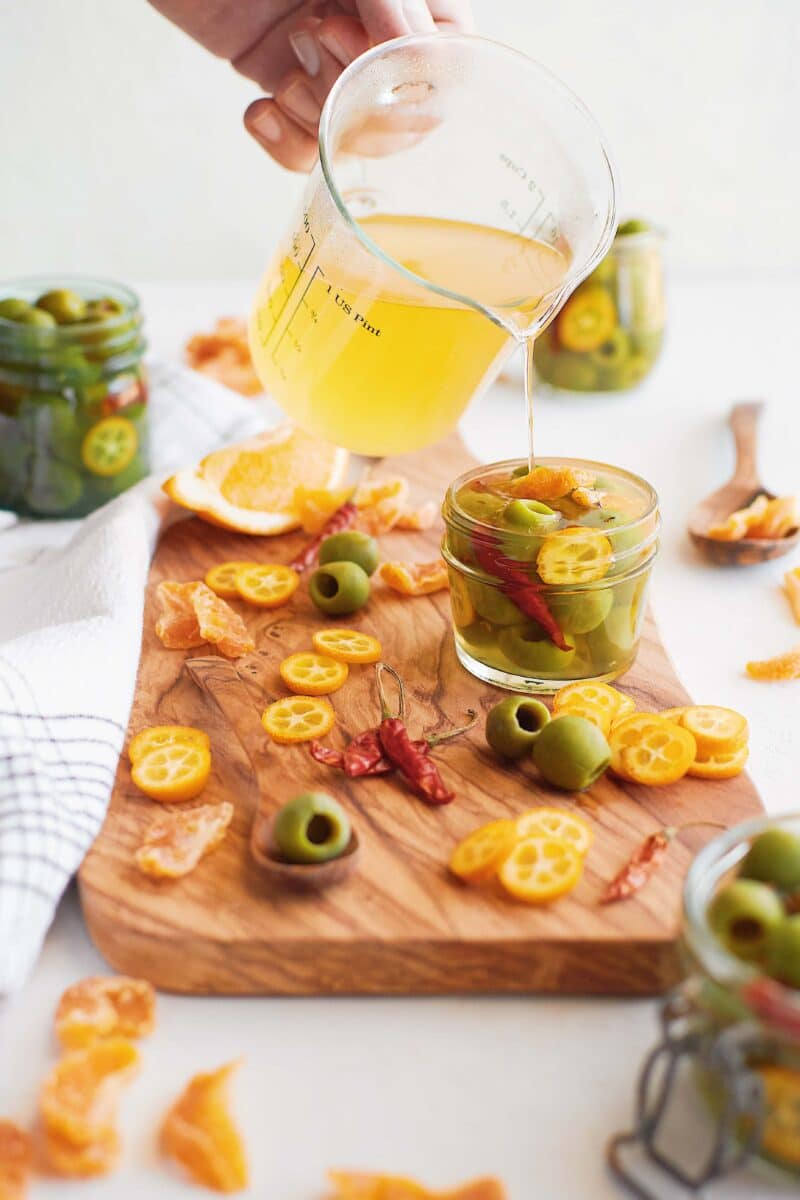 This is a simple and delicious recipe that is perfect to make for holiday charcuterie boards or to give as gifts. I make a big cheese tray for Thanksgiving and Christmas every year and I can't wait to add these. A little fruity, tangy, spicy, and salty, they pair perfectly with a glass of prosecco and some smoked almonds.
What you need!
Castelvetrano Olives. They are famed for being the most delicious, and highly favored olive to come out of Italy. Buttery, briny, and with a mild flavor that absorbing flavor easily, they are fantastic for marinating. They are the perfect olive for this recipe, seek them out, they can be found in most grocery stores these days.
Tangerine Juice. Fresh is best for this recipe, that is why I usually make this around the holidays when fresh citrus is showing up in stores. If you really love them, you can make a big batch to last you all year.
Kumquats. They have a sweet tangy flavor and I love their size for sliding a few slices into each jar when marinating. It looks nice and continues to add flavor as they sit.
Chile de Árbol. These spicy little Mexican chiles add just the right amount of kick and much like the kumquats, they look nice in the jar, style, and substance!
Salt and Vinegar. I use Champagne vinegar for its delicate and tart flavor that pairs nicely with the citrus flavors. The salt is a necessary evil, though the olives are salt, they help preserve the olives and balance all the other flavors.
Sugar. This helps balance everything out and makes the heat sweet, and will keep you coming back for MORE!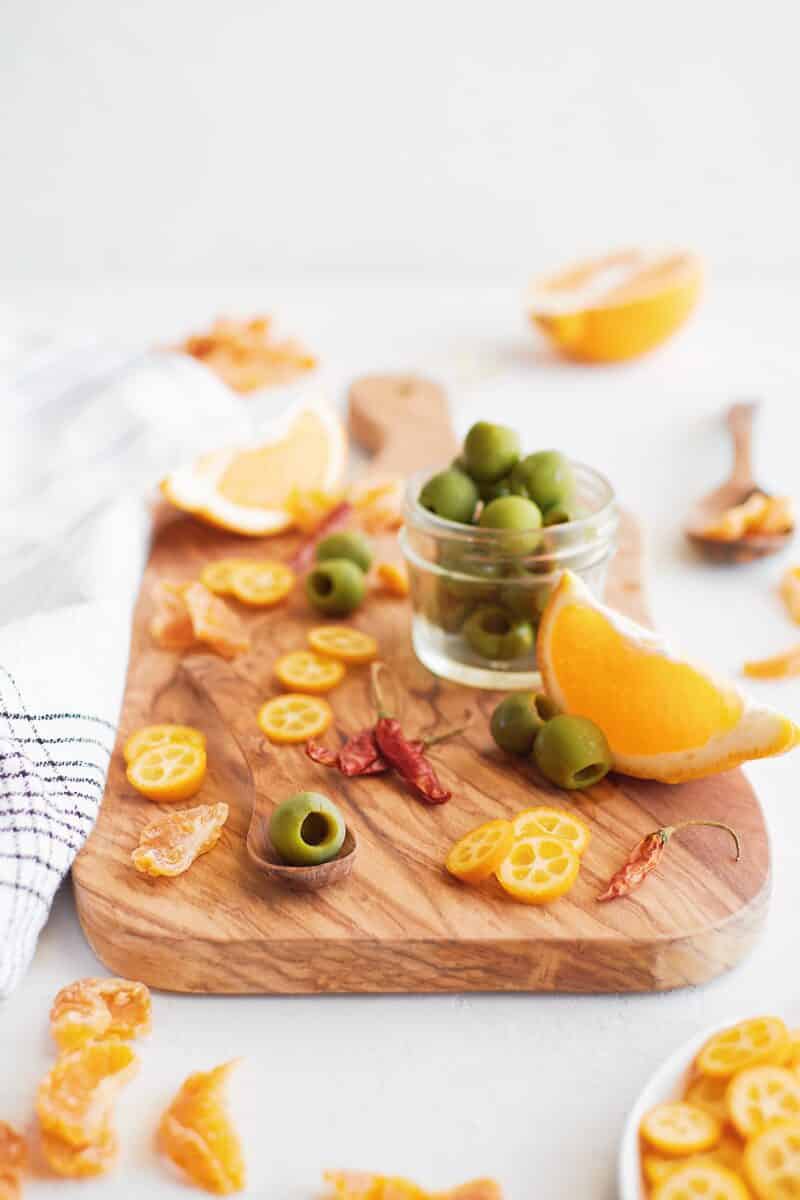 Giving as Gifts
I love canning a few small jars of these up to give away as gifts or to take to hosts at Thanksgiving or Christmas parties. Marinated olives are a perfect accompaniment to any meat and cheese tray.
Be sure to stuff a few slices of kumquat and some chiles into the edges of the jars so they look as good as they taste.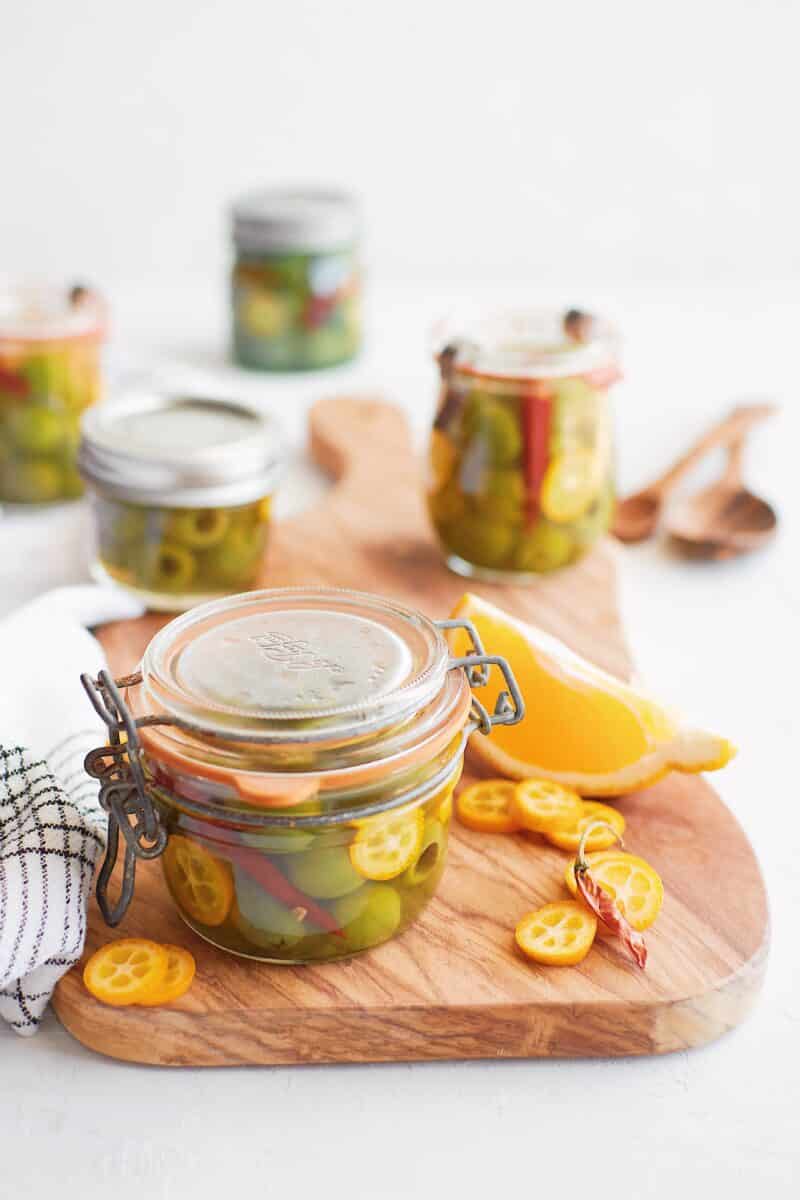 If you want to make an extra big batch as I do, grab THIS can of olives. It's the best price around and allows you to be olive obsessed like me. And if you aren't already, you will be when you try these.
I like THESE little mason jars for gift giving. The size is just right and they can go directly from the fridge to the table to the cheese tray.
If you have a hard time finding the dried tangerine slices, USE THESE, or if you are near a Trader Joe's you can sub for their dried mandarines.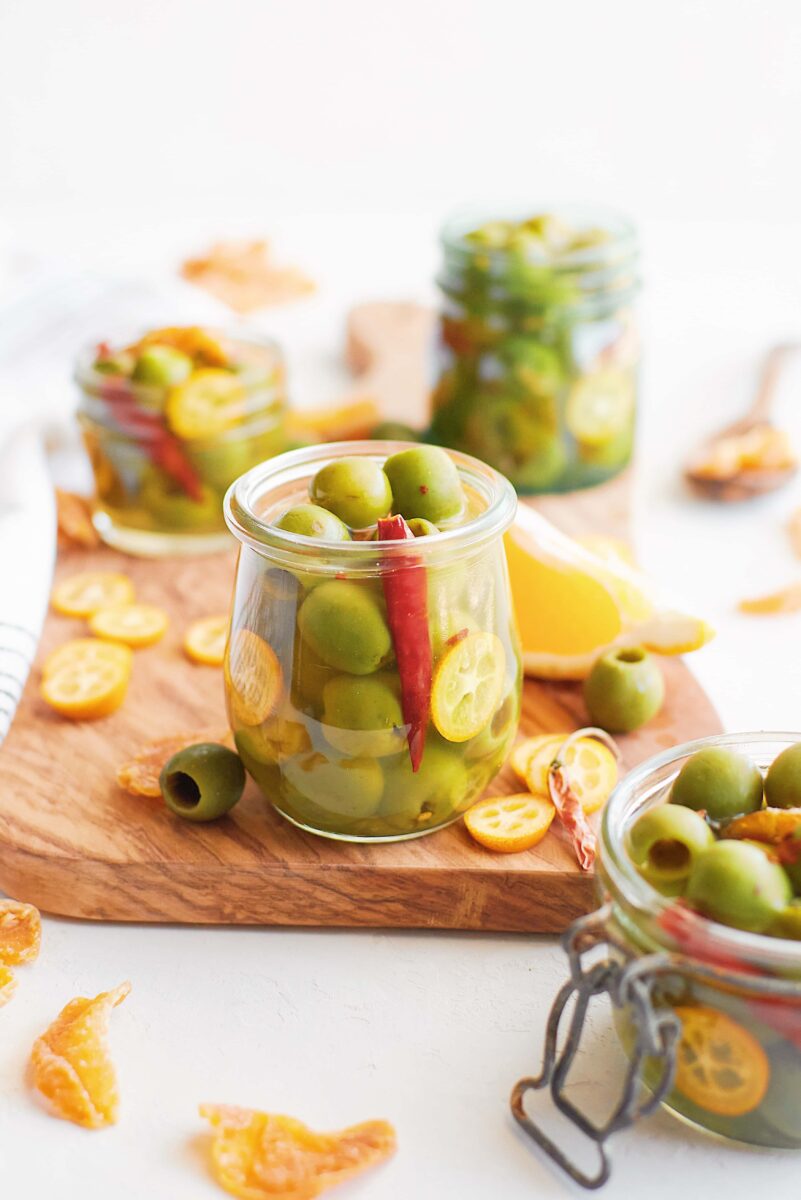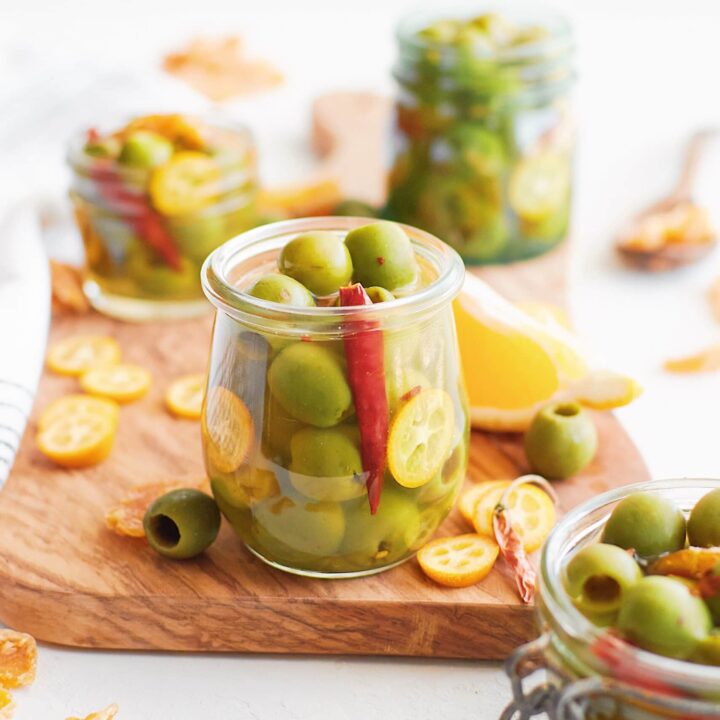 Marinated Olives with Kumquats and Chiles
These olives are fantastic paired with a glass of prosecco, or as an accompaniment to a charcuterie or cheese tray.
Ingredients
4 cups Water
1 Tangerine, zested and juiced
6 Kumquats sliced
9 dried Chile de árbol
½ teaspoon Red Pepper Flakes
¾ cup Champagne Vinegar
1 teaspoon Kosher Salt
⅔ cup Granulated Sugar
¼ cup dried Tangerines or Mandarines
1 lb Castelvetrano Olives
Instructions
In a 4qt stockpot, combine the water, tangerine zest and juice, ½ the kumquat slices, chiles, vinegar, salt, sugar, and dried tangerines. Bring the mixture to a boil, then reduce the heat and simmer for 5 minutes, stirring occasionally. Strain the mixture through a fine-mesh sieve and reserve the Chiles de Árbol.
Place the olives into cleaned mason jars, lining the edges with a few slices of the reserved kumquats and 2 of the reserved Chiles de Árbol. Cover the olives with the strained brining liquid, cover tightly, and store in the refrigerator. Let the olives marinate for a minimum of 1 week, they will keep in the fridge for up to 1 year.
Notes
These are great for cheese trays, charcuterie boards, giving as gifts, or simply hoarding for your own personal enjoyment!
Nutrition Information:
Serving Size:

1 grams
Amount Per Serving:
Unsaturated Fat:

0g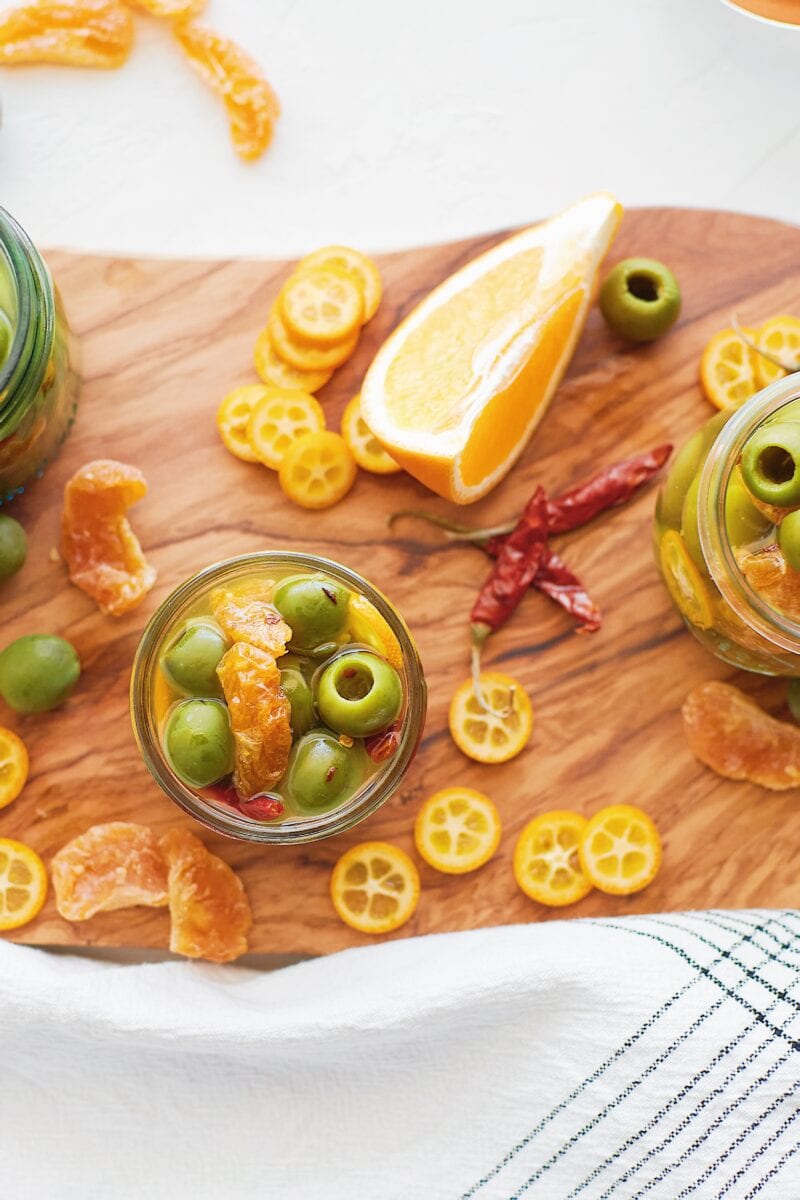 If you make this recipe, please let me know by leaving a review at the bottom of this page!
And make sure to sign up for my newsletter and follow along on Instagram, Pinterest, and Facebook for more KendellKreations!
MY LATEST RECIPES!
Get my NEW e-Cookbook here!! ⬇️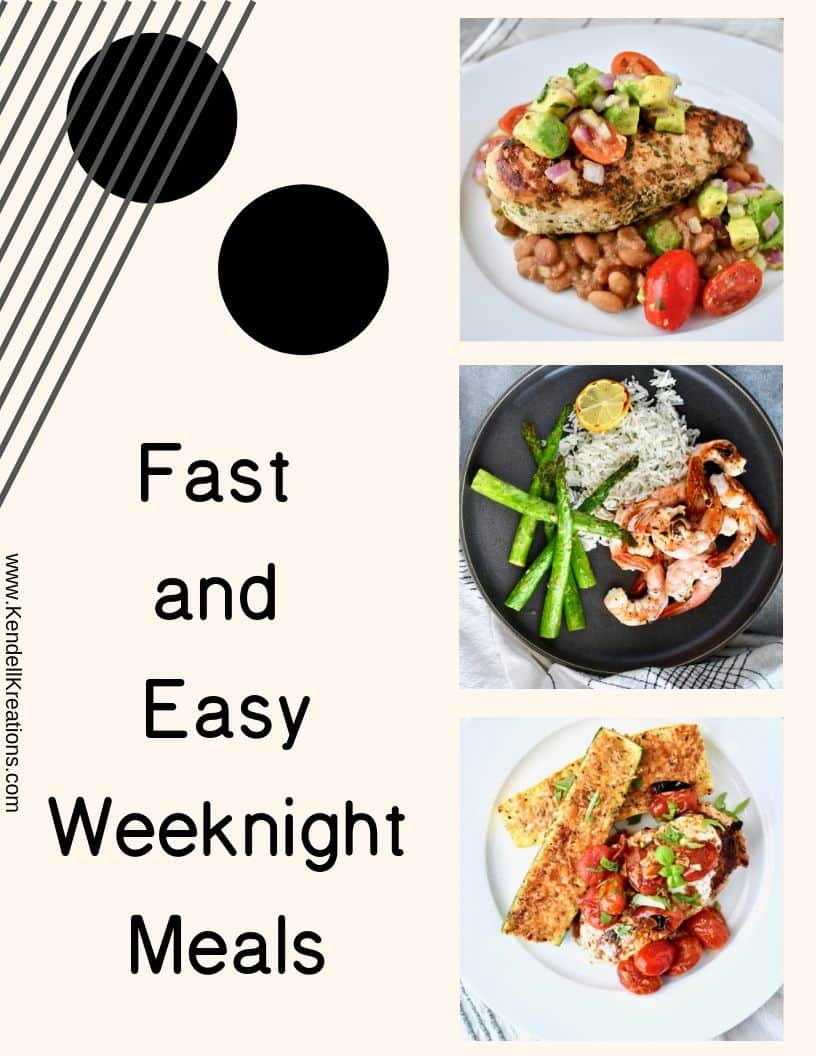 MY FAVORITE KITCHEN TOOLS!
Here are a few links to some of my favorite kitchen tools! You get a car, YOu get a car, YOU ALL GET A CAR…in my best Oprah voice
These Rösle Silicone Tongs are a little pricey but they will last you the rest of your life and are the softest in your hand. This is important for someone like m that cooks so much. It reduces strain, I have 4 sets in my kitchen!
These are my FAVE Nordic Ware Sheet Pans, every kitchen should have at least 2 sets of these! I think I have at least 4 of each of these.
This is my favorite pressure cooker, the Fagor is the same concept as the "Instant Pot" but easier to use in my opinion, if you don't have one you NEED one, it will be your best friend in the kitchen!
A sharp knife is the most important tool in the kitchen, these Japanese steel "Shun" knives are my favorite! And this is a great starter set to build on. Once you try them you will be in love so use this as a foundation you can build on for years to come.
This Scanpan 11″ skillet is just the right size for almost anything you will need to cook and my best friend and a real workhorse in my kitchen, it's also a great deal at $99. Scanpan is the best in the world for healthy cooking. It is coated with a proprietary ceramic-titanium coating that is durable while allowing you to use fewer fats and oils when cooking. It is a coating only they use. I could talk all day about my love for these pans, message me if you want more info. Here are some other sizes that are available if you are looking to outfit your kitchen with some new goodies. 8″ & 10″ Skillet set or 8″ Skillet, I still need this one for my kitchen Also, I don't really know how to cook small so the 12.5″ is my other fave!
This giant vat of olive oil is my favorite, I decant it into a smaller bottle for my counter. Or put this spigot on top of a wine bottle!
My favorite baking dish that is so easy to clean even burnt on cheese slides right off!
This Tovolo jar scraper has to be my single favorite kitchen tool, it is definitely the most used tool in my kitchen. If you are NOT a gadget person, this is the only necessity I say is a MUST beyond the wooden spoon.
A great wood spoon is essential, this Olive Wood one is my favorite, I have more than I can count. But can you really ever have too many?
A food scale can be a very important tool in your kitchen, this one is the one I use every day!
If you love Joanna Gaines as much as I do then the 'Magnolia Table Cookbook' is a must in your kitchen, get a copy HERE!