Just in case you are new here, I spent a year cooking through Joanna Gaines volume 1 of the Magnolia Table Cookbook. With volume 2 set to release in just a couple of days I have been asked if I will do the same with the second one. Well y'all, why the heck NOT!?
So here we go, she released the recipe for her French Silk Pie early, you can get it here. I was craving something chocolaty and it totally delivered! Grab your copy of Magnolia Table Cookbook Volume 2 HERE!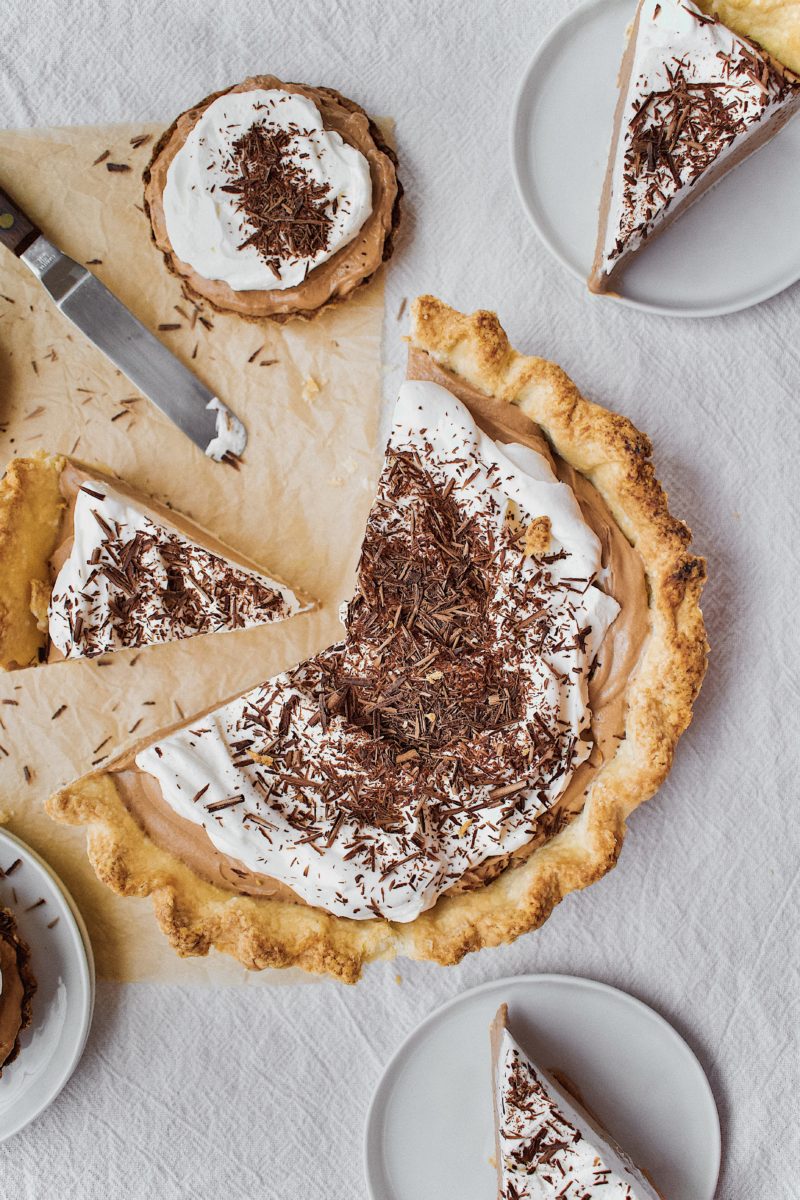 The review…
Ok friends, as a Chef I have to say, as much as I love this recipe for French Silk Pie, I really dislike when a recipe calls for 2/3 of a stick of butter. I am not really sure why, but it just bugs me.
That said, I upped the recipe by half. This has you use a full stick of butter, 3 eggs, and a full cup of sugar and cream. I can't really tell you why, but rounding things out to this quantity just makes it even and makes me happy. On top of the fact, that if you go the route of a traditional pie crust and not the cookie crust, the filling will leave a LARGE gap between the filling and the top.
I like the pie to be nice and FULL, then topped with the whipped cream. The cream should be a topping, not part of the filling.
I also make one and a half times the batch of the pie crust recipe and use the extra to make some little tartlets. I have some tartlet pans, but if you don't have them, just make a single pie crust recipe and be sure to use a deep pie dish. As long as your dish is deep, the larger amount of filling will fit in the crust, I promise!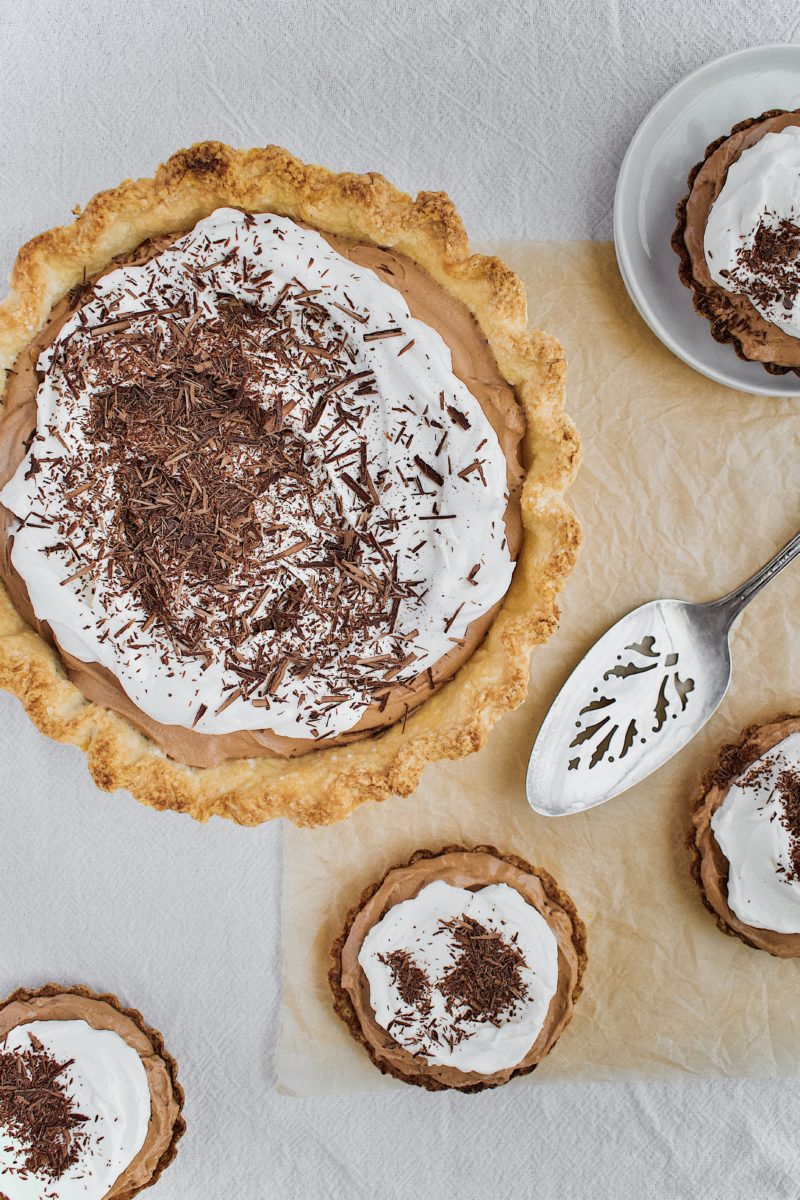 The reaction…
Ok, so now let's talk flavor. I used Trader Joe's "pound plus" dark chocolate and I have to say, it is FANTASTIC! BUT…it is a little sweet, but that is on me. While it is sweet, I am absolutely in LOVE.
If you don't like it quite as sweet be sure to use really dark or bittersweet chocolate. This was the baking chocolate that I had on hand when I decided to make this recipe on a whim, but if I make it again I would seek out slightly darker chocolate. After all, the recipe does call for unsweetened chocolate.
All that said, personally I could leave the entire pie thing behind and eat the filling like a pudding. It is like the richest and decadent pudding you have ever eaten. I'd be happy with a simple spoonful every day, yum!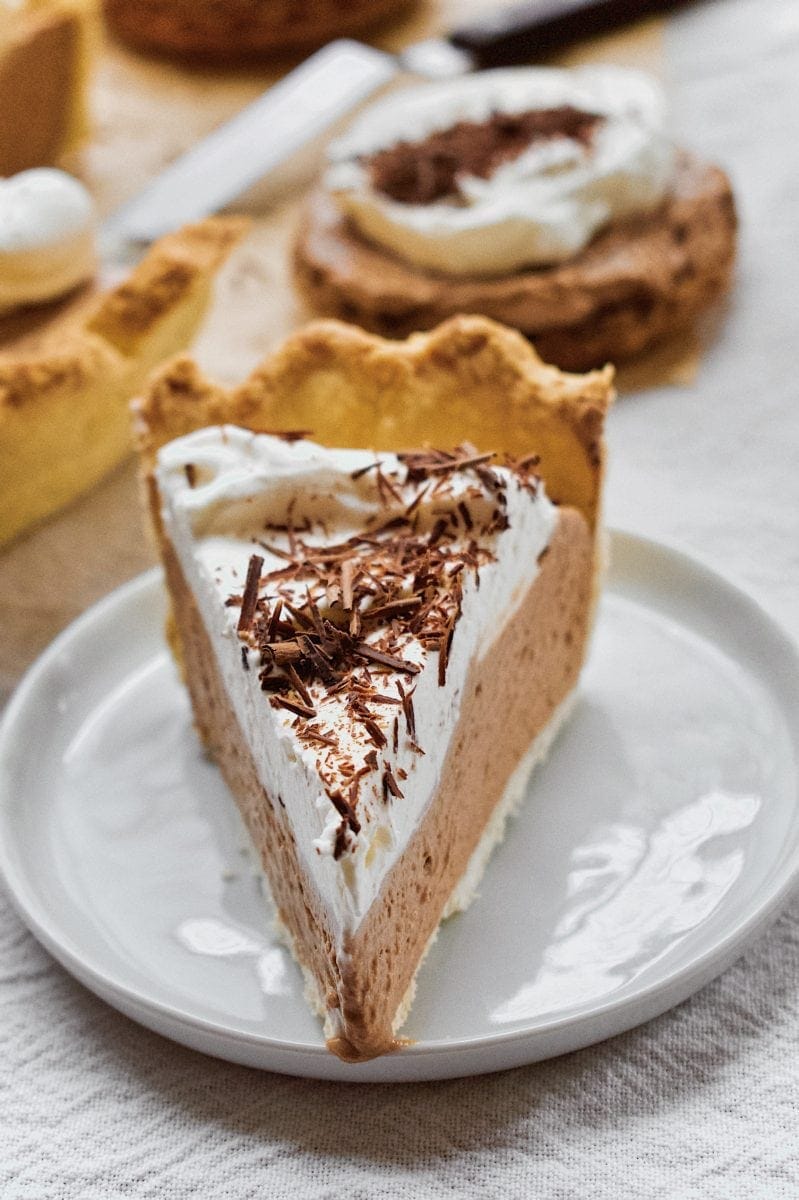 The tips…
When starting the initial step, be sure NEVER to walk away from the stove and to whisk NON-STOP. If you use a smallish saucepan and cook over medium heat this process will take 3-5 minutes. It is super quick, so measure out all of your ingredients ahead of time and be ready to move quickly.
When it comes to the pie crust, this is something you want to take the time to make ahead. It is even something you can make the day before so you can ensure that it is properly cooled and you don't rush the filling. The crust needs to be COMPLETELY cool before adding the filling or it will become slack and never properly set.
This can be done for either the traditional or chocolate cookie crust.
Personally I like to let the pie sit out for about 30 minutes before eating so it is a little bit more room temp. Be sure to cut it when it is cold so you can get nice clean slices, but enjoy when it has warmed up a bit. Don't leave it out too long though or the filling will become runny.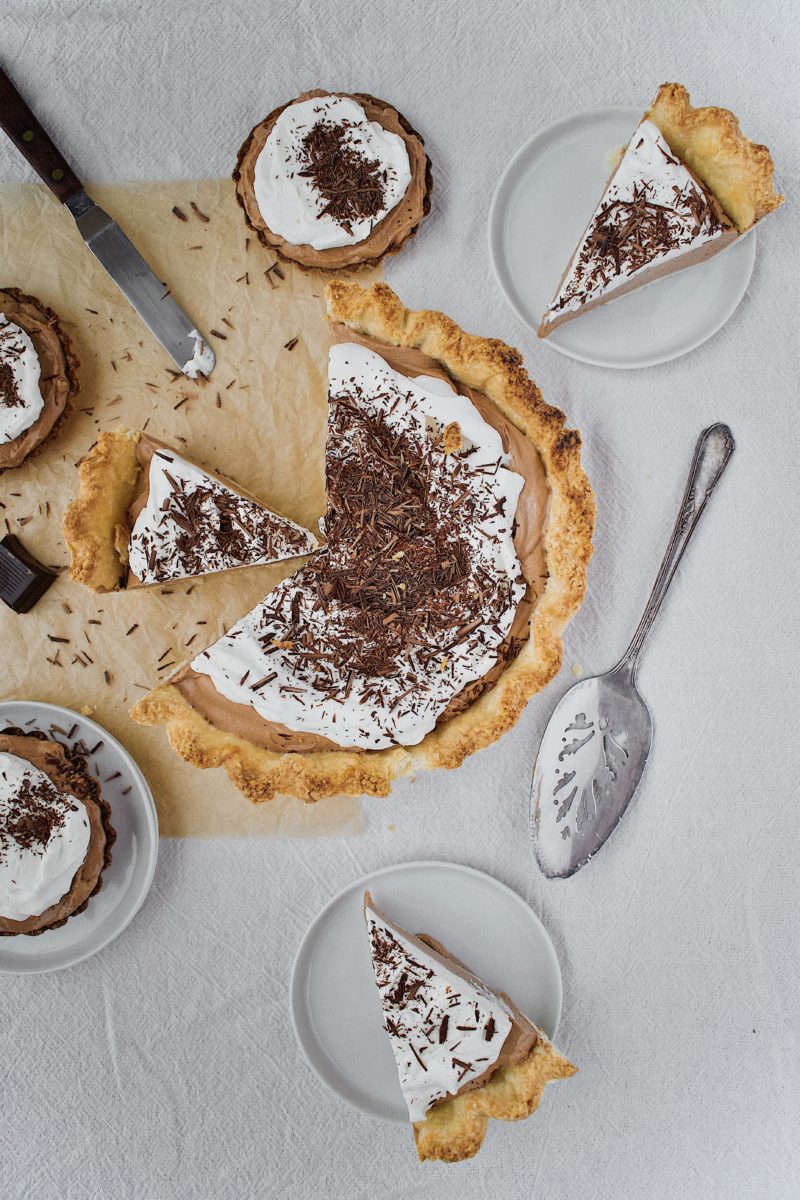 Overall this French Silk Pie was a HIT! I believe that I will receive requests for it again and it is a fantastic way to end a meal. If you are a chocolate lover, this is 100% the pie for you!
Until next time, Happy Cooking!
Kendell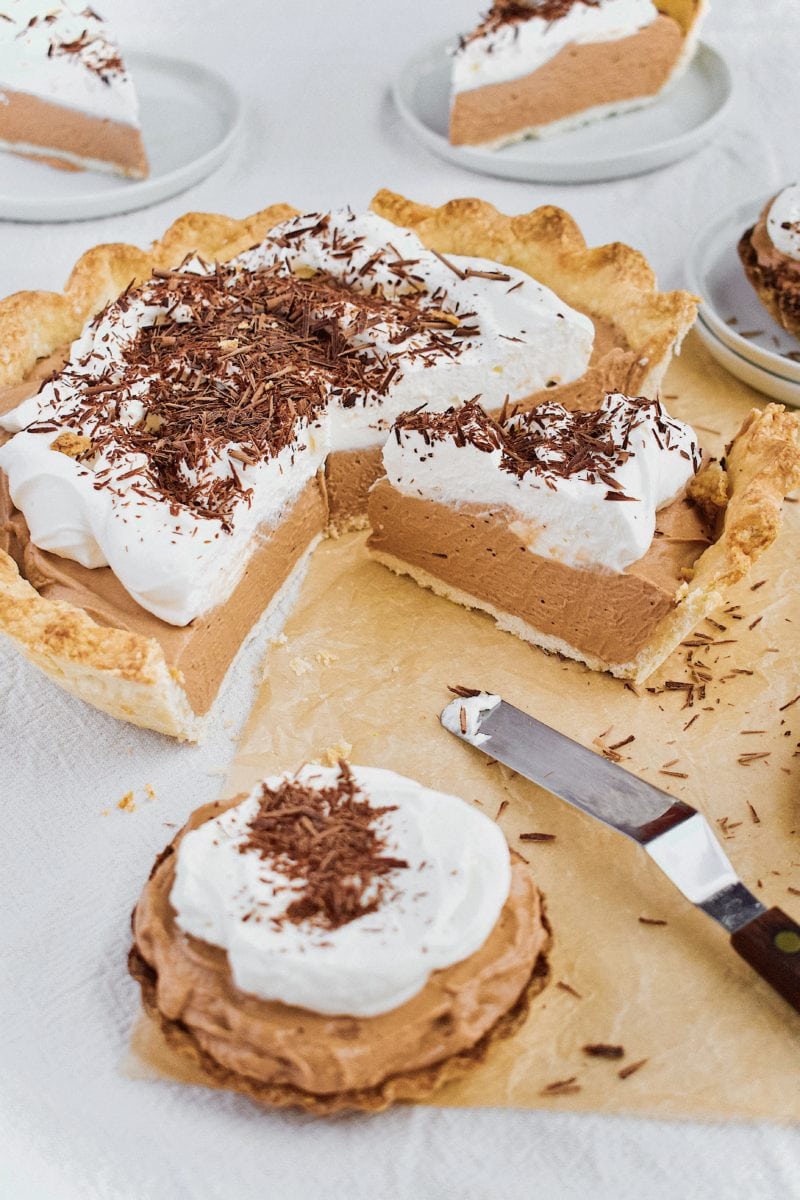 MY LATEST RECIPES!
Restaurant-Style Alfredo Sauce (Gluten-Free)
Get my NEW e-Cookbook here!! ⬇️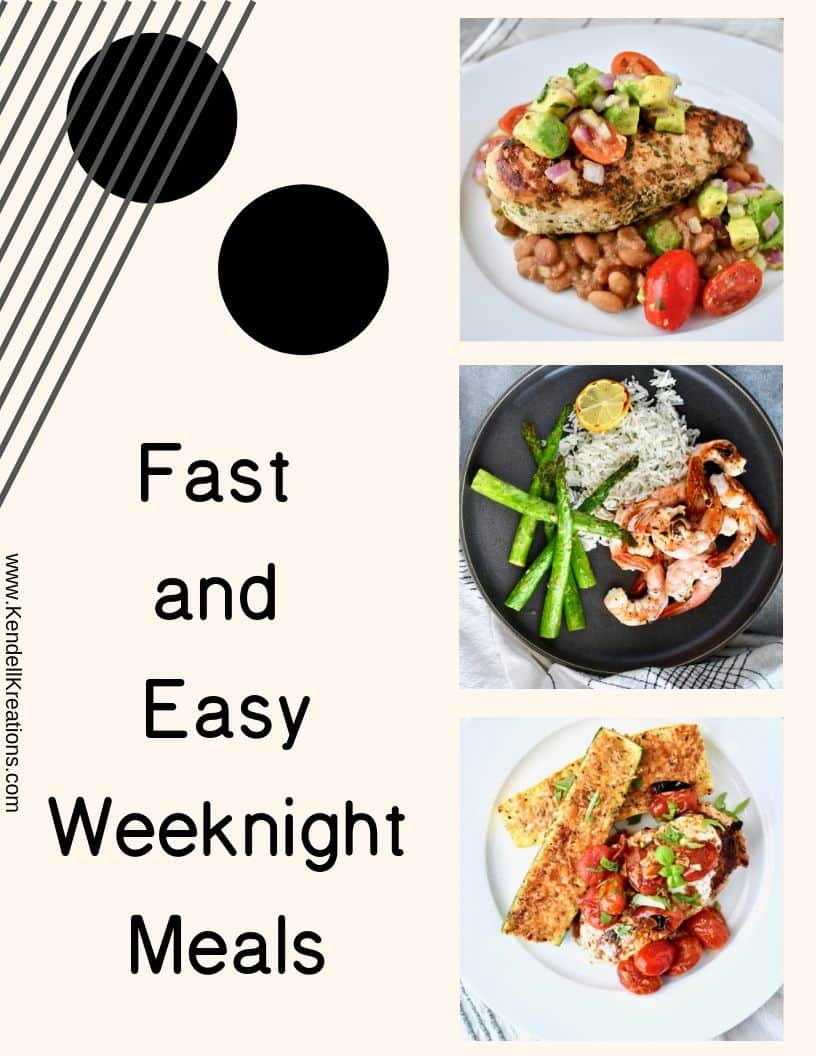 MY FAVORITE KITCHEN TOOLS!
Here are a few links to some of my favorite kitchen tools! You get a car, YOu get a car, YOU ALL GET A CAR…in my best Oprah voice
These Rösle Silicone Tongs are a little pricey but they will last you the rest of your life and are the softest in your hand. This is important for someone like m that cooks so much. It reduces strain, I have 4 sets in my kitchen!
These are my FAVE Nordic Ware Sheet Pans, every kitchen should have at least 2 sets of these! I think I have at least 4 of each of these. 
This is my favorite pressure cooker, the Fagor is the same concept as the "Instant Pot" but easier to use in my opinion, if you don't have one you NEED one, it will be your best friend in the kitchen!
A sharp knife is the most important tool in the kitchen, these Japanese steel "Shun" knives are my favorite! And this is a great starter set to build on. Once you try them you will be in love so use this as a foundation you can build on for years to come.
This Scanpan 11″ skillet is just the right size for almost anything you will need to cook and my best friend and a real workhorse in my kitchen, it's also a great deal at $99. Scanpan is the best in the world for healthy cooking. It is coated with a proprietary ceramic-titanium coating that is durable while allowing you to use fewer fats and oils when cooking. It is a coating only they use. I could talk all day about my love for these pans, message me if you want more info. Here are some other sizes that are available if you are looking to outfit your kitchen with some new goodies. 8″ & 10″ Skillet set or 8″ Skillet, I still need this one for my kitchen  Also, I don't really know how to cook small so the 12.5″ is my other fave!
This giant vat of olive oil is my favorite, I decant it into a smaller bottle for my counter. Or put this spigot on top of a wine bottle!
My favorite baking dish that is so easy to clean even burnt on cheese slides right off!
This Tovolo jar scraper has to be my single favorite kitchen tool, it is definitely the most used tool in my kitchen. If you are NOT a gadget person, this is the only necessity I say is a MUST beyond the wooden spoon.
A great wood spoon is essential, this Olive Wood one is my favorite, I have more than I can count.  But can you really ever have too many?
A food scale can be a very important tool in your kitchen, this one is the one I use every day!
If you love Joanna Gaines as much as I do then the 'Magnolia Table Cookbook' is a must in your kitchen, get a copy HERE!