You might think I am getting a little Fluffernutter obsessed over here, but these Chocolate Marshmallow Cookies are so good and fit right in! I call these my 'Campfire Fluffernutter Cookies'. They're inspired by a s'more, but ones made with a peanut butter cup instead of a chocolate bar.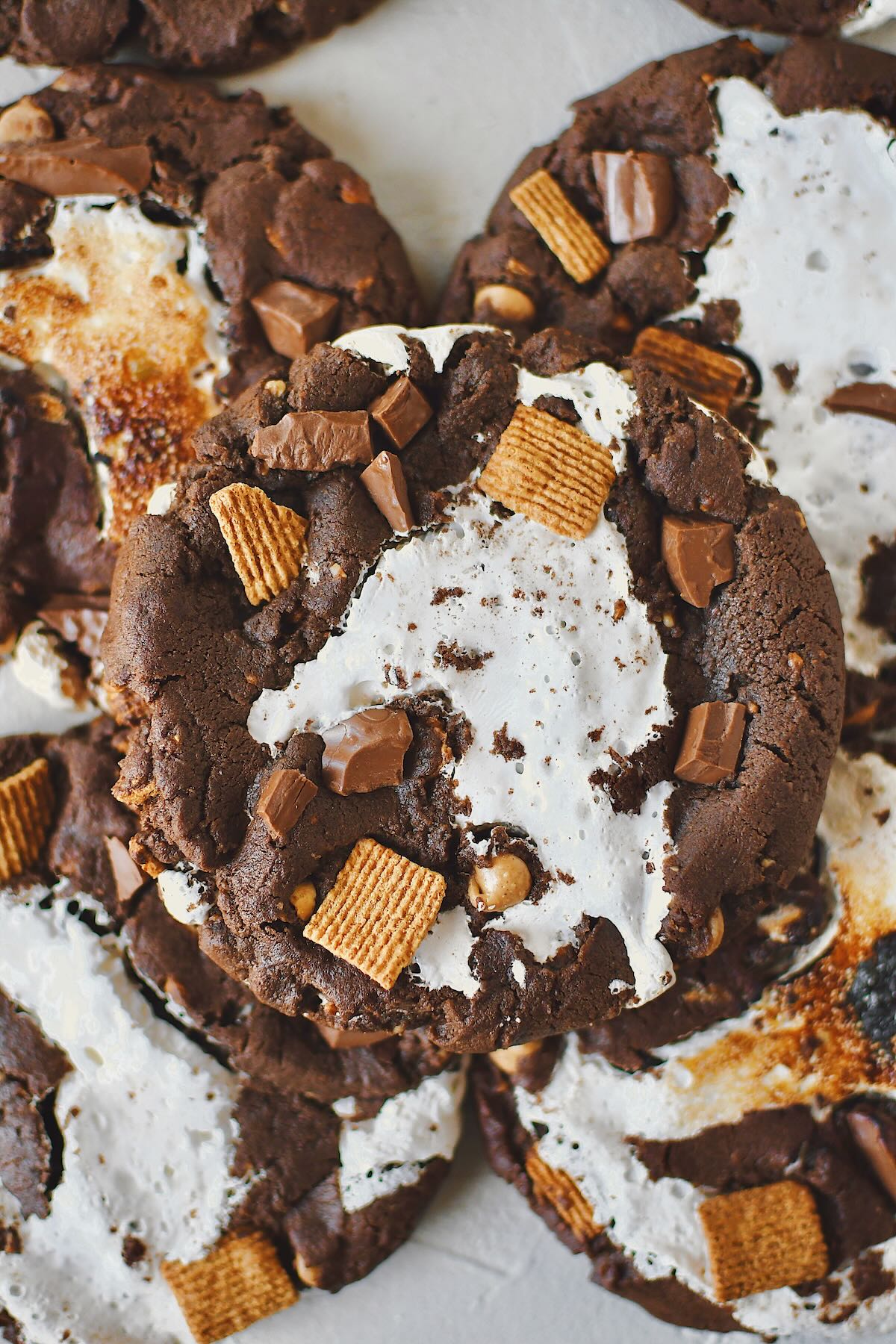 They are still peanut butter cookies at their core, but with a few tweaks to give them a bit of a "campfire" flavor. I just stay energized to keep spinning off my original recipe by the whisper from Joanna Gaines after I baked for her at the Silos Baking Competition that my cookie was "her favorite" that day.
Jump to:
Ingredients
This ingredient list starts with the classic peanut butter cookie requirements. Butter, peanut butter (crunchy of course), sugar and brown sugar, vanilla, milk, egg, flour, salt, and baking powder. It starts to get fun with the addition of cocoa powder to make the base a chocolate peanut butter cookie.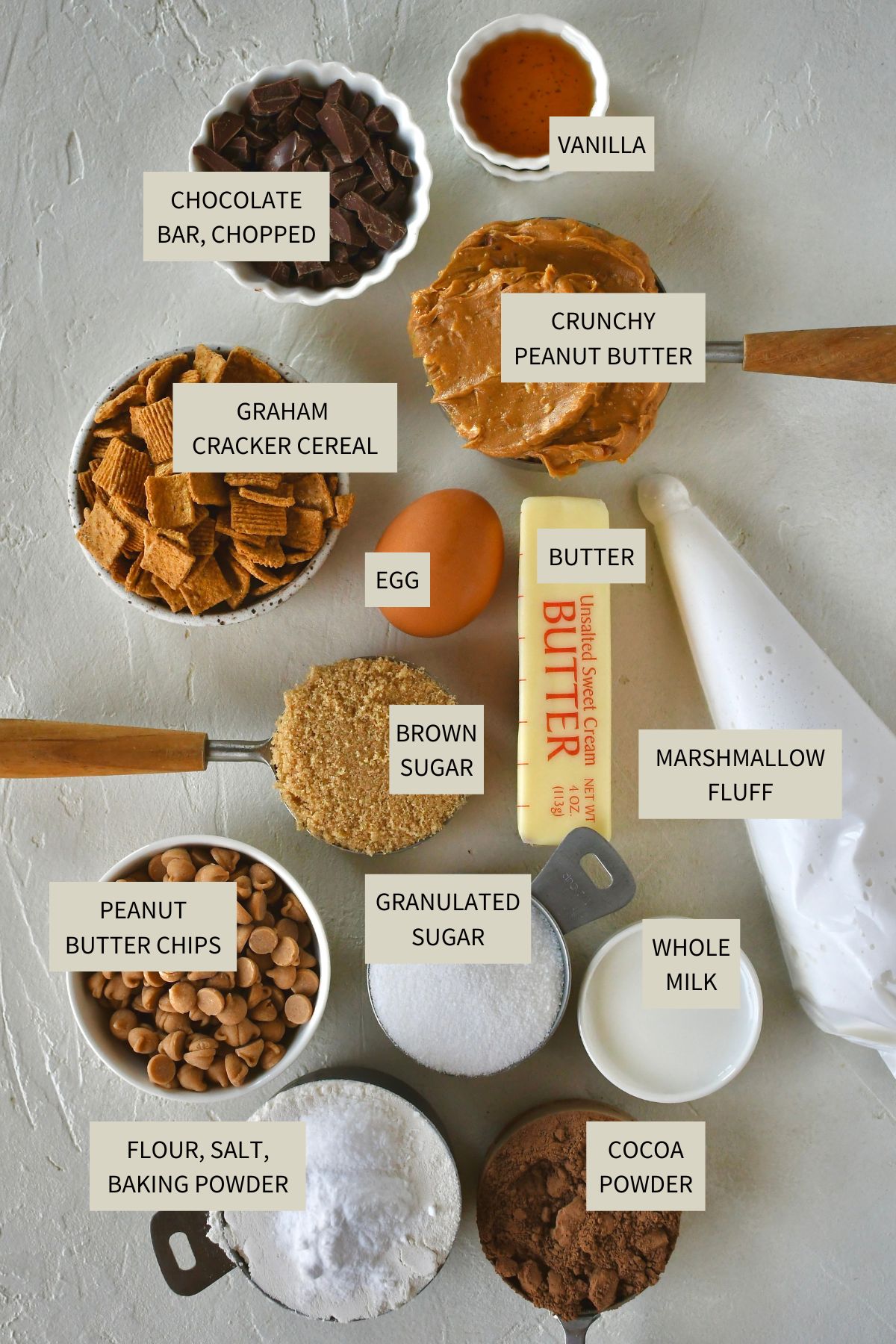 Then to continue carrying the peanut butter flavor, the peanut butter chips are added along with a chopped chocolate bar. We round out the s'more flavors with graham cracker cereal and marshmallow fluff. It wouldn't be fluffernutter style without the fluff.
Use the JUMP TO RECIPE button at the top of the post, or scroll to the bottom of the post to see the full recipe card with ingredient measurements and instructions.
Method
Start by blending the butters and sugars together until light and fluffy. Then beat in the egg and vanilla until fully incorporated. Add the dry ingredients and the milk and mix just until no streaks of flour remain.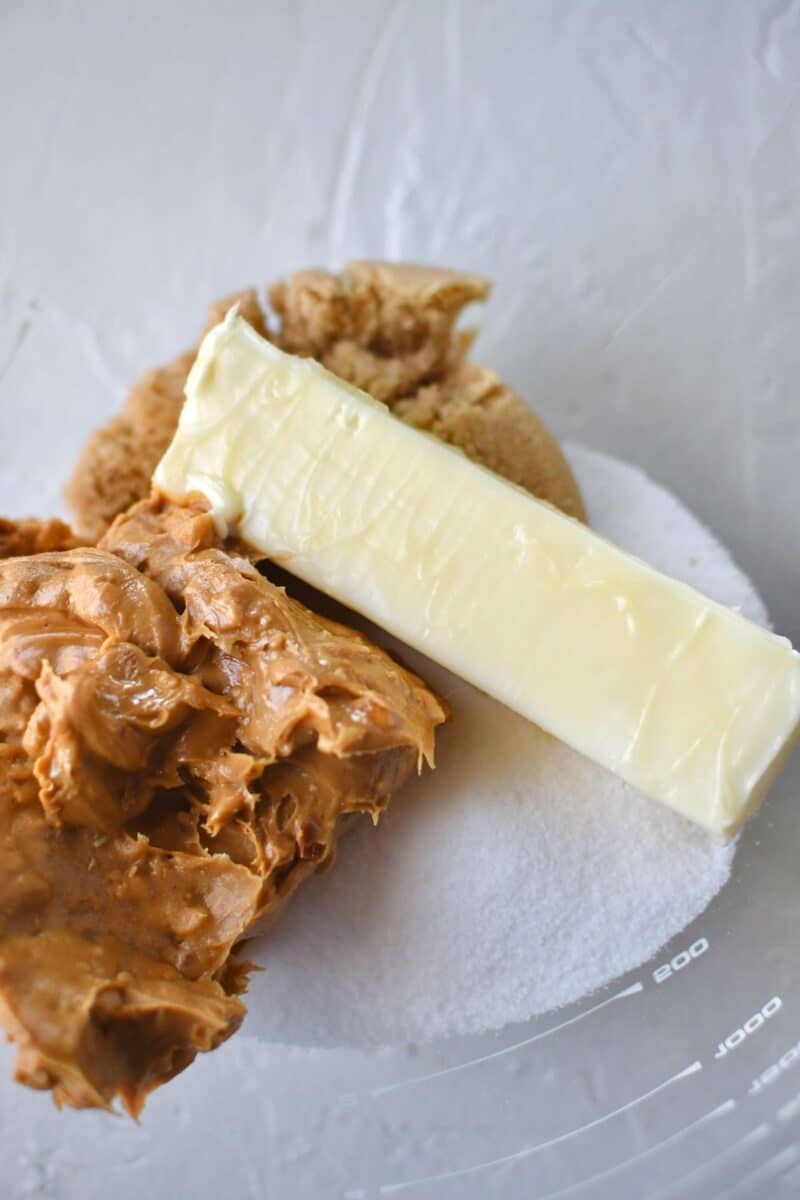 To the bowl, add the chopped chocolate, and peanut butter chips, and crush the cereal in your hands as you add it to the bowl. Fold in those additions, portion out the cookies, flatten them, and pipe on the fluff.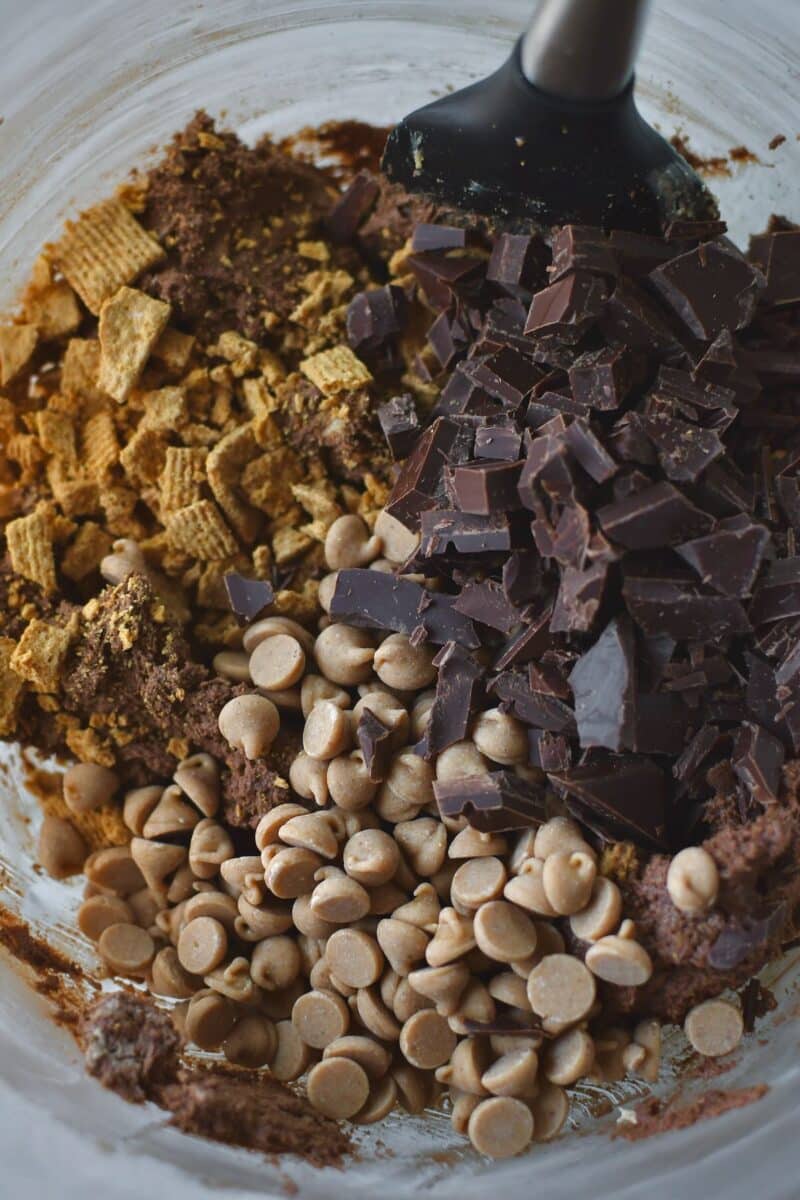 Then fold the cookie dough up around the fluff till it is nearly covered, it is ok if some peaks out. Add some more chopped chocolate chunks on top and press in a few pieces of cereal. The cookies are now ready to bake, and any of that marshmallow that peeked through now oozes out of the cookie.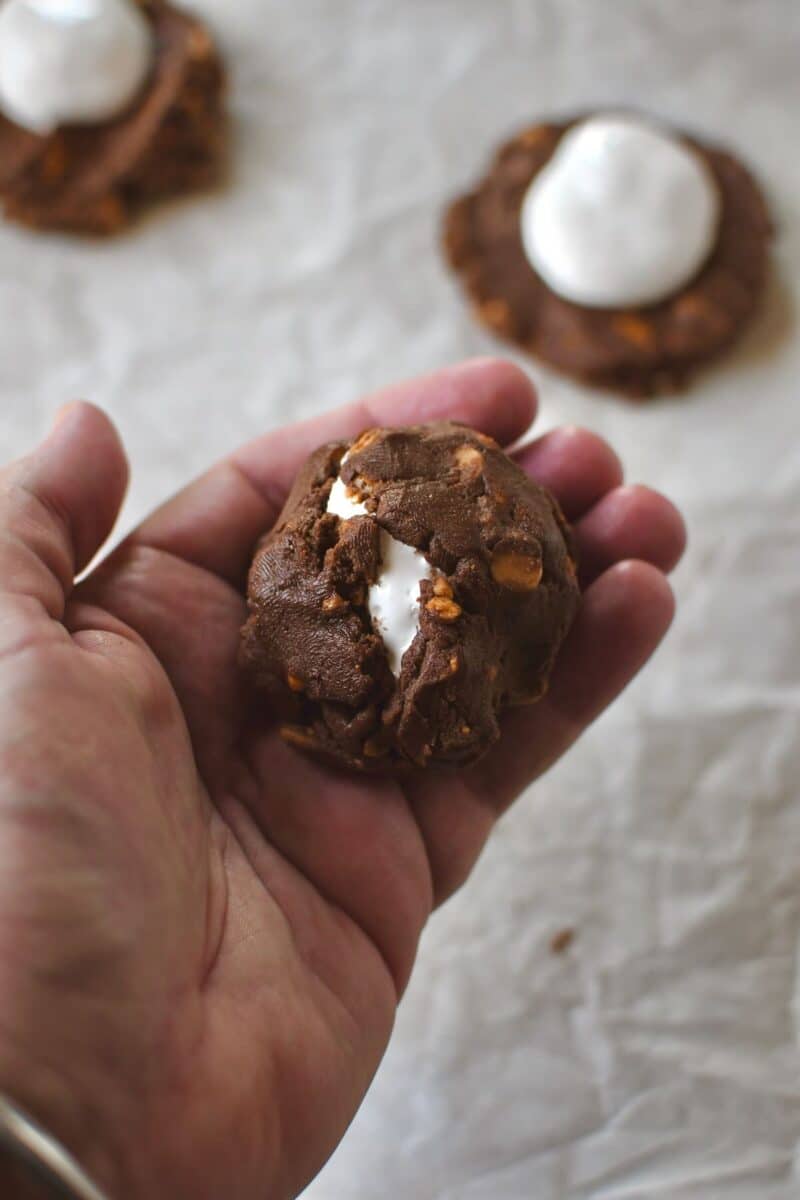 To add a little more campfire flavor, you can use a kitchen torch to toast some of that marshmallow that peeks out. Go as light or as dark as you like, just the way you'd like your marshmallow over a campfire.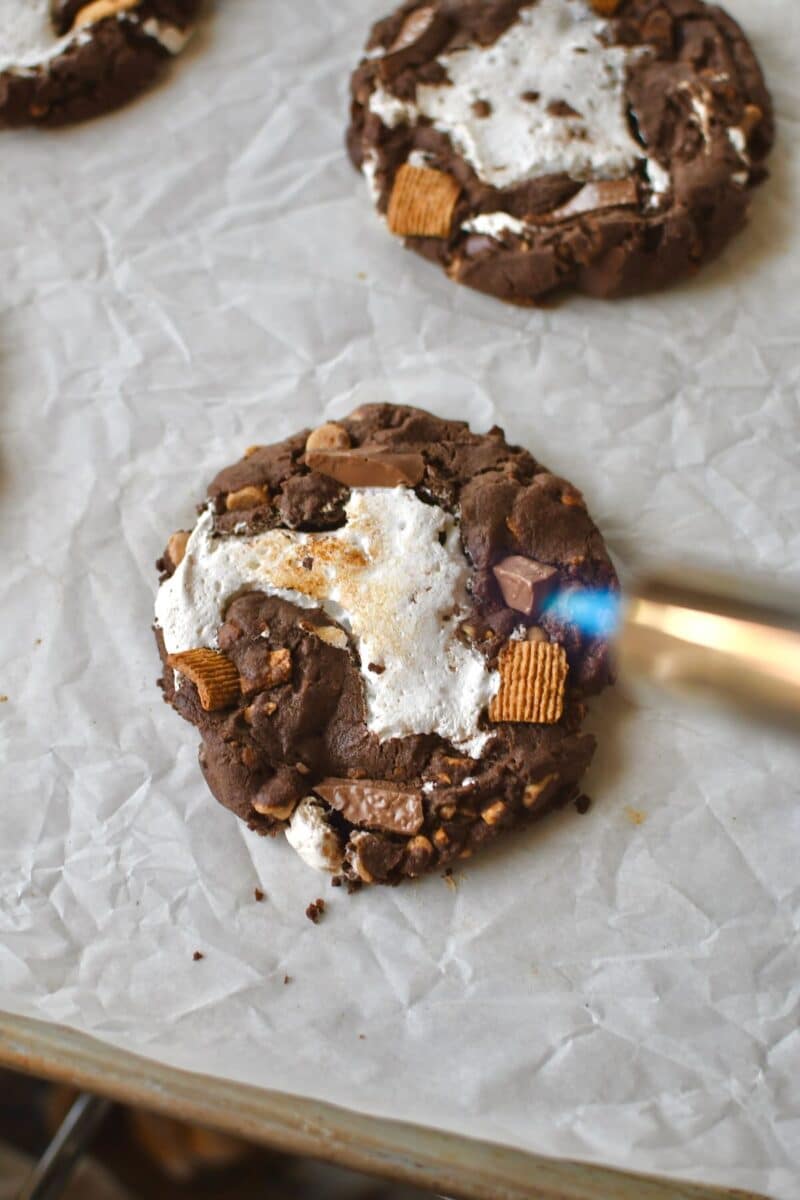 These Chocolate Marshmallow Cookies evoke all of the nostalgia of eating s'mores, without the dirt and the bugs, lol. I mean, I love being in nature, but I can feel like I am there with one bite of this cookie. I mean, you can call this a S'more or smores cookie, but whichever way to bake it, call it delicious!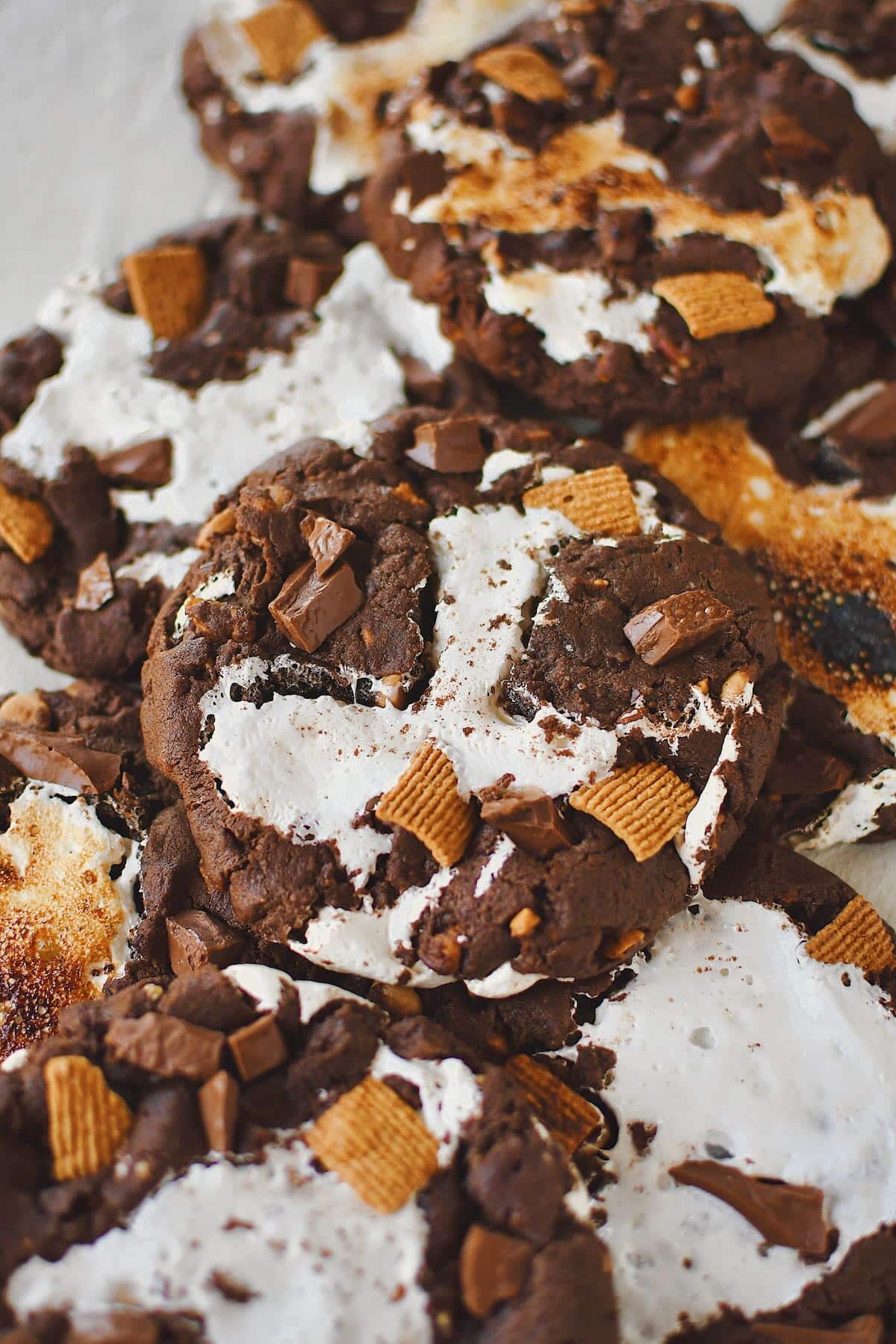 Notes & Tips
If you would like to seek out making homemade fluff, go for it! But for me, the flavor is just different, and the storebought just has a different texture. While you will see me make my own on the show, at home I suggest storebought, plus it's easier! I know I often preach homemade, but I forgo it for nostalgia in this one.
Be sure to cream the butters and sugars together for 3-4 minutes, you will see the mixture change to a lighter color. When it gets pale you have beat in enough air.
After you have made your cookie dough, portion it out and flatten each of the 12 portions using your 3 center fingers. Place the marshmallow cream in a piping bag, then cut off the tip and pipe about 2 tablespoons into the center of each cookie. Wrap the cream in the dough, then flatten again before baking. This gives a very consistent and not too flat, not too tall cookie.
The big takeaway from that tip is to place the fluff in a piping bag, it is so much easier to use that way. When I baked on the show I use a scoop, but I quickly learned that the piping bag was much easier.
When the cookies are done baking, you can use a torch to brown some of the exposed marshmallows. Go easy because it can catch on fire, just like a real marshmallow over the campfire. But brown them a little or a lot, just how you like your marshmallow for s'mores.
Baked Chocolate Marshmallow Cookies will keep in an air-tight container for up to 5 days at room temperature. And while mine would never make it there, they can be frozen for up to 3 months. Freeze them flat on a tray, then transfer them to a zip-top freezer bag.
Substitutions
My favorite peanut butter is crunchy! But you can use smooth in a pinch if you need to.
If you have to use salted butter because that is all you have on hand, remove the addition of salt later in the recipe.
Light brown sugar is preferred for this recipe, however, you can use dark brown sugar if that is all you have on hand. The cookies will just have a little deeper molasses flavor to them. Which isn't bad, just a little richer.
These cookies bake up beautifully and can be made gluten-free when you use THIS cup-for-cup baking flour swap. You'd also need to find a gluten-free graham cracker cereal or use crunched-up actual gluten-free graham crackers.
This is my favorite cocoa powder to use, but you can use regular cocoa powder too. Black cocoa powder can also be used for a really deep dark cocoa flavor. If you do use black cocoa you may need an extra tablespoon of milk.
There is nothing like these peanut butter chips, I would absolutely be sure to get some. They amp up the peanut butter flavor...no swap for those!
This is no place for chocolate chips, you want to use a chopped-up chocolate bar because it melts into the cookie and makes little puddles on top after baking too. This is my favorite bar, but only use chocolate chips in a pinch.
While I prefer the original marshmallow fluff, you may also find other brands out there calling it marshmallow cream. They are essentially the same and you can use either for this cookie. You may also encounter it called marshmallow paste or spread.
While you might be tempted to use mini marshmallows in place of the "fluff" it does work. The texture and end result just isn't the same. You CAN do it, but I'd heavily suggest using the cream.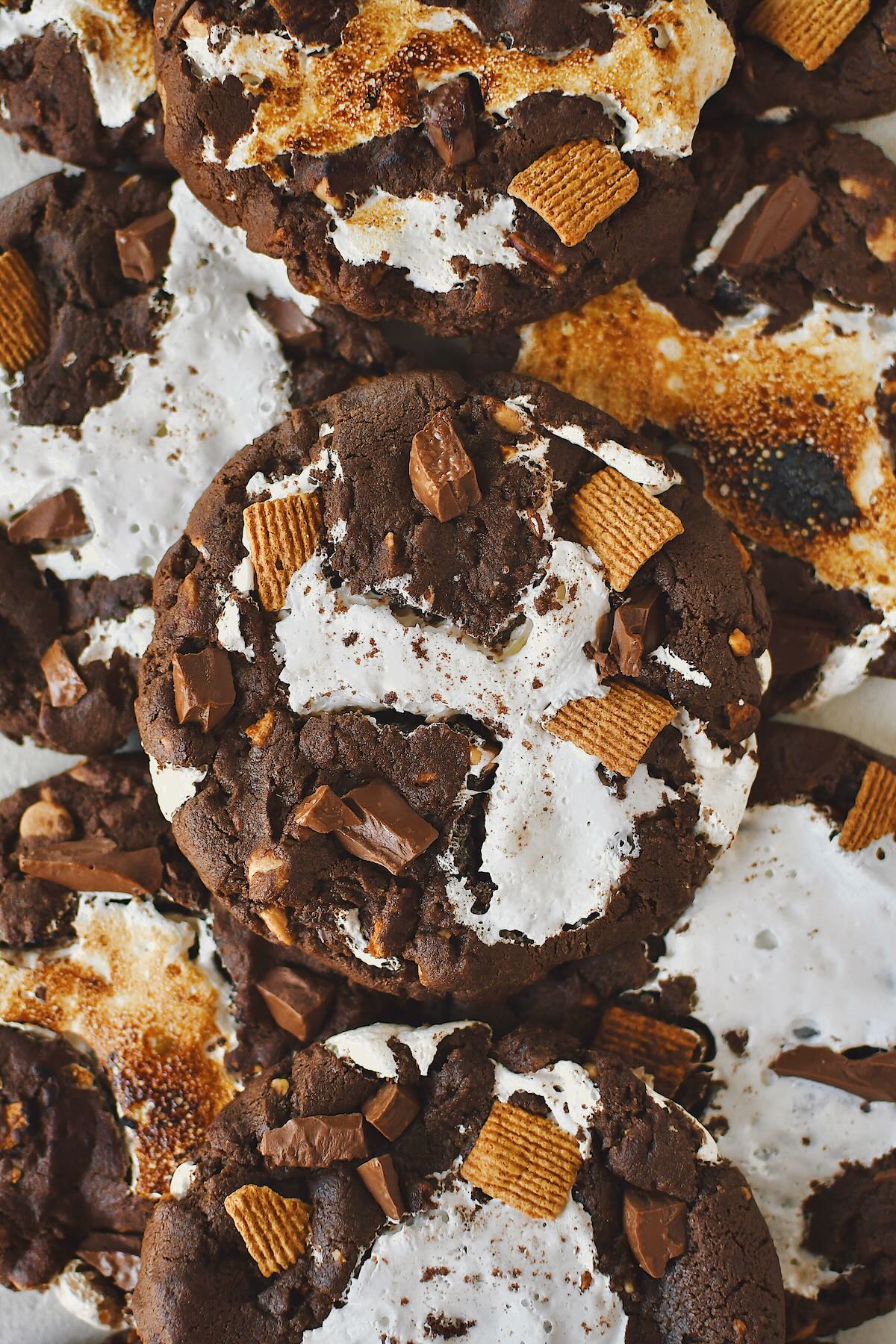 Did you make this recipe? Let me know by leaving a review or comment! And be sure to sign up for my newsletter, and follow along on Instagram, Pinterest, and Facebook!