This Peach Upside Down Cake, in its purest form, is just a simple butter cake with fruit on the bottom. But, the addition of a sprinkle of brown sugar on the bottom and a layer of beautifully sliced peaches take it from simple, to simply amazing! If you are reading this and it is the heart of summer, this cake is the perfect way to put your peaches to use.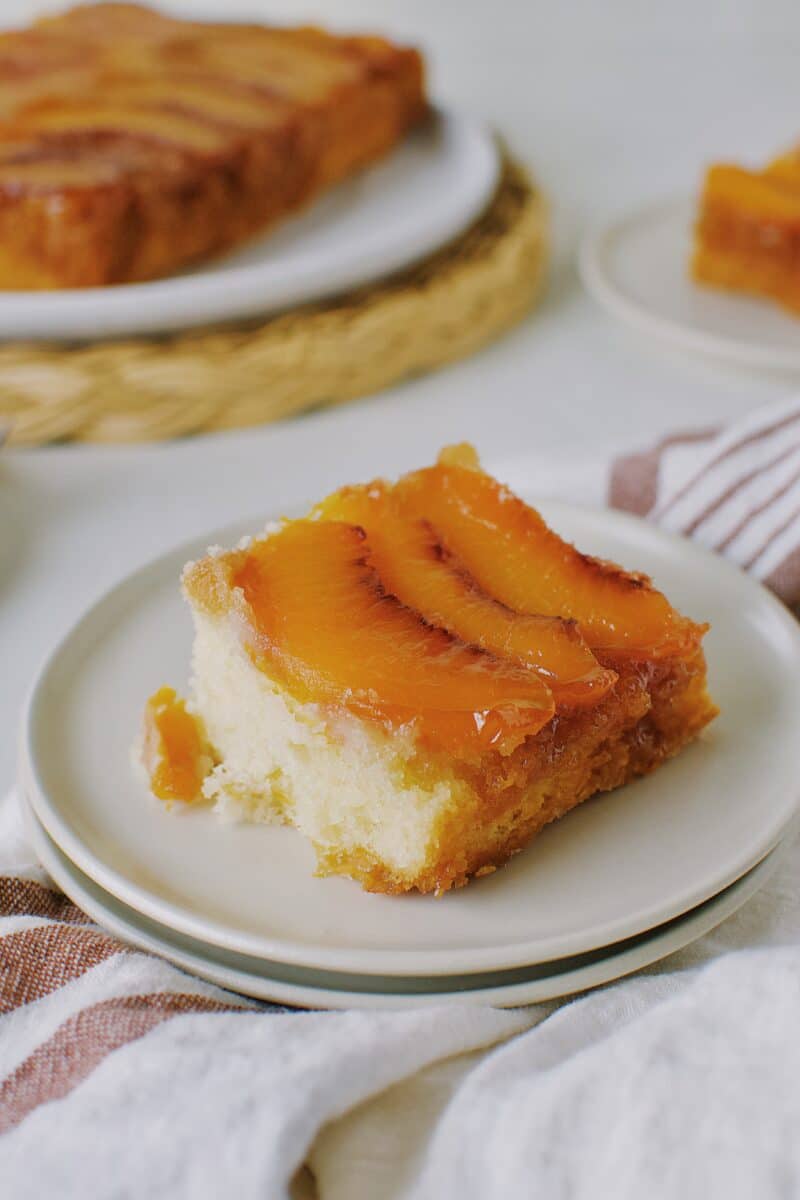 The Peaches
The freshest peaches of summer are the real key to making this recipe amazing! Frozen just won't cut it. It is one of those things that I only get to make once or twice a year, and I'm ok with it because it just makes it that much extra special!
I was able to get my hands on a big bunch of fresh peaches last summer and I HAD to put them to work to create some delicious foods of all kinds. This recipe came about with the imagination of all the amazing flavors of a pineapple upside-down cake but swapping the fruit for peaches. And I have to say it was THE right decision.
I made this Peach Upside Down Cake one evening and it was completely gone by the coffee time the next morning. It didn't stand a chance. But just know it's that good, you need it in your life!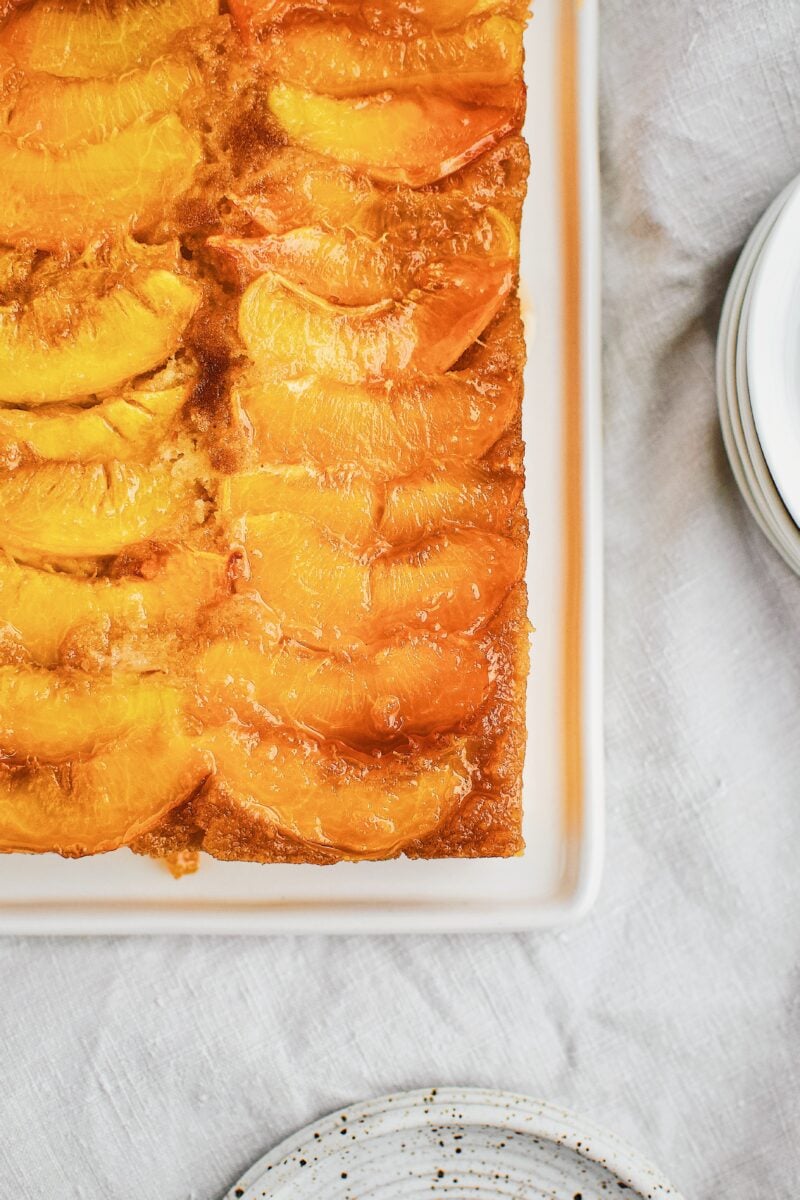 Ingredients needed:
Butter
Brown Sugar
Peaches
All-Purpose Flour
Baking Powder
Salt
Granulated Sugar
Egg
Vanilla Bean Paste
Milk
If you want more AMAZING peach recipes take a look at my Peach Jelly Donuts or my Peach Sweet Tea. Both are fantastic, but if you want a real game-changing sweet treat, go for the Ice Cream Sodas. They are BEYOND!!!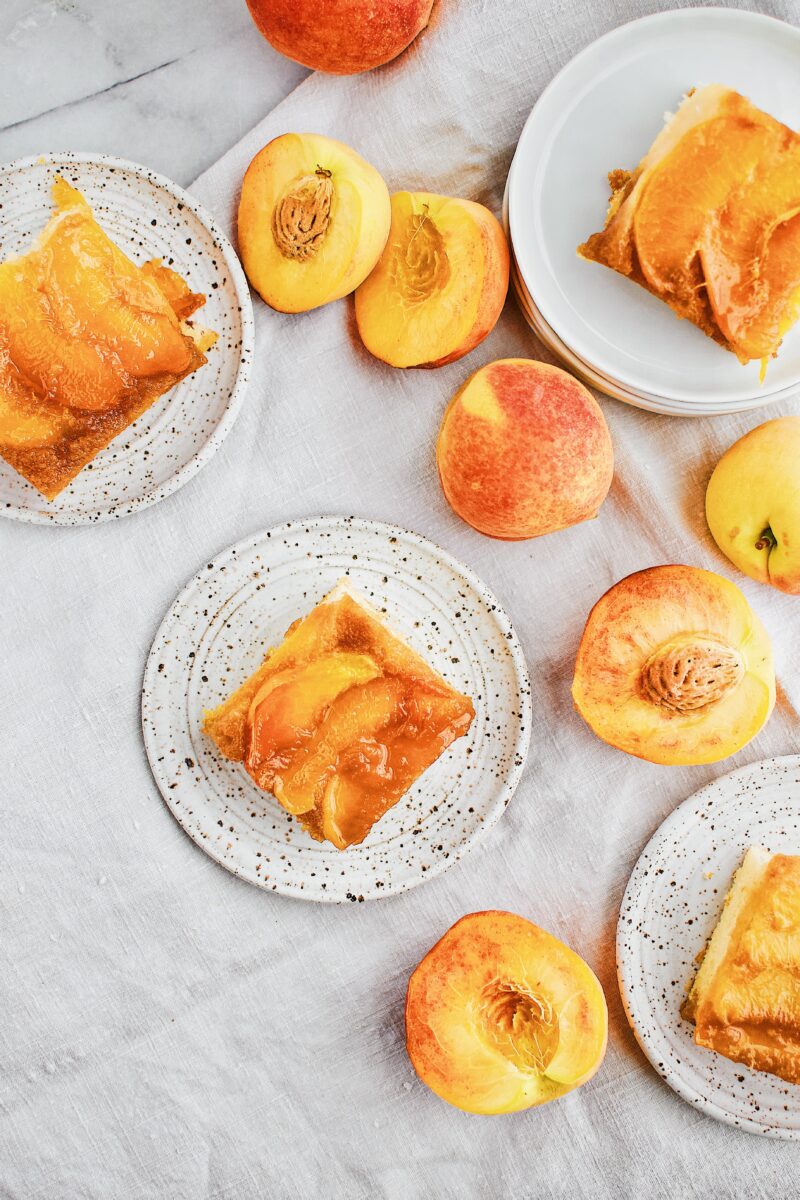 Bringing your Peach Upside Down Cake together
The real beauty of this cake is that it comes together in about 5 minutes. Then you just have to wait for it to bake. That is the hardest part. It will fill your home with the best smell, you'll be counting the minutes till it's ready.
I mix my cake in the KitchenAid just because it makes it that much easier and faster. But don't let that slow you down from making this recipe if you don't have one. A bowl and a wooden spoon or spatula are all you really need.
I like to bake my cake in a square pan for a little something different. I like how it mimics the shape the sliced fruit makes, and is different than pineapple upside-down cake, differentiating it.
When you cut your peaches, I like to start by cutting one in 4. Then cut those 4ths in half. This leaves me with a well-sized slice that will balance the flavor of the cake. ith a big piece of tart peach with the sweet buttery cake.
I could go on and on all day. The LOVE I have for this cake is immense! I hope you enjoy it as much as I do.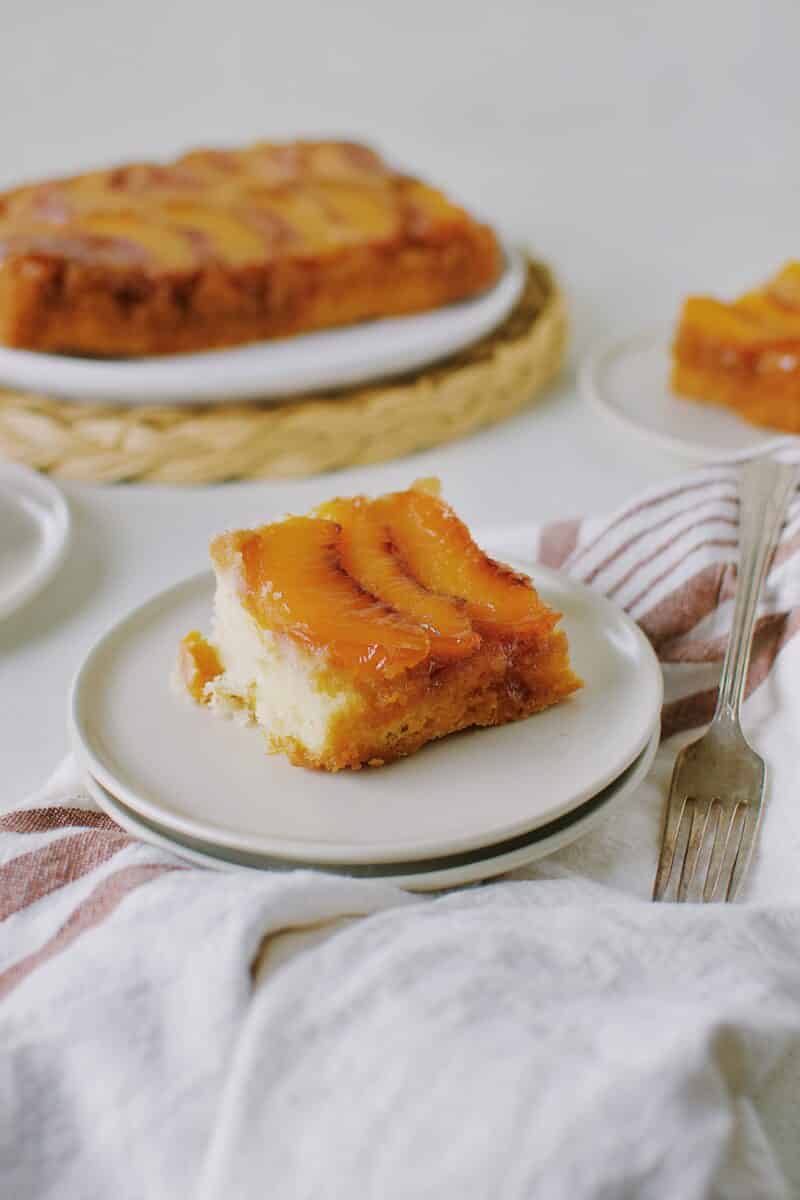 Did you make this recipe? Let me know by leaving a review or comment! And be sure to sign up for my newsletter, and follow along on Instagram, Pinterest, and Facebook!