Joanna Gaines shares the recipe for Mrs. Gail's Chicken and Fettuccine Alfredo in the Magnolia Table Cookbook and it was probably my favorite dish I made all summer! The ingredient list is a little long but it is actually a really simple recipe. Don't be too worried, most of the list is for the breading station.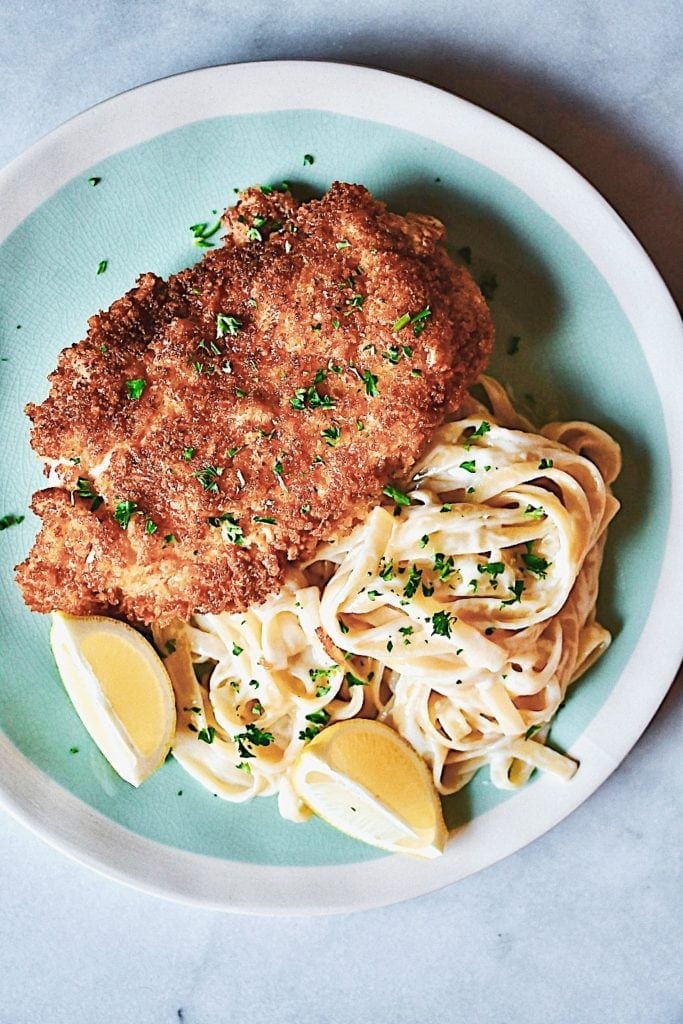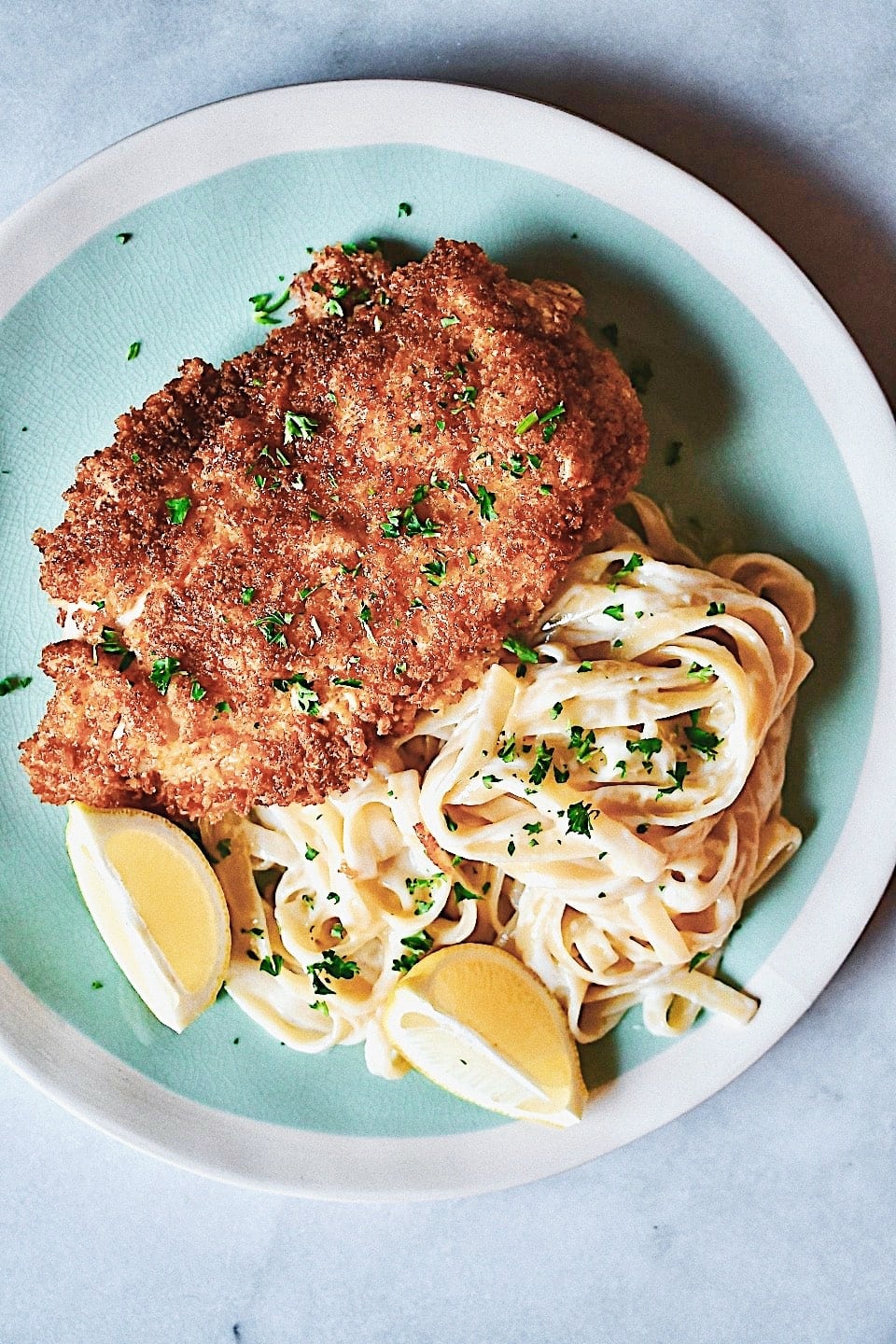 Use a few half-pans (like these) or there is this great breading station kit you can buy (like this one) if you plan on doing this often. And lemme tell ya, after you have this chicken you will want to do it often!
Cooking my way through the Magnolia Table Cookbook...a little update.
This is my 50th blog post and my 56th recipe review, some posts were of 2 recipes, things that went together like salsa and guac and what not. That's 56 of 145 recipes, and I have cooked over 80 so far. I just want to say thank you for reading, I am really enjoying this journey and rediscovering my love of cooking all over again. I am realizing that I may like it a little bit more recreationally and a little less professionally, nonetheless knowing that I do still enjoy it.
I am committed to completing the task, and I have almost memorized the book. It is a little scary and satisfying at the same time when I can crack it open to the exact recipe I am thinking of. I have completed my first whole section, lunch is done and I am shooting to finish soups and salads next.
I made all but 1 salad over the summer and I have started to work on the soups now that some fall weather has arrived in TEXAS! Thank the lawd!!
I know that this book has sparked the same feeling for many people around the country, I would love to hear from you if you are working your way through the book too! Leave me a comment below and let me know what your favorite recipe has been so far.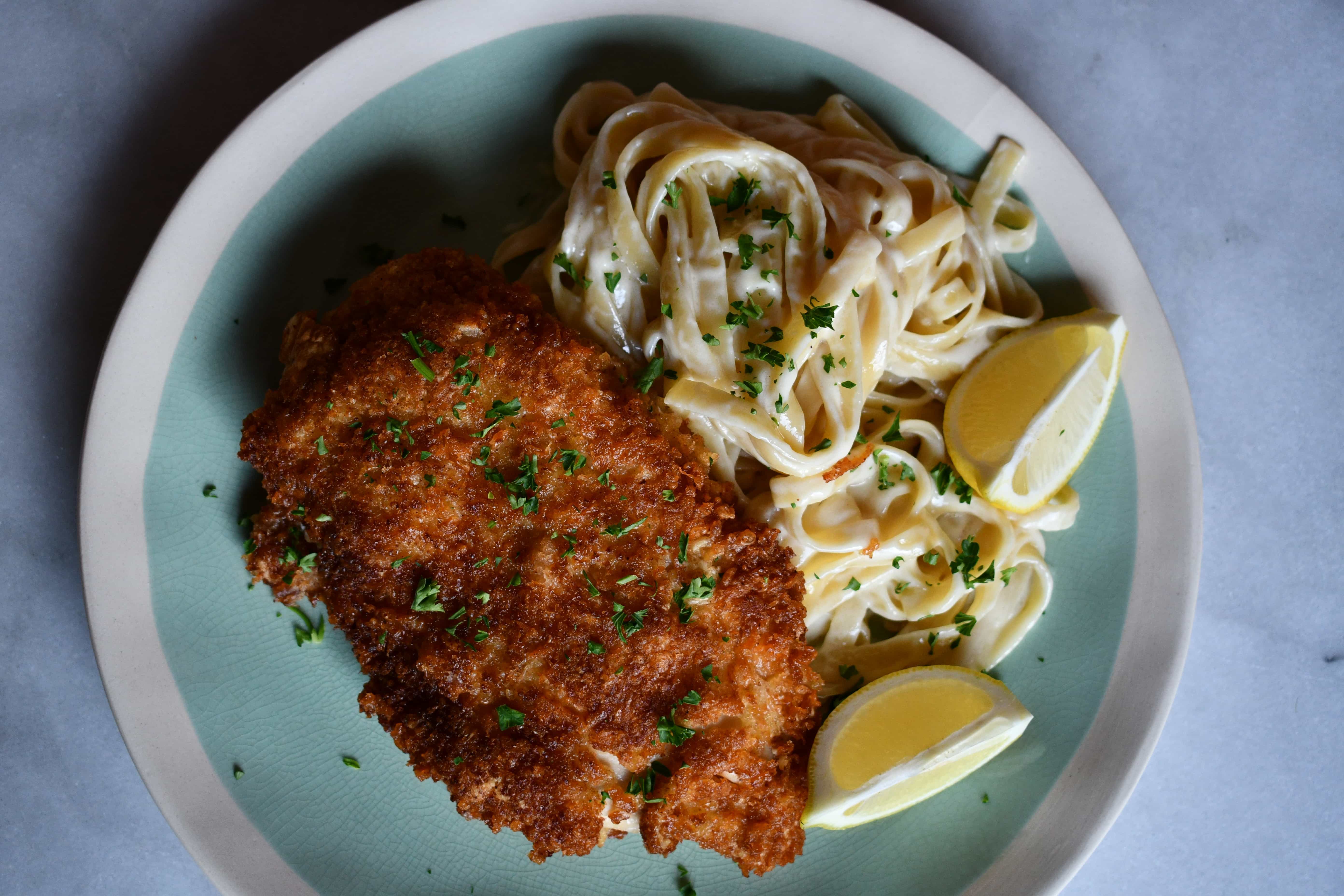 Back to the Chicken and Alfredo...
I really love that she uses butter and olive oil to pan-fry the chicken, it really deepens the flavor, I mean when does butter not make something better!? I was also very surprised that the chicken cooked so quickly and evenly.
I almost cheapened out and didn't pound out my chicken, but be sure you don't skip this step because it helps ensure that your chicken cooks evenly and quickly before your breadcrumbs or cheese burn in the pan. You want a crisp golden brown so you get that amazing flavor from the cheese but you don't want to blacken anything.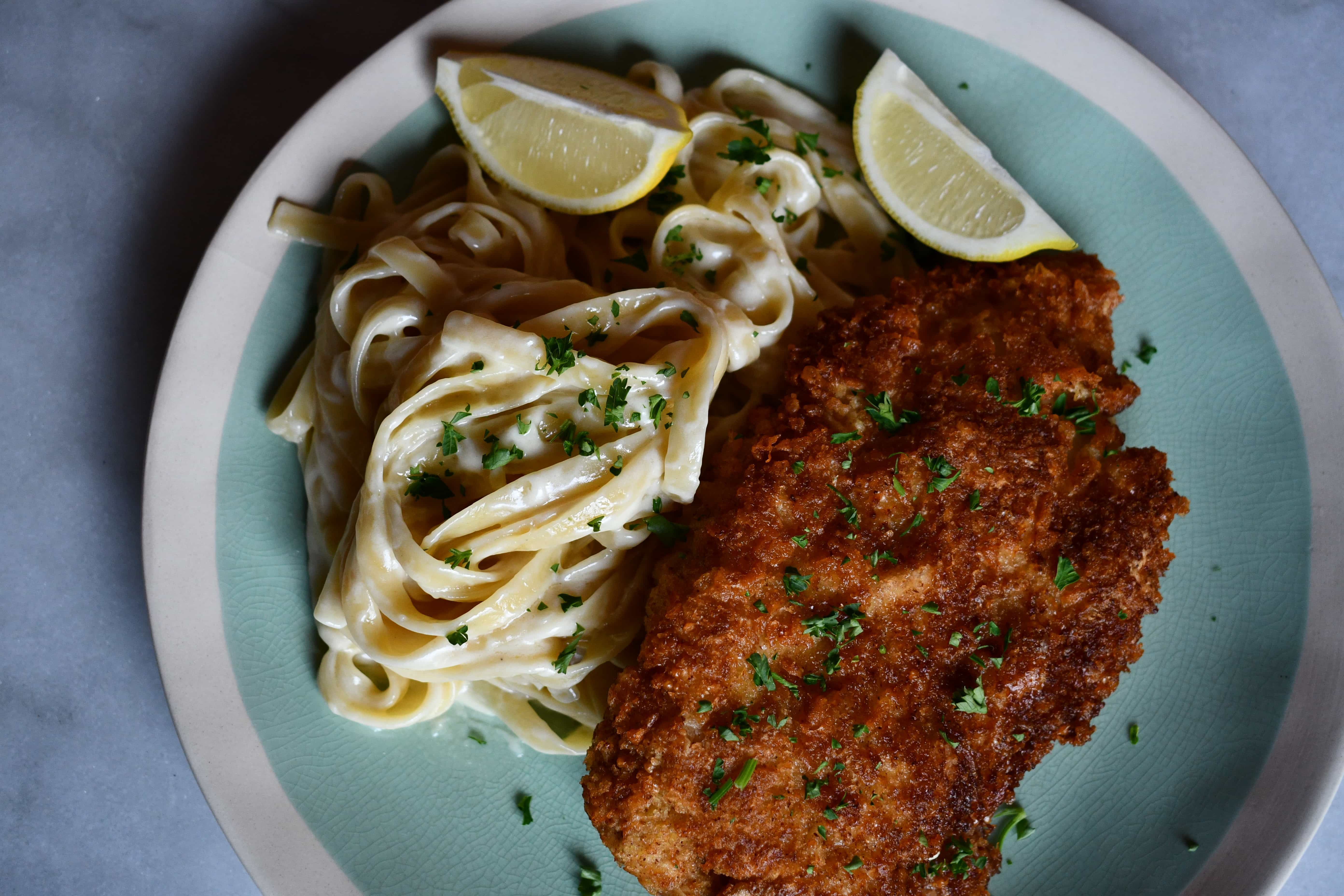 Now the Fettuccine Alfredo is a whole different story, this recipe, in my opinion, is just missing a little bit of flour to keep the butter from separating from the sauce. Between the amount of fat from the butter and the cream, by the time that I put my sauce on my pasta it broke and left a greasy texture in your mouth versus a creamy sauce-like consistency.
I would suggest starting your sauce with a little bit of flour mixed into your butter creating a roux thickened sauce instead of a reduced cream sauce. It will result in a much better restaurant quality sauce. Or you could just ditch this sauce altogether and make my Restaurant-Style Alfredo, it is also gluten-free if you need that option.
I also love these bread crumbs if you are in need of a gluten-free option as well. They crisp up really well and provide the same texture as regular panko bread crumbs.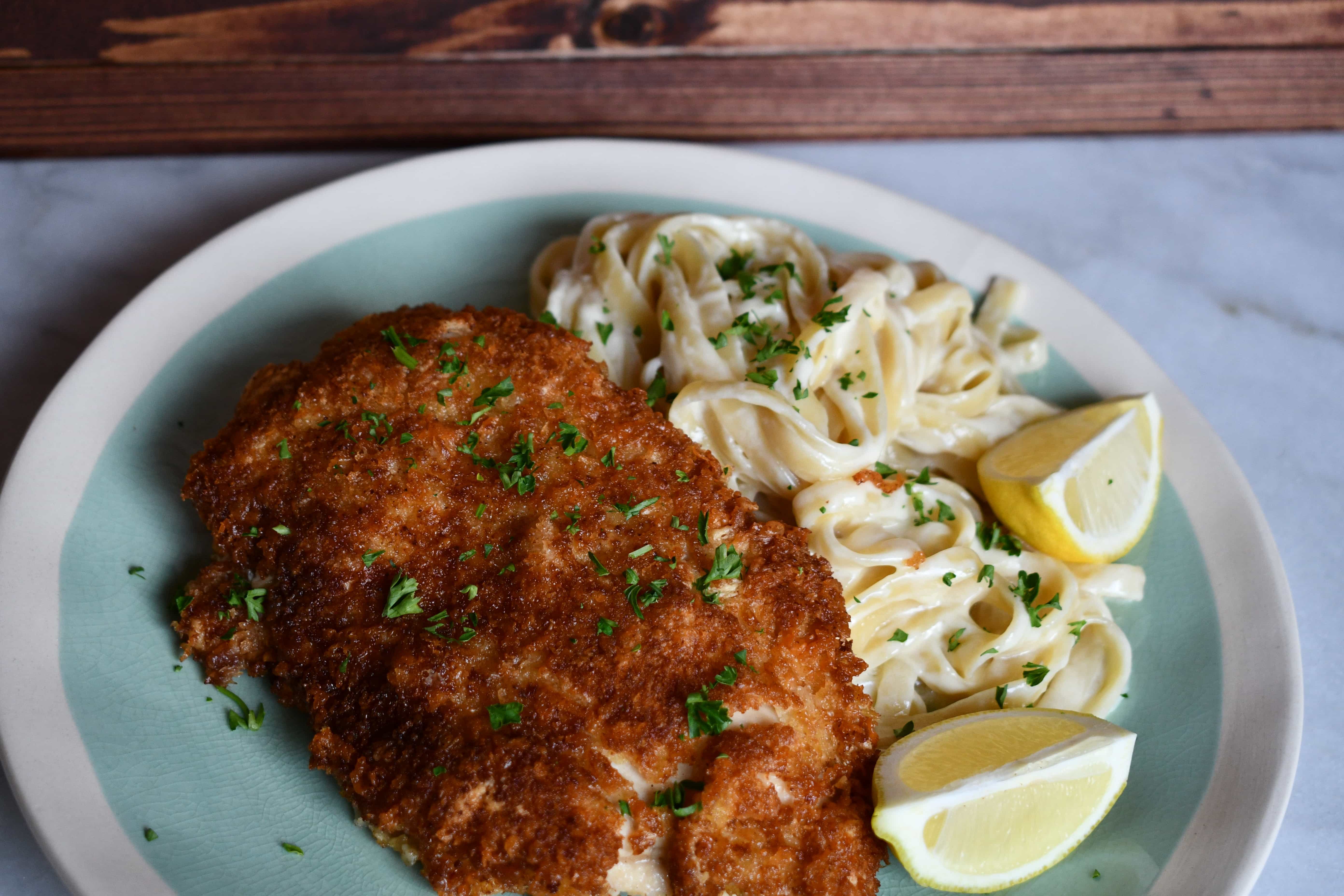 The squeeze of lemon rounds the whole dish out perfectly. I ended up squeezing a whole wedge over both my chicken and my pasta. It cut the fat and balanced really nicely.
Overall I really like this recipe and will keep it in my back pocket for when I want to impress friends or when people are in from out of town. Leave me a comment below and let me know if you have made this or plan to and how your Alfredo came out. I'd love to know if your thoughts are the same as mine or if yours turned out with no issue.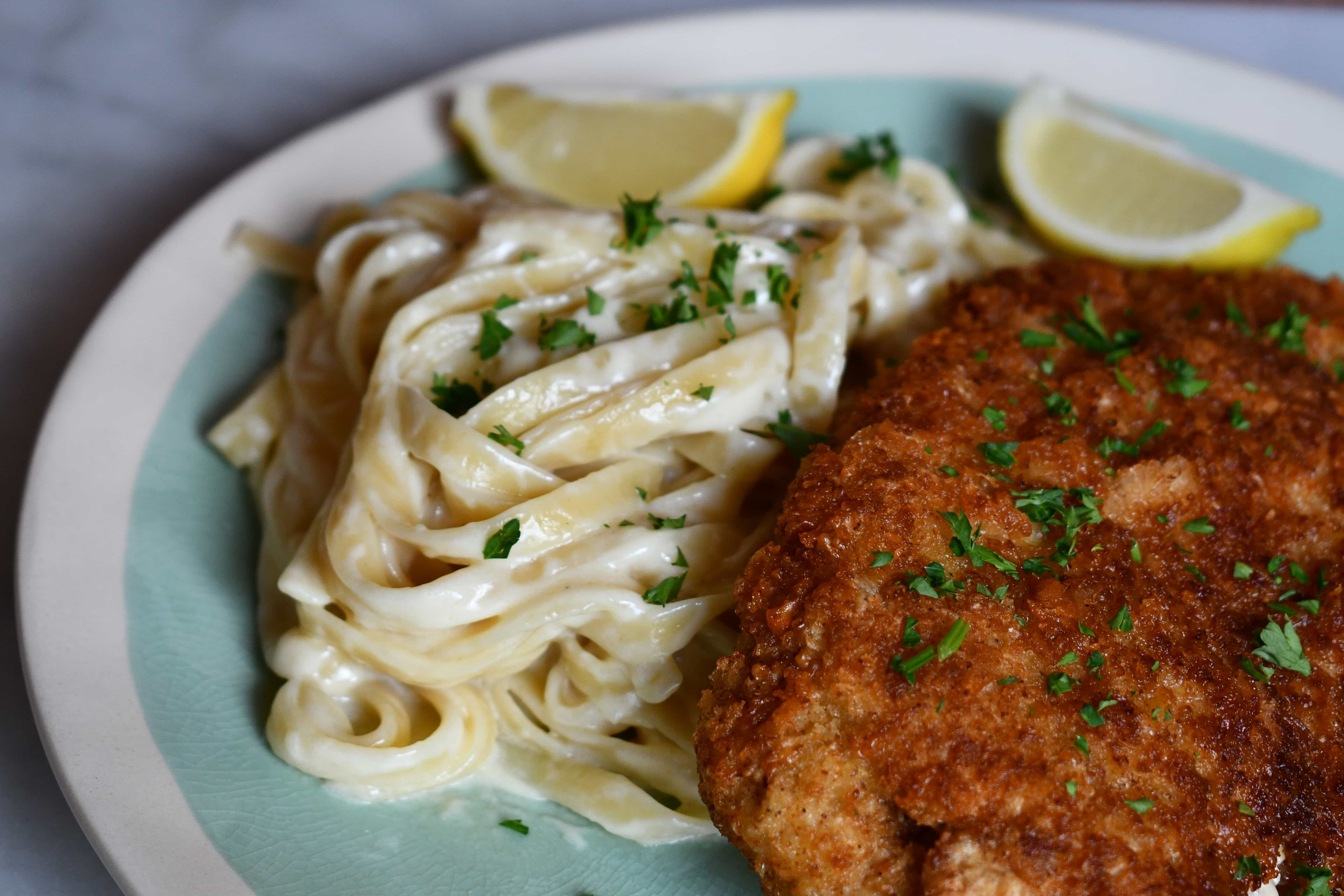 Until next time, happy cooking!
Kendell
If you watched Joanna makes this recipe on Season 1, Episode 3 of her new cooking show 'Magnolia Table with Joanna Gaines' you can get the recipe by CLICKING HERE, she shared it on her blog so you can make it at home!
-
READ MY OTHER REVIEWS OF EPISODE 3 HERE…
Tiramisu (Coming Soon)
Did you make this recipe? Let me know by leaving a review or comment! And be sure to sign up for my newsletter, and follow along on Instagram, Pinterest, and Facebook!