To say Joanna Gaines recipe for Layered Arugula Salad with Pear Vinaigrette, from the Magnolia Table Cookbook, became a fast favorite around my house would be an understatement...I have made this at least 6 times since Thanksgiving and it is an absolute holiday stunner!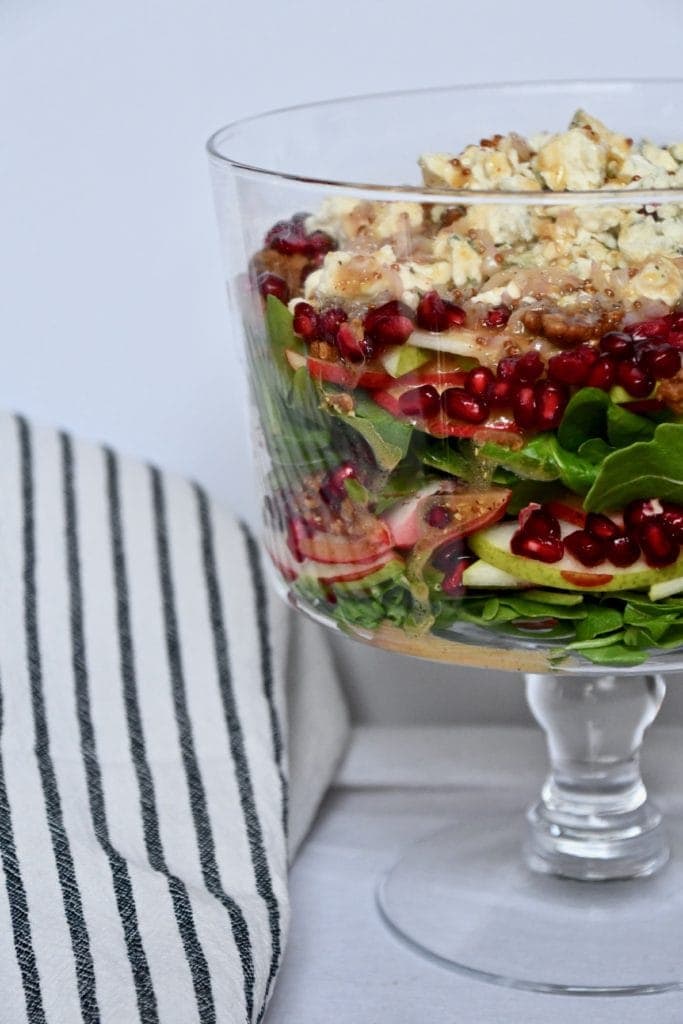 The review…
I love that this salad comes together in about 2 minutes. All you have to do to make this salad super quickly is spend about 10 minutes preparing the ingredient list so that all I have to do at dinner time is assemble. I made this in the fall and winter and was able to find fresh whole pomegranates in the stores to use. If you can get you hands on them, do it, it is THE BEST!
Salad Prep
To start your prep, if you are using fresh Pomegranate cut it in half and give it a gentle squeeze and knock the aerials out by hitting the back with a wooden spoon. Remove any of the white pith that may come out and set them aside, they will even keep in the fridge for a day or two if you want to just get them ready way ahead of time.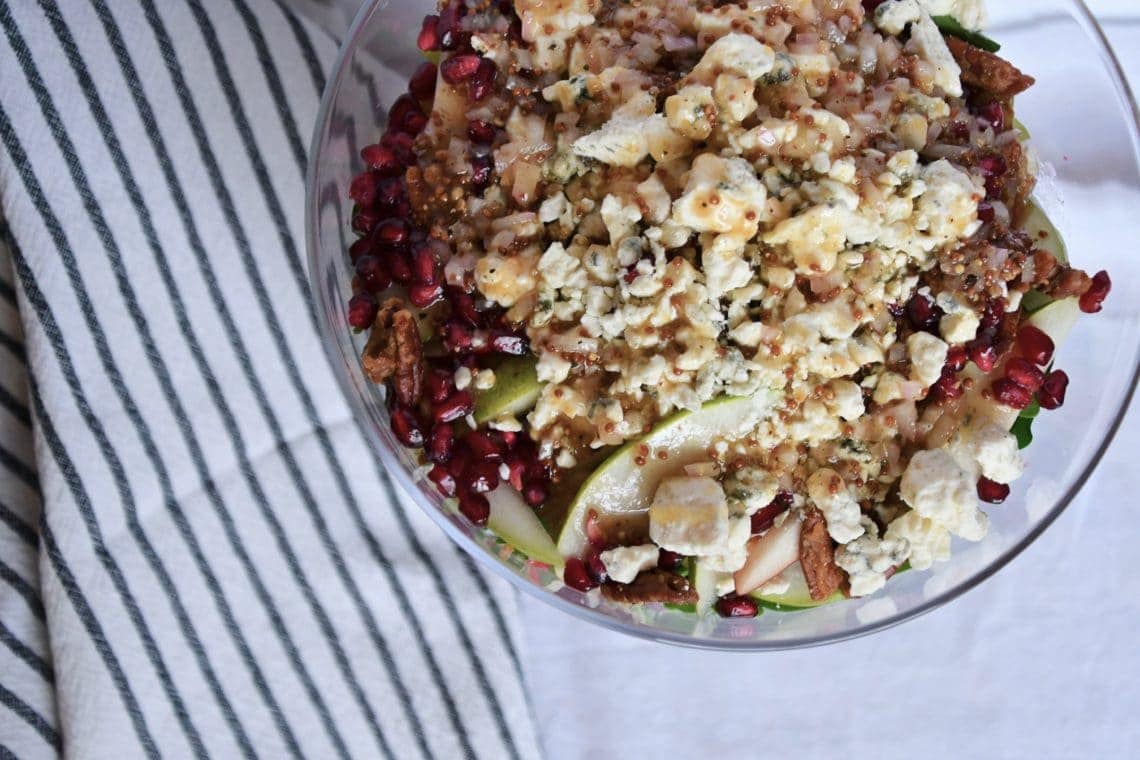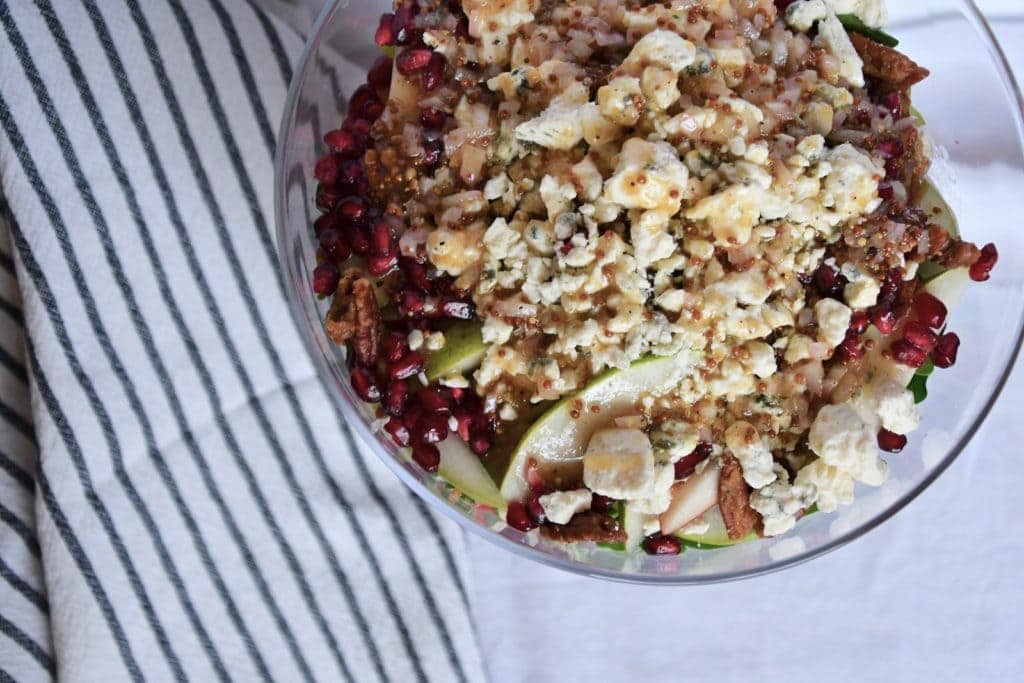 The next thing I did was to slice my pears. I used one green and one red for even more holiday cheer but you can literally use whatever pears are your favorite. Once sliced I put them in a bowl of water just to cover them and squeezed the juice of ½ a lemon over them to prevent browning.
Only do this about 1 hour before so the pears don't absorb too much of the water. You can also let them sit for about 10 minutes and drain, now that they have the lemon on them they will not brown for hours. Store in the fridge if you do this 2-4 hours before assembly.
The walnuts are also something that can be done WAY in advance, I didn't have walnuts on hand but did have pecans so I used those and actually made a double batch a few days before, so they were ready to go.
When all of the components are ready to go I can assemble this salad at the drop of a hat. I actually made this for a couple of parties back to back and prepped everything one day and made it two separate days and everything held up really well.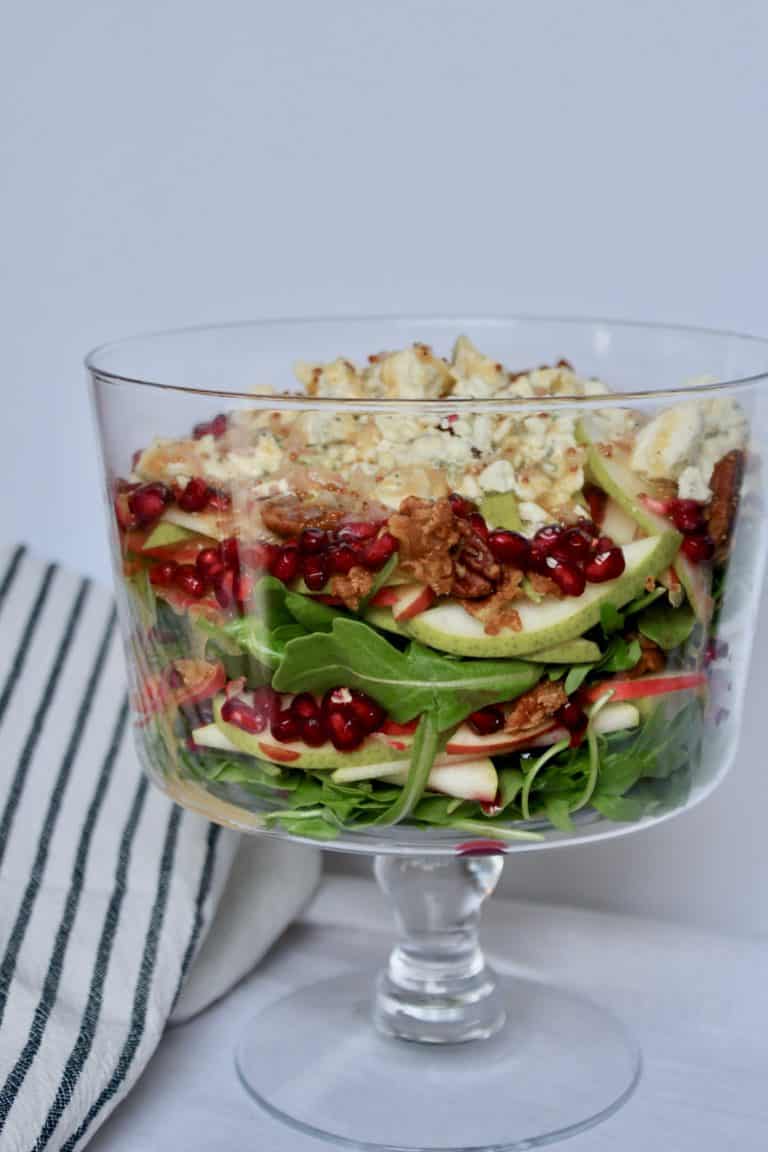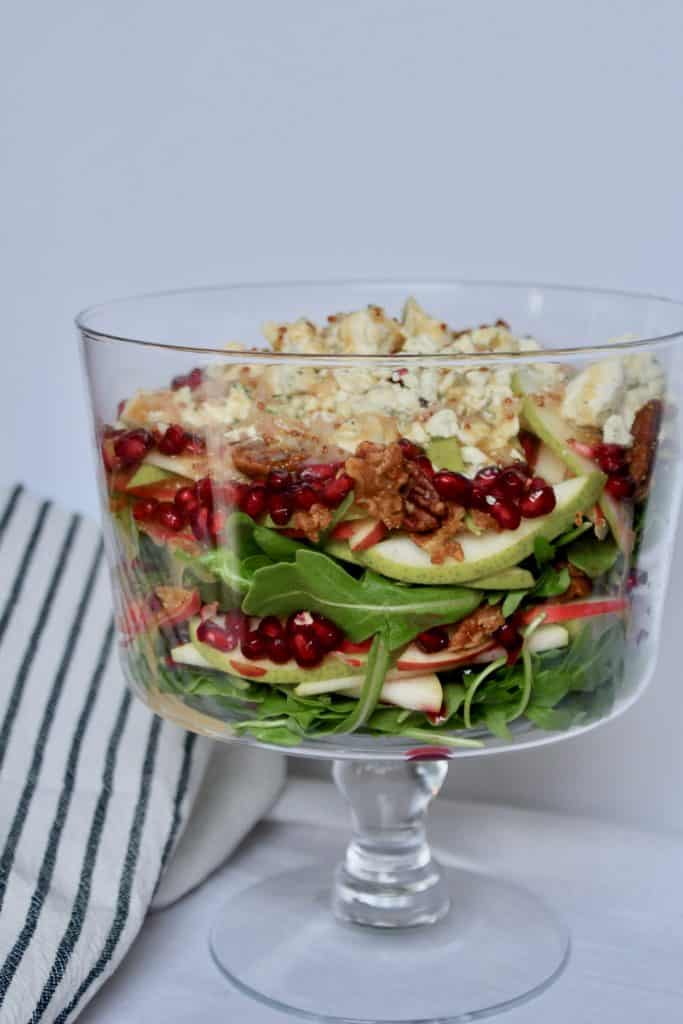 The reaction…
This Layered Arugula Salad looks absolutely beautiful on a holiday table. Any holiday, but it is especially pretty for Christmas or Thanksgiving, the red and green pops of color are super festive. I loved the mix of flavor and texture in this one too.
I love the spicy, peppery arugula, mixed with the sweet pear, and tart pomegranate. Mix it with the salty blue cheese and a perfect vinaigrette and this is a salad that you will LOVE eating any day of the week!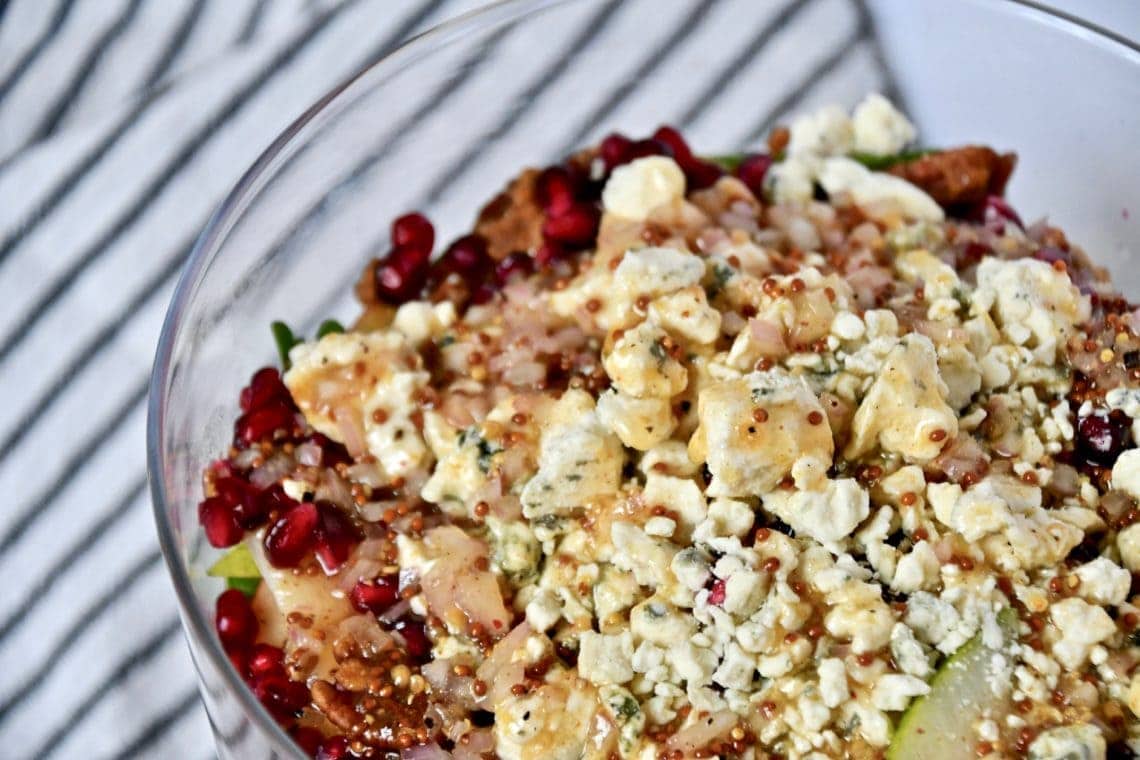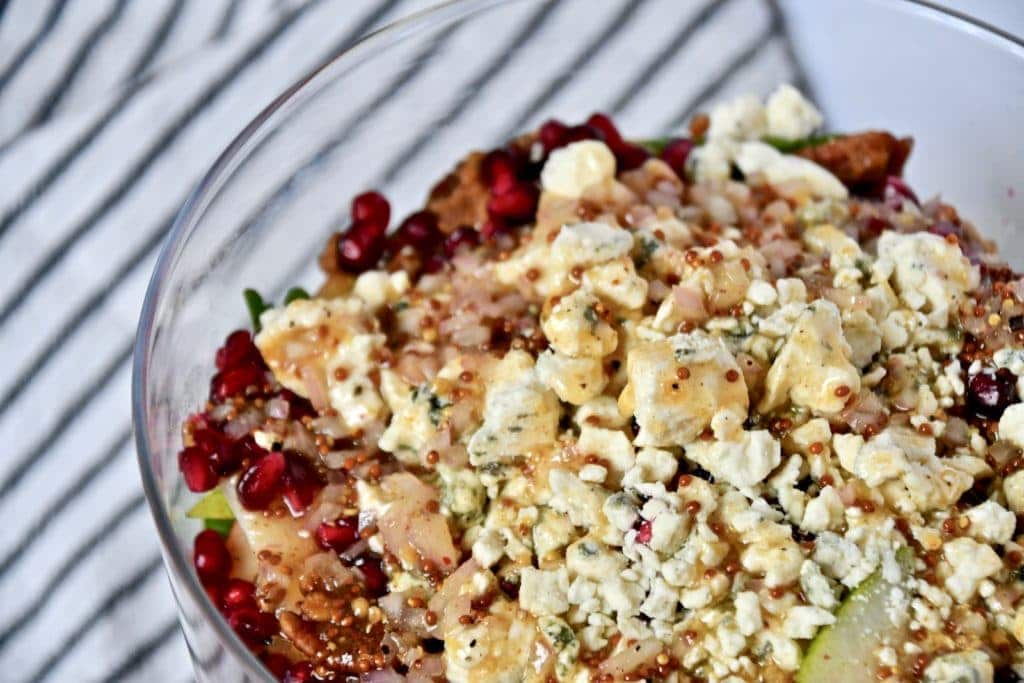 The TIPS…
One big tip I will give, is that the pomegranate will give off some extra juice and I actually ended up putting it into my dressing, making it a pear and pomegranate vinaigrette and it was delicious. If you don't want to just drink it straight I would highly recommend this!
The only thing I had to improvise on was the pear vinegar, it was hard to find, I visited 3 different health food grocery stores and was unsuccessful in finding it. I ended up making my own by purchasing some pears in syrup and added the syrup to a bottle of white balsamic vinegar that I had, it was about ⅔ full, and shook together, voila, pear vinegar.
Overall, this recipe is one that I will keep on my celebrations list. Perfect for a holiday or just to look like you are showing off even though you and I now know how easy it is to whip up! If you make this, please leave me a comment below and let me know what you think of this salad, I'd love to hear from you.
Until next time, happy cooking!
Kendell
If you watched Joanna makes this recipe on Season 1, Episode 3 of her new cooking show Magnolia Table with Joanna Gaines you can get the recipes by CLICKING HERE, she shared them so you can make them at home!
READ MY OTHER REVIEWS OF EPISODE 3 HERE…
Mrs. Gail's Chicken & Fettuccine Alfredo
Tiramisu (Coming Soon)
Did you make this recipe? Let me know by leaving a review or comment! And be sure to sign up for my newsletter, and follow along on Instagram, Pinterest, and Facebook!