I call this recipe Nordic Egg Salad because it is inspired by an egg salad toast that I had on a trip I took to Norway a few years ago. I had just taken then train from Oslo to Bergen and when I arrived in the morning I hung out at a local coffee shop for a while waiting to check in to my Airbnb. I ordered an egg salad "sandwich" that arrived open-faced and topped with all kinds of accompaniments.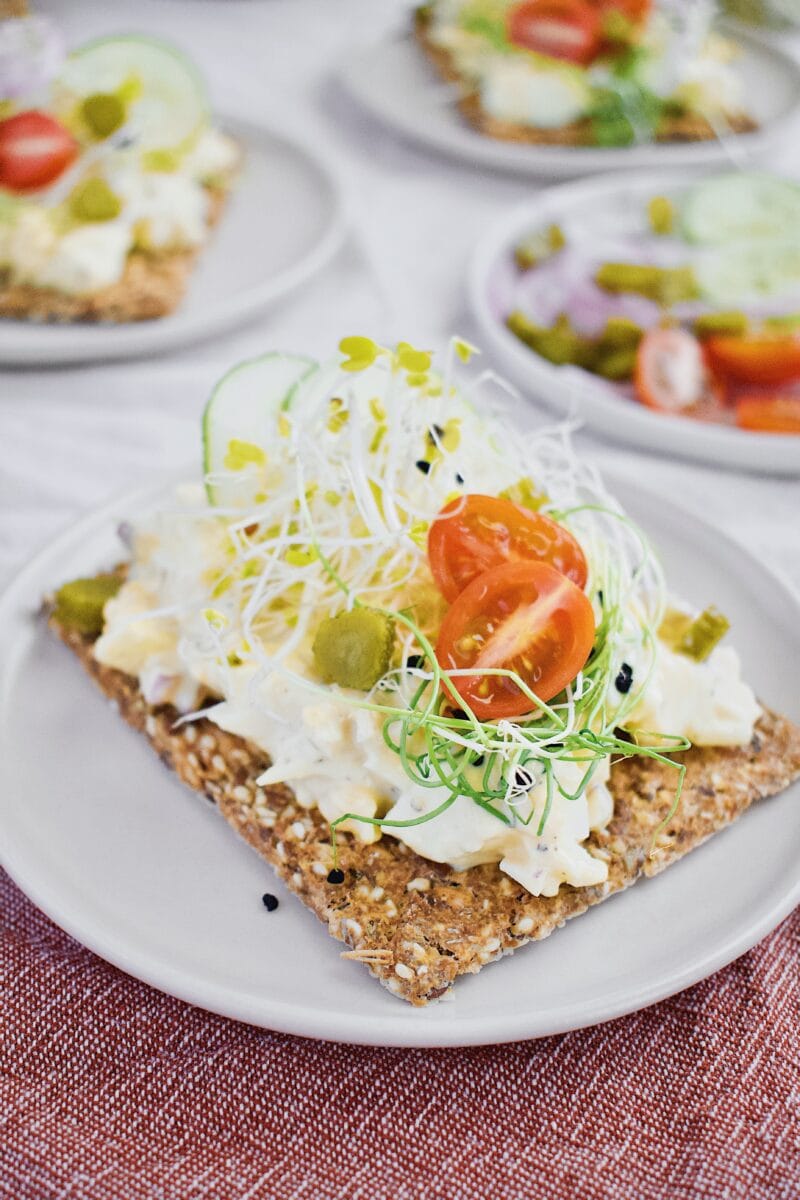 It seemed to be one of the shop specialties because as I watched people come and go throughout the morning it was a very popular item. The longer I spent in the country I quickly learned that breakfast there was much less sweet than we know it to be in the states, and this egg salad was the start at this particular spot.
I have played with the recipe from time to time since being home and now I think that it is time to share. It is a basic recipe, but sometimes the simplest things are THE BEST! It is really all about the emotion that it evokes when I make and eat it, and that is what food is all about after all, right?!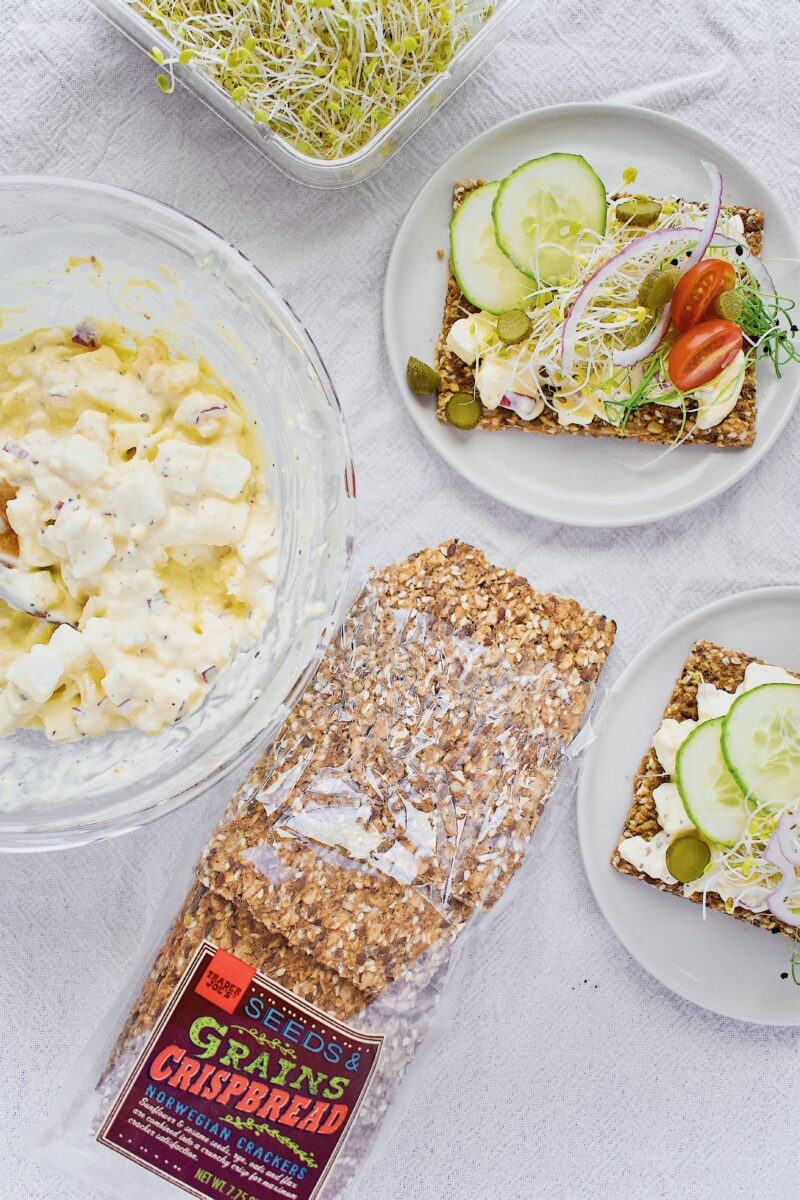 Bringing your salad together
Now in the recipe, I have included some optional toppings, but the addition of the sprouts, tomatoes, cucumber, and red onion are what set this apart. It is like the same accompaniments that would be found on a spread of bagels and lox, which was very common in the nordic breakfasts I encountered. This is understandable because cured fish is a big part of the culture and economy in Scandinavia.
In fact, in Oslo, there is a whole installation of art pieces honoring the method of cold curing fish in the fridged region. They have erected giant drying racks that explain the process and how it was used to ensure nourishment throughout the cold winter months. But anyway, I have gone down a rabbit hole now, go google it and visit for yourself if you get the chance!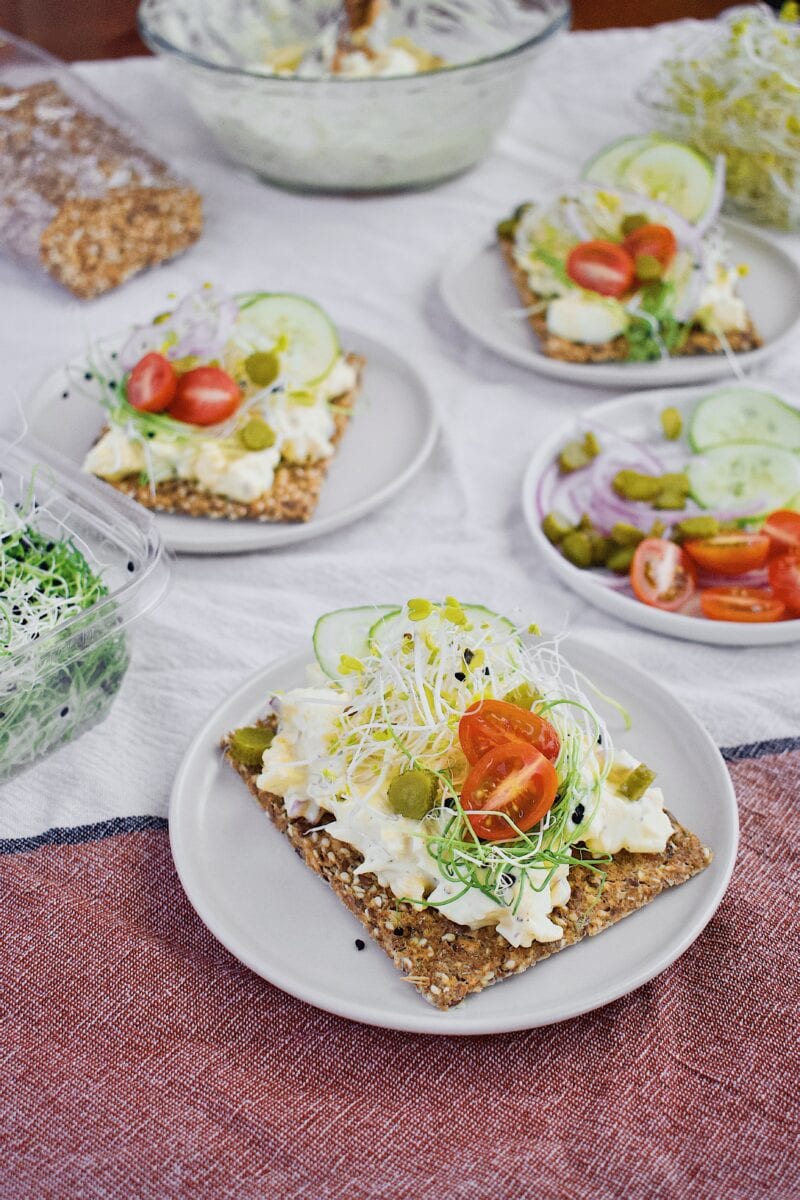 My Nordic Egg Salad recipe would make a great side dish at a barbeque or fit perfectly in the summer picnic basket. It travels well and you can make a separate little container with all the toppings to be added just before you eat. I especially like the gherkins on top, they add a little tang, so if you can find them don't skimp on them.
You could even chop some up and put them directly in the egg salad if you wanted to or garnish the top with them if you are taking it to a party. One tip I will share with you is that if you have a wire cooling rack, use that to chop your eggs. I love this method because it gives me uniformed pieces and it is quick and easy, see images below.
Whether you are making this for a party, for company, or just as a quick lunch, I hope you take a moment to enjoy it and go on a little trip down memory lane with me. It is simple yet delicious, and sometimes that is all you need. Enjoy!
Did you make this recipe? Let me know by leaving a review or comment! And be sure to sign up for my newsletter, and follow along on Instagram, Pinterest, and Facebook!