If you make my Soy-Maple Glazed Roast Turkey for your Thanksgiving or Christmas Dinner, and you saved the drippings, this is the next recipe you need. When I carve the turkey I leave a little meat on the bones and then boil them all day the next day. You get the most decadent turkey stock and a perfect base for this Leftover Turkey Ramen.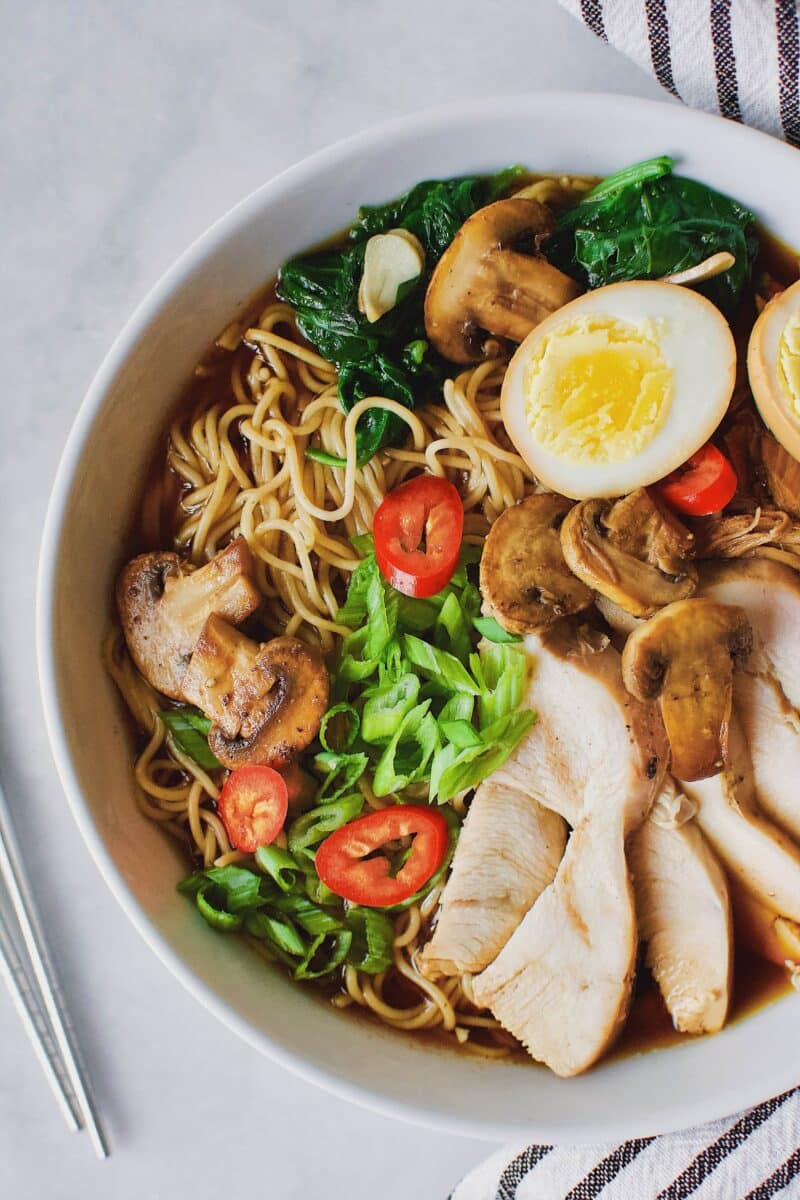 In my book, this is the ULTIMATE turkey leftovers recipe. So much good flavor, and reminiscent of some of the best Pho I have had in my life. I love that I can utilize Thanksgiving leftovers here too and use the turkey bones.
What you need to make Leftover Turkey Ramen
While you can use any roasted turkey leftovers, if you make my Soy-Maple Glazed Roast Turkey you will start off with a base of flavor that is unmatched. You can build in some Asian flavors in other ways, but starting with that base just makes this soup even better.
As I mentioned above, leave some meat on the bones when you carve your turkey so you have some left in the soup. I first boil the turkey bones all day in a pot with enough water to cover the bones. When your water has gained some color, remove them bones, pick off the leftover meat, discard the bones and reserve the meat.
I then add in the leftover soy-maple drippings, this is where your broth gains ALL of its seasonings. I save the drippings in the fridge so the fat will rise to the top and solidify, remove all that fat and add the remaining liquid to your turkey stock. Do this about 1.5-2 hours before you want to eat, and let the broth simmer till then.
Ramen Toppings
In my opinion, traditional ramen is all about a deeply flavored broth and celebrated toppings.
While my broth is simmering with the drippings, I prepare a few toppings for my ramen. If you think about it and have the time, make some soy sauce eggs by placing a few boiled eggs in a soy sauce, sake, and sesame oil mixture up to 2 days before, but even 30 minutes will do the trick. Ari at WellSeasoned Studio has the recipe I use!
I then sauté some spinach and garlic together and brown some button mushrooms to use as garnish and additional flavors when serving the soup. Some green onions and spicy red chilis are good parings too if you like a little heat.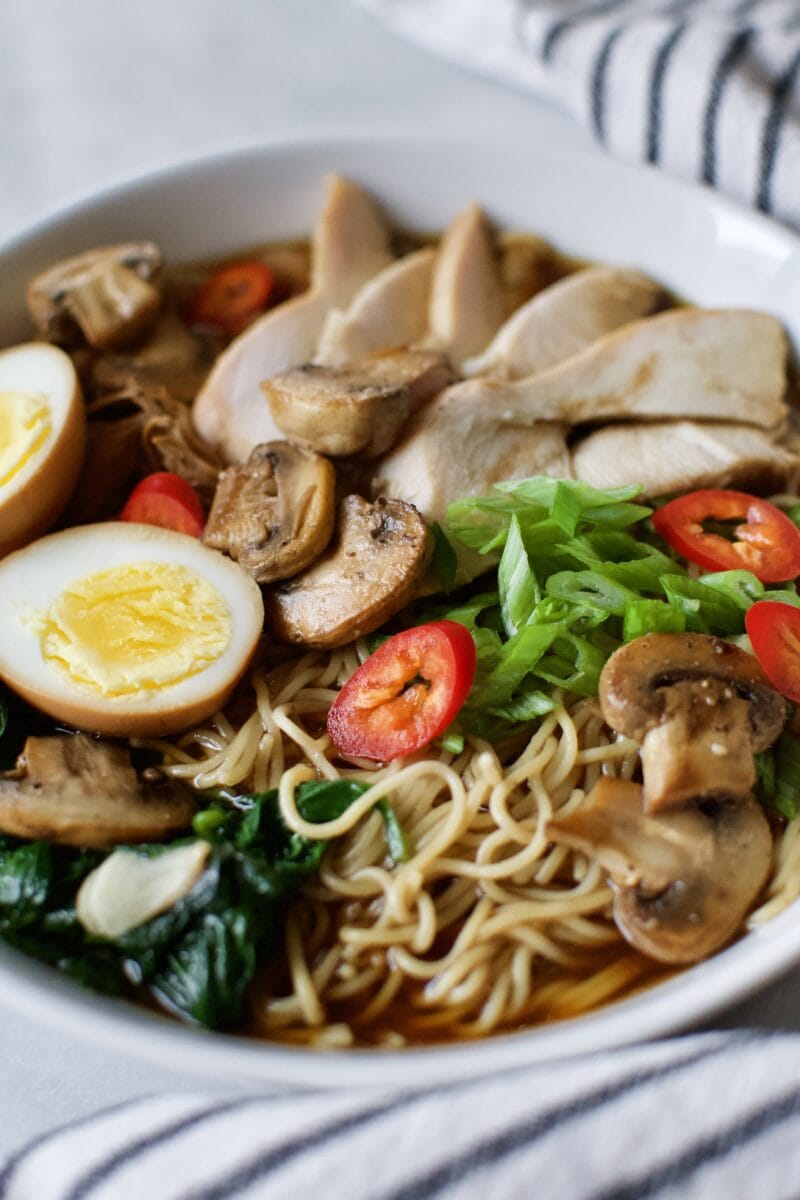 Slice your eggs in half and add the prepared toppings to the soup to serve. If you have some leftover roast turkey, place a few slices of that on top of the soup to really make it a meal.
Here are a few other optional toppings I came up with:
Soy Sauce Eggs
Spinach
Green Onions
Mushrooms
Sesame Seeds - black 
Soy Sauce
Bok Choy
Cilantro
Lime
Corn
Asian Nori Seasoning
Red Chili
The Noodles
I LOVE these ramen noodles, that cook up so quickly and I have started to just keep some on hand for any time I want some soup. They are great even in a little warmed up boxed stock with your favorite toppings. I like to call them grown-up ramen noodles. They are what I used for this Leftover Turkey Ramen.
While you can really use any noodles that you like or can get you hands-on, these are nutritionally dense, and super filling. My family has loved every time I have used them. They are exceptionally good for a Thai coconut curry soup with the ramen noodles added.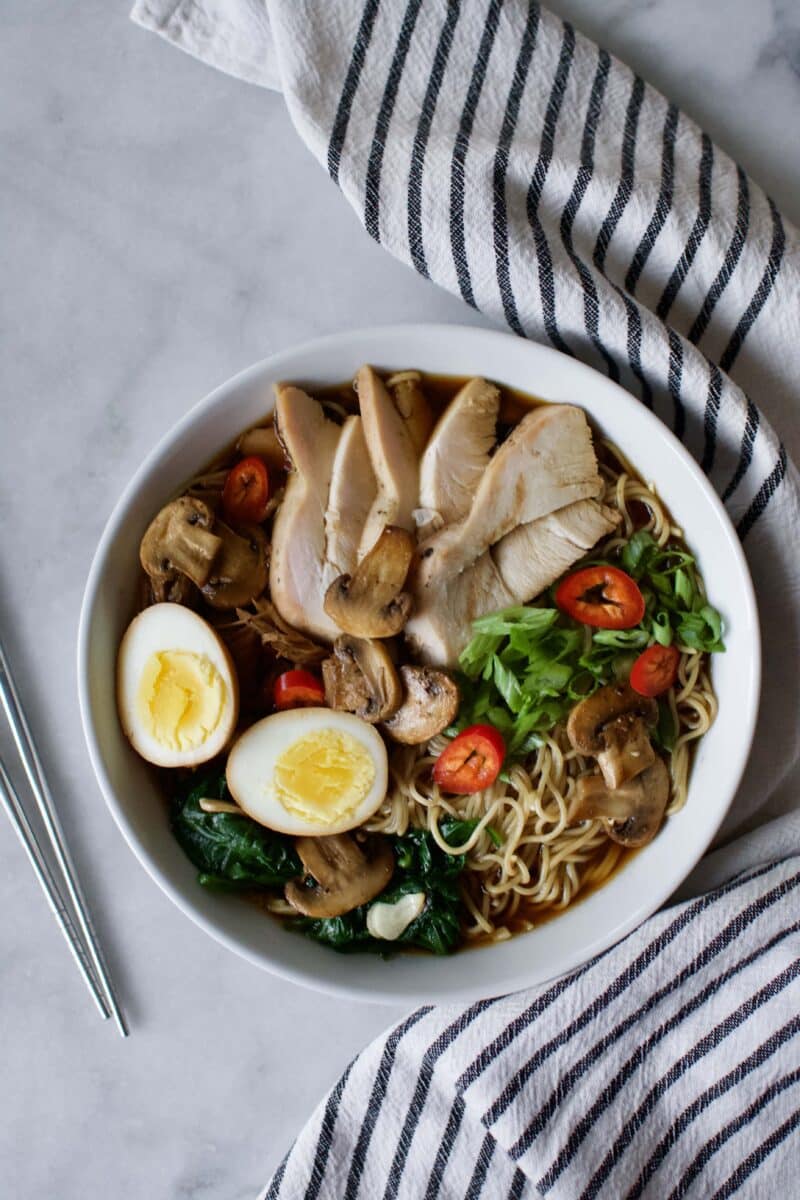 Did you make this recipe? Let me know by leaving a review or comment! And be sure to sign up for my newsletter, and follow along on Instagram, Pinterest, and Faceboo