If you make my Soy-Maple Glazed Roast Turkey for your Thanksgiving or Christmas Dinner, and you saved the drippings, this is the next recipe you need. When I carve the turkey I leave a little meat on the bones and then boil them all day the next day. You get the most decadent turkey stock and a perfect base for this Leftover Turkey Ramen.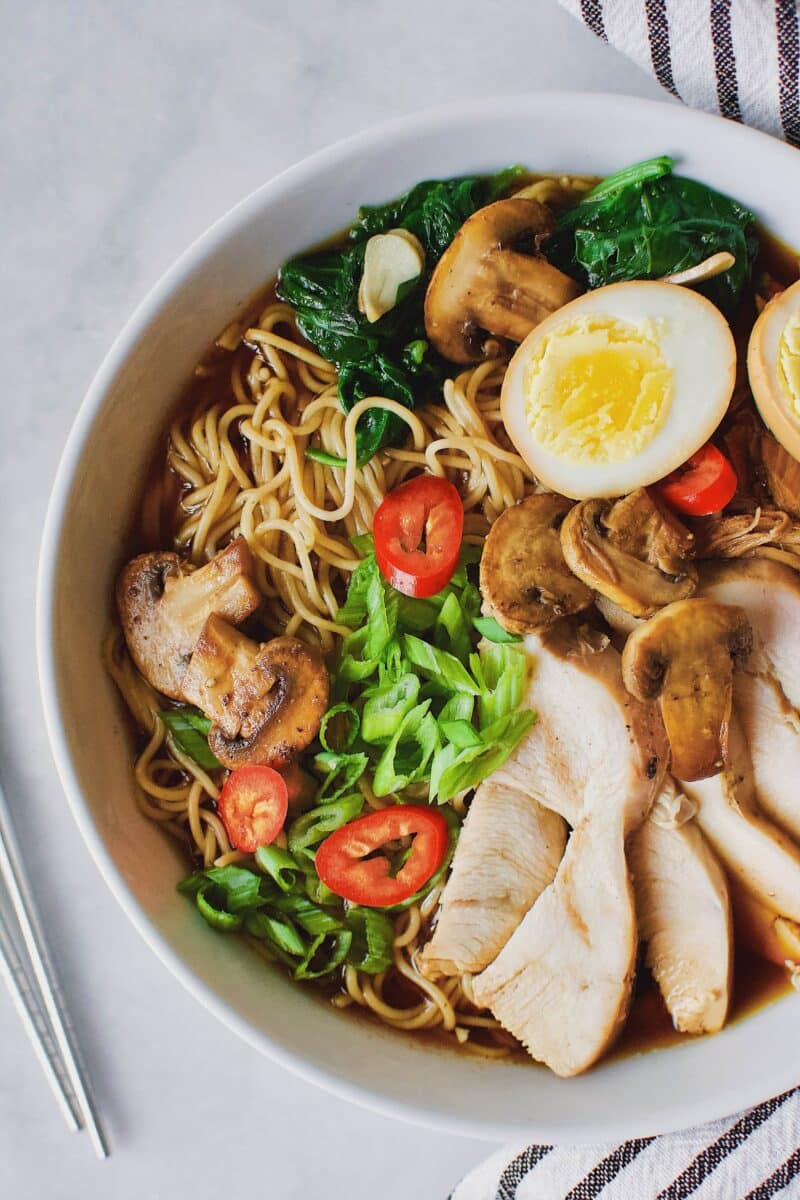 In my book, this is the ULTIMATE turkey leftovers recipe. So much good flavor, and reminiscent of some of the best Pho I have had in my life. I love that I can utilize Thanksgiving leftovers here too and use the turkey bones.
What you need to make Leftover Turkey Ramen
While you can use any roasted turkey leftovers, if you make my Soy-Maple Glazed Roast Turkey you will start off with a base of flavor that is unmatched. You can build in some Asian flavors in other ways, but starting with that base just makes this soup even better.
As I mentioned above, leave some meat on the bones when you carve your turkey so you have some left in the soup. I first boil the turkey bones all day in a pot with enough water to cover the bones. When your water has gained some color, remove them bones, pick off the leftover meat, discard the bones and reserve the meat.
I then add in the leftover soy-maple drippings, this is where your broth gains ALL of its seasonings. I save the drippings in the fridge so the fat will rise to the top and solidify, remove all that fat and add the remaining liquid to your turkey stock. Do this about 1.5-2 hours before you want to eat, and let the broth simmer till then.
Ramen Toppings
In my opinion, traditional ramen is all about a deeply flavored broth and celebrated toppings.
While my broth is simmering with the drippings, I prepare a few toppings for my ramen. If you think about it and have the time, make some soy sauce eggs by placing a few boiled eggs in a soy sauce, sake, and sesame oil mixture up to 2 days before, but even 30 minutes will do the trick. Ari at WellSeasoned Studio has the recipe I use!
I then sauté some spinach and garlic together and brown some button mushrooms to use as garnish and additional flavors when serving the soup. Some green onions and spicy red chilis are good parings too if you like a little heat.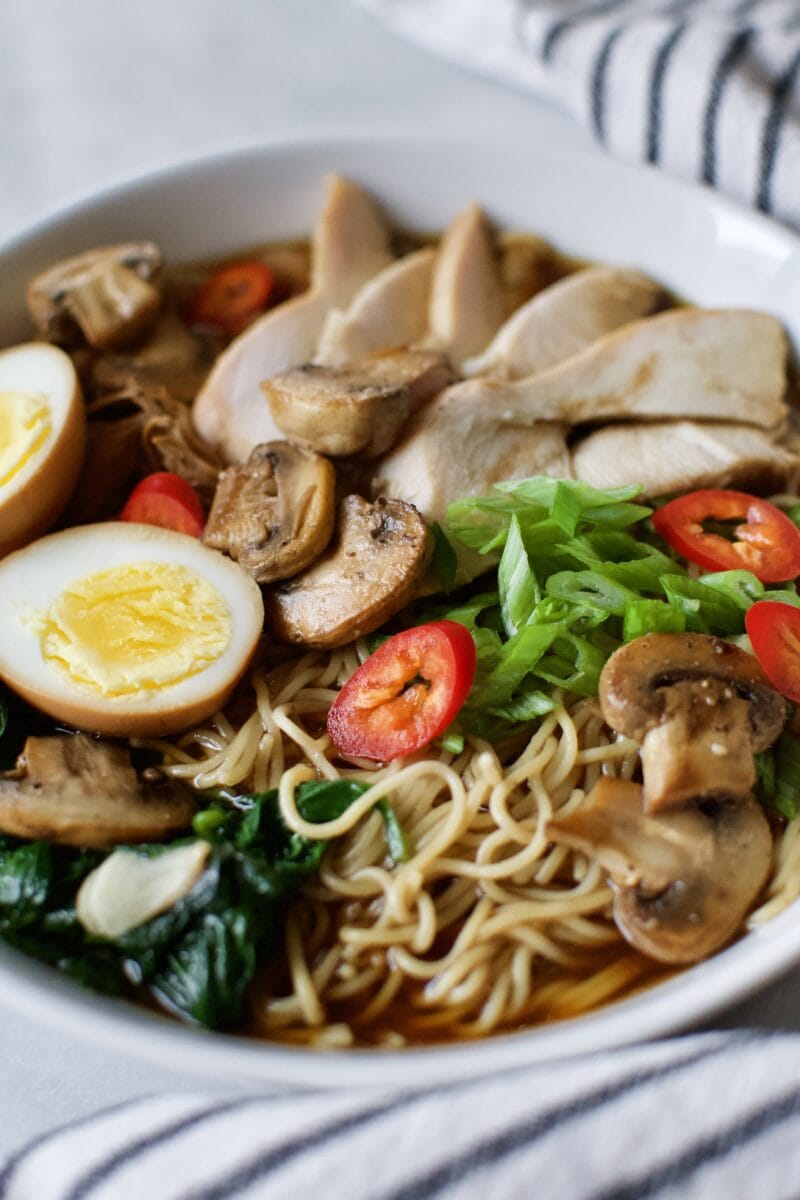 Slice your eggs in half and add the prepared toppings to the soup to serve. If you have some leftover roast turkey, place a few slices of that on top of the soup to really make it a meal.
Here are a few other optional toppings I came up with:
Soy Sauce Eggs
Spinach
Green Onions
Mushrooms
Sesame Seeds - black 
Soy Sauce
Bok Choy
Cilantro
Lime
Corn
Asian Nori Seasoning
Red Chili
The Noodles
I LOVE these ramen noodles, that cook up so quickly and I have started to just keep some on hand for any time I want some soup. They are great even in a little warmed up boxed stock with your favorite toppings. I like to call them grown-up ramen noodles. They are what I used for this Leftover Turkey Ramen.
While you can really use any noodles that you like or can get you hands-on, these are nutritionally dense, and super filling. My family has loved every time I have used them. They are exceptionally good for a Thai coconut curry soup with the ramen noodles added.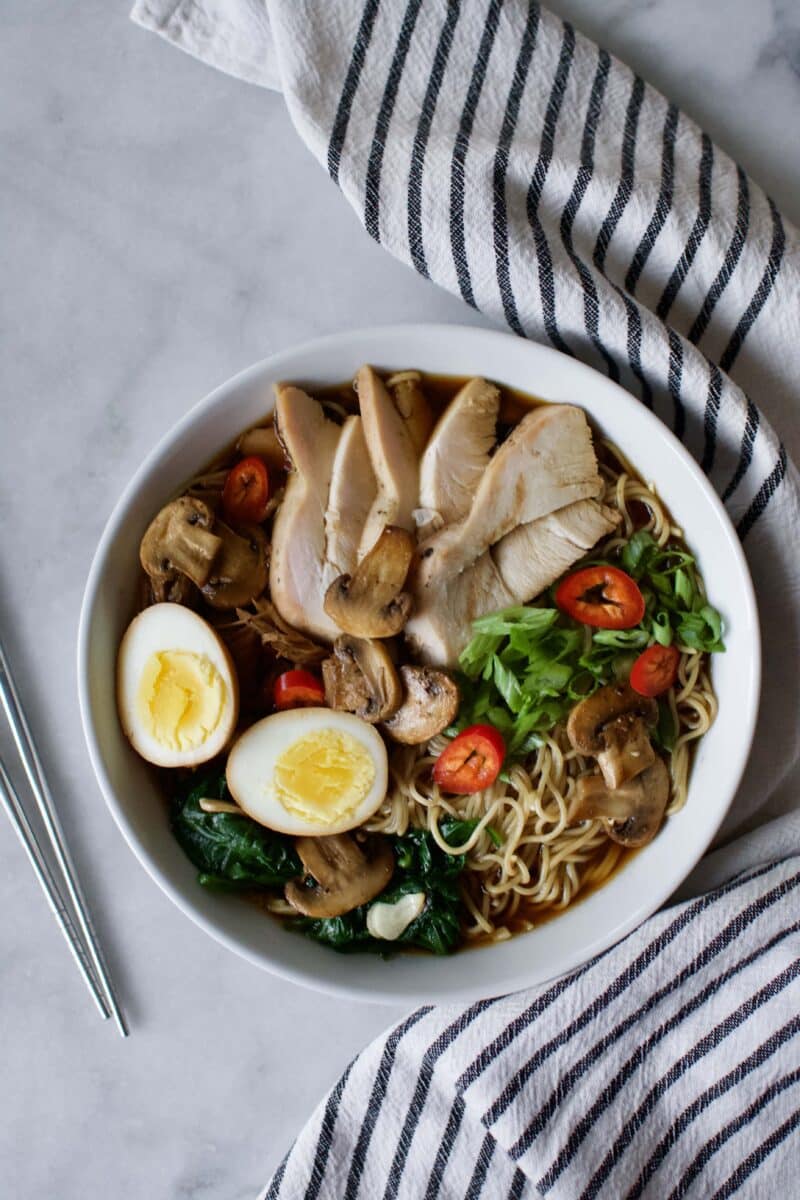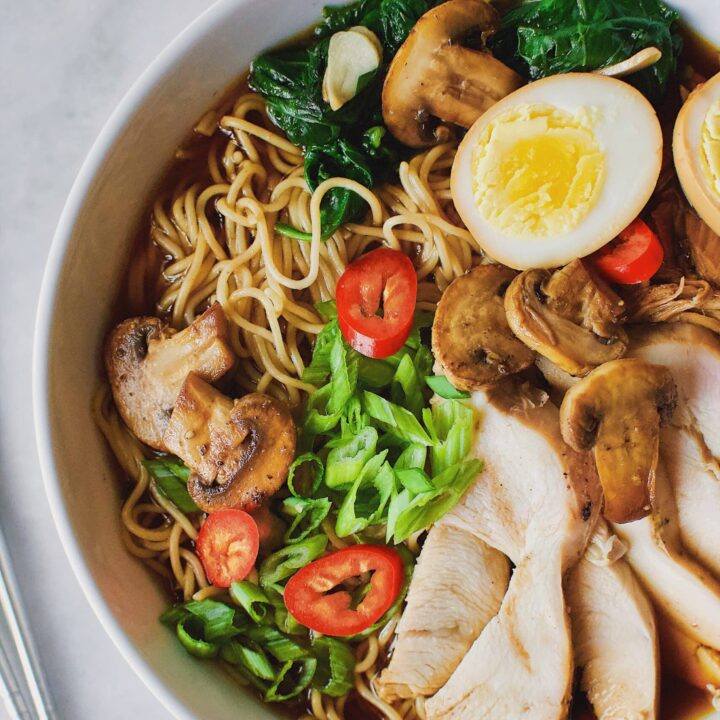 Leftover Turkey Ramen
This is my fun spin on ramen utilizing the leftover Asian inspired roast turkey that I made for Thanksgiving dinner. The flavors of my Soy-Maple Roast Turkey lend themselves to boosting the flavor of this soup out of this world! Feel free to use any ramen toppings you like, this is just how I whipped mine up and to give you inspiration for you Thanksgiving leftovers.
Ingredients
1 recipe Soy Sauce Eggs, see notes for link
1 Leftover Turkey Carcass
2 cups Roast Turkey Drippings
Leftover Turkey Breast, sliced
1 bunch Green Onions, sliced
1 Asian Red Chili, sliced
8oz Button Mushrooms, sliced
4 tablespoons Unsalted Butter or Olive Oil
3 Garlic cloves, sliced
1, 6oz container Baby Spinach
4-6 Ramen Noodle Bunches
Instructions
Prepare the Soy Sauce Eggs, this is best when done even a day or 2 ahead of time, the longer they can marinate the better.
Utilizing your leftover holiday turkey carcass, I leave a little meat on mine so I have some in this broth, place it in a stockpot, and cover it with water. If you made my Soy-Maple Glazed Roast Turkey, add the onion, green onions, ginger, and garlic that roasted inside the bird to the pot as well. Bring the water to a boil and simmer until the water takes on a rich golden color, about 4 hours.
After your stock has gained color, remove the turkey bones from the pot and continue simmering the broth. When cool enough to handle, pick any meat left of the bones off and reserve for adding back to the broth just before serving. Add the reserved turkey drippings to the pot, minus the fat that rose to the top. Continue simmering the stock for 1.5-2 hours longer.
During the final simmering of the stock prepare your toppings. Slice the green onions and chili and reserve for serving. Cook the mushrooms in a skillet over medium heat with the butter or oil until browned on both sides. Season with salt and pepper and set aside. In the same pan in the leftover drippings cook the garlic and spinach until wilted, adding in a bit more butter or oil if needed. Season with salt and pepper and reserve for serving.
When ready to serve, bring your broth to a rolling boil. Add the reserved meat that you picked off the bones back to the pot. Place the ramen noodles in a shallow bowl and ladle the boiling broth over top. Let it rest for 4-5 minutes. This should give you plenty of time to add the toppings to your bowl while the noodles soften in the hot liquid.
Serve immediately and enjoy!
Notes
*Feel free to add or subtract to the toppings list any way you like. This is just what I had around and it complimented the soup perfectly.
*If you want to make the soup and didn't use my Soy-Maple Glazed Turkey, add ½ a cup of hoisin sauce to your turkey stock, along with 2 Tablespoons of better than bullion chicken base, and 2 Tablespoons of soy sauce to amp up the Asian flavors. Serve with more hoisin and soy if desired.
Nutrition Information:
Serving Size:

1 grams
Amount Per Serving:
Unsaturated Fat:

0g
If you make this recipe, please let me know by leaving a review at the bottom of this page!
And make sure to sign up for my newsletter and follow along on Instagram, Pinterest, and Facebook for more KendellKreations!
MY LATEST RECIPES!
Get my NEW e-Cookbook here!! ⬇️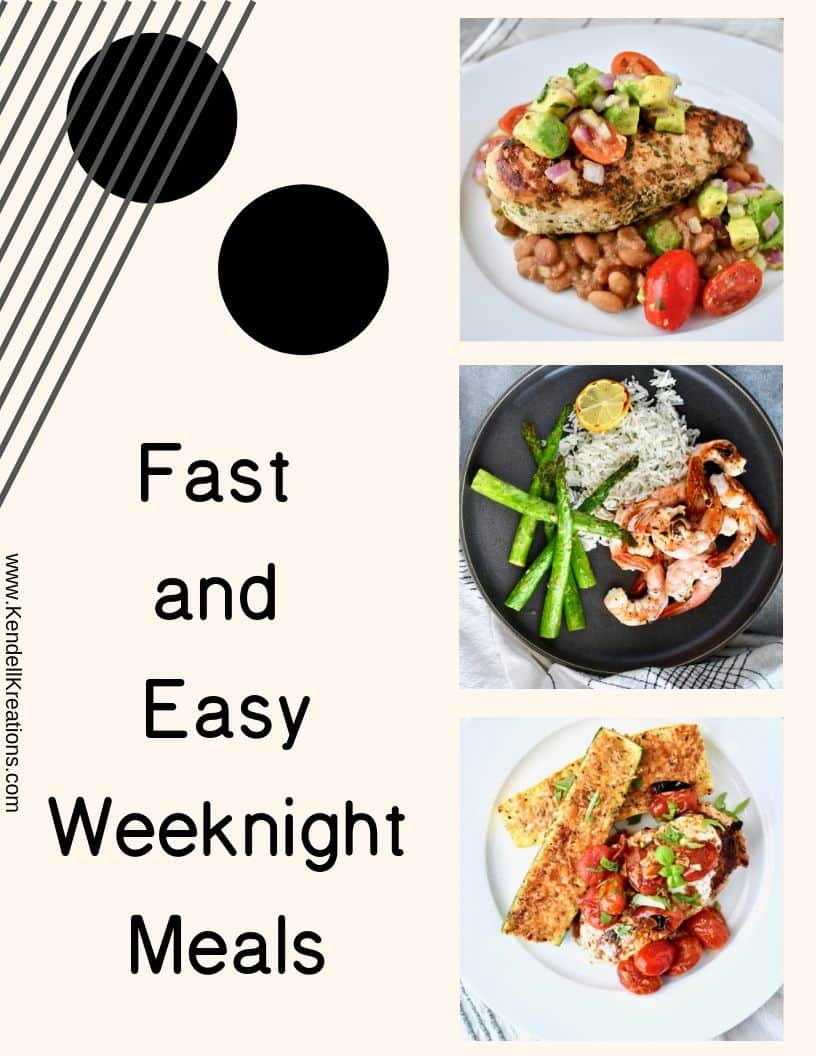 MY FAVORITE KITCHEN TOOLS!
Here are a few links to some of my favorite kitchen tools! You get a car, YOu get a car, YOU ALL GET A CAR…in my best Oprah voice
These Rösle Silicone Tongs are a little pricey but they will last you the rest of your life and are the softest in your hand. This is important for someone like m that cooks so much. It reduces strain, I have 4 sets in my kitchen!
These are my FAVE Nordic Ware Sheet Pans, every kitchen should have at least 2 sets of these! I think I have at least 4 of each of these.
This is my favorite pressure cooker, the Fagor is the same concept as the "Instant Pot" but easier to use in my opinion, if you don't have one you NEED one, it will be your best friend in the kitchen!
A sharp knife is the most important tool in the kitchen, these Japanese steel "Shun" knives are my favorite! And this is a great starter set to build on. Once you try them you will be in love so use this as a foundation you can build on for years to come.
This Scanpan 11″ skillet is just the right size for almost anything you will need to cook and my best friend and a real workhorse in my kitchen, it's also a great deal at $99. Scanpan is the best in the world for healthy cooking. It is coated with a proprietary ceramic-titanium coating that is durable while allowing you to use fewer fats and oils when cooking. It is a coating only they use. I could talk all day about my love for these pans, message me if you want more info. Here are some other sizes that are available if you are looking to outfit your kitchen with some new goodies. 8″ & 10″ Skillet set or 8″ Skillet, I still need this one for my kitchen Also, I don't really know how to cook small so the 12.5″ is my other fave!
This giant vat of olive oil is my favorite, I decant it into a smaller bottle for my counter. Or put this spigot on top of a wine bottle!
My favorite baking dish that is so easy to clean even burnt on cheese slides right off!
This Tovolo jar scraper has to be my single favorite kitchen tool, it is definitely the most used tool in my kitchen. If you are NOT a gadget person, this is the only necessity I say is a MUST beyond the wooden spoon.
A great wood spoon is essential, this Olive Wood one is my favorite, I have more than I can count. But can you really ever have too many?
A food scale can be a very important tool in your kitchen, this one is the one I use every day!
If you love Joanna Gaines as much as I do then the 'Magnolia Table Cookbook' is a must in your kitchen, get a copy HERE!