These Peanut Butter Brownies bring together two of, quite possibly, my very favorite things in the world! Peanut Butter and Chocolate, I mean, what's not to like? Peanut Butter will ALWAYS be my number 1, this is just another vehicle for it, lol.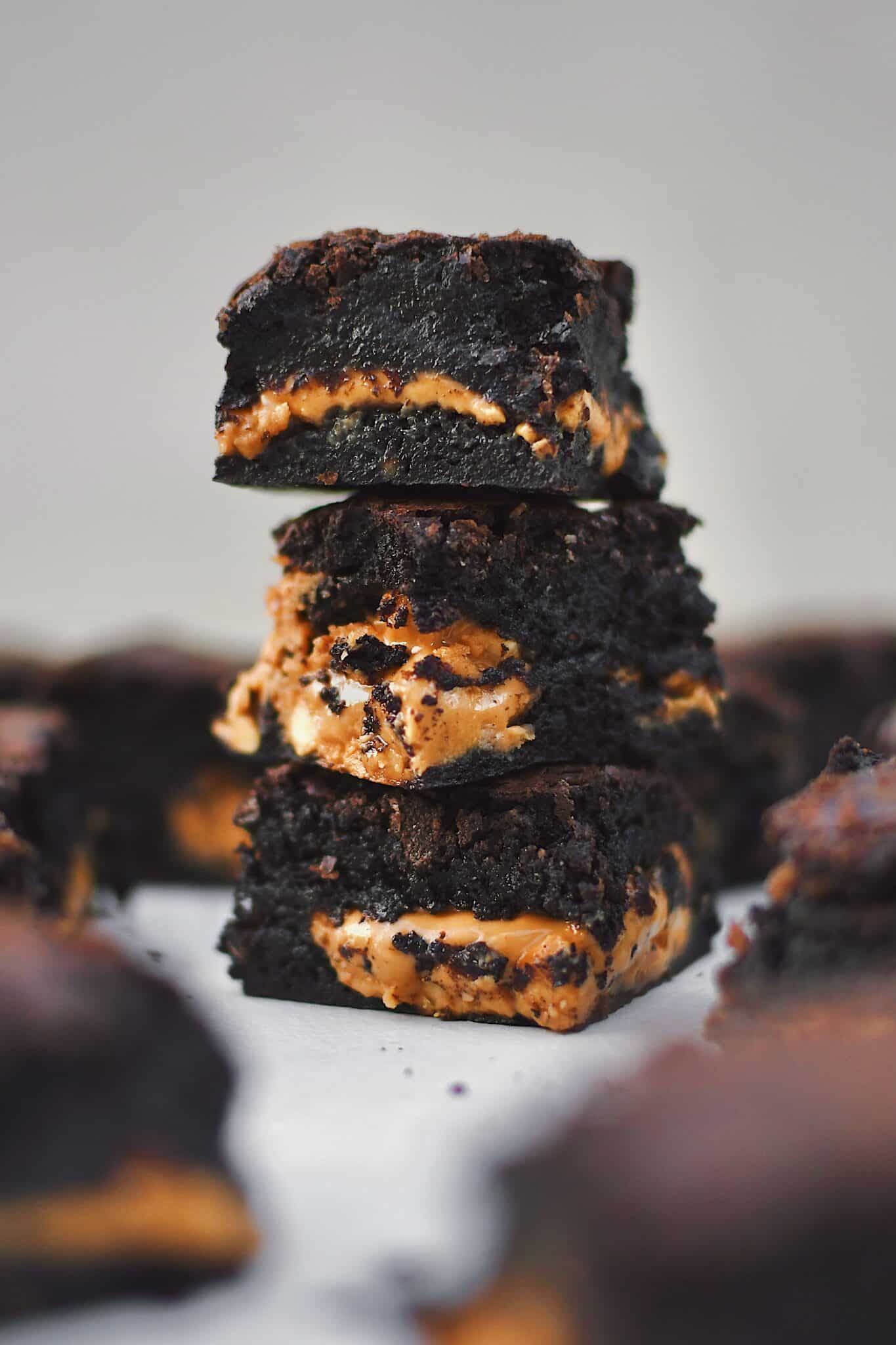 Jump to:
Ingredients
I only have a couple of important notes on some of the ingredients needed to make these Peanut Butter Brownies.
For the chocolate, do not use chocolate chips, use a chocolate bar and a quality one that will melt really well. This is no time to use a Hershey bar, that will not work here.
For the peanut butter, do not use natural peanut butter that separates. It will not perform properly in this recipe, use commercial peanut butter.
For the cocoa powder, you may notice I call for black cocoa powder. I like to use it here to keep the final product from being too sweet.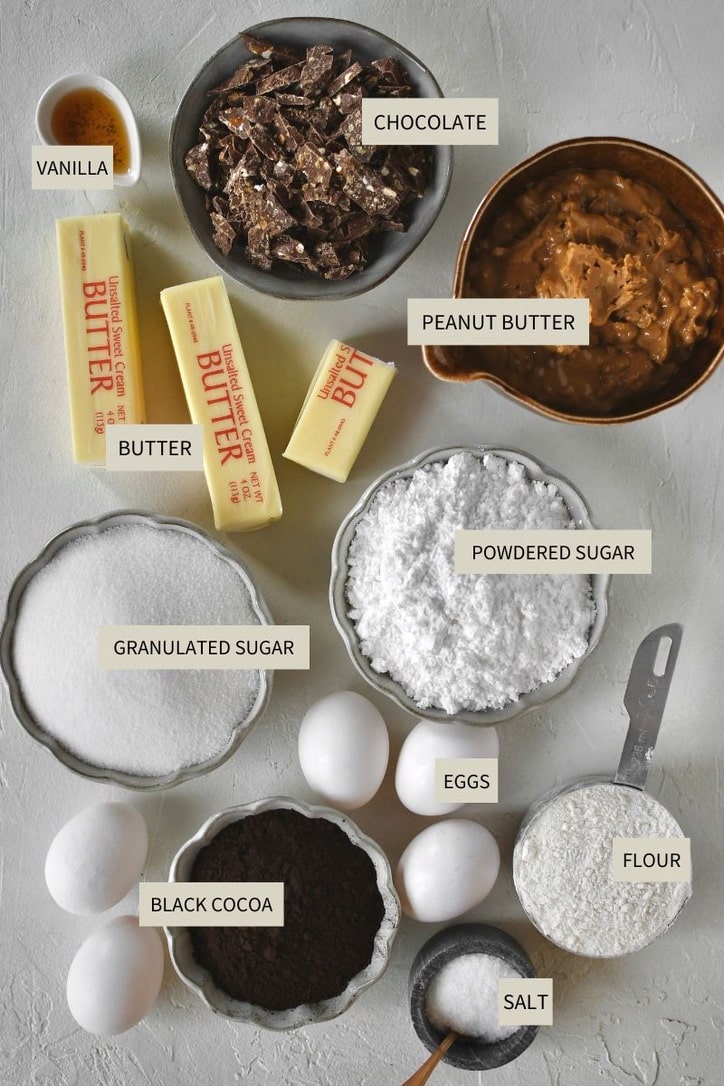 Past that, the remaining ingredients are typical everyday baking ingredients. Regular sugar, flour, salt, and eggs is all you need.
Use the JUMP TO RECIPE button at the top of the post, or scroll to the bottom of the post to see the full recipe card with ingredient measurements and instructions.
Method
First, prepare the peanut butter filling by combining it and the powdered sugar. Set aside until needed. And if this mixture is too stiff, microwave it for 30 seconds at a time till spreadable.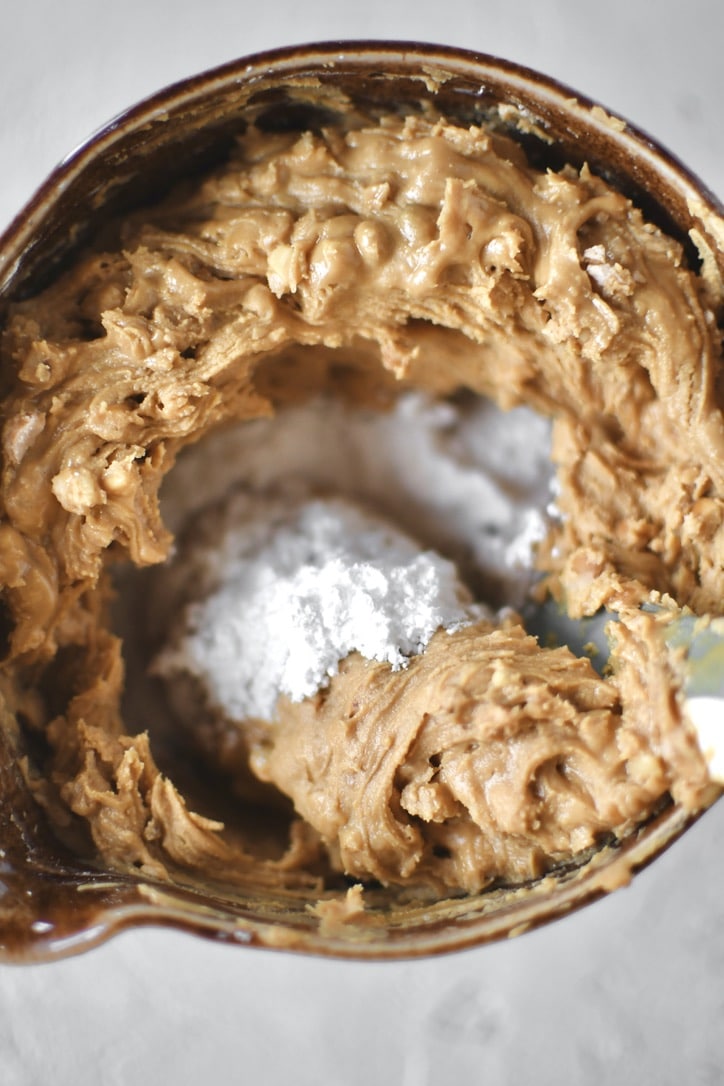 In the microwave or over a double boiler, melt the butter and chocolate together until smooth. Add the sugar and continue warming it till it is no longer grainy. Let the mixture cool to room temp, then whip in the eggs till frothy. Fold in the cocoa powder and flour and you are ready to layer in the peanut butter filling.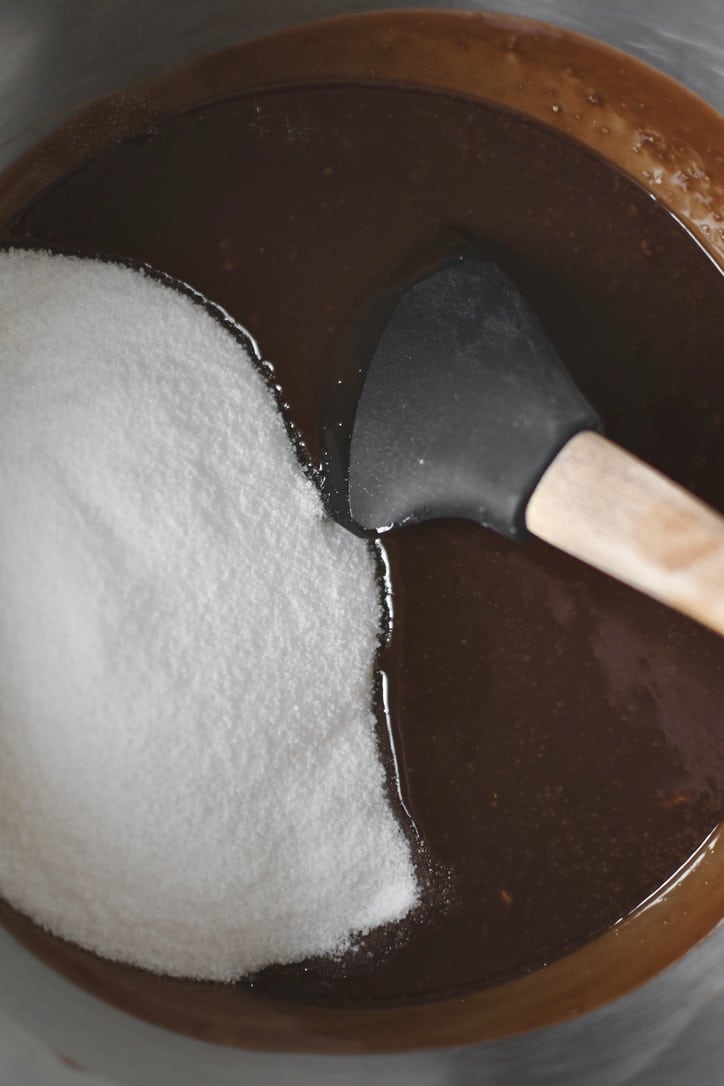 Pour half the brownie batter into your prepared pan, and add in the peanut butter filling you made earlier. Then top with the remaining batter and be sure to cover the peanut butter fully. Bake until the brownies are set and when a toothpick is inserted in the middle, comes out with some moist crumbs on it, but no wet batter.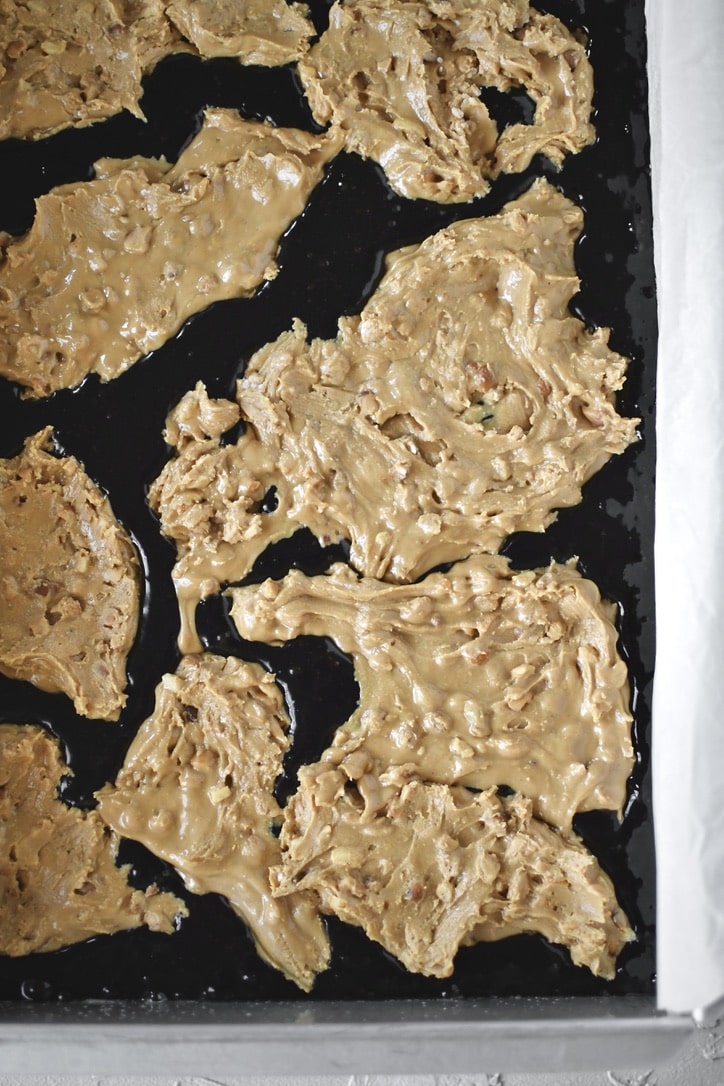 Let the brownies cool in the pan for 20-30 minutes, then turn them out onto an upside-down baking sheet, then flip them back over onto a cooling rack until fully cooled. Cut into your desired size, I like to cut mine into 2-3 bite "brownie bites".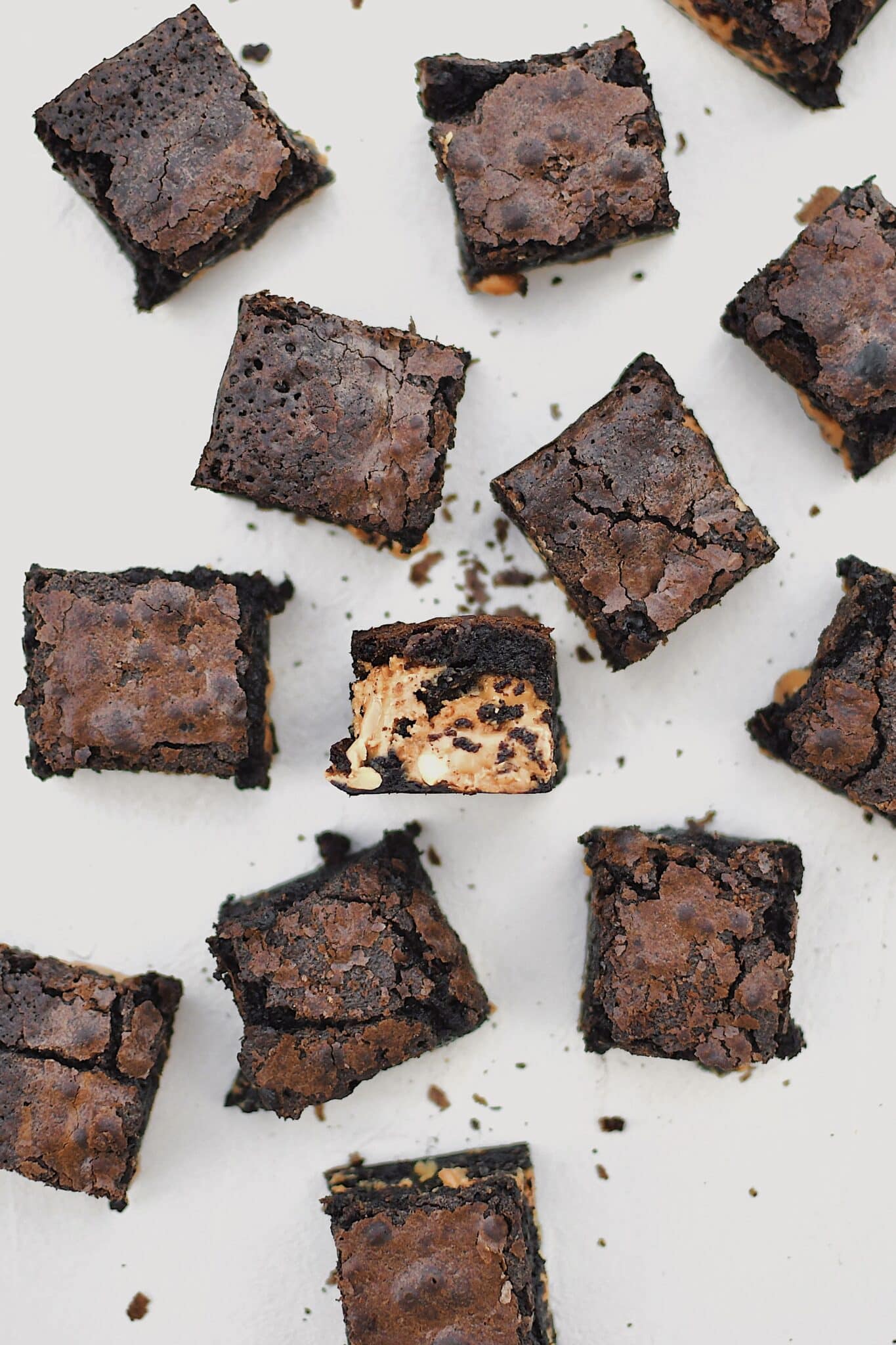 Notes & Tips
I like to beat the peanut butter and powdered sugar in a stand mixer to make quick and clean work of it. Then scrape it out and use the same bowl to whip up the brownies. If the mixture is too thick you could warm it in the microwave for 30 seconds or so to make it spreadable.
I prefer to melt my chocolate and butter over a simmering pot of water. But if you do not have a heatproof bowl or a double boiler, you can place them in a microwave-safe bowl and heat them in 30 seconds increments until fully melted.
When adding the eggs, give it a really good whip until nice and frothy. This will give the brownies lift and the crackle top brownies are known for.
If the peanut butter is stiff when added, press it out with your hands to flatten it. Adding the sugar makes it kind of like playdough, I just press it flat and drop it into the brownies. Then make sure the peanut butter is fully covered in the remaining batter before baking.
Substitutions
I personally prefer chunky peanut butter, and it is all I keep in my pantry. So you will see that I use that in my baked goods too. But you could swap the chunky peanut butter for smooth if you prefer.
When selecting chocolate to use for this recipe, use a baking bar or other quality bar chocolate. Chocolate chips don't melt properly for this recipe, you want something that will melt really well.
I prefer black cocoa for this recipe. It helps cut the cloying sweetness of brownies, however, you could use regular unsweetened cocoa powder too.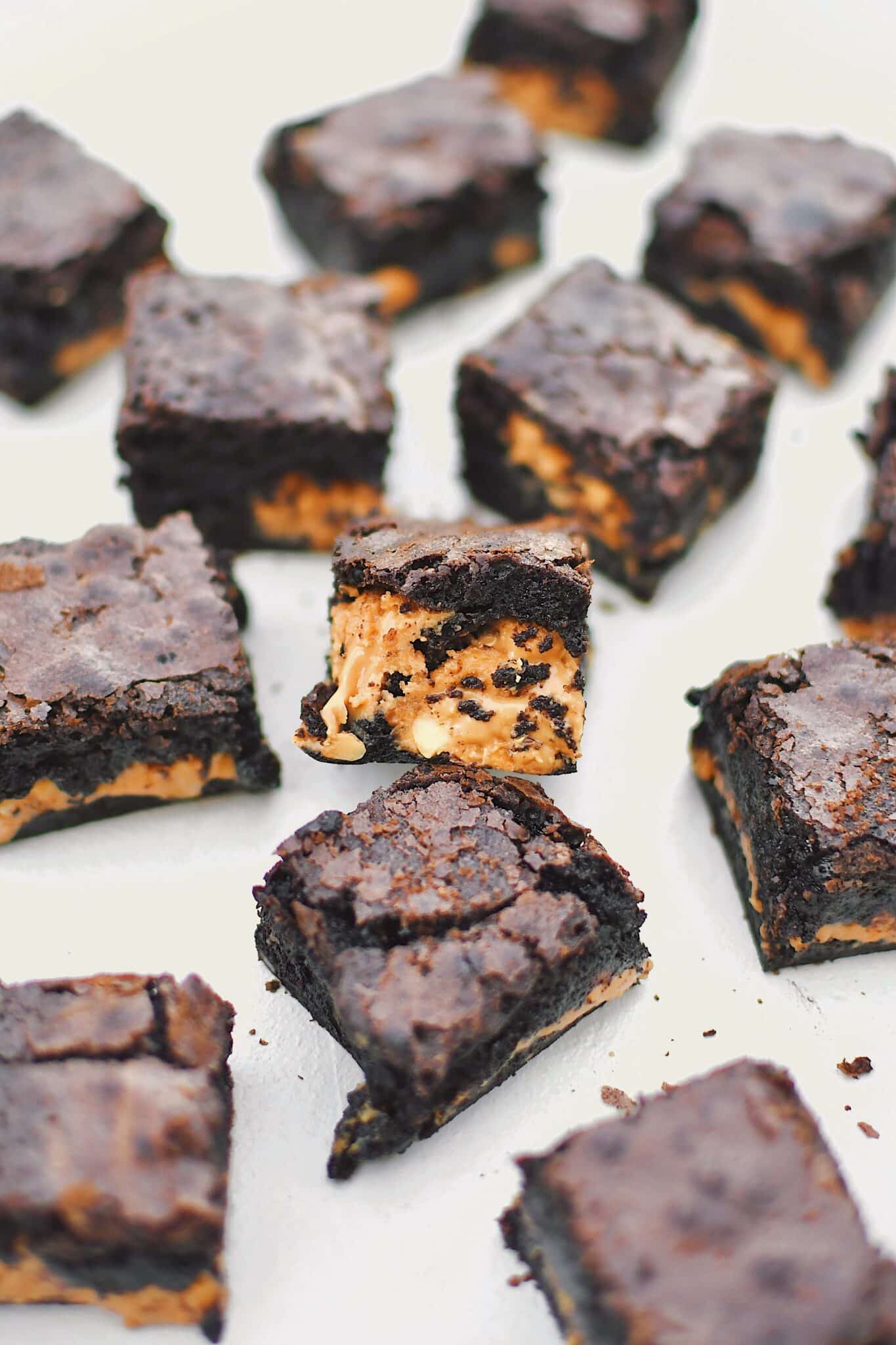 More of my Favorite Peanut Butter Recipes
Did you make this recipe? Let me know by leaving a review or comment! And be sure to sign up for my newsletter, and follow along on Instagram, Pinterest, and Facebook!