While these Pecan Shortbread Cookies may be great any time of year, they fall right in with my autumn baking. Among all the sweets, this slightly salty butter cookie, with a hint of maple and crunch of bacon, is a welcome treat.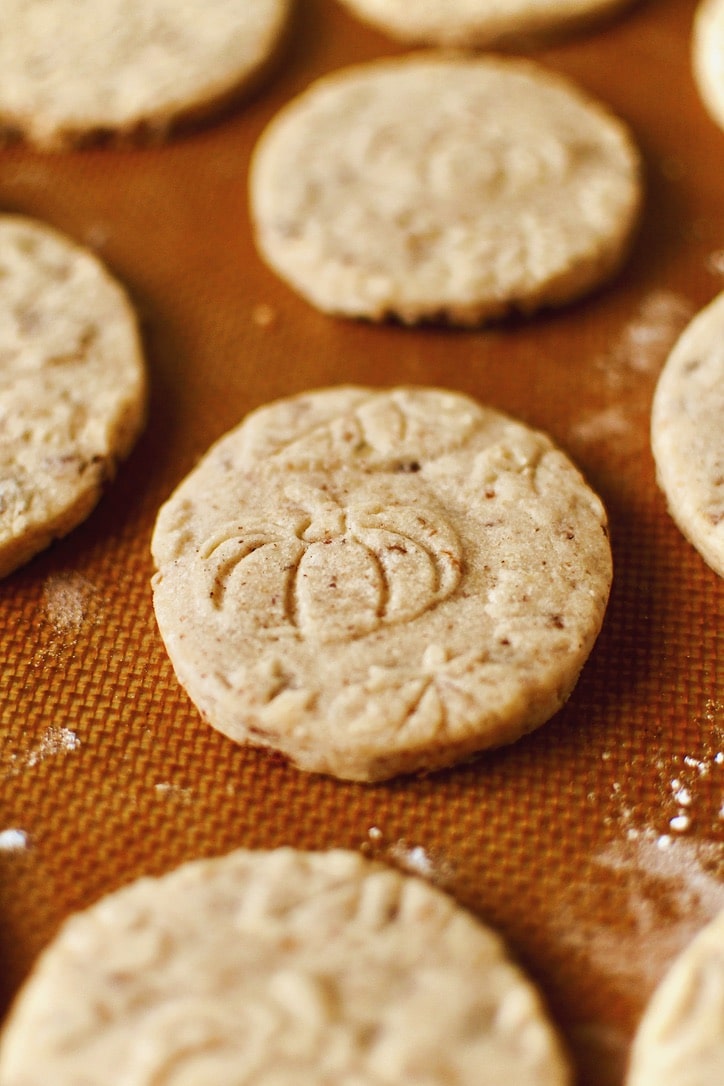 Jump to:
Ingredients
What's great about this recipe is the minimal ingredient list. Whenever I get news of someone coming to visit, or I need to take a treat to an event, I almost always have all these ingredients ready. What is also great is that you can make these cookies with any type of nut really, so there is always something available.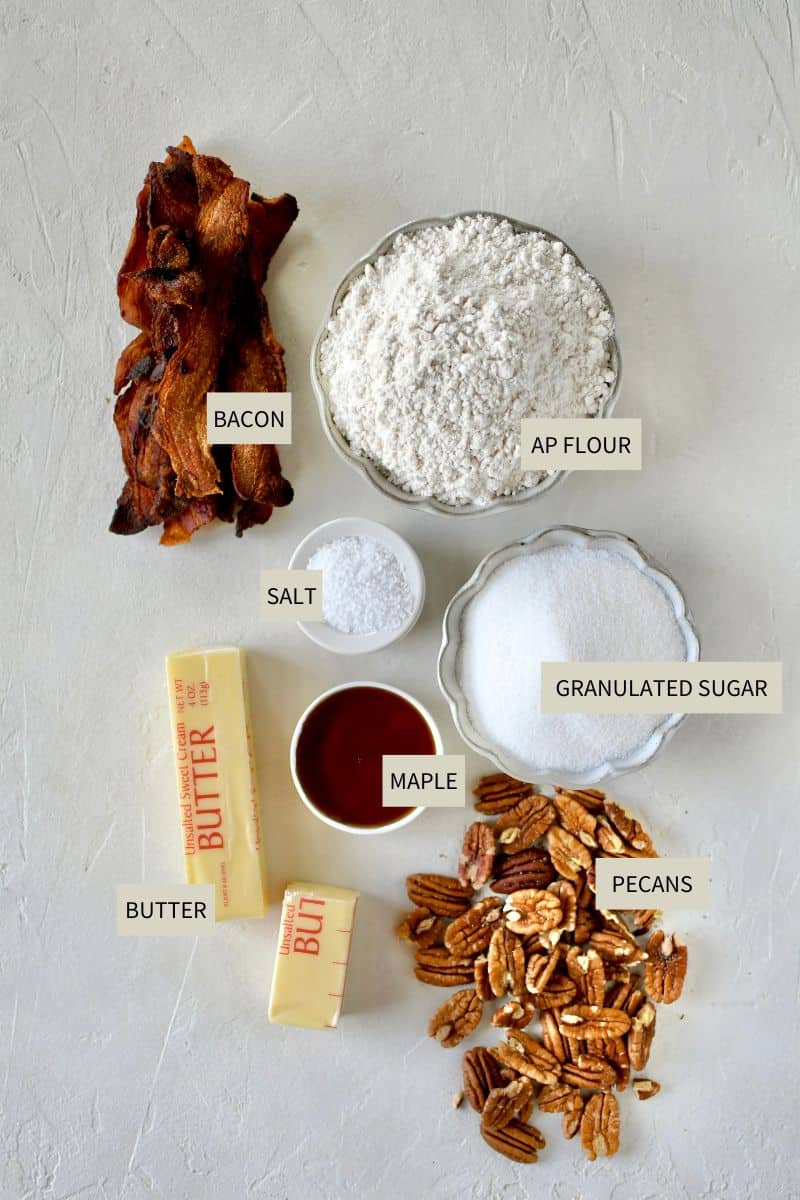 If I get the time to plan ahead, I even make a little extra bacon on the weekend to use in them. Just be sure it is extra crispy and that you chop it up nice and fine so the cookies are easy to cut out.
Use the JUMP TO RECIPE button at the top of the post, or scroll to the bottom of the post to see the full recipe card with ingredient measurements and instructions.
Method
The first thing you should do, if you don't have bacon at the ready is crisp up 6-8 slices depending on the thickness. Then let it cool and chop into very fine pieces, I usually do it in a mini food processor I have so it is nearly a paste. Toast the pecans and let them cool also, it is best done in a dry pan over medium-low heat on the stove until fragrant. Chop them fine also.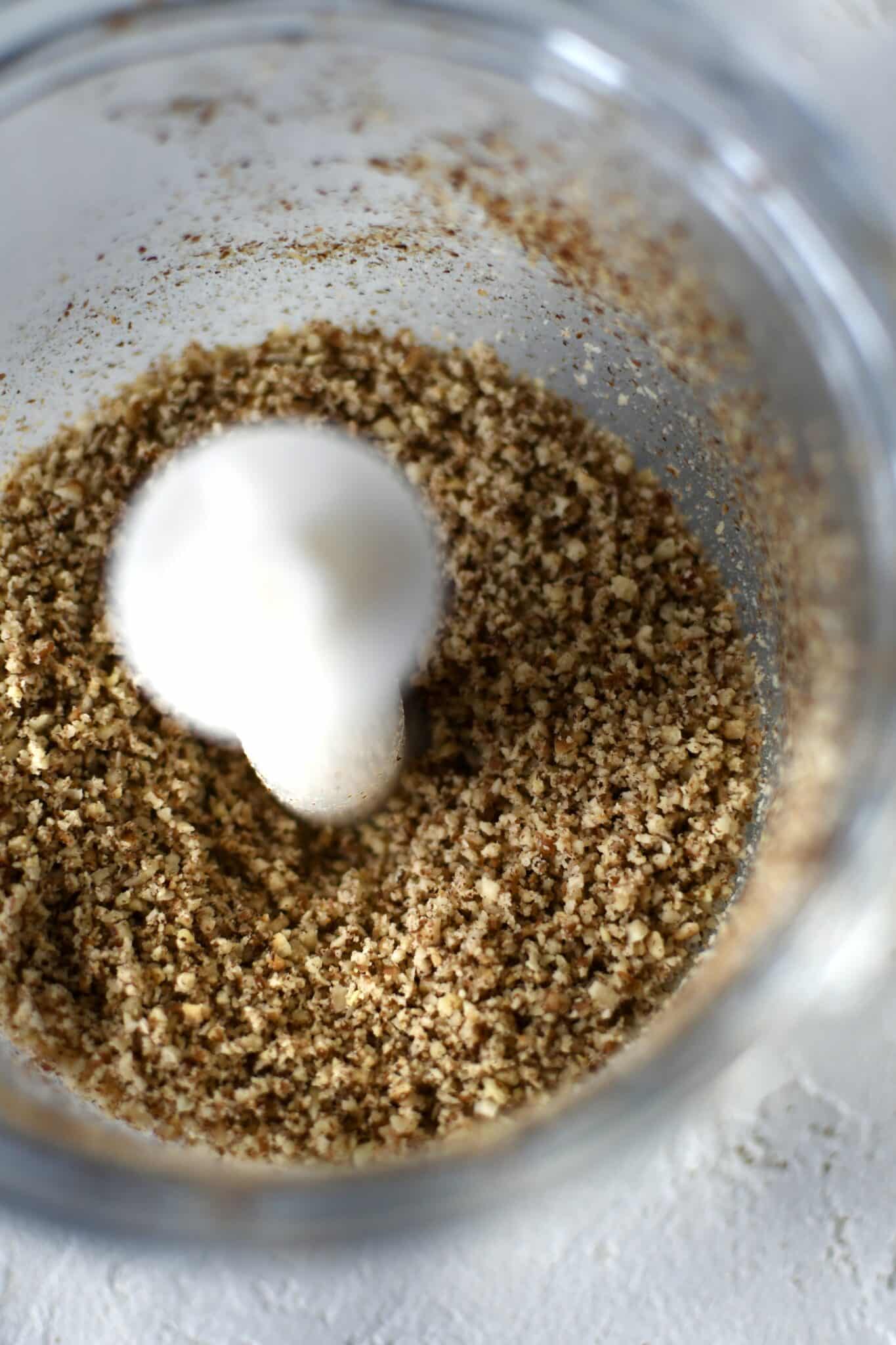 To make the cookies, begin by creaming the butter and sugar together in a stand mixer until light and fluffy. Then beat in the maple until fully combined. Add the dry ingredients, and prepared bacon and pecans, and mix just until a dough forms.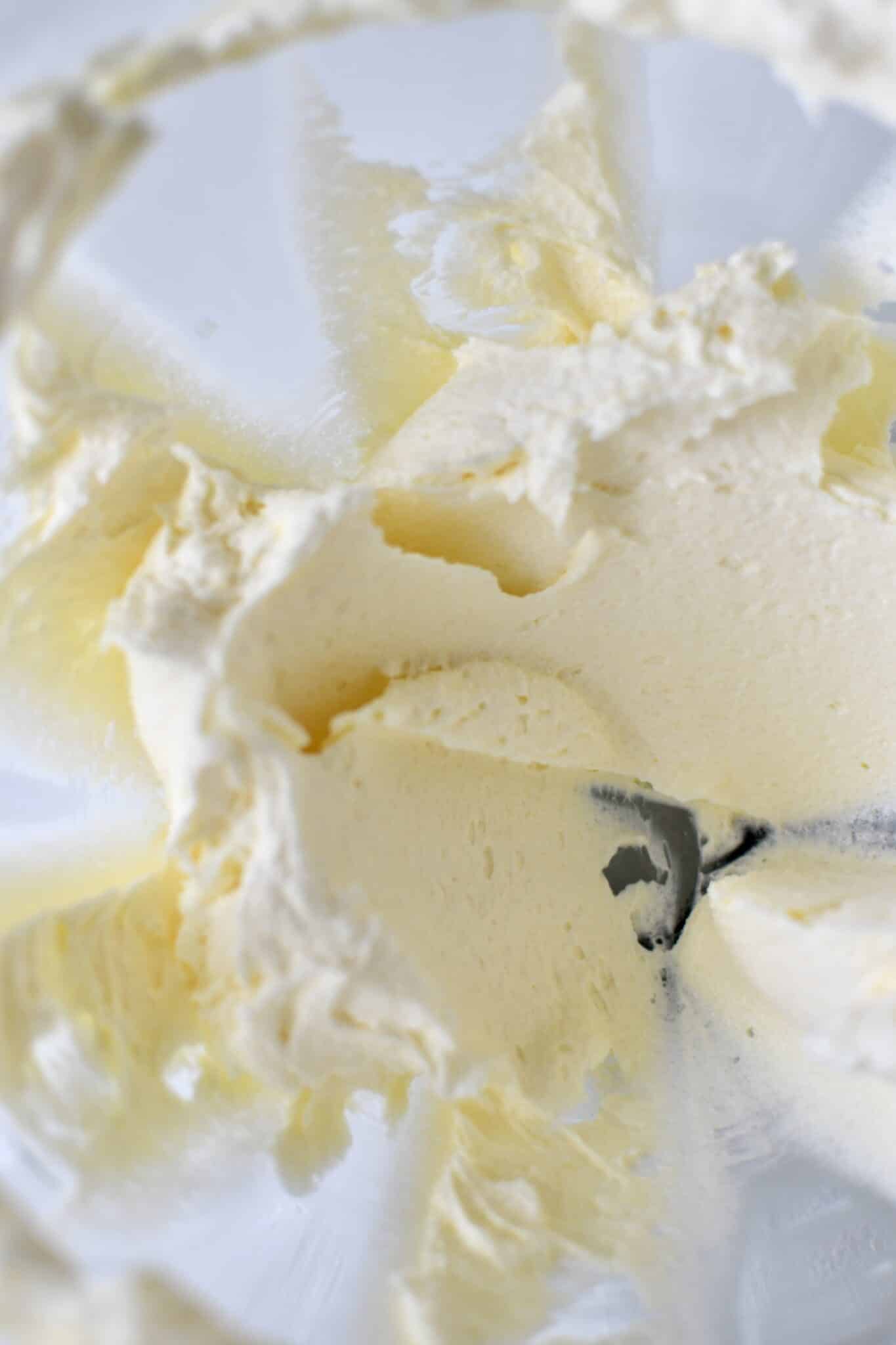 Turn the dough out onto some plastic wrap, wrap tightly and press into a disk. Refrigerate the dough for 15-20 minutes to relax and chill it slightly, but no longer or it won't roll out easily.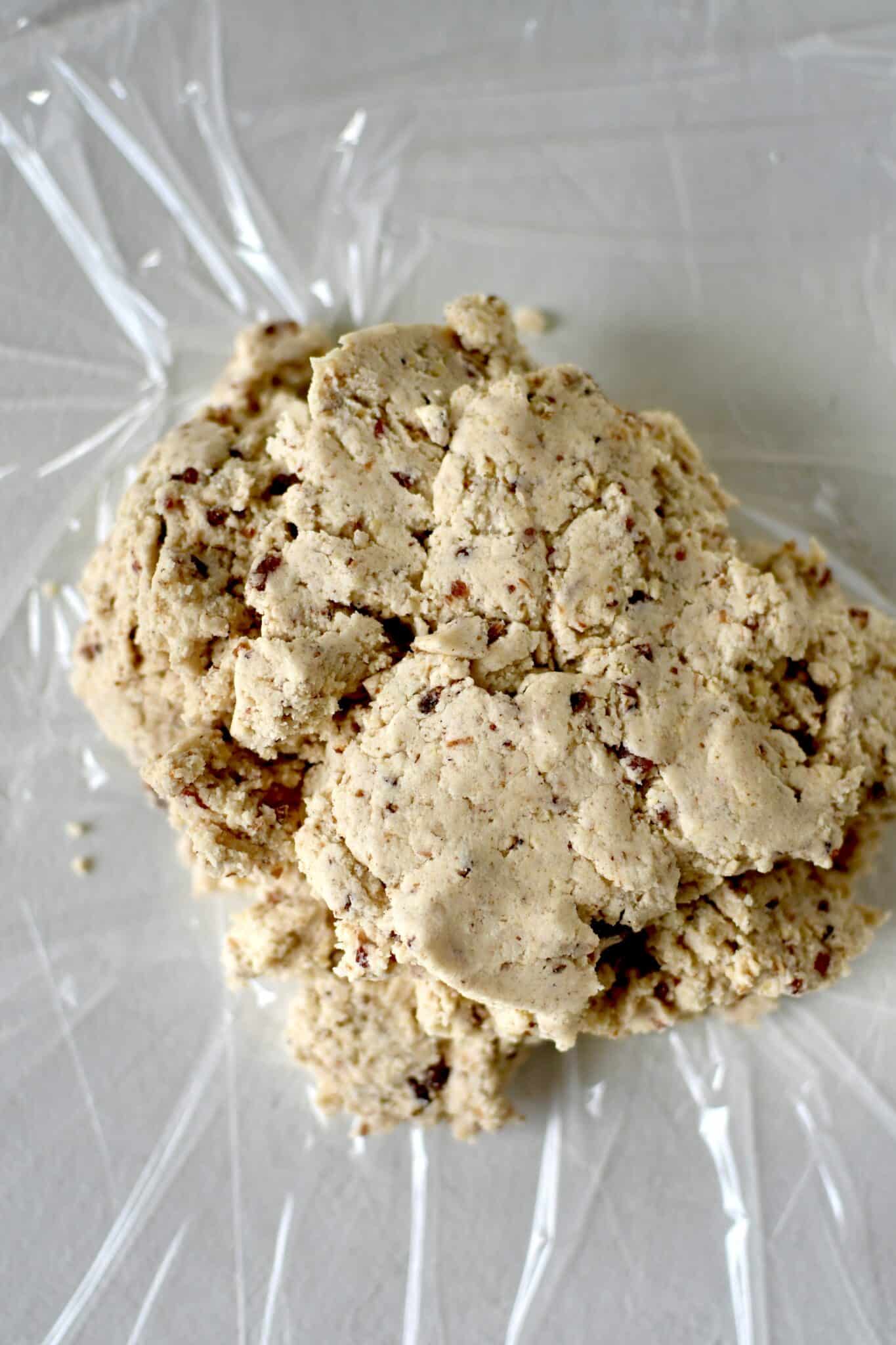 Then roll out the dough and cut it. This can be done in any shape you like, but as I mentioned earlier, I make these mostly in the fall so I cut them into pumpkins or use this fun embossed rolling pin to make impressions on the dough. But they will taste great in whichever shape you cup them in.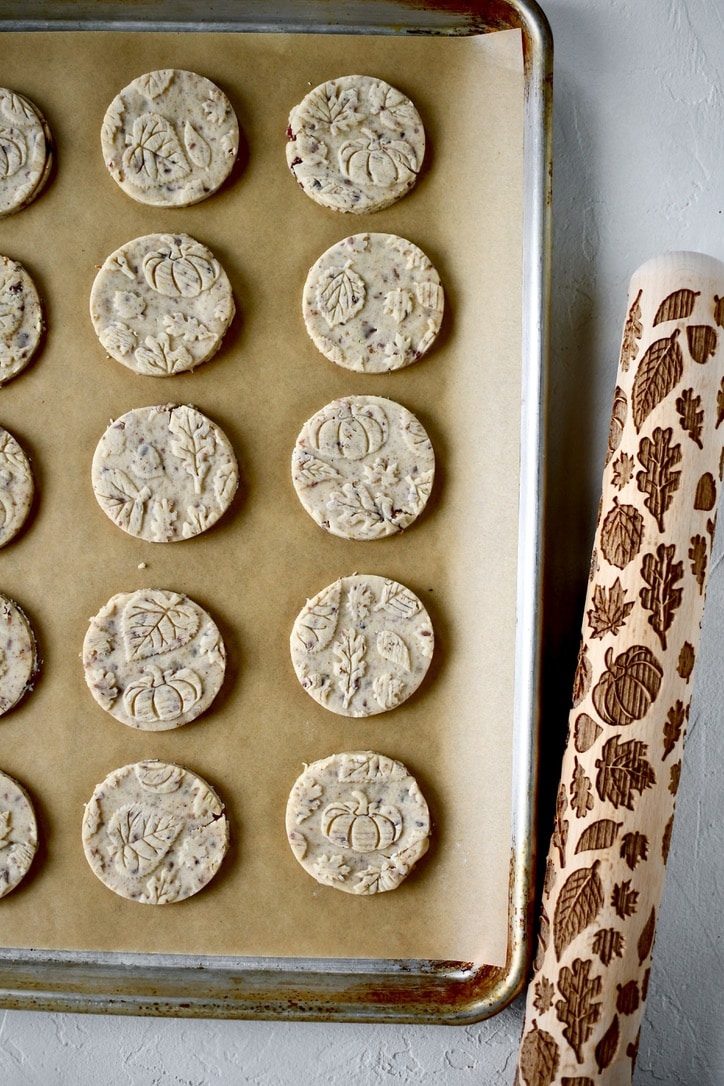 Above is the before and after of baking. You will notice that there isn't much change. This dough holds ups very well to cut-outs and impressions, as long as you chill the cut-outs before baking.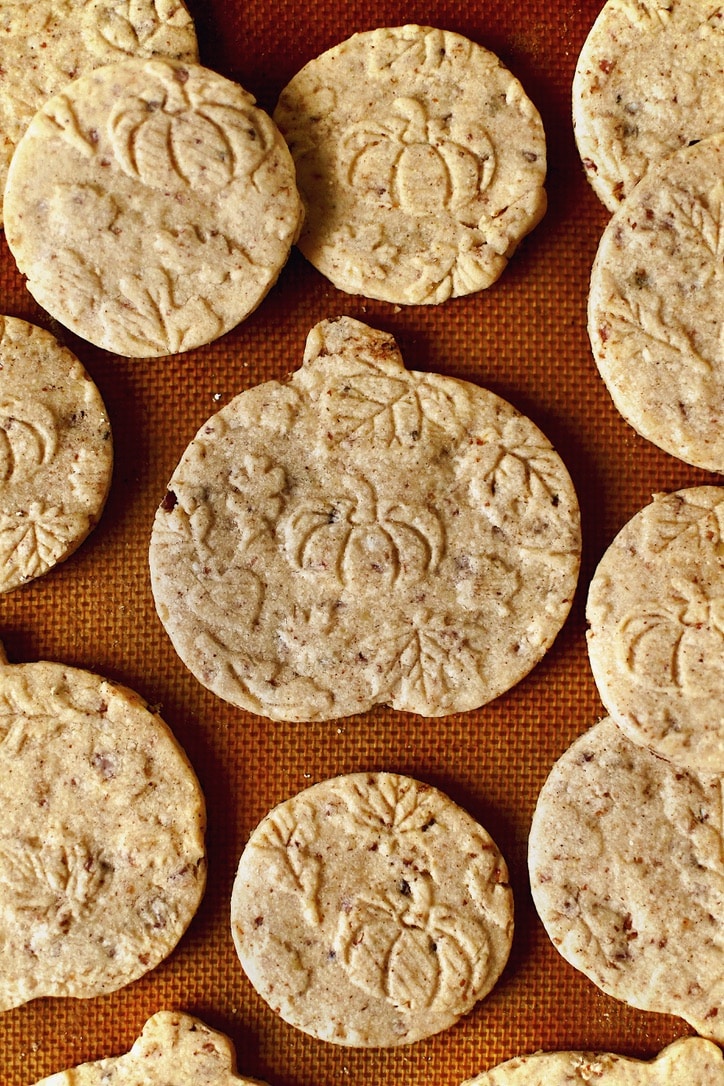 Notes & Tips
The dough has to chill after mixing, for two reasons. The flour needs a moment to rest, and you want to cool the dough so it is easier to roll, cut, and lift off your bench. Just take care not to chill it too long or the dough will crack when you roll it out.
If you use an embossed rolling pin like you see I have used in my photos, be sure the dough has some flour on top of it before you roll the pin over it. I roll out the dough with a flat rolling pin, till it is just a little thicker than I want, then dust some flour over it and wipe it across with my hands, then with gentle pressure, roll the embossed pin over it.
Be sure the bacon and pecans are very finely chopped. It is best done in a food processor or blender. The smaller the better, or it will be hard to cut with cookie cutters.
This is a great dough for cutting and using embossed rolling pins on. It holds its shape great while baking and has enough fat to not stick to the rolling pin.
This recipe makes a large batch. About 3 dozen small cookies. If I am going to take the time to make these I like to make a lot of them. Cut it in half if needed.
Substitutions
There aren't many ingredients, so there are not many substitutions to be made. But here are a few slight changes you can do for slightly different flavors.
If you don't have real maple syrup, don't use fake. Swap it for 1 teaspoon vanilla bean paste, or two teaspoons vanilla extract.
Out of pecans? Use walnuts, cashews, or even pistachios. Any of these are great options, you can even make an only nut-based shortbread cookie by leaving the bacon out if desired.
If you like, these cookies can also be glazed. Mix 2 tablespoons butter, 1 cup powdered sugar, and ½ cup maple syrup, to form a maple glaze. Dip the face of the cookies in the glaze and let dry 15 minutes till set.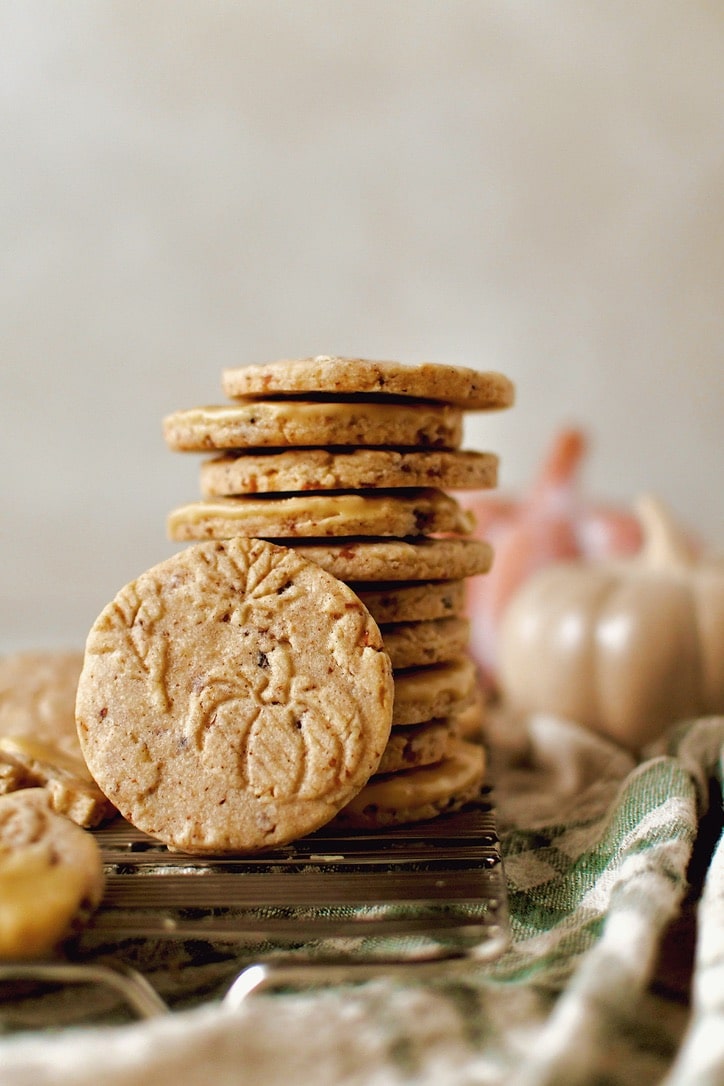 Did you make this recipe? Let me know by leaving a review or comment! And be sure to sign up for my newsletter, and follow along on Instagram, Pinterest, and Facebook!