This recipe for Pumpkin French Toast is based on my classic Custard French Toast, but for fall I like to give it a spicy pumpkin twist. I will forever make a custard to dip my french toast in, the secret is in the egg yolks, but more on that later. The added warmth this recipe lends makes autumn all the more enjoyable!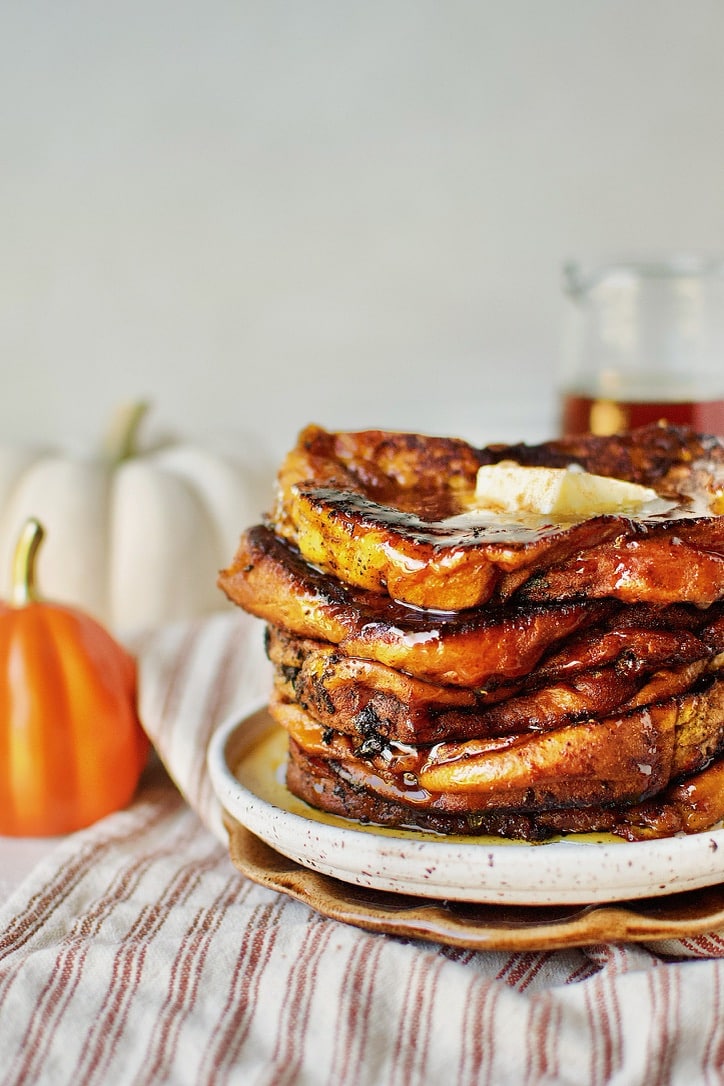 Jump to:
Ingredients
The recipe starts with the usual french toast lineup. Cinnamon sugar, milk, vanilla, and my favorite bread to use for french toast, brioche! It makes it extra french, and extra tender! In early fall 2021, I came across a pumpkin spice swirl brioche bread at Trader Joe's Grocery Stores, if you can find that, use it to make this french toast.
The addition of pumpkin puree and pumpkin pie spice gives this the spicy fall touch that makes this recipe so delicious.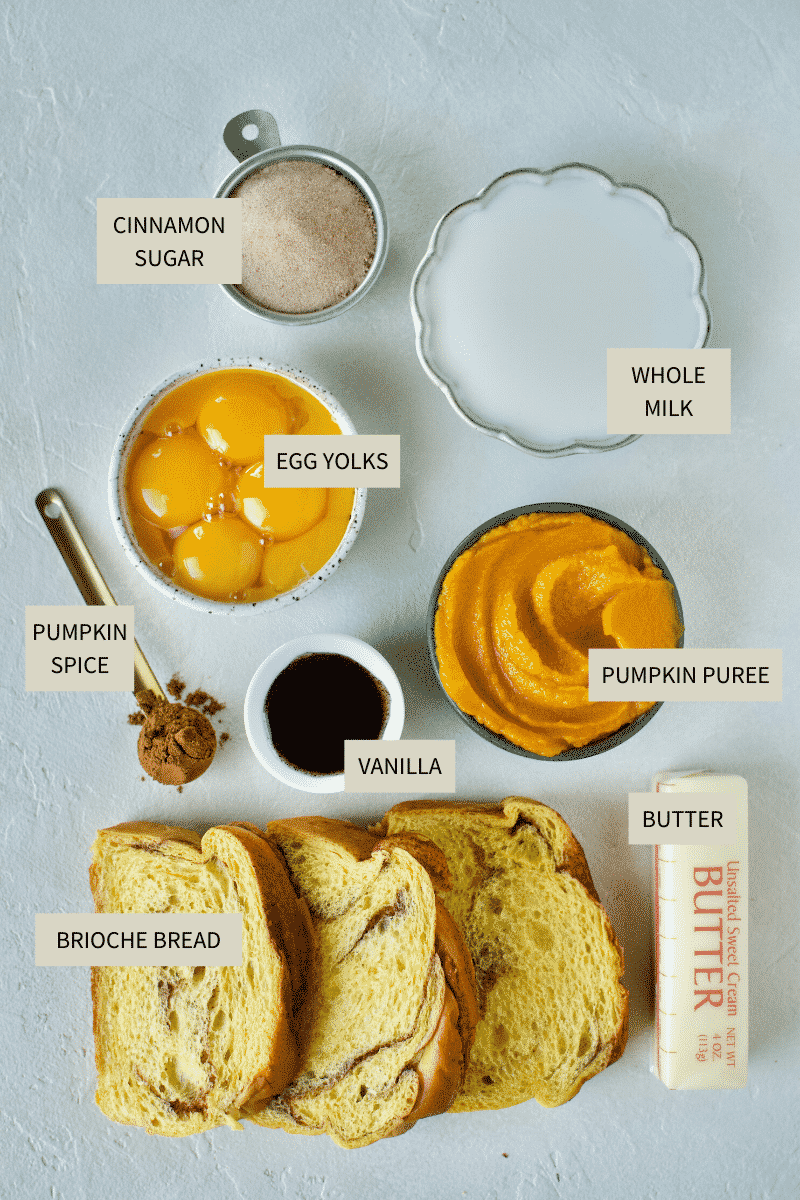 One of the most important ingredients to take note of is the egg yolks. Using only yolks gives the finished product a super custardy middle. It also ensures that you don't get an eggy crust on the outside of your bread from the egg whites.
Use the JUMP TO RECIPE button at the top of the post, or scroll to the bottom of the post to see the full recipe card with ingredient measurements and instructions.
Method
To make this pumpkin french toast, combine the milk, egg yolks, pumpkin puree, vanilla, pie spice, and a sprinkle of cinnamon sugar together in a bowl. This makes the custard base you will dip the brioche in.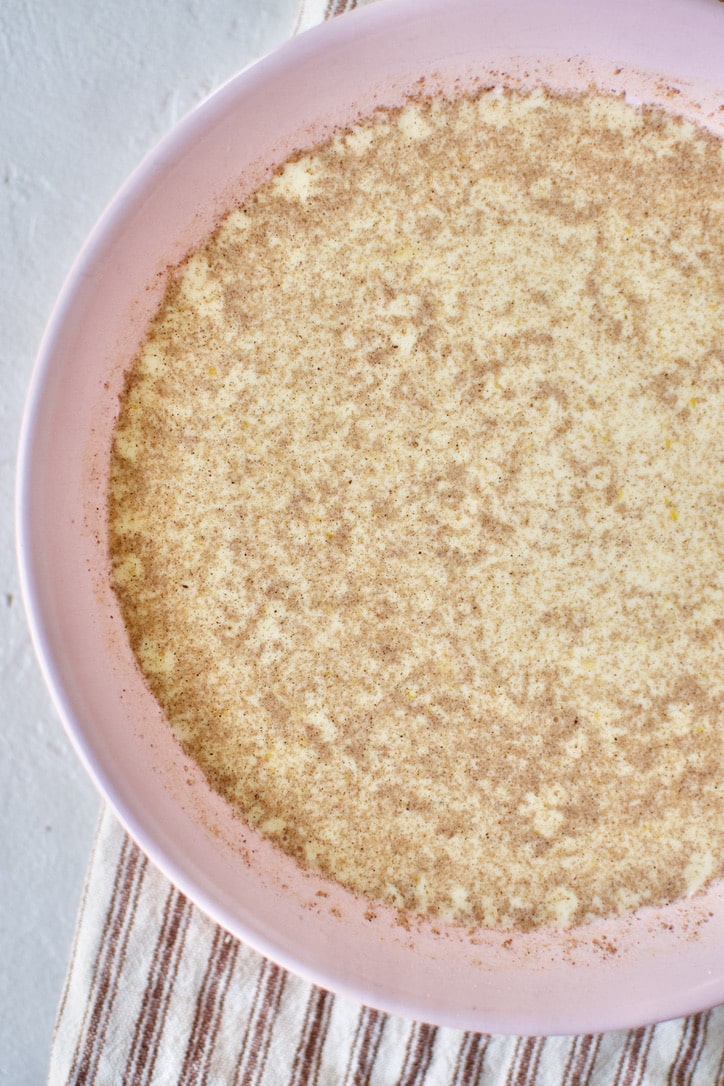 Next, warm a large skillet and melt some butter into it, along with a drizzle of vegetable oil. The vegetable oil will help the butter to not burn so quickly. Dip the bread in the custard base you whisked up and place it in the hot pan.
To add an extra layer of caramelized cinnamon sugar goodness, sprinkle the raw side of the bread with cinnamon sugar. When you flip the bread, do the same to the cooked side, then flip it again and cook it a second time. Until both sides of the french toast have caramelized cinnamon sugar on them.
Surve with butter on top, a drizzle of maple syrup, and a sprinkle of pumpkin pie spice for extra, extra flavor!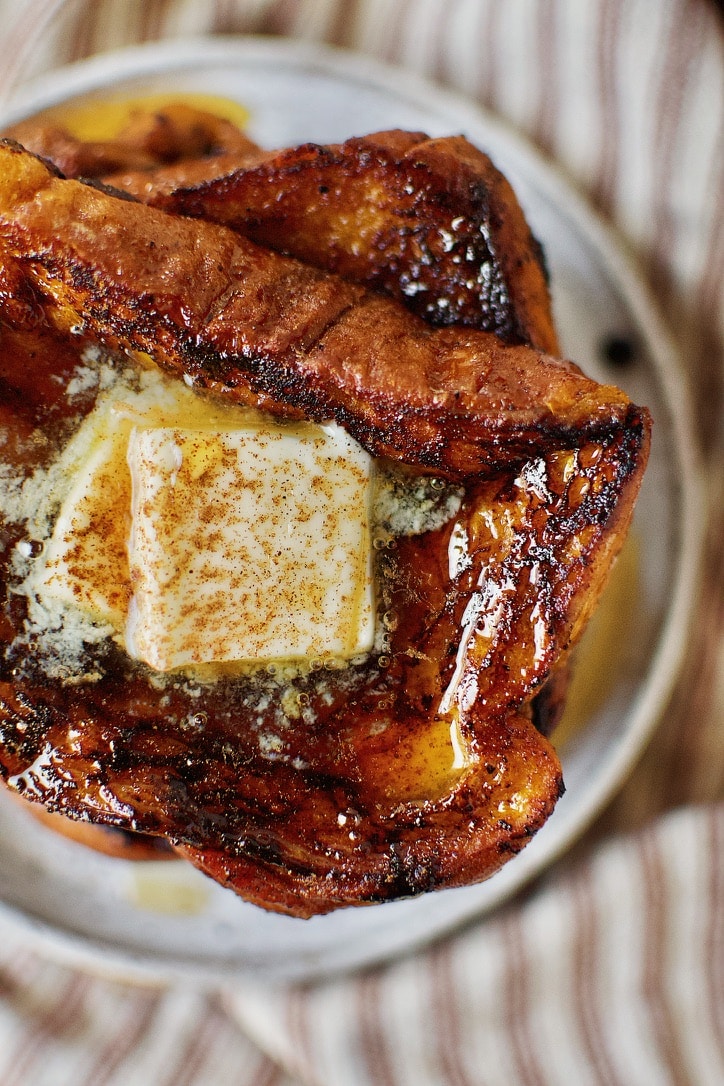 Notes & Tips
The key to getting a really custardy french toast is to use only the egg yolks. If you have ever made french toast and noticed the whites set on the outside when cooking and an eggy taste while eating, using only the yolks will prevent that. It also makes the french toast that much more indulgent.
The caramelized cinnamon sugar on the outside gets really crisp as the toast cools, it is probably my favorite part. Don't be afraid of getting some really dark or black spots, the bitterness of a few of those spots speckled in keeps the french toast from being cloyingly sweet.
I mix up my own version of Pumpkin Pie Spice, I like to make it extra spicy, get my recipe here if you would like to make some too!
Substitutions
Brioche is my favorite bread to make french toast with, but you can really use any bread you like. A friend of mine LOVES to make it with sourdough. Whatever bread you settle on, a thickly sliced bread is always best!
If you do not have vanilla bean paste, vanilla extract will do the job, simply double it.
To make this Dairy-Free, you can substitute the whole milk for your favorite alternative milk, and substitute the butter for only vegetable oil. Also, swap the brioche for dairy-free bread, brioche is made with butter.
You can also make this a Gluten-Free French Toast by using your favorite grain-free bread.
More spicy pumpkin treats
Sugar-Free Pumpkin Spice Sauce
Pumpkin Chocolate Chunk Oatmeal Cookies
Did you make this recipe? Let me know by leaving a review or comment! And be sure to sign up for my newsletter, and follow along on Instagram, Pinterest, and Facebook!