I have been a big Chai kick in 2020, I think being home just made me want something special, and grabbing an iced chai when I went out used to be my special treat. I've been so in love I have been whipping up my own spice blend and figured it needed to be highlighted in a cheesecake. So this recipe for Chai-Spiced Cheesecake was born. It uses my base cheesecake recipe you just need to mix up a batch of my Chai Spice Mix and you are all set!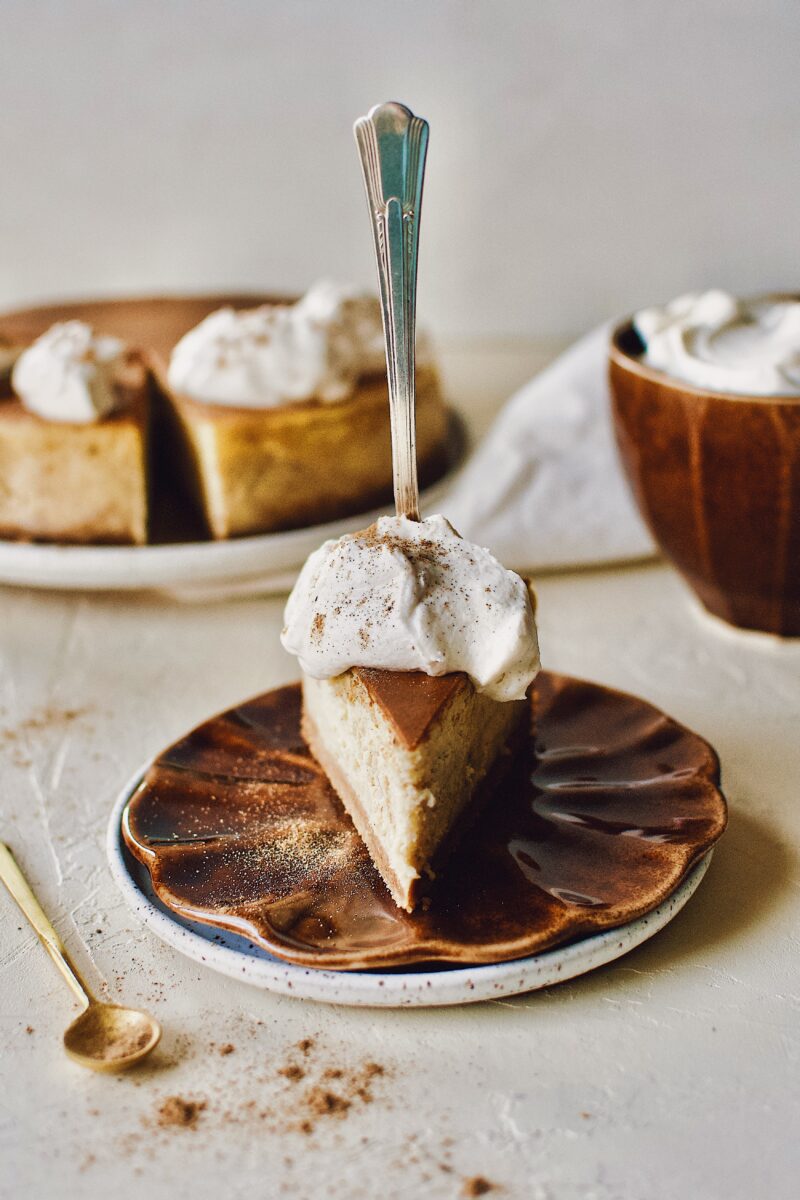 What you need:
The ingredients list here is simple and effective. This is a classic cheesecake base that is kicked up a few notches with the addition of some homemade Chai Spice. I also opt for making my own graham crumbs most of the time, but buying store-bought is fine.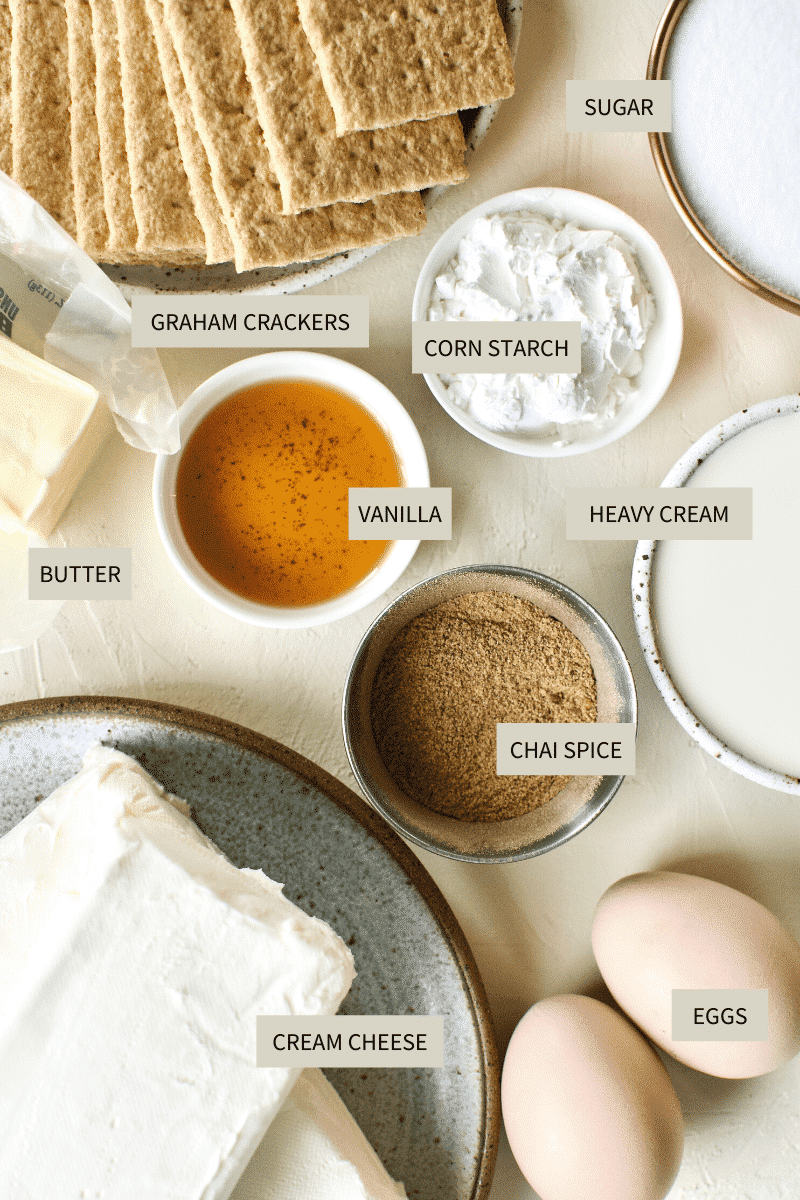 First, make your crust by mixing together the butter and graham cracker crumbs. Place it into the bottom of a lined and greased cake pan, and press it down with a glass or measuring cup. Bake for 9 minutes to set the crust.
Then add the cheesecake mixture to the pan and bake. You know it is done when the cheesecake wiggles like jello.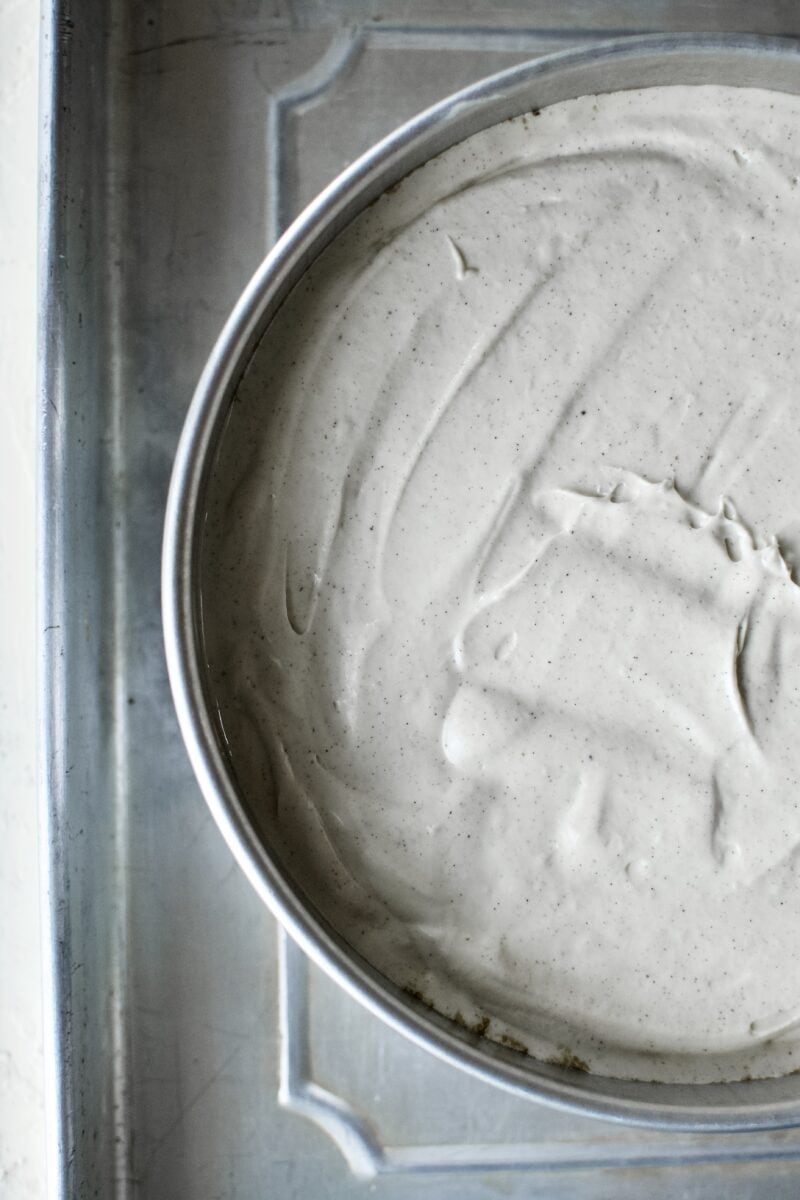 Gently shake to see if it is done, then crack the oven door or place a wooden spoon in the door, turn off the oven and let it cool until room temp in the oven. Doing this reduces the risk of a crack that can happen when the temperature is changed too quickly.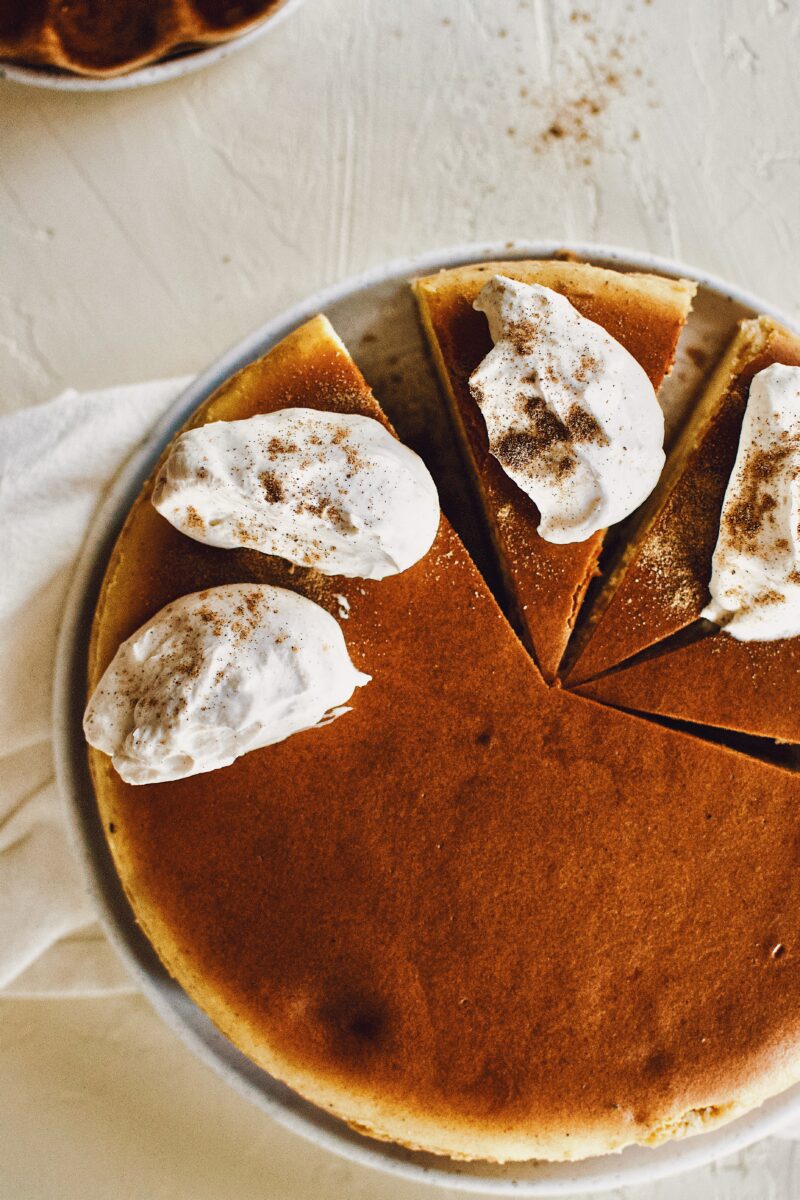 I like to make a fresh batch of whipped cream that I also put some Chai Spice in, because why not!? Dust some of top too, the flavor is so good, just punch it up!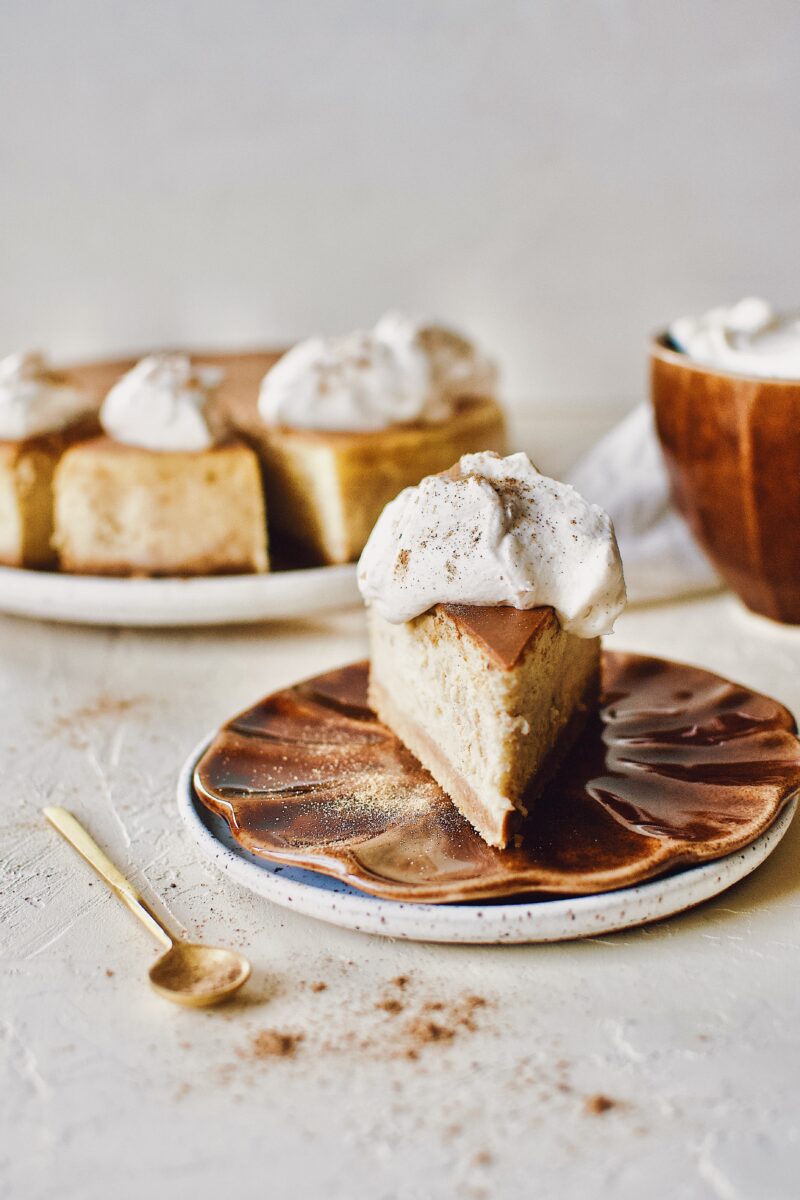 Cheesecake Storage
This cheesecake can be frozen and stored for up to a few months. I also enjoy making this in 3 6-inch cake pans. It lets me store a few away for later use.
It will keep in an airtight container in the fridge for up to 10 days. If you will not eat it all at once, slice it up, and store individual slices in the freezer. Simply wrap it tightly with plastic wrap.
If you love Cheesecake...
Take a look at my other variations that are just as good as this Chai-Spiced Cheesecake. The Peaches & Cream Cheesecake is my summer favorite and uses my Quick Peach Jam. And in fall I LOVE this recipe for Perfect Pumpkin Cheesecake, it is like fall in a bite!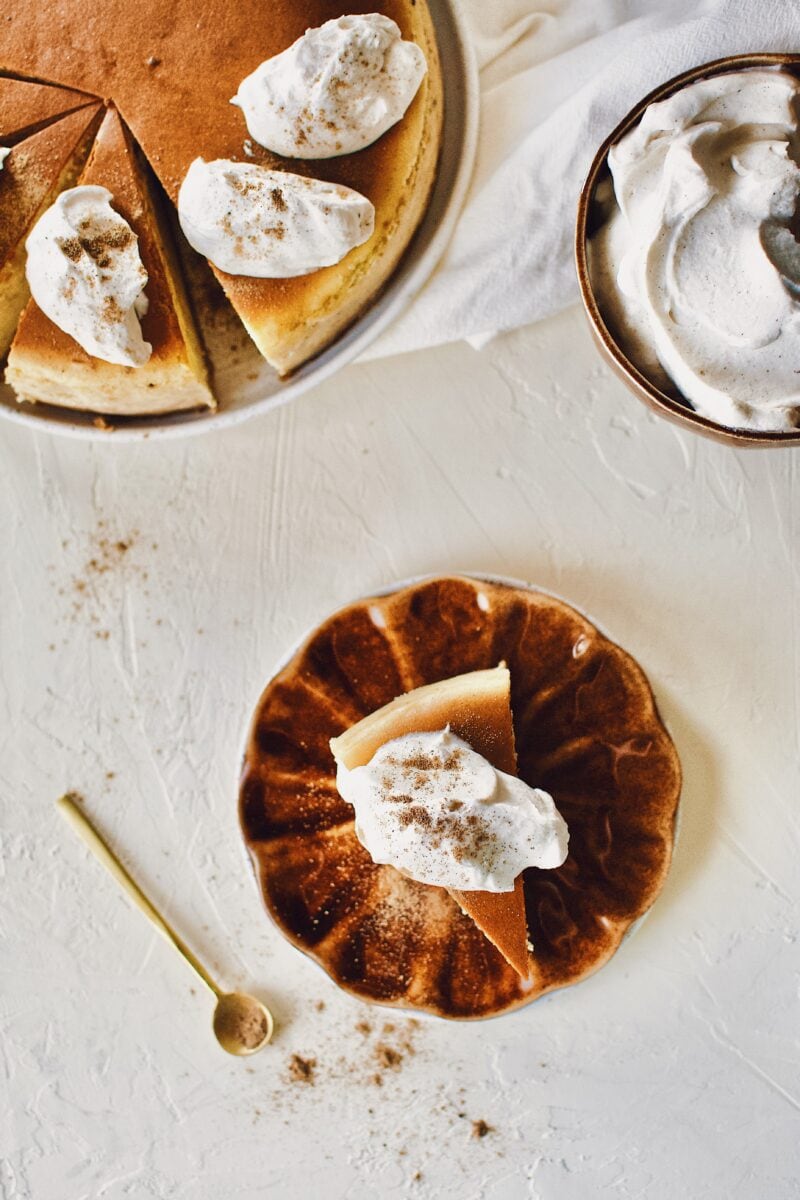 Did you make this recipe? Let me know by leaving a review or comment! And be sure to sign up for my newsletter, and follow along on Instagram, Pinterest, and Faceboo